"My Music Career Is Where It's Supposed to Be," BBN's Whitemoney Says, Reacts to Viral Pic of Him as a Barber
Reality TV star, Whitemoney has finally come forward to clarify things about his music career and where it is at the moment
The Big Brother Naija (BBNaija) star turn musician clarified his deal and was signed to Banky W's record label during a chat with Legit.ng
Whitemoney also spoke about his humble beginnings and just how much the different menial jobs he did helped make him who he is today
Former Big Brother Naija winner Hazel Oyeze Onoduenyi better known as Whitemoney, recently released his debut single 'Jada' spoke with Legit.ng's Nosa Oke-Hortons about his music career and why he considers it to be precisely where it should be.
During the chat, White also clarified the type of artist he is and the type of music he does. Jump in and enjoy the full details of the interview.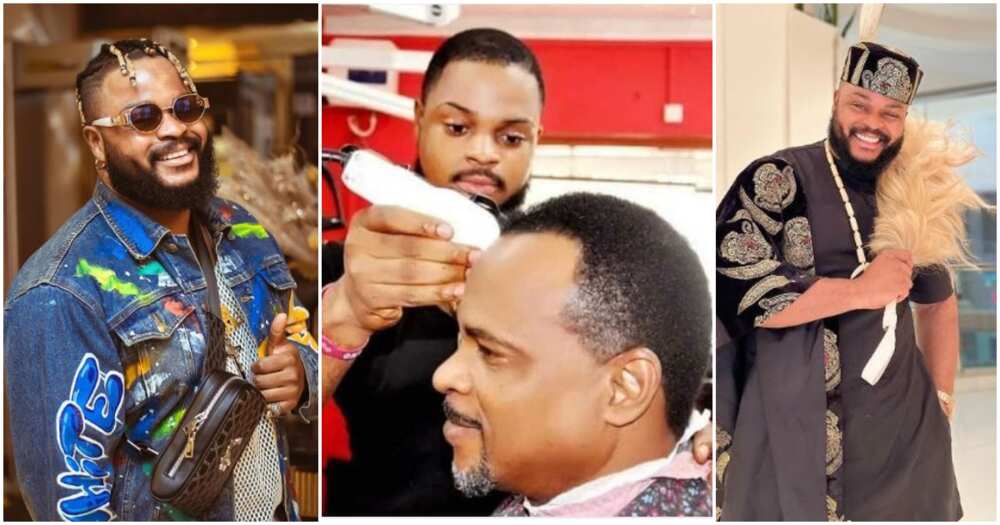 "I'm a businessman first before an artist," Whitemoney clarifies
The reality TV star has been slammed regularly and constantly online by fans and those who aren't over his decision to turn to music instead of pursuing a career with his culinary skills. During our chat, he responded to that criticism.
"I'm a businessman first before anything, be it as an artist or as a food vendor. I run all things by myself, and before I can achieve these things without having to run to anyone for help or support, I need to make money and source funds. So for those who say I am not doing enough with music, let me reiterate I am a businessman first."
An independent artist and what it entails to be one
Whitemoney also spoke about signing to Banky W's record label and why. He said
"I am an independent artist not signed to any record label. And to do that, I need plenty of money, so I'm a businessman first before being a musician. Also, one thing needs to be clear as an Independent artist you still need a distribution company. All big music stars do it so my deal with Banky W wasn't about me joining his label as one of artists."
Oyeze continued revealing the type of music he does and what his strengths as a musician are:
"I don't have a great voice, my music strength can probably be best felt during life performance, where you can listen to what I am saying and enjoy yourself while picking one or two lessons. So to a large extent I would best describe myself as an highlife artist."
"My Career is exactly where it is supposed to be," Whitemoney says
When we asked Whitemoney if he was happy why his music career at the moment, he said:
"My music journey has been amazing; I thank God, I can not complain. My career is where it is supposed to be. As I said before, I am first a businessman before a musician. I am doing my business while doing my music at the same time. So I can't complain."
"I was once a barber; I even used to ride Okada" - Hazel shares
"Many people don't know my story, and that's why when I see people criticise me, I am never bothered. I have gone through a lot to be where I am now. Bro, do you know I was once a barber? I used to even ride Okada. That's my story, and I'm tremendously grateful to God for where I am now."
Reactions as Whitemoney announces his engagement, post trends
Meanwhile, Legit.ng recalls reporting when Nigerian reality TV star Hazel Oyeze Onoduenyi, better known as Whitemoney, caught many unaware as he announced that he is now officially engaged and set to settle down.
The BBNaija star made his relationship status public in a post shared on his page, noting that he is now taken while standing new to a curvy lady but covers the mystery woman's face.
Whitemoney then dropped an emotional comment, noting that every love story is beautiful, but the one he shares with his mystery woman is his favourite.
Source: Legit.ng