Online Popularity Isn't Political Currency & 5 Other Lessons Celebrities Should Learn From 2023 Elections
As the curtains finally drop and the 2023 elections circles come to an end, there are a lot of lessons that should be learnt, especially for the celebrities that partook in the contest itself
This isn't the first time that Nigerian celebrities would be participating in the country's electoral contest, but never was their impact felt this much
We saw the likes of Funke Akindele, Tonto, Olumide Oworu, and Desmond Elliot test their popularity and public love in the political space, but most failed; what lessons were learnt?
The 2023 Elections in Nigeria witnessed some trends that were seen for the first time in the country's election circle. But seeing entertainers and celebrities actively participating and contesting isn't a new phenomenon.
In 2015 and 2019, we saw the likes of singer 9ice and Banky W toss their hats in the ring, but both failed woefully.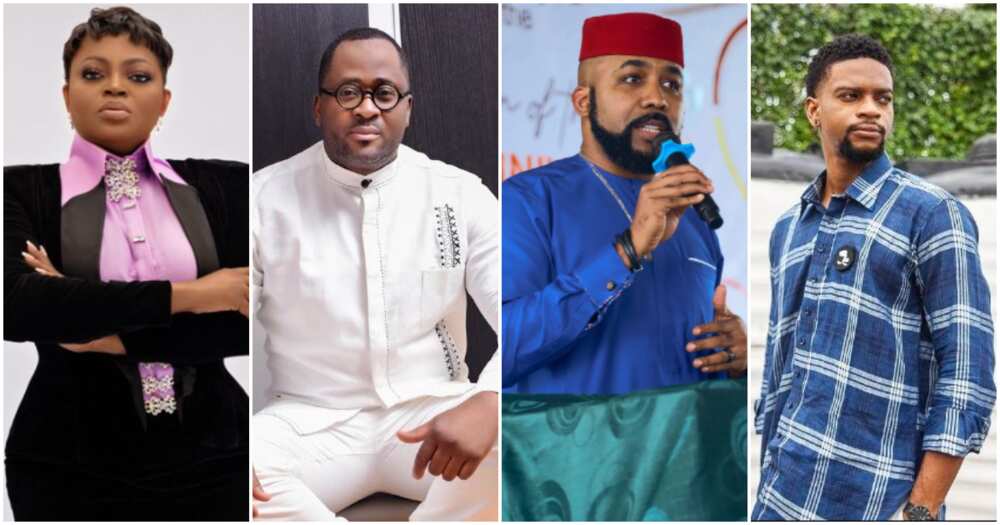 In 2023, the latter gave it another try, this time on a more prominent and popular platform of the Peoples Democratic Party (PDP). However, he got caught in the wave of the Obidient movement and got burnt again.
After critically analysing things, Legit.ng has taken the time to highlight five lessons that all the celebrities who contested for political positions during the last elections should learn from.
1. Popularity in entertainment isn't political currencies:
Yes, it can be argued that popularity be it good or bad, is commercially smart. However, the wrong it does is that it registers a particular persona and image of a celebrity in people's minds.
This persona is usually how most people view celebrities, especially those with controversial status. Also, because people watch your movies, that doesn't mean they admire you enough to be their leader.
2. Social media isn't real life:
Huge followership on social media doesn't mean you're per se in reality. There is a famous interview of Lagos's PDP deputy governorship candidate, Funke Akindele bragging about having over 20 million fans on social media, noting that for this reason, she was politically popular enough to win.
She went on to brag that this high online following was an advantage. But to disappoint her, off the top three contesting for the governorship position in Lagos, Funke's party came a distant third without winning a single local government.
3. Elections are won at the grassroots:
To win an election, you must do the hard work, walk on the street, and constantly stay in the face of the people, engaging them massively in their local dialect (not language alone).
Go to nooks and crannies and also set up some of the odd philanthropic work that is needed, which would have a lasting effect on people's minds.
Let the people see you and know you.
4. Party Structure:
Some might argue against this using Funke Akindele and Banky W's case. But their case is unique because they were just unlucky to be at the wrong place at the wrong time and got caught by the sweeping wind of the Obidient movement.
Remove Labour Party in this contest, and Banky W wins the House of Representative seat in Eti-Osa. While for Funke, most of the votes that went to Gbadebo Rhodes-Vivour would probably have gone to the PDP if LP wasn't also in the contest.
To prove that party structure still matters, how did Desmond Elliot retain his position? Answer this question and the reason why party structure still matters is at bare.
Also, note that none of the other celebrities that contested in other parts of Nigeria got helpful votes worthy of note except those on the PDP platform.
5. The need to change how celebrities are seen (Less intelligent):
There is also the need for Nigerian entertainment industry practitioners to portray themselves as intelligent people.
Like it or not, deep inside the average Nigerian man's psyche, a celebrity isn't mainly seen as intelligent; instead, celebrities are seen as just talented people.
There's a drastic need to change this deeply held bias.
These are a few things that need to be taken on board by some celebrity candidates who contest in the 2023 elections and intend to try again.
Iyabo Ojo, Mr Macaroni and 7 other celebrities declared their support for Gbadebo Rhodes-Vivour
Meanwhile, Legit.ng recalls reporting that the general gubernatorial elections in Nigeria were held on Saturday, March 18, 2023, after the Independent National Electoral Commission postponed it.
However, the state's governorship election that has been on the front burner and stirring the most attention is the Lagos gubernatorial race.
The three top candidates of the election are the incumbent, Babajide Sanwo-Olu of the All Progressive Congress(APC), Abdul-Azeez Olajide Adediran of the People's Democratic Party (PDP) and Gbadebo Rhodes-Vivour of the Labour Party.
Source: Legit.ng