IWD: Onyeka Onwenu, Weird MC, Tiwa Savage and 4 Other Women Whose Contribution to Afrobeat Is Generational
Today is world International Women's Day, and Legit.ng has taken it upon itself to celebrate women like Onyeka Onwenu, Christy Essien-Igbokwe, Weird MC and Tiwa Savage
These women all made tremendously contributed to the growth and recognition that Afrobeat enjoys across the world current since as far back 1970, and 1980s, and not Just Fela takes it all
When the talks about those who are the torchbearers of the Afrobeat music genre, the contributions of the female folks are usually understated and undervalued
But no more, as Legit.ng has highlighted seven fantastic Nigerian female singers whose contribution to Afrobeat can't be forgotten and five honourable mentions
This article is an appreciation piece dedicated to all Nigerian female singers, solo artists, backup singers, and studio hands who all helped make Afrobeat what it is today.
A lot of praise and accolades are accorded to Fela Anikulapo-Kuti as the pioneer of the Afrobeat. Still, not enough is said about the women who took after and helped popularize the genre even after his demise.
Women like Sandra Izsadore, Monnah Finnih, Onyeka Onwenu, Christy Essien Igbokwe, the Lijadu Sisters and Christy Ogbah.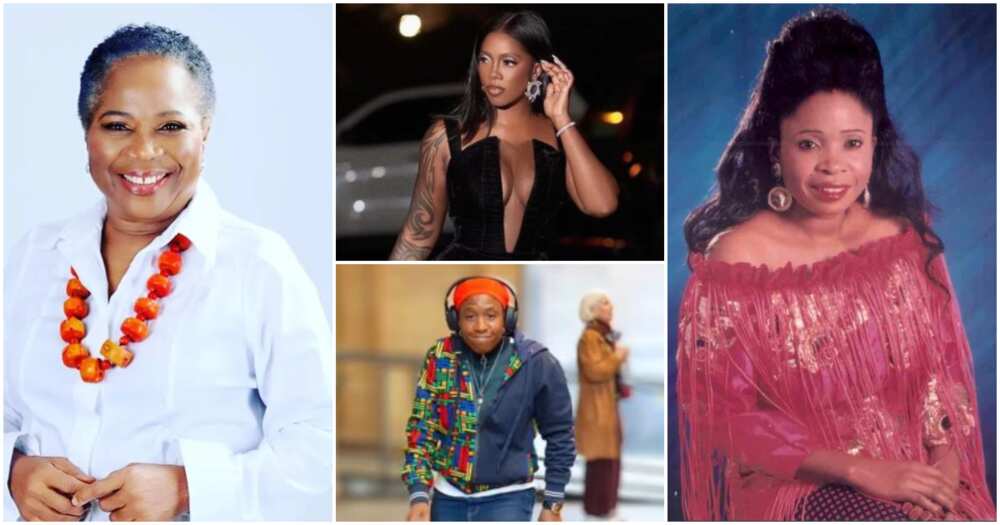 These women held their own but were soon too old to continue or had to start a family, and an enormous vacuum was created by their absence until the likes of Omawumi, Waje, and Tiwa Savage came through. And they've consciously passed on the torch to a new generation led by Tems, Teni, Simi, Ayra Starr, Fave and many others.
PAY ATTENTION: Share your outstanding story with our editors! Please reach us through info@corp.legit.ng!
In this Legit.ng will be celebrating the first and second generation of women in Afrobeat as we celebrate International Women's Day
1. Onyeka Onwenu
Many GenZ might not know her, but her contribution to Afrobeat can never be underestimated. Her most popular songs are 'One Love', 'Wait', 'Choices' and 'Iyogogo'.
During Onyeka's heydays, she used to be mentioned in the same breath as former Grammy award nominee King Sunny Ade.
At the height of her career, she released five studio albums and had numerous collaborations with King Sunny Ade before she transitioned into gospel music.
Onyeka, to a large extent, can be called the godmother of contemporary Afrobeat sounds.
2. Christy Essien Igbokwe
To date, super-talented singer Christy Essien Igbokwe is still regarded as 'Nigeria's Lady of Songs'. Her unique ability to speak and sing in five local Nigerian languages gave her an exceptional appeal across different divides.
Christy Essien Igbokwe could sing in Igbo, Yoruba, Hausa, Efik, Ibibio and English. Some of her biggest hits include 'Seun Rere'; I can still remember listening to it on the radio in the early 2000s.
Before she passed in 2011 at 50, she made 11 studio albums, many of which went gold between the 1970s and early 2000s.
3. Christy Ogbah
Another powerful voice of the first generation of Afrobeat singers is Christy Ogbah. At her height, she produced three smashing albums with her melody band.
Christy was famous for her hybrid sounds that explore an intersection between Highlife and Lagos disco. She was the last of the thoroughbred 1970s.
Start of the second generation
4. Weird MC
The Nigerian music industry in the early 2000s was dominated by reggae, hip-hop and dancehall sounds. In this generation, Adesola Adesimbo Idowu, better known as Weird MC, made a place for herself in Nigerian music history.
Her mega-hit single 'Allen Avenue' released in 1996, is still regarded as one of the biggest Hip-hop singles by a female act to date.
Fast-forward to the 2000s, she made a comeback with Ijoya, which went wild and became a street anthem for kids and adults. Shola's place shouldn't be forgotten or understated.
5. Omawumi and Waje:
I have put these two vocal powerhouses together because they ruled our airwaves around the same time and ended up being very close friends to date.
Omawumi's fiery vocal strength was sensational, putting her in a world of her own only surpassed by her close pal Waje.
Waje's contribution to several Afrobeat hits, either as a backup voice, songwriter or feature, is well documented from Omoge mi, Do Me or One Naira by MI Abaga; her contribution deserves recognition.
6. Asa:
Many still regard her as the most talented female songwriter this country is yet to produce. Bukola Elemide, better known as Asa, is one of Nigeria's best and most complete female musicians ever to grace a stage.
Asa has five studio albums to her name, and her latest is 'V', which features greats like Wizkid and several other young Afrobeat acts. She isn't one of the loudest Nigerian singers, but that shouldn't deny her accolades as we celebrate Nigerian female singers and their contribution to the growth of Afrobeat globally.
7. Tiwa Savage:
Tiwa Savage is the new queen of Afrobeat and the most popular name on this list that many millennials and GenZ would find easy to relate to.
However, Tiwa Savage is now regarded as an elderly amongst the contemporary Afrobeat generation. But her immense contribution can't be quantified, from grammy nominations, features with Coldplay, Beyonce and numerous other achievements.
When male folks dominated the Nigerian music industry, Tiwa stood and held it down for the female gender. And now she's gleefully passing on the baton to a new generation, though they seem to have already surpassed her feats, but know she was a stepping stone for them.
Honourable mentions
Kenny Saint Brown
Goldie
Essence
Bose Ogulu and
Tems
Source: Legit.ng