"A Townhall Different from Bala-Blu": University Sets Exam Question Based on Tinubu's Gaffe, Photo Emerges
A popular Twitter user, Sir Jarus, shared a photo of an exam question paper by the Nasarwa State University based on a gaffe by APC presidential candidate Bola Tinubu
In the photo shared on Twitter, one of the questions asked the students to "justify the social judgment theory", using "a Townhall, Different, From Bala-Blu, Blu-Blu, Bula-Ba" as a case study
The examination question has gone viral, attracting mixed reactions from Nigerians on social media
Nasarawa State University has stirred reactions on social media after setting an examination question set on a popular gaffe made by the All Progressives Congress (APC) presidential candidate, Bola Tinubu.
Following his decision not to attend some town hall meetings, Tinubu suffered a gaffe as he tried to dismiss the events.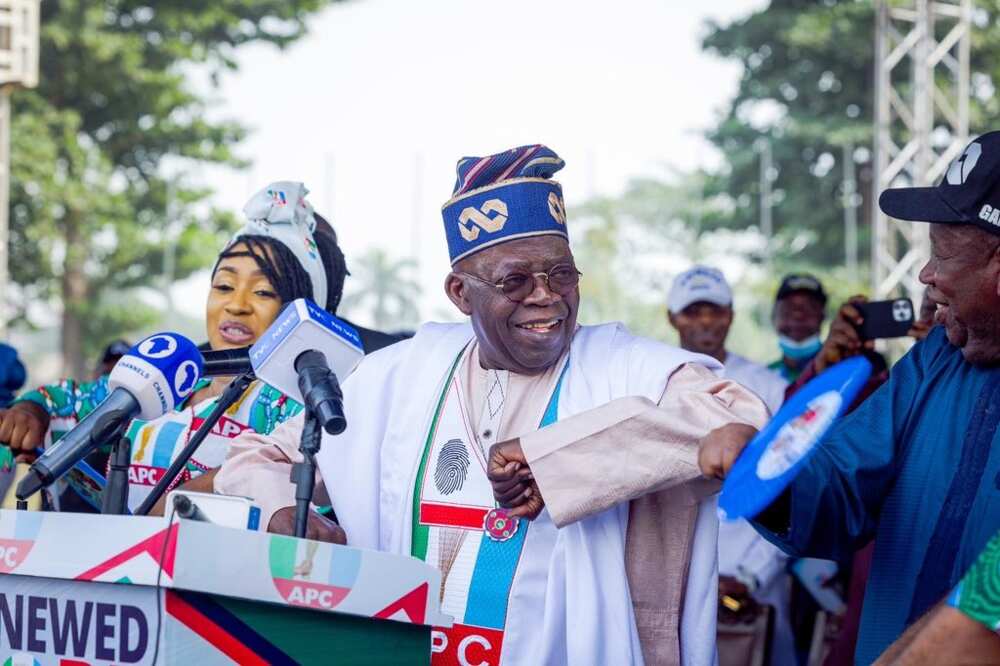 Speaking at a political gathering in Imo state, Tinubu attempted to justify his refusal to attend town hall debates, saying something like:
"A town hall, different from balablu blu blu bulaba."
PAY ATTENTION: Follow us on Instagram - get the most important news directly in your favourite app!
While some said the APC presidential candidate may have unsuccessfully attempted to pronounce the world hullabaloo, his campaign team passed it off that he was making fun of the word.
Nevertheless, the "balablu blu blu bulaba" trended on social media as opponents of the APC presidential candidate used it to mock him.
Nasarawa university sets exam question on Tinubu's gaffe
A popular Twitter user, Sir Jarus, @SirJarus, shared a photo of an examination question from the Nasarawa State University's Faculty of Social Sciences asking students to "justify the social judgment theory", using Tinubu's popular gaffe as a case study.
The question reads:
"Using the social media trending Sarcastic statement "A Townhall, Different, From Bala-Blu, Blu-Blu, Bula-Ba", justify the social judgment theory.
The question was for part-time 200-level students of Mass Communication at the state university.
Nigerians react
Asiwaju Oladipupo, @FEMI10, said:
"Na Tinubu talk, na student dey explain "
NiñoEspirito, @NinoDelEspirito, said:
"At least, discerning students would now understand that that statement by Tinubu is not incoherent but sarcastic...I love the lecturer already.."
Tobi Ayodele, @Iamadaba, said:
"This course (Mass Communication Theories) and social experiment . I remember while I was still in school, it was my HOD that took us the course, on exam day, boys wan ment. Thank God for grace sha ."
Cute Apari, @_Muheez, said:
"Omo one lecturer did political science final year student dirty during my set, Baba asked them to list the names of all the political parties and candidates of the 2019 general presidential election.
"Major contenders attracts half mark. I want ment Even the man no fit list am."
Photo of exam question paper at Obafemi Awolowo University stirs uproar
In another report, massive reactions trailed a viral photo of an exam question paper from Obafemi Awolowo university.
A student of the school who shared the photo on Twitter, broke down in tears as she called out the university.
It was observed that only section A was numbered to the letter 't' which summed up to 20 questions. Reacting to the viral photo, many netizens condemned the lengthy questions while some expressed shock.
Source: Legit.ng