Hope for Kogi Residents as State Samples Africa's First International Hospital By Hamzat Omeiza
Editor's note: Residents of Kogi state are in for a fascinating moment as the state government led by Governor Yahaya Bello has just constructed a state-of-the-art international reference hospital. One of its kind in Africa, Hamzat Omeiza, a health expert writes of the benefits of such an edifice to the people of Kogi and Nigerians at large.
Buying into the consumerism of the technology revolution in this new age, the Okene reference hospital, built by the governor of Kogi State, Alhaji Yahaya Bello has left every mouth agape at its world-class edifice and structure, and its major transition in the Health care sector, making it First Africa's International Hospital and placing it as the world's second hospital to perform technological driven scanning.
Acknowledging that this wonder came from a Northern state that was once regarded as a "Poor State with no infrastructure", it's worthy of note that the administration that executed such a feat in less than eight years is deserving of great accolades.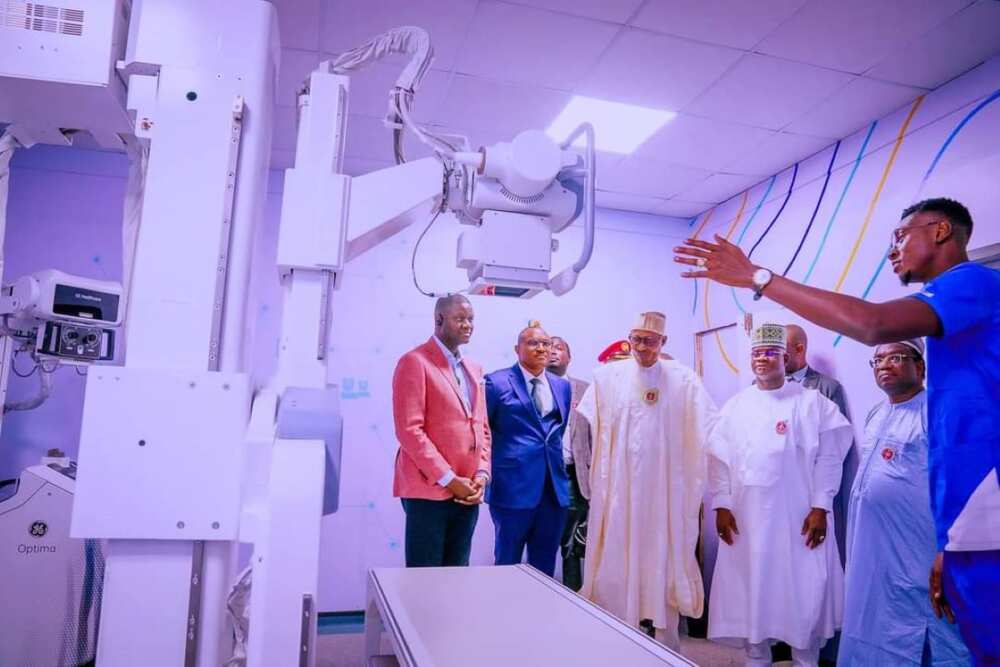 This is a state that was once eroded by insecurity, mass unemployment rate, and poor education before the emergence of Alhaji Yahaya Bello as the governor of Kogi State who eventually built it from its shambles, and transformed it into a monument.
It is no longer news that the continent of Africa may no longer need to seek certain medical attention from overseas anymore as the persistent determination of a Nigerian governor had put an end to those certain trips.
Kogi state has helped changed Nigeria's health story, as many will now have access to excellent medical facilities and services. Starting with facts, the clinic is a first-class Medical Institution that has started re-writing the story of medical practice and access to medical facilities in Nigeria. Its magnificence made it one of a kind in Nigeria. Not only does the state now boast of a reference hospital, but the Reference Hospital also has state of art facilities including the Magnetic Resonance Imaging (MRI) machine, an Oxygen plant and a CTScan Machine.
The Signa prime MRI scanner is the latest innovation from General Electric, a well-known American company known for manufacturing world-class healthcare equipment and other machines. The SIGNA Prime is a whole-body magnetic resonance scanner with high resolution, a high signal-to-noise ratio, and quick scan times. This type of scan uses strong magnetic fields and radio waves to produce detailed images of the inside of the body.
According to the manufacturer, MRI employs a reconstruction algorithm to convert raw image data into an image. The new intuitive user experience makes the Signa prime MRI scanner user-friendly and efficient for daily operations for the first time. In addition, the newly built state-of-the-art Reference Hospital has a fully installed and functioning Medical Oxygen Production Plant.
The hyperbaric oxygen chamber is debuting for the first time in Africa. Hyperbaric therapy is capable of dispensing 100% oxygen that would help save patients from life-threatening medical conditions, such as carbon monoxide poisoning, and decompression sickness which includes sudden idiopathic hearing loss, avascular bone necrosis, air and gas emboliism, cyanide poisoning, acute smoke, and retinal artery occlusion.
One of the major concerns of many Kogites has been how the common man will be able to afford such first-class medical services put up by the governor. But Kogi under GYB already had a counter-plan for such concerns before the execution of the project.
The State Government has launched a Health Insurance Scheme, known as BelloCare. Under the present administration, a Bill to establish a Health Insurance Agency was initiated, and today, that Bill has not only been signed into Law, but the governor has also ensured a fully functional Health Insurance Agency is fully in operation under the leadership of an Executive Director. At the moment, thousands of Kogites and residents have been on board the Health Insurance Scheme.
Nigerians and many political leaders all around Africa are already learning a lot from the Kogi example and are already in the plan to raise the bar in healthcare delivery in Africa. If Kogi with her meagre resources could fund this laudable project, why not other more buoyant states? Except they have chapters missen in their books, which is obviously calling for needed scrutiny by the necessary agencies and commissions.
Governor Yahaya Bello has excelled in numerous aspects since taking over the helm of affairs as the governor of Kogi state. His administration highlighted a tremendous turnaround in infrastructure, education, healthcare, agriculture and youth empowerment, all these attracting widespread commendation, and this trending development has further boosted and elevated him above all current African leaders in terms of medical infrastructure development.
President Muhammadu Buhari's visit also revealed the management model and importance of the Reference Hospital. Mr President was astonished at the Inspiration behind the conception of such a befitting, gigantic and well-equipped medical facility that has nudge relief in the expenses Nigerians make on seeking medical attention outside the shores of Nigeria as a result of various medical conditions.
With the knowledge that the state is central to the nation's peace and development, Kogi is seemingly unaffected by the rising spate of crimes across the country, making Bello surpass his predecessors in achievements.
The great blueprint of his, and the craftsmanship that exudes competency and professionalism are worthy of emulation by every governor that wishes to create a great legacy. He has done and Is yet to do great things in Kogi.
He has further proven it to all and sundry that with commitment, Nigerians have no business spending our resources on treatment abroad anymore. We can bring the world to Nigeria and also collaborate with the best brains around the world.
All these development by Governor Bello is enough concrete evidence that has therefore consistently debunked the perfidy and the chicanery of political jobbers and their paymasters. Kogi's excellence will consistently remain a question mark difficult to be unravelled by every opposition.
Now pinned on the world map, Kogi state, Okene, there lies Africa's First International Clinic.
Disclaimer: The views and opinions expressed here are those of the author and do not necessarily reflect the official policy or position of Legit.ng.
Your own opinion articles are welcome at info@corp.legit.ng— drop an email telling us what you want to write about and why. More details in Legit.ng's step-by-step guide for guest contributors.
Contact us if you have any feedback, suggestions, complaints, or compliments.
Source: Legit.ng