Protecting a News Company's Reputation: An Inside Look at the Role of LEGIT.NG's Police
When it comes to protecting the reputation of an organization, employees and the management often defer to the communications manager in charge. In Legit.ng, not only is the communications manager responsible for reputation management, even the compliance officer is involved. He is the 'Legit.ng Police', whose role it is to ensure a stable online environment for our news readers. This role is very important especially in a digital media company like Legit.ng where we are committed to leading the way through quality news.
PAY ATTENTION: Сheck out news that is picked exactly for YOU ➡️ click on "Recommended for you" and enjoy!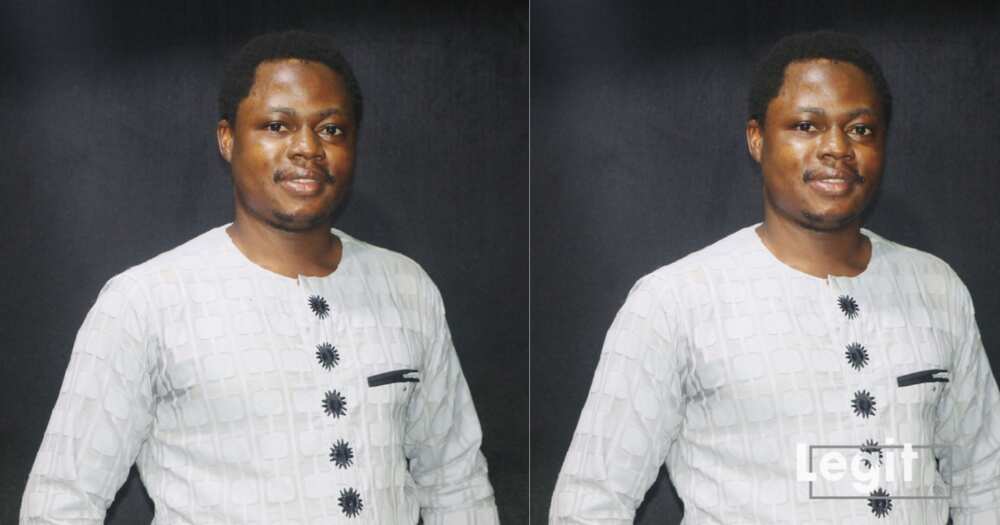 In this interview, Nurudeen Lawal who also doubles as a Politics/Current Affairs Editor shares more details about his life and also gives us a peek at his background. As you read on, you will also discover how important his role is, as Nigeria prepares for the upcoming election. This is definitely an interview worth reading. At the end of this, you might just be interested in joining the team at Legit.ng.
1. Who are you, and what is your background?
My name is Nurudeen Ọlátúndé Lawal. I was born in the charming town of Òkehò, the headquarters of the Kajola local government area, Ọ̀yọ́ state.
I'm the fifth of six children of Bàbá Lawal and Ìyá Núrù (That's what my dad and my late mom are called, respectively ). I also have six half-siblings.
My early years were spent in Òkehò, one of the principal towns in Òkè-Ògùn, the "underdeveloped food basket of the southwest".
I had both my primary and secondary education in the valley town before moving to Ilé-Ifẹ̀, the cradle of Yorùbá civilization, to study Literature-in-English at the iconic Ọbáfẹ́mi Awólọ́wọ̀ University (OAU).
The National Youth Service Scheme (NYSC) took me to the border town of Danare in Cross River state in the south-south, where I taught English, Literature and other relevant subjects for nearly one year.
After the NYSC year, it was time to stand on my own. The journey to becoming self-sustaining took me to Nigeria's commercial nerve centre, Lagos, where I began my professional career as an editor at a book publishing firm.
2. How did you come to be at Legit.ng?
Around December 2017, I spoke with a friend and former editor at Legit.ng, Ọmọ́táyọ̀ Yusuf, about looking for a new position, and he recommended me to the then Editor-In-Chief, Mr Báyọ̀ Olúpohùndà. I had both oral and written interviews and the rest, they say, is history.
3. What do you do at Legit.ng?
At Legit.ng, I serve in two major capacities: Politics/Current Affairs Editor and Compliance Officer.
As Politics Editor/Current Affairs editor, I curate content on trendy and important socio-political issues and write features, analyses, insightful history posts, listicles, and fact-checks.
As a compliance officer, I check articles published daily on the website to ensure they comply with our professional and standard rules of coverage, especially articles that revolve around sensitive topics, e.g. security.
I also monitor the website to ensure editors avoid stories that could hurt our reputation and safety (e.g. fake news and libellous content).
My duty also includes keeping editors informed if any dangerous topic arises and recommending ways of coverage, working with the relevant HODs and/or editorial manager.
4. How important is your role as we prepare for the upcoming elections?
Extremely important. As a Politics Editor, I have to stay on top of all the political happenings in the country and report them through news articles, features, analyses and fact-checks.
In some cases, I will have to run live updates of important political events, especially debates by the top contenders.
For me, this is not a new task. I ran the live updates for the 2019 presidential election alongside a few colleagues. So, we brace up for the 2023 elections as well.
Also, as a compliance officer, I have the tough task of ensuring that we avoid fake news, which, unfortunately, is being peddled by politicians.
As the elections approach, I also have the important task of ensuring professionality in our coverage of sensitive topics and ensuring we stay away from fake news and unfounded, libellous content.
Someone jokingly refers to me as Legit.ng's police. So, to better understand my role as a compliance officer as Nigeria prepares for the 2023 elections, think about the role of the Nigerian police in the polls: to maintain law and order.
5. What inspires your content direction?
The relentless need to keep people updated as accurately as possible so they can make well-informed decisions on issues that directly or indirectly affect their lives.
This is why my content is a creative blend of what people want to know (I deploy tech tools (analytics) to determine this) and what people need to know, using my experience as a Nigerian and a political editor with years of experience.
6. What makes your desk or news beat important to the overall mission of Legit.ng?
Legit.ng was "born out of the need to create and curate content that matters".
Politics matters a lot to Nigerians (and indeed the entire world) because that's the sector where decisions that affect their lives are taken.
So, if Legit.ng's mission is to create content that matters and politics happens to be the important thing that matters to Nigerians, it logically follows that the Politics and Current Affairs Desk is the most important beat in our newsroom. And this is why the politics desk is as old as Legit.ng itself; it is the heart of our newsroom.
Our coverage of Current Affairs stories ensures that each time you visit Legit.ng's website or social media pages, you're served with the latest content.
Through verified Breaking News, Real-Time News Reports, Insightful Analyses, Engaging Features, Eye-Opening Fact-checks, and Quality Interviews, the politics desk helps Legit.ng lead the way in providing content that matters the most to Nigerians; the content that keeps Nigerians in the know every time and enables them to make well-informed (social, political and economic) decisions about issues that affect their lives.
7. What makes Legit.ng important to the Nigerian/African media landscape?
Since its establishment in 2012, Legit.ng has been expanding the frontiers of digital journalism in Nigeria/Africa.
From politics to business, human interest and entertainment, we report, with a unique touch of creativity and dynamism, what other news platforms used to think were not newsworthy.
Now many are following up as we lead the way in enriching Nigerians' lives with the content they used to think was not deserving of a news media's space.
We changed the news reporting game by prioritising, through data-driven decisions, what the audience wants to know. We don't just assume that this is what the audience must know. We deploy tech tools to study and analyse what is important to them and provide quality content to meet their information needs.
From a high-speed, responsive, mobile-friendly and aesthetically pleasing website to ever-engaging social media pages, we tell stories on virtually every digital platform available.
And we pay attention to the minutest details, including image requirements which, sadly, many media organisations still don't care about.
And the results speak for us: We are Nigeria's number one online news and entertainment publisher by audience, meeting the news needs of over 10 million unique readers monthly via our website.
We are also Africa's largest English-language publisher on Facebook.
Meanwhile, while some news media traditionally focus only on "the high and the mighty" in society, dishing out awards (both deserving and undeserving) to them, Legit.ng, through our charity initiative, focuses on the ordinary Nigerians whose stories of struggles and triumphs form a huge percentage of our reportage.
We not only tell their stories of struggles, but we also take the extra steps to help them find succour through our initiative.
8. As a digital media platform, how do you leverage digital technology to aid your work and give the best output?
At Legit.ng, technology is at the core of our reporting. We don't just create content based on assumptions.
We apply cutting-edge technology to tailor our content based on the audience's preferences.
This is why, for instance, in 2021, the newsroom won the Google News Initiative grant for implementing a recommendation system (ReCo).
ReCo improves our audience's experience by making content recommendations based on their preferences on the home page and within articles.
Personally, I use some important tech tools to decide what to write and how to write them to get the best results.
This includes CrowdTangle, Google Trends, Google's Natural Language API demo, TweetDeck, Keywordtool, answerthepublic.com, and so on.
9. How do you have fun outside of work?
Hmmm…my duty, especially as a compliance officer, demands that I stay "on guard" all the time.
However, I do find time to have fun. If I'm not watching movies on Africa Magic TV (Yorùbá), then I'm on Instagram following up with my favourite Fuji musician, Saheed Osupa, or I'm on TikTok having some laugh-out-loud moments.
10. If you weren't in your role at Legit.ng, what will you be doing differently?
I would probably be in academics, studying/teaching media communications, or, you never can tell, African/Arabian literature.
Previously on our Spotlight, we celebrated Legit.ng Politics/Current Affairs Editor, Jerrywright Ukwu, for being at Legit.ng for 8 years. He disclosed details about his journey in the company, growth opportunities, and the values that he has held dear at Legit.ng. He also touched on how Legit.ng is leading the way in how responsible journalism is being practiced in modern times, and how his desk is at the forefront of this mission. Read up here .
Learn more about Legit.ng
According to Newswhip Analytics, Legit.ng hit the list of the most engaged international Facebook web publishers. Legit.ng got an award for massive Facebook engagement, and ranked top on the list of Top 10 global web publishers with plenty of stories in the Top 10,000. We came in on the list ahead of A-list media houses like Daily Mail, CBS News, The Guardian UK, BBC, The Hill, New York Post and even Forbes. Read more here.
Source: Legit.ng