Nobody Gave Us Land; We Came from Gbagba - Olakaka Clears Air on Boundary Controversy
During the celebration of the 2021 Ore Otiti festival, which was held on Wednesday, October 19, Oba Ayoola Azeez Olatunji, the Olokaka of Okaka, spoke extensively with LEGIT.ng and set the record straight on the history and origin of Okaka amid emerging boundary rifts between the community and one of the neighbouring towns.
Can we meet you, Kabiesi?
My name is Alayeluwa Oba Ayoola Azeez Olatunji Ogelende IV, the Olokaka of Okaka in Itesiwaju local government, Oke-Ogun region in Oyo state.
Can you tell us about the Ore Otiti festival and its bond with Okaka?
Ore is an important personality we celebrate annually. It is a festival of the Yoruba people as they would say "a ki fi omo're b'Ore", meaning that it is an abomination to use Ore's child to appease him.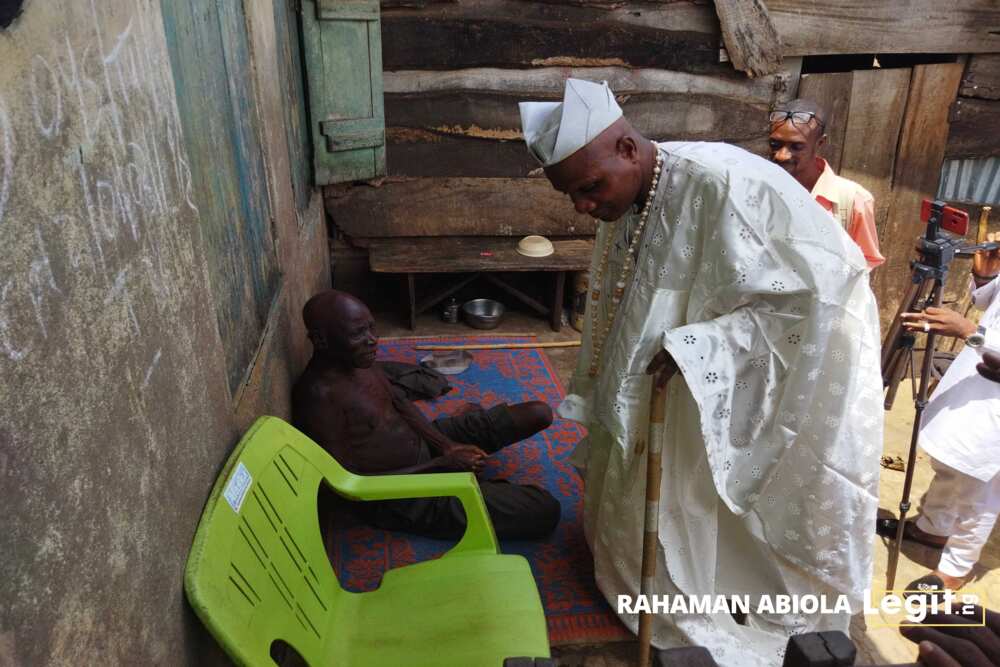 Do you have a groundbreaking story you would like us to publish? Please reach us through info@corp.legit.ng!
However, to us in Okaka, it is significant to our history irrespective of individuals' beliefs. Ore is so important that there is no cultural activity, including chieftaincy, without visiting its shrine.
Apart from its spiritual essence, the festival closely presents ample opportunities to the "sons and daughter of the soil" to rub minds together and discuss the foresight of the community.
Tell us more about Okaka's origin?
The people of Okaka were not where they were today; they came from a place known as Oke Gbagba (Gbagba mountain).
Before moving to Okaka's current place, people celebrated the Ore god, hence the reason Okaka panegyrics is always linked with the deity.
Everything about Okaka has a historical link. For instance, the name of this community, Okaka, was taken from Ejo Oka (Cobra). Oka is a mild snake that does not strike unless it has been totally frustrated.
That is why we can never be consumed by war.
As Okaka celebrates Ore Otiti, what is your foresight for the community?
I want progress for the sons and daughters of Okaka. When we have people at the upper echelon, it is a sign of progress for the community. Besides, we want a higher education.
Over the years, Okaka has been one of the strong communities in the Itesiwaju local government area. We once had a Local Council Development Area (LCDA) during Bola Ige's tenure. We are appealing to the current government to give Okaka LCDA. It is an injustice that we do not have one. Kisi, Igbeti and other neighbouring communities are not that bigger than Okaka and the government recognises them.
Similarly, we want the government to support our Ore Otiti festival the way they support the Osun festival in Osogbo. They will not be disappointed.
Okaka and Ipapo share boundaries, hope there is no rift between the two communities?
There is no place boundary rift does not exist as we can see in the border conflict between Iraq and Iran, Palestine and Israel, Offa and Erin-Ile, Ife and Modakeke. However, we do not see it as a problem. It can be for our grudging neighbours. Our foresight is beyond the present.
The future is bright for us, so we will not fight. Even if there is a need, we have sons of the soil who are in higher places. We have people in the Nigerian military forces. There are great men in the country who hailed from Okaka. An empty drum makes the loudest noises. We are agents of peace.
You said Okaka people originally came from Oke Gbagba. Can you shed more light on this?
Every man or nation has its source somewhere else. Okaka people have their source in Oke Gbagba located in Komu in this same Itesiwaju local government. We came a long way before we finally settled here. In fact, the Ifa (oracle) they used to establish Okaka is still in my custody. When we came here, we did not meet anybody. In essence, our loyalty as a community is to Alaafin. I am the son of Alaafin.
There are insinuations that Ipapo is laying claim of ownership on some pieces of land in Okaka
(Cut in). . .Those who are complaining ask them where is their boundary. We gave some people a piece of land, and they said it belonged to them. No community gave us this land. And as a matter of fact, all land belongs to the government. So if they are the owner of our land, why can't they chase us from here? It is a febrile imagination of some misled characters.
In our history, Okaka people were not chased from Gbagba by war. Mountains surround Gbagba. When the challenges were getting too much, we had to leave and settle here.
What is the relationship between Okaka and Owotoro?
We are the same, sons of the same parents. We came from Gbagba. They settled when they got to their present place. In fact, Ore Otiti is in Owo. We are relatives.
How many kings has Okaka produced?
Many kings of which I am one of them. When Okaka people migrated here, the first male child to be born was Olabiyi, while the first female was Boorike. As a result, Okaka has produced up to nine kings, excluding the regents.
Source: Legit.ng