Tonto Dikeh, Bobrisky, Jim Iyke and Other Nigerian Celebrities You Do Not Want to Get Into Trouble With
One thing about the celebrity life is that no matter how good or nice you are, there will still be people who do not fancy you or your status and they will let you know.
Some public figures will decide to unlook such behaviours and turn a deaf ear on social media while others will simply block or tell you off.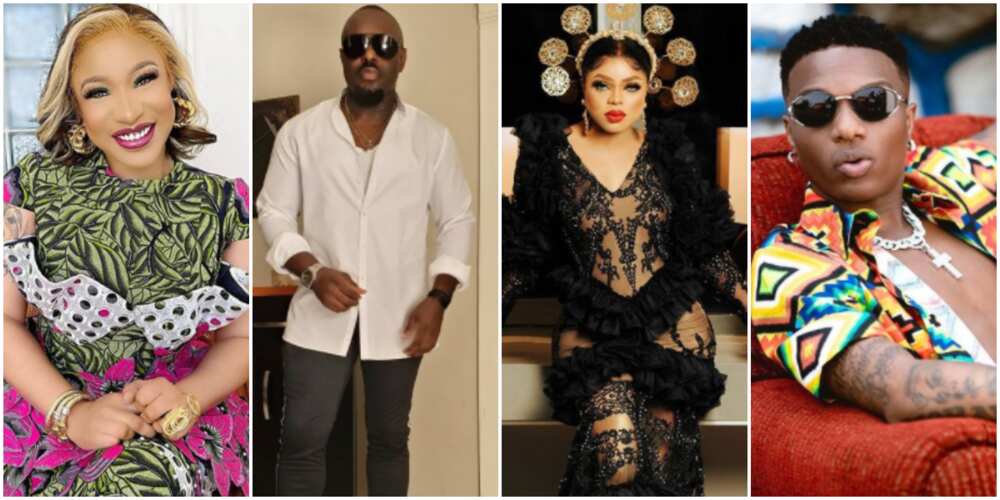 There are some Nigerian entertainers and personalities who will do neither of both above and will come down to your level or even lower.
They have a reputation for fighting troublemakers and trolls to the end and would most likely show you the stuff they are made of.
If you are a bit of a troublemaker or blunt personality on social media, Legit.ng has put together a list of celebrities you should not provoke.
1. Tonto Dikeh
It is only right that Tonto takes the firat spot, they do not call her king for nothing! The actress will assure you that she will mess you up and if you dare her, you will regret it, ask Jane Mena.
Also if you have dated her and you think that you can move mad by leaking secrets like Kpokpogri, Tonto will be waiting for you in front.
2. Jim Iyke
Jim is not a man of many words, he likes to swing into action, so if you look for his trouble or frustrate him, he will look for you and mess you up.
Uche Maduagwu will tell you the story in full. Call him talk and do!
3. Bobrisky
Despite the fact that Bobrisky's bae has warned him not to fight on social media, the crossdresser still finds a way to get into trouble or reply drags on Instagram.
Now, Bobrisky does not care about consequences when he and his army of supporters decide to give you trouble in equal measure.
4. Iyabo Ojo
During the heat of the Baba Ijesha sage, this hot mama of two let us know that she can be relentless and use social media to mess you up till you apologize.
Iyabo Ojo gave Yomi Fabiyi one hell of a time for supporting Baba Ijesha and that is enough proof that Iyabo Ojo is not easy meat or one to be bullied.
5. Wizkid
Our starboy will not reply anyone, but his fans, Wizkid FC, should not be toyed with as they will fiercly drag anyone who comes close to touching or insulting him.
Wizkid's fans have no mercy and they will also drag your fave into the mess.
6. Uche Maduagwu
Uche Maduagwu calls out celebrities who have no business with him, so imagine actually getting to a fight with him or looking for his trouble.
7. Liz Anjorin
Lizy Anjorin has been known to curse out and drag people just for annoying or frustrating her on social media.
If she can drag fellow celebrities in the mud, we ask, who are you?
8. Reno Omokri
The ex-presidential aide and author drags anyone, if the president can collect from the daily dose of gbas gbos from him, we ask again,who are you?
If Omokri is in a good mood to fight you to the last, he could sue you just for fun.
Bobrisky's ex-PA reveals dirty secrets about him
The month of September was definitely one to remember in the history of social media as messy breakups, scandals, fights and dirty secrets took over.
Bobrisky's Ivorian ex-PA, Oye Kyme took to social media to expose dirty unknown secrets about the crossdresser.
Oye revealed that Bobrisky does not have a female partner and gets intimate with men. She even mentioned popular businessman, Mompha.
Bobrisky and Oye parted ways in an ugly manner and she has never hesitated to drag his name in the mud at every given opportunity.
Source: Legit.ng