30 famous Parks and Rec quotes that made the show legendary
Sitcoms like Parks and Recreation are part and parcel of pop culture. From creating memes to funny statuses that satirize the government, quotes from this series are relatable in many social media forums. Whether you are a fan of Ron Swanson, Leslie Knope, or Chris Traeger, here are Parks and Rec quotes that made the show worth watching.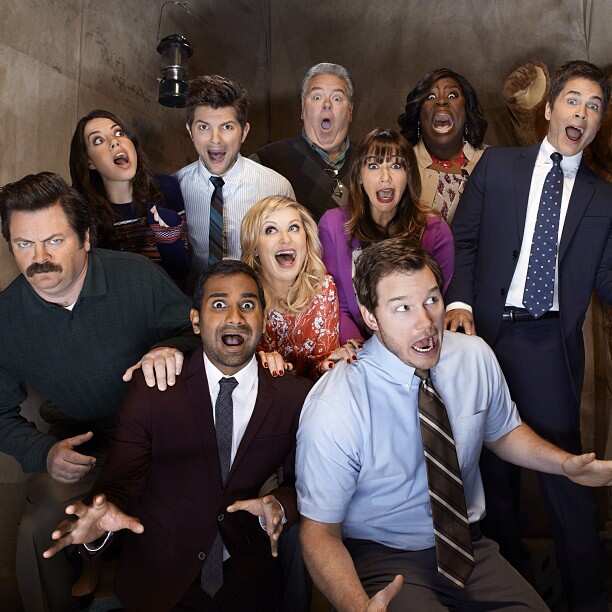 Parks and Recreation is an American political satire sitcom television series. It stars Amy Poehler as Leslie Knope, an outspoken official in the Parks Department of Pawnee, a fictional town in Indiana. Due to its hilarious and satirical themes, the series has received wide recognition and multiple awards.
Throughout its run, this series received several awards and nominations, including Primetime Emmy Award nominations (two for Outstanding Comedy Series), a Golden Globe Award win for Poehler's performance, and a nomination for the Golden Globe Award for Best Television Series – Musical or Comedy.
30 best Parks and Rec quotes
What makes this show legendary? It has an amazing cast that delivers some of the best one-liners.
This collection features Parks and Rec quotes about life, love, and the government. Here are some of the funniest quotes from Parks and Rec characters.
Best Leslie Knope quotes
In the initial seasons of the show, Leslie Knope is the Deputy in Pawnee's Parks and Recreation Department. Later, she successfully campaigns to become a member of the city council.
In her role as Deputy Director, she serves on several committees, including the Equal Opportunity Committee, the Fun in the Sun Committee, the Clean Restroom Task Force, the Handicapped Restroom Task Force, and the Task Force to Reduce the Number of Public Restrooms.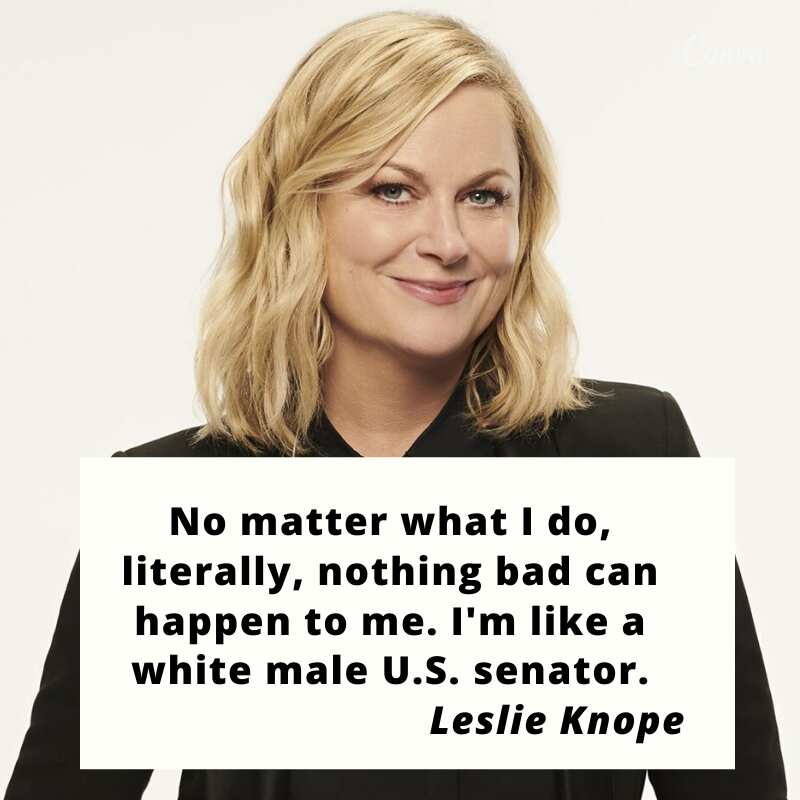 She hopes to improve her town and advance her career. Her ultimate goal is to become the first female President of the United States. Knope proudly displays in her office images of Hillary Clinton, Joe Biden, Madeleine Albright, Condoleezza Rice, Dianne Feinstein, Janet Reno, Nancy Pelosi, and Larry Bird.
Leslie also has a love for waffles (which she frequently orders in large quantities at J.J.'s Diner) and whipped cream, which she puts on coffee, waffles, etc. She has delivered several Parks and Recreation funniest quotes.
Here are a few of them:
Pawnee's library department is the most diabolical ruthless bunch of bureaucrats I've ever seen. They're like a biker gang. But instead of shotguns and crystal meth, they use political savvy and shushing.
The things that you have done for me, to help me, support me, surprise me, to make me happy, go above and beyond what any person deserves. You're all I need. I love you, and I like you.
We need to remember what's important in life: friends, waffles, work. Or waffles, friends, work. Doesn't matter, but work is third.
No matter what I do, literally, nothing bad can happen to me. I'm like a white male U.S. senator.
That's why people respect Hillary Clinton so much – because nobody takes a punch like her. She is the strongest, smartest punching bag in the world.
Best Ron Swanson quotes
Ron Swanson government quotes are extremely satirical and controversial. At the beginning of the show, he had been director of the Pawnee Parks and Recreation Department for six years.
Despite working at the city hall, he believes that all government activities are a waste of taxpayers' money. Ron believes that the park system should be privatized and run entirely by corporations for profit, as exemplified by the business model of the Chuck E. Cheese's chain of family entertainment centers.
He advocates for program cuts wherever possible, and intentionally hires people who are bad at their jobs so that they will slow down the government. Ron puts almost no effort into his job and lets his Deputy Director, Leslie Knope, do the vast majority of the work.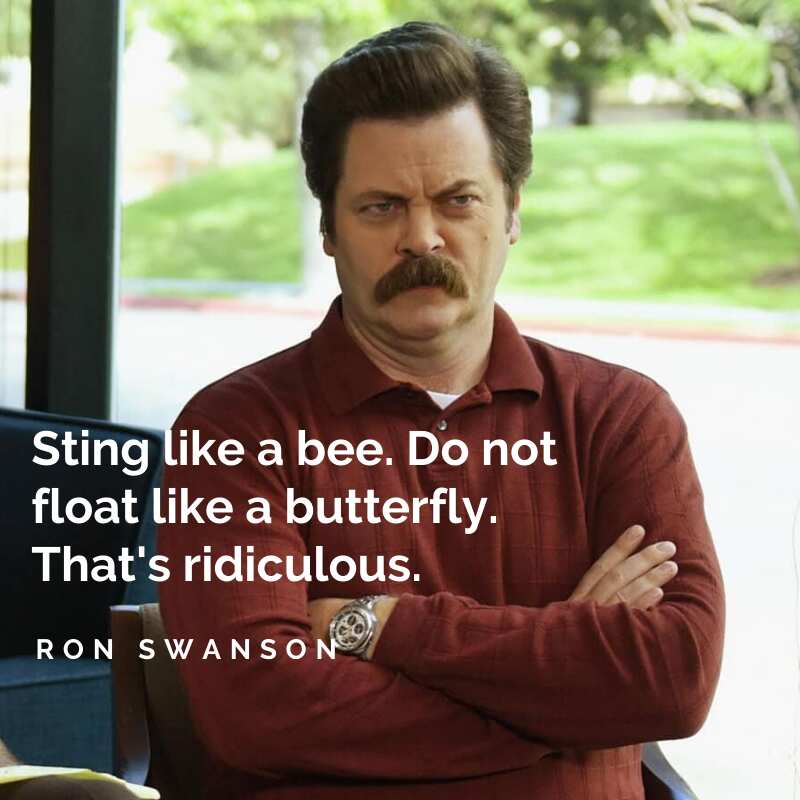 His staunch Libertarian beliefs and distinctive moustache have made him the face of most Parks and Rec memes. He also delivers some of the best one-liners and quotes about government.
I've been quite open about this around the office: I don't want this parks department to build any parks, because I don't believe in government. I think that all government is a waste of taxpayer money. My dream is to have the park system privatized and run entirely for profit by corporations, like Chuck E. Cheese. They have an impeccable business model. I would rather work for Chuck E. Cheese.
My idea of a perfect government is one guy who sits in a small room at a desk, and the only thing he's allowed to decide is who to nuke. The man is chosen based on some kind of I.Q. test, and maybe also a physical tournament, like a decathlon. And women are brought to him, maybe ... when he desires them.
My ex-wife Tammy cheated on me; then we divorced, then last week I ran into her sister Beth here; turns out she hates Tammy too, so we started dating. It's like a fairy tale.
On my deathbed, my final wish is to have my ex-wives rush to my side so I can use my dying breath to tell them both to go to hell one last time.
Give a man a fish and feed him for a day. Don't teach a man to fish…and feed yourself. He's a grown man. And fishing's not that hard.
I would wish you the best of luck, but I believe luck is a concept created by the weak to explain their failures.
Sting like a bee. Do not float like a butterfly. That's ridiculous.
If you need anything at all, too bad. Deal with your problems yourselves, like adults.
Best Andy Dwyer quotes
Andy Dwyer is a dim-witted city hall employee who is known for having a short attention span and child-like tendencies. At the start of the series, he is dating Ann Perkins, who dumps him before he meets and marries April Ludgate.
Surprisingly, Andy has an impressive memory. He received the highest grade the police academy had ever seen on the written entrance test and he remembers movies word for word. Andy's Parks and Recreation quotes often prove how dim-witted he is.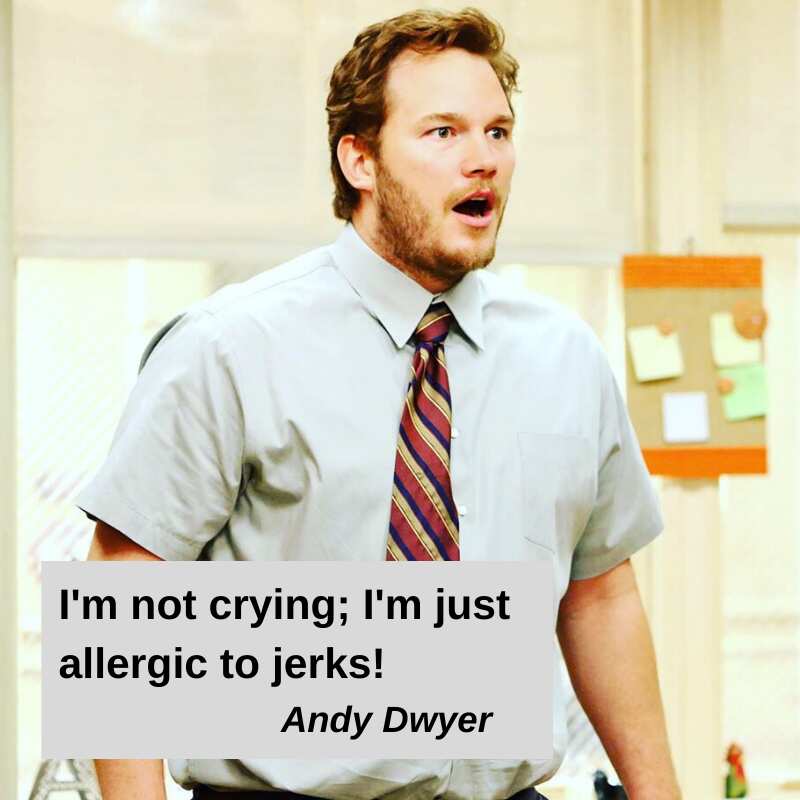 If you rearrange the letters of Peru, you could spell Europe.
When I get bummed out, I take my shirt off because the bad feelings make me feel sweaty.
Just remember, every time you look up at the moon, I too will be looking at a moon. Not the same moon, obviously. That's impossible.
Leslie, I typed your symptoms into the thing up here, and it says you could have "network connectivity problems."
I'm not crying; I'm just allergic to jerks!
Best Chris Traeger quotes
At the start of the show, Chris Traeger is an Indiana State Auditor who visits the fictional city of Pawnee to help solve their crippling budget problems. Eventually, he becomes Pawnee's acting City Manager.
Chris is an extremely positive person who is constantly upbeat and energetic. Extremely health-conscious, he constantly exercises and eats only healthy foods, hoping to be the first human to reach the age of 150.
When he was a baby, Chris was diagnosed with a rare blood disorder and was not expected to live longer than three weeks, but he miraculously survived. As a result, he sees everything as a gift and maintains an intensely cheerful and enthusiastic personality.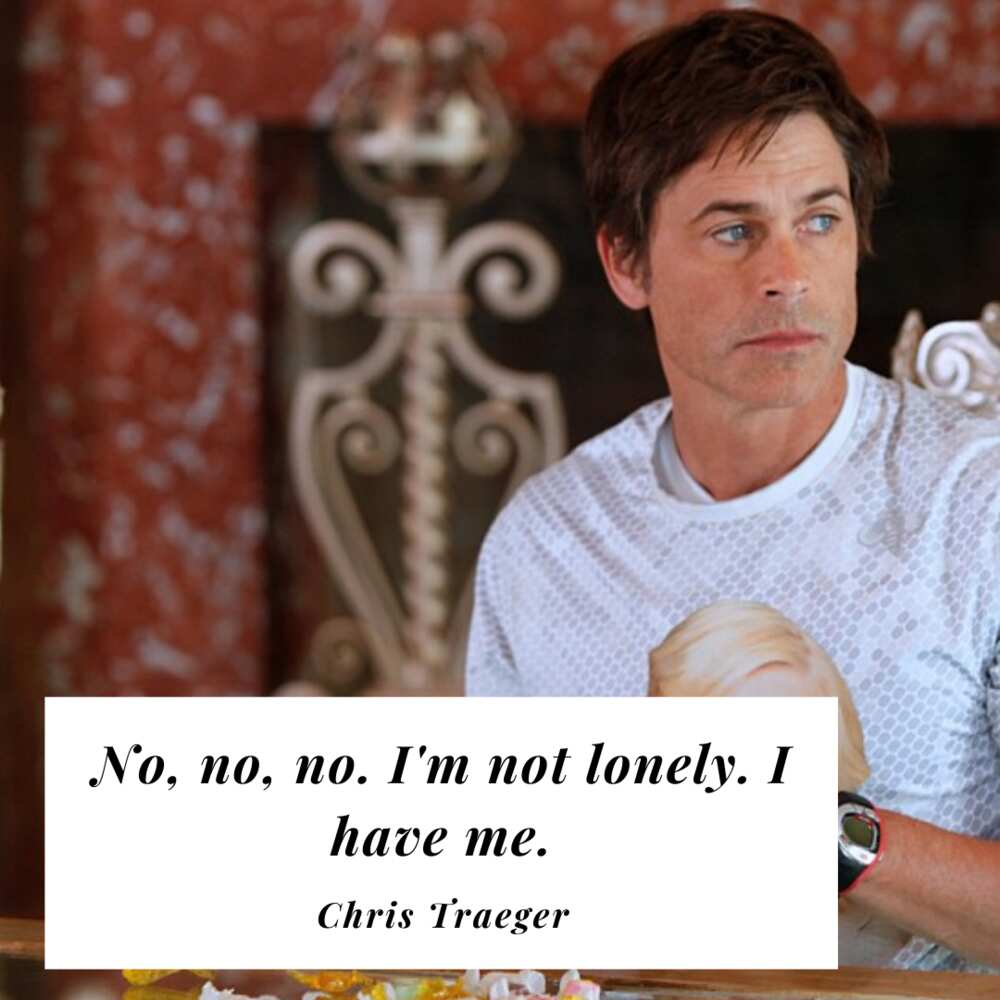 Chris's scenes are some of the best of Parks and Rec, and his top quotes are:
Happy Valentine's Day, Pawnee. For me, it is not happy. But don't let my sadness diminish your night. Anyway, life is fleeting.
No, no, no. I'm not lonely. I have me.
I vomited somewhere in this room. I don't remember where, though. Wait. You might want to check that drawer.
In the grand scheme of things, who cares? We're all just molecules, floating around in random patterns devoid of meaning.
Goodbye, Ann Perkins, my faithful employee. Hello, Ann Perkins, my fallopian princess.
I think you've got several options. They're all terrible, …but you have them.
I am 100% certain that I am 0% sure of what I am going to do.
Best Jean Ralphio quotes
Jean Ralphio is a cocky character who sees himself as a pickup artist and baller. In reality, he is looked upon with contempt by most people around him. He tries to dress stylishly, makes up and raps spontaneous rhymes, and often speaks in slang terms.
He starts an entertainment company with his friend Tom. Their venture quickly falls apart due to extravagant spending, and they both move on to other schemes. He has a crush on Leslie Knope.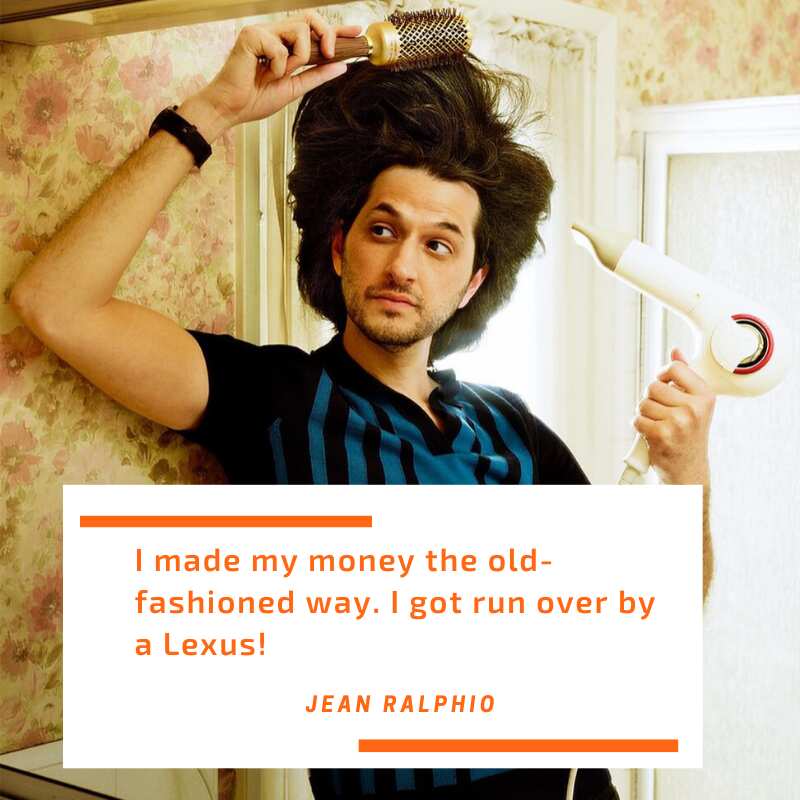 Throughout the show, each Parks and Rec quote from him is funny. Here are some of his top quotes:
I made my money the old-fashioned way. I got run over by a Lexus!
It's like I always say, okay. When life gives you lemons, you sell some of your grandma's jewelry, and you go clubbing.
Lemony Snicket. Oh, my God, are you serious? I'm gonna be an uncle? Is that a real thing? Is that gonna happen? No, no, that's too much– too much responsibility for me. I gotta…I gotta find another way out of this.
For starters, access to the illest clubs. And that's just for starters. I will work for you. I'll be on you 24/7. I'll be like your family. I'm here when you get here in the morning, sure enough, I'll be there tucking you into bed at night. Don't worry; it's not gay. Do we have questions?
Ben. Is that your real name? You could do better than that; I'm gonna help you out right now. Your name is Angelo. Angelo, thank you so much for coming out, get a thicker tie, it looks weird on you. It makes your head look like a fish. Secondly, I don't know where the paperwork is, but when you find it, can you take care of it for us. We don't have any pens because we're afraid it's gonna leak on our shirts. Lastly, I hate the name Angelo; I'm gonna switch it up for you right now. Your new nickname is Jello Shot. What do you think about that, J-Shot? Do you have questions?
There are Parks and Rec quotes for every occasion. With a funny cast that always delivers humor and satire, you will always have something funny to quote from this sitcom. Whether you need a serious Ron Swanson quote or light-hearted Parks and Rec quotes about friendship, this list has you covered.
Source: Legit.ng