Top 28 Nigerian State Governors With Highest Debt in 2022, 11 Leave Massive Debts For Successors
Close to 30 state governors would be leaving behind huge debts for incoming successors
The 28 state governors owe over N5 trillion in both domestic and external debts, available data shows
Of the 28 governors, 11 are eligible for reelection in March while others will leave office on May 29, 2023
About 28 governors leaving office in May 2023 or seeking re-election including the Minister of the Capital Territory have amassed about N5.8 trillion in sub-national debts.
The figures are based on the reports of the Debt Management Office (DMO) on sub-national debts.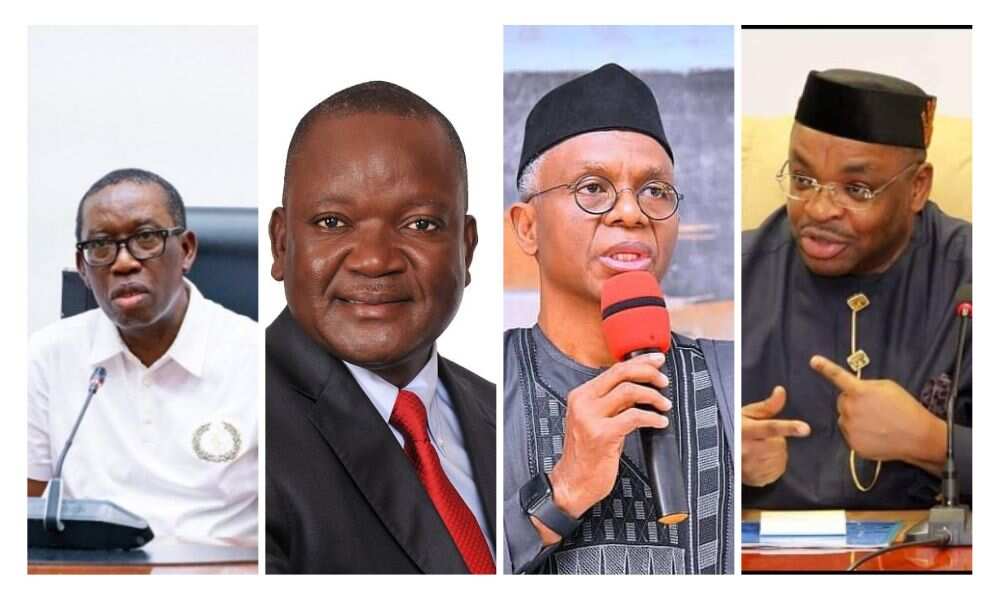 List of governors seeking re-election
Out of the 28 governors, 11 are eligible for re-election in March 2023.
They include Governors Mohammed Yahaya of Gombe; Babagana Zulum (Borno); Abdullahi Sule (Nasarawa); Seyi Makinde (Oyo); Mai Buni (Yobe); Bello Matawalle (Zamfara); Babajide Sanwo-Olu (Lagos); Ahmadu Fintiri (Adamawa); Dapo Abiodun (Ogun); Bala Mohammed (Bauchi) and Abdulrahman Abdulrazak of Kwara state.
Outgoing governors are Emannuel Udom (Akwa Ibom); Samuel Ortom (Benue) Ifeanyi Okowa (Delta); David Umahi (Ebonyi); Mohammed Abubakar (Gombe) Aminu Masari (Katsina); Bello Bagudu (Kebbi); Abubakar Bello (Niger); Aminu Tambuwal (Sokoto); Simon Lalong (Plateau) and Darius Ishaku of Taraba.
The sub-national debts are categorised into domestic borrowings from local creditors and external loans from foreign or international creditors such as the World Bank and International Monetary Fund (IMF).
According to information on domestic and external debt available on DMO's website as of September 30 and June 30 respectively, domestic debts amount to N4.38 trillion while the states accumulated about $3.15 billion or N1.42 trillion.
States with highest debts
The DMO data further shows that Lagos has the highest debt with N877.04 billion in domestic debt and $1.27 billion in foreign debt.
Kaduna State is next with a domestic debt of N86.86 billion in domestic debt and external debt of $586.78 million.
The third highest indebted state is Rivers with a domestic debt of N225,51 billion and foreign debt of $140.18 million.
Cross River comes next with N175.2 billion in domestic debt and $215.75 million in external debt.
Others are:
Ogun with N241.78bn domestic debt and $122.73m foreign debt.
Bauchi has N144.28bn domestic debt and $172.76m external debt.
Enugu N89.89bn and $123.02m
Kano N125.19bn and $109.42m
Abia N104.57bn and $95.63m
and Adamawa N122.48bn and $77.01m.
Other debtor states include:
Akwa Ibom N219.62bn and $46.567m,
Benue N143.37bn and $30.47m
Borno N96.33bn and $18.7m
Delta N272.61bn and $60.05m,
Ebonyi N67.06bn and $59.84m,
Gombe N139.1bn and $46.93m
Jigawa N44.41bn and $27.61m,
Katsina N62.37bn and $55.82m,
Kebbi N60.13bn and $42.40m,
Kwara N109.55bn and $45.94m,
and Nasarawa (N72.63bn and $53.73m).
N98.26bn and $69.27m,
Oyo N160.07bn and $76.97m,
Plateau N151.90bn and $33.74m,
Sokoto N85.58bn and $37.13m,
Taraba N90.81bn and $22.28m,
Yobe N92.86bn and $23.09m
and Zamfara N109.69bn and $29.33m.
The FCT has a domestic debt of N112.49bn and external debt of $25.38m.
World Bank raises alarm
The states' debt makes up about 81.72 per cent of the N5.36 trillion sub-national domestic debts and 69.08 per cent of $4.56 billion in external debts.
The Punch reported that World Bank stated in its December 2022 update that states' debts would increase above 200 per cent of the revenue generated in 2022 and 2023.
According to the report, debt levels for an average state are estimated to rise from 154.6 per cent of revenues in 2021 to over 200 per cent of revenue in 2022 and 2023.
Nigeria's total debt stock is projected to hit about N77 trillion in 2023, per DMO's Director-General, Patience Oniha.
Nigeria's Debt Stock to Hit N77 Trillion in 2023 as FG Embarks on New Borrowings
Recall that Legit.ng reported that Nigeria's debt stock is set to hit about N77 trillion with the addition of the N22.7 trillion loans from the Central Bank of Nigeria (CBN) to the federal government as well as new borrowings billed for 2023.
The country's debt profile hit N44.06 trillion in the third quarter of 2022 from N39.56 trillion at the end of 2021, data from Debt Management Office (DMO) said.
According to Patience Oniha, Director-General of the Debt Management Office, the country's debt already crossed the N44 trillion mark in September 2022 and immediately after the National Assembly approves the securitisation of the CBN's Ways and Means, the amount would be added to the national debt.
Source: Legit.ng