PenCom Sets Records Straight on Who is the Majority Shareholder of First Bank in a Big Win for Femi Otedola
In a new twist, the National Pension Commission (PenCom) has faulted an earlier statement from the management of First Bank Holdings on who is the majority shareholder
First Bank had in a statement signed by Company Secretary, Seye Kosoko ascribed to Tunde Hassan-Odukale as the single majority shareholder with 5.36% while Femi Otedola owns 5.07%
However, the manner Hassan-Odukale acquired his shares has been in contention given his firm is a pension fund.
PENCOM clarification means Hassan-Odukale will no longer be the chairman of one of Nigeria's oldest financial institution
The National Pension Commission (PenCom) has faulted the management of First Bank Holdings for ascribing Mr. Tunde Hassan-Odukale as the single-largest shareholder in the company.
In a statement issued on Friday, PenCom explained the funds invested by Leadway Pensure Limited in the shares of FBN Holdings Plc belong to Retirement Savings Account holders, and not a third party.
Through Leadway Pensure Hassan-Odukale is said to have acquired 1.05 percent stake in First Bank holdings to become the biggest shareholder with 5.36 percent while Femi Otedola owns 5.07 percent.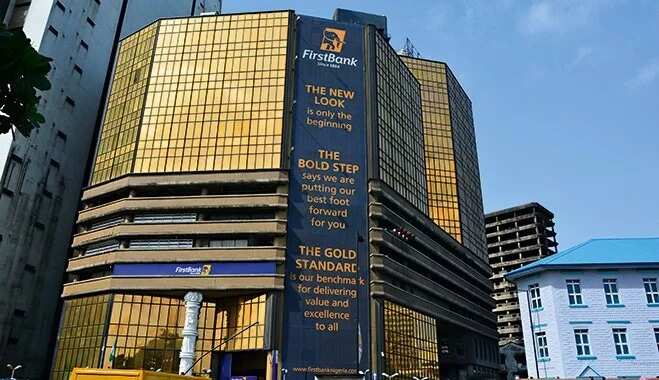 FBN secretary had in October in a note to Nigerian Exchange said:
"Hassan-Odukale presently has 26,231,887 total direct holdings in FBN Holdings (0.07 per cent) and 1,897,280,212 or (5.36 percent) and total indirect holdings.While Otedola has 1,818,551,625 or 5.07per cent total shareholding (Direct and Indirect)."
PenCom, on the other hand, dismissed the claim that Hassan-Odukale owns a 5.36 percent stake in First Bank's parent firm, claiming that part of its investment was made from a pool of contributors funds managed by Leadway Pensure.
PenCom said:
"The equity investments in FBN Holdings made by Leadway Pensure Ltd on behalf of the pension funds under its management are in the name of the pension fund and belong to the RSA holders," Therefore, the equity investments in FBN Holdings Plc as stated in (1) above, cannot be appropriated or classified as shareholdings of any related party to the PFA."
Because of the pension regulator's stance, if Hassan Odukale's leadway Pensure holding is removed, he will be left with 4.31 percent, allowing Femi Otedola to become the bank's majority shareholder.
There is no reaction from First Bank management at the time of writing.
Attached is the statement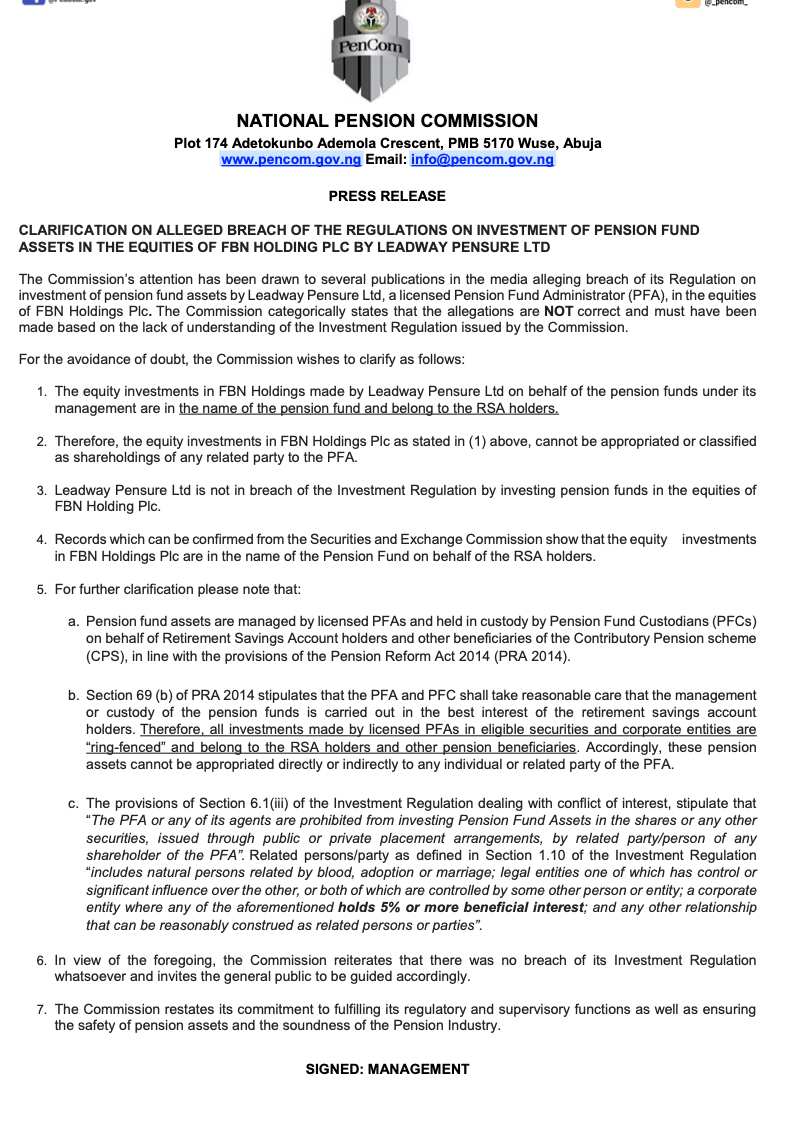 Investors lose N2.6 Billion in 24 Hours
In a related story Legit.ng had earlier reported how Femi Otedola lose N2.6 billion in 24 hours amid tussle over the leadership of First Bank Holdings
First Bank Holdings is the parent company of First Bank and Tunde Hassan-Odukale has been in loggerheads on the control of the bank with Femi Otedola.
As the leadership tussle rumbles on the shares of FBN Holdings on Wednesday dropped in value from N12.4 per share it closed on Tuesday, to N11.65 per share.
Source: Legit