Top 10 intercontinental dishes in Nigeria in 2023: detailed list
Some meals prepared in Nigeria are common in other parts of the world. For this reason, they are called intercontinental delicacies. When traveling abroad or hosting foreigners, knowing intercontinental meals can be helpful. You will worry less about meals to have or share with people if you already know local dishes that are popular worldwide. Learn about delicious international cuisine available in Nigeria below.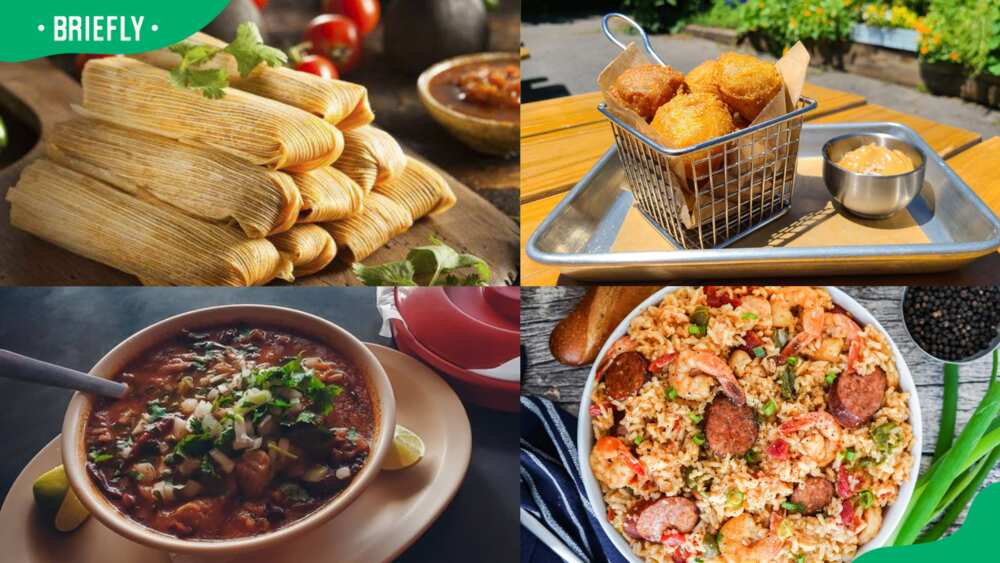 An intercontinental dish is any delicacy prepared by different continents. Usually, people use similar ingredients but add slightly different spices to create diverse aromas and tastes out of the same dish. The difference in ingredients, taste, and aroma might be too mild to be noticed.
What are intercontinental dishes?
Any delicacy prepared worldwide is considered an intercontinental dish, even if ingredients, aroma, taste, and presentation differ with communities and regions. Some differences are insignificant and ignorable.
List of the most popular intercontinental dishes in Nigeria
It is interesting how people of different continents can make almost similar dishes even when their countries are thousands of miles apart. For instance, most people across the globe use different recipes to prepare chicken and rice. Below are dishes prepared in Nigeria that you did not know were also common in other parts of the world:
1. Nkwobi (spicy cow leg sauce)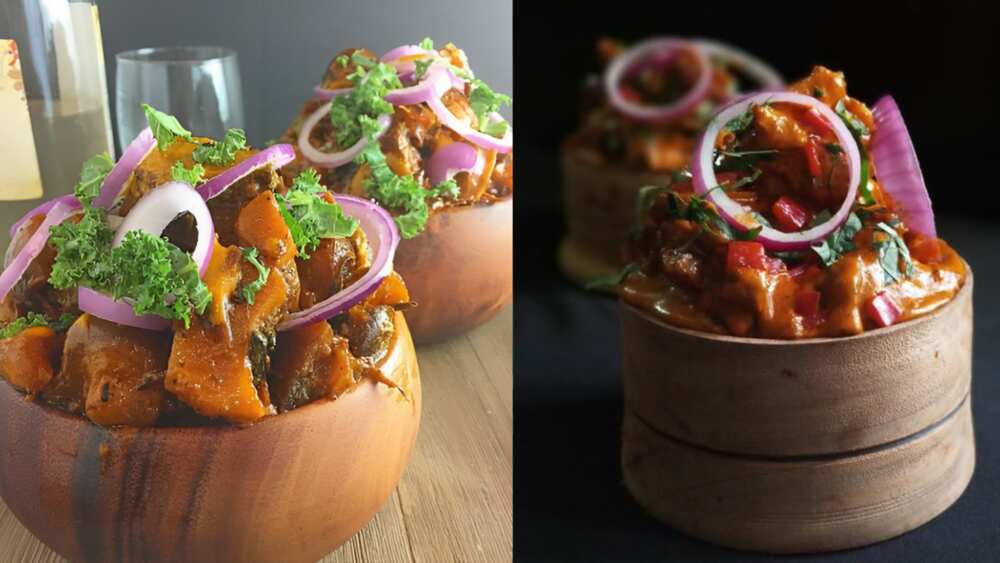 Nkwobi is a savory side dish among the Igbo people but is also quite popular worldwide. Igbos prepare this thick, spicy sauce using a cow's leg, tail, goat meat, and chicken. Nkwobi is ideal for people who want strong bones because it prevents bone loss due to menopause or rheumatoid arthritis.
Adolescent girls and women within the childbearing age can eat Nkwobi to replenish blood lost during menstruation and childbirth. Children and the sick also get nutritional benefits from this meal.
2. Menudo (Nigerian pepper soup)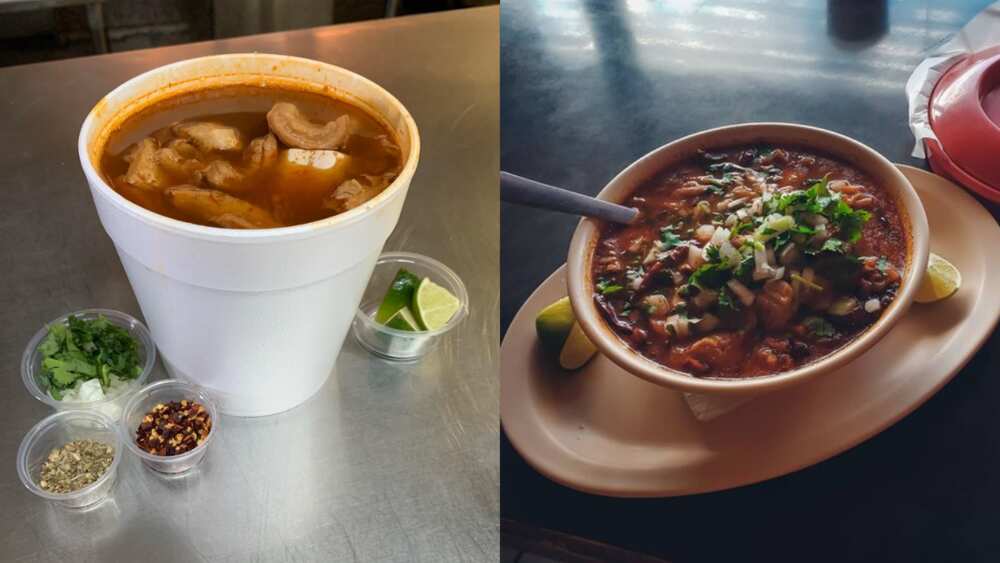 The world is familiar with the Nigerian pepper soup. Nothing over-the-top, only the essentials: meat, traditional spices, and chicken broth. People from across the Atlantic Ocean came up with a similar dish and named it Menudo (literal translation 'small stomach').
It is usually made of shaki (beef tripe), limes, cilantro, onions, and red chili peppers. Beef tripe takes a bit long to cook, but the result is worth it. It might take up to 7 hours to cook menudo; therefore, plan ahead.
3. Efo Riro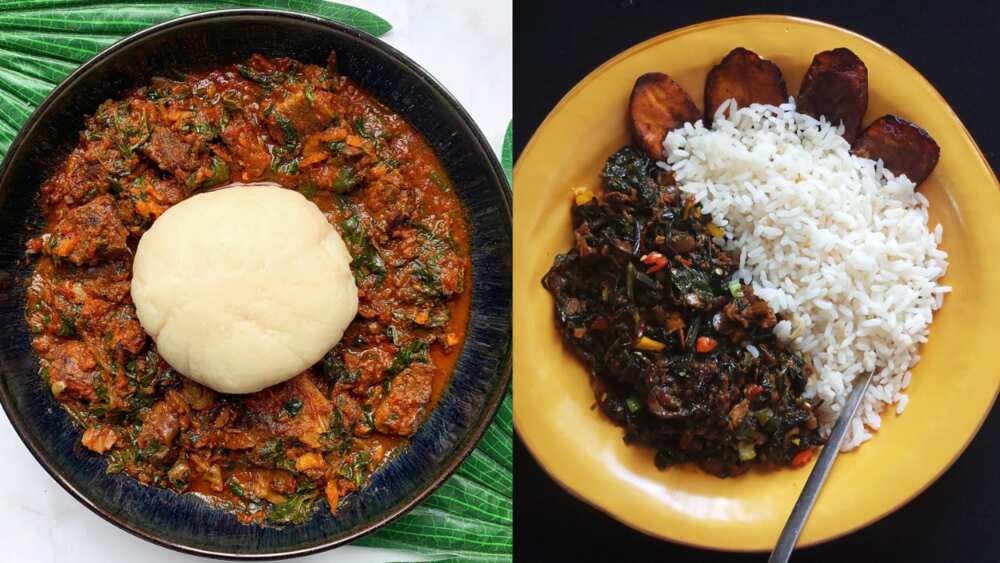 This traditional Yorubaland dish often gathers the whole family and turns a regular meal preparation into a social event. The main ingredients are fish stock, scotch bonnets (atarado), onions, crayfish, water, tatashe (red bell pepper), palm oil, leaf vegetables, red onion, other vegetables like shoko, seasonings, and beef.
4. Dodo/plantains (fried spicy bananas)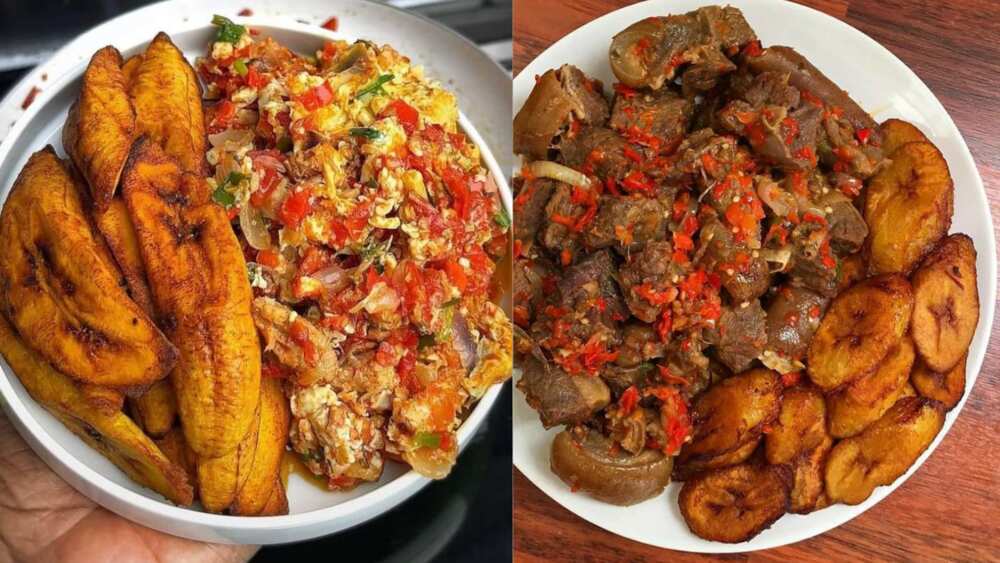 Dodo is a staple cuisine in Nigeria and quite popular across the globe. This universal meal is prepared differently to suit everyone's most preferred aroma. It is fried, grilled, boiled, pulverized, savory bananas/plantains. The Yoruba people call it fried sweet plantains. You can serve dodo with bean stew or meat stews from chicken, beef, pork, etc.
5. Tamales (Moi moi)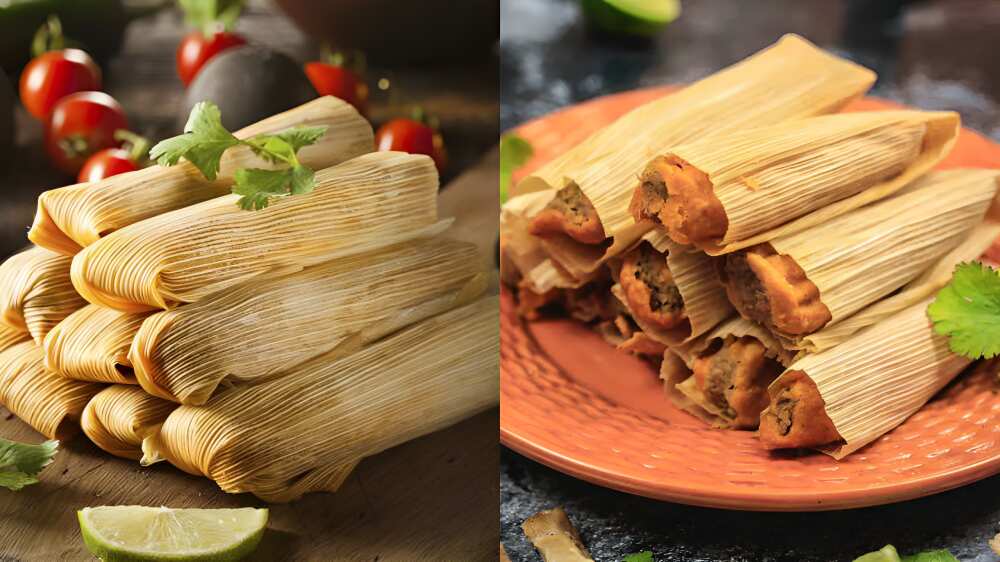 Nigerian tamales have a lot in common with Moin Moin/Moi Moi. The dish is traditionally made from corn dough (masa), herbs and spices (peppers, garlic, and onion powders), and filling. Nonetheless, the filling can contain other suitable ingredients, including meat, beans, and cheese. The filling is wrapped in corn or banana leaves and steamed. Tamales suit outdoor activities like hiking, cycling, or picnics. So, consider taking a break from Moi Moi and try tamales instead!
6. Beef patty (Nigerian meat pie)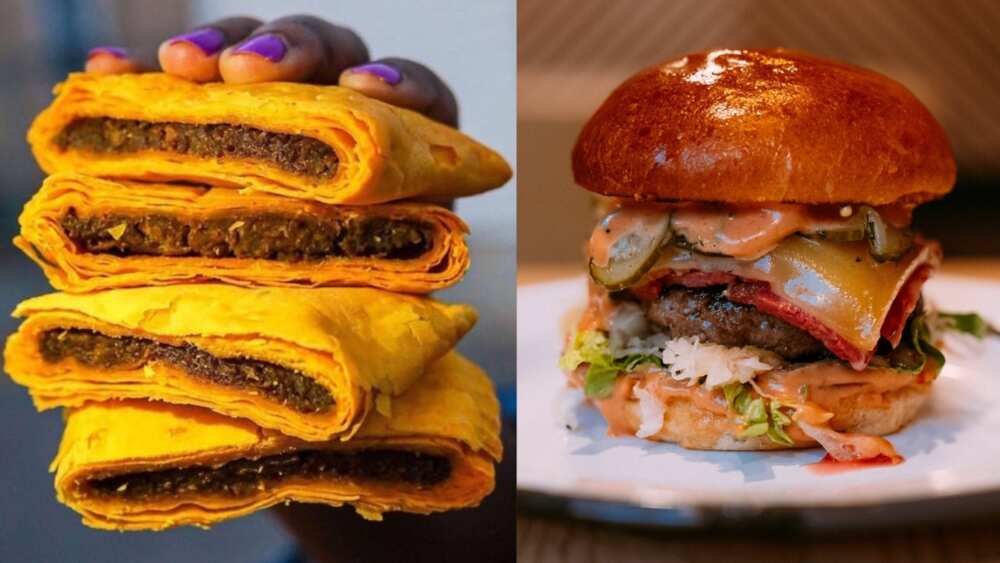 The beef patty is famous in Africa, America, and Caribbean countries. The Caribbean people call it the Jamaican patty. The Nigerian meat pie tastes like a beef patty. What sets them apart is the crusty, bright yellow pastry dough Nigerians use. The secret of the yellow color is curry powder, turmeric, and eggs. Also, Jamaican patties are filled with vegetables, seafood, and cheese.
7. Jambalaya (fried rice with eggs)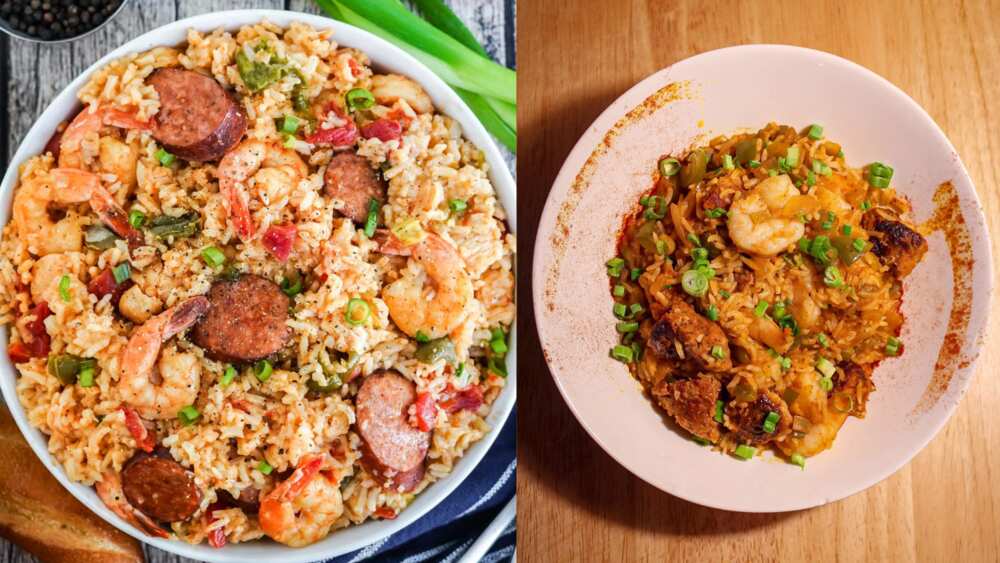 Jambalaya is one of the most loved fried rice meals in the world. The spices explode in your mouth, leaving you asking for a second and third serving. Cooking Jambalaya in a pot seals in all the flavors and aromas. Traditionally, Jambalaya only requires white rice, green pepper, onion, celery, and pork. Adding sausages, shrimp, and eggs can make yours more special.
8. Hush Puppies (corn dab/red horse bread)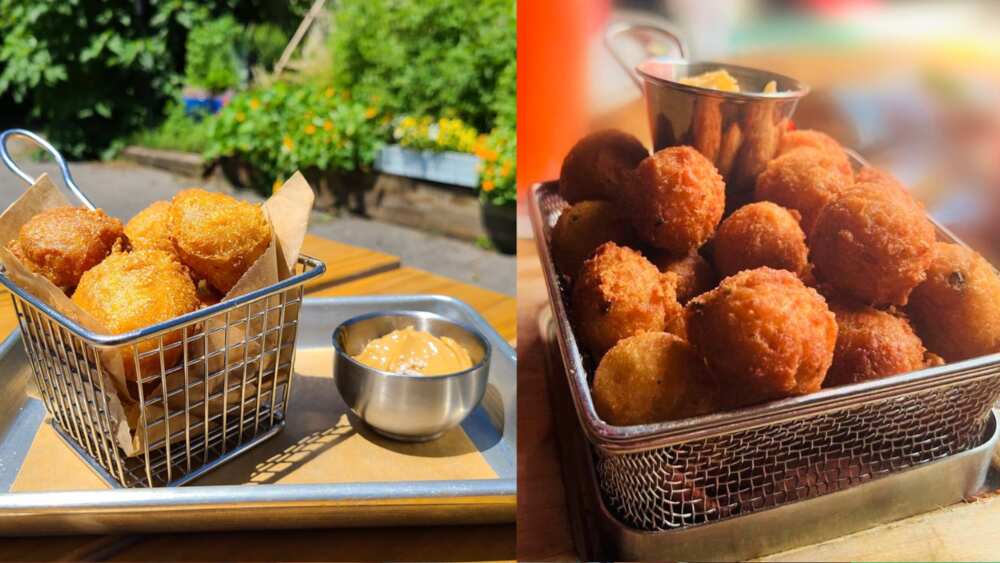 Hush Puppies are some of the best desserts you will ever taste. Nigerians also call it puff puff (or kpof kpof). It is a staple North American dish. You use cornmeal and can add sugar or salty to make sweet or salty Hush Puppies. In about 20 minutes, you will be munching your tiny doughnuts. Make a large batch so your friends and family don't miss it.
9. Jollof rice (spicy fried rice)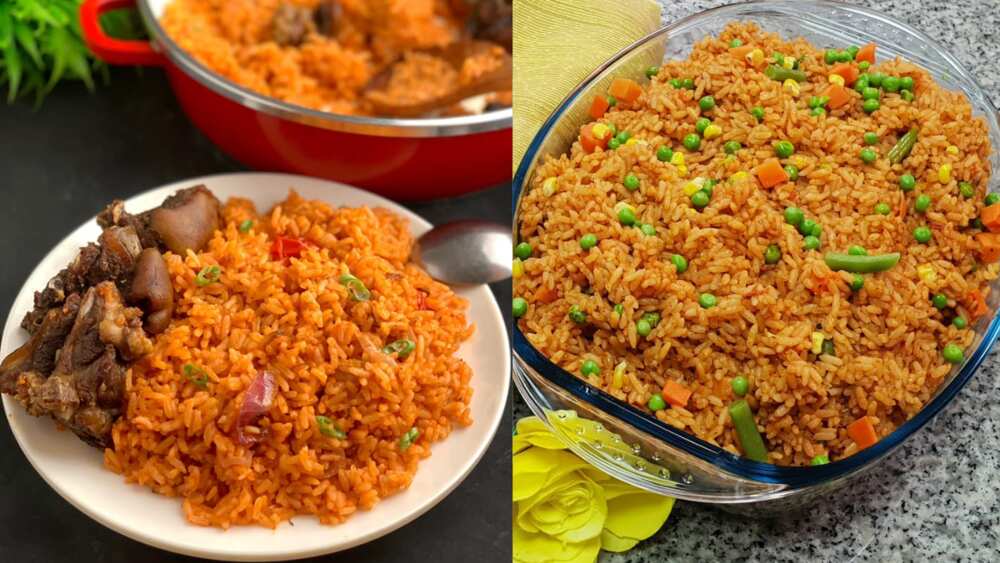 Jollof is made with long-grain rice, onions, tomatoes, spices, vegetables, and meat. The dish is also famous in Arabic and Swahili communities across the world. Although Jollof rice ingredients and preparation methods vary across different regions, the essential thing is to mix everything in a single pot.
10. Beef suya (smoked spicy meat)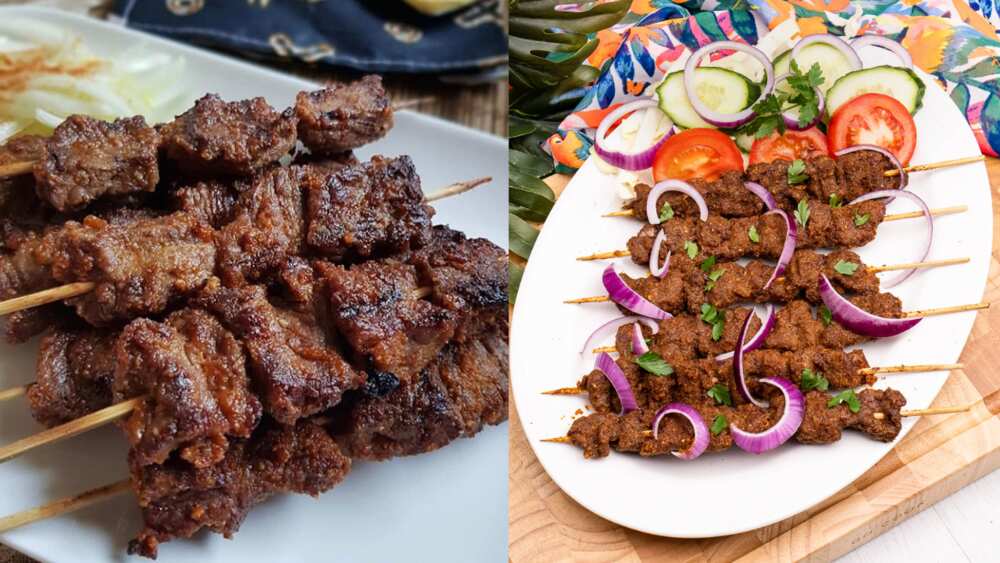 Suya is a Nigerian street food. It is thinly sliced, nutty, spicy, skewered beef. The meat is rubbed with suya spice (yaji) – a dry spice mix containing herbs like ginger, cayenne pepper, paprika, and onion powder.
What is the difference between continental dishes and intercontinental dishes?
An intercontinental dish is a cuisine prepared worldwide, while a continental dish is only popular within a specific continent.
Is fried rice considered to be an intercontinental dish?
Fried rice is among the world's most famous intercontinental dishes. People have different names for it. For instance, West Africans call it Jollof rice, while East Africans call it Pilau and Biryani.
What are the examples of intercontinental dishes in Nigeria?
Many dishes from Nigeria are prepared worldwide. The ten most famous ones are:
Beef suya
Jollof rice
Hush puppies
Jambalaya
Beef patty
Tamales
Dodo/plantains
Efo Riro
Menudo
Nkwobi
What is the most popular international food in the world?
The Italian pizza is the most famous and topmost-liked food in the world.
What country has the best international food?
Italy has the best cuisine in the world. The world loves the seasonings in Italian food, from homemade pizza to pasta and cheesy risotto.
Which country has the best food in the world?
Most people believe Italy, France, Mexico, Spain, and India have the best food worldwide.
Knowing intercontinental dishes in Nigeria is the best thing you can ever do before traveling overseas or visiting the country. The knowledge will help you plan your meals before you make that trip. Eventually, you will feel at home away from home.
Legit.ng also shared an interesting article about top Nigerian soups & stews recipes. You should try out more dishes from this country.
Most of these soups and stews require your total attention and commitment. The cooking process is easy, but you must be careful if you want to make tasty food.
Source: Legit.ng