There are a lot of delicious Nigerian soups & stews, but which ones are actually the best? Join us, as we talk about the tastiest creations of Nigerian cuisine that will help you impress your family and friends. Everyone will be asking for more!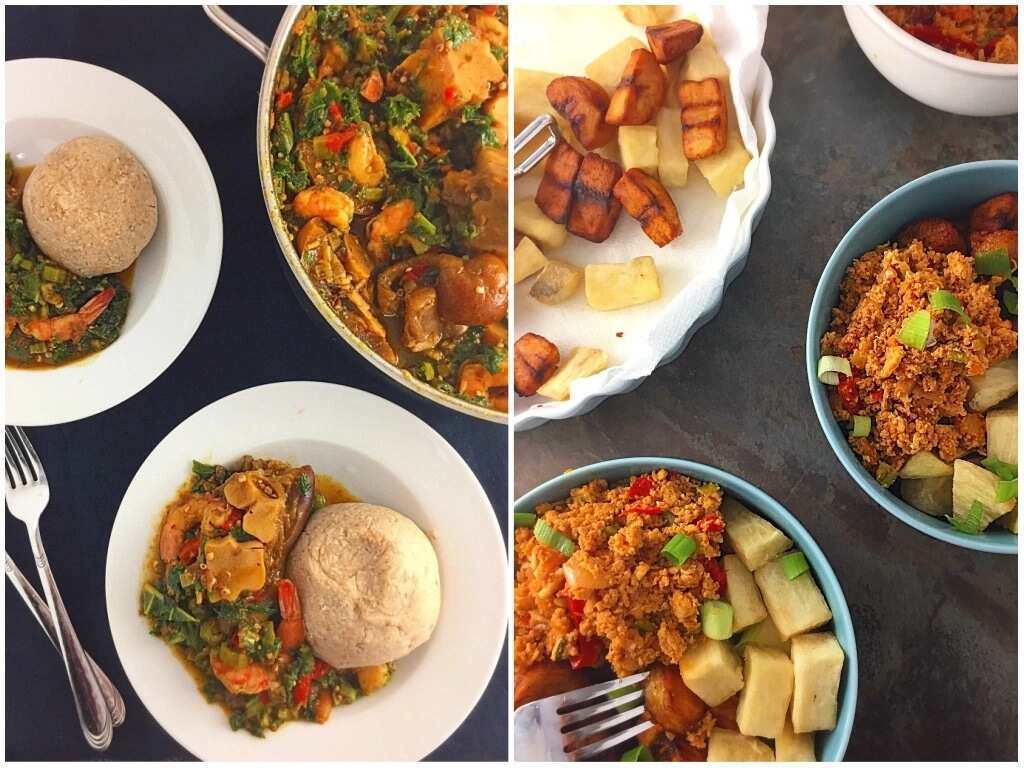 As you most likely know, Nigerian food is very flavourful and diverse, so it is hard to pick the best recipes. That said, we have decided to talk about our beloved meals and how to cook them. Therefore, we are going to tell you about our top 3 favourite soups, as well as top 3 favourite stews from Nigeria. Check them out!
Nigerian soups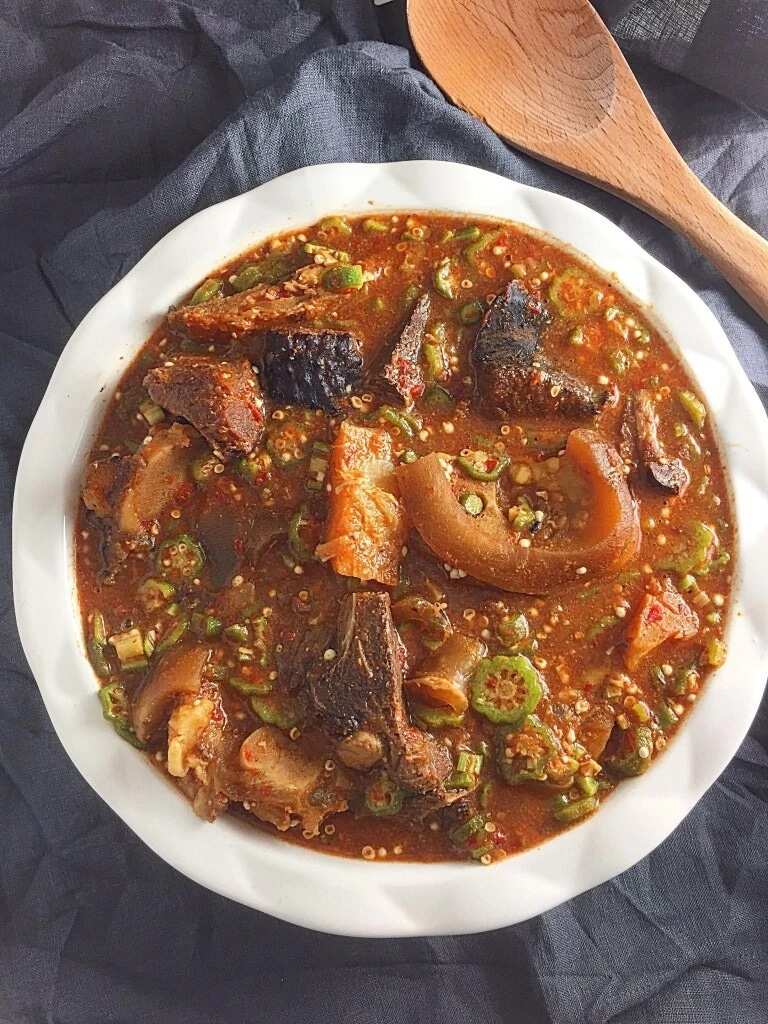 Soups in Nigeria boast a wide array of tastes and flavours, and each of them is special in its own way. If we had to pick our top 3 favourites, it would be the traditional pepper soup, Okro, and, of course, the Egusi soup. Let's get to those recipes.
Pepper soup
For this recipe, you will need:
1 kg of assorted meats (offal, cow leg, catfish, chicken);
3 flavour cubes;
2 cloves of garlic (minced);
2 medium-sized onions;
2 tbsp. of dry Uziza leaves;
2 litres of water;
Salt and spices to taste (ground nutmeg, red chili pepper).
Instructions:
To make this soup, start by washing and preparing your meat. Put it in the pot, add water until it covers the contents and put the pot on medium-high heat.
Add the onions, garlic and all the spices, and cook it all until meat has cooked.
Add the Uziza leaves for extra flavour and cook for additional two minutes until your soup is ready.
Okro soup
READ ALSO: Best Okro soup recipe Best Okro soup recipe
For Okro soup, you are going to need:
800 g of fresh cut up Okro;
1.5 kg of assorted precooked meats (cow feet, smoked turkey, stockfish);
2 medium-sized onions;
2 big red bell peppers;
2 habanero peppers;
1/2 cup of crayfish;
50 g of ground Ogbono;
Salt and spices to taste.
Instructions:
Blend the peppers and onions together, then transfer the mixture to the pot. Add around 5 cups of meat stock/water and cook it until boiling.
Add the crayfish, Ogbono, salt and spices and stir the contents of the pot. Let it cook for 5 minutes.
Add your meats and stir again. Bring it all to a simmer and continue stirring to avoid burning. If the soup is too thick, add some more meat stock/water. Give it a taste and add more seasonings if necessary.
When the soup is boiling, lower the heat and add the Okro. Stir until well combined and then turn off the heat.
Your soup is ready to be served with a swallow of your choice.
Egusi soup
READ ALSO: How to prepare egusi soup with lumps
Here is what you will need:
500 g of assorted meats (beef, smoked turkey);
1/2 of a medium-sized onion;
2-3 medium-sized tomatoes;
1/2 cup of cooking oil;
3 cloves of garlic;
1 cup of ground egusi;
1/3 of ground crayfish;
2-3 cups of spinach;
Salt and spices to taste.
Instructions:
Season your beef, add up to 5 glasses of water and cook it in a medium-sized pot until ready. Remove the meat and save the stock for later. Chop up the onion and tomatoes, and set them aside.
Heat up the oil in a saucepan over medium heat. Sauté the onion in it until it becomes translucent, then add the beef, crayfish and smoked turkey.
After that, add the chopped tomatoes, garlic and 1-2 cups of the beef stock. Bring the contents of the pan to a boil and let it simmer for 5 minutes.
Add ground egusi and leave it on medium heat for another 10 minutes. You can add more stock to get the desired consistency.
Add the spinach and any additional spices, and let it all simmer for 5 minutes.
Serve with your favourite swallow.
Nigerian stews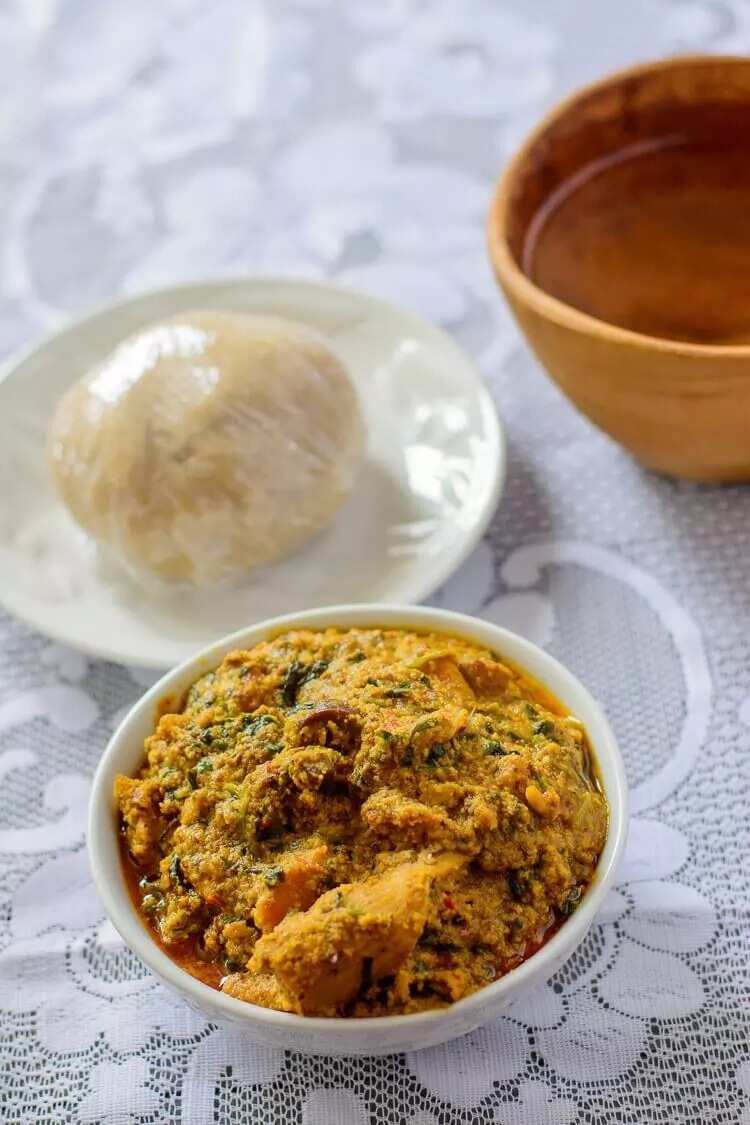 While the soups get most of the love in Nigeria, the stews should not be overlooked. Our personal favourites are the Ofada stew, egg stew and the classic chicken stew. Continue reading to learn how to make them.
Ofada Stew
READ ALSO: How to make Ofe Akwu Stew?
Ingredients for the recipe:
4 pieces of unripe habanero peppers;
2 green bell peppers;
1 ground locust bean seasoning;
200 ml red palm oil;
1 large onion;
1 flavour cube;
A handful of ground crayfish;
850 g of assorted meats and fish (stockfish, dry fish, cow tripe, beef);
Salt and spices to taste.
Instructions:
Wash up the peppers, cut them up and remove the seeds. Blend them with the onion.
Cook the fish and meat with a flavour cube, as well as additional spices until well done.
Put the blend of peppers and onion in a different pot and cook it on high heat until all water evaporates.
Bleach your red palm oil until it resembles vegetable oil. It should take up to 15 minutes on medium heat, but it depends on the oil. Once it is bleached, leave it to cool.
When the oil is cool, add the pepper puree and fry it until the water evaporates once again.
Add the ground locust bean seasoning and crayfish, then add the fish and meats, and stir.
Season to taste, leave it to simmer for a bit and then serve.
Egg stew
To make this dish, you will need the following ingredients:
3-4 big eggs;
200 ml of fresh tomato puree or 5 big tomatoes;
A scotch bonnet pepper;
1 medium-sized onion, chopped;
A big flavour cube;
1/4 tsp of curry powder;
75 ml of vegetable oil;
Salt and spices to taste.
Instructions:
If you are using tomatoes and not the paste, cut them up, along with the pepper. Break the eggs and beat them well.
Heat up the oil in a pan over medium heat. Add the chopped onion and fry it for about 2 minutes. Then, add the tomatoes/tomato paste and peppers. Fry for up to 10 minutes until the sauce starts to bubble.
Add the curry, flavour cube, as well as salt and other seasonings and stir until they are well incorporated.
Reduce the heat and pour in the eggs. Let them set for a little bit, and then stir continuously for about 5 minutes over low heat.
When the eggs are cooked, take the pan of the stove and serve.
Chicken stew
This is what you are going to need:
1.5 kg of fresh tomatoes;
100 g of thick canned tomato paste;
600 g of chicken, cut up;
2-3 medium-sized onions;
5 habanero peppers;
2 flavour cubes;
1 tbsp. thyme;
1 tbsp. curry;
Vegetable oil for frying;
Salt to taste.
Instructions:
Pour the thick tomato paste into a bowl and dilute it with some water.
Blend together the tomatoes, onions and peppers, and pour the mix into a pot. Let it boil until the mixture thickens and water evaporates.
Place your chicken into a different pot, add some water, one flavour cube, thyme, curry and salt. Cook until the chicken is ready. Separate it from the liquid, save the stock for later and fry the chicken.
Heat up the oil and fry the tomato mixture until the tomato is no longer sour. It should take about 25 minutes. Make sure to stir to avoid burning.
Add the chicken stock and cook it all for 10 minutes.
Then, add the fried chicken, the remaining flavour cube and some salt. Cover the pot with a lid and leave it to simmer for 5 minutes.
When the oil has risen to the top, your stew is ready. You can remove the excess oil and serve the stew.
Now you know how to cook six delicious Nigerian meals that will definitely impress your guests.
READ ALSO: How to make Ewa Agoyin and sauce
Source: www.nigerianfoodtv.com