90s music trivia questions and answers to awaken your nostalgia
The 90s was a golden age of music, with many of the biggest bands hitting new heights and solo stars creating music that has stood the test of time. The 90s music trivia questions and answers will help you understand the era better. These trivia questions and answers are designed to challenge your memory and celebrate the unforgettable tunes of the 90s.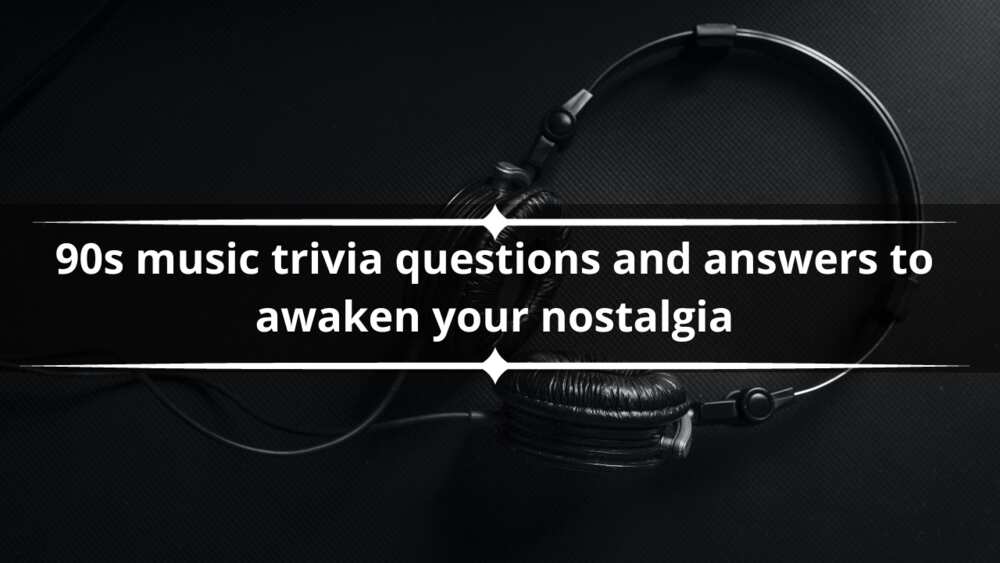 The 90s was a decade of teen pop, dance-pop, and contemporary R&B music trends. To many, 90s music trivia questions will bring back great childhood memories. They will also help you test your knowledge of the '90s music with your loved ones and kill boredom.
90s music trivia questions and answers
90s music trivia questions will take you back to the grunge era and West Coast rap. From Nirvana to Tupac, many of the most notable bands and artists were popular during this time.
90s fun music trivia
There's nothing better than a fun trivia game! And if you and your friends are 90s babies, then a 90s music trivia game is the perfect choice. Test your knowledge of 90s music with these wonderful 90s music trivia questions below.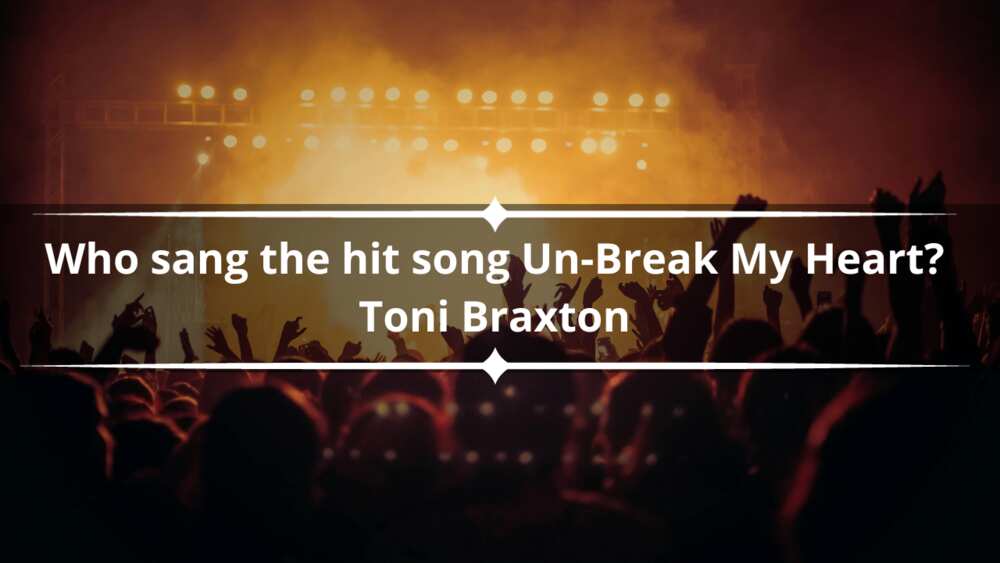 You Only Get What You Give is a song by which band? The New Radicals
What was the best-selling single of the entire decade of the 1990s? Elton John's Candle in the Wind
Which female artist released the album Jagged Little Pill in 1995? Alanis Morissette
Which European pop group released the song, Barbie Girl, in April 1997? Aqua
Which boy band achieved international success with their 1999 album Millennium? Backstreet Boys
Who sang the hit song Un-Break My Heart? Toni Braxton
Which rock band is known for their song, Stacy's Mom? Fountains Of Wayne
In 1994, which rapper won the Grammy Award for Best Rap Solo Performance for his song Let Me Ride? Dr. Dre
What hit song by the Spice Girls became the best-selling single by a girl group in the 1990s? Wannabe
Who released albums titled Big Willie Style and Willenium? Will Smith
What was the name of the Coolio hit from the soundtrack to the film Dangerous Minds? Gangsta's Paradise
What 1991 album by Nirvana is often considered one of the greatest and most influential albums in the history of rock music? Nevermind
Who won the Best New Artist Grammy in 1990? Mariah Carey
Which 1990s music genre originated in Seattle? Grunge
Who was the lead vocalist for the band Nirvana? Kurt Cobain
What is the best-selling album of the 90s? Alanis Morissette's Jagged Little Pill
Who held the number one spot in the UK charts for 16 weeks with Everything I Do, I Do It for You? Bryan Adams
Which Madonna song was the biggest-selling single of 1990, selling over 6 million copies? Vogue
Which girl band's debut album was called The Writing's on the Wall, released in 1999? Destiny's Child
In which year was the band Blink 182 formed? 1992
90s rock music trivia
You can learn a lot through playing the 90s rock music trivia questions game with your loved ones. Below is a list of some 90s rock music trivia questions and answers to awaken your nostalgia.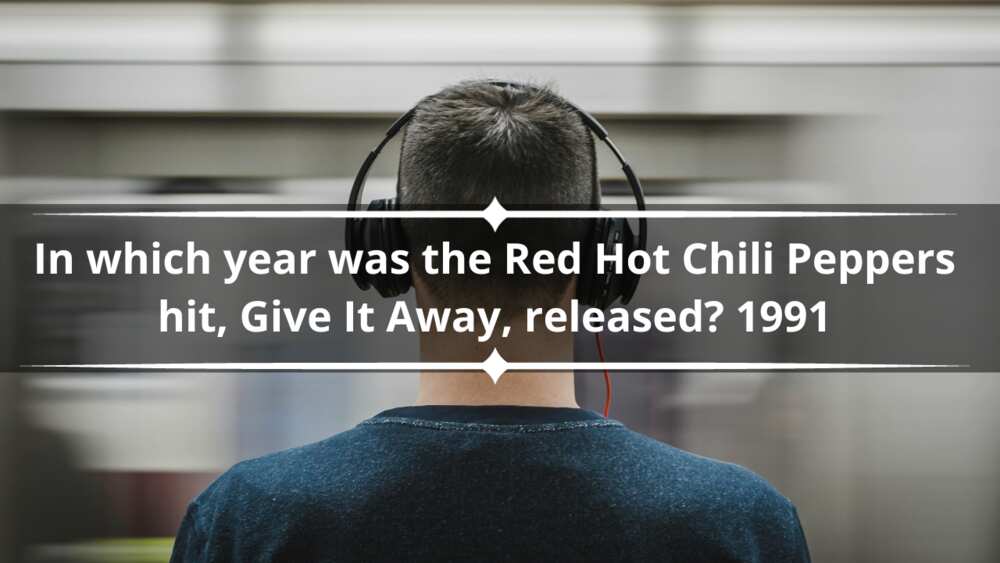 Which band's 1991 album Nevermind is considered a landmark in the grunge movement? Nirvana
What 1994 album by Pearl Jam featured the hit singles Better Man and Corduroy? Vitalogy
Who fronted the band Bush? Gavin Rossdale
What song by Radiohead from their 1997 album OK Computer became an iconic 90s rock anthem? Paranoid Android
Which Cuban musician is the original composer of Mambo No.5? Dámaso Pérez Prado
Which band released the album Siamese Dream in 1993? The Smashing Pumpkins
What 1992 album by Rage Against the Machine includes the track Killing in the Name? Rage Against the Machine
Who is the lead singer of the band named Hole? Courtney Love
In which year was the Red Hot Chili Peppers hit, Give It Away, released? 1991
Who is the lead singer of the band Stone Temple Pilots? Scott Weiland
Which 1991 album by Metallica is often regarded as one of the best-selling heavy metal albums of all time? Metallica or The Black Album
What song by The Cranberries, released in 1993, became one of their signature hits? Linger
Who was the lead vocalist of Soundgarden? Chris Cornell
In 1997, the band Third Eye Blind gained popularity with their self-titled debut album. What is their most well-known song from that album? Semi-Charmed Life
Which Irish band released the hit '90s song titled Zombie? The Cranberries
90s pop music trivia
If you are looking for some pop music trivia questions to test your knowledge of this genre, its biggest stars, and its greatest hits, here is a list of pop music trivia questions and answers you should read.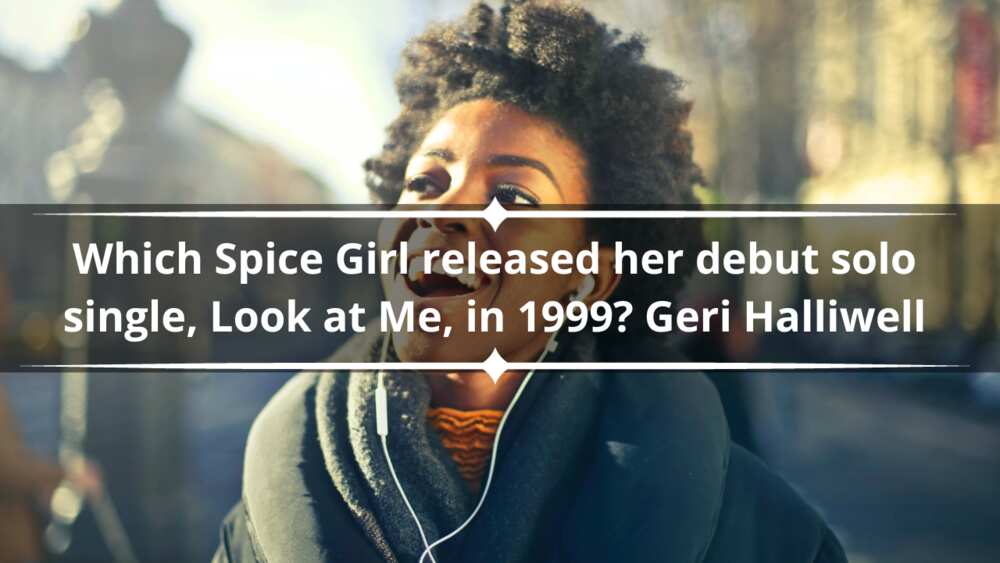 Name one of the best-selling '90s girl groups besides the Spice Girls. TLC
Which '90s Christmas-themed song is one of Mariah Carey's best-selling singles? All I Want For Christmas Is You
Who was the only member of the Spice Girls with a name that was an actual spice? Geri Halliwell
In 1995, Robbie Williams began a famous solo career after leaving which band? Take That
Michael Jackson's performance of Earth Song at the 1996 Brit Awards was disrupted on stage by whom? Jarvis Cocker
Name the Canadian singer who gained widespread popularity with her 1998 single Man! I Feel Like a Woman! Shania Twain
Which singer released the album My Life in 1994? Madonna
Which girl band's debut album featured hit singles like Wannabe and Say You'll Be There? Spice Girls
Artists like Ricky Martin, Jennifer Lopez, and many others contributed to which musical movement in the late '90s? Latin Explosion
What female artist released the 1998 album ...Baby One More Time? Britney Spears
Which Spice Girl released her debut solo single, Look at Me, in 1999? Geri Halliwell
What 1991 album by Michael Jackson includes the hit singles Black or White and Remember the Time? Dangerous
In 1993, what duo released the hit single What's Up? 4 Non Blondes
Which Irish boy band released their debut single, Swear It Again, in 1999? Westlife
90s hip-hop trivia
Hip-hop music has been used to tell stories and is one of the world's most popular genres of music among young people. Challenge your hip-hop and rap knowledge with these hip-hop trivia questions.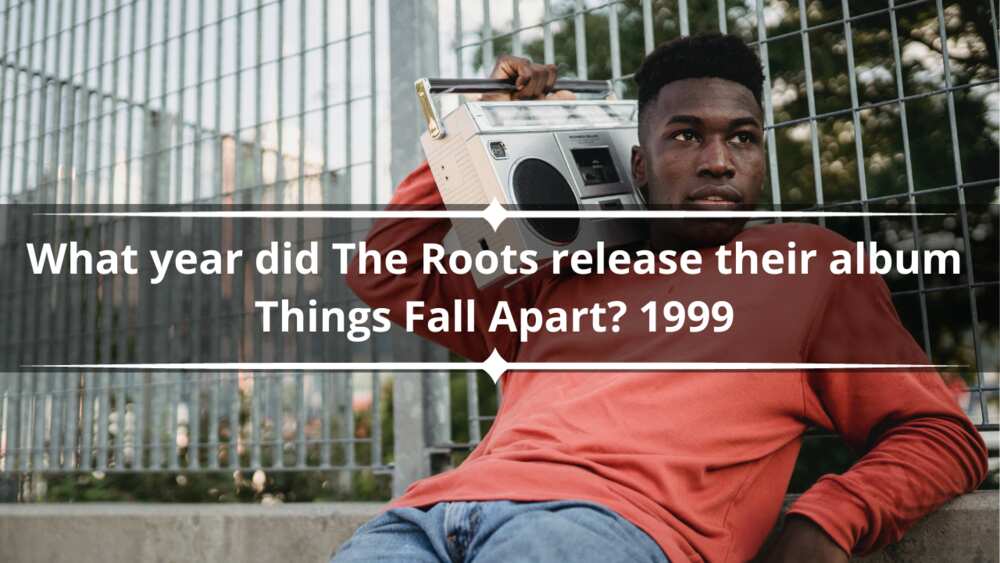 Which hip-hop duo released the iconic album Enter the Wu-Tang (36 Chambers) in 1993? Wu-Tang Clan
Which Dr. Dre's album introduced the world to Snoop Dogg? The Chronic
Country Grammar was released by which hip hop group or artist? Nelly
Which female rapper released the album Foxy Brown in 1996? Foxy Brown
What 1998 Lauryn Hill album featured the hit single Doo Wop (That Thing)? The Miseducation of Lauryn Hill
Which label was founded in 1993 by Puff Daddy and has been home to many artists, including The Notorious B.I.G, Mase, 112, and Craig Mack? Bad Boy Records
The song Hello Nasty was released by which hip-hop group or artist? Beastie Boys
Which hip-hop group released the album The Score in 1996? Fugees
Which rap group released the album Me Against the World in 1995? 2Pac (Tupac Shakur)
What year did The Roots release their album Things Fall Apart? 1999
What was the first hip-hop single to go No. 1 in the UK? Rappers Delight by the Sugar Hill Gang
Challenge your friends to a music trivia showdown with the above 90s music trivia questions. They will put your knowledge to the test of various music genres.
Legit.ng recently published an article about funny trivia questions. Questions and answer sessions are an exciting way to learn about different subjects. When the questions are funny, you gain knowledge and provide much-needed humour and fun. These funny trivia questions can help you bond with friends and reduce stress, especially at parties.
Finding games and activities for a break out at a party can be tricky as you want your guests to be entertained. One way to kill boredom is by playing a fun trivia question game with friends. The questions are educative and entertaining at the same time. Try these funny trivia questions if you want a hilarious activity for your party or game night.
Source: Legit.ng