Kelsey Henson bio: who is Hafþór Júlíus Björnsson's petite wife?
Kelsey Henson is the wife of Hafþór Júlíus Björnsson, also known as The Mountain from the Game of Thrones series. Where is Kelsey Henson from? How did Thor and Kelsey meet?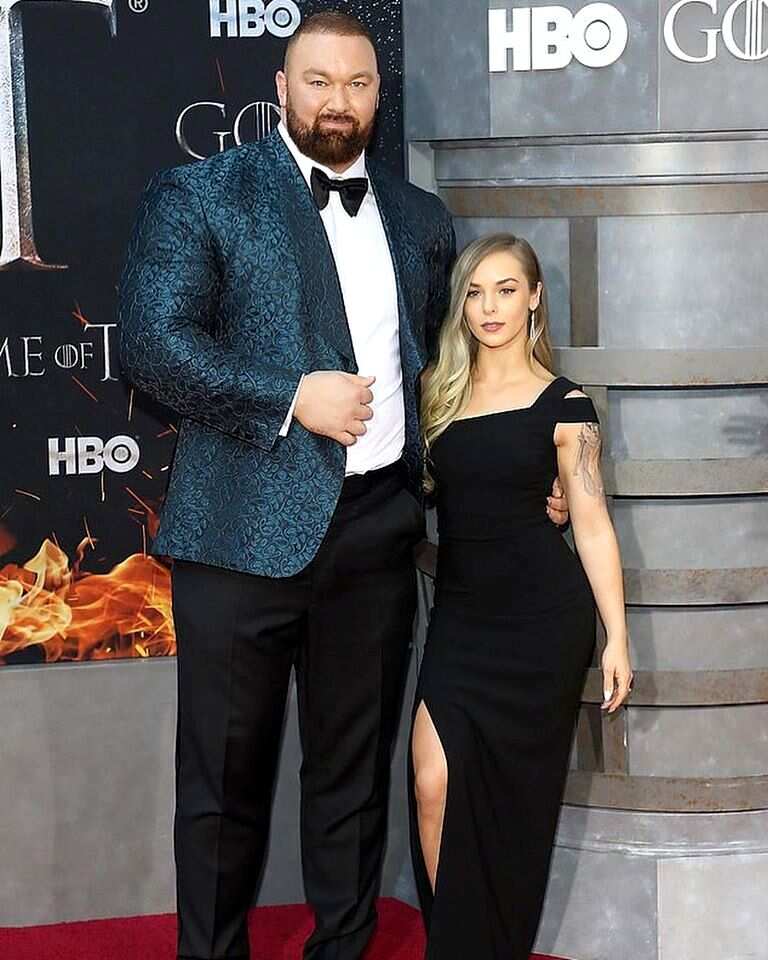 If you are a fan of Game of Thrones, the HBO Series, you could not miss noticing the giant Ser Gregor Clegane, nicknamed as The Mountain. His name is Hafþór Júlíus Björnsson. This professional strongman, actor, and basketball player from Iceland is now a married man.
Hafþór Júlíus Björnsson wife looks like a petite princess while standing near this strong giant. Who is The Mountain actor wife?
Profile summary
Profession: fitness trainer
Date of birth: 5 March 1990
Place of birth: Alberta, Canada
Kelsey Henson age: 30 years
Height: 5 feet 2 inches (157.48 centimeters)
Kelsey Henson weight: 53 kilograms
Marital status: married (Hafþór Júlíus Björnsson)
Profiles on social media: Instagram
Who is Kelsey Henson
The girl was born in 1990. She comes from Alberta, Canada. There is still no reliable information about her parents.
Top 5 Kelsey Henson hot facts
The girl entered the University of Alberta to study Occupational Health and Safety. In 2014, she graduated from it.
She has a sister. Her name is Kathleen Henson. She is a professional photographer.
She worked as a financial services representative, a building operator (the Guthrie Mechanical firm), a construction safety officer, and a waitress.
She likes tattoos. There is a Princess Leia tattoo over her left bicep area and a face on her right hand. On her left hip, you can see a symbol of a rose inside a book.
The girl is a fan of "Game of Thrones." She read all the novels before their screen adaptation.
What is Kelsey Henson age?
How old is Kelsey Henson?
The Mountain's wife celebrates her birthday on 5 March. As of now, she is 30 years old.
How tall is Kelsey Henson?
The height difference of The Mountain and his wife is 19 inches. Kelsey Henson height is 5 feet 2 inches (157.48 centimeters). Her husband is 6 feet 9 inches tall (206 centimeters).
What is Kelsey Henson weight?
Regarding the couple's weight, the difference between The Mountain and his wife is significant, Henson weights 53 kilograms, while Hafþór Júlíus Björnsson weight is 200 kilograms.
How did The Mountain meet his wife?
Their meeting was the gift of fate, considering that Henson could not travel a lot. How did these two people meet each other if they lived in different countries?
After Hafþór started to take part in the strongman competitions, he visited many countries. They met each other on 6 September in 2017, during the period, when Kelsey worked as a waitress at the Earls Kitchen + Bar in Fort McMurray. Björnsson came into the city to attend the Strongman Competition as a celebrity guest.
She recognized the character of HBO's hit series and asked to take a picture.
While posting the photo with Thor, she misspelled his name. He could not leave that unnoticed and sent her a message to correct it. After that, they continued communication.
The Mountain and his wife got married in October 2018. The wedding took place in Iceland. Later, the strongman posted their first picture as a wife and husband on Instagram to share their happiness with their fans.
Here is what Hafthor Bjornsson wife wrote about this great event:
The professional activity of her husband has significantly influenced the life of Kelsey. She left her old job and became a fitness trainer. At present, they own Thor's Power Gym.
The Mountain wife is boasting her fit body on Instagram. Kelsey Henson hot pictures can hardly leave any of her followers indifferent.
As of now, Kelsey Henson and her husband enjoy each moment together. The only problem the couple faces sounds like this:
At the same time, this issue inspires them to be more inventive:
Here is what Hafþór says about the difference, existing between them:
Kelsey Henson and her husband do not have children yet. Hafþór already has a daughter from his previous marriage. The couple mentions that in the future, they are going to have more children.
Source: Legit.ng