100+ sweet happy 21st birthday wishes, messages and quotes
The 20s are the peak of your youthful years, and if you are turning 21, you are just beginning to experience it. Sending 21st birthday wishes, messages, and quotes to friends marking this milestone in their life is a great way to show how much you value them. Even though many look forward to turning 18, 21 is even bigger as it welcomes you to adulthood.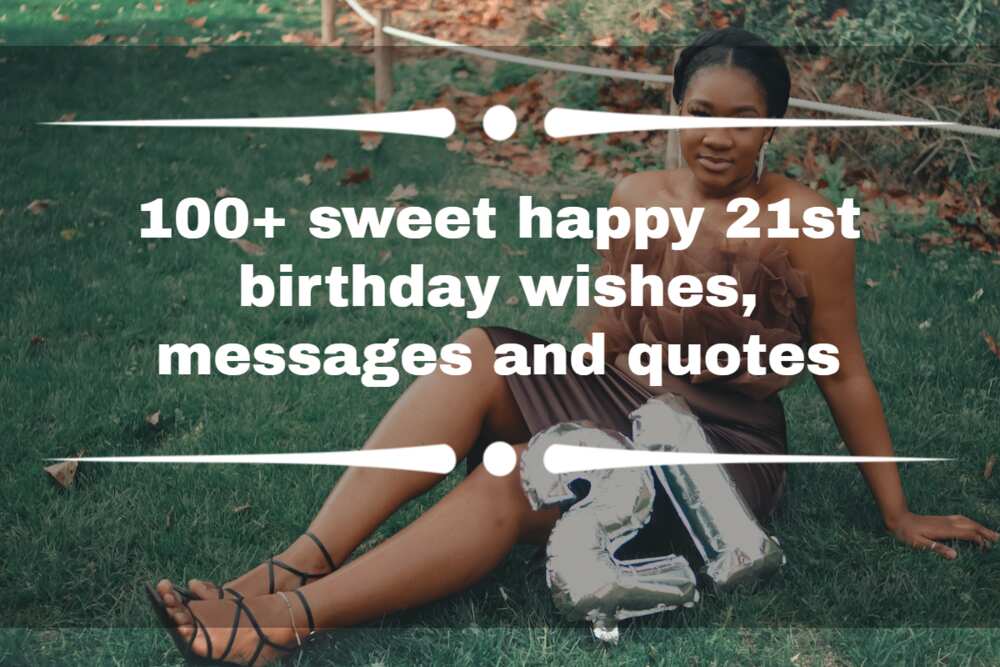 Every birthday is important since you turn a new page in life. However, 21 is a bit special as it marks the transition from childhood to adulthood. Therefore, if you know anyone turning 21, do not hesitate to send them 21st birthday wishes, messages, and quotes.
Happy 21st birthday wishes for friend
Sharing life's best moments with your friends strengthens your friendship bonds. Therefore, as your friend marks their 21st birthday, here are wishes you can send to show how much you love them.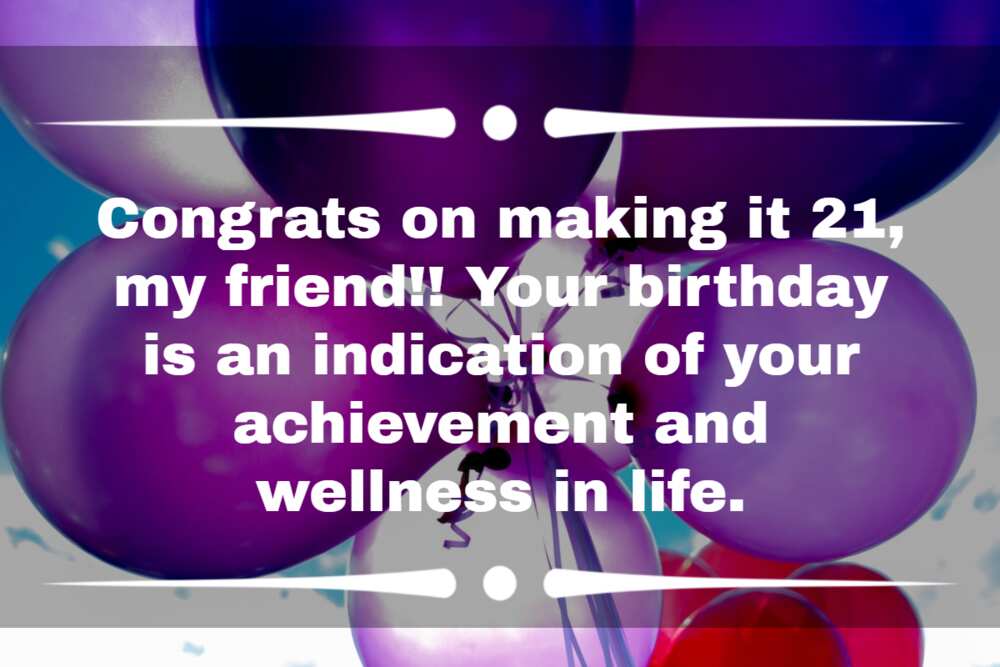 Happy birthday to the most spectacular human being I know! May your 21st year be magical and bring you happiness and success!
Turning 21 is such a big deal. You have survived for a long time enough to show the world you are now a responsible, legal and loving adult.
Today is a very special occasion. I know you have waited for this day for so long. Today is the day you finally turn 21! May all of your greatest goals and wildest dreams come true!
Happy Birthday to the best friend I ever had. Let's celebrate this special day of your life and party like there's no tomorrow.
Congrats on making it 21, my friend! Your birthday is an indication of your achievement and wellness in life.
You've played at being a grown-up for the last few years, but now you are 21, you better do it for real! Happy birthday.
It's a beautiful day to celebrate someone special. I wish you a blissful season as you celebrate your birthday in a new age. You are always loved.
Dwell under God's grace as you celebrate your big 21st birthday. You are the best thing that happened to me, and I wish you many good things.
On your twenty-first birthday, I wish your life path becomes a path of victories, so be brave among the strong and kind among the weak.
You are destined to succeed, and as you celebrate your 21st birthday, I wish you all the success that your heart can hold and joy on your path. Happy birthday to my best friend!
Always remember that life is not about finding yourself. It's about creating yourself, and I wish you all the best for the next chapter.
This new age is remarkable, and I hope to see tremendous and remarkable meanings in your life. I love how you courageously grow through life. Keep shining.
May you always be surrounded by beautiful and inspiring human beings who shape you into an impressive young person.
You are now in your twenties; enjoy it before your thirties. Always remember, time flies.
If you're the new face of 21, it will be a fantastic year.
I wish you the best on your 21st birthday. Enjoy the attention on your special day. You deserve it, my wonderful friend.
21 cheers to 21 great years. Now, let the real party begin, my friend!
I pray your 21st birthday will open new portals and hope for the future. Keep winning. You are more than enough.
So proud of who you have become over these 21 years.
21st birthday wishes for a girl
Ladies love to feel pampered, and it does not take much, especially when celebrating birthdays. Be it your sister, girlfriend, daughter, or best friend, these 21st birthday messages will make them feel loved.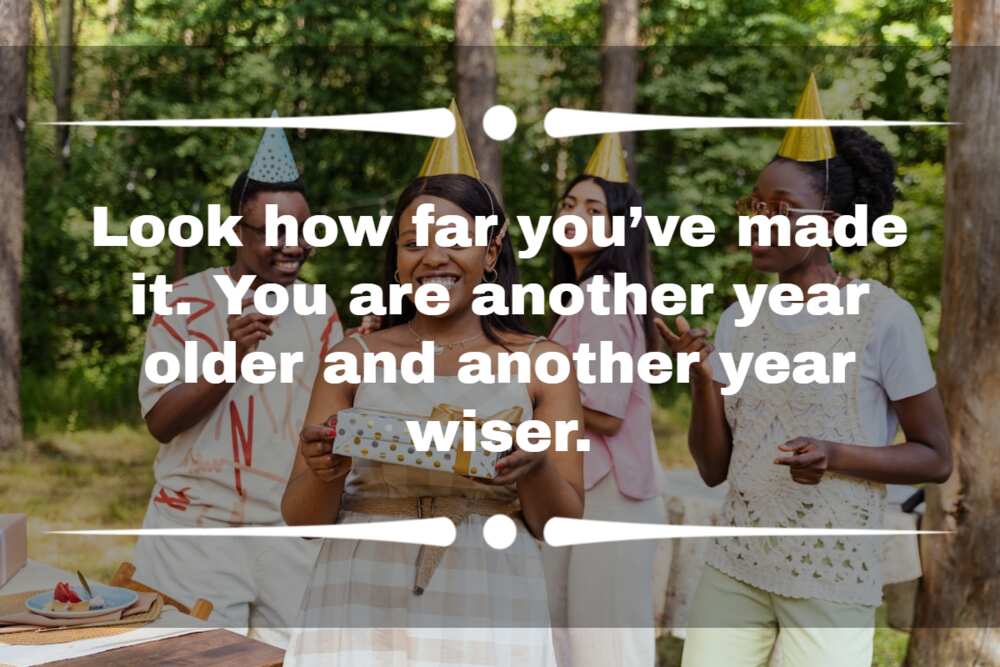 Happy 21st birthday to the daughter who makes the sun shine with her laughter. You make our world complete.
Here is a word of wisdom for your 21st birthday: Great freedom comes with plenty of responsibility. So have fun and live smart.
The world is a much more beautiful place with you in it. I'm delighted you were born.
You only turn 21 once. Seize this moment and relish the experience. It's worth every moment.
21 looks beautiful on you. May your beauty be as everlasting as the heavens.
Now that you're 21, I have one piece of advice: keep laughing. It'll keep you young!
This important milestone marks a special point in your life when you become an adult. I wish you all the best as you begin this exciting new chapter of your life.
On your 21st Birthday, I wanted to let you know how proud I am of the amazing woman you've become. You're an inspiration to us all.
There are many good reasons to celebrate, and your turning 21 is one of them! I'm sending you hugs, kisses, and my best birthday wishes.
Congrats on turning 21 today, girl! Reaching this milestone age with everything you've accomplished so far is a huge achievement and something that should be celebrated to the max.
An exciting new adventure has just begun for a glamorous girl turning 21!
On your 21st birthday, we want you to know that every day with you has been a gift. You brightened up our lives from the day you arrived.
21 years have passed since your birth. 21 years of happy memories and lessons learned. I hope you never stop learning and smiling!
You are young, fun, and full of life, and I hope you enjoy these wonderful years to the fullest.
Look how far you've made it. You are another year older and another year wiser.
So happy to be graced with your presence for 21 lovely years. Enjoy your twenties. It's a fabulous time.
The mere fact that you are turning 21 today in such excellent health and grace brings me much joy.
You look as beautiful as ever on this wonderful occasion. I hope your 21st birthday brings you unforgettable memories.
Every parent wishes to have a daughter like you. May you continue being yourself and never change.
Turning 21 is a big deal, but this special day is the beginning of great things. I hope you have an amazing 21st birthday.
21st birthday wishes for a boy
21 is the age that boys become men and start taking up responsibilities. It is an important milestone in their lives, and here are birthday wishes you can send them as they celebrate the day.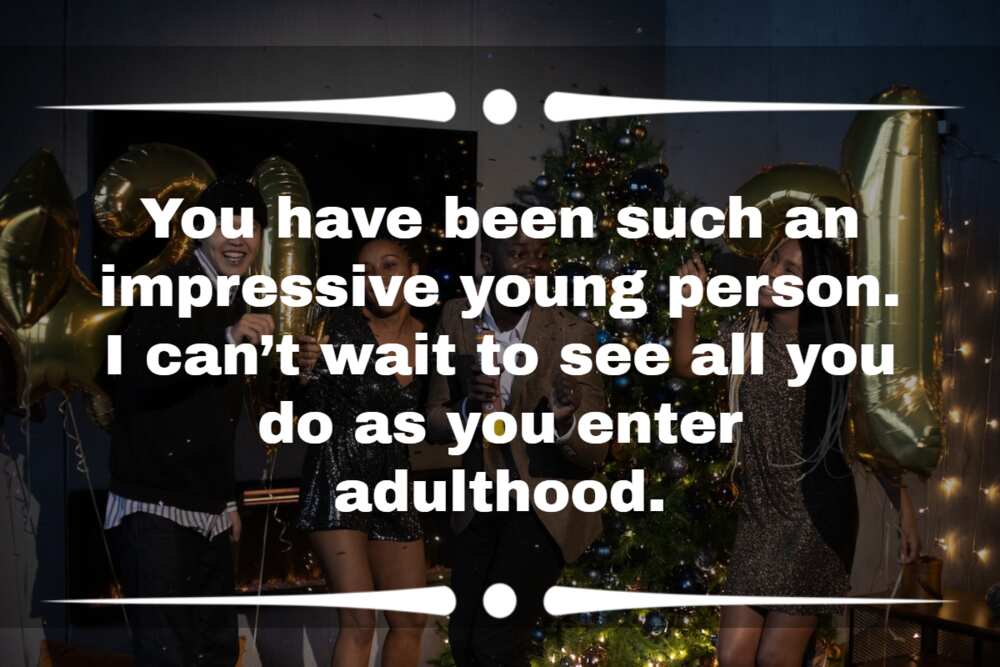 To complete 20 years is the most meaningful of all birthdays, and along with it come many more responsibilities, new dreams and other loves. Receive my best wishes for a happy birthday.
At this age, one has a lot of energy and enthusiasm. Use it well to make the future a beautiful affair. Happy 21st birthday, my dear.
Happy birthday, my brother. I pray that your path will always be full of bright happiness. I want you to be a kind, magnificent, and strong man. I love you.
Make sure you dream big and accomplish your goals. Remember that the simplest things lead to the happiest life.
I'm proud of the person you've become. So responsible and wise beyond your years. I hope your 21st birthday inspires you to make the most out of life.
With all you've been through, you persevered and moved forward. Here you are, passing this milestone birthday, stronger than ever. You inspire me.
You've finally walked into the world of real adulthood. I hope you enjoy every beautiful thing in that fabulously exciting world.
Congratulations on blissfully overcoming two decades of your life. Welcome to the phase of youth and make the best of your life by reinventing yourself.
You are on the bridge of your 20s. It's your 21st, and may this decade bring you the greatest achievements and make you happy. Best wishes.
As you enter this new life chapter, I could not be more proud of who you are. You are a star, and I will always be here to cheer you on.
You have been such an impressive young person. I can't wait to see all you do as you enter adulthood.
I always remember the excitement that I felt when turning 21. Some concern, but so much happiness. 21 is a great age, have fun.
You are special, and I'm happy to see you reach 21. May your 21st birthday be the start of an extraordinary life!
May luck be at your feet as you embark on this new chapter, and may it follow you through the decade.
It seems like yesterday when you were clueless, and now you've entered adulthood. I hope you find the right path in life, and may this year top the last.
I wish there is only room for good in your life and you continue to yield only what matters. May it be filled with friendships, feelings and blessings.
Behind you, all your memories. Before you, all your dreams. Around you, all that love you. Within you, all you need.
Take risks and be brave. This is the time of your life to make the mistakes you'll regret later. Have a fantastic 21st birthday.
The 21st breakthrough is so much more than an age. It's about great moments, lots of fun, and impatience with all the beautiful things that are about to come.
Do you know the definition of true freedom? It is turning 21! I hope you have a super-duper 21st birthday celebration!
Goodbye to childhood, and say hello to your future with excellent opportunities. Good luck with your new ride.
Funny 21st birthday wishes
Even though you start experiencing life as an adult at 21, it is never that serious. Therefore, as one turns 21, you can make them smile and laugh by sending them these hilarious birthday messages.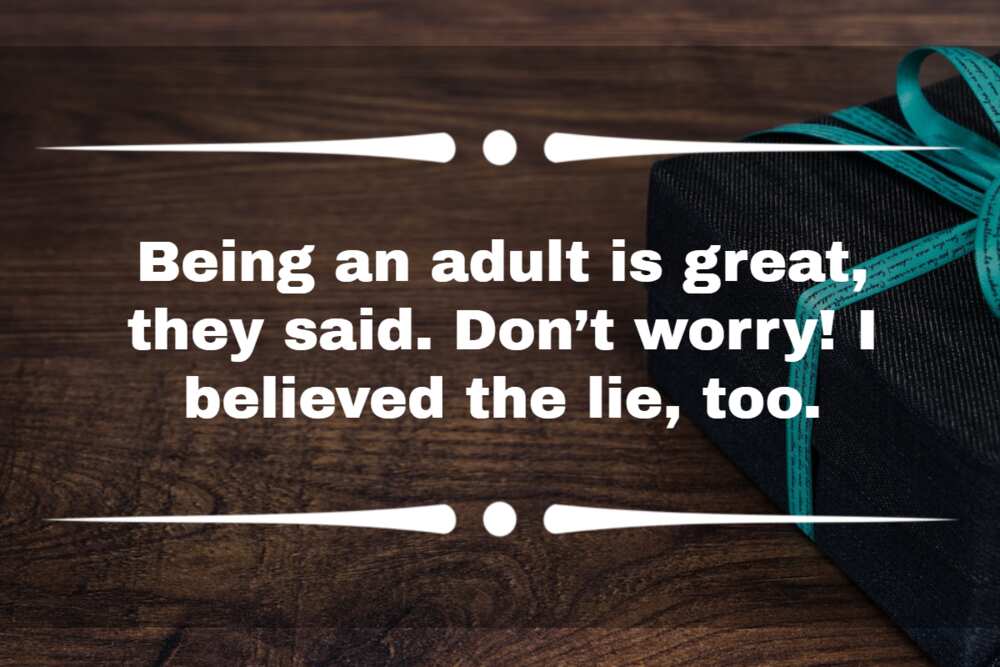 I'm happy you were born today. My life would be so dull without you there to watch.
You're celebrating your 21st birthday in the 21st century. What more could you ask for? Maybe 21 beers or 21 at blackjack?
You are finally a legal adult, which means you can do everything you weren't allowed to do before. Drink, party, and have fun! We will join you in all of that.
Do you feel any different today? No? Don't worry. It will probably take some more time for this to happen.
Happy birthday to my real friend. Nowadays, those are harder to find than toilet paper, so you should feel accomplished!
Do you know what they say about turning 21? Old enough to know better and young enough not to care. Enjoy it!
A man is as big as his imagination and as old as his age. Enjoy this day.
I'll bet you were hoping no one would notice you were turning 21. Well, no such luck!
Tonight, we celebrate your first annual 21st birthday. May there be many more.
Being an adult is great, they said. Don't worry! I believed the lie, too.
Now that you have reached the age of 21, you can legally do all those adult things they denied you at 18.
Just because you're an adult doesn't mean you must act like it.
You're finally 21 and legally able to do everything you've been doing since you were 16.
Don't think of it as your 21st Birthday; It's the 7th anniversary of your 3rd Birthday.
Forget about the past you can't change, the future you can't predict, and forget about the present because I didn't get you one.
You are 21, and it's time to start adulting or pretending to.
You were born 21 years ago on this day. And you're halfway to 42. Isn't that a downer?
May you live to be so old that the very sight of you terrifies babies and ex-lovers.
The night is young, but you, my friend isn't anymore! We can still party!
You are just as annoying as you were on day one. Stay the same and have a blast today!
Inspirational 21st birthday quotes
Adulthood comes with its fair share of challenges, and sometimes, you require motivation to overcome them. Sending these inspirational quotes will give your loved one a positive mindset on their 21st birthday.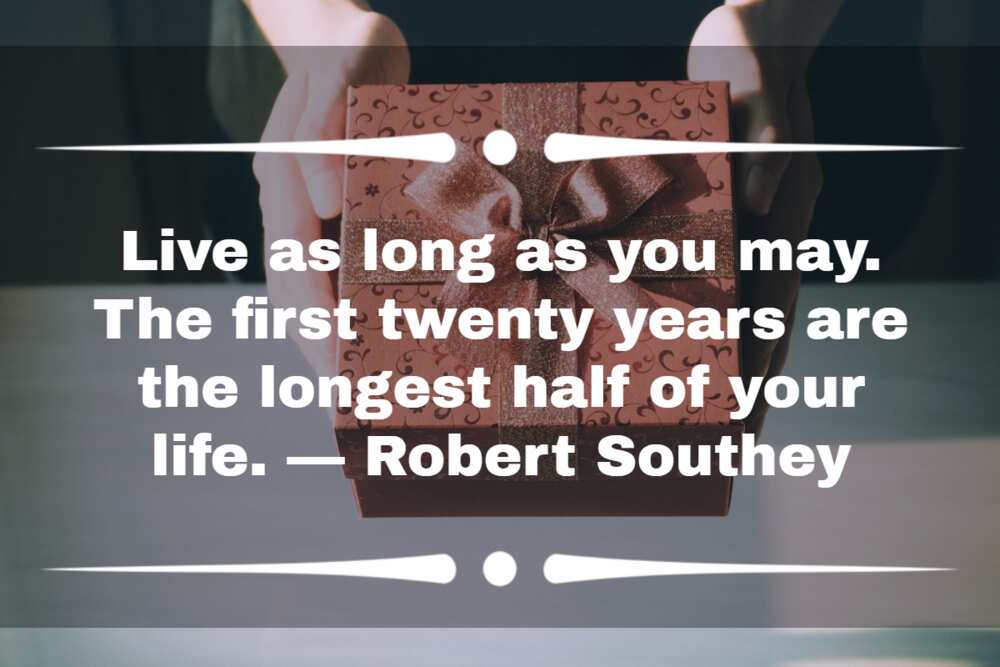 Birthdays are good for you. Statistics show that the people who have the most live the longest. —Larry Lorenzoni
Youth is happy because it has the ability to see beauty. Anyone who keeps the ability to see beauty never grows old. — Franz Kafka
At twenty years of age, the will reigns; at thirty, the wit; and at forty, the judgment. – Benjamin Franklin
Live well, learn plenty, laugh often and love much. — Kate Summers
I think age is a very high price to pay for maturity. — Tom Stoppard
When a man is tired of life on his 21st birthday, it indicates that he is rather tired of something in himself. — F. Scott Fitzgerald
Live as long as you may. The first twenty years are the longest half of your life. — Robert Southey
At 16, you can drive. At 21, you can have a cold one. Do both at the same time, and your present might not have a future. — Greg Tamblyn
What an impressive person you have become. I cannot wait to see the trail you blaze in life. Happy 21!
On the roller coaster of life, your 21st birthday is like being at the top of the first giant hill with your hands in the air and no lap bar. – Greg Tamblyn
At twenty-one, so many things appear solid, permanent, and untenable. — Orson Welles
Now that you're 21, nobody can tell you want to do unless you're married. – Melanie White
We turn not older with years but newer every day. – Emily Dickinson
Wisdom doesn't necessarily come with age. Sometimes age just shows up all by itself. — Tom Wilson
Remember, once you're over the hill, you pick up speed. — Arthur Schopenhauer
Every life is a story. Make yours a bestseller! At 21, you are just starting to write the chapters. Happy 21st.
21 is the age of responsibility. Give it a few months, and you will wonder why you were so hurried to get here.
As you grew, no matter what happened, we encouraged you to look at the sunny side of life. So as you turn 21, we wish you much sunshine and happiness. — Catherine Pulsifer
The benefits of turning 21 are exciting and endless. I hope you enjoy every single one of them. I wish you a ridiculously fun 21st birthday!
Every year on your birthday, you get a chance to start a new. – Sammy Hagar
The more you praise and celebrate your life, the more there is in life to celebrate. — Oprah Winfrey
21st birthday wishes, messages, and quotes come in handy when you want to make someone turning 21 feel special and appreciated. If you cannot figure out what to write to your loved one on their 21st birthday, you can choose from the above compilation of wishes and quotes.
READ ALSO: 100+ best birthday wishes for a boss to show your appreciation
Legit.ng recently published birthday wishes for boss. A birthday becomes a memorable moment with loved ones around you. Even bosses at your workplace need to feel your love on their birthdays.
As your boss turns a year old, make them feel appreciated on their special day by sending them best wishes. If you wonder what birthday wishes to send your boss, find suggestions in this article.
Source: Legit.ng