100+ confidence quotes for women to help with the self-esteem
Confidence is believing in yourself and your abilities realistically and securely. It is knowing that you can achieve anything you want in life. Confidence is important to every woman, and a self-assured woman is attractive. If you are a lady suffering from low-esteem issues, confidence quotes for women will come in handy.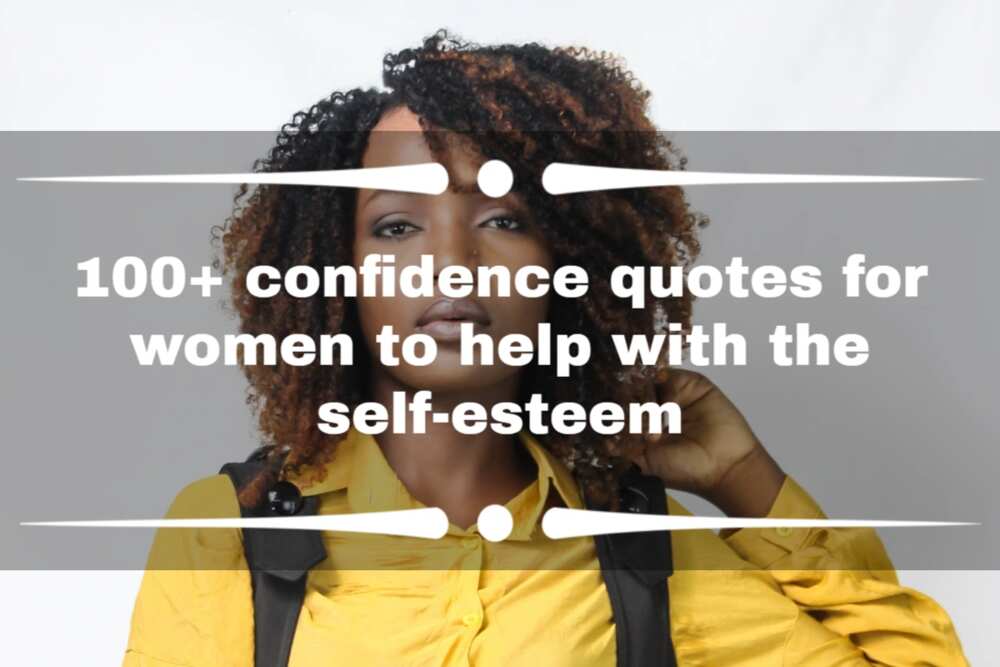 Life can be hard, and being confident will help you overcome many hardships and challenges. A lot of encouragement is needed for you to build confidence, and sometimes confidence quotes are all you need. They will help you to bring out the best from within. Below are some of the best confidence quotes for women to help their self-esteem.
Confidence quotes for women
Confident women are known to do great things in the world. It is, therefore, important to build self-confidence to know they can handle anything. Below are some confidence quotes for women to help empower and boost self-esteem.
Power concedes nothing without a demand. It never did, and it never will. – Frederick Douglass
Always be a first-rate version of yourself instead of a second-rate version of somebody else. ― Judy Garland
Action is a great restorer and builder of confidence. Inaction is not only the result but the cause of fear. – Norman Vincent Peale
The greatest discovery of any generation is that a human can alter his life by altering his attitude. – William James
When you're different, sometimes you don't see the millions of people who accept you for what you are. All you notice is the person who doesn't. –Jodi Picoult
With confidence, you have won before you have started. – Marcus Garvey
You are right whether you think you can or can't. – Henry Ford
A woman is like a tea bag; you never know how strong it is until it's in hot water. – Eleanor Roosevelt
The sky is the limit. – Amelia Earhart
Believe you can, and you're halfway there. – Theodore Roosevelt
Always remember, you are braver than you believe, stronger than you seem, and smarter than you think. – A. A. Milne
Anything's possible if you've got enough nerve. – JK Rowling
Success is not final; failure is not fatal: It is the courage to continue that count. – Winston Churchill
You are never too old to set new goals or to dream a new dream. – C.S. Lewis
Famous women's confidence quotes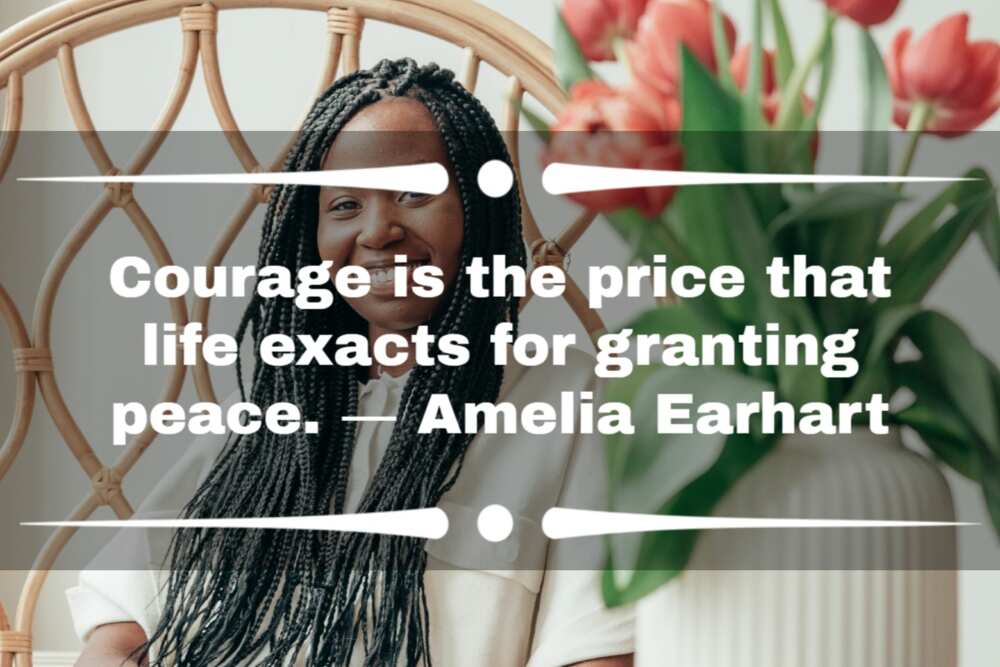 You may have heard about famous women who have done great things in life, such as Maya Angelo, Oprah Winfrey and many others. These confident women didn't achieve role model status by a fortnight. Below are some famous inspirational quotes from famous women to motivate you.
Find out who you are and do it on purpose. – Dolly Parton
Confidence makes you s*xy. – Queen Latifah
Courage is the price that life exacts for granting peace. – Amelia Earhart
It takes a lot of courage to show your dreams to someone else. – Erma Bombeck
The key to life is accepting challenges. Once someone stops doing this, he's dead. – Bette Davis
A girl doesn't need anyone who doesn't need her. – Marilyn Monroe
Keeping busy and making optimism a way of life can restore your faith in yourself. – Lucille Ball
Optimism is the faith that leads to achievement. Nothing can be done without hope or confidence. – Helen Keller
You wouldn't worry so much about what others think of you if you realised how seldom they do. – Eleanor Roosevelt
Aerodynamically the bumblebee shouldn't be able to fly, but the bumblebee doesn't know that, so it goes on flying anyway. – Mary Kay Ash
Life is either a daring adventure or nothing. – Helen Keller
Confidence is key. Sometimes, you need to look confident even when you're not. – Vanessa Hudgens
If everything were perfect, you would never learn and never grow. – Beyonce
Comparing yourself to someone else stops you from being who you are. – Alicia Keys
If you are always trying to be normal, you will never know how amazing you can be. – Maya Angelou
Women belong in every place where decisions are being made. It shouldn't be that women are the exception. – Ruth Bader Ginsburg
People give up their power by thinking they don't have any. – Alice Walker
Girls should never shy away from being smart. – Emma Watson
People who don't know that failure is inevitable achieve success. – Coco Chanel
Self-confidence quotes for her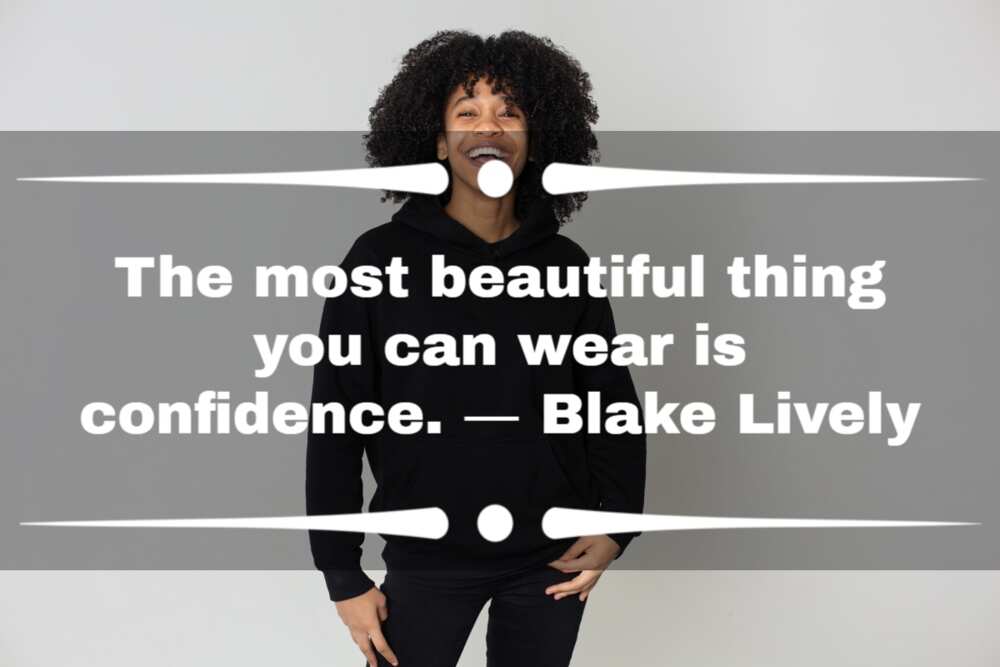 A woman must believe in herself and her abilities to live her best life. Self-confident women have achieved a lot, which can be seen in their lives. Here are some great quotes to help women with self-confidence.
The most beautiful thing you can wear is confidence. – Blake Lively
When you have a lot of confidence and feel like nobody can beat you, it's game over for everyone else. –Jason Day
You have to be yourself and go full of confidence and be courageous. – Gabby Douglas
There are only two ways to live your life. One is as though nothing is a miracle. The other is as though everything is a miracle. – Albert Einstein
Above all, be the heroine of your life, not the victim. – Nora Ephron
You have to have confidence in your ability and be tough enough to follow through. – Rosalynn Carter
Women that believe in each other can survive anything. Women who believe in each other create armies that will win kingdoms and wars. – Nikita Gill
Don't think about making women fit the world. Think about making the world fit women. –Gloria Steinem
Confidence is the most beautiful thing you can possess. – Sabrina Carpenter
No one can make you feel inferior without your consent. – Eleanor Roosevelt
You don't have to play masculine to be a strong woman. – Mary Elizabeth Winstead
It is wonderful that nobody needs to wait a single moment before starting to improve the world. – Anne Frank
You'll never do a lot unless you're brave enough to try. – Dolly Parton
Don't take anything for granted. If you don't believe in yourself, nobody else will. Have a little more confidence. – Cathy Moriarty
It takes a lot for you to find your confidence, but you shouldn't let someone else be the person to find it for you. ― Justine Skye
The only person you are destined to become is the person you decide to be. – Ralph Waldo Emerson
Talk to yourself like you would to someone you love. – Brene Brown
Confidence. If you have it, you can make anything look good. – Diane von Furstenberg
Be faithful in small things because it is in them that your strength lies. – Mother Teresa
If you want something, get it. Period. – The Pursuit of Happyness
You are not a drop in the ocean. You are the entire ocean in a drop. – Rumi
Self-worth woman quotes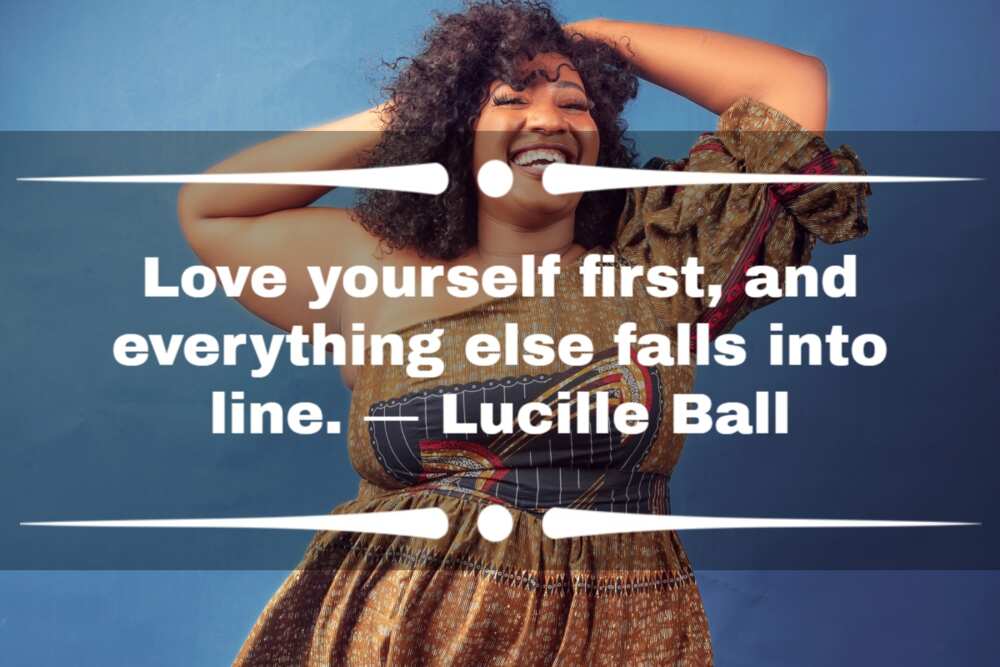 Self-worth is the internal sense of being good enough and worthy of love and belonging from others. Here are some motivational quotations on self-worth that women can use to improve how they see themselves.
You're always with yourself, so you might as well enjoy the company. – Diane Von Furstenberg
Act as if what you do makes a difference. It does. – William James
Love yourself first, and everything else falls into line. – Lucille Ball
You are the only person on earth who can use your ability. – Zig Ziglar
Loving yourself isn't vanity. It's sanity. – Katrina Mayer
You determine your self-worth. You don't have to depend on someone to tell you who you are. – Beyoncé Knowles
When you make a mistake, respond to yourself in a loving way rather than a self-shaming way. – Ellie Holcomb
Don't belittle yourself. Be BIG yourself. – Corita Kent
Never bend your head. Always hold it high. Look the world straight in the face. ― Helen Keller
Self-love is not selfish love. You can love yourself while also loving others. It's not a zero-sum game. – Anon
Worthiness does not have prerequisites. – Brené Brown
Success is liking yourself, liking what you do, and liking how you do it. – Maya Angelou
To love oneself is the beginning of a life-long romance. – Oscar Wilde
Self-respect, self-worth, and self-love all start with the self. Stop looking outside of yourself for your value. – Rob Liano
To fall in love with yourself is the first secret to happiness. – Robert Morley
Self–worth is so vital to your happiness. If you don't feel good about yourself, it's hard to feel good about anything else. – Sandy Hale
There is a potential heroine in every woman. – Jean Shinoda Bolen
Accept and acknowledge your brilliance. Stop waiting for others to tell you how great you are! Believe it for yourself. – Iyanla Vanzant
The world's greatest thing is knowing how to belong to oneself. – Michel de Montaigne
Love is the great miracle cure. Loving ourselves works miracles in our lives. – Louise Hay
Confident woman quotes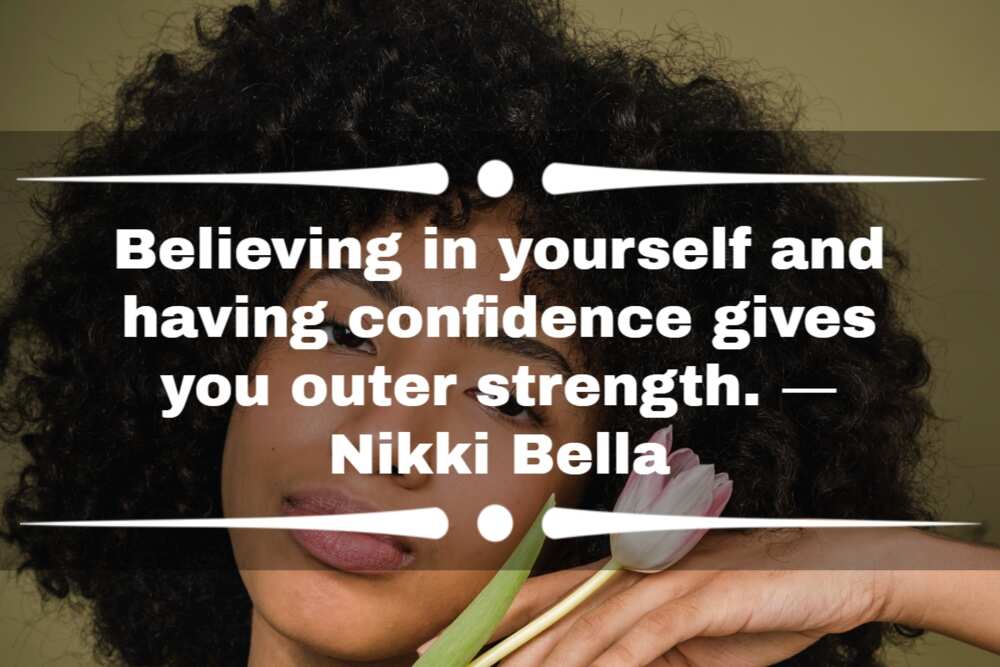 A confident woman has something of value and is often admired by others. Use these confident woman quotes to bolster your self-esteem.
The best don't stick around when you treat them poorly; only the desperate do. – Shannon L. Alder
Get more confidence by doing things that excite and frighten you. – Jessica Williams
A confident woman knows that forgiving is important, but sticking around for constant abuse isn't being confident; it is called being a doormat. – Shannon L. Alder
Don't live down to expectations. Go out there and do something remarkable. – Wendy Wasserstein
There's nothing more reassuring than the sight of a confident woman. – Abhijit Naskar
Believing in yourself and having confidence gives you outer strength. – Nikki Bella
Know that everything's going to be alright when a woman takes charge. – Abhijit Naskar
When the heart is right, the mind and body will follow. – Coretta Scott King
The minute you learn to love yourself, you won't want to be anyone else. – Rihanna
A confident woman is a beautiful woman, inside and out. – Omar Cherif
If you're presenting yourself with confidence, you can pull off pretty much anything. – Katy Perry
If you can dance and be free and be embarrassed, you can rule the world. – Amy Poehler
Confidence comes not from always being right but from not fearing to be wrong. – Peter T. McIntyre
Find what makes you feel comfortable. The confidence you wear your clothes is what's going to shine. – Hayley Hasselhoff
Strong women quotes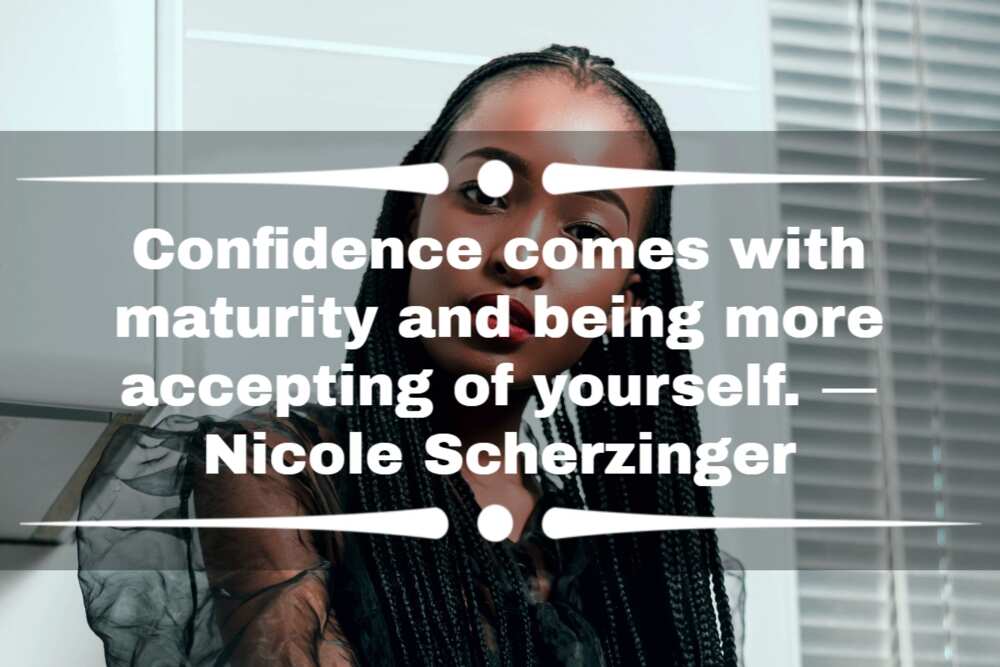 Life is full of surprises, and being strong is important to help you weather the storms of life. Here are the best strong women quotes to help you believe in yourself during tough times.
Every accomplishment starts with the decision to try. – Gail Devers
Have confidence that if you have done a little thing well, you can do a bigger thing too. – David Storey
A strong woman accepts the war she went through and is ennobled by her scars. – Carly Simon
Courage is fear holding on a minute longer. – Lisa Tawn Bergren
Confidence comes with maturity and being more accepting of yourself. – Nicole Scherzinger
The level of confidence women can build in women-only groups is important. – Mae Jemison
A woman with a voice is, by definition, a strong woman. But the search to find that voice can be remarkably difficult. – Melinda Gates
Life is ten per cent what you experience and ninety per cent how you respond to it. – Dorothy M. Neddermeyer
Confidence is one of the s*xiest things in guys and girls. – Danica McKellar
A strong woman knows she has strength enough for the journey, but a woman of strength knows it is in the journey that she will become strong.
Sometimes, if you fake confidence long enough, you will be confident. – Elle King
Never apologise for being sensitive or emotional. Let this be a sign that you've got a big heart and aren't afraid to let others see it. Showing your emotions is a sign of strength. – Brigitte Nicole
Confidence isn't optimism or pessimism and is not a character attribute. It's the expectation of a positive outcome. – Rosabeth Moss Kanter
There's something special about a woman dominating a man's world. It takes grace, strength, intelligence, fearlessness, and the nerve never to take no for an answer. – Rihanna
A person's worth in this world is estimated according to the value they put on themselves. How one sees themselves will determine how successful one becomes in life. Every woman should work on their confidence for a more improved life. The above confidence quotes for women will help every woman with self-esteem improvement.
READ ALSO: 50 famous quotes by Mickey Mouse that are the essence of Disney
Legit.ng recently published an article about quotes by Mickey Mouse. Mickey Mouse is the oldest and one of the most loved cartoon characters. This character is a Walt Disney creation that has inspired generations for decades. His famous quotes are great for people of all ages.
Mickey Mouse has not only entertained but motivated kids and adults around the world. The character has great quotes with many lessons in daily life. These quotes are also hilarious and will spice up your life.
Source: Legit.ng