50 famous quotes by Mickey Mouse that are the essence of Disney
In the cartoon animation world, Mickey Mouse is the oldest and one of the most loved characters. The character was created by Walt Disney in 1928. Mickey Mouse has inspired generations of both children and adults for decades. These are the famous quotes by Mickey Mouse that both adults and kids can enjoy.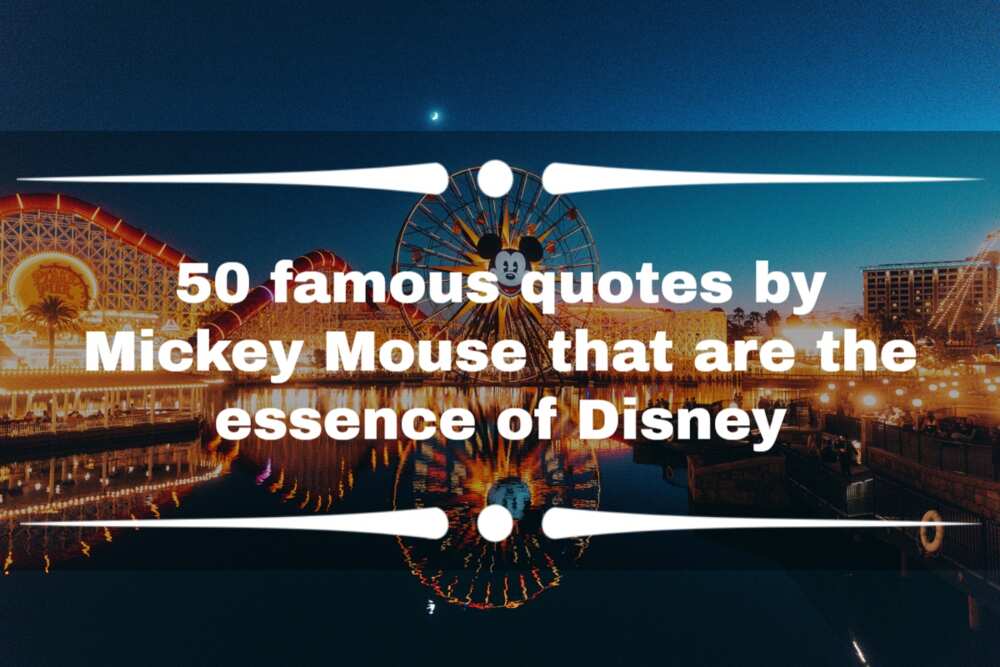 Mickey Mouse is a cartoon character that has not only entertained but motivated people around the world. There are many lessons that people can draw from watching this character in everyday life. Mickey Mouse catchphrases include 'oh, boy,' 'aw, gee! ', 'gosh,' and 'that sure is swell'. Here are some famous quotes by Mickey Mouse that you can learn from.
Quotes by Mickey Mouse
The Disney character is most known for the great quotes that he has used through the years. Below are some Mickey Mouse lines that you will love.
Come inside! It's fun inside.
Sorry I am late, everybody. I had to stop by the bank. I was over-drawn.
I may be small, but I've got friends that make me feel ten feet tall.
Best friends stick together.
Oh, Minnie. You're all the music I'll ever need.
I will always be there with you, right there in your heart.
It's fun to do the impossible.
Is it true that little elderly ladies come with shiny and round noses?
You are and always have been my dream.
I can't help you with revenge.
Famous quotes about Mickey Mouse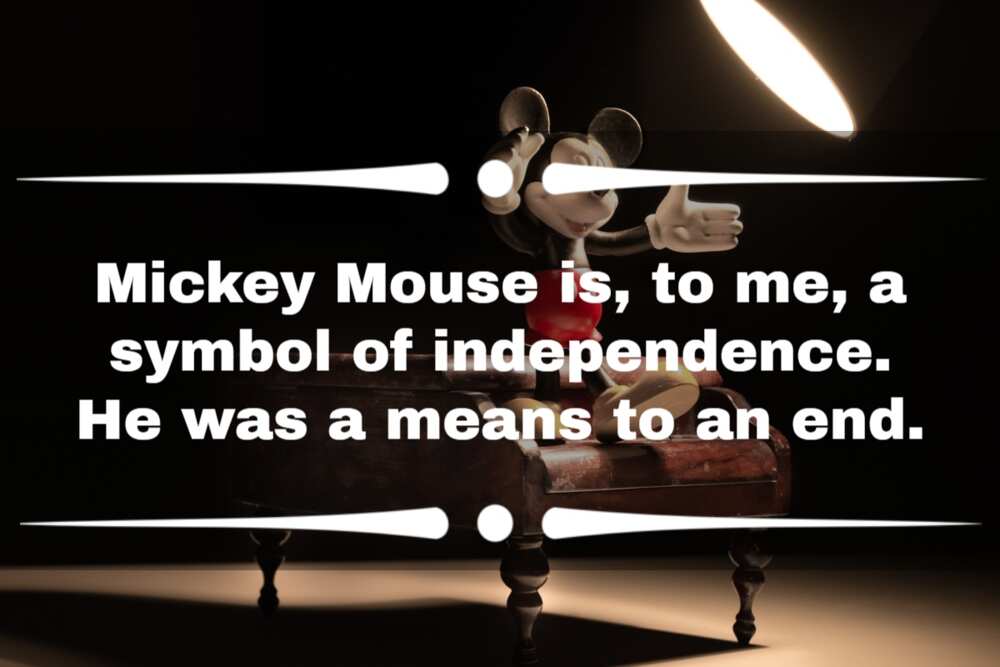 Mickey Mouse is a character that kids and adults would like to emulate due to his many great qualities. Below is a list of quotes about Mickey Mouse that will make you happier.
There are only a few characters and people in the world where, in history, you can go anywhere and say that character or person, that name, that song, and everyone knows what it is. Mickey Mouse is one. — Jordan Fisher
Mickey, to a three-year-old, is a six-foot-tall rat. — Robin Williams
Mickey Mouse did not remain the small squeaky guy in Steamboat Willie. He became many different versions of himself. — Paul Dini
Everyone knows Mickey Mouse, whether as the hero of an adventure story, teacher and friend, or icon on a watch, shirt, or hat. — Warren Spector
Never go to Pluto; it's a Mickey Mouse planet. — Robin Williams
Mickey Mouse was supposed to be called Mortimer, but Walt Disney's wife found it creepy. — Adam Anderson
I loved Mickey Mouse when I was young. He was the symbol of happiness and humour. — Maurice Sendak
I'm a Disney fan. Like, seriously, if I see Mickey Mouse, I light up. — LeToya Luckett
The image we have would be impossible for Mickey Mouse to maintain. We're just ordinary people. — Karen Carpenter
My Mickey Mouse ears were given to me by a dear friend. They remind me of how I need to be silly. — Alice Ripley
Mickey Mouse quotes by Walt Disney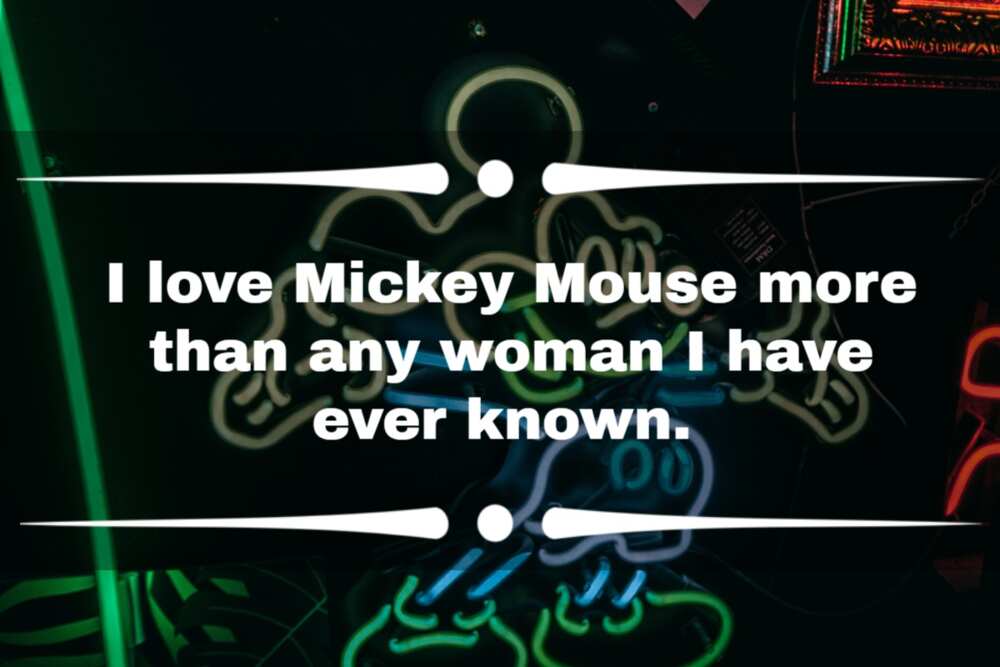 The Disney character has been an enormous icon in the entertainment industry for decades. Here are some great quotes by Walt Disney.
Remember, it all started with a mouse.
I love Mickey Mouse more than any woman I have ever known.
The Disney character is, to me, a symbol of independence. He was a means to an end.
The ventures and life of Mr Mouse have been closely related to my personal and professional life.
It is my hope that people do not lose sight of one thing- that everything was started by a mouse.
Born out of necessity, the little guy freed us of immediate worry and provided a way for expanding.
People find Mickey Mouse hilarious because he's so human; that is his secret to fame.
We all intend for him or expect him to continue to make people everywhere laugh with him and at him. People didn't burden him with the responsibility of social symbolism. He is not the mouthpiece for frustrations or harsh life. Mickey is simply a little personality with the sole purpose of laughter.
When I was poor in Kansas, living in a garage, I started drawing the mice that camped over my desk. That is how the Disney character was born.
I am usually surprised at what people say about our redoubtable little Mouse, who is not really a mouse and not fully a man — although always recognized as human.
Mickey Mouse's famous quotes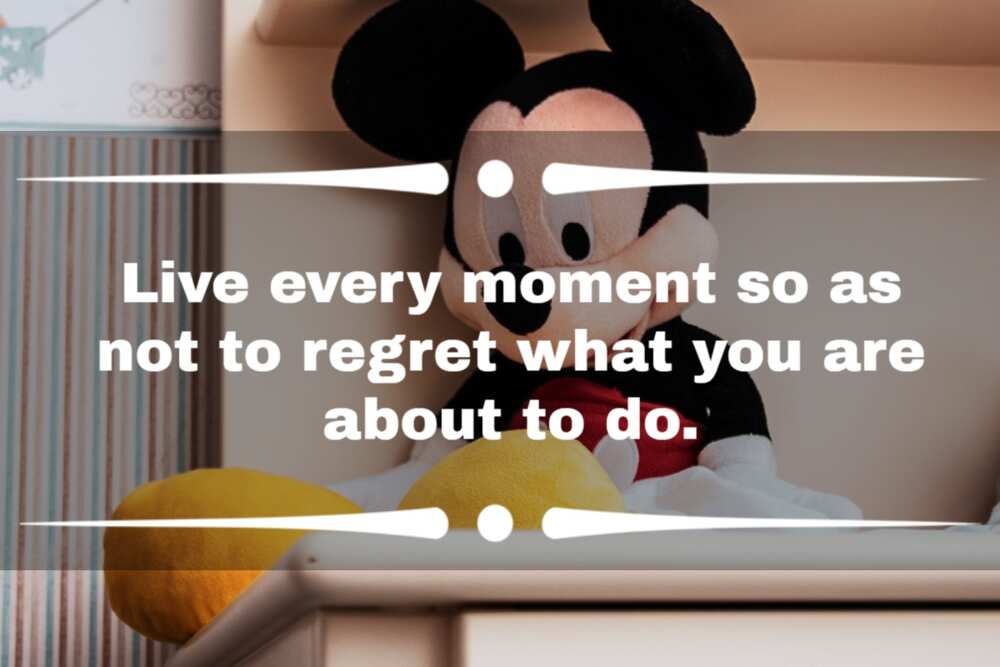 Mickey Mouse is one of the most famous cartoon characters created by Walt Disney. You may know some of his favourite quotes if you are a fan. Here is a collection of quotes by the character you can share with your loved ones.
Live every moment so as not to regret what you are about to do.
To laugh at yourself is to love yourself.
You're lying, Maleficent. Not even you would go through this much trouble just for that. What is it you're really after?
The way to get started is to quit talking and begin doing.
You'd never let the darkness get the best of you. I'm sure of that.
All you need in life is a little bit of magic.
When you're curious about things, you find lots of interesting stuff to do.
Laughter is endless, imagination has no limit, and dreams are to infinity.
If you can see it in a dream, you can achieve it in real life.
Mathematics is counting up to twenty with your shoe on.
Positive Mickey Mouse quotes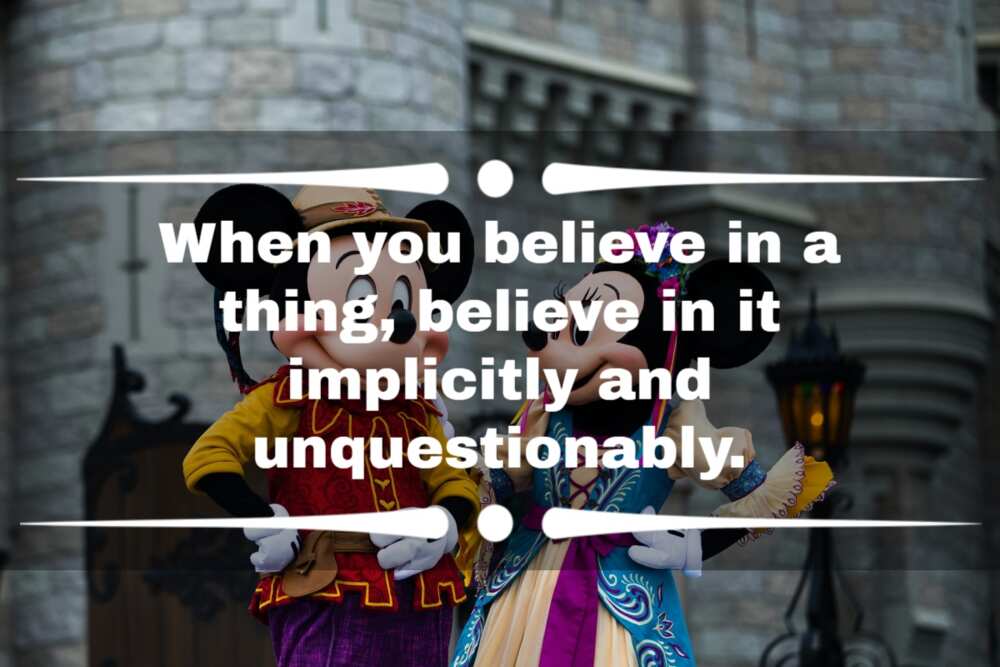 The world is full of ups and downs, and sometimes you feel like giving up. Positivity, however, will make you feel optimistic and help you achieve your goals. Below are positive quotes from the Disney character to motivate you when you feel like giving up.
Smile, breathe, and believe in magic.
Someone worth having is someone worth waiting for.
We keep moving forward, opening new doors, and doing new things, because we're curious, and curiosity keeps leading us down new paths.
Don't stress over anything that you can't change.
Happiness is not about having or not having problems. Everyone has issues, but not everyone is happy.
Take the dream with you wherever you may go.
All our dreams can come true if we dare to pursue them.
It's kind of fun to do the impossible.
When you believe in a thing, believe in it implicitly and unquestionably.
Why worry? Worrying won't make it any better if you've done the best you can.
Mickey Mouse is one of the most beloved cartoon characters in the animated universe. This character inspires people of all ages with positivity and imagination. Mickey is loyal, kind, and cheerful. If you are a fan, you will enjoy reading the above famous quotes by Mickey mouse.
READ ALSO: 100+ you are beautiful quotes and messages that will make your loved one smile
Legit.ng recently published a list of beautiful quotes and messages. Being beautiful and feeling beautiful is everybody's goal. Therefore, letting someone know how beautiful they are will always put a smile on their face. Send these beautiful quotes and messages and put a smile on your loved ones.
Letting someone know they are beautiful can make their day and change their mood. Sometimes, however, you can't find the right words to express your sentiments. If you are in this dilemma, choose one of these beautiful quotes to pass the message.
Source: Legit.ng