Igbo soups in Nigeria: Top 3 recipes you absolutely need to try
Igbo food is known for its rich and diverse soups and stews. Igbo soups are an integral part of the culture and are often enjoyed with staple foods like fufu, which can be made from cassava, yam, or plantains. Here are the top 3 Igbo soups in Nigeria that are easy to prepare.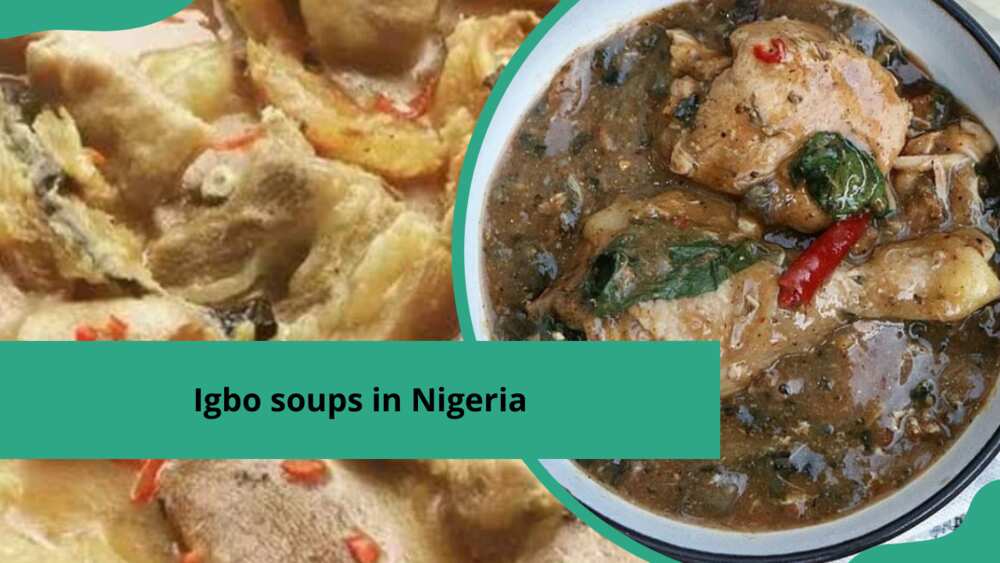 There are many delicious Igbo soups found in Nigeria. Each soup has a unique flavour profile and ingredients, making Igbo cuisine a diverse and flavorful part of Nigerian culinary heritage. These Igbo soups always contain some type of vegetable or herb.
Popular Igbo soups in Nigeria
Igbo soups are delicious. If you want to try something African, you need to try this. Below is a list of the top 3 types of Nigerian soup that are worth preparing.
Ofe Nsala soup
Ofe Nsala, also known as White soup, is a spicy and aromatic Igbo soup made with yam or plantains as a thickening agent. It is often prepared with chicken or goat meat and seasoned with a special spice blend.
Ingredients
Here are the ingredients you need to have to prepare this soup.
1 large catfish
8 small slices of white yam
5 Utazi leaves
2 small cubes of seasoning
A small portion of ogiri okpei
A handful of crayfish
Habanero pepper (to your preferred spiciness level)
Salt (if needed)
Preparation method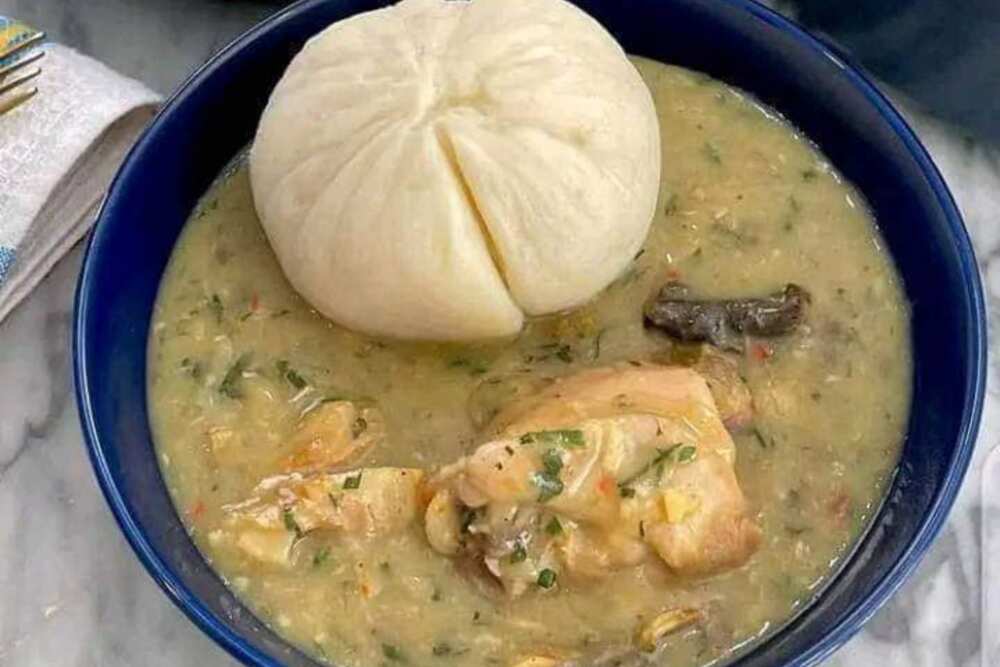 This is how to prepare Igbo traditional soups.
Crush the seasoning cubes and add them to the pot with the fish.
Place the slices of yam into the pot.
Pour enough water to cover everything and start cooking.
Once the yam becomes soft and moist, remove it from the pot and transfer it to a mortar.
Add the pounded crayfish, pepper, ogiri okpei, and Utazi leaves in the pot with the fish. Continue cooking.
Pound the cooked yam in the mortar until it becomes smooth and stretchy.
Add the pounded yam into the pot of Ofe Nsala in small lumps, cover, and continue cooking.
When the yam dissolves and thickens the soup, it's ready. If it becomes medium consistency before all the yam dissolves, remove the undissolved yam to avoid making the Ofe Nsala too thick.
Add salt to taste, stir well, and your Ofe Nsala is ready to be served!
Igbo Oha soup
Oha soup, also known as Ora soup, is made from Ora (Oha) leaves native to the region. It is often prepared with assorted meats, dried fish, and crayfish. The distinctive flavour of Ora leaves gives this soup a unique taste. It is typically served with fufu or pounded yam
Ingredients
To prepare this soup, you need the following ingredients.
Oha leaves
One teaspoon of Ogiri
Stock cubes (Maggi or Knorr)
Dry or Stock Fish
Beef (or shaki)
Crayfish
Three cooking spoons of red palm oil
Eight pieces of cocoyam corms
Oha soup recipe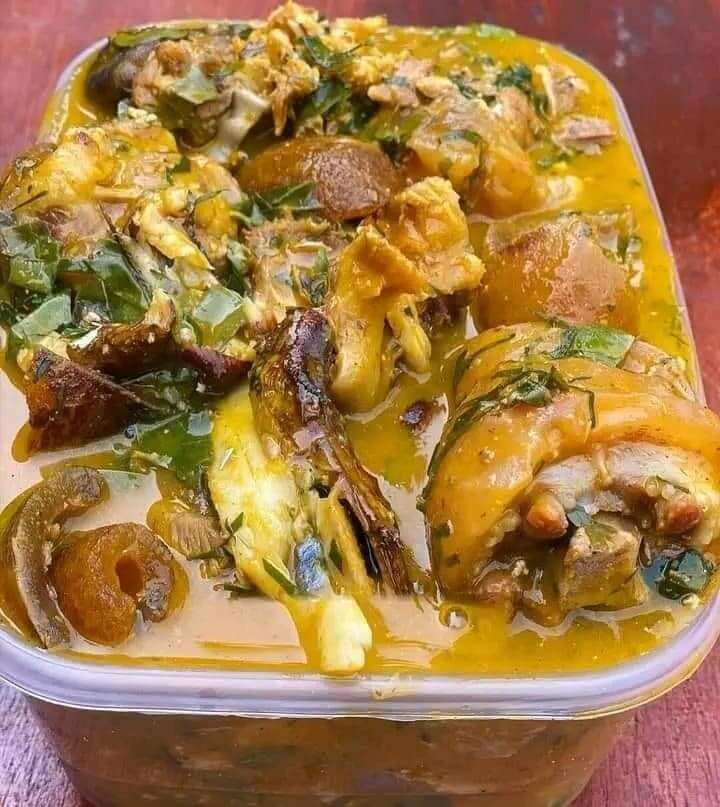 Here is a step-by-step guide on how to prepare the soup.
Boil the shaki together with stock dry fish in a pot. Do not forget to cover them with enough water. Boil until they are soft and tender.
Add all your beef to the pot with shaki and stock fish. Continue cooking until they are done. You should also add two stock cubes. Continue cooking for five minutes more!
Add your crayfish, Ogiri Igbo (optional) and pepper. Cook them all together for ten more minutes.
Add the cocoyam paste along with the palm oil.
Leave the pot until the cocoyam paste is dissolved. You can add more water if your Igbo Oha Soup is too thick.
Add Oha Leaves and cook for five more minutes.
Add some salt and stir your soup until it's ready.
You can serve Igbo soups in Nigeria with fufu or pounded yam.
Igbo Egusi soup
Egusi soup is one of the most famous Igbo soups. It is made from ground melon seeds (Egusi) and typically includes vegetables like spinach or bitterleaf and various proteins such as meat, fish, or crayfish. Egusi soup is usually thickened with palm oil.
Ingredients
You will need the following ingredients to prepare this soup.
One piece of Ogiri Okpei
Stock cubes
Bitter leaves, spinach, or Nigerian pumpkin leaves
Three teaspoons of ground crayfish
Dry/stock fish
Beef and shaki (cow tripe)
Two teaspoons of red palm oil
700g of Egusi seeds
Salt and pepper to taste
Preparation method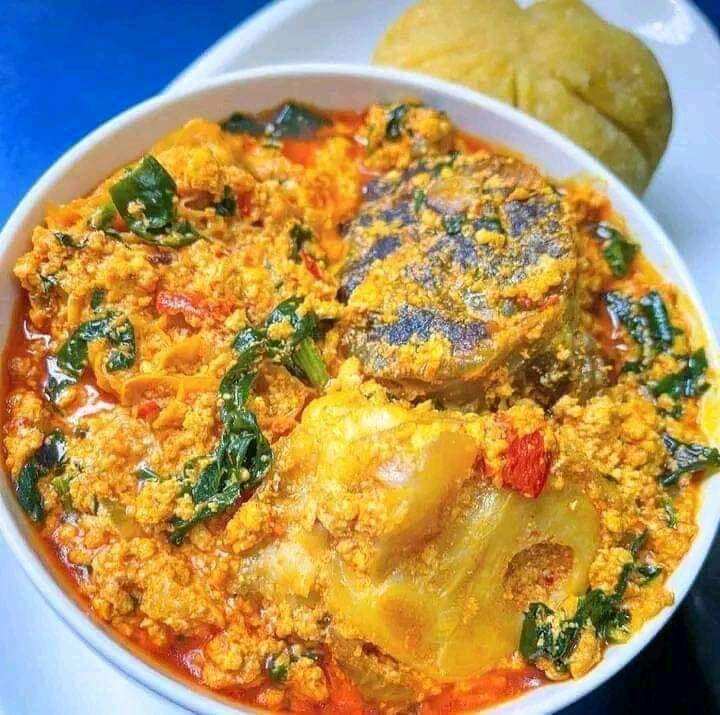 Follow the steps below to prepare this soup.
Soak your dry fish for at least half an hour. You can soak it in a pot with some warm water.
When your stock fish is soft – you can debone it and break it into chunks.
Grind Egusi with a dry mill.
Grind the dry pepper and the crayfish.
Wash and cut the vegetables you intend to use.
Boil the dry fish and shaki in a pot. Cover it with enough water and allow it to cook.
Wash the beef and add to the pot. Allow it to cook for some time.
Once cooked, remove the meat, fish and shaki from the stock and place into a different pot.
Add your ground egusi to the stock.
Cover the stock and cook till egusi cakes. You can stir Egusi and add some more water.
Cook until you see the clear egusi oil on the soup's surface. This will take about 25 minutes.
Add the bitter leaves and red palm oil. Cook the mixture for seven minutes.
Add the meat, fish and shaki you placed with pumpkin leaves.
Add salt and pepper to taste. Stir for two more minutes.
You can now turn off the heat. Leave your soup to stand for 5 minutes and serve.
List of Igbo soups in Nigeria
Apart from the Egusi soup, Oha soup and Ofe Nsala, there are other popular soups you can go for. They include:
Onugbu soup (Bitter-leaf soup)
Ofe Ora (Ora soup)
Ofe Owerri
Ofe Anala (Anala soup/Ofe Ukpom)
Ofe Utazi (Utazi soup)
Ofe Awa (Awa soup)
Ofe Ugu (Ugu soup)
Ofe Akparata
Ofe Okazi (Okazi soup)
Ofe Ugba (Ugba soup)
Many Igbo soups in Nigeria are made with nutritious ingredients like vegetables, meats, and fish. These soups can provide essential vitamins, minerals, and proteins, contributing to a balanced and healthy diet.
Legit.ng recently published an article on how to prepare vegetable soup with ugu and waterleaf. This nutritious dish contains fresh whole foods, mostly meat, veggies, and shellfish.
If you can't get your hands on ugu or water leaves, you can substitute it with veggies like asparagus, dried split peas, kale, cabbage, lentils, and mushrooms. The flavour may vary, but the excellent nutritional content is well worth it.
Source: Legit.ng