Who were the late Bob Ross' spouses? Meet the women in his life
Bob Ross was an American painter, art instructor, and television host best known for hosting The Joy of Painting, a TV program that taught viewers how to paint landscapes using his unique wet-on-wet oil painting technique. He became famous for his soothing voice, calm demeanour, and the way he would create beautiful paintings in just 30 minutes. The painter passed away in 1995, but who was the late Bob Ross' spouse?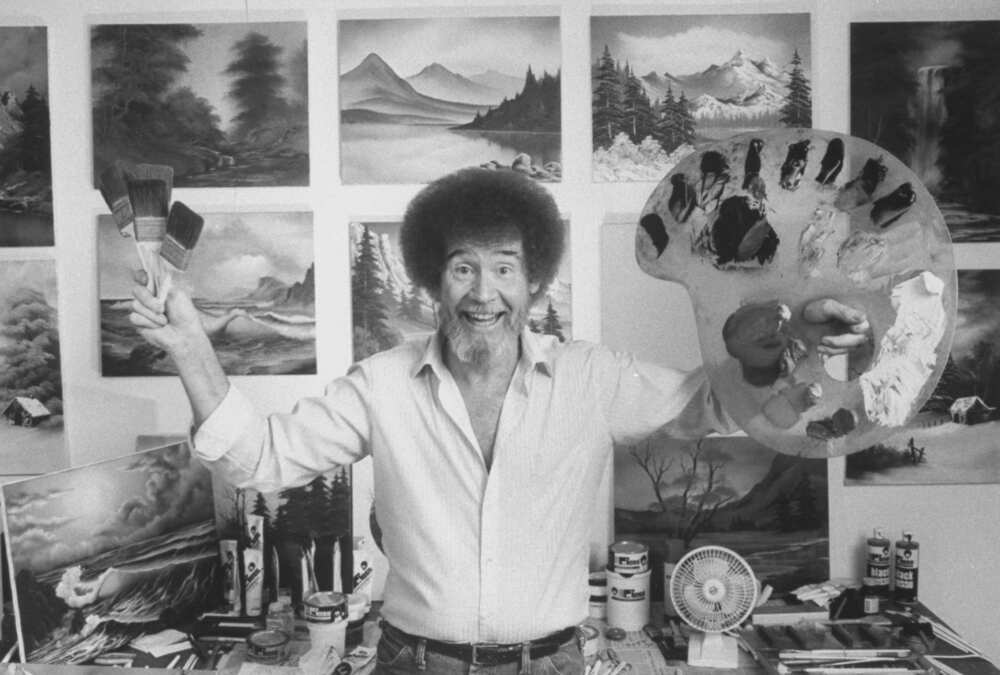 Bob Ross was born on 29 October 1942 in Daytona Beach, Florida and raised in Orlando, Florida. His parents, Jack (carpenter ) and Ollie Ross (waitress). Despite being a cigarette smoker for most of his adult life, he had various health concerns and anticipated early death. Eventually, he succumbed to complications from lymphoma and passed away at the age of 52 in Orlando, Florida, on 4 July 1995. Many fans are interested in knowing Bob Ross' spouses and what they are up to now.
Who were the late Bob Ross' spouses?
Bob Ross was a beloved painter, art instructor, and television host who captured the hearts of millions with his multiple talents. He was married three times throughout his life. Take a closer look at the late Bob Ross' spouses and their influence on his life and work.
Vivian Ridge (1965 –1977)
Vivian Ridge was his first wife. At the age of 12, Vivian started painting as a hobby. Later, she pursued a degree in art history from Wake Forest University. During this time, she met Bob, and they began working together.
They got married in 1965 and lasted for over a decade until they divorced in 1977. Not much is known about Vivian Ridge, as Ross did not speak much about her publicly.
While together, the couple had a child and became proud parents to Robert Stephen Ross, born on 1 August 1966. He is a renowned painter who goes by the professional name of Steve Ross.
He occasionally appeared on The Joy of Painting and became his father's-certified instructor. He appeared on the last episode of Season 1, where he read out a series of general "how-to" questions from viewers.
Jane Lee Zanardelli (1977 – 1992)
After his divorce from Vivian Ridge, he married Jane in 1977. Jane was a painter and his student who was interested in learning oil painting from him. Bob Ross and Jane Ross met when Jane started taking painting classes, and eventually, they fell in love and married.
Jane became his business partner and helped him run his art empire. Bob Ross' wife was diagnosed with cancer and died in 1992. Her death was a major shock for the art instructor, and he stopped filming The Joy of Painting for a while after her passing.
Lynda Brown Ross (1995)
The painter was married Lynda Brown, his third wife, a few months before his death in 1995. Bob Ross and Lynda Brown met while Lynda was working as a nurse. Despite their short marriage, they stayed together until his passing two months later in July 1995 due to complications related to lymphoma.
What happened to Bob Ross' wives?
Vivian appears to have moved on with her life. She lives in Orlando, Florida. Jane, his second wife, died of cancer in August 1992 in Florida, just three years before Bob died. At the time, she was 50 years old. Bob Ross' third wife's whereabouts are unknown.
FAQs
Who was Bob Ross? Robert Norman Ross was an American painter, art teacher, and television personality. He is best known for his PBS television show, The Joy of Painting, which he self-produced.
How old was Bob Ross? The TV personality was born on October 29, 1942, in Daytona Beach, Florida, USA. Jack and Ollie Ross, his parents, were carpenters and waitresses, respectively. He dropped out of high school and started working with his father.
Was Bob Ross married? Yes, he was married three times in his life. His first marriage was to Vivian Ridge in 1965, which ended in divorce in 1977. He then married his second wife, Jane, in 1977, who unfortunately passed away from cancer in 1992. Bob married Lynda Brown in 1995, just a few months before his death.
Who was Bob Ross' 3rd wife? His third wife was Lynda Brown, who was a nurse. They married in 1995, just a few months before Bob's death in the same year. Not much is known about Lynda Brown's life before or after her marriage to the painter.
Did Bob Ross have any kids? Yes, he had two children, including a son named Robert Stephen, with his first wife, Vivian Ridge. He also had a child from a previous relationship as a teenager.
Who is Bob Ross' son? His son is Robert Stephen Ross, born on August 1, 1966. He is also known by his professional name, Steve Ross, and is a successful painter who has followed in his father's footsteps.
When did Bob Ross die? The American painter passed away on July 4, 1995, at the age of 52 due to complications from lymphoma.
The late Bob Ross' spouses were Vivian Ridge, Jane, and Lynda Brown. Each of his marriages had a unique story; while some ended in divorce, others were tragically cut short due to illness. Despite these personal challenges, Bob Ross's legacy inspires and captivates generations of artists and enthusiasts worldwide. His impact on the art world and his positive influence on those who knew him will undoubtedly continue to be felt for many years to come.
READ ALSO: What is known about Seth Curry's wife? Get to know Callie Rivers
Legit.ng recently published the biography of Seth Curry's wife, Callie Rivers. She is a well-known celebrity wife and former professional American volleyball player. Her husband Seth is a prominent American professional basketball player who plays for the Brooklyn Nets of the NBA.
Callie and Seth have two children and have been married since September 14, 2019. She modelled for a while after she retired from professional volleyball. She is now an Instagram celebrity.
Source: Legit.ng