Bam Margera bio: age, net worth, wife, house, where is he now?
Bam Margera is a man with several skills. He does well as a professional skateboarder, filmmaker, musician, and screenwriter. He is also a famous American movie and reality television celebrity.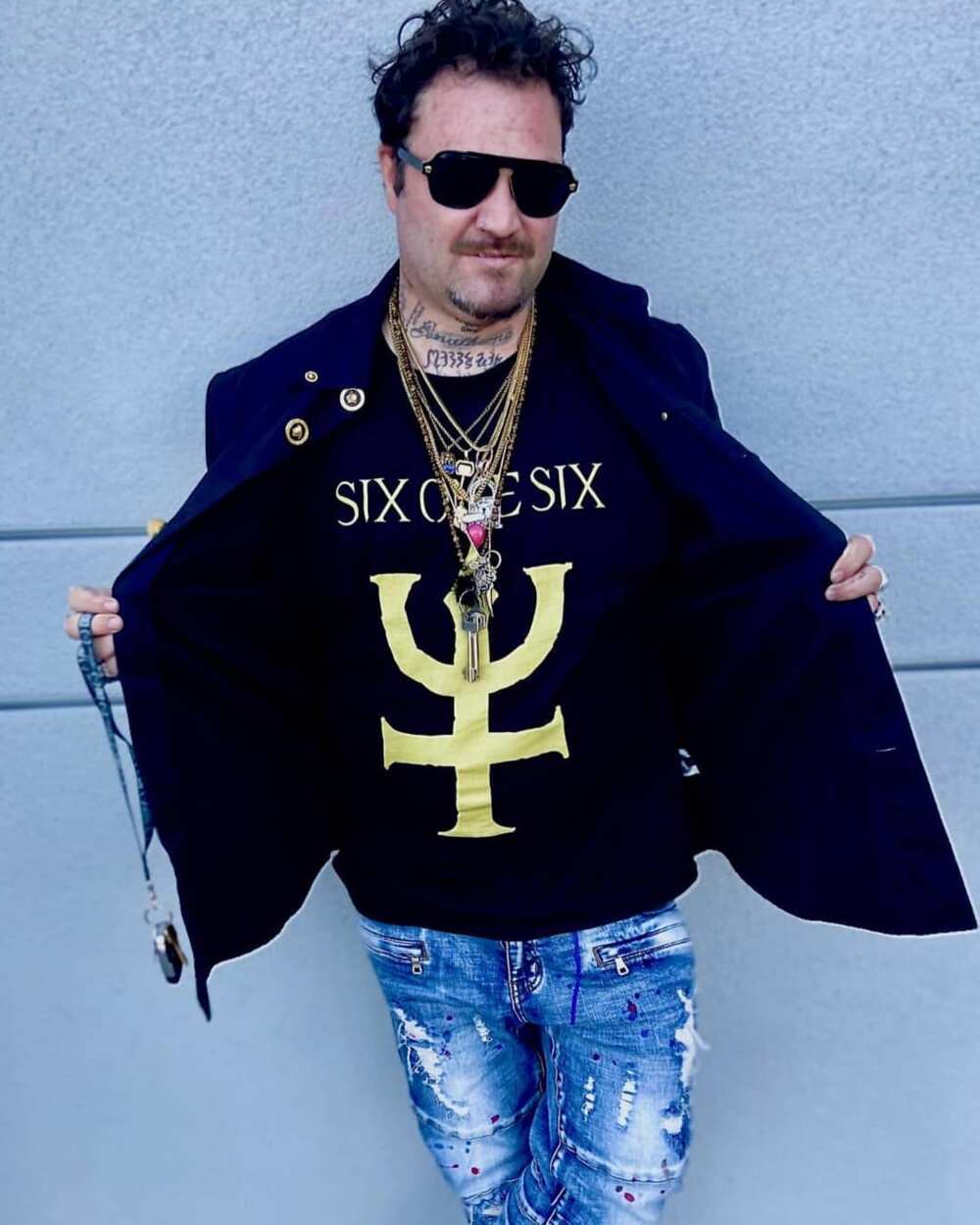 Margera's prominence in the early 2000s can be attributed to the stunt reality show Jackass. Afterwards, he created Jackass spin-off shows, Viva La Bam and Bam's Unholy Union. He is one of the masterminds behind the films Haggard and Minghags.
Profile summary
Celebrated name: Bam Margera
Real name: Brandon Cole Margera
Horoscope: Libra
Birthdate: 28th of September, 1979
Age: 40 years old
Birthplace: West Chester, Pennsylvania, USA
Vocation: Skateboarder, filmmaker, musician, stunt performer, scriptwriter, editor, movie producer, and television show personality
Nationality: American
Relationship status: Married
Wife: Nicole Boyd
Child: Phoenix Wolf Margera
Height: 5 feet and 8 inches (172.7 cm)
Weight: 115 kg
Net worth: $20 million
Education: West Chester East High School
Parents: Phil and April Margera
Family: Jess (brother) and Vincent Margera (uncle)
Bam Margera's early life
Phil is Bam Margera dad, while April is his mom. He is the younger brother of Jess and the nephew of Vincent Margera.
What is Bam Margera's real name? His real name is Brandon Cole Margera. The nickname, Bam Bam, was given to him by his grandfather after he noticed that the young Bam Margera had the habit of deliberately running into walls at the tender age of three. Over time, the name became abbreviated to Bam by his classmates.
He went to West Chester East High School alongside his friend, Chris Raab. He mentions his friendship with Raab as his only reason for attending high school. This reason became apparent to all as he dropped out of school after finishing his junior year due to Raab's expulsion.
Bam Margera now legally bears Bam, following his legal procedure to change his name from Brandon.
How old is Bam Margera?
Bam Margera age is 40 years. He was born on the 28th of September, 1979, at West Chester, Pennsylvania, the United States of America. This means that in September 2020, he will be celebrating his 41st birthday.
Bam Margera's career
The professional skateboarder commenced his career as a skateboarder in 1997. He was underwritten by Toy Machine skateboards and admitted to the element team in 2001. In 2016, it was reported that Margera retired from the career of skateboarding.
He also ventured into acting, directing and producing movies. He independently produced the first CKY video series. After the massive success of CKY, the editor of the Big Brother show featured him alongside his friends in the Jackass show.
The success of this show led to the opportunity to run his show, Viva La Bam. The actor's show ran for five seasons, and he also featured in the series Nitro Circus and Bam's World Domination.
He was also a band member and the keyboardist of Gnarkill. Interestingly, he launched his music label, Filthy Note Records, in 2005. The record label has directed several music videos.
What is Bam Margera worth?
According to Celebrity Net Worth, Bam Margera net worth is estimated at $20 million. He amassed this wealth by writing scripts, featuring in several TV shows, among other streams of income.
Who is Bam Margera's wife?
Bam's wife is Nicole Boyd. Nicole is a woman with a lot of talents. She is an American photographer, graphics designer, and actress. Apart from being Bam Margera wife, she is generally known for featuring in the show Pennsylvania's Most Terrifying Haunted Attraction.
She hails from La Mirada, California, USA. Bam Margera married Nicole in 2013. Before the ceremony, Margera had a performance with his band F**kface Unstoppable.
Does Bam Margera have a kid? Yes, the love birds are blessed with a child named Phoenix Wolf. Bam Margera son was born in December 2017.
Before Margera's relationship with Nicole, he was married to Missy Rothstein. Missy was his childhood friend and sweetheart; they tied the knot in February 2007 in Philadelphia. The wedding was chronicled through Bam's Unholy Union.
The lovebirds' honeymoon was in Dubai. However, the couple separated in 2010.
In October 2010, Margera informed Howard Stern that Missy and himself were living in different cities, and they only met once in a week. He also noted that Missy was aware of his other girlfriends before they finally divorced in 2012.
Before his union with Missy, the professional skateboarder was engaged to Jenn Rivell, a divorcee and single mother, in 1998. Rivell and Margera worked on several projects together.
However, their seven-year relationship came to a halt in 2005. A year after the breakup, it was recorded that Rivell allegedly broke into his house, which resulted in Margera filing for protection from abuse.
Does Bam Margera have a house?
Yes, he does. The professional skateboarder possesses two houses in the West Chester, Pennsylvania area. His old house (known as Castle Bam), was frequently featured on Viva La Bam.
Bam Margera house, Castle Bam, is painted purple, a rare colour used for houses. It cost $1.2 million when it was bought in 2014, and it sits on 14 acres of land. The magnificent home has five bedrooms, an indoor skatepark, swimming pool, a band practice space, and three bathrooms.
April Margera renovated the house in 2018 for it to be used for short period rentals on Airbnb. The renovation happened a year after Margera and Nicole moved to their new house in preparation for the arrival of their son.
Bam Margera filmography
Bam has appeared in several movies, TV shows, and video games. Here is a list with some of them:
2020 - Humanity Stoked
2019 - Dr. Phil
2018 - Bathroom Break Podcast
2017 - Epicly Later'd
2017 - James Reeves Vlog
2017 - Dumb: The Story of Big Brother Magazine
2016 - Family Therapy with Dr. Jenn
2015 - Motivation 2: The Chris Cole Story
2014 - CKY the Greatest Hits
2014 - Taff
2014 - Access Hollywood
2013 - Teenage Kickflips 3: A Day with F*Ckface Unstoppable
2013 - Who Gets the Last Laugh?
2013 - Ridiculousness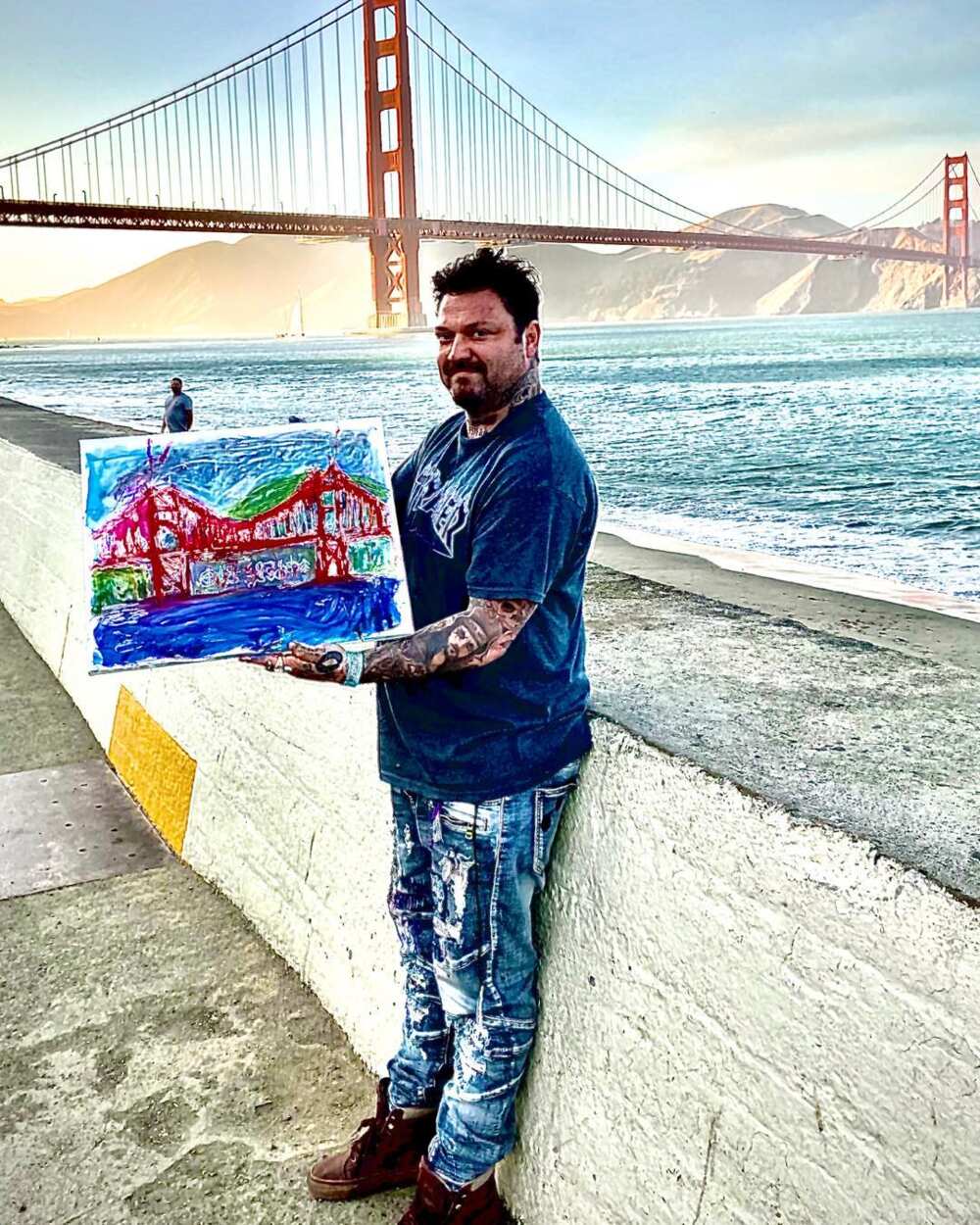 2012 - Artifact
2012 - Hip Hop Squares
2005-2012 - Punk'd
2012 - One Step Beyond: The True Story of Géraldine Fasnacht
2012 - Loiter Squad
2012 - Horror Creek Manor
2012 - The Bates Haunting
2011 - A Tribute to Ryan Dunn
2011 - The Car Show
2011 - Jackass 3.5
2011 - Pânico na TV
2010 - TV total
2010 - Made in Hollywood
2010 - Late Night with Jimmy Fallon
2010 - Up Close with Carrie Keagan
2010 - Bam's World Domination
2010 - Jackass 3D
2010 - The Tonight Show with Jay Leno
2010 - Dudesons in America
2010 - Bam Margera: Serious as Dog Dirt
2010 - Living Will...
2009 - Minghags
2009 - Gumball 3000
2009 - Nitro Circus
2009 - The Hexylvania Picture Show
2009 - CKY: The Making of 'A#1 Roller Rager'
2009 - 6 Beers of Separation
2009 - Steve-O: Demise and Rise
2006-2009 - The Dudesons
2009 - Dreamseller: The Brandon Novak Documentary
2005-2008 - Last Call with Carson Daly
2008 - Where the #$&% Is Santa?
2008 - Hella Crazy
2008 - Jackassworld.com: 24 Hour Takeover
2008 - LA Ink
2008 - Bamimation
2008 - Buenafuente
2007- Jackass 2.5
2007 - Tony Hawk's Proving Ground (Video Game)
2006-2007 - Howard Stern on Demand
2007 - Bam Margera Presents: Viva La Bands Vol. 2
2007 - Tony Hawk Secret Skate Park Tour 3
2007- VH1 Rock Honors
2007 - 3000 Miles with Bam and Hawk
2007 - Adventures in Hollyhood
2007 - Bam's Unholy Union
2007 - This Is My Element
2006 - Scarface: The World Is Yours
2006 - Elementality: Volume Two
2006 - The Making of 'Jackass Number Two'
2006 - Tony Hawk's Project 8
2006 - Fuse Celebrity Playlist
2006 - Jackass Number Two
2005-2006 - Jimmy Kimmel Live!
2006 - 2006 MTV Video Music Awards
2006 - All That Rocks
2006 - The Dudesons Movie
2005 - Bloodhound Gang: Foxtrot Uniform Charlie Kilo
2003 - Grind
2003 - Haggard
2002 - Tony Hawk's Pro Skater 4
2001 - CKY 3 (Video)
2001 - CKY Documentary
2001 - Tony Hawk's Gigantic Skatepark Tour
2001 - Tony Hawk's Pro Skater 3
2001 - Destroying America
2000 - 7-Teen Sips
2000 - CKY2K
1999 - Landspeed: CKY
1999 - Intelligence Gone Wild Vol. One
1999 - Transmission 7
1998 - Jump Off a Building
Bam Margera tattoos
If you are have seen the professional skateboarder on-screen or seen his pictures before, you will agree that he has an endless exhibition of tattoos. The interesting thing is that each of Bam Margera tattoo symbols is significant.
For instance, the heart gram tattoo is supposed to be a modern-day yin-yang which symbolises the relationship between love and hate, light and darkness, life and death, and so on. Interestingly, the symbol is found on CKY paraphernalia, HIM albums, and on the Element product line.
He also has a wedding tattoo which he got alongside Missy before their wedding. He opted for the drawing of Dr. J, an NBA player, without disclosing to his fans why he did so, while Missy chose a 313 tattoo.
On his left elbow is a tattoo of two fused hearts and on his left forearm is an inked dreadful-looking man wearing a top hat.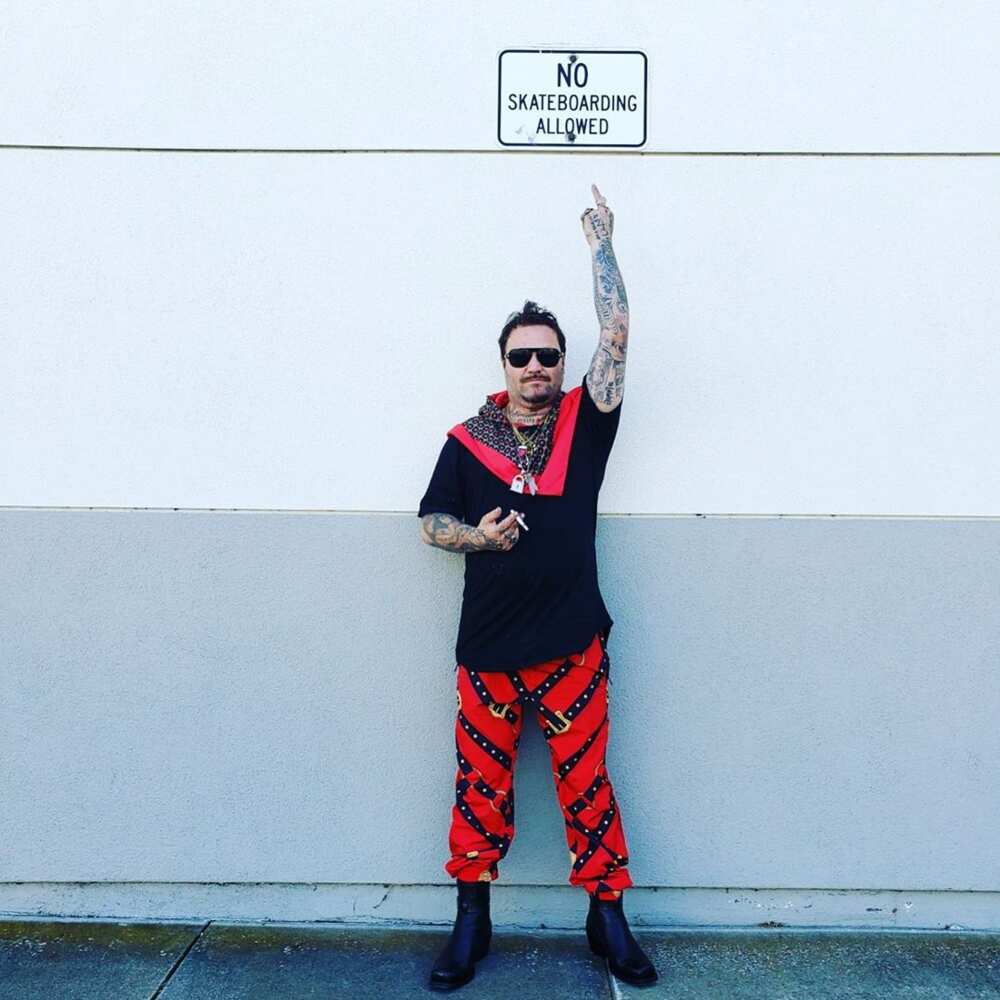 The skateboarder has a tattoo on his left leg portraying his grandfather holding a gun and wearing a bandage across his head. It also has an inscription which reads, "If you get another F, I am gonna F U."
The filmmaker also wears a razor blade tattoo as a homage to the Razorblade Romance CD by HIM. This tattoo is on his upper and inner left arm. Additionally, on the left side of his body is a tribal flowery vine tattoo, while on his bottom, he tattoed the word "Nidiot".
He has a skeleton guitar tattoed on his left arm, a half-naked woman concealed with design with the word Nymphetamine beneath it on his right shoulder, and an inscription, 'Where is the Justice?', on his right arm.
What happened to Bam Margera?
In 2019, the skateboarder embarked on rehab for the third time, even though he spent only ten days. He stated that he could take care of his problem on his own. In 2018, he had been arrested in Los Angeles for allegedly driving under the influence.
However, a video released in March 2019 showed otherwise. In the video, he was screaming and threatening his manager in New York City. Additionally, one of his Instagram posts showed him ranting to his wife.
On the 3rd of August, 2019, he was kicked off a flight following an argument with an airport police officer who told him that he was too drunk to fly. Later, the professional skateboarder posted several videos on his Instagram account, pleading for Dr Phil's assistance.
He also ranted about his mother, wife and childhood friend, Brandon Novak, stressing that his relationship with his family is shattered. It is glaring that Bam Margera young and fit body has changed due to alcohol, and it has also rendered him overweight.
Where is Margera now?
The filmmaker is out there, trying to make things happen again. His posts on his Instagram account show that he is back on the skateboard. So, for those who have been asking, "is Bam Margera dead?" This proves that the professional actor Bam Margera today is still alive.
Bam Margera has been through a lot in the past years but the interesting thing is that he has not given up on life. Fans and loved ones are hopeful that he will still make them proud again.
Source: Legit.ng