How to get an international passport in Nigeria: types, requirements, price
Do you know how to get an international passport in Nigeria? The Nigerian international passport is a travel document provided by the Nigerian Immigration Service (NIS) on behalf of the federal government of Nigeria for identity confirmation and immigration purposes.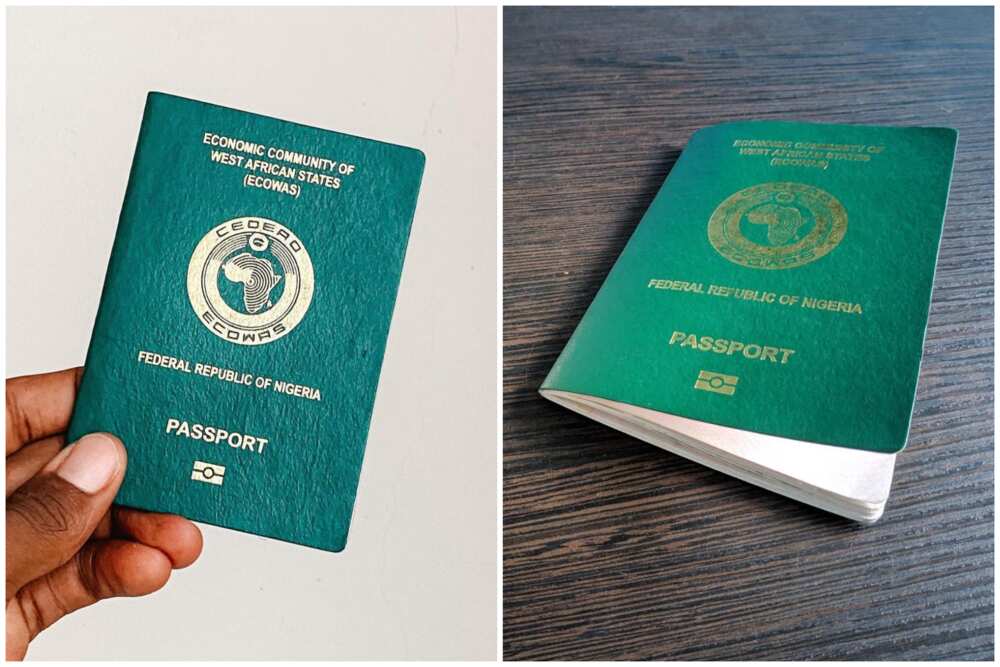 Nigerians who plan on traveling abroad for business, leisure, study, or vacation must apply for a Nigerian international passport. One can apply for the document either at the physical location at the Nigeria Immigration Services or by submitting an application on its website. Nigerians living in other countries may obtain passports through the nearest Nigerian embassy or consulate, or apply online.
Types of international passport in Nigeria
There are five types of Nigerian passports. Therefore, before you apply for one, you should know the category you belong to.
1. Standard
The Nigerian standard visa is a type of identity document that every Nigerian national is entitled to acquire before travelling abroad. It has a green cover.
2. Diplomatic
This type of document is accessible to key government officials and government ambassadors including the president, vice president, governors and senators, and some other high ranking government officials. It has a red cover.
3. Official
This one is given to government officials such as ministers, governors, permanent secretaries, and secretary-general of the federation. It has a blue cover.
4. Seamans
It is given to people who work on the sea or ocean. It is basically for sailors and it is identified by its maroon cover.
5. Pilgrim
This one is issued by Nigerian immigration services to Nigerian citizens embarking on pilgrimages to holy lands such as Jerusalem and Mecca. This type does not have a stable cover colour due to security reasons.
General requirements for an international passport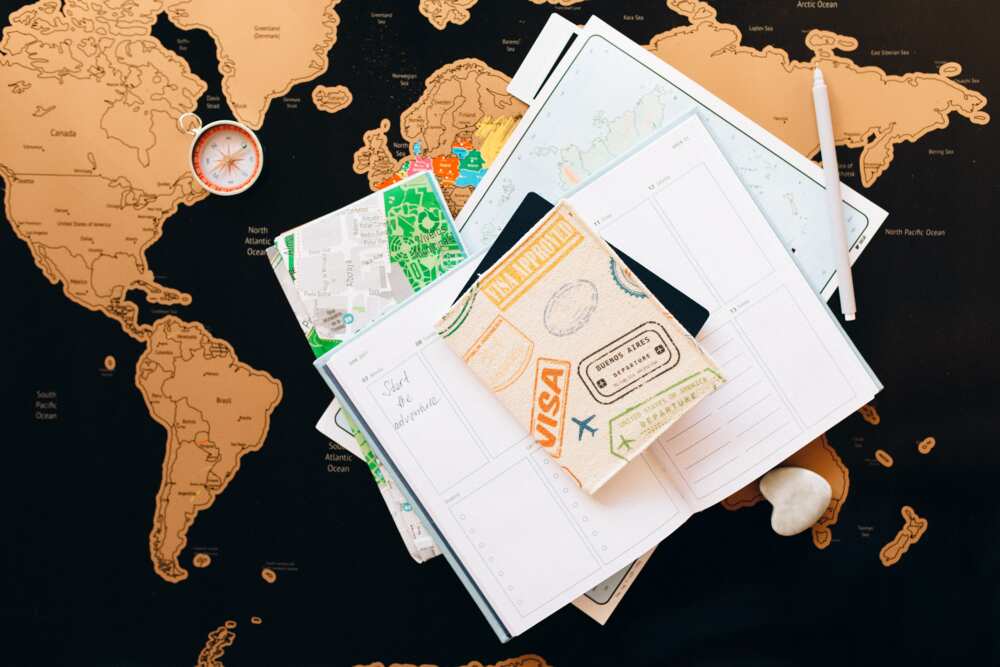 To be eligible to apply for the Nigerian international passport, the applicant must submit the required documents which include:
Local government letter of identification.
Birth certificate/age declaration.
Two coloured passport photographs.
Guarantor's form, signed and stamped by a commissioner of Oaths, Magistrate and High Court Judge.
Parents' letter of consent for minors under 16 years.
Marriage certificate where applicable.
Police report in case of lost passport.
Completed passport immigration data form.
How to get international passport in Nigeria
There are two procedures for acquiring the document; you can apply at the physical location of the Nigeria Immigration Service or by making a submission through its website. Applicants are advised to apply six months before the expiration of their passport. Below is the summary of the steps to follow to complete your international passport application.
Visit the home page of the Nigeria Immigration portal.
Locate and click on the appropriate application form to start the process.
Select a passport type (standard e-passport or official e-passport), then click on the 'Start Application' button.
Fill out the application form and print the filled form.
Click on submit application button to view the applicant details page.
Click on proceed to online payment.
Click to select the payment currency (Pay in Naira or Pay in Dollars) option, then click on the continue button.
Identification number: You will be issued an application ID and reference number. Once you've made a payment and gotten a "Validation Number," you can verify it on the NIS website.
Print your NIS e-receipt on the portal home page.
Generate your passport guarantor's form.
After you have submitted your online application, you will need to visit your specified immigration office for photographs and biometrics to be taken.
Note: If you are applying for a new passport, and you have never previously owned one, you need to fill out the form for a Fresh Passport. Click on 'Fresh Passport' on the menu bar. Choose the appropriate passport type you are applying for and click on the 'Start Application' button.
How much is international passport in Nigeria?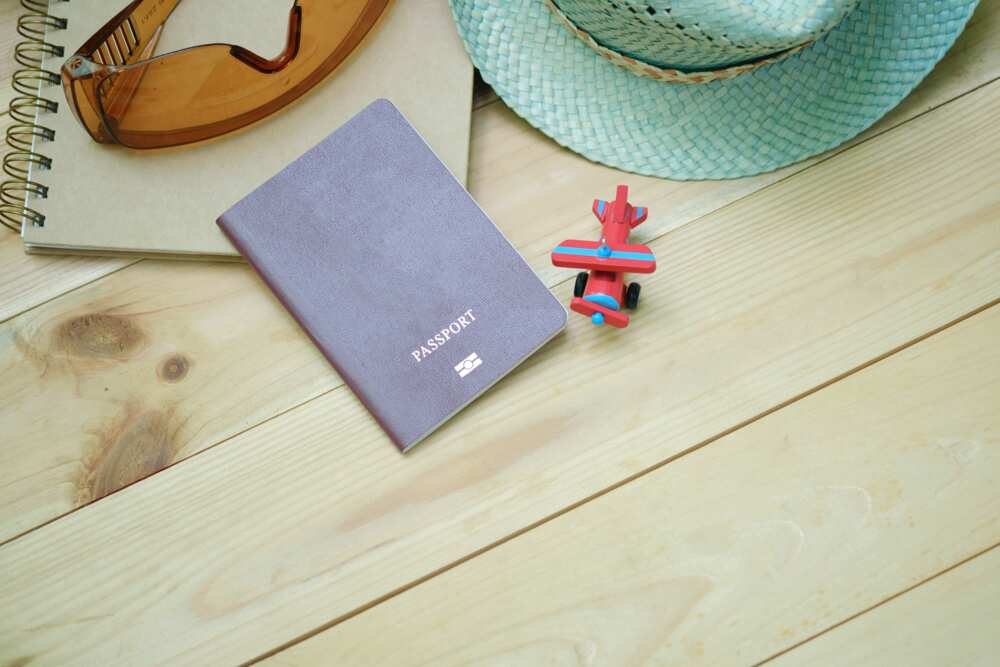 The cost of an international passport in Nigeria depends on various factors such as age and passport booklet type. Payment for a Nigerian international passport is made online in either naira or US dollars.
The cost of a new international passport in Nigeria is disclosed on the passport guideline page of the official website of the Nigeria Immigration Services. The fee should be paid before other mandatory documents can be submitted for processing.
Nigerian international passport fee in Naira
| | | | |
| --- | --- | --- | --- |
| Booklet type | Age 0 - 17 | Age 18 - 59 | Age 60+ |
| 32 Pages | 8,750 | 15,000 | 8,750 |
| 64 Pages | 20,000 | 20,000 | 20,000 |
Nigerian international passport fees for all embassies, consulates, and high commissions
| | | | |
| --- | --- | --- | --- |
| Booklet type | Age 0 - 17 | Age 18 - 59 | Age 60+ |
| 32 pages | $65 | $94 | $65 |
| 64 Pages | $125 | $125 | $125 |
Passport renewal fee in Nigeria
With the exception of the pilgrims' passport, all other passport types can be renewed once they have expired. This renewal process allows individuals to continue using their current passport for international travel.
Below is a list of documents needed for renewing the expired, unexpired document or passport with exhausted visa pages:
Completed passport renewal form.
Acknowledgement slip and passport payment slip.
Two (2) recent passport size photographs.
Original and photocopy of the current e-passport.
National Identification Number (NIN) slip or evidence of enrollment.
Below are the costs for Nigerian international passport renewal.
| | | | |
| --- | --- | --- | --- |
| Booklet type | Age 0 - 17 | Age 18 - 59 | Age 60+ |
| 32 pages | $65 | $94 | $65 |
| 64 Pages | $125 | $125 | $125 |
International passport is an important document for all travellers. Nigerians who would like to visit other African countries, Europe, and other oversea countries must have an international passport. To know how to get international passport in Nigeria, follow the above useful links and tips to make your work easier.
READ ALSO: NYSC registration: guidelines, requirements, documents, portal
Legit.ng recently published an article about NYSC registration guidelines, requirements, documents, and portal. The National Youth Service Corps (NYSC) is a one-year program for college graduates below 30 years old.
The main objective of the project to inculcate in Nigerian Youths the spirit of selfless service to the community, and to emphasize the spirit of oneness and brotherhood of all Nigerians, irrespective of their cultural or social background. This article contains guidelines, requirements, and documents needed for NYSC registration.
Source: Legit.ng