- US president Joe Biden has been flagged for making some false claims during a recent town hall meeting
- The false statistical claims border on four key issues such as the minimum wage, undocumented immigrants, China's economy and COVID-19 vaccinations
- Speaking on China's economy, Biden made a false claim that more Chinese people are retired than working
PAY ATTENTION: Join Legit.ng Telegram channel! Never miss important updates!
A fact-check report by CNN has discovered that President Joe Biden made at least four false statistical claims during the town hall meeting organised by the US news media.
Legit.ng gathers that the four areas where the president was said to have made false claims include the minimum wage, undocumented immigrants, China's economy and COVID-19 vaccinations.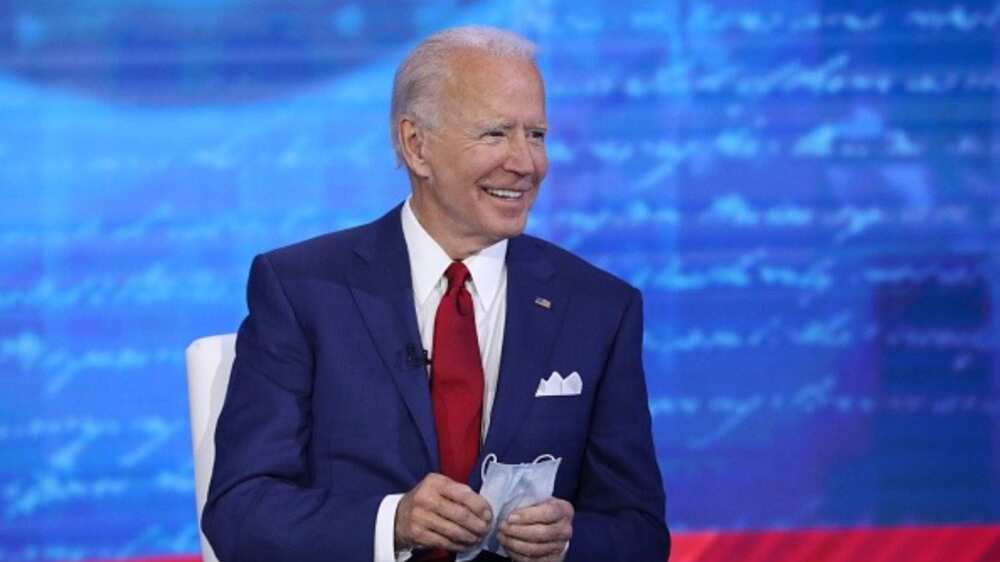 1. The minimum wage
President Biden said the $7.25 per hour federal minimum wage is too low. He went further to claim that if the current minimum wage is adjusted with the inflation rate, the minimum wage per hour should be around $20.
CNN's check finds this claim to be false. According to the report, the current minimum wage will not be anywhere close to $20 if adjusted for inflation.
Adjusted for inflation, $7.25 in January 2009 was equal to $8.98 in January 2021, the news media submitted.
The White House has, however, admitted the error, saying Biden mixed the data up with another statistic about the minimum wage.
2. The undocumented population
Speaking on the US population of undocumented immigrants (about 11 million), Biden said the majority of them are not Hispanics. He claimed the majority are the people people who overstayed their visa.
According to CNN's check, Biden's claim that the majority of undocumented immigrants in the US are not Hispanic is false.
It cited data from the Migration Policy Institute think tank as estimating in 2018 that 73% of undocumented people in the US speak Spanish at home and 68% are from the Mexico and Central America region, with an additional 7% from South America.
The Pew Research Center also found that the Mexican share of the undocumented population has fallen over time, but that people from Latin America still made up 77% of the 2017 undocumented population.
3. China's workforce
Recalling his interactions with China when he was vice president, Biden claimed that "more (Chinese) people are retired than working".
CNN's check states that it is not "close to true that more people in China are retired than working -- even today, let alone when Biden was vice president and the Chinese workforce was younger."
4. The vaccine situation
Biden reportedly made a series of claims about the COVID-19 vaccine situation upon his inauguration in January.
These include:
a. Only 50 million doses of vaccine were available when he took office
b. Only 10 million doses a day were available
c. There was no backlog of vaccine, "nothing in the refrigerator" when he assumed office
According to CNN's check, Biden got at least one of these statistics wrong.
The news media quoted a White House official as saying that Biden's claim about "10 million doses a day" being available when he took office was meant to be a reference to the 10 million doses a week that were being sent to states as of the second week of Biden's term, up from 8.6 million a week when they took over.
The official said Biden's claim about "50 million doses" being available when he took office was a reference to the number of doses that had been distributed to states as of the end of January.
PAY ATTENTION: Install our latest app for Android, read the best news on Nigeria's #1 news app
Earlier, Legit.ng reported that former President Donald Trump, Biden's predecessor, peddled false and misleading claims numbering up to 9,014 within 773 days.
As of the end of Sunday, March 3, the 773rd day of his term in office, Trump accumulated 9,014 suspicious claims.
The former US president averaged nearly 5.9 false or misleading claims a day in his first year in office. In his second year, Trump hit nearly 16.5 a day and in 2019, he averaged nearly 22 claims a day.
********
Nurudeen Lawal is a Legit.ng journalist passionate about fact-checking/verification journalism. He holds a Bachelor of Arts degree in Literature-in-English from Obafemi Awolowo University, Ile-Ife, Osun State. As Politics Editor, Nurudeen mostly writes on Nigeria's political and socio-economic developments. He has attended different workshops, conferences and training on fact-checking and digital reporting, among others. Learn more about him on Twitter, @Nurudeen Lawal_