COVID-19: WHO's mission to China to find origin of pandemic fails
- The WHO delegates who went to China seeking to uncover the origins of COVID-19 have failed in their mission
- However, the team ruled out a common theory that the virus had been leaked from a lab
- This was a theory put forward by former US President Donald Trump
PAY ATTENTION: Join Legit.ng Telegram channel! Never miss important updates!
The World Health Organisation (WHO)'s mission to China in a bid to discover the origin of the coronavirus has failed to yield many answers.
While the source of the virus remains a mystery, the team has managed to rule out the theory that the virus had originated from a lab-leak in Wuhan.
Experts explained that they believe the disease originated in bats and could have been transmitted to humans via another mammal.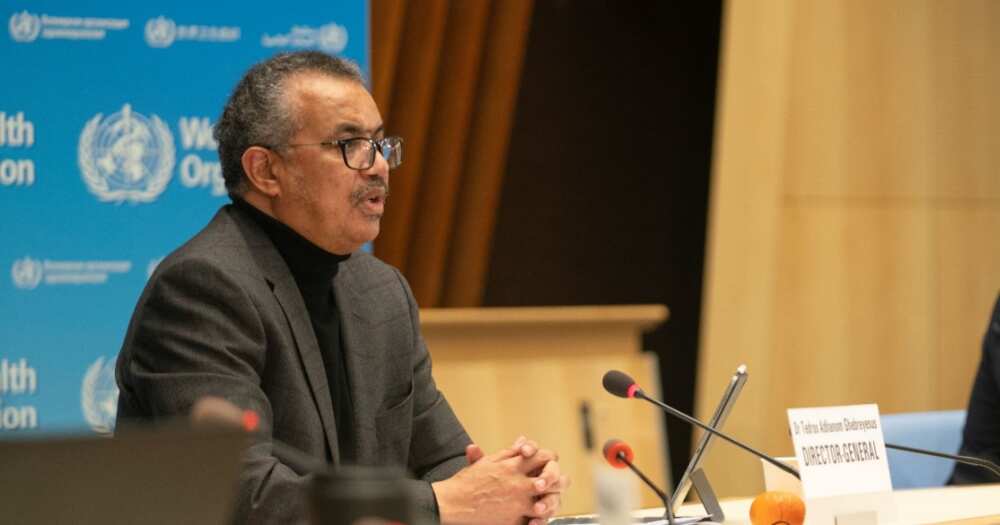 Expert Peter Ben Embarek explained that identifying the animal pathway remains a 'work in progress' and that the absence of bats in the area had reduced the chances of direct transmissions.
An intermediary species is the most likely explanation for the spread of the virus with Embarek also backing up China's claim that there had been no evidence of mass outbreaks in the area before the first official cases had been noted.
Liang Wannian, heading the Chinese side of the mission, agreed that animal transmission remains the most likely source of the pandemic.
Embarek ruled out the theory that a leak from a lab in Wuhan had prompted the pandemic:
"The laboratory incident hypothesis is extremely unlikely," he said. It "is not in the hypotheses that we will suggest for future studies".
This theory was one commonly put forward by Donald Trump during his time as the president of the United States.
Meanwhile, a doctor from China's Wuhan city whose skin pigmentation changed while receiving COVID-19 treatment made his first public appearance on October 26, 2020, after his skin colour returned to normal.
Yi Fan, who was a cardiologist at Wuhan Central Hospital, contracted COVID-19 in January while treating patients at the hospital.
PAY ATTENTION: Install our latest app for Android, read the best news on Nigeria's #1 news app
Yi Fan's abnormal skin tone was reported to have been caused by an antibiotic drug he had taken during intensive care.
Source: Legit.ng