Travis Fimmel biography: Age, height, net worth, is he married?
Travis Fimmel is an Australian actor and former model best known as Ragnar Lothbrok from Vikings and Anduin Lothar from Warcraft. After a short hiatus, Fimmel is now back on TV, in the sci-fi epic Raised by Wolves. How about his family? Who is Travis Fimmel wife?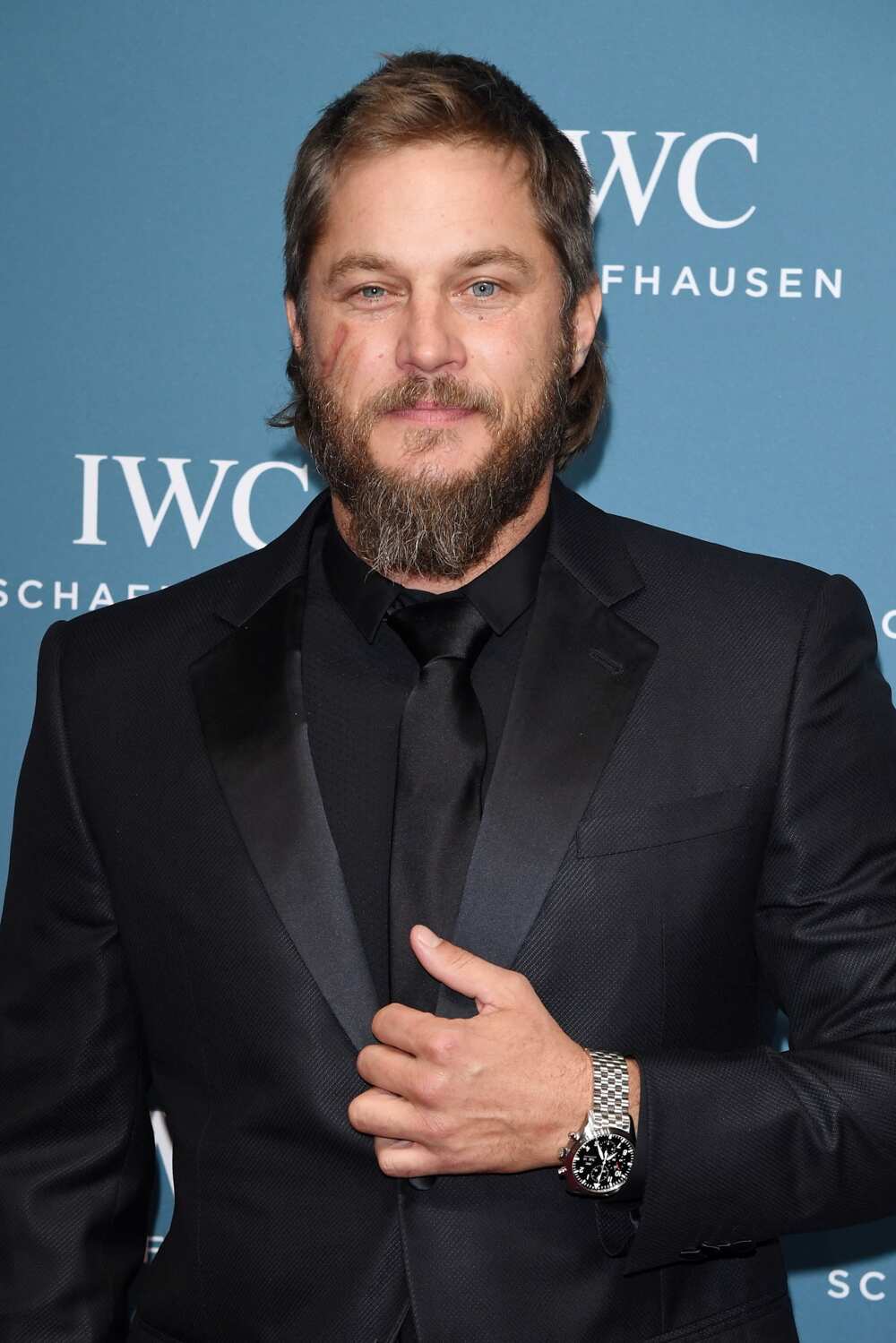 How much do you know about the actor? Is Travis Fimmel married?
Profile summary
Profession: Actor, former model
Date of birth: 15 July 1979
Age: 41 years (as of 2020)
Place of birth: Echuca, Victoria, Australia
Travis Fimmel height: 182 centimetres
Net worth: $3 million
Travis Fimmel biography (family and background)
The actor was born near Echuca in Victoria, Australia. He is one of the three children born to Chris and Jennie Fimmel.
His father was a cattle farmer. His mother worked as a recreation officer for disabled people.
His parents raised him and his brothers to believe in themselves, but not to think they were anything special.
He grew up in a 2000-hectare farm and had an idyllic childhood spending his weekends fishing and riding his trail bike about the property.
As of today, Travis Fimmel brothers are doing well. They are working in the mines in Western Australia, and each of them has two kids.
How old is the actor?
Travis Fimmel age
The actor was born in 1979. He celebrates his birthday on 15 July. As of 2020, he is 41 years old.
Education
After he graduated from a local high school, he joined RMIT University, where he studied Project Management.
Travis Fimmel eye color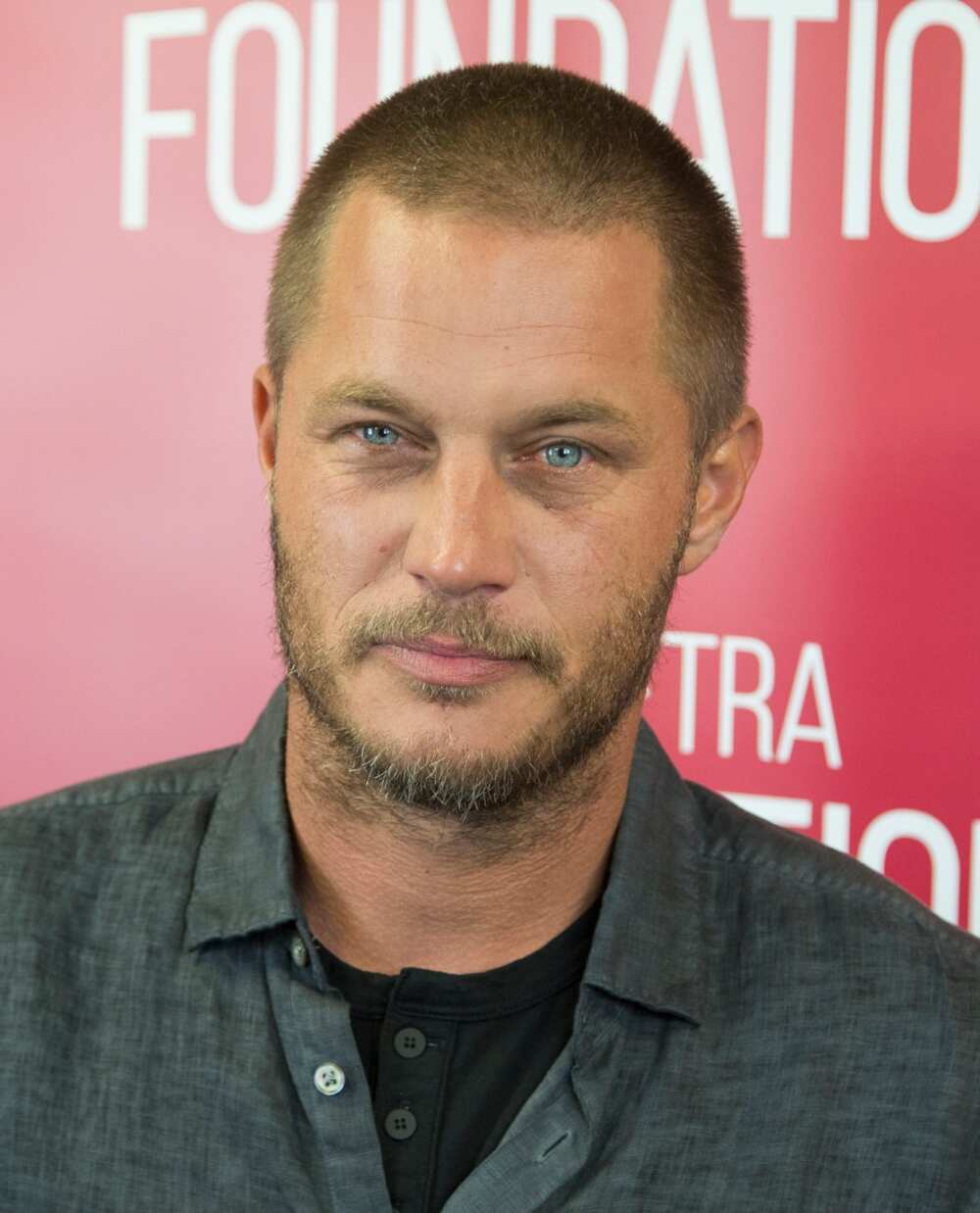 Fans of the actor noticed that while he was playing Ragnar in Vikings, his eyes appeared to be changing from bright blue to bright green during the series.
The actor has blue eyes.
How tall is Travis Fimmel?
Travis has a height of 182 centimetres, that is, 5 feet 11 inches.
Career in modelling
Fimmel moved to Melbourne to play for the St Kilda Football Club in the AFL, but a broken leg sidelined him before the season began. He then dropped out from RMIT University to travel the world.
Travis Fimmel's modelling career began when he was spotted at a gym in Hawthorn, a suburb in the Melbourne, by a talent scout for Chadwick Models Agency. He then moved to London.
In addition to modelling, he worked in pubs for several years. While in one of these pubs, he met David Seltzer, his future manager. David encouraged young Fimmel to move to Los Angeles to pursue a career in modelling and acting.
In 2002, LA Models offered Fimmel a modelling contract. He then secured a six-figure deal to model exclusively for Calvin Klein for a year.
He has modelled in ads for Gap and L'Oreal, and has also appeared on the covers of many magazines:
Numero Homme
At Large
Rogue
JÓN Magazine
W Magazine
In 2002, America's People Magazine named him one of the World's Sexiest Bachelors.
Travis has also appeared in music videos for tracks like Janet Jackson's Someone to Call My Lover and Jennifer Lopez's I'm Real.
Career in acting
Once he got to the United States, Travis immediately began training with Ivana Chubbuck, a famous acting coach.
He made his acting debut in Tarzan, a TV series, in 2003. Since then, the actor has starred in more than 30 productions.
He is most popular for playing Ragnar Lothbrok in Vikings. After the death of Ragnar in Vikings season four, Travis took a break from acting. After the short hiatus, Travis is now back on TV, in the sci-fi epic Raised by Wolves.
In the interview with The Post, the actor mentioned:
I was never going to do TV again [after 'Vikings']...I just didn't want to commit to something so long. But because of Ridley's involvement, I kind of had no choice. I just said 'yes' without reading the script. Ridley is such an iconic filmmaker, it's an actor's dream."
Speaking about his collaboration with Ridley, Travis told PEOPLE:
I'm not a Sci-fi guy, so it's intriguing. I didn't need a pitch, Ridley asked me to do it and I was like, 'Yeah, of course.' Then I read the script, it's very unique. He's such a visionary, and I think it's something no one has seen on TV before. He's so creative. He puts you in an amazing world and he's such a nice guy I loved working with him.
Previously, Travis mentioned that he prefers acting in movies rather than TV series:
Quite often [in television] you've got to sign a thing for 6 years, and that's a big chunk of your life to do the same thing. I'd rather do different things. There's some great storytelling on TV because of the time you get to follow characters' journeys. But yeah, I'd rather do a film and then go away and never have to do that one character again.
Which of Travis Fimmel movies have you already seen?
Travis Fimmel movies and TV shows
The actor has portrayed many interesting characters throughout his career.
Travis Fimmel films
Surfer, Dude (2008)
Restraint (2008)
The Experiment (2010)
Needle (2010)
Ivory (2010)
Pure Country 2: The Gift (2010)
Harodim (2012)
The Bayton Outlaws (2012)
Maggie's Plan (2015)
Warcraft (2016)
Lean on Pete (2017)
Danger Close (2019)
Finding Steve McQueen (2019)
Dreamland (2019)
Here Are the Young Men (2020)
Southern Comfort (2006)
TV shows
Tarzan (2003)
Rocky Point (2005)
The Beast (2009)
Chase (2010)
Vikings (2013 - 2017)
Raised by Wolves (2020)
50 States of Fright (2020)
What is Travis Fimmel net worth?
As of 2020, his net worth is $3 million.
Who is Travis Fimmel's wife?
Is Travis Fimmel married?
There are many rumours about Travis Fimmel dating actresses and models. One of them states that the actor was in a relationship with Paula Patton.
In 2016, she was Travis Fimmel girlfriend in the movie Warcraft. Nonetheless, their relationship has never been confirmed.
As of today, he is still single.
Travis Fimmel's on-screen performances are always engaging and exciting. He is an iconic actor with a lot to offer.
READ ALSO: Victor Webster bio: Age, height, net worth, wife, and children
Legit.ng recently reported about the life of Victor Webster, the Canadian actor who has appeared in various types of movies, from soap operas to dramas and supernatural shows.
Webster is well known as the second actor to play Nicholas Alamain on the NBC daytime soap Days of Our Lives. He is also known for starring in Mutant X, Bringing in the House, and Sands of Oblivion.
Source: Legit.ng