Megan Rapinoe bio: wife, age, twin, net worth
Star football player Megan Rapinoe is not apologetic about her talents and excellence in the field. As an openly gay woman in sports, Megan took a risk in coming out, not only to her team but to the whole world as well.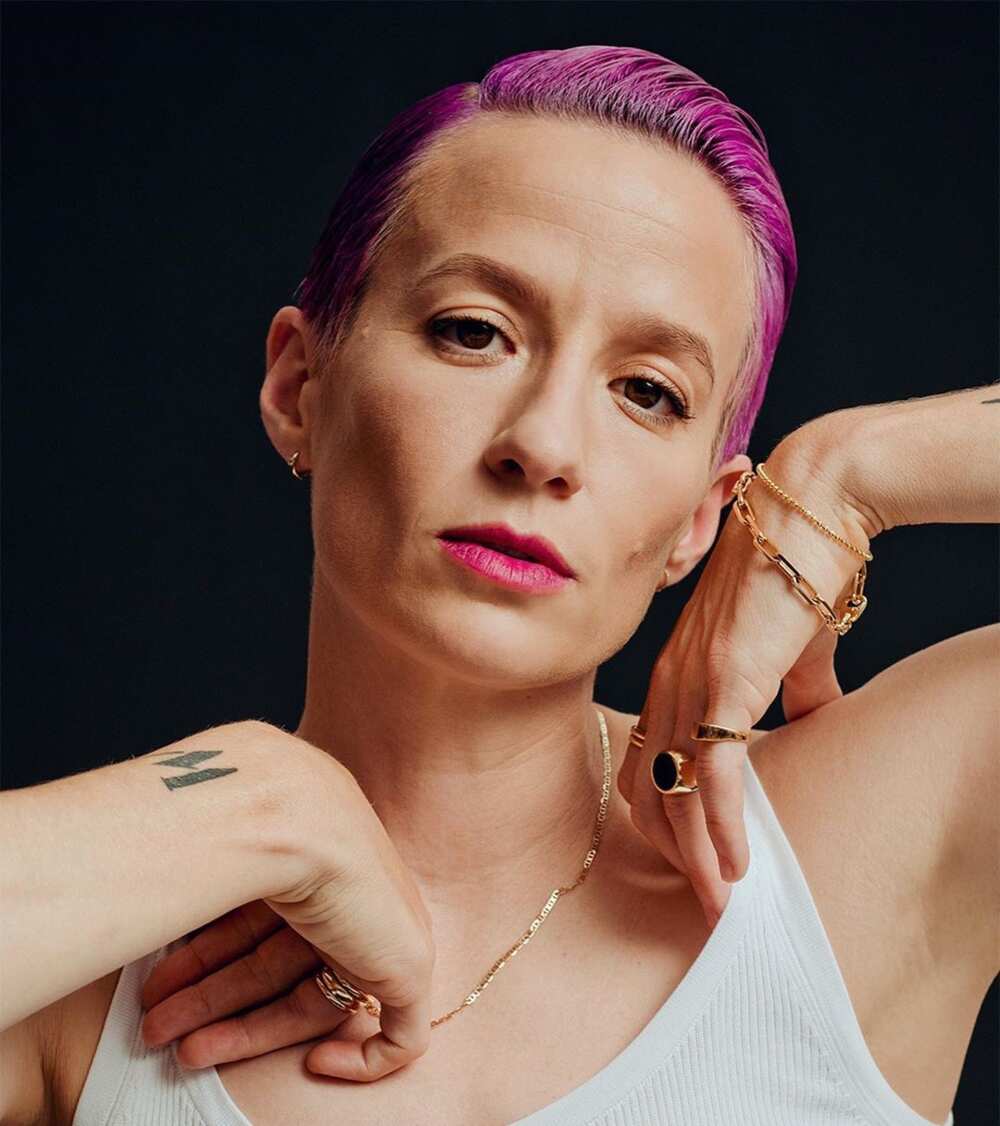 The phenomenal football player Megan Rapinoe received backlash for kneeling on the pitch during the national anthem and refusing an invitation to the White House. However, this has not stopped her.
She continues to be proud of herself, showcasing her incredible footwork on the pitch, and speaking out for causes that she believes in. Here is all you need to know about the Olympic gold medal winner.
Profile summary
Full name: Megan Anna Rapinoe
Nicknames: Pinoe, Rapinho, Rapinohdinho
Date of birth: 5th July 1985
Age: 34 years old
Place of birth: Redding, Shasta County, California, USA
Current residence: Seattle, Washington
Zodiac sign: Cancer
Nationality: American
Ethnicity: Caucasian
Siblings: 3 sisters & 2 brothers
Height: 5 feet 7 inches
Weight: 60 kgs
Eye colour: Hazel
Real hair colour: Blonde
Profession: Football player
Net worth: $3 million
Family and background
Megan Rapinoe parents, Denise and Jim Rapinoe, welcomed their twin daughters Megan and Rachael into the world in 1985. Today, Megan is the co-captain of the National Women's Soccer League and a winger in the United States women's national soccer team.
Megan started playing football because of her older brother Brian. However, unlike Megan, Brian's career in the sport was short-lived due to his involvement and subsequent addiction to drugs.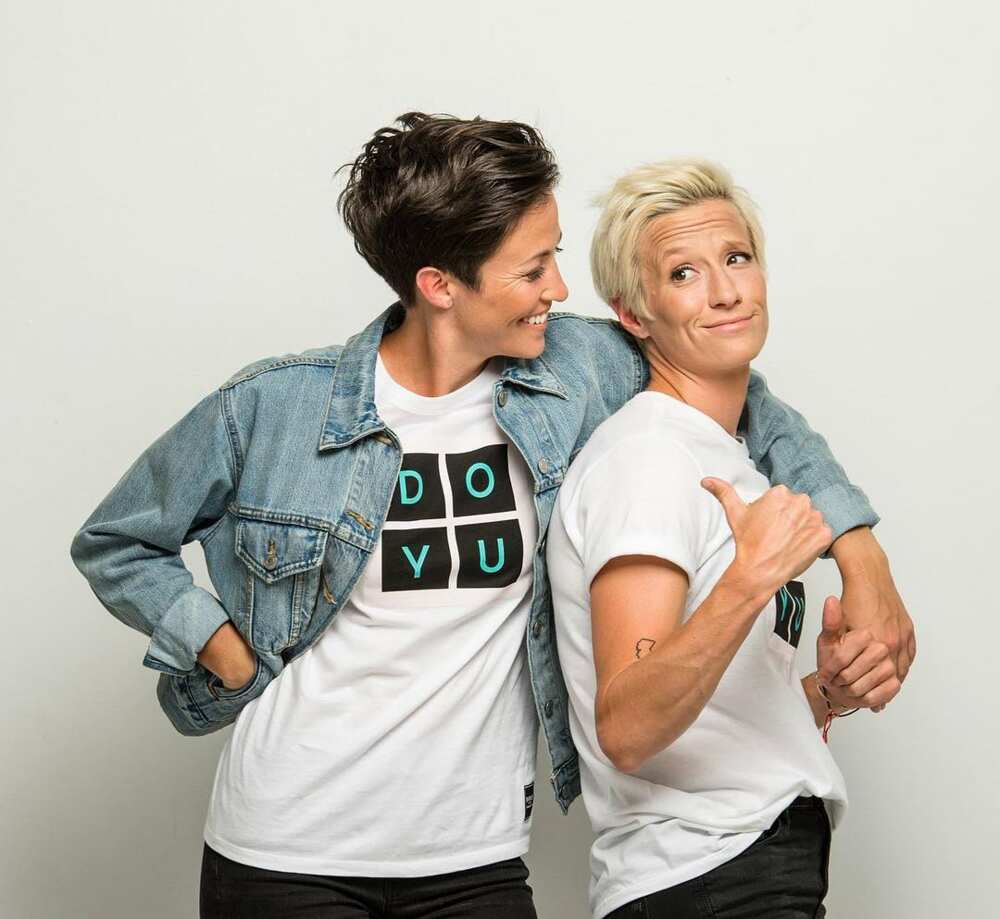 Growing up in Redding, California, Megan Rapinoe participated in multiple sports including track, basketball, and football. She attended Foothill High School and she played for football for Elk Grove United in Sacramento.
She later joined the University of Portland on a full scholarship where she majored in Sociology and Political Science. With the Portland Pilots, she scored 25 goals with 15 assists in just two years.
Her siblings include CeCe, Jennifer, Michael, Brian and twin sister Rachael
Megan Rapinoe twin
Megan and Rachael are fraternal twin sisters. Unlike her twin, who is still playing football, Rachel retired from the sport in 2010 after an ankle fracture.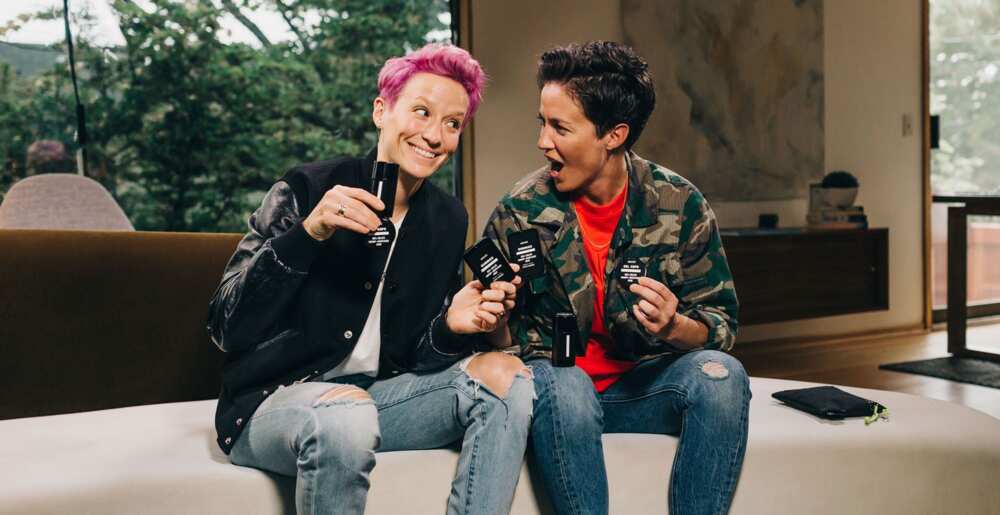 Rachael attended the University of Portland and won the NCAA national championship with the school in 2005. She has a Masters in Health & Exercise.
Rachael is now using her Masters to make and sell cannabis products. She is the CEO of Mendi.
She believes that CBD products will help the athletes using them perform better on the field and sleep better too.
Megan Rapinoe age
Megan was born in 1985 and is currently 34 years old. She will turn 35 on her birthday come 5th July 2020.
Megan Rapinoe net worth
The World Cup star has an estimated net worth of $3 million. After the 2019 World Cup win, Megan and her fellow players each received a salary of $245,869.
This total amount was inclusive of bonuses. Without bonuses, however, Megan Rapinoe salary is about $167,500.
The star has been quite lucky. With fame from last year's win, she has been able to move from an average player to a star player within her team.
This new status affords her more bargaining power when it comes to payments. According to Celebrity Net Worth, Megan Rapinoe salary per year can now increase to about $400,000 due to her new ranking.
Male and female athletes have always had a considerable salary discrepancy between them. Rapinoe has been very vocal about the issue and has been quoted encouraging women to always fight for more pay.
Don't settle for anything less; go for equal, go for more, don't accept any of these sorts of antiquated and BS answers.
According to the player, FIFA should compensate women players more for their games. The company should also invest more in women's sports and should not blame them for low viewership when they do not support them by advertising their games
Any direct comparison to the men's sports or the men's leagues is just wholly unfair. Until we have equal investment and over-investment because we've been so underserved for so long, we're not going to have any sort of meaningful conversation about compensation and revenues and TV viewership
Apart from earnings from playing in the league, Megan has other income streams. She is an ambassador and board advisor for the company, Mendi, that sells CBD and Hemp products to sports players to help them manage pain caused by injuries on the field.
Megan was also a co-founder of Rapinoe. Before it closed down earlier this year (3rd Jan), the company offered training clinics for children and teenagers who wished to play football and it also sold merchandise.
She is now part of Re.Inc, a lifestyle brand that focuses on selling art and sportswear. The star football player is also a brand ambassador for Abercrombie & Fitch.
Megan Rapinoe Sue Bird relationship
Megan Rapinoe and girlfriend Sue Bird met in 2016. The two had been at the Summer Olympics press event during the ESPNW Women and Sports Summit.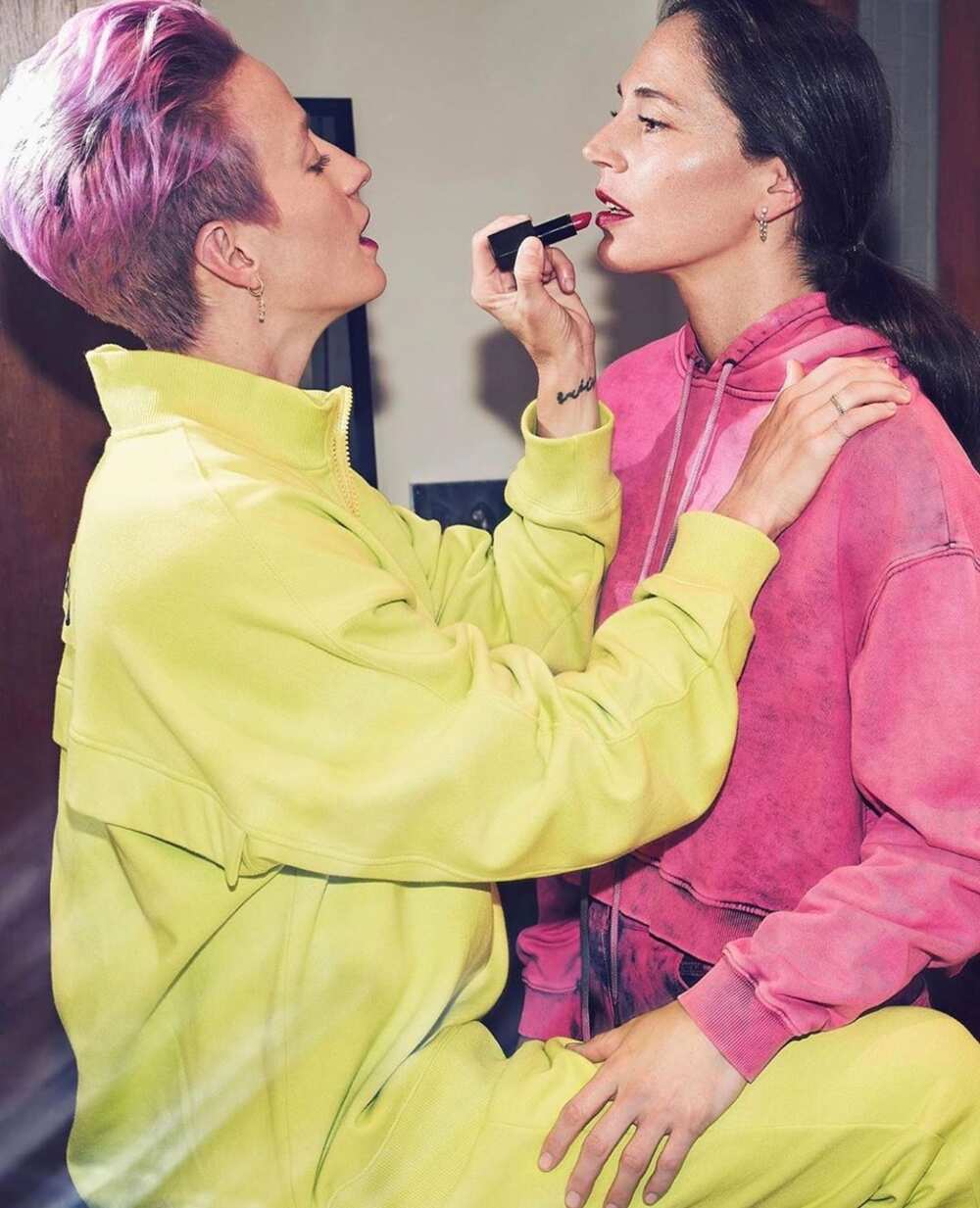 After the press event, Megan began to attend Sue Bird's games. Megan and Sue's relationship began due to their mutual interest in social issues.
Megan made the first step by reaching out to Sue via DM, congratulating Sue for her's and her teammates' stand on the Black Lives Matter Campaign. A couple of months later, Megan knelt during the USA anthem, and Bird took it upon herself to check up on Rapinoe.
Their friendship quickly moved from DMs to texting, and they have been together ever since. In 2018, the couple made history by being the first-ever gay couple to grace the cover of ESPN's magazine Body Issue.
While many believe that the lovebirds are married, this is not true. Sue Bird is not Megan Rapinoe wife. They have been dating for more than three years now but are yet to tie the knot.
Quick facts about Sue Bird
Her full name is Suzanne Brigit Bird.
She was born on 16th October 1980, making her about five years older than her girlfriend.
Unlike Rapinoe who came out publicly in 2012, Sue came out publicly in 2017.
In July 2019, in a piece titled So the President F*cking Hates My Girlfriend, Bird publicly defended her girlfriend after President Trump insulted her. This was after Rapinoe refused Trump's invite to the White House.
Megan Rapinoe awards
Megan Rapinoe has had incredible career highlights since she started playing professionally. She won the FIFA Women's World Cup gold and silver medals in 2011, 2015, and 2019.
She also received a gold medal in the London 2012 Olympic Games and is a two-time Olympian gold medalist (2012 and 2019).
Since becoming a female football icon, she has gone on to receive several awards. Some of the most notable ones are
Best NWSL Player ESPY Award - 2018
Ballon d'Or Féminin - 2019 - The award was presented to her in Paris. She is the second woman ever to receive it.
Glamour Award for The Champion - 2019- She received the award alongside other famous women such as teenage climate activist Greta Thunberg, filmmaker Ava DuVernay, actress Yara Shahidi, and writer Margaret Atwood, among others.
Megan Rapinoe jersey number
While on the pitch, the World Cup winner wears the number 15 jersey. In 2019, during the highlight of Team USA's soccer matches, their jerseys made history after they became the highest-selling uniforms in one season.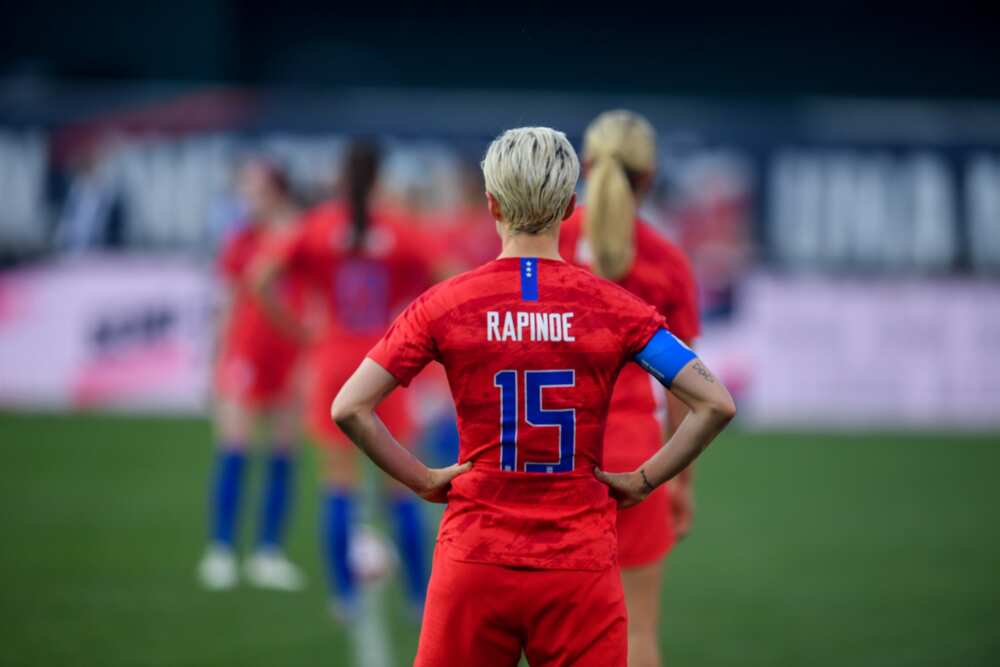 Rapinoe has also shown some of her activism through her uniform. In 2019, the star and her team showed their support for Pride when they donned uniforms with the numbers at the back printed in the signature rainbow colours of the gay pride flag.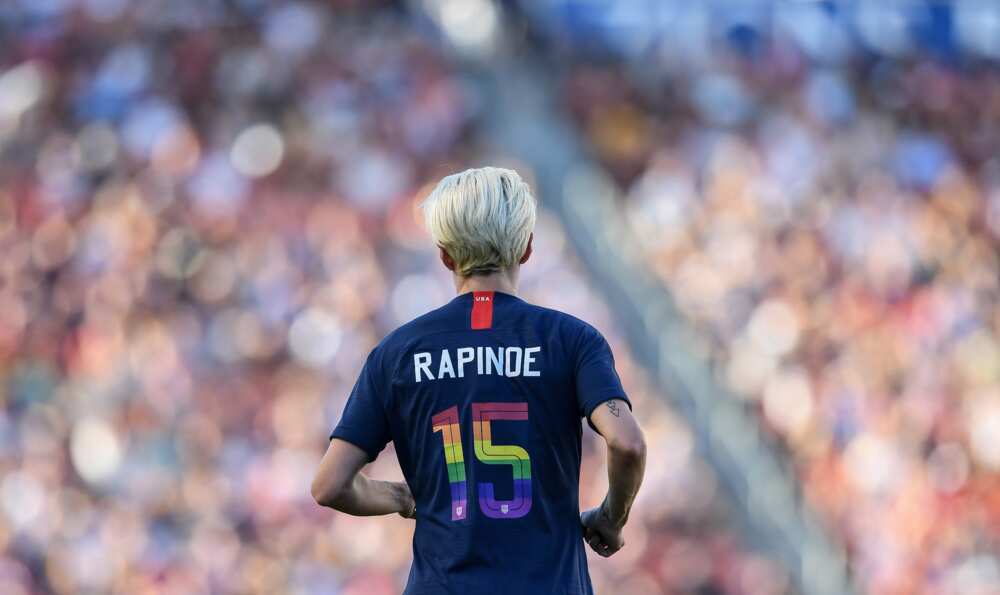 Rapper J. Cole also wore her jersey during a performance at Medows NYC to show his support for her. Anyone who wishes to purchase her jersey can find it on the World Soccer Shop website.
The prices range from $12.99 to $195.96.
Megan Rapinoe Instagram
The star's Instagram account has over 2.2 million followers. Like many celebrity athletes, she posts images of herself and her teammates on the field during their best moments.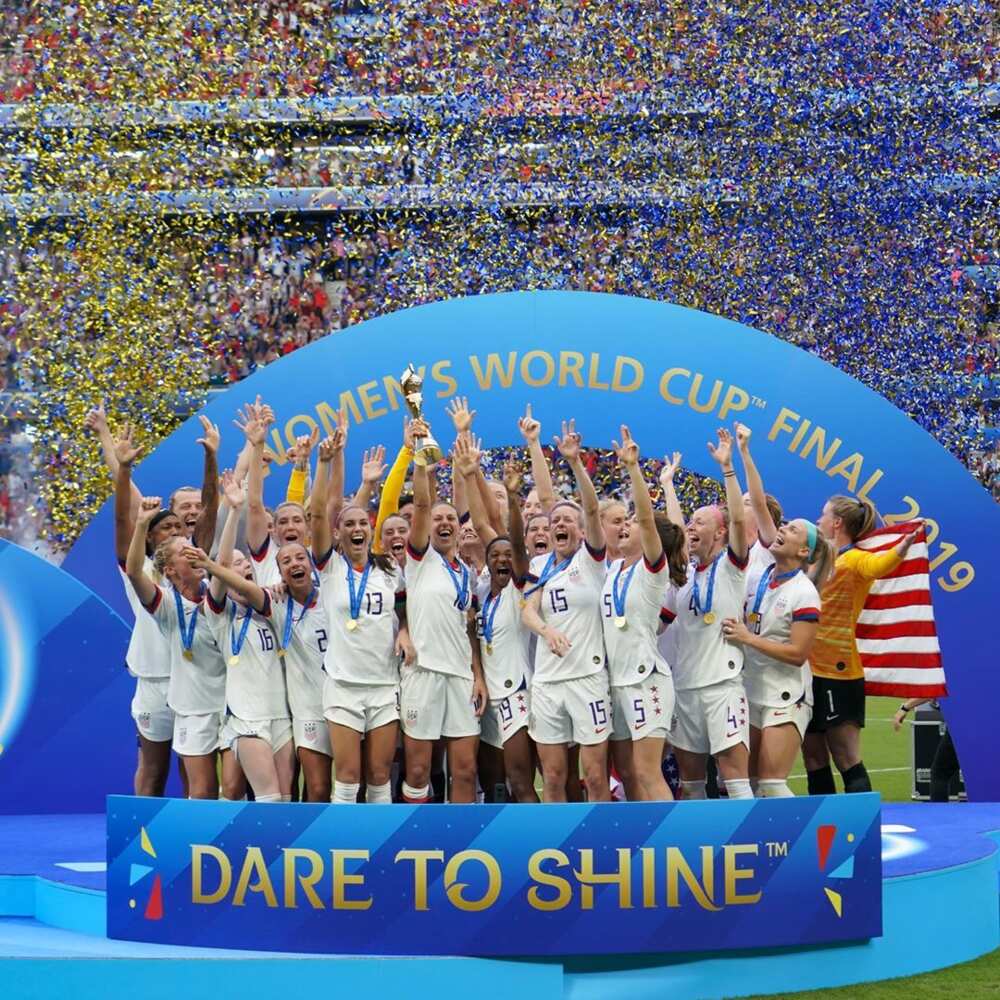 Rapinoe also uses the platform to encourage her activism in equal pay for athletes.
She is also quite active on Twitter. Megan Rapinoe Twitter account is verified and has about 908,738 followers.
Megan Rapinoe is truly a force to be reckoned with. She has brought women's football to the limelight and continues to use her fame, status, and influence to support social issues.
Source: Legit.ng