Good genes, healthy eating habits, and a good workout routine; these are all the things that come to mind when one thinks about Alexis Ren. The model has one of the most enviable bodies today.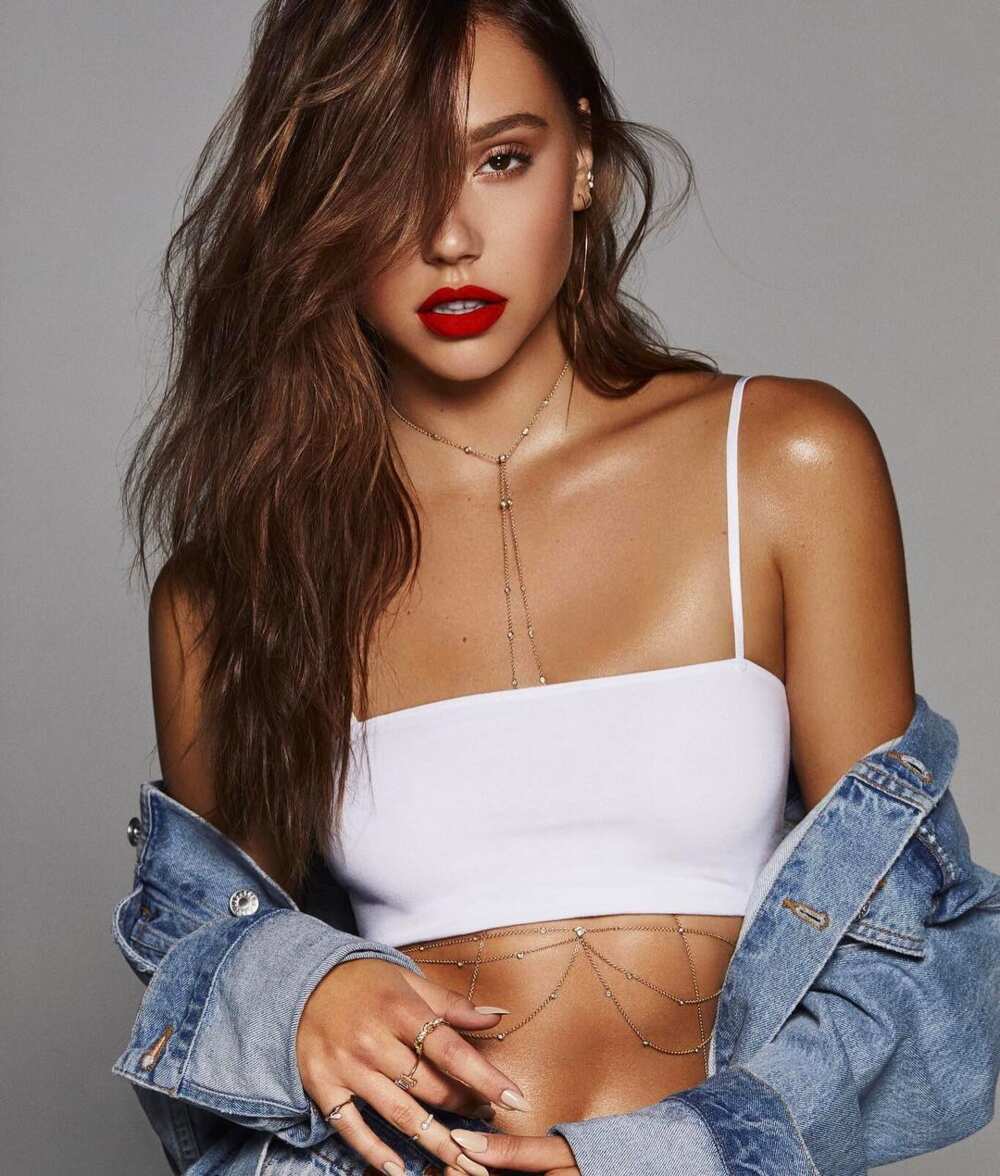 Alexis has been a knockout since she began modelling as a teenager. Now ten years later, her sun-kissed skin still glows, and her body measurements of 34-22-35 are a marvel to anyone who sees her.
Find out more about who she is behind the scenes.
Profile summary
Full name: Alexis René Glabach
Date of birth: 23rd November 1996
Age: 23-years-old
Place of birth: Santa Monica, California
Zodiac sign: Sagittarius
Nationality: American
Ethnicity: Russian & German
Siblings: 3 sisters & 1 brother
Height: 5 ft 7.5 inches
Weight: 58 kgs
Eye colour: Brown
Hair colour: Dark blonde
Profession: Model, dancer
Net worth: $3 million
Family and background
She was born in 1996 in Santa Monica, California. Her parents Frank and Cynthia Gaylord worked as a lawyer and nutritionist, respectively.
Her siblings' names are Ace, Alisa, Amber, and Devin. Alexis Ren brother, Devin, is the youngest and only boy in the family. He has pink hair.
Due to an early start in modelling, Ren was not able to go to school like normal children. In 2014, she revealed that she was homeschooled and graduated at 16-years-old in 2013.
How did Alexis Ren mother die?
In early 2014, after a six-month-long battle with breast cancer, the model's mother passed away. After her death, Alexis revealed that she went through a very depressing stage in her life.
This was made worse by her modelling agency that told her she had gained some weight, and it would benefit her to work out more. To counter this, she began to experience food guilt and would overexercise as a way to punish herself.
According to the star, she suffered from an eating disorder and was in a very toxic state of mind. Ren eventually found help from a personal trainer and health nutritional coach, Maggie Tanielian.
She was finally able to learn better food practices and overcame her food guilt
Alexis Ren age
She is 23-years-old. She will turn 24 later this year on 23rd November 2020.
Alexis Ren career
What does Alexis Ren do for a living? She is a model, entrepreneur, actress, and social media influencer. As an influencer, she has worked with brands such as Colourpop, New Nordic, and Sonya Dakar Skincare.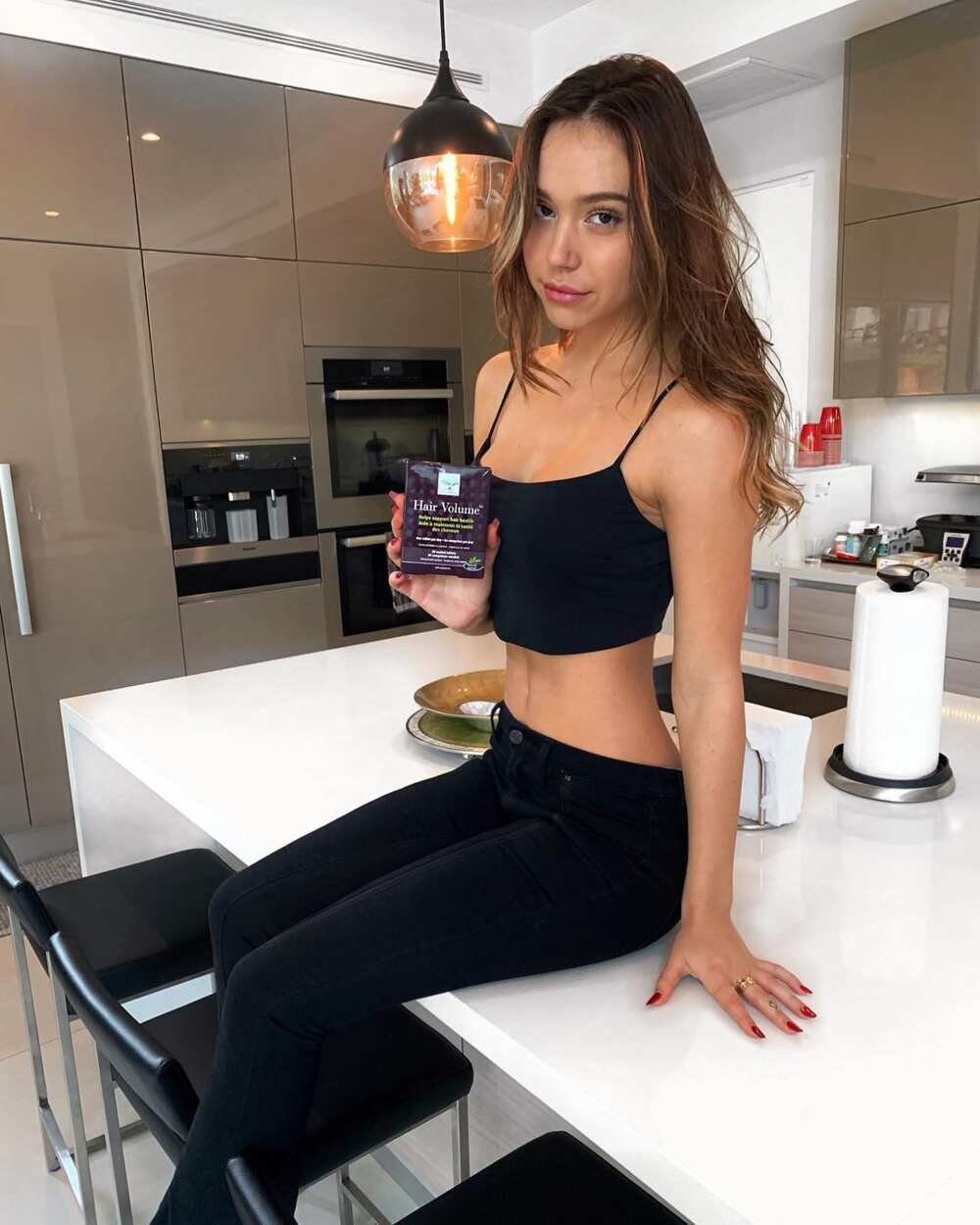 She started modelling when she was 13-years-old after being scouted in a mall in Los Angeles. When the young model was 15-years-old, a picture of her in a black string bikini went viral on the social network, Tumblr, and her career took off.
In 2017, she graced the August cover of Maxim Magazine. She also launched her activewear brand Ren Active in the same year.
Less than a year later, Alexis was voted as Sports Illustrated Swimsuit 2018 Rookie of the Year. Late last year in 2019, she was in a fight scene alongside Cardi B in the music video for South of the Border by Ed Sheeran.
Ren is signed under the modelling agency, Nous Model Management. She has now taken a step towards a new career path as an actress. She stars in the 2020 comedy film, Deported.
Alexis Ren Dancing With The Stars
In 2018, Alexis was cast as a star on season 27 of ABC's Dancing With The Stars. She was cast alongside other celebrities such as Lamar Odom, James Van Der Beek, and Ally Brooke, among others.
During the season, she was partnered with professional dancer, Alan Bersten. The duo continuously received high praise for their dance numbers throughout the season.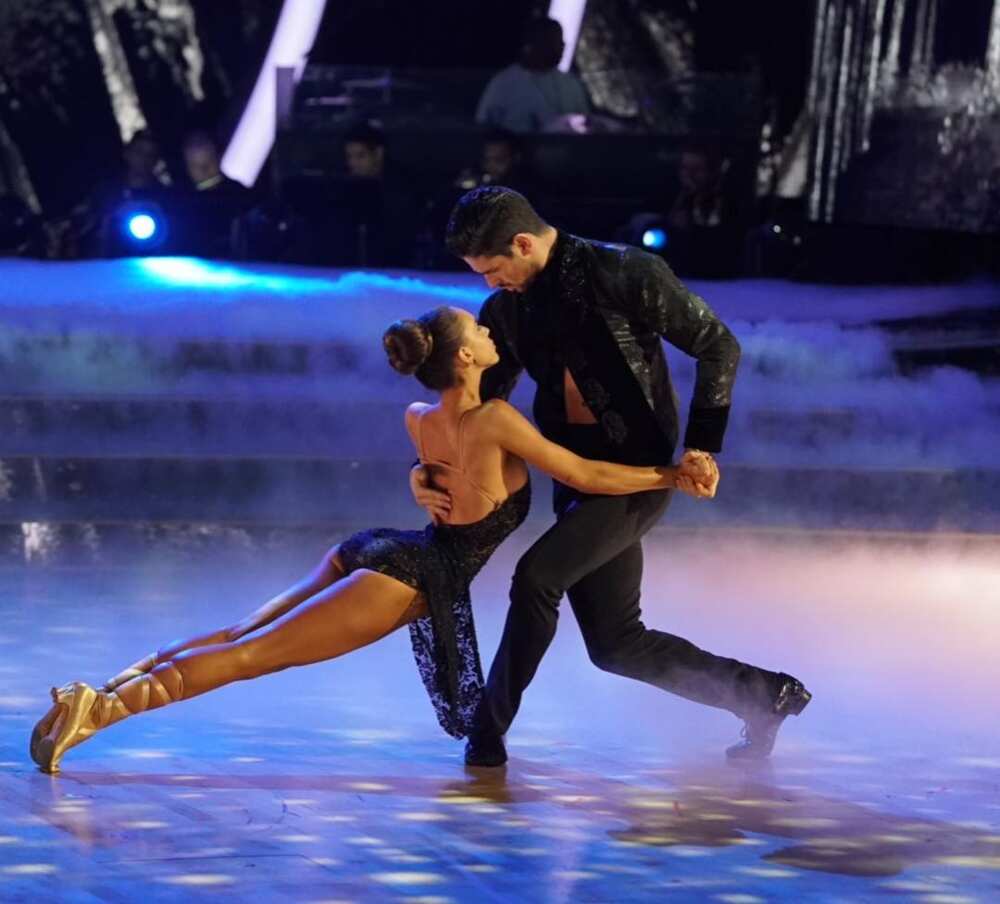 Fans believed that they were a sure win. However, they lost to Bobby Bones and Sharna Burgess in the finale. Despite not winning, she continues to dance in her spare time.
The classically trained dancer says that dance is her first love.
Alexis Ren net worth
Alexis became financially independent at 14-years-old.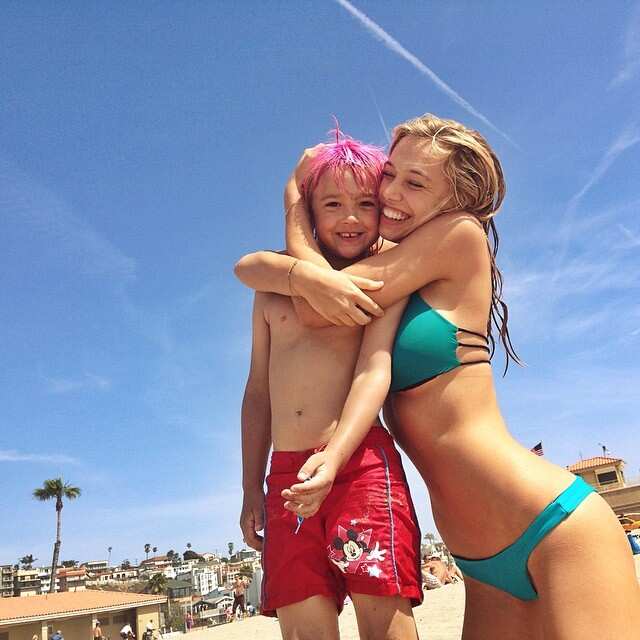 Since then, she has continued to work hard and get involved in multiple business ventures. As of today, her net worth is about $3 million.
Alexis Ren dating history
Before the news about Noah Centineo and the famous model dating broke the internet, the couple had previously been linked to other romantic partners.
Here is who Alexis had been in a relationship with before Noah.
Jay Alvarrez
In late 2015 and most of 2016, the model was a constant on Jay's YouTube channel. In 2016, the couple was known all over social media for their adventure videos on the platform.
The pair dated for a year before eventually breaking up in 2017. The model alluded to the fact she had been good for his business, but when that changed, Jay's behaviour towards her took a drastic change.
Sky Bear
After her very public break-up with Alvarrez, she found companionship with workout coach Sky Bear. The romance did not last for very long.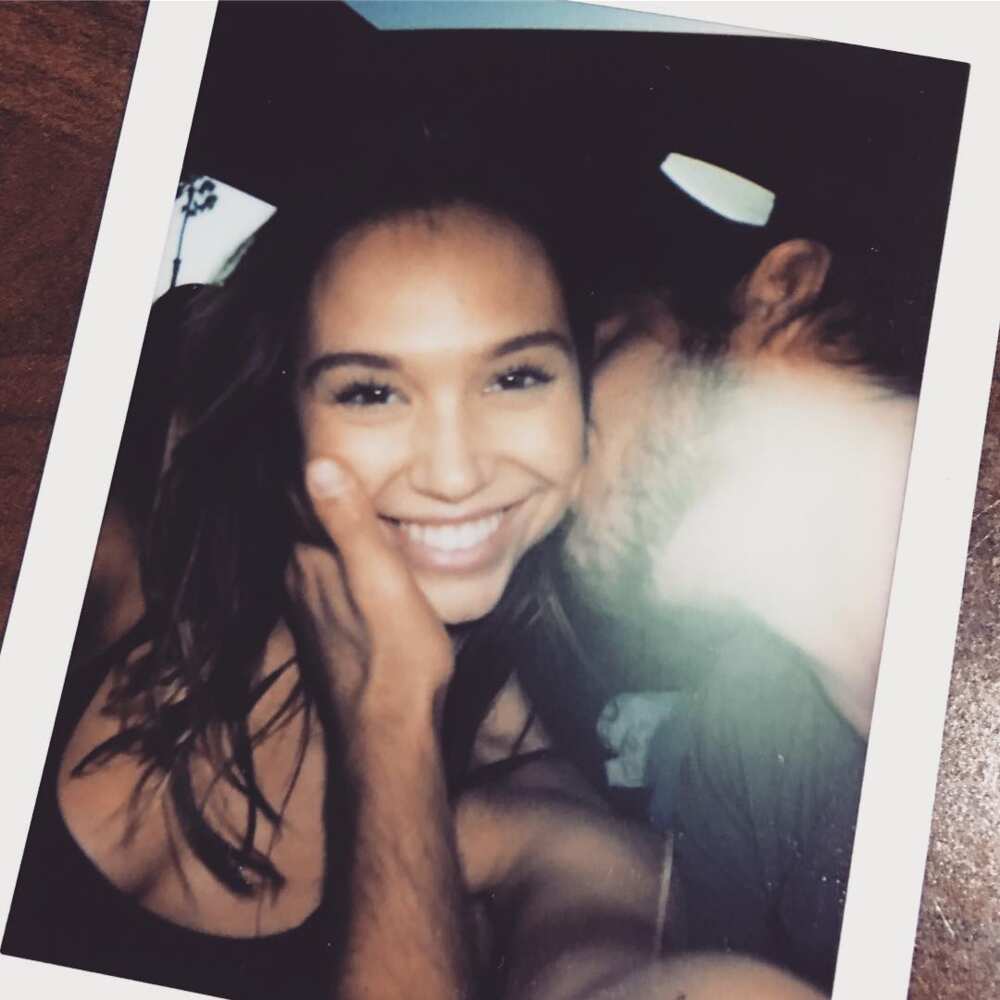 They broke up once she moved from Hawaii to Los Angeles.
Alan Bersten
In 2018, Ren was paired up with professional dancer Alan Bersten in Dancing With The Stars. From their first dance together, fans noticed that the chemistry between the two was off the charts.
As the show progressed, the couple eventually admitted their feelings to each other and to the public. Their romance, however, did not last very long.
Once the show ended, the couple went their separate ways, and their relationship fizzled out.
Alexis Ren and Noah Centineo
Late last year, fans started noticing that both Alexis and Noah would post pictures in the same location and at the same time.
Fans even saw the couple together at airports and restaurants. The pair never confirmed or denied rumours about them dating.
However, early this year on 15th January, Noah Centineo confirmed their relationship by posting their picture on his Instagram page
The caption read, in part 'love you baby' to which she replied, 'I love you and see you soon.'
Alexis Ren Instagram
The model's Instagram page boasts of almost 14 million followers. Alexis Ren pictures on the account include close-ups as well as photos of her in bikinis showing off her very toned figure.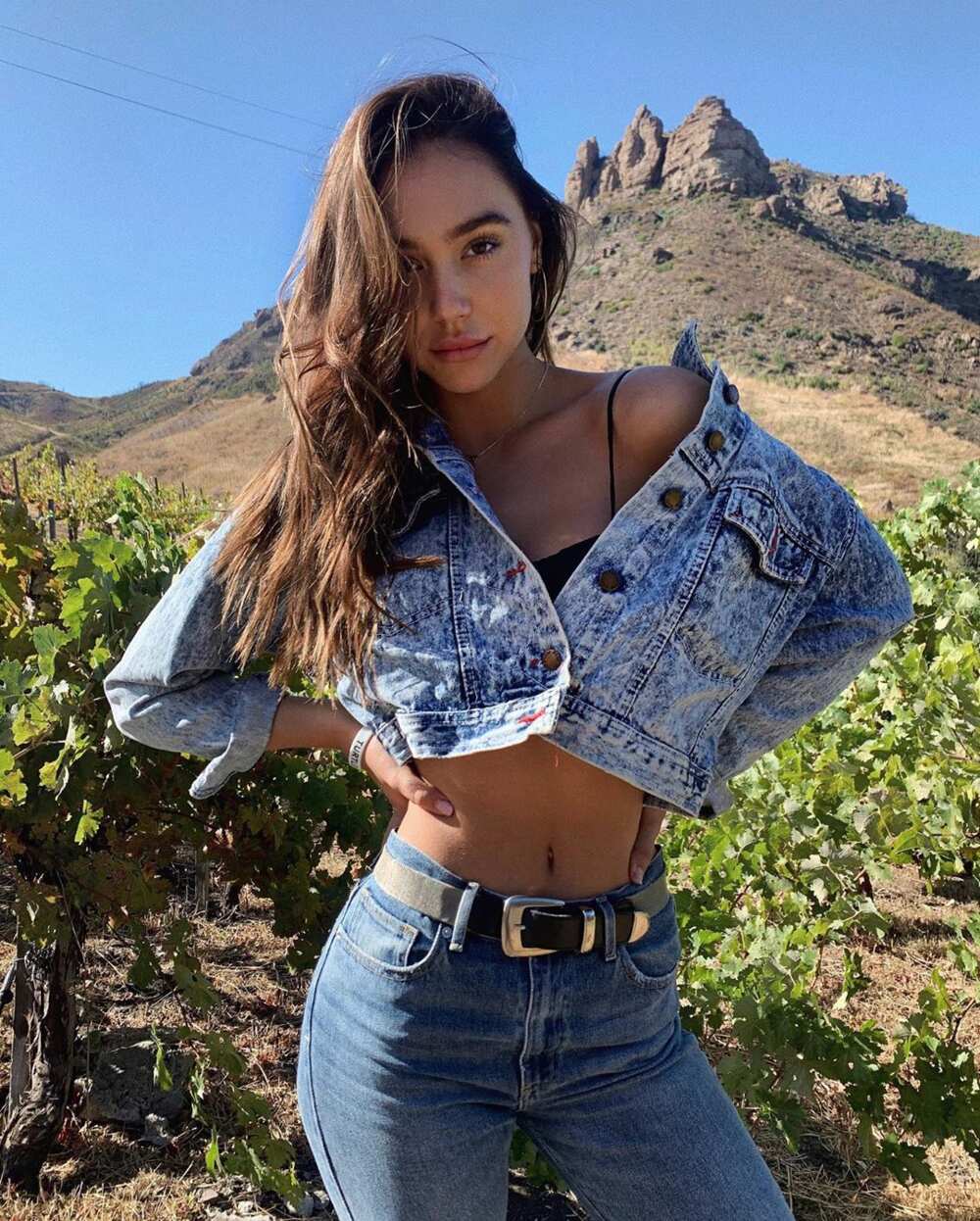 Here she is showing off her beautiful figure.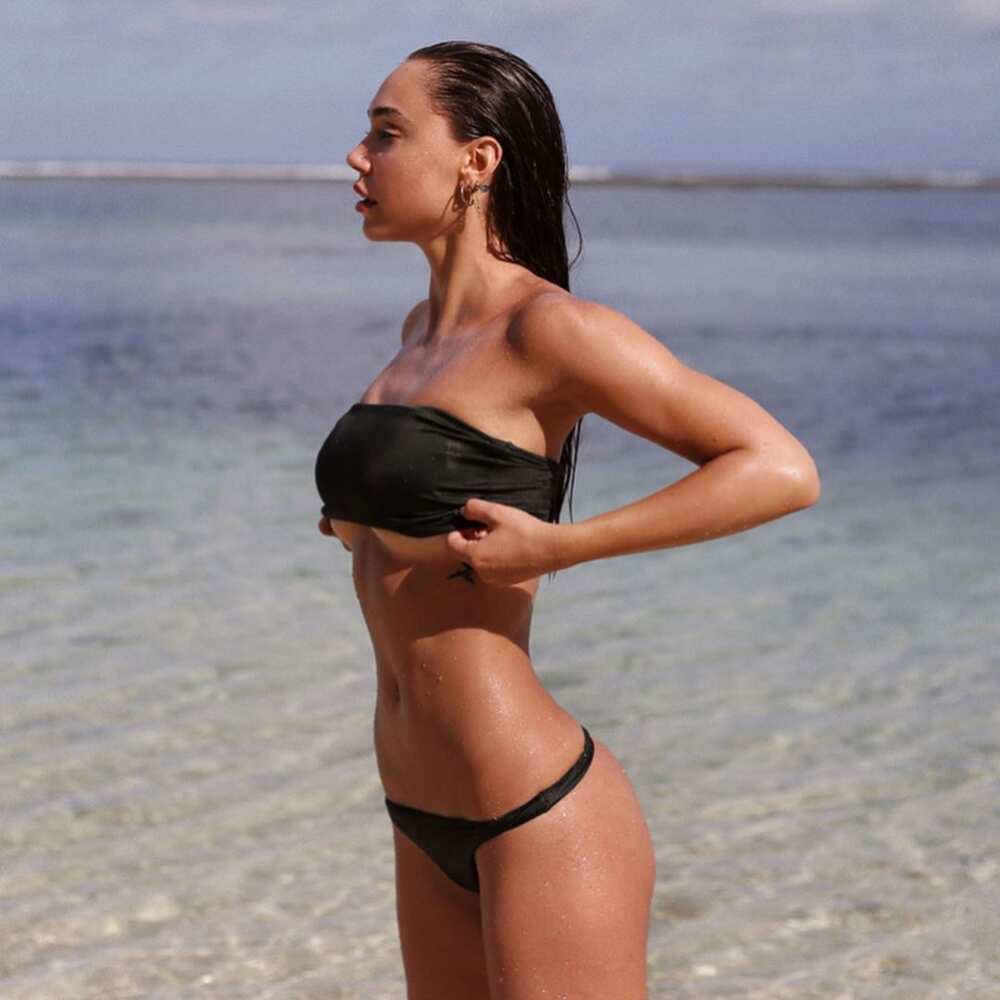 She also uses her platform to raise awareness of the death of coral reefs. Ren has gone further and opened a 'GoFundMe' page, where she is requesting her followers to help raise $100,000.
This money will be used to help create a new coral nursery as well as restore the already dying one.
Alexis Ren workout
Anyone who has seen the dancer knows that she has an incredible body, and she is not shy about showing it off. While she often posts pictures in lingerie, she has gone further and posted topless and even nude photos on Instagram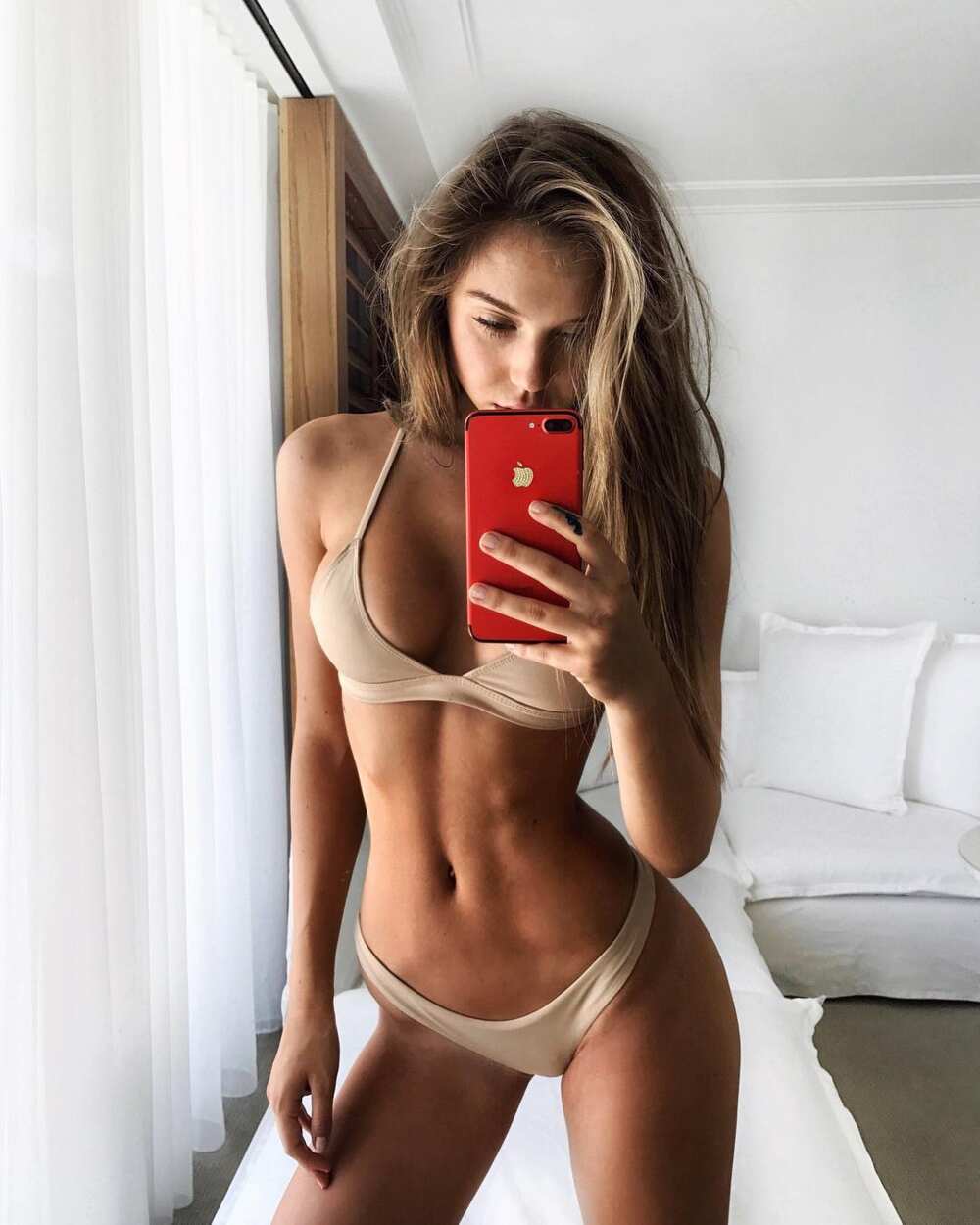 When working out, the model concentrates on cardio, abs, and butt workouts. She also switches up her exercise routine by incorporating yoga and pilates.
The dancer has a very flat stomach, and thus many wonder about Alexis Ren ab workout. In 2018, she posted a ten-minutes ab workout on her YouTube channel.
The video was a viral hit and has over 21 million views. Alexis Ren YouTube channel also features another five-minutes ab workout and a butt toning exercise video.
The channel has just ten videos, with the last video being a vlog educating people about the death of coral reefs in Tahiti.
Alexis Ren is undoubtedly living her life to the fullest. She has a career that she loves, is a millionaire in her early 20s, and is in a relationship with one of TV's hottest personalities at the moment.