Trace Cyrus is an American musician and co-founder of the popular pop band, Metro Station. He is the brother to songstress Miley Cyrus and an adopted son to Billy Ray Cyrus. Until their break up in 2017, Trace was dating actress Brenda Song. Who is he dating now?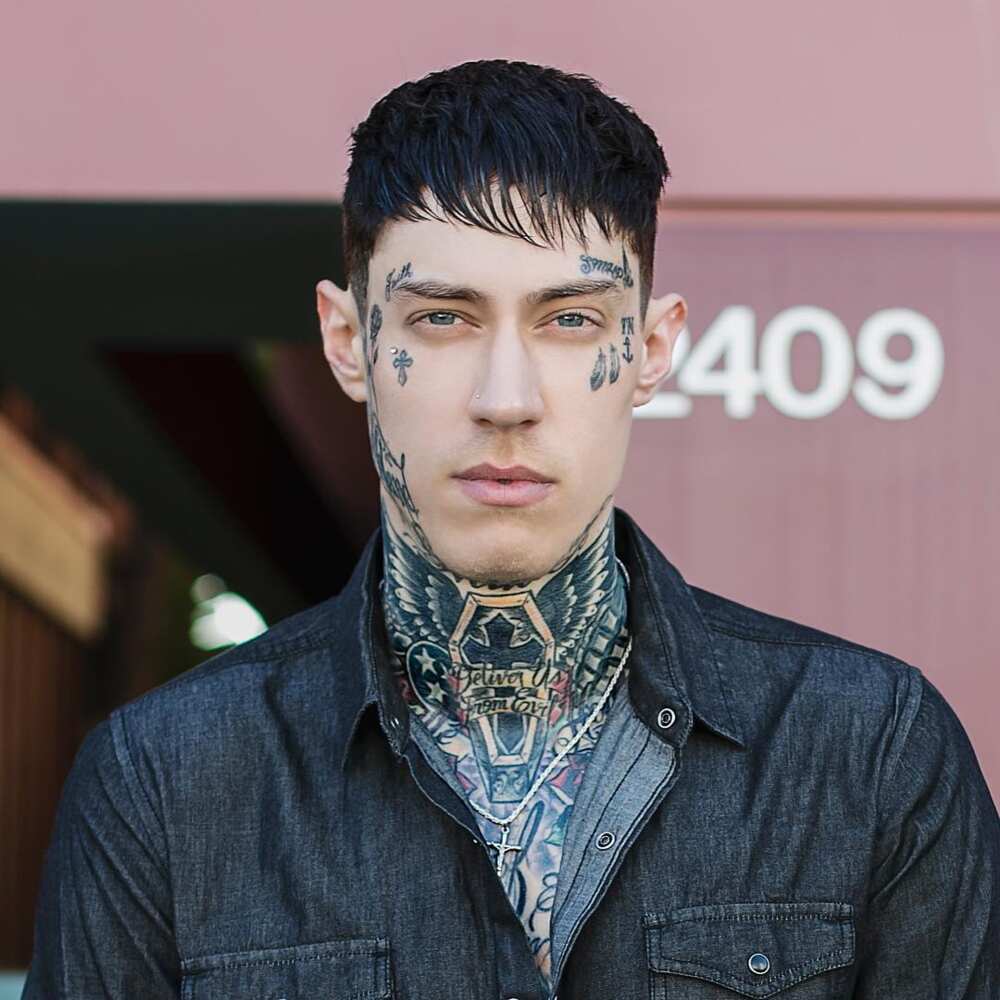 The pop singer was born on February 24, 1989, to Baxter Neal Helson and Leticia 'Tish' Finley. Trace Cyrus age is 30 years. His mother later re-married country singer and songwriter, Billy Ray Cyrus. He changed his name from Neil Timothy Helson to Trace Dempsey Cyrus when he became Billy Ray Cyrus son.
Profile summary
Full name: Trace Dempsey Cyrus
Birth name: Neil Timothy Helson
Date of birth: February 24, 1989
Place of birth: Ashland Kentucky, USA
Age: 30 years
Height: 6 ft. 3 inches (191 cm)
Siblings: 5
Nationality: American
Eye color: Blue
Zodiac sign: Pisces
Parents: Leticia Cyrus, Baxter Neal Helson (adopted by Billy Ray)
Occupation: Guitarist, singer, songwriter
Background
Billy and Tish have three children together, Miley, Braison, and Noah. Trace was brought up in a family of six siblings. He has one biological sister and four half-siblings. Here are his siblings:
Miley Cyrus- She is the firstborn to Billy Ray and Tish Cyrus. Born on November 23, 1992, Miley's age is 27 years. She is popular for being the star of the show Hannah Montana. She is also a pop and country musician. Her major hits are Party in the USA, Wrecking Ball, Malibu, Adore You, among others.
Brandi Cyrus- She was born on May 26, 1987. She is 32 years old. The singer, actress and DJ was born to Leticia Finley and Baxter Neal Helson. Her birth name was Brandi Glenn Helson. She co-hosts a podcast called Your Favorite Thing alongside Well Adams.
Christopher Cody Cyrus- He is the less popular one among Miley Cyrus siblings. He was born on April 8, 1992, to Billy Ray and Kristin Luckey. Unlike the other kids, Christopher did not grow up with his father, Billy Ray.
Braison Cyrus- He was the second child born to Billy and Tish Cyrus. Born on May 9, 1994, he is 25 years old. Like his elder sister Miley, Braison was a cast member on the show Hannah Montana. He is also a model and singer.
Noah Cyrus- She is the youngest sibling as she was born on January 8 in 2000. She is an actress, singer, and songwriter. She rose to fame when she released her debut single titled Make Me (Cry). The song debuted on the Billboard Hop 100.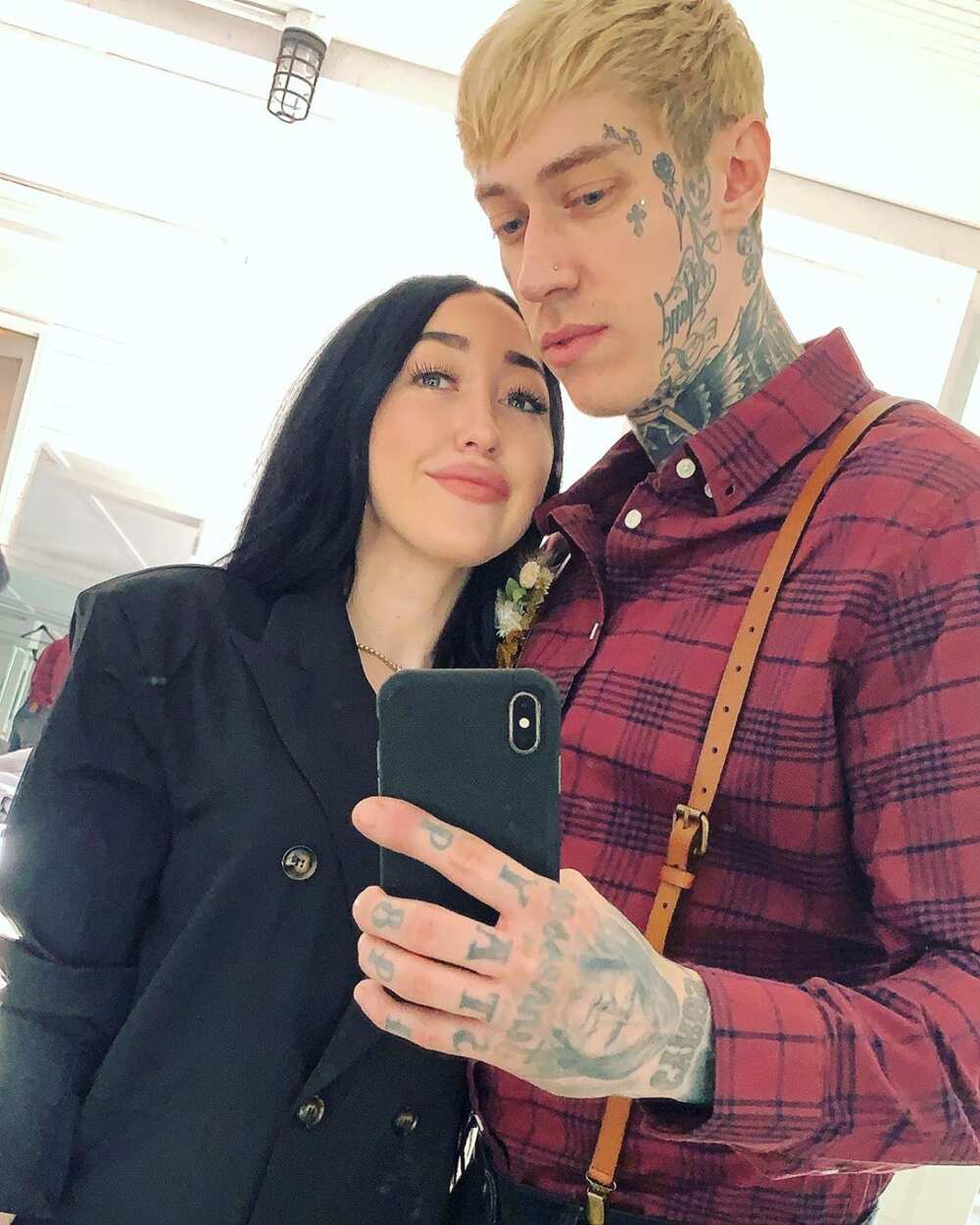 Career
Trace developed his love for music at a young age. He performed with Billy Ray while on school holidays. In 2006, he co-wrote one of the tracks in Billy Ray's'Wanna Be Your Joe' album. The title of the song was Country Music Has the Blues.
In 2008, Miley featured him on the track Hovering. That same year, he featured in the song Somebody Said a Prayer by Billy Ray . The track was off the album Back to Tennessee. In 2010, he also had a part in the song, Alive, by the band, Brother Clyde.
Trace and his friend teamed up with Mason Musso to start the pop and rock band, Metro Station. He was the guitarist and vocalist in the group that was later signed under Columbia Records. The band was popular for their hit single 'Shake It'. The track was off their self-titled debut album. The group disbanded in 2010 but returned without Trace in 2011.
In 2010, he founded the band called Ashland High. Some of their hits include Break it Down and Pretty Girls. They recorded two albums, Geronimo and Drugstore Cowboy.
Trace returned to Metro Station in 2014, and they released a single titled Love & War. They recorded their second album Saviour and went on a US tour before announcing their official break up.
Trace Cyrus net worth
The musician has an estimated net worth of $2 million.
Trace Cyrus Brenda Song relationship
The relationship between Trace Cyrus and Brenda Song was revealed to the public in May 2010. They attended Nylon magazine's Young Hollywood Party together. They got engaged in October 2011 and bought a house in January 2012.
A few months later, the couple broke off their engagement. They were spotted again together in January 2013 and got re-engaged in August 2013. Brenda Song was seen with the same engagement ring.
Again, in March 2014, the Brenda Song Trace Cyrus relationship was seemingly strained. Brenda deleted all the pictures they had taken together from her Instagram account.
After a series of breakups and broken engagements, Trace officially announced their breakup in August 2017. In an Instagram post, he wrote
I fell in love so deeply in a way I didn't think was possible. Unfortunately, love was lost but the spark we initially shared I will cherish forever
Brenda Song and Trace Cyrus relationship lasted for seven years. The two were deeply in love with each other, going by the number of times they hopped back to each other after a breakup. Trace even released an emotional song titled 'Brenda' that chronicled the love the couple shared.
Trace Cyrus and Taylor Lauren Sanders
After Trace Cyrus Brenda Song split in 2017, Trace revealed that he was dating model Taylor Lauren Sanders. The couple announced their commitment in December 2018.
As the 2020 year kicked off, Trace revealed that he was no longer engaged to Taylor. In an Instagram post, he wrote
Happy New Year!!! This year I don't have any specific goals. I just want to focus on my family, music, & fitness all I can! Some of u might already know but I'm recently single & extremely thankful to have my family around me during this time. I've just been feeling so blessed lately!
Trace Cyrus height
The artist stands at a height of 6 ft 3 inches.
Trace Cyrus tattoos
The musician is a lover of body art. His arms, neck, and chest are packed with tattoos. Through his tattoos, he has revealed his love for music, family and his hometown.
He has a cross tattoo on his face and right hand. The ones on the right of his head are a rose and an eagle. The word 'Mom' is tattooed on the back of his right ear.
The one on his knuckles reads Stay Gold and his sister's name Noah. He has the words 'This Time Here Will Never Last' inked on his left forearm.
Trace Cyrus is an American musician popular for being the co-founder and member of the pop band, Metro Station. He is Miley Cyrus brother and son to country singer Billy Ray. Even after the group disbanded, Trace Cyrus continued to release music as a solo artist.