Pam Bondi bio: age, salary, boyfriend
Former Florida State Attorney General Pam Bondi has had a long career both as a lawyer and a politician. She is a very vocal Republican whose political views have been supported and criticized by many alike.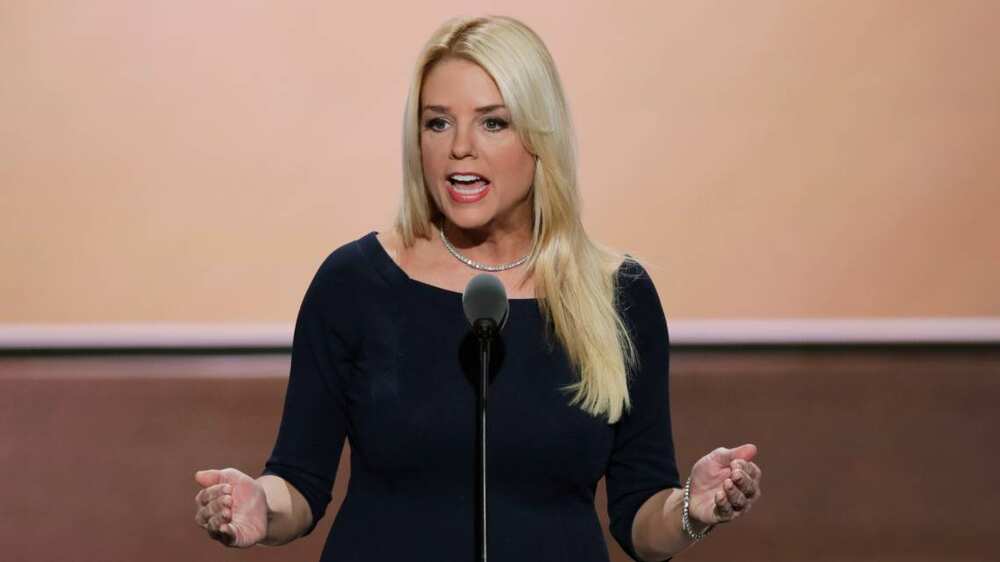 Pam Bondi started her career in Tampa, Florida, went on to become an Attorney general and is now making a name for herself as part of the White House staff.
This Pam Bondi bio explores her political career, wealth, and personal life.
Pam Bondi biography
Full name: Pamela Jo Bondi
Commonly known as: Pam Bondi
Date of birth: 17th November 1965
Age: 54-years-old
Place of birth: Tampa, Florida, USA
Zodiac sign: Scorpio
Nationality: American
Ethnicity: Caucasian
Siblings: Beth Bondi McIntyre & Bradley J. Bondi
Height: 5 Feet 9 Inches
Weight: 61 kgs
Eye color: Blue
Hair color: Blond
Profession: Lawyer/Politician
Who is Pam Bondi?
Pam Bondi is an American lawyer and politician who supports the conservative Republican party. She is an avid Donald Trump supporter and a close friend to the United States president.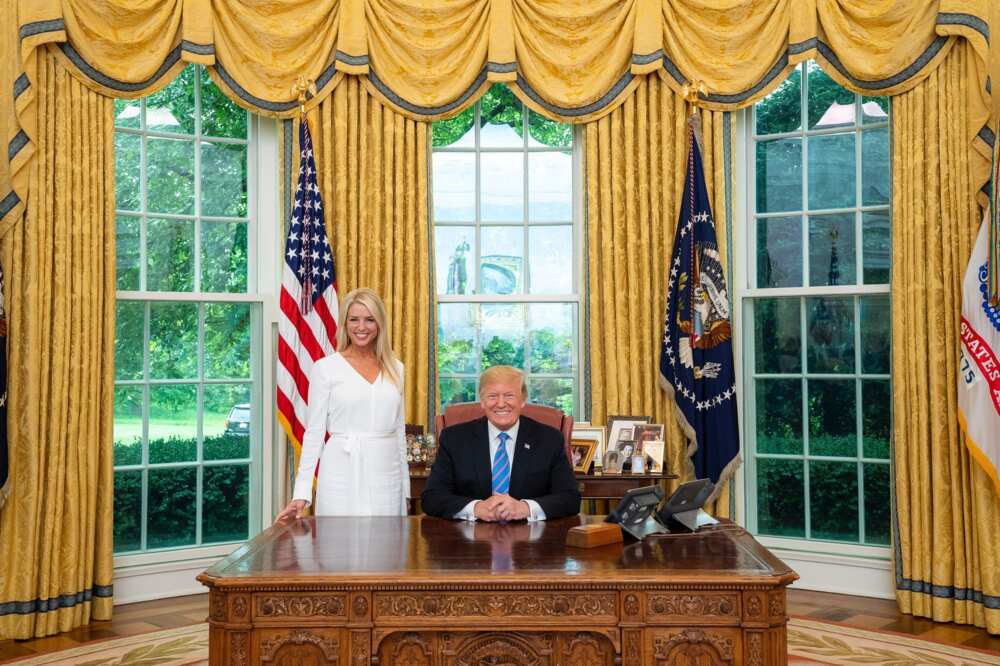 Pam Bondi was born on 17th November 1965 in Temple Terrace, Florida, to parents Joseph and Pasty Loretta Hammer. Her mother worked as an elementary school teacher. Her father, Joseph, was a city council member before becoming the mayor of their hometown. He also worked as a professor at the University of South Florida and is recognized as being a co-founder of the Middle School Concept. He died of leukaemia in 2013.
Pam Bondi young attended C. Leon King High School. After high school, she joined the University of Florida, where she graduated with a degree in Criminal Justice. Furthermore, during her time at the university, she interned at the Hillsborough State Attorney's office.
She later attended the Stetson Law School, where she attained a Juris Doctor degree and graduated in 1990. Pamela was then admitted to the Florida legal bar on 24th June 1991.
Career
Before she was known as Attorney General Pam Bondi, she worked as a prosecutor, a spokeswoman of Hillsborough County in the State of Florida and also as an Assistant State Attorney. Pamela later resigned from this position in favour of running for the Attorney General seat of Florida.
Pam was elected into office on 2nd November 2010, beating out her opposition, Democratic party flag bearer Dan Gelber. She was sworn into office in January 2011 and made history by becoming Florida's first female attorney general. Bondi won the seat again in the 4th November 2014 elections. Pamela Jo served two terms in office and finally stepped down in 2019 as her time had ended. Ashley Moody now holds the position.
Her time in office is marked with her strict attention and laws against drug abusers, felons, human trafficking of child sex slaves, and the legalization of gay marriages in Florida. Another high profile mark in her career is her fight against ObamaCare. She was among the most outspoken Republicans who shunned the Affordable Care Act (ACA).
In 2016, rumours surfaced that the Attorney General had received a $25,000 bribe from President Trump. In a case filed by Boston lawyer J. Whitfield Larrabee, it was alleged Bondi personally asked for the money masked as a donation to Pam's 2013 election campaign. The money in question was to coax Bondi to cancel her investigation into Trump University over fraud allegations.
Both parties vehemently denied these allegations, and in early 2017, a Florida prosecutor, through Stephen Russell's state AG office, concluded the case by stating that they could not find enough evidence to prompt a criminal case against Pamela Jo.
Despite these corruption allegations, she was nevertheless appointed to the Florida Constitution Revision Commission, a commission that as in-charge of the review and changes of the Florida Constitution. In January 2019, Pam joined the private sector after taking a job with lobbying and PR firm, Ballard Partners. She would be heading the firm's new regulatory compliance office.
Pam Bondi hot news
President Trump has no had a smooth sailing presidency. He stands accused of obstruction of Congress and abuse of power, especially concerning his dealings with Ukraine.
Around mid-December last year, Pam, as well as other top-notch lawyers, joined President Trump's team as his first line of defense against the impeachment charges lodged against him.
On 22nd January 2020, Pam spoke at the Senate as part of President's Trump impeachment defense lawyers. Her speech and argument were shot down in the Senate as well as on social media as people called her out for lying and not making a sensible argument.
Pam Bondi age
To anyone wondering, 'how old is Pam Bondi?' it's necessary to mention, that the politician was born in 1965. She is currently 54-years-old and will be turning 55 come 17th November 2020.
Dating and marriage
The politician has been married and divorced twice before. The marriages were to:
Garret Barnes - The couple got married in 1990 when Pamela was just 24-years-old. The union went sour very quickly, and the two divorced in 1992.
Scott Fitzgerald - She later found love with Scott, and the two got married in 1997. However, just like with Garret, the Scott Fitzgerald Pam Bondi relationship did not last. They went their separate ways and got divorced in 2002.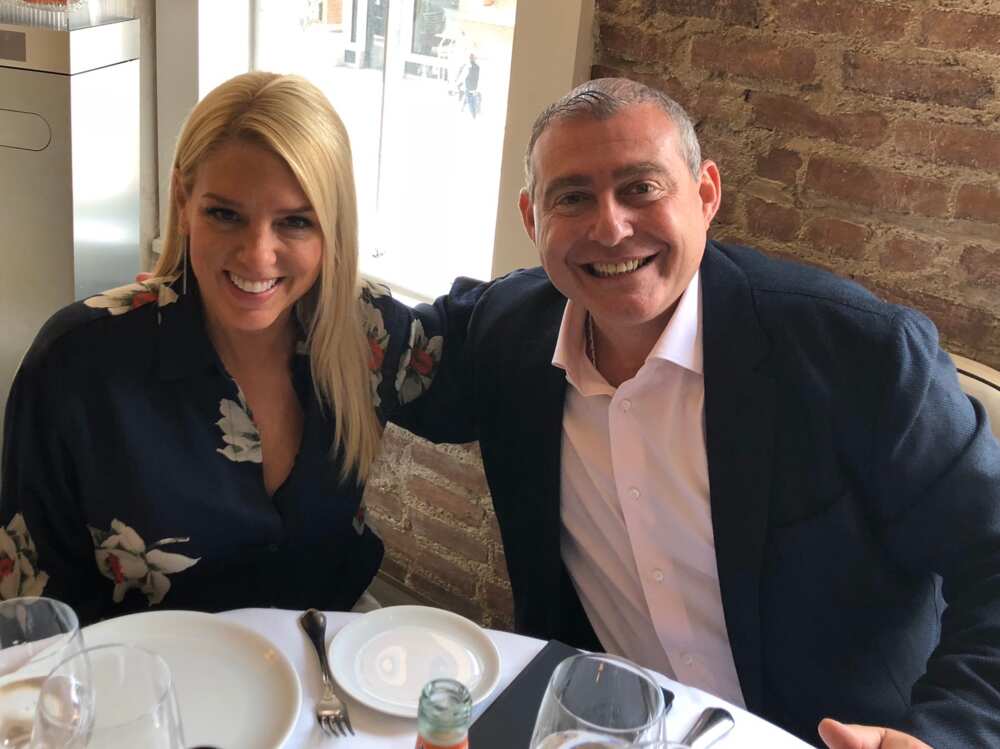 Pam Bondi boyfriend
While not much is known about her relationship with ophthalmologist Greg Henderson, the two had been dating for a long time before getting engaged. In May 2012, the couple and several guests gathered at the Ritz-Carlton Grand Cayman for what many assumed was a wedding between the then-Attorney General and the ophthalmologist. However, despite the setting for a perfect vacation wedding, the couple did not tie the knot.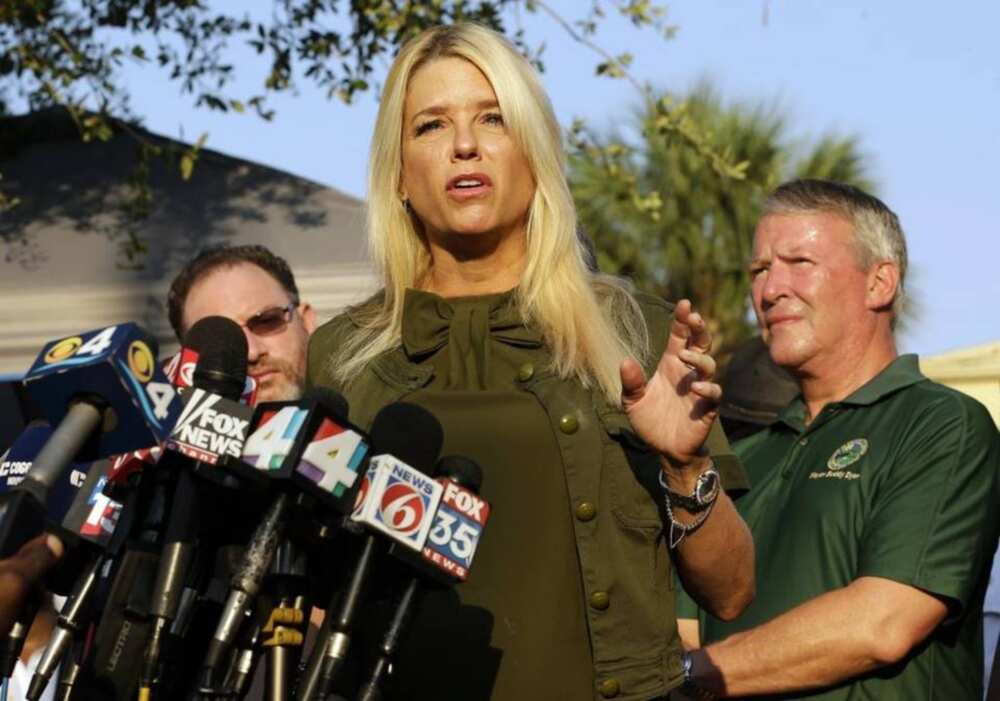 Many speculated over what might have happened, but Pam did not disclose the reason for the postponement. She later said that the two would eventually get married at a Baptist Church in Tampa.
However, in May 2015, it was revealed that her relationship with Greg had ended. Moreover, reports claimed that they had been broken up for several months as Greg had not attended her ceremony in January, and she had already moved out of Henderson's mansion.
Pam Bondi wealth
In America, as well as other parts of the world, politicians declare their wealth as a way to ensure their citizens that they do not engage in corruption, nor do they misuse office and taxpayers funds. According to a report filed in 2015, Pam had an estimated net worth of $1.4 million.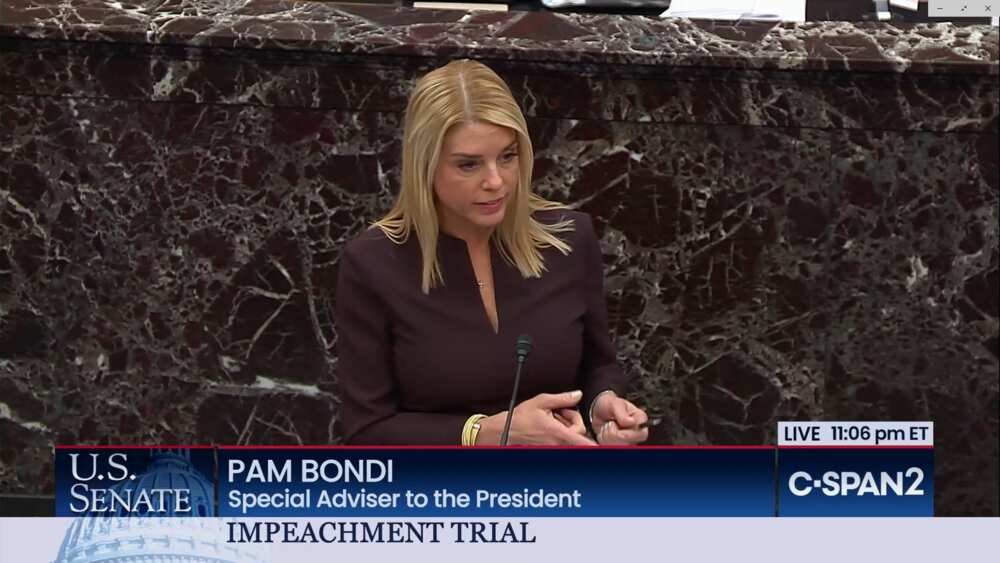 As for Pam Bondi salary, when she was the Attorney General, Floridians would pay her a stipend of $128,971. She now works in the White House, where her role is to coordinate and be the public face of the White House's response to the impeachment hearings. Her earnings from this job have not been revealed.
Regardless of what you may think about her politics, Pam Bondi is a woman of strong opinions who has curved her way up the political ladder and made her mark on American history. She shows no signs of stopping or slowing down anytime soon.
Source: Legit.ng