Wakabet Nigeria review: how to register and play
Betting is a good way of making money for people who understand sports well. However, it should be done responsibly. In Nigeria, Wakabet is one of the top betting companies. Through the company, many people have won substantial amounts of money. How does it work, and how can you become one of the winners?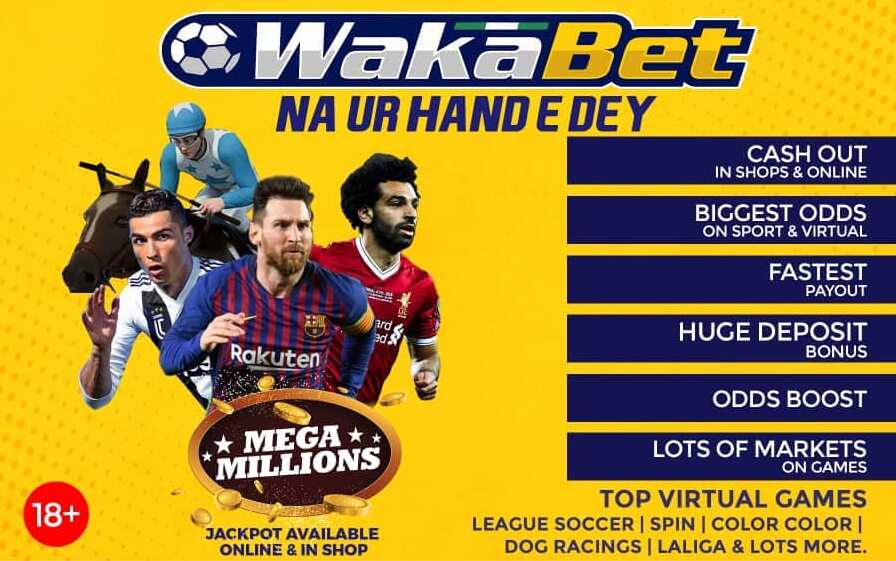 Wakabet is an innovative and competitive betting company for sports. It is a company that aims at providing all players with fantastic games and gaming odds combinations that will allow them to become richer. Every adult, whether or not they have a bank account, can use the platform at their convenience.
Wakabet review
wakabet.ng is one of the best and most reliable bet companies in Nigeria today. Why is this so?
Any adult Nigerian gamer can use the platform regardless of whether they have a bank account or not. If one does not have a bank account, they can visit the nearest Quickteller Paypoint outlet or any bank branch. These facilities will allow them to deposit money into their Wakabet wallets. One does not need to go to any shop to play because these offline deposit options are readily available.
Waka bet customers can easily withdraw their wins from any bank ATM across the country, even if they do not have a bank account. MTN customers have the option of withdrawing their money at their nearest D'Yello agent.
Wakabet Nigeria is a company that is licensed and authorised by the Lagos State Lotteries Board. Wakabet is the registered trademark of Camlake Limited. The company has liaised with other reputable companies to ensure optimal service delivery. As a result of these measures, all customers are sure that they are dealing with a trustworthy company.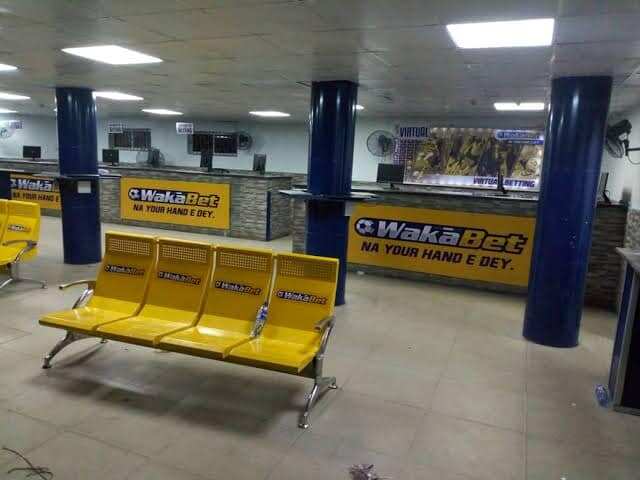 The company has a customer service unit that is always live from 8 a.m. until 12.00 midnight every day. The employees are aware that customers often need some assistance, so they ensure that the customer service unit is always live within these hours. The employees are always ready to answer the customer's questions and assist with any concerns either via WhatsApp or telephone calls.
The contact details are:
Telephone: 0708 063 3700
Email address: customercare@wakabet.ng
Waka bet Nigeria has a physical address that customers can access. The main corporate office is located at 21 Ahmed Onibudo Street, Victoria Island, Lagos.
The company's customer service branch is located at 19 Mokuola Street, Ogba, Lagos.
Note: The company does not have betting shops. Instead, all gamers can access the betting services online as is also the case with PariMatch. Once players win, they can receive their money on the website or via the MTN, D'Yello and Quickteller Paypoint outlets countrywide.
How to register
To use this platform effectively, one must first register. Follow the simple steps below to register:
To register for an account, you need to open your browser in an internet-enabled device and go to the official Wakabet website. On this homepage, you will see a Register button which is located at the top right side. Click on it.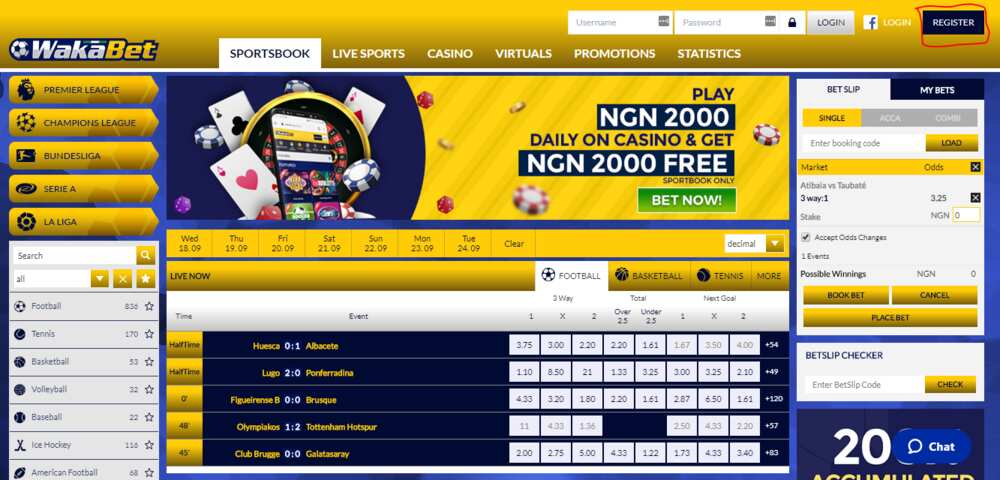 Enter all the registration details as requested. These include your email address, mobile phone number, and password. Kindly ensure that you provide the correct information before clicking the Register button again.

Once your registration is complete, a confirmation message will pop on your screen, and another will be sent to the email address that you provided in the step above. Log into your email address and click on the confirmation link for your account to be activated.
Once your account is confirmed, log into your Wakabet account by entering your username and password. You are now free to credit the account and play.
How to play
For you to successfully play on this platform, you need to place a bet when you are logged into your account. Follow these simple steps to place your bet:
Choose your sport from the homepage. There is a menu that is located on the left side of the screen for this.
Choose your country followed by the match or tournament that you wish to choose the games from.
On each of the games, select the markets that you want, and choose the odds. Any selection you make will be automatically added to your betting slip that is visible on the right side of the screen.
Select the amount of money that you want to stake and click on the Place Bet tab.
A confirmation message will appear on the screen. Once you click Confirm, another message will be displayed to show that you have successfully placed the bet.
Booking a bet
To book a bet, you need to visit the official wakabet.ng page. DO NOT sign in to your personal account as this will prevent you from booking a bet:
On this page, choose the sport you love from the menu that is located on the left side.
Choose the country you want and then click on the competition you desire to select games.
Select the markets you desire to play and their odds.
Select the amount of money that you wish to stake then click on Book Bet. The system will generate a booking code for you. You can use the code when you decide to place your bet.

Withdrawing after a win
Winning a bet is always exciting for any player. Once you have played and won, follow these steps to withdraw your money:
Log into your Wakabet account.
Check whether your personal information is correct. To do this, click on the Username tab for the dropdown menu to show. Select Personal Info from the menu. Ascertain that your first and second names are similar to your bank names. Make the necessary corrections, if needed.
Check the bank information to verify that it is correct. To do this, click on the Username tab to bring the dropdown menu. Click on Select Payment Accounts then Add Account. Enter the payment details and save.
To withdraw funds from your wallet, go to the dropdown menu and click on Withdraw. Enter the amount that you desire to withdraw and choose your payment account before clicking on Withdraw again. If all the details you entered are correct, you will receive a credit notification in your account within a few minutes.
Wakabet Nigeria is one of the top and most-reliable betting companies in the country. The games are played online, and any Nigerian adult can play even if they do not own a bank account. The company offers the best services. The employees are always friendly and willing to assist every customer. The registration process and placing a bet is also quick and straightforward. Try this company today, and remember to bet responsibly.
Source: Legit.ng