Every football diehard fan probably knows who Samuel Eto'o is. The news of his retirement brings mixed reactions as fans and colleagues celebrate him for the contributions he has made in the world of sports. Eto'o is no ordinary player. He scaled different heights and achieved so much that he is a role model for many upcoming players.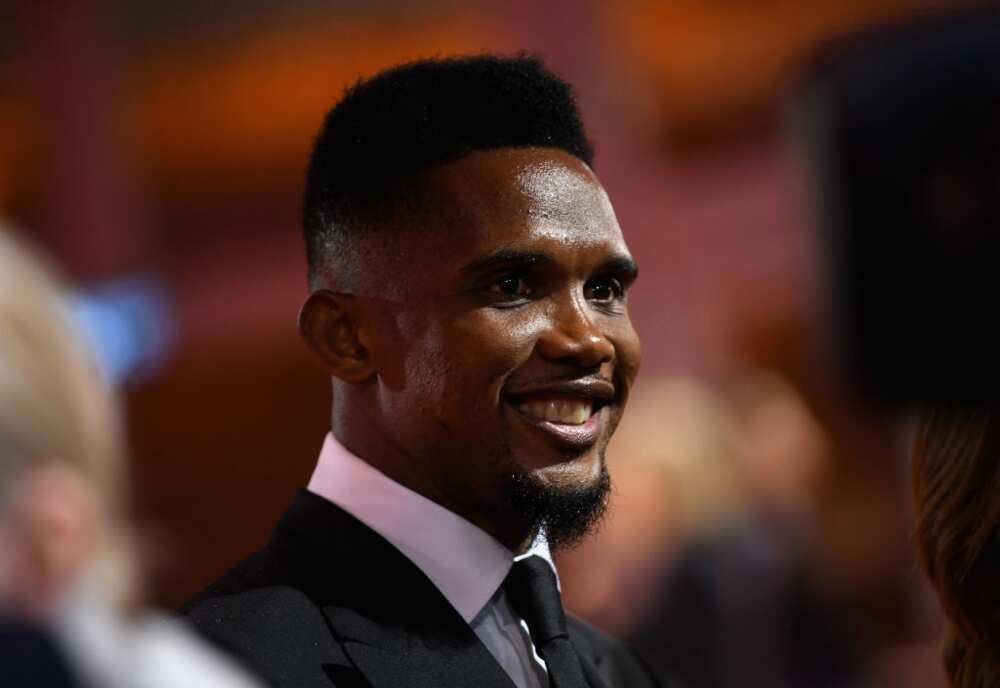 Eto'o retires at 38 years old. This is the news making headlines as the former Barcelona star joins the likes of Liberia's current president George Weah as well as Ivory Coast's Didier Drogba as some of the greatest African sportsmen in this era.
Samuel Eto'o announces his retirement
Taking to social media, Eto'o posted on his Instagram that he would be retiring. He lightly mentioned that this was the mark of a new beginning. He light-hardheartedly mentioned that he needed rest now considering that he had been running for 19 years. While many may think that 38 is young, the player began his career quite young hence the deserving rest.
What next for the star?
He may be retiring from playing football, but that does not mean that he is completely off the business. The champion is slated to join in African football politics as he takes up a major role in the Confederation of African Football. He has committed to fighting corruption in the federation as a way of ensuring that resources are channeled towards infrastructure. The announcement was made by CAF president Ahmed Ahmed sometime last month.
Samual Eto'o will take charge of relations between the federations and CAF.
What will he be remembered for?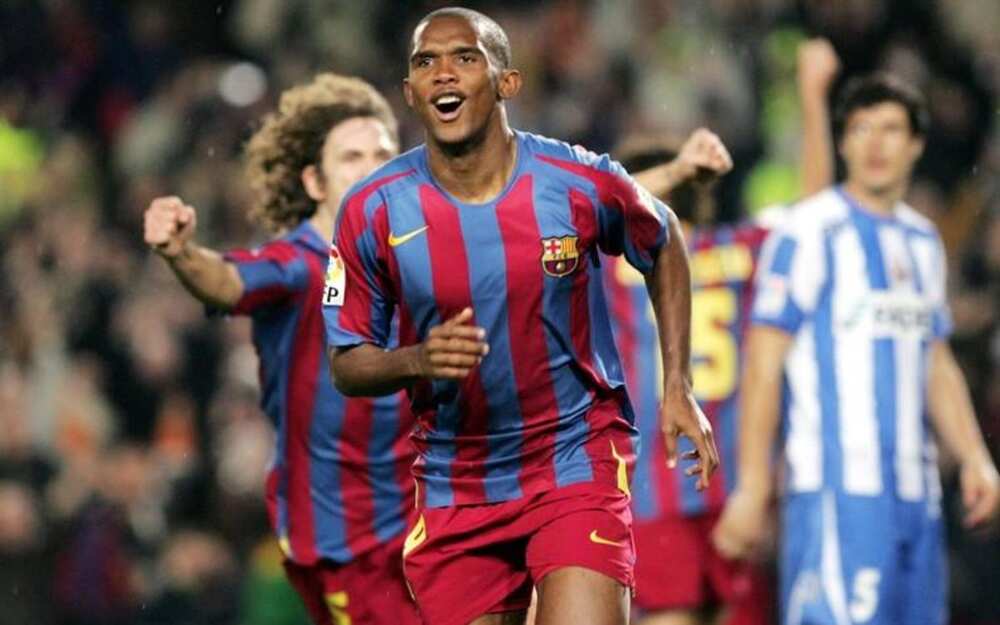 While fans are coming to terms with the news of his retirement, Eto'o will be remembered for always being a star and bringing his A-game to every game he was part of. The major highlights of his career include the 5 highly successful seasons at Barcelona from 2004 to 2009. He may have had a knack of ruffling feathers and even the return of 108 league goals from 145 matches, the 5 seasons remain a testament of the player's incredible talent.
He will be remembered for being one of the most feared centre-forwards globally with his calculated tactics. He enjoyed an electric and almost unmatched pace, an impeccable touch as well as instinctive shooting that set him apart from the rest.
More than his unique style of playing that garnered him fans across the world, his winnings probably top the list of his achievements. He won a pair of Champions League titles as well as 3 La Liga crowns before leaving for Inter Milan after he had a row with Ronaldinho which prompted Pep Guardiola to show him the dressing room door.
His first season in Italy was incredible. He was at the forefront in spearheading Jose Mourinho's charge in what will remain an unforgettable treble with Inter of Champions League, Coppa Italia and Series A titles.
Back home, the star was responsible for Cameroon's superb performance several years in a row. He helped his home team get to an impressive position in the 1998, 2002, 2010 and 2014 World Cups, not to mention the fact that Cameroon enjoyed continuous dominance in the Africa Cup of Nations. The Indomitable Lions won in 2000 and 2002, thanks to Eto'o's contributions.
He also joined the golden generation which featured Rigobert Song, the late Marc-Vivien Foe and Geremi even as Cameroon took the win with the gold medal at the Sydney Olympics in 2000. The then-emerging Eto'o scored and converted a penalty in the shoot-out win over Spain before a crowd of 114,000 people, epic!
As years went by, his pace slowed down as his performance was marked with low stints at Russia's Anzhi Makhachkala, Everton, and Chelsea in the Premier League. In the past year, after being part of the Turkish side Konyaspor for a short while, he joined the Qatar league side, Qatar Sports Club, which was his last club before retirement.
Fans reactions
As expected, fans will have something or more to say about a star they have adored for years. Eto'o has graced football fields in different parts of the world, garnering a lot of fans along the way. It is only natural, therefore, that people would react to his decision of quitting active football playing. Here are some of the sentiments fans have had to say on different social media platforms.
Messi took to Instagram to pay his tribute to a friend and colleague. It seems as though this was a bit surprising for his as he thought Eto'o would have reached 40 before retiring.
"Have you decided to stop, Samu? I thought you would reach 40 at least... All the luck in the world in what you want to do from now on, genius."
Drogba too was not left behind as he wrote and expressed his gratitude for having played with the star. He referred to it as an honour even as he wished him well.
Congratulations for this great career Samuel Eto'o and very good continuation for the new challenges that await you... Africa is very proud of one of its greatest ambassadors."
Another player, Puyol, wrote,
"Thank you for all brother. It has been a pleasure to share team with you. Good luck in this new stage.''
Deco too was not left behind as he pointed out how Eto'o will be missed especially when it came to playing in the field. He wrote on Instagram,
"Soccer will miss you on the grass, brother. But I know you have a lot to contribute... Soccer needs you always friend... You've been very big as a player and I'm sure you will do it in everything that comes. Good luck in the new stage of your life, brother.''
Other players had nothing but praises and good wishes for one of their own. It was clear that Eto'o had run his race well and that even as he moves into the next phase of his career, every other player wished him well.
Apart from his colleagues, teams he had been part of had a lot to say about the retirement announcement. Most of them took to Twitter to express their good wishes and congratulations. Here are a few sampled views.
Marco took time to wish Eto'o well.
The UEFA was also quick to join in as they wished one of their stars a happy retirement.
Having contributed significantly to their team, Chelsea was not left behind as they tweeted their best wishes. Samuel scored nine Premier League goals for them with 3 of them coming in a 3-1 defeat against Manchester United at Stamford Bridge.
Inter also tweeted thanking him for the memories he created while with them. They made sure to point out that these would never be forgotten. They also shared a photo of Eto'o's injury-time strike in the unforgettable 2-0 victory over Juventus back in April 2010. This was significant as it helped in steering the Nerazzurri to Series A glory.
Even as teams continued to pay their tribute, Everton would not be forgotten. For the period that the player was with them, he scored 3 Premier League goals in the 14 appearances he made for Everton back in the 2014-15 season. One of the most remarkable moments was shared by the Goodison Park club in a clip of the player's brace for the Toffees in a 3-1 victory away at Burnley in October 2014.
Barcelona, a club where the legend made his most significant plays, said one word in their tribute and it sums it all up, Legend. Indeed, Eto'o is a formidable football legend. His 5 years with the club were some of his best ones as far as football is concerned.
Reactions also came from fans as different fans from different teams took to Twitter to express their views.
An Everton fan cannot believe that the star was once part of their squad, probably because he is a legend.
Even fans know that Samuel Eto'o is a football icon.
Well, this fan seems to know the real value of the star. His only regret though is that he never got a souvenir to always remember the legend by.
Samuel Eto'o may be retired now but his legacy in football remains unforgettable. He has made such a huge impact on the lives of football fans that he will continue to stand out as a role model. He is definitely one of Africa's greatest.