Alyson Hannigan bio: age, height, is she married?
If you have watched American Pie and How I Met Your Mother, you can easily recognise Alyson Hannigan. She is a talented, witty and funny actress and television presenter who has won the hearts of many people globally. Having graced the Hollywood entertainment scene from an early age, the actress has perfected her art and is now one of the most sought-after actresses. Today, she is not only a career woman but also a doting wife and mother.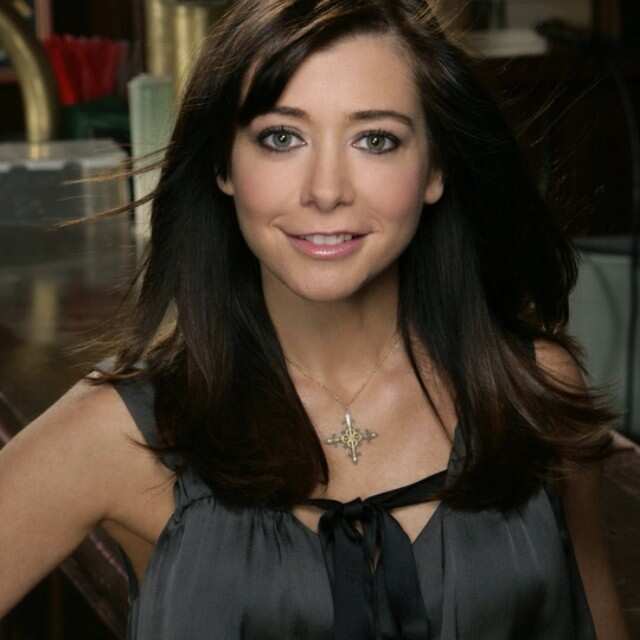 Alyson Lee Hannigan, commonly known as Alyson Hannigan, was born on the 24th of March 1974 in Washington DC, USA. Today, she is 45 years old. Her mother, Emilie Posner Haas, is a real estate agent in Atlanta, Georgia, while her father, Al Hannigan, drove trucks in Missouri for a living. Al has Irish ancestry while Emilie is Jewish. Jacob Posner and Dorothy Mendel, her maternal grandparents, came from Russian-Jewish immigrant households. Alyson's ethnicity, therefore, is Irish-Jewish. Her sun sign is Aries, and her nationality is American.
Alyson Hannigan profile summary
Name: Alyson Lee Hannigan (commonly known as Alyson Hannigan)
Nickname: Allycat
Date of birth: 24th of March 1974
Place of birth: Washington DC, USA
Mother: Emilie Posner Haas
Father: Al Hannigan
Star sign: Aries
Nationality: American
Ancestry: Irish-Jewish
Height: 5 feet 4 inches (163 cm/ 1.63 m)
Weight: 117 lbs (53 kg)
Eye colour: Green
Hair colour: Red
Body measurements: 34-23-34 inches (bust-waist-his)
Marriage: Alexis Denisof (m. 2003)
Children: 2 daughters (Satyana Marie Denisof and Keeva Jane Denisof)
Alma mater: North Hollywood High School, California State University, Northridge
Profession: Actress, television presenter
Alyson Hannigan early life and education
Alyson's parents got divorced when she was two years old. The actress started featuring in commercials at only four years old. Some of the commercials she appeared in were for McDonalds and Oreo. At the time, she and her mother resided in Atlanta, Georgia. At 11, she moved to Los Angeles, California to pursue a career in the film and television industry. She lived with her mother Emilie but was allowed to visit her father in Santa Barbara. In junior high, Alyson played the clarinet. She was also a good soccer player, but quit playing in her early teens after suffering an injury.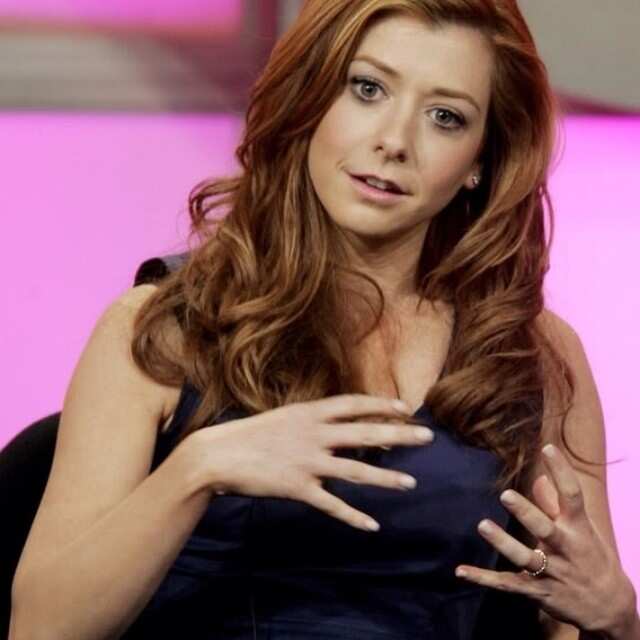 Alyson attended the North Hollywood High School from where she graduated in 1992. She then joined California State University, Northridge, for higher education. While at the university, she was an active member of the Alpha Chi Omega sorority. She graduated with a degree in psychology.
Alyson Hannigan height and other measurements
Alyson is a gorgeous lady with an attractive body. Her height is 5 feet 4 inches (163 cm/ 1.63 m), and she weighs about 117 lbs (53 kg.) She has green eyes and red hair. Her bust-waist-hip measurements are 34-23-34 inches, respectively. The actress has a few tattoos on her body. The first is of tribal dolphins on her ankle, a cartoon turtle on her foot, and a Japanese kanji on her back for happiness and luck.
Alyson Hannigan movies and TV shows
Alyson has featured in numerous films and television shows so far. Her first movie role was in 1986 when she played the character of Patty Stubbs in Impure Thoughts. She got her first significant role in 1988 when she acted as Jessie Mills in the movies My Stepmother Is an Alien. The film was a science-fiction comedy where she featured alongside Seth Green. In 1998, she played Lucy in the movie, Dead Man on Campus. The following year, she was cast in American Pie as Michelle Flaherty. Her acting prowess in American Pie earned her a more extensive fan-base across the world.
READ ALSO: Cobie Smulders bio: age, height, net worth, is she married?
In 2000, Alyson was in the film, Boys and Girls, as Betty. She later starred in American Pie 2 as Michelle Flaherty and Lexi in Beyond the City Limits. In 2003, she played the character of Michelle Flaherty for the third time in the movie, American Wedding. In the 2006 film, Date Movie, she played the role of Julia Jones. The same year, she was the voice of Hottie Penguin in Farce of the Penguins. In 2011, Alyson played Courtney in Love, Wedding, Marriage.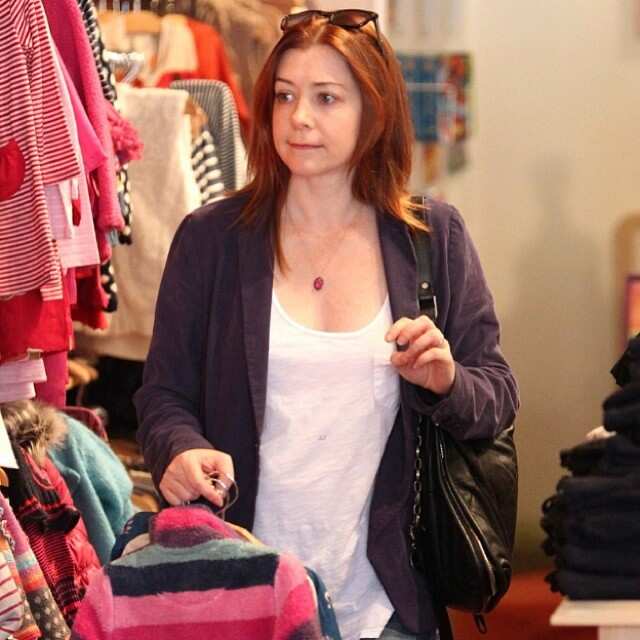 In the 2012 film, American Reunion, the beautiful actress played the character of Michelle Levenstein. She also featured as Rachael in Do You Take This Man and Chuck in the 2018 movie, You Might Be the Killer. She will appear as Mary Stauffer in the 2020 film, 53 Days: The Abduction of Mary Stauffer.
Alyson is best known for her wit and humour in television shows. Her first role in a television series was in 1989 when she acted as Jessie Harper in the ABC series, Free Spirit. The show was short-lived. In 1990, she appeared in the episode, Like, a New Job, as Jan in the series, Roseanne. In Switched at Birth, she was Gina Twigg. In 1993, Alyson portrayed the character of Samantha in Almost Home. The following year, she was Cassie Peters in Touched by an Angel.
1995 saw the actress starring in The Stranger Beside Me as Dana. In 1996, she featured in four television shows. These were A Case for Life, For My Daughter's Honor, Picket Fences, and Friends for Life where she acted as Emma Daniels. Between 1997 and 2003, Alyson played the character of Willow Rosenberg in Buffy the Vampire Slayer. This show was a mega-hit and was the role that made Alyson a notable person in the industry. In 1999, Alyson was Jenna Jakes in Hayley Wagner, Star. From 1999 to 2000, she was the voice of Gigi in 100 Deeds for Eddie McDowd.
The voice of Gerda in the 2000 show, The Wild Thornberrys, was by Alyson. Between 2001 and 2003, the actress featured in Angel as Willow Rosenberg. She also starred as Cynthia P.I. / Young Starlet in Rugrats that aired between 2002 and 2003. In 2004, she acted in That '70s Show as Suzy Simpson. The same year, she was Stacey Gibson in King of the Hill, Andrea in Americana, and she also appeared in the pilot show, In the Game.
Between 2005 and 2006, Alyson was in Veronica Mars where she played the character of Trina Echolls. From 2005 until 2014, she appeared as Lily Aldrin in How I Met Your Mother. In 2009, she was the voice actress for the character Michelle in The Goode Family. In The Simpsons, she was the voice of Melody. She was also a voice actress in Robot Chicken and American Dad! In 2014, she provided the voice of Winter in Sofia the First and acted as Pam in The McCarthys. She also starred as Cindy Rizzo in More Time with Family.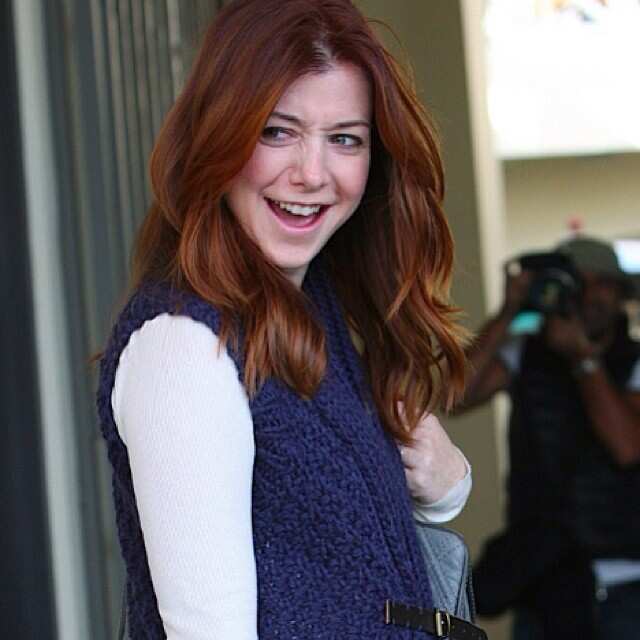 In 2016, Alyson appeared in the pilot of The First Wives Club as Maggie. Two years later, she acted as Jessie in Man of the House and as Claire Clancy in Fancy Nancy. In 2019, she featured in Kim Possible as Ann Possible and will be appearing in Season 2 of the television series, Pure. From 2014 to date, she has continued to appear as herself in Penn & Teller: Fool Us. In 2004, Alyson made her first stage appearance when she played alongside Luke Perry in When Harry Met Sally… at the Theatre Royal Haymarket.
Special work
Alyson is passionate about prevention and early detection of cancer. She worked alongside celebrities such as Minka Kelly, Emily Deschanel, Katharine McPhee and Jaime King in "video slumber party" that encourages regular screening for breast cancer. The video featured on FunnyorDie.com and was done in collaboration with Stand Up 2 Cancer.
Awards and nominations
Alyson has bagged many awards and nominations for her roles in different films and television shows. These include:
Winner of Best Supporting Actress in a Television Series at the 2003 Academy of Science Fiction, Fantasy & Horror Films, USA for her role in Buffy the Vampire Slayer.
Nominee for Best Actress in a Supporting Role in a Series, Drama, for her role in Buffy the Vampire Slayer during the 2003 Satellite Awards.
Winner of Best Science Fiction or Fantasy Actress during the 2003 SFX Awards, UK.
2012 nominee for Choice Movie Actress: Comedy during the Teen Choice Awards for her role in American Reunion.
Nominee for Best Supporting Actress in a Comedy Series the during the 2008 Online Film & Television Association Awards for her role in How I Met Your Mother.
Nominee for Favourite TV Gal Pals for her role in How I Met Your Mother during the 2014 People's Choice Awards, USA.
How much is Alyson Hannigan worth?
Alyson has been in the Hollywood film and television industry for a long time now. From her career, she has earned a considerable amount of wealth. She is yet to declare her net worth and assets publicly. Nonetheless, her estimated net worth is $30 million.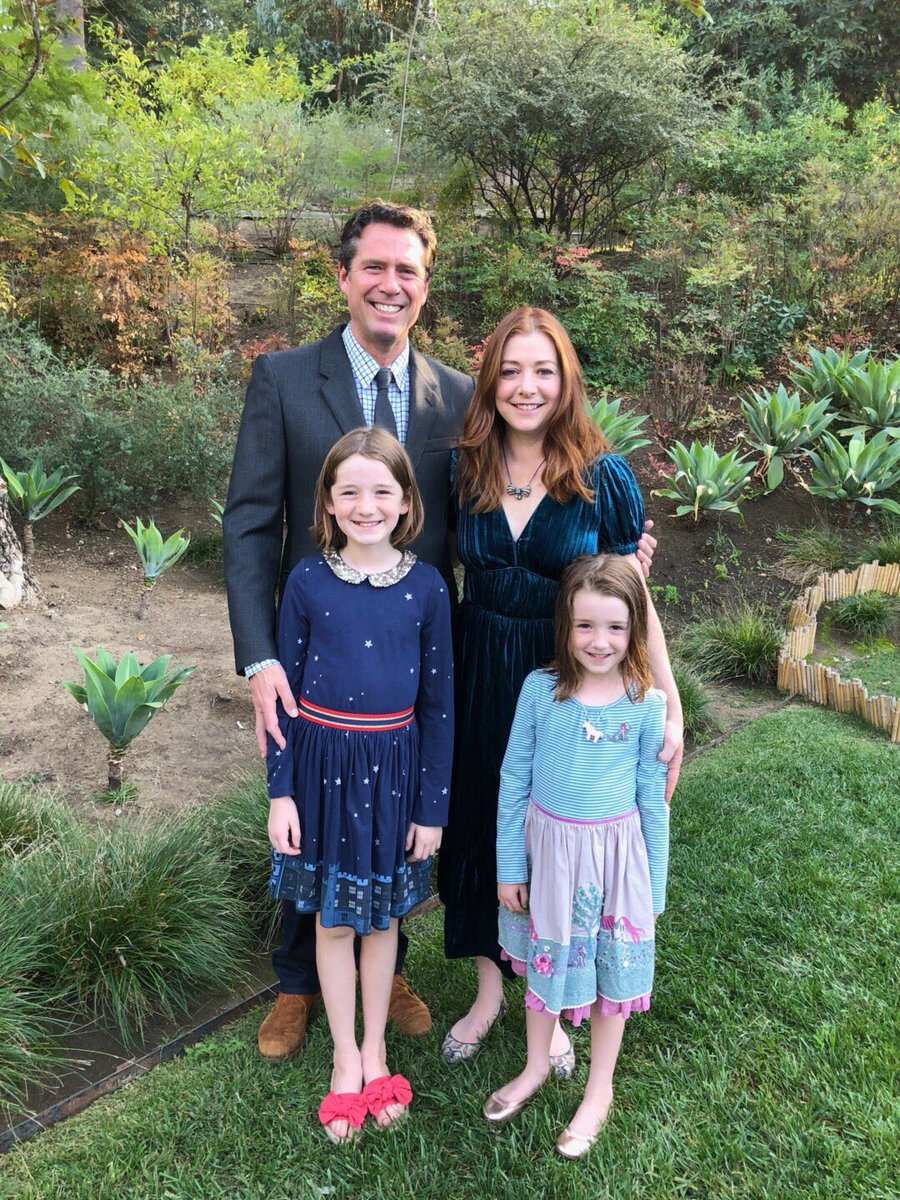 When did Alyson Hannigan get married?
Alyson Hannigan How I Met Your Mother is a doting wife and mother. Alexis Denisof is Alyson Hannigan husband. The couple dated for a while before getting married. Denisof proposed to the actress in 2002 during a trip to Northern California. Alyson Hannigan and Alexis Denisof got married in October 2003. Their wedding was featured in the InStyle Magazine in the February 2004 issue. Is Alyson Hannigan still married? Yes, she is still married to Denisof. Together, they have two lovely daughters.
Was Alyson Hannigan pregnant when filming How I Met Your Mother? The actress was pregnant with both her daughters while filming the television series. She delivered her first daughter, Satyana Marie Denisof, on the 24th of March 2009. She was eight months pregnant when the cast finished filming the fourth season of the show. Three years later, she gave birth to her second child, Keeva Jane Denisof, on the 23rd of May 2012. The actress was seven months pregnant when the cast finished filming the seventh season.
Presence on social media
Alyson is active on social media. She uses her Twitter account to post pictures of her close-knit family of four. She also updates her fans about any developments in her career. She also has an active Instagram page. The Alyson Hannigan Instagram account has over 265K followers.
Other fun facts about Alyson Hannigan
Two songs have been recorded in her honour. The first is Juvenile Wreck's Alyson Hannigan while the second is This One Time by The Malcolm Effect.
She received an invitation to feature in the television show, In the Game, but she rejected the offer. She cited differences in creativity as the reason for rejecting the job.
When she was a teenager, she was the baby sitter for Bob Saget's children. She once accompanied the family on vacation to Hawaii. She and Saget would meet two decades later on the set of How I Met Your Mother.
She and her husband Denisof are the godparents of Joss Whedon's son, Arden.
She is an avid supporter of the StubHub's Mom's Night Out campaign that celebrates mothers.
Actor Steven Sutphen is her relative.
Alyson Hannigan is a famous actress whose input in the entertainment industry is impressive and admirable. She is best known for her roles in How I Met Your Mother and American Pie. The gorgeous actress is also the wife of Alexis Denisof with whom she shares two adorable daughters. Her fans should be on the lookout for the release of her new film, 53 Days: The Abduction of Mary Stauffer, that will premiere in 2020.
READ ALSO:
Streamer Brittany Venti bio: age, real name, boyfriend, arrest
Madisyn Shipman bio: age, height, parents, boyfriend
Source: Legit.ng