Perdita Weeks: age, height, husband and hot photos
Perdita Weeks, a British rose, is mostly known for her roles in television series. She has the type of face that looks perfect in historical dramas like the one she played in, "The Tudors". Still, away from the screens, the beauty has quite a contemporary life with love, romance, and insanely hot pictures that you will be able to see if you keep on reading!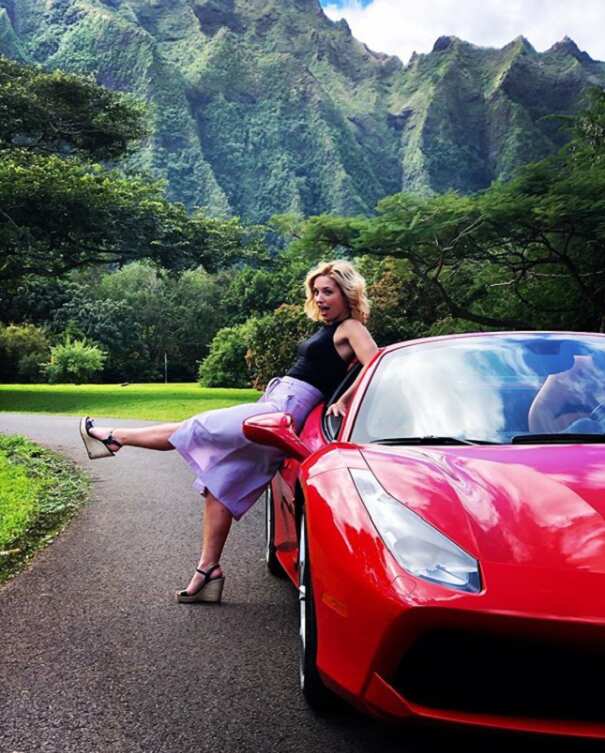 British television and film actresses and actors are hardly the most spoken-of celebrities. Even if they are famous in their homeland, this fame can be hardly compared to that of Hollywood stars. This is why there is not much information about them available, but here we have managed to select the most interesting facts from the life of this fair-haired damsel.
A brief Perdita Weeks profile
You may have seen this lady with her catchy dark eyes and an engaging smile in a range of TV shows through more than two decades. Her first appearance on the screen was in 1993 when she played in a mini-series TV show named "Goggle-Eyes" and continued to "Rag Nymph" (1997) where she starred together with her siblings. Since that time, she has received a range of roles in other British films and TV series, gradually becoming known to the audience.
What is Perdita Weeks age?
Perdita Rose Annunziata Weeks was born in the place called South Glamorgan, one of the counties that compose the territory of Wales. The future actress saw the light of this world right on the day of Christmas, December 25, 1985. At the moment, she is 33 years and a few months old.
The girl was born to Susan and Robin Weeks who also have two other children, Honeysuckle (Perdita's elder sister, a six-year gap) and Rollo (Perdita's younger brother, only one-year gap) Weeks. This is everything we can tell you about the girl's family because there is no other information available. Honeysuckle Weeks is an actress as well in spite of her anxiety issues.
READ ALSO: Grace Randolph bio: birthday, age, husband and photos
As a child, Honeysuckle was invited to the USA to participate in Steven Spielberg's famous "A Far Off Place" as Nonnie. Later, Reese Witherspoon got the role. In 1993, both the sisters played in "Goggle-Eyes". The younger sibling used to play the character of her elder sister at a young age due to their incredible resemblance. It is interesting that Rollo played in the same film together with his sisters. The same story repeated in 1997 when the three siblings were invited to "Rag Nymph". With time, Rollo gave up the acting career and dedicated all his efforts to his own food outlet in Brixton.
Who is Perdita Weeks husband?
The actress is one of those people who does not like showing their life to everyone on the Web. Perdita has a family with Kit Frederiksen, the man she had been dating for many years before they finally came to the conclusion that their relationship is worth being turned into a family in 2012.
Now Perdita has two kids with her husband. Their names are known: Rupert Sebastian and Humphrey Carrington Frederiksen. However, it is not easy to find pictures of her family online because all those Twitter, Facebook or Instagram accounts she has are used mostly to communicate with fans, not to show off her family.
Similarly, Perdita Weeks has never been noticed in any scandal or a controversial situation connected to romantic stories or infidelity. The only episode of noise around her name happened when she mentioned being selected to the cast of "Magnum P.I" reboot in 2018. There have never been any rumours about the actress before or after this case.
What is Perdita Weeks height?
When on screen, actors often seem different from what they are in real life. Scenes are composed in such a way that they show the best angles of faces and bodies. This is why it is quite hard to determine the height or body shapes of certain actors. Well, Perdita has a delicate built and a graceful female height of 5 feet and 4 inches in the British system of measurements. It stands for 1.63 meters and is an excellent parameter for romantic screen characters.
What are Perdita Weeks measurements?
It is a natural question about attractive female celebrities who look so appealing and nice on the screen. As said, Ms Weeks weighs about 54 kilos, and all this beauty is evenly spread to the necessary places. Her body measurements make 87cm-63.5cm-89cm. This is exactly the slenderness, so much appreciated in young female celebrities in British films and so required for historical dramas like "The Tudors".
With such parameters of her figure, her wavy fair hair and dark eyes Perdita looks really great.
No doubt, fans are into a hunt for the hottest and spiciest pictures of their favourite celebrity. We have a chance to look at some of the available ones, too.
However, one may say that the images are so hot in the conventional sense of this word, but as you have already undrerstood, Perdita is among those celebrities who do not show off all their charms. Her beauty is sweet and tender.
Several facts about Perdita Weeks
Each celebrity has a short profile of interesting facts, and Ms Weeks is no exception. Now we would like to recapitulate the star's bio in several lines.
Perdita was born on Christmas, 1985, as the second child in her family
She is of a Welsh descent
She used to study the history of art at the Courtauld Institute of Art. This facility belongs to the University of London. It is interesting that the art she used to study was not acting but rather the history
Perdita is professionally jealous when it comes to the acting success of her elder sister Honeysuckle
The most memorable appearances Perdita has made are Mary Boleyn, the sister of the famous historical personality Ann Boleyn, one of the misfortunate wives of Henry VIII, and Juliet Higgins in "Magnum P.I."
Perdita has popular social media accounts with thousands of followers and subscribers
The actress has a good career with a long list of television roles in popular films like "The Musketeers", "Titanic" (a set of TV series), "Lost in Austin", and others
Some stars prefer to keep a low profile on the internet and during their communication with mass media. Their families are sacred to them, and they do not want to reveal too much about them. Perdita Weeks is one of those celebrities, and so we have little chances of learning much about the intimacy of her life. Still, we have social media pages where we still can enjoy great photos of our favourite celebs and even communicate with them.
READ ALSO: Is Rachael Okonkwo married?
Source: Legit.ng