Latest lace styles 2021 in Nigeria
The transformation of fashion and design has driven women to unimagined lengths to stand out. In Nigeria, most women desire to look exceptional and exquisite without losing their African touch. Designers have thus come up with unique pieces such as the lace, which has rapidly been embraced by female fashion-mongers. The latest lace styles are so amazing that they will blow your mind.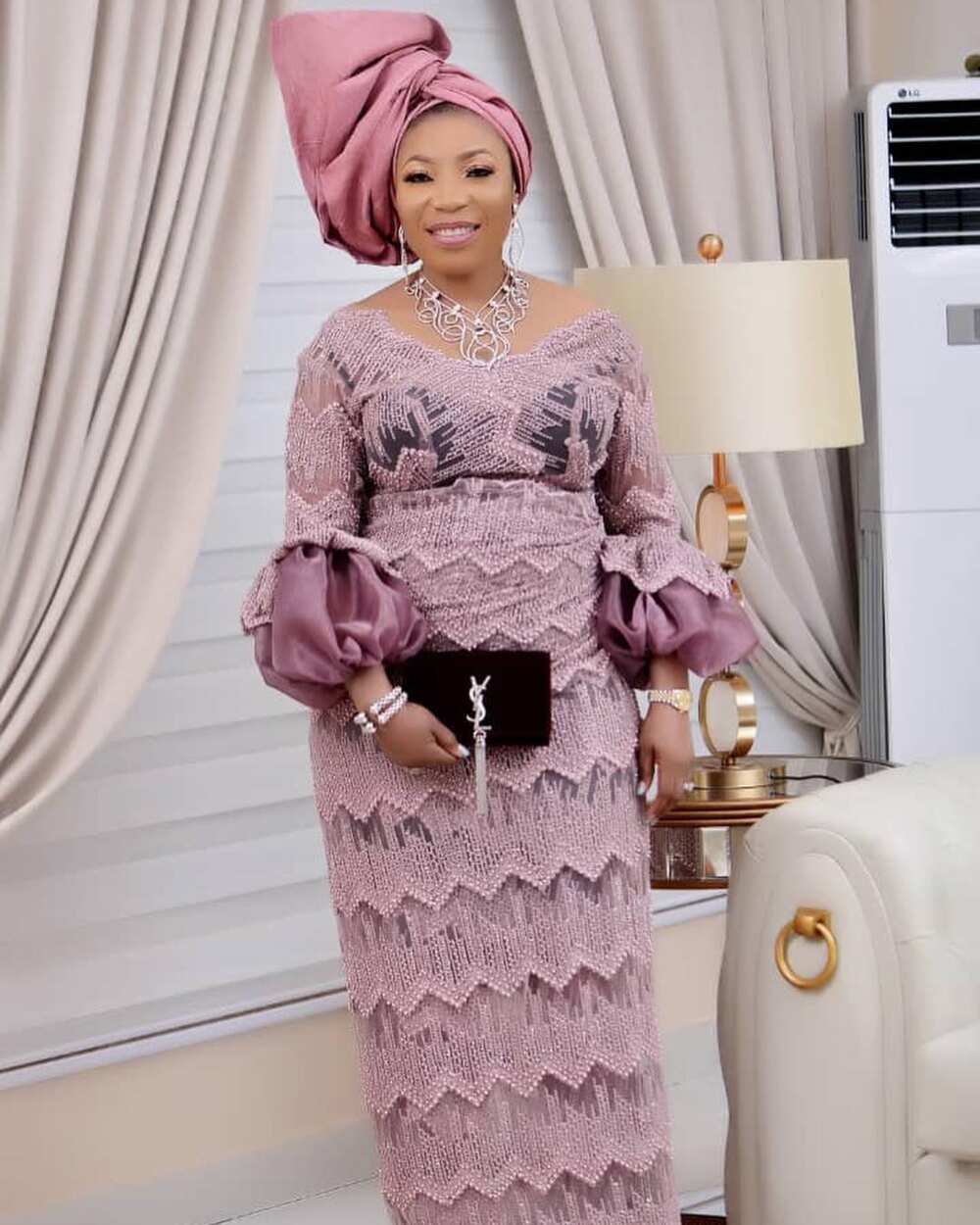 Do not be left behind and get to know some of the latest lace styles 2021 that you can include in your wardrobe.
Latest lace styles and designs
Latest Nigerian lace styles and designs have revamped fashion in the country. Most ladies are now flowing with the trend and designing lacy clothes. Designers, on the other hand, have ensured they have ample styles for lace that women can choose from. The latest lace styles are also flexible enough to accommodate different clients' views and fashion preferences.
It is, however, advisable for you to consider some things before designing your attire. It is essential to take into account such aspects as your skin tone, body shape and size when choosing the fabric type, design, and colour. These details will ensure that you are comfortable with the selected lace styles. The material styles, however, are different. There are those incorporated in tops, dresses, and skirts. Some are even a mix of Ankara and other fabrics. Below are some of the latest lace styles 2019 and lace skirt and blouse pictures that you should consider.
Latest lace styles 2021
This trend has been accommodated to fit a number of clothing types. It can be added to dresses, skirts, and tops. Skirt and blouse lace styles look particularly enticing and sophisticated. Therefore, females of all ages prefer to wear these kinds of attires at such formal events as weddings due to the royalty the apparel oozes.
Elegant pastel rosy dress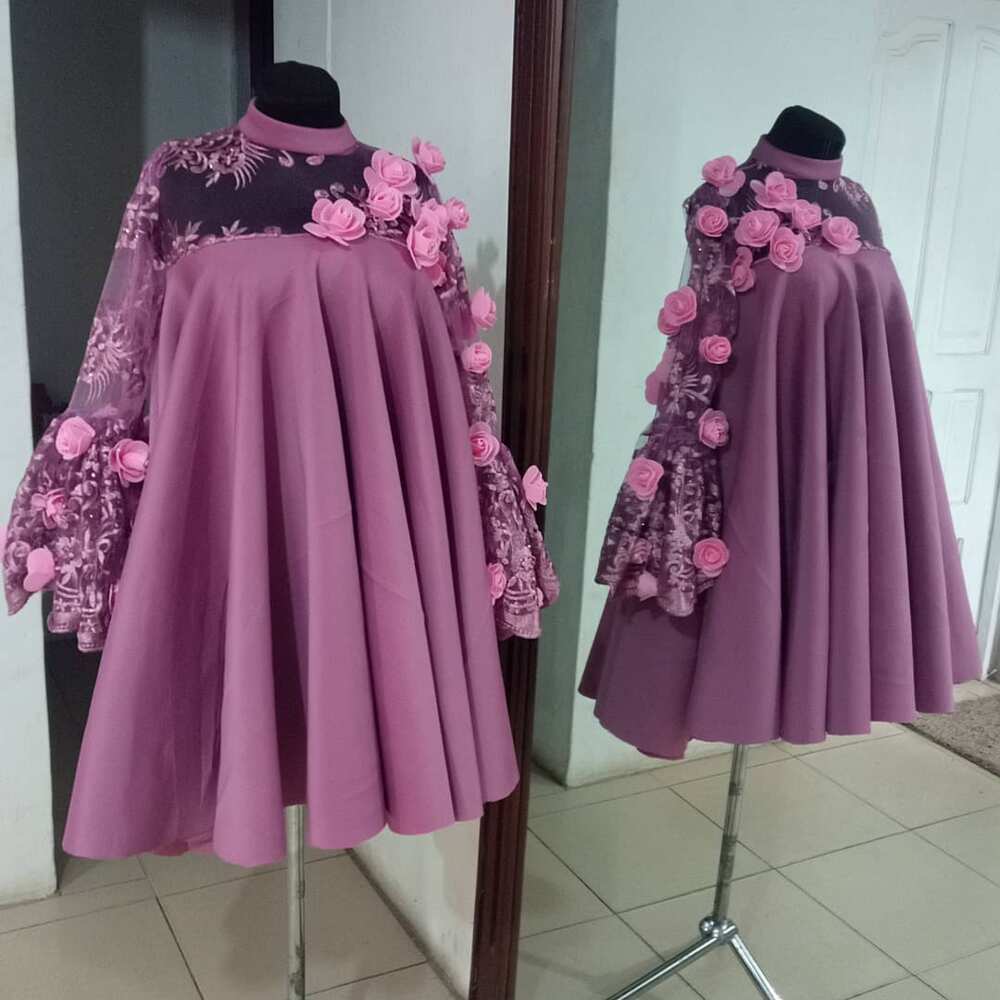 The dress has a feminine and composed look that will make you feel like royalty. It is a classic dress that has a magical fairy touch and feel. It can be worn to a wedding, a dinner date or a formal party.
Wine red lace dress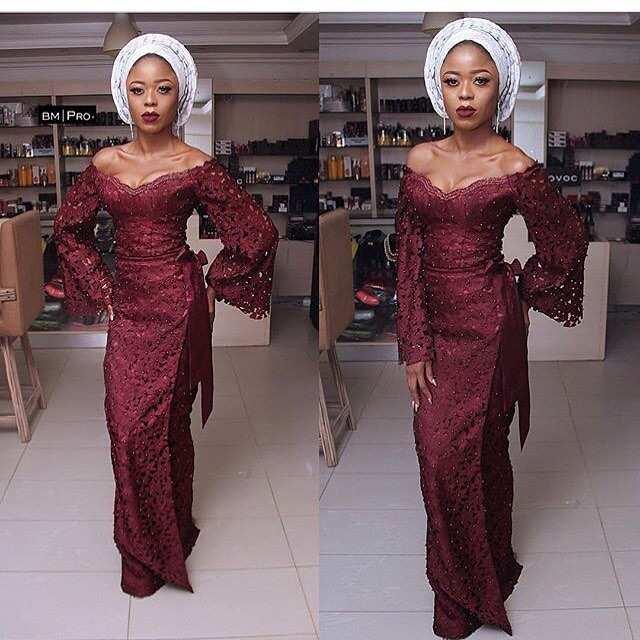 The burgundy colour of the lace adds some chicness to the simple dress. The elaborate and unique design of the lace ensures that all eyes are glued on you. The look can be finished by a pleasant shade of red lipstick, a golden necklace, some white or black heels, and a pretty clutch bag. The outfit is no doubt one that will keep them saying "hello" for no particular reason but the glamour of the dress.
Red and white classic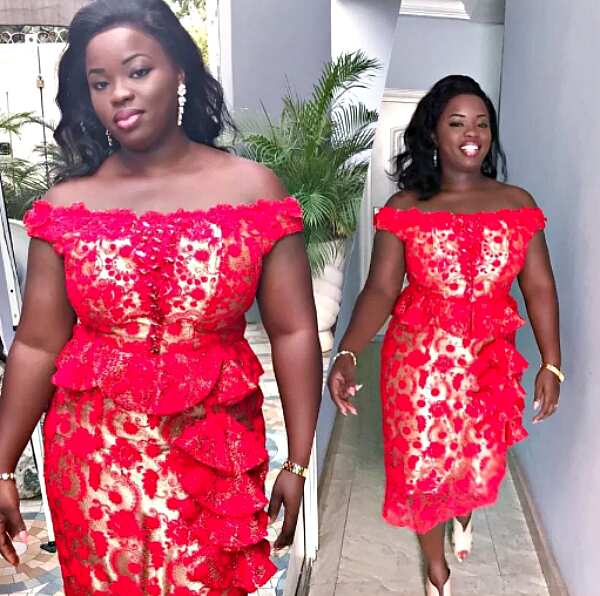 These two colours have a way of making you express two personalities at once. The white exhibits a cute nature while the red completes the whole look by bringing in an independent or fierce appearance. The look also has that modern and classy touch that makes you stand out amidst other women. You can also wear it with a red or white gele or a gold necklace.
Green lace dress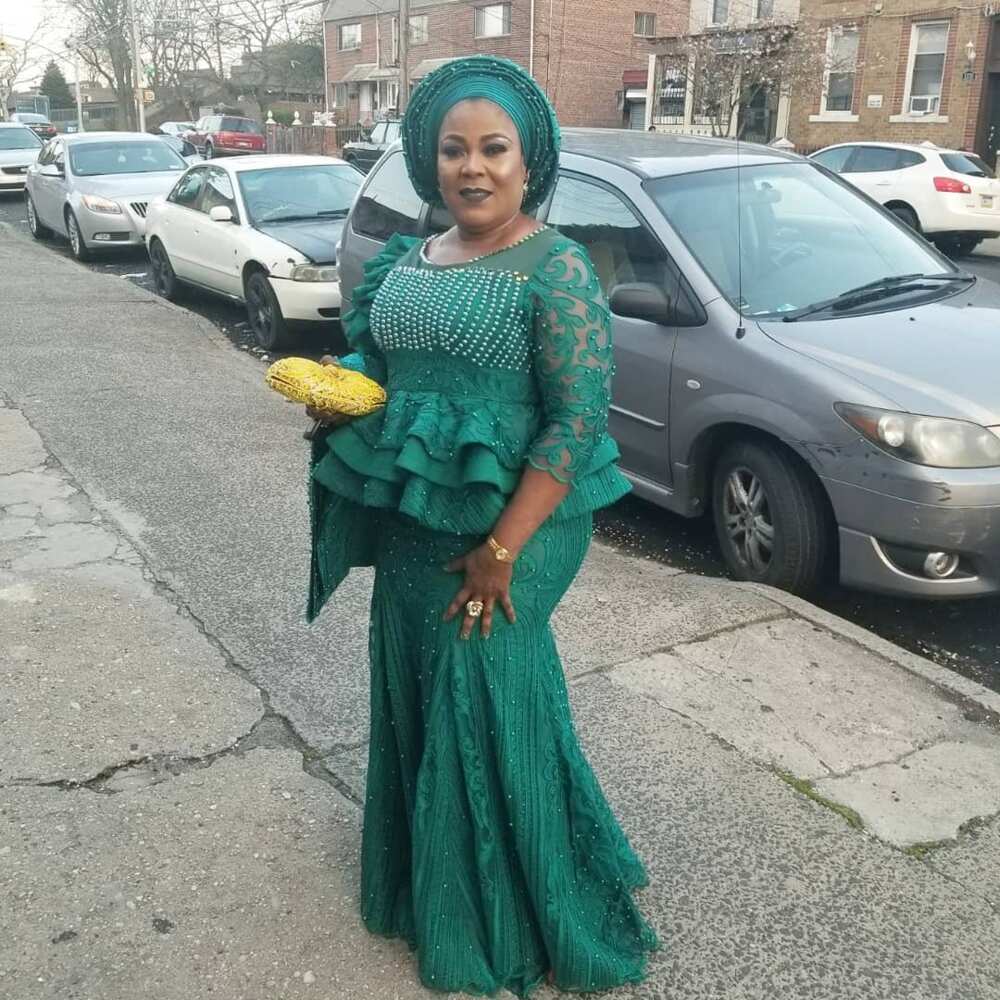 A green lace dress can be worn in different styles. It can be a single-piece gown or a skirt combined with various lace blouse styles. For the case of the gown, any woman who has an eye for fashion can identify the uniqueness and alluring beauty of this style. You can have it as an off-shoulder or one arm design and still look stunning. The gorgeous outfit can also be worn with zero or minimum accessories and still have women asking about the unique style of the dress.
Regarding the Nigerian lace blouse styles combined with a skirt, green colour is one of the best options for this kind of attire. However, you can choose to wear a green blouse and a skirt of a different colour, just make sure the colour you choose coordinates well with green. Furthermore, such a dress can be embellished with pearls or glass beads. This decoration will add even more allure to the lace. The aim is to look sophisticated, and you should ensure that.
Silver lace dress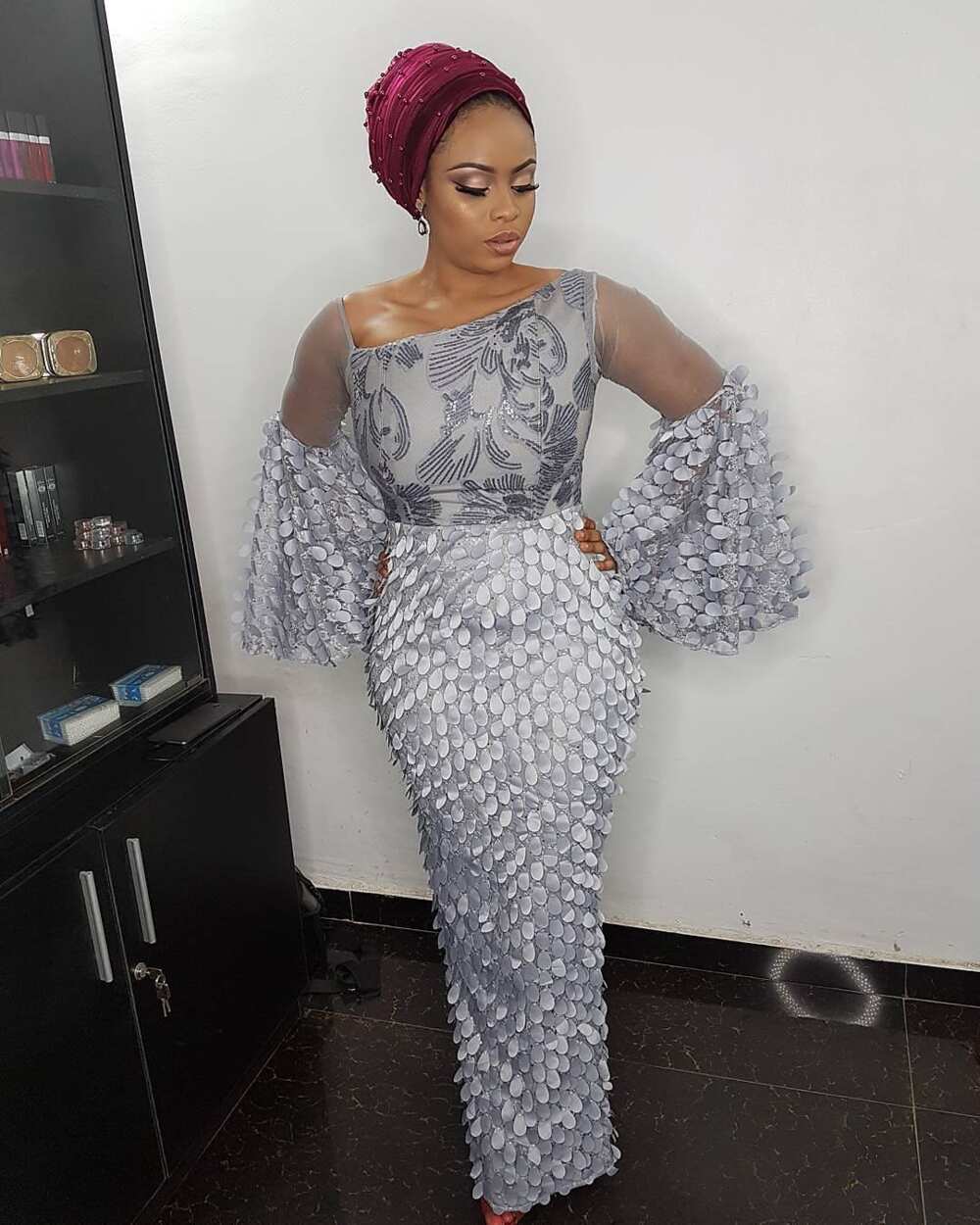 If you are planning to attend a night event, a dinner date or a wedding, you can wear this dress. The elaborate top of the garment makes this look irresistible. It will go well with your dark skin, and it glows and puts you in the spotlight.
Blue lace dress
There are those trends that became outdated after a while, but this is not one of them. Nigerian lace blouse styles in blue colour will never disappear from the wardrobes of female fashion-mongers. To modify this look, you can include a touch of sunny yellow and an off-shoulder design or the one-arm style. These two create a vibrant look that will make you the centre of attention in any gathering or event.
Peplum dress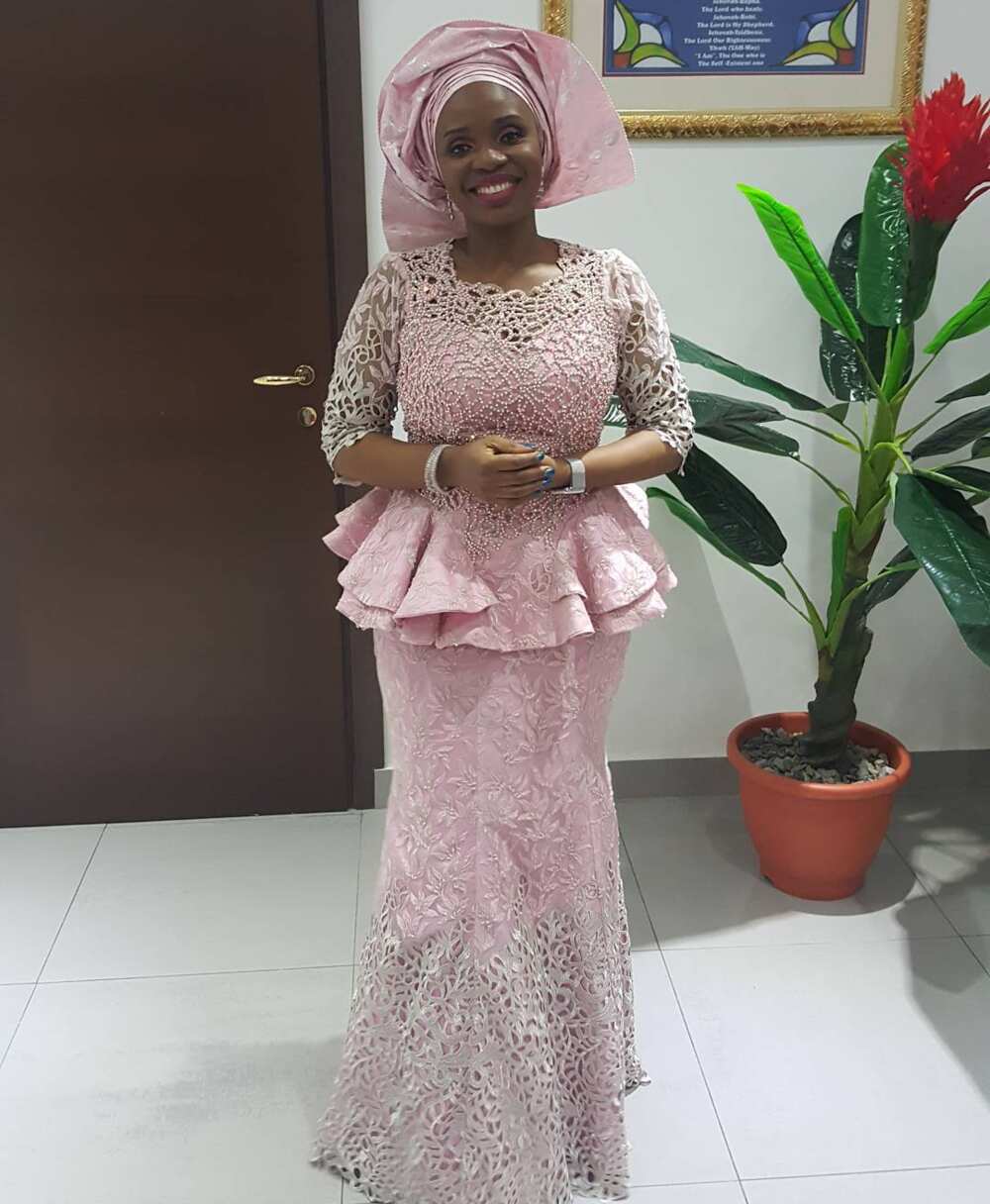 Peplum is one design that most ladies love. It brings out their curvy body shape and covers any flaws on their waist, bringing out that perfect look. A peplum dress usually makes your waist look thinner. It also displays you as a composed lady and one who has her act together. Your mode of dressing cannot define you, but the peplum look gives you a moment to shine in royalty and chicness. Combine this with elaborate latest lace styles, and you will have the most alluring attire at the party.
Black lace dress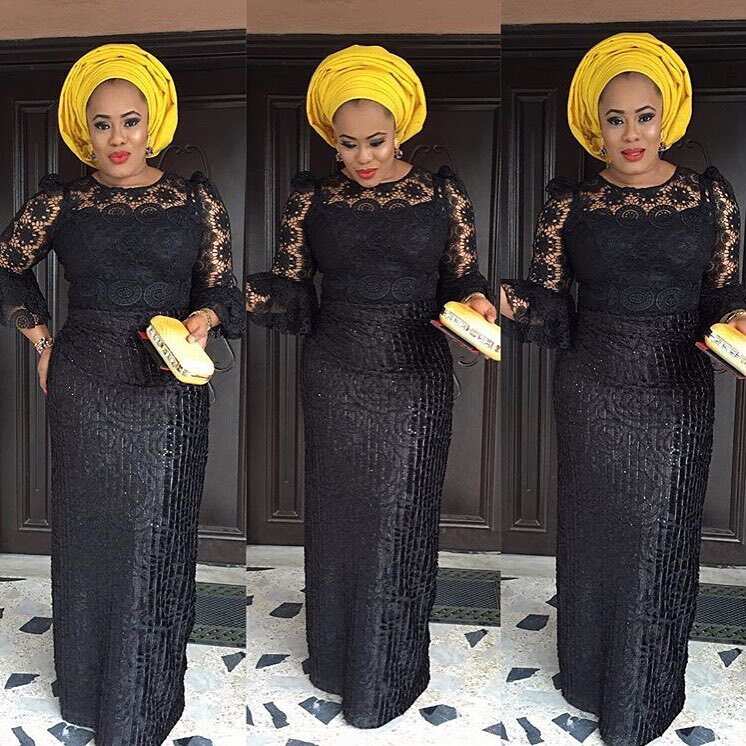 Women usually like their curves well-shaped by their outfits. They, therefore, choose colours and outfit designs that accomplish this goal. A black long lacy dress with short or long sleeves is a perfect example of such an attire. It is one outfit that speaks for itself, even without a lot of accessories. The lacy material, whether on top or at the bottom of the dress, also adds a refined touch. It also generates a new feel of the colour black, which is known to be worn on sad occasions.
Ankara lace style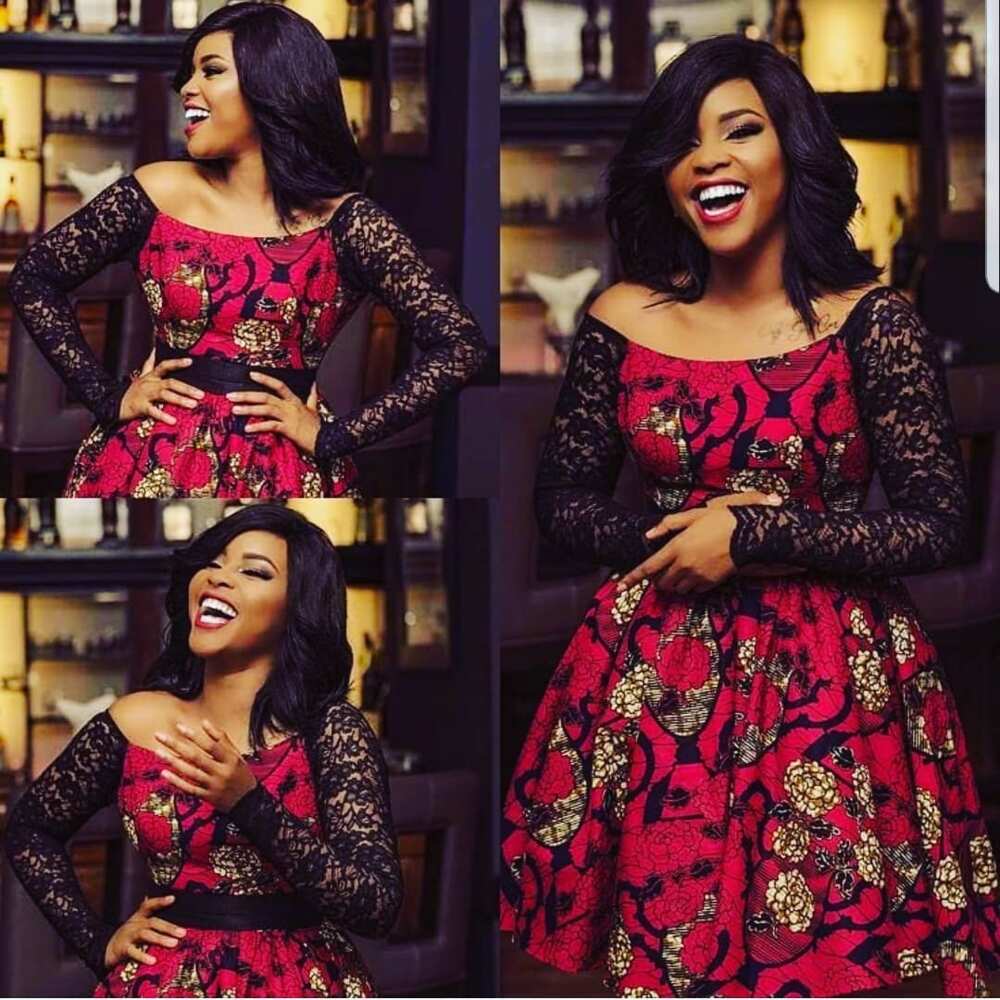 Nigerians are widely known for their trendy wearing of Ankara. They wear it on special occasions and also in casual circumstances. The look has, however, been revamped by incorporating the latest lace styles. The lacy Ankara designs can also be used on dresses and skirts to bring that modern feel. The Ankara style is very calm and classy, and ladies have not given a blind eye to this. It is commonly worn by bridesmaids, fashion icons, and generally all women who have fallen for the look.
Off-shoulder white gown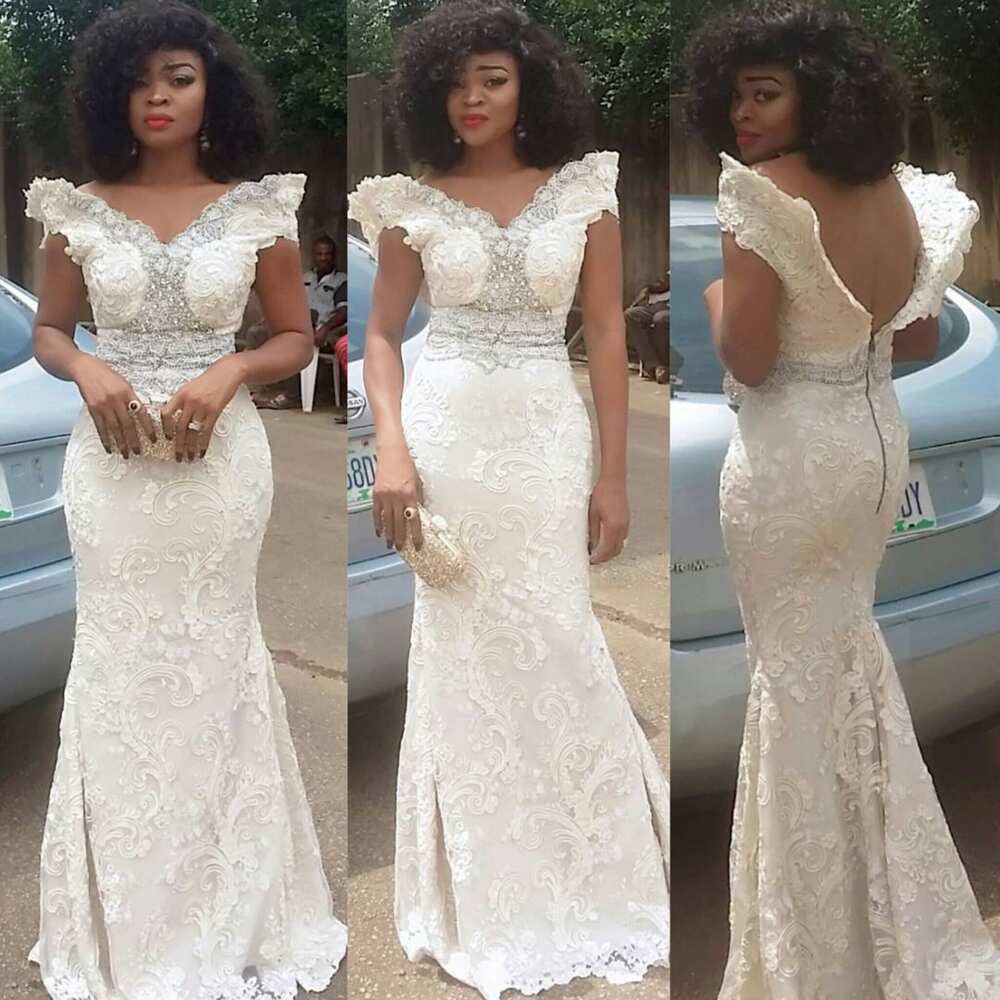 White gowns are cool, and they look good on whoever is wearing the outfit. Many people include other colours to dull the white, but the whole white theme is still epic. Laces, on one hand, have that effect of making a dress or skirt more glamorous. It makes it look less dull but classier and diverse.
In some cases, the white gown can be a long skirt with a white blouse. The top can be off-shoulder or with an asymmetrical embellishment on one of the shoulders. This look is effortless but sophisticated.
Most dress styles for ladies have evolved over the years, and in the modern fashion world, they have broken the monotony of plain gowns, dresses, tops, and skirts. Their elegance has attracted most ladies. The latest lace styles have also continued to evolve as women are still changing their wardrobes to include these new appealing trends.
Source: Legit.ng