Magenta Color Dress Bridal Designs
It's a bliss to be a bride nowadays. You have plenty of wedding dresses and accessories to choose from, dozens of colors and color combinations to match your complexion and mood. There are no limits, you can choose whatever you like. With a blue, yellow, green, magenta colour wedding dress, you are able to create an astonishing look and make your wedding a day to remember!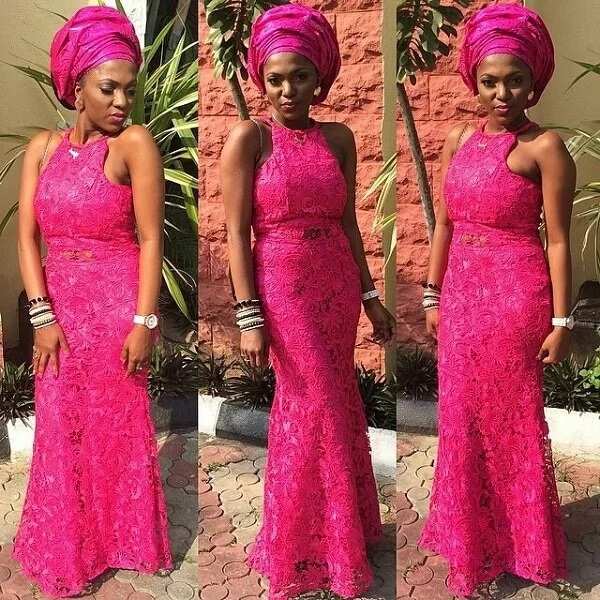 Why Bright Colorful Dresses for a Wedding?
A wedding dress of a bright color creates a special mood. It makes your beauty more prominent. It makes your wedding memorable, especially if your sweetheart wears a matching color.
Of course, it's up to you to choose whether you would prefer a pastel color or something bright and juicy. Sometimes, you can simply add colorful details and accessories to a plain dress to look stunning. 2018 seems to be all about magenta, for example. All the available varieties of this color will be great providing they match and emphasize your beauty.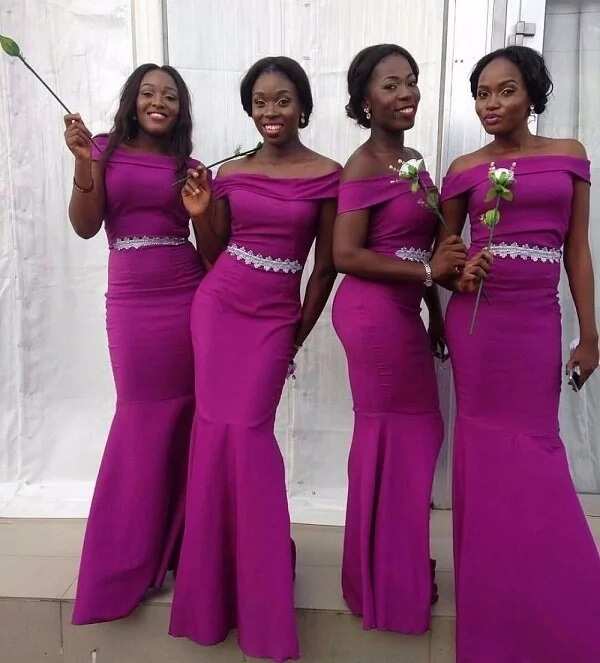 READ ALSO: African traditional wedding dress designs
Let's see what fashion experts say.
Pastel dresses allow you to create a very tender look. For instance, if you choose pale pink, it will create a nice contrast to your skin. With some bright accents, such a dress made of silk or satin can turn you into a perfect flower.
Bright dresses are a choice for confident brides who know exactly what they want their wedding to be like. Typically, such a dress requires the groom to wear a matching outfit.
Multi-colored dresses are a perfect compromise. For instance, if you choose a magenta color combination dress (magenta and white, ivory, pale gold, delicate pink, and so on), your groom and friends will have a choice of colors for their outfits. It looks great when one of the chosen colors is left for details like belts, collars, lace decorations, embroidery, etc.
Color Variations of a Magenta Dress for Wedding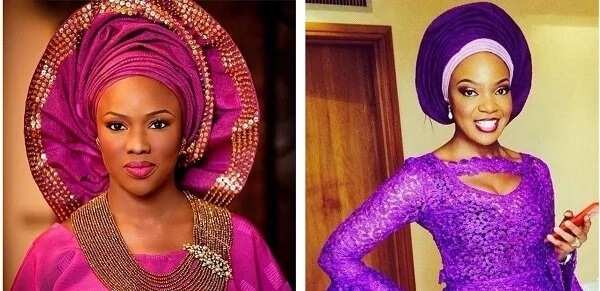 As we have already discovered, magenta is one of the most interesting and recommended colors for a wedding dress. Now, let's see which advantages each shades offers.
Reddish magenta. This is the choice for a passionate beauty who loves everything that attracts attention. This is the color of richness, pure love and honesty. The variety of reddish magenta is quite wide: wine berry, amaranth, claret, or hibiscus. Remember: the tone of your skin (darker or lighter, cooler or warmer) should influence your choice more than anything else.
Pink magenta. Deep pink or fuchsia colors are a magnificent choice for a darker skin tone. They are able to give extra brightness to your eyes and add some maiden vibe to your look. They can be easily and beautifully matched with gold.
Violet magenta. All the possible variations of this shade are definitely a cool color range. This is why they should be matched with darker skin tones. They can be combined with blueish violet tones or even pure blue. You will look fabulous in this color combination!
Bright Details: What and How to Add?
It's not compulsory that your wedding dress be single-toned. You can add bright designs to a white, pale pastel base and create a stunning elegant look. Want to know all the options?
Bright bands. Such details are often used to emphasize a bride's waistline or decorate the top of her dress. Quite often, dresses with skirts tailored to resemble a mermaid tail are decorated with bright bands to accentuate the shape.
Bright designs. Colorful laces on a light background always look feminine and attractive. This makes your dress look tender and elegant. Sometimes, a whole top or a bottom of a bright contrast color can give your look an amazing charm.
A bright belt. If you want to add some accent to your attractive waist, use a bright belt. For instance, if you are wearing a magenta color dress, a lime-green, gold or yellow belt will give you a perfect accent. But you must remember that all the other accessories must match the color of the belt.
A bright bow. A big puffy bow is a perfect decoration for the backside of your dress. Fastened to the waistline, with ends hanging down, it can give a perfect accent to the shapes of your body and the curves you would like to accentuate. A small band at the waistline is an elegant choice for a feminine stylish look.
Wedding Accessories: a Stylish Accent
Accessories add a touch of freshness and elegance to any look. If you want to impress everybody at your wedding party, choose the best matching accessories that will make your look complete.
You will look astonishing if your headpiece, shoes, and your bride's bouquet are of the same color that contrasts but matches the color of your dress. For instance, if you are wearing a pastel pink dress, an amaranth color for accessories will add juiciness and freshness to your look.
You should not mix warm and cool shades, even if they are variations of the same color.
If you are unsure about the most suitable jewelry, choose a pair of big heavy earrings in a golden color. They will match and pleasantly contrast your complexion and you will need nothing else.
When decorating the bouquet, use brightly colored flowers that match your dress. If you have a belt or a band on your waist, use similar bands for the bouquet.
Mixing the Styles and Fashions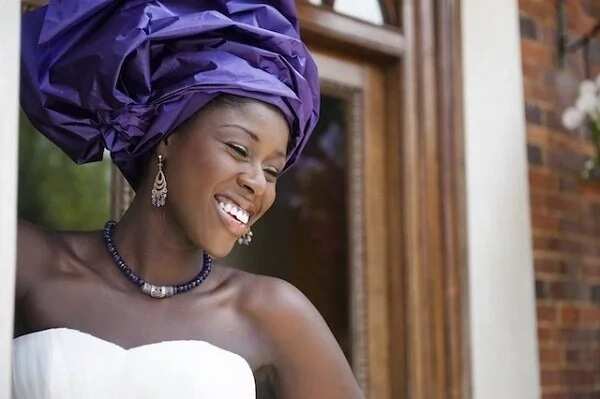 Nowadays, brides all around the world tend to look quite similar in their European style white wedding dresses and with matching accessories. Nobody will argue that it looks great and very stylish. Still, having a traditional wedding in your cultural outfit can be quite beautiful. If you want, you can even mix the styles. For instance, wear a European dress with a charming traditional African headpiece or local jewelry. It will be a stunning mixture!
What about Your Guests' Outfits?
There is a tradition for the groomsmen and bridesmaids to get dressed in the same specially chosen color. You can try it but it's up to you to decide whether they will be similar to the color of your wedding dress or different in order to create a contrast.
In most cases, it looks much better if friends are dressed in a matching but different color that creates a kind of background for the bride and her groom. For example, if you choose a magenta wedding dress, having your girlfriends dressed in lime-green or lemon yellow will be a perfect idea. Besides, it's better to keep the same color scheme: if you are dressed in a pale hue, your friends should be dressed in pastel tones as well. If you are wearing something bright, they should wear bright colors, too.
Finally, you may have your bridesmaids dressed in the color of your accessories with details of the color of your dress. For instance: your dress is violet with golden-yellow details, so their dresses should be golden-yellow with violet details.
Of course, it makes sense to ensure that your friends don't look brighter than you and your groom. You should always be the center of attention at the event.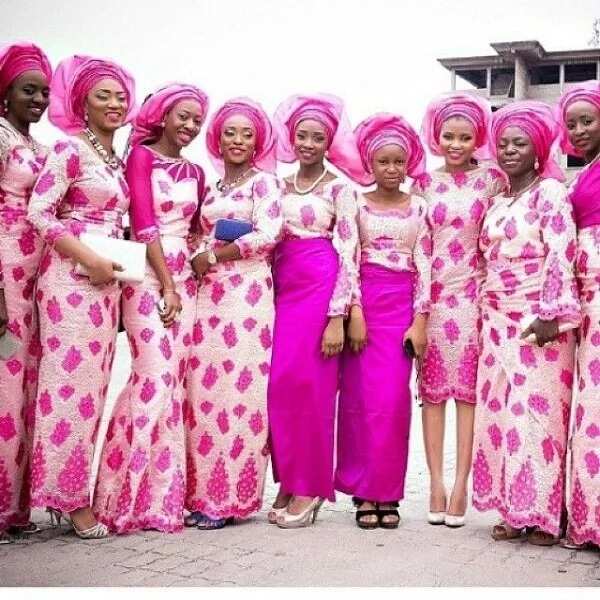 READ ALSO: Nigerian bride rocks wedge sneakers on her wedding day (photos)
Your wedding is a special day for you. Surely, you want to be the most beautiful bride in the world. Nothing should spoil your happiness and confidence in your beauty. This is why you must choose the style and color of dress you like best of all and shine brighter than everyone.
Source: Legit.ng