50 inspirational never give up quotes and sayings
If you feel like you have failed and have no strength to get back on your feet, if you feel like everything in the world is against you, it is all right. It is human nature to fail from time to time; we are not perfect. What matters is the ability to get up and start again. Even if you feel weak and helpless, our never give up quotes will inspire you to move on and become the strong and successful person you deserve to be.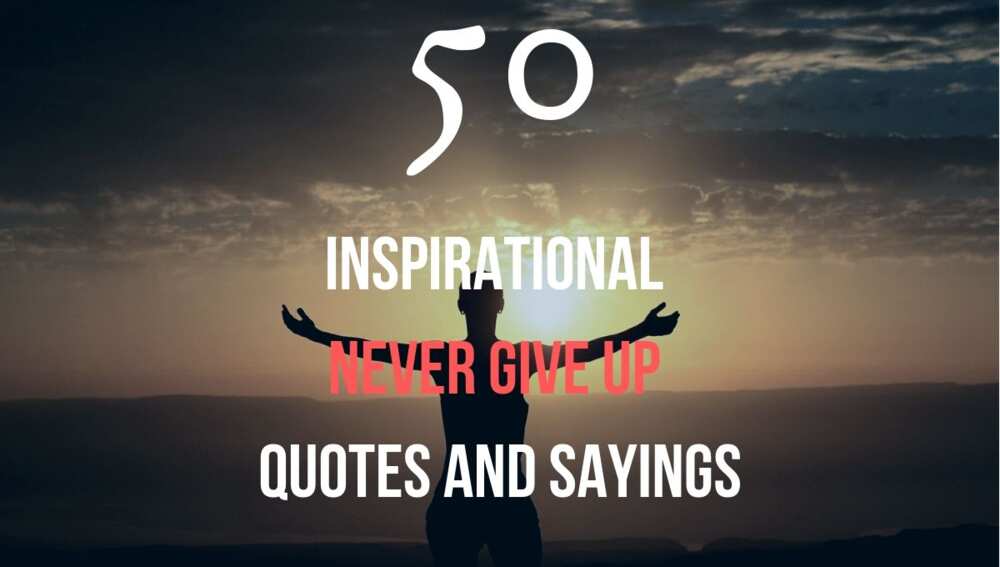 For generations, humanity gathered bits of wisdom in the form of quotes and sayings. Today, you have a unique ability to experience this wisdom and use it to overcome your personal issues. These never give up hope quotes are ideal for this task.
Universal quotes to never give up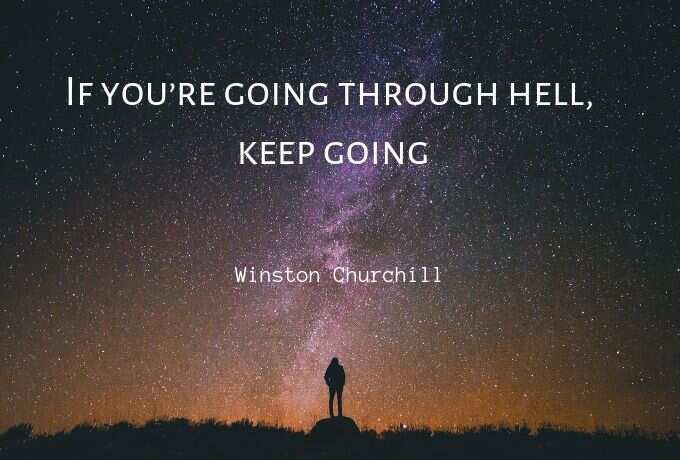 A person may find himself or herself on the verge of surrendering in different situations and relevance to various activities. The following never give up quotes and sayings will give you the strength to carry on with your diet, to succeed in the sports you are doing, or to save your relationships.
"If you're going through hell, keep going." – Winston Churchill
"Stay true to yourself, yet always be open to learn. Work hard, and never give up on your dreams, even when nobody else believes they can come true but you. These are not clichés but real tools you need no matter what you do in life to stay focused on your path." – Philip Sweet
"When you have lost hope, you have lost everything. And when you think all is lost, when all is dire and bleak, there is always hope." – Pittacus Lore
"There is no substitute for hard work. Never give up. Never stop believing. Never stop fighting." – Hope Hicks
"Most of the important things in the world have been accomplished by people who had kept on trying when there seemed to be no hope at all." – Dale Carnegie
"Never give up. There are always tough times, regardless of what you do in anything in life. Be able to push through those times and maintain your ultimate goal." – Nathan Chen
"Never, absolutely never, give up! Never give in no matter what! Fight it through! And I promise something with all of my heart – God will help you." – Kathryn Kuhlman
"It does not matter how slowly you go as long as you do not stop." – Confucius
"A person can fail many times, but they are not a failure until they give up."
"Good things come to those who believe, better things come to those who are patient, and the best things come to those who don't give up."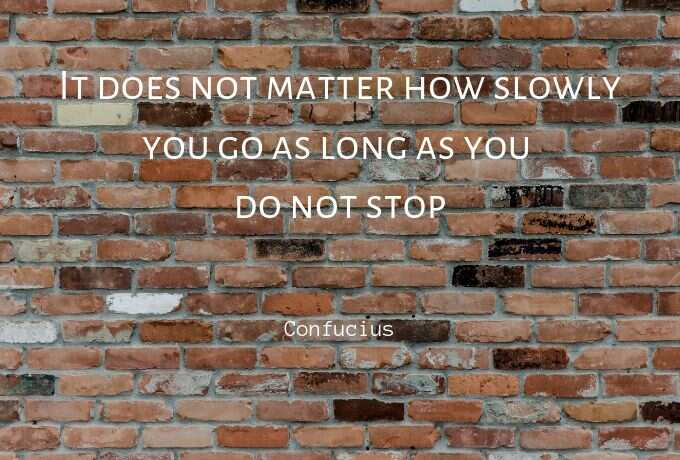 "Forget all the reasons it won't work and believe the one reason that it will."
"In the confrontation between the stream and the rock, the stream always wins – not through strength but by perseverance." – H. Jackson Brown
"The one who falls and gets up is so much stronger than the one who never fell."
"Fall seven times, stand up eight."
"Everything you want is worth fighting for. So, fight even if it kills you, for nothing beautiful ever reveals itself without a little pain." – R. A. Drake
"You just can't beat the person who won't give up." – Babe Ruth
"It's not the strongest or the smartest or the fastest who always wins. But it's the one who never gives up."
"Things don't go wrong and break your heart so can become bitter and give up. They happen to break you down and build you up so you can be all that you were intended to be."
"The number one skill in life is not giving up." – Bryant McGill
"Never give up hope. Situations can change overnight; problems can dissolve in the light of a new day's sun." – Leon Brown
Never give up on your dreams quotes that will strengthen your spirit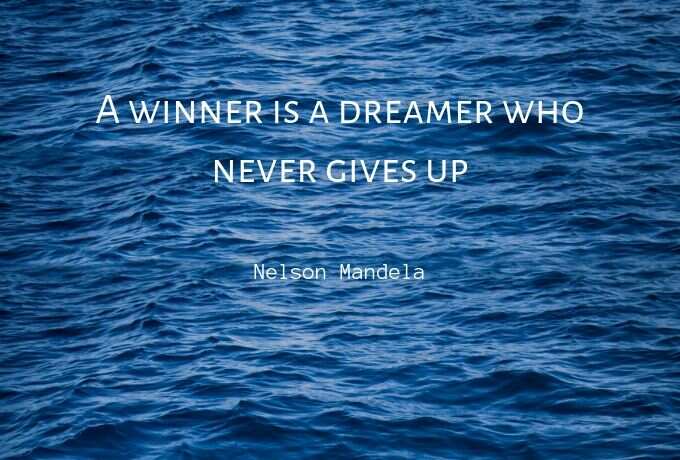 Sometimes, it may be challenging to carry on with your routine life and to pursue your dreams at the same time. At some instances, these dreams may seem so far away you begin to consider them unreachable. If you have found yourself in such a situation, these never give up on your dream quotes and sayings will inspire you to follow your dreams against all the odds.
READ ALSO: 70 best emotional quotes and sayings
"Never give up on what you really want to do. The person with big dreams is more powerful than one with all the facts." – H. Jackson Brown, Jr.
"A winner is a dreamer who never gives up." – Nelson Mandela
"If you give up, it means you never wanted it."
"Only dead fish go with the flow."
"Understand that it is OK to be scared or uncertain; however, right beyond those barriers, ultimately lie your dreams." – Josh Hinds
"It's a slow process, but quitting won't speed it up."
"Magic happens when you don't give up, even though you want to."
"Success is the result of perfection, hard work, learning from failure, loyalty, and persistence." – Colin Powell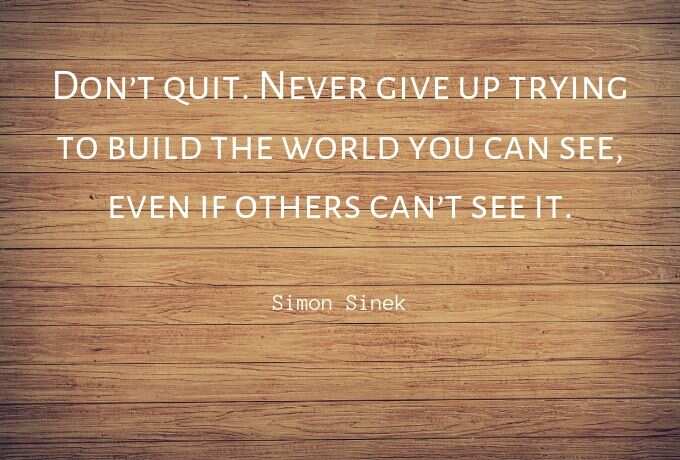 "In any given moment we have two options: to step forward into growth or to step back into safety." – Abraham Maslow
"It always seems impossible until it's done." – Nelson Mandela
"Never give up on a dream just because of the time it will take to accomplish it. The time will pass anyway." – Earl Nightingale
"Don't quit. Never give up trying to build the world you can see, even if others can't see it." – Simon Sinek
Never give up on something you really want. It's difficult to wait, but worse to regret.
"We either make ourselves miserable, or we make ourselves strong. The amount of work is the same." – Carlos Castaneda
"I may not have gone where I wanted to go, but I think I have ended up where I needed to be." – Douglas Adams
Impossible only means you haven't found the solution yet.
Inspiring never give up on love quotes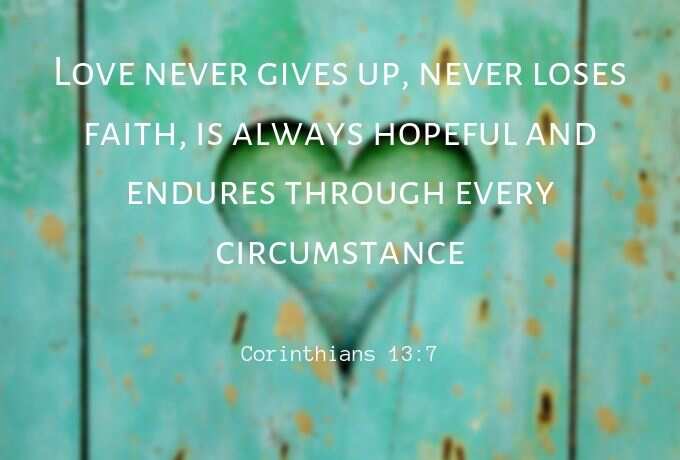 Building relationships with family, friends, or lovers is not an easy task. You need all the patience and understanding you have to reach success in such endeavours. If you feel like you no longer have the strength of spirit to continue a relationship, the following never give up on someone quotes will support you and rekindle your determination to stay with the person you love the most.
READ ALSO: Top 20 Bible verses on healing
"Don't give up on the people you love. Your patient love and faithfulness may be exactly what they need to make a complete turnaround." – Joyce Meyer
"If you love someone soulfully never give up on them. Soulful love is a bright flame that enlightens us from within and gives our soul the strength to come out of its hiding place and lead us to a divine awakening." – Aarti Khurana
"I suspect the most we can hope for, and it's no small hope, is that we never give up, that we never stop giving ourselves permission to try to love and receive love." – Elizabeth Strout
Just because somebody doesn't love you the way you want them to, doesn't mean they don't love you with everything they have.
Love is not running away or giving up; it's standing and fighting for every moment.
If you really love someone, the number of chances you should give them is infinite.
Don't let people pull you into their storm. Pull them into your peace.
A true relationship is two not perfect people refusing to give up on each other.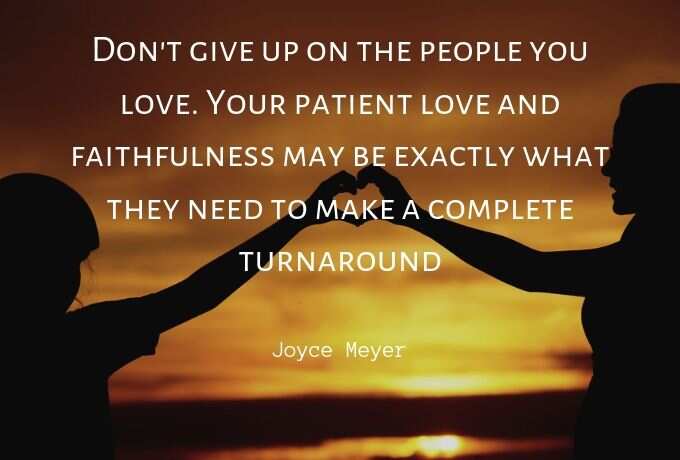 "Until we have seen someone's darkness, we don't know who they are. Until we have forgiven someone's darkness, we don't really know what true love is." – Marianne Williamson
A perfect relationship isn't actually perfect at all; it consists of two people who never give up on each other despite any hurt or pain.
"Love never gives up, never loses faith, is always hopeful and endures through every circumstance." – Corinthians 13:7
There are many things in life that will catch your eye, but only a few will catch your heart. Pursue those.
Never give up. Trying to do what you really want to do where there are love and inspiration, you cannot go wrong.
You can't just give up on someone because the situation's not ideal. Great relationships aren't great because they have no problems. They're great because both people care enough about the other person to find a way to make it work.
Never give up quotes are a powerful tool that you can use whenever you find yourself on the verge of surrendering. They will restore your will and determination. With their help, you will become invincible and will reach any dream you have.
READ ALSO: 25 funny coffee quotes and sayings
Source: Legit.ng