50+ deep resilience quotes to help you overcome any difficulties
There are times when life tends to knock us down. When this happens, it is up to us to determine how to respond to the situation. Resilience quotes come in handy as they eliminate negative thoughts and remind us to keep going despite what we could be going through.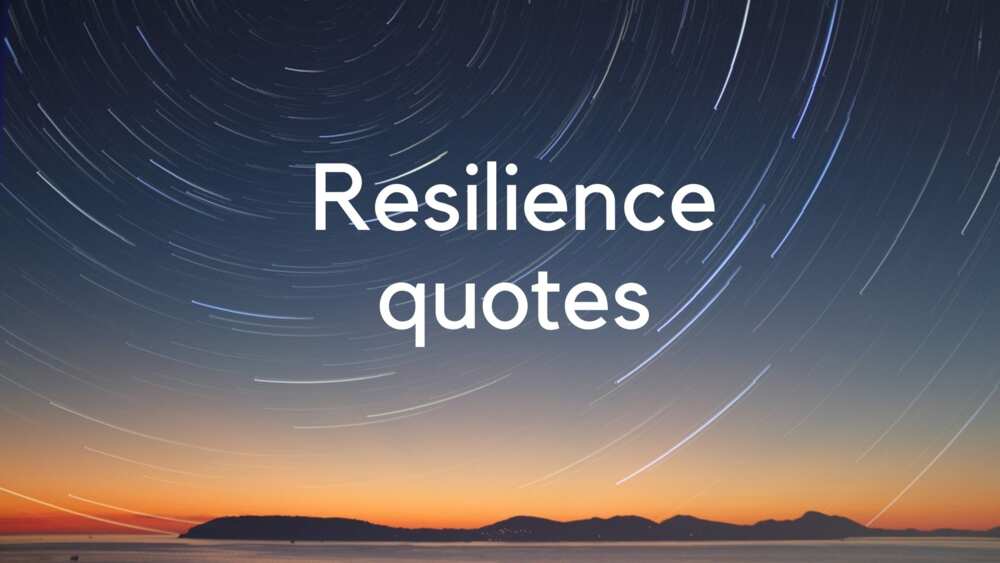 A single quote about resilience can speak to the heart and boost one's inner strength. This can go a long way in making sure that one keeps going, never losing hope or giving up.
The best resilience quotes
When times get tough, having a source of inspiration is a great gift. Which are the best resilience quotes?
20 inspirational quotes about resilience
Take a look at these amazing resilient quotes.
Hold yourself responsible for a higher standard than anybody else expects of you. Never excuse yourself. Never pity yourself. Be a hard master to yourself and be lenient to everybody else.
Life does not get easier or more forgiving; we get stronger and more resilient.
No matter how menacing a situation may appear, it does not entirely own us. It cannot take away our freedom to respond or our power to take action.
Resilience is an inference based on evidence that some individuals have a better outcome than others who have experienced a comparable level of adversity.
The difference between a strong man and a weak one is that the former does not give up after a defeat.
You may have to fight a battle more than once to win it.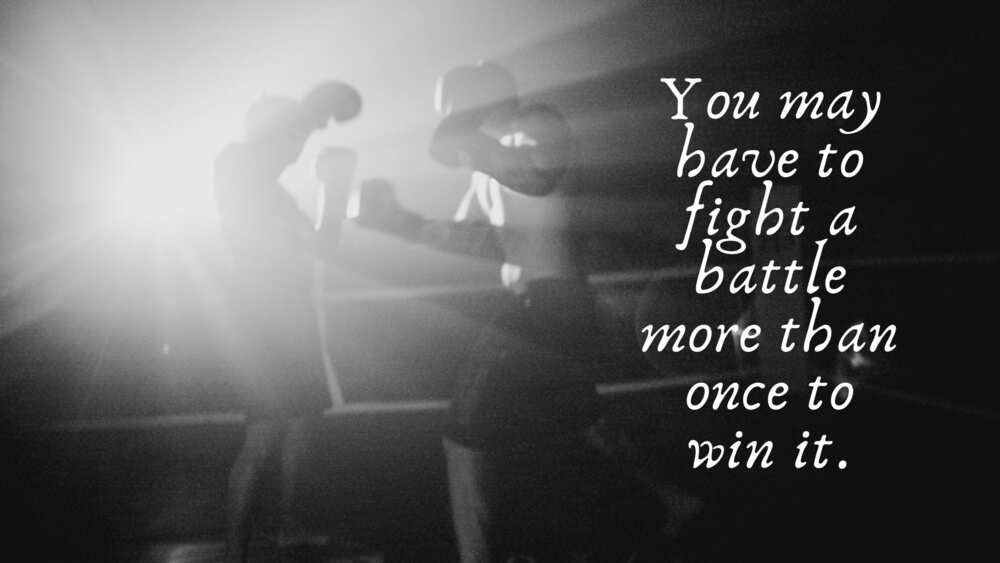 If you cannot fly, then run; if you cannot run, then walk; if you cannot walk, then crawl, but whatever you do, you have to keep moving forward.
When we learn how to become resilient, we understand how to embrace the beautifully broad spectrum of the human experience.
Sometimes carrying on, just carrying on, is a superhuman achievement.
Master yourself, and become king of the world around you. Let no odds, exile, doubt, or fear prevent you from accomplishing your dreams. Never be a victim of life; be its conqueror.
When you long for life without difficulties, remember that oaks grow strong in contrary winds, and diamonds are made under pressure.
Strong people alone know how to organize their suffering so as to bear only the most necessary pain.
Like tiny seeds with potent power to push through tough ground and become mighty trees, we hold innate reserves of unimaginable strength.
Success consists of getting up just one more time than you fall.
A hero is an ordinary individual who finds the strength to persevere and endure in spite of overwhelming obstacles.
We do not have to become heroes overnight. Just a step at a time, meeting each thing that comes up, seeing it is not as dreadful as it appeared, and discovering we have the strength to stare it down.
Whatever the mind of man can conceive and believe, it can achieve.
Resilience is not a single skill. It is a variety of skills and coping mechanisms. To bounce back from bumps in the road and failures, you should focus on emphasizing the positive.
Character cannot be developed in ease and quiet. Only through experience of trial and suffering can the soul be strengthened, ambition inspired, and success achieved.
Hang on to your hat. Hang on to your hope. And wind the clock, for tomorrow is another day.
20 motivational quotes on resilience
These motivational words will keep you going even when you think you cannot move forward anymore.
This is no time for ease and comfort. It is time to dare and endure.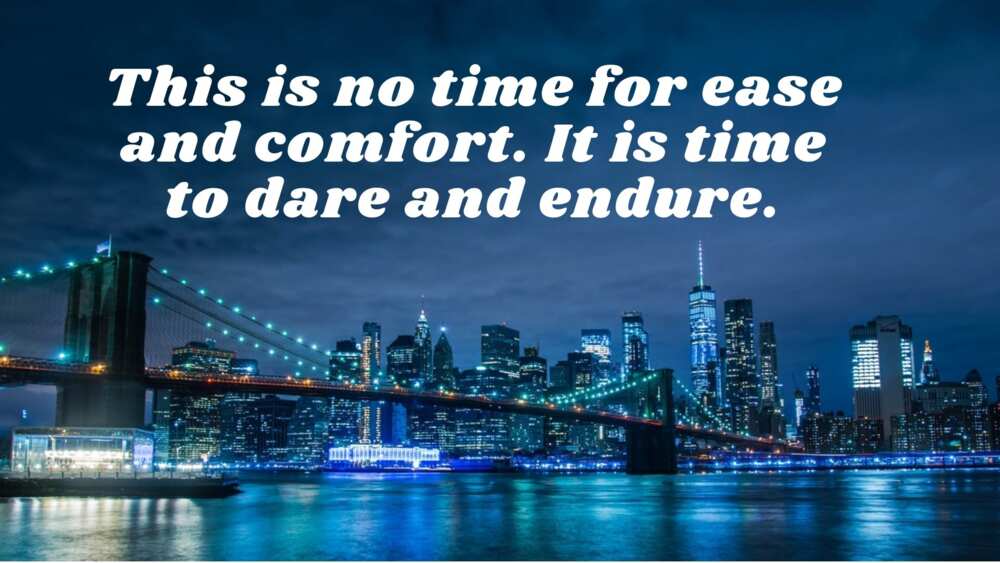 It is your reaction to adversity, not adversity itself, that determines how your life's story will develop.
Resilience is accepting your new reality, even if it is less good than the one you had before. You can fight it, you can do nothing but scream about what you have lost, or you can accept that and try to put together something good.
Do not judge me by my success; judge me by how many times I fell and got back up again.
We all have battles to fight. And it is often in those battles that we are most alive: it is on the frontlines of our lives that we earn wisdom, create joy, forge friendships, discover happiness, find love, and do purposeful work.
When one door of happiness closes, another opens; but often, we look so long at the closed door that we do not see the one which has been opened for us.
Forget mistakes. Forget failures. Forget everything except what you are going to do right now, and do it. Today is your lucky day.
Everyone has the ability to increase perseverance to stress. It requires hard work and dedication, but over time, you can equip yourself to handle whatever life throws your way without adverse effects on your health. Training your brain to manage stress will not just affect the quality of your life, but perhaps even the length of it.
It is really wonderful how much resilience there is in human nature. Let any obstructing cause, no matter what, be removed in any way, even by death, and we fly back to the first principles of hope and enjoyment.
Although the world is full of suffering, it is also full of the overcoming of it.
I spent my young adult years postponing many of the small things that I knew would make me happy. I was fortunate enough to realize that I would never have the time unless I made the time. And then the rest of my life began.
Part of resilience is deciding to make yourself miserable over something that matters or deciding to make yourself miserable over something that does not matter.
On the other side of a storm is the strength that comes from having navigated through it. Raise your sail and begin.
As much as talent counts, effort counts twice.
Out of suffering have emerged the strongest souls; the most massive characters are seared with scars.
Resilience is very different from being numb. It means you experience, feel, fail, hurt, fall, but you keep going.
When we tackle obstacles, we find hidden reserves of courage that we did not know we had. And it is only when we are faced with failure do we realize that these resources were always there within us. We only need to find them and move on with our lives.
The human capacity for burden is like bamboo; far more flexible than you would ever believe at first glance.
Courage does not always roar. Sometimes, courage is the quiet voice at the end of the day saying 'I will try again tomorrow.'
The moment we believe that success is determined by an ingrained level of ability as opposed to resilience and hard work, we will be brittle in the face of adversity.
20 empowering quotations on resilience
Once in a while, we all need some encouragement to endure tough times.
Change what you can, manage what you cannot.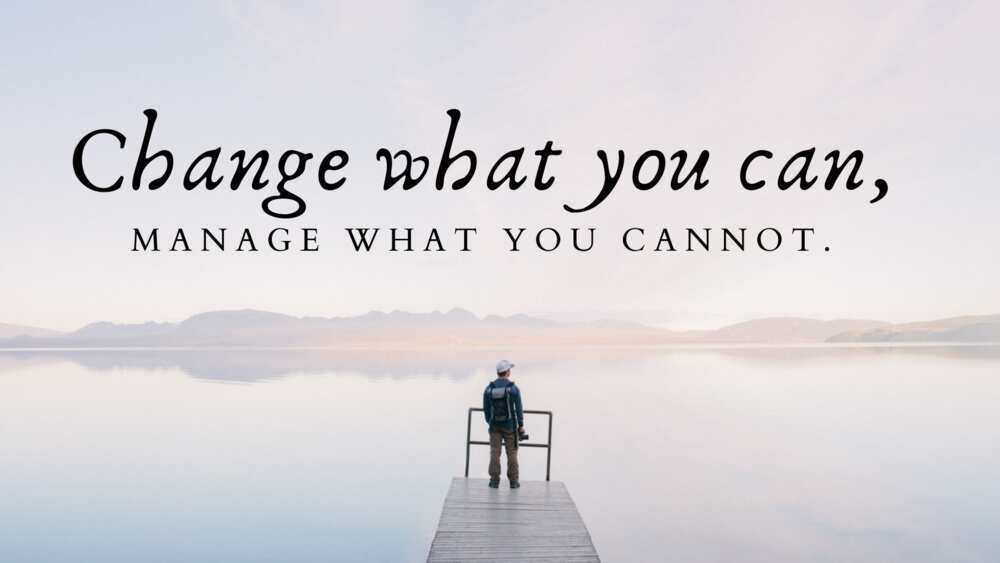 No matter how much falls on us, we keep plowing ahead. That is the only way to keep the roads clear.
Sometimes the world can feel like a big battlefield. There are days when you will fall, but that's okay. There surely are more days when you are destined to succeed.
Successful people demonstrate their resilience through their dedication to making progress every day, even if that progress is marginal.
Perseverance is knowing that you are the only one with the power and responsibility to pick yourself up.
She stood in the storm, and when the wind did not blow her way, she adjusted her sails.
The greatest glory in living lies not in never falling but in rising every time we fall.
Experience life in all possible ways; good-bad, bitter-sweet, dark-light, summer-winter. Experience all the dualities. Do not be afraid of experience, because the more experience you have, the more mature you become.
Courage is not the absence of fear but rather the judgment that something else is more important than fear.
It may sound strange, but many champions are made so by setbacks.
The best people possess a feeling for beauty, the courage to take risks, the discipline to tell the truth, and the capacity for sacrifice. Ironically, their virtues make them vulnerable; they are often wounded, sometimes destroyed.
You must bear losses like a soldier, bravely and without complaint, and just when the day seems lost, grab your shield for another stand, another thrust forward. That is the juncture that separates heroes from the merely strong.
No matter how you define success, you will need to be empowered, authentic, and limber to get there.
Success is walking from failure to failure with no loss of enthusiasm.
Change what you can, manage what you cannot.
No matter your current condition, how or where you grew up, or what education or training you feel you lack, you can be successful in your chosen endeavor. It is spirit, grit, and hardiness that matter more than where you start.
The cave you fear to enter holds the treasure you seek.
If the fire in your heart is strong enough, it will burn away any obstacles that come your way.
Our greatest weakness lies in giving up. The most certain way to succeed is always to try just one more time.
Indeed, this life is a test. It is a test of many things; our convictions and priorities, our faith and our faithfulness, our patience and our resilience, and in the end, our ultimate desires.
You cannot lose confidence in yourself. When you get knocked down, you have got to keep getting back up.
Resilience quotes help us develop an attitude of perseverance. They remind us that it is important to let go of things that no longer serve our purpose, as well as the importance of practicing habits that increase our happiness.
READ ALSO: 50+ wonderful new day quotes to motivate you to do great things
Legit.ng recently reported on how instrumental sending new day quotes to your your friends, siblings, parents, or partner can be to their happiness. Therefore, be that particular person who motivates or brings joy to people's lives using quotes.
Every morning begins with numerous possibilities. Therefore, reminding your loved ones of such possibilities through new day quotes would inspire them significantly.
Source: Legit.ng