Sunflower tattoo: meaning and top 50 designs
Flowers are arguably the prettiest sources of delight and inspiration. Tattoos, on the other hand, are among the trendiest items of the modern era. A combination of these two elements is bound to culminate into something beautiful. We have all probably come across a sunflower tattoo somewhere, big or small, coloured or monochrome and in pretty much any part of the body. Just how much do you know about this sought-after tattoo design?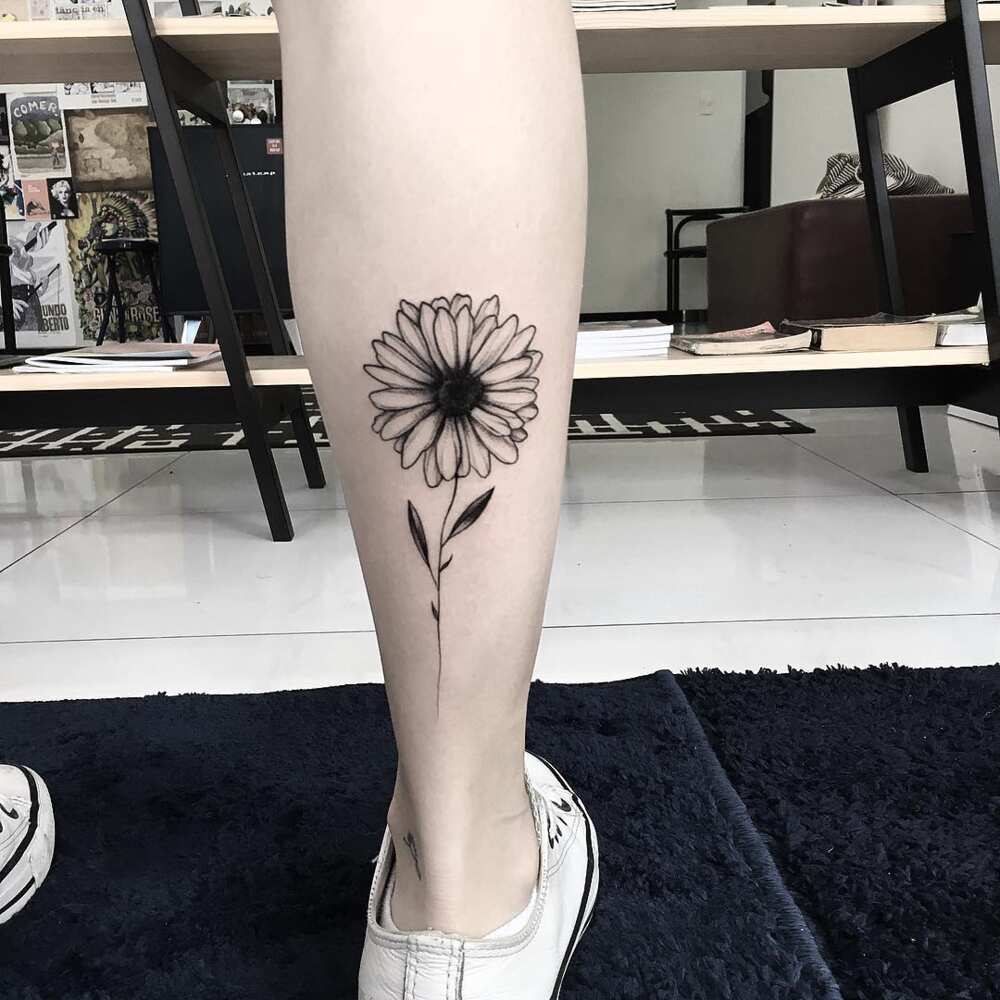 The shape of the sunflower, as well as its bright yellow color, evokes warm emotions associated with positivity. The meaning behind each tattoo varied depending on factors such as cultural background, religion, beliefs, and intention. Different people have different preferences regarding the size, colour, and part of the body to have their sunflower tattoo drawn.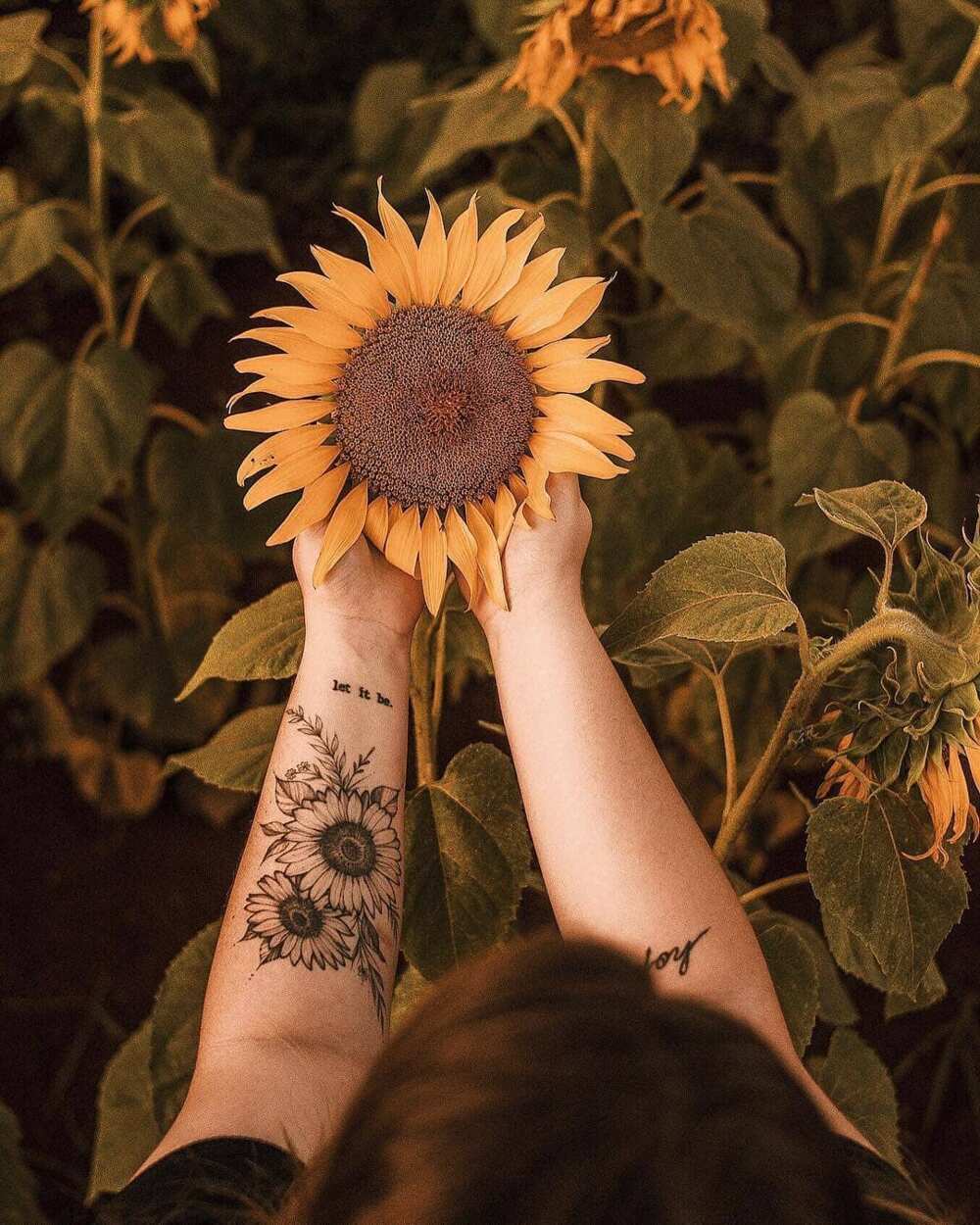 This combo with two buds looks great from the mid-arm to the wrist.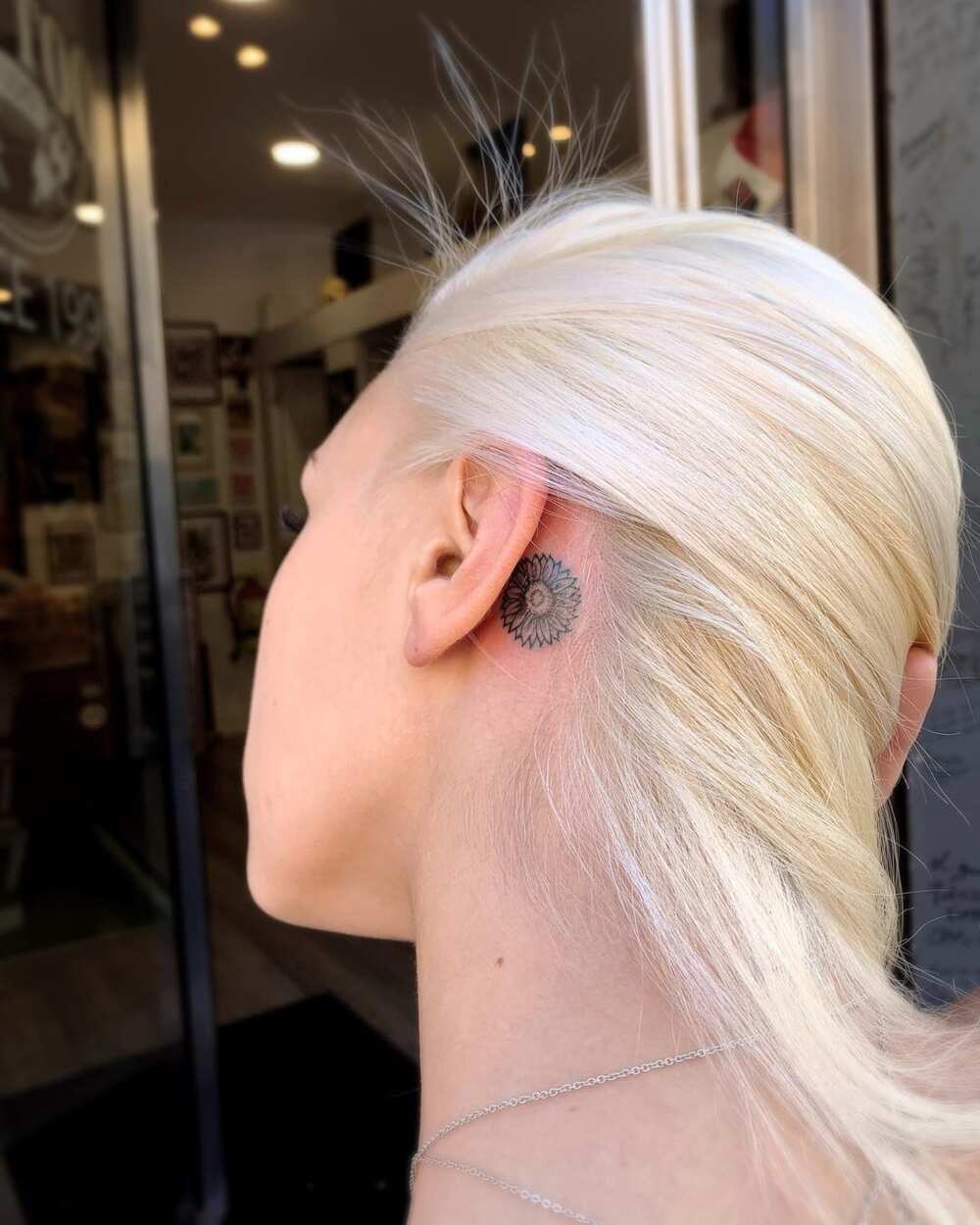 A small-sized sunflower behind the ear shows sophistication.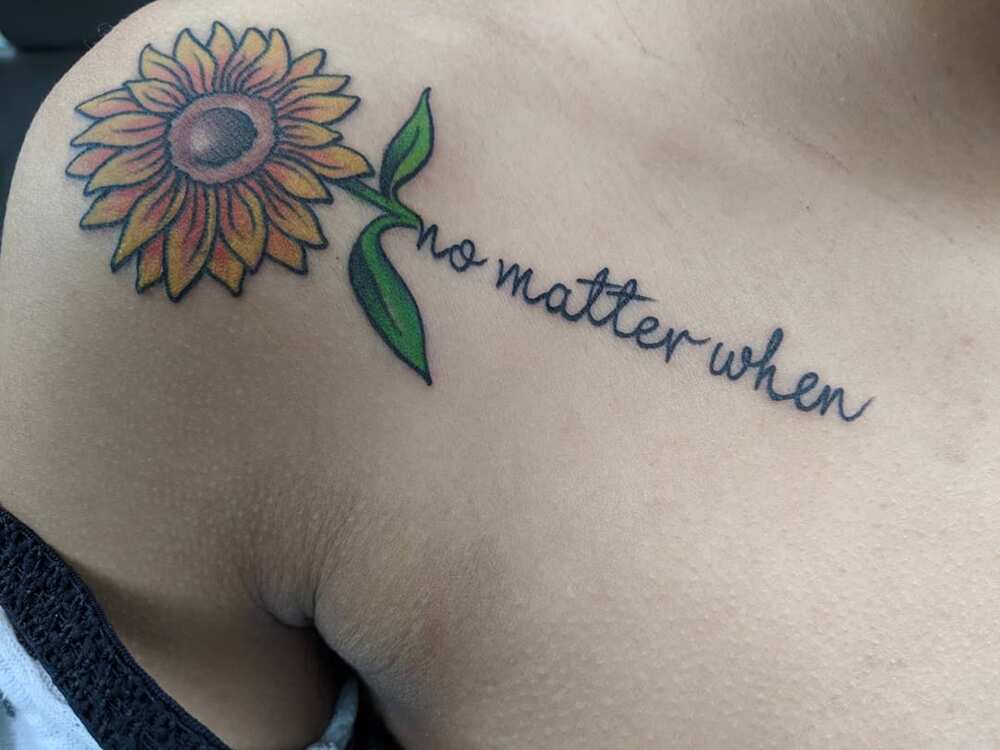 On this design, a line of words replaces the conventional stalk.
Modern-day sunflowers meaning
Sunflowers are associated with a certain warmth and optimism and have carried closely-related meanings in different cultures. Here are the most common ones: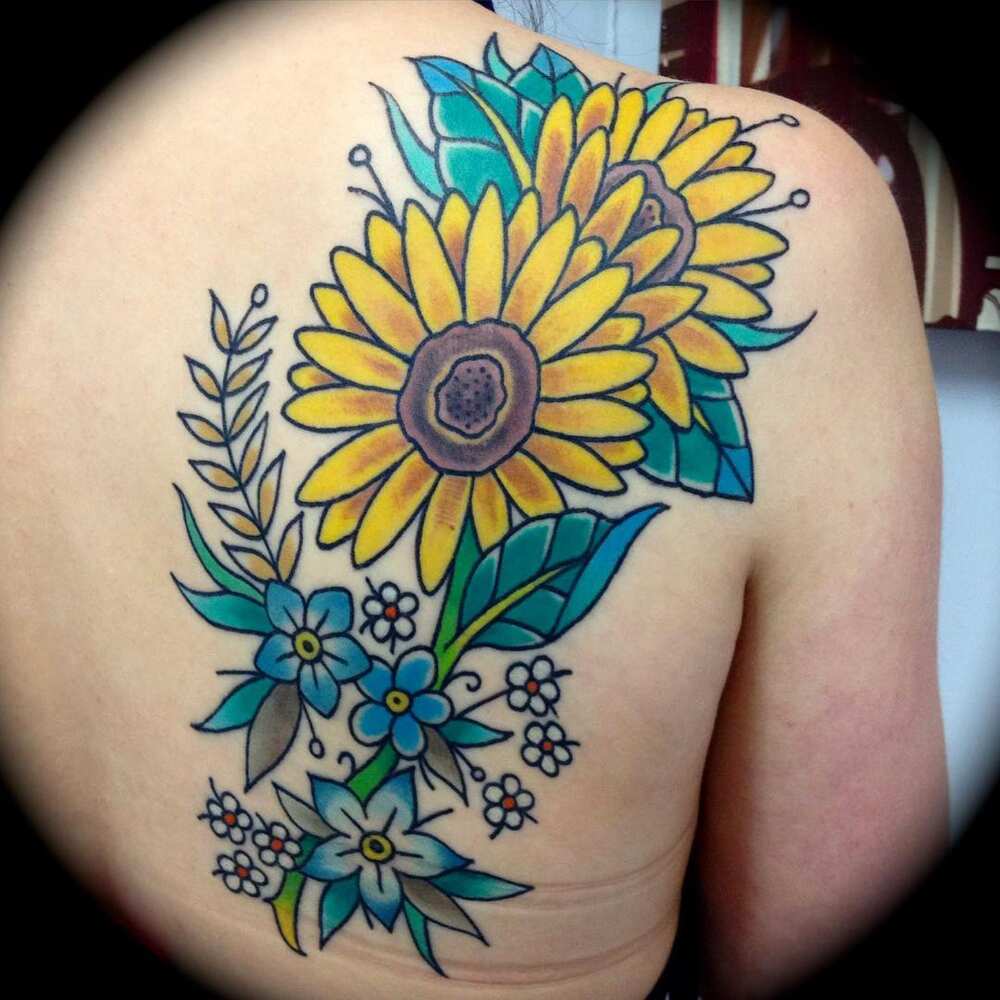 This colourful design covers a large part of the back.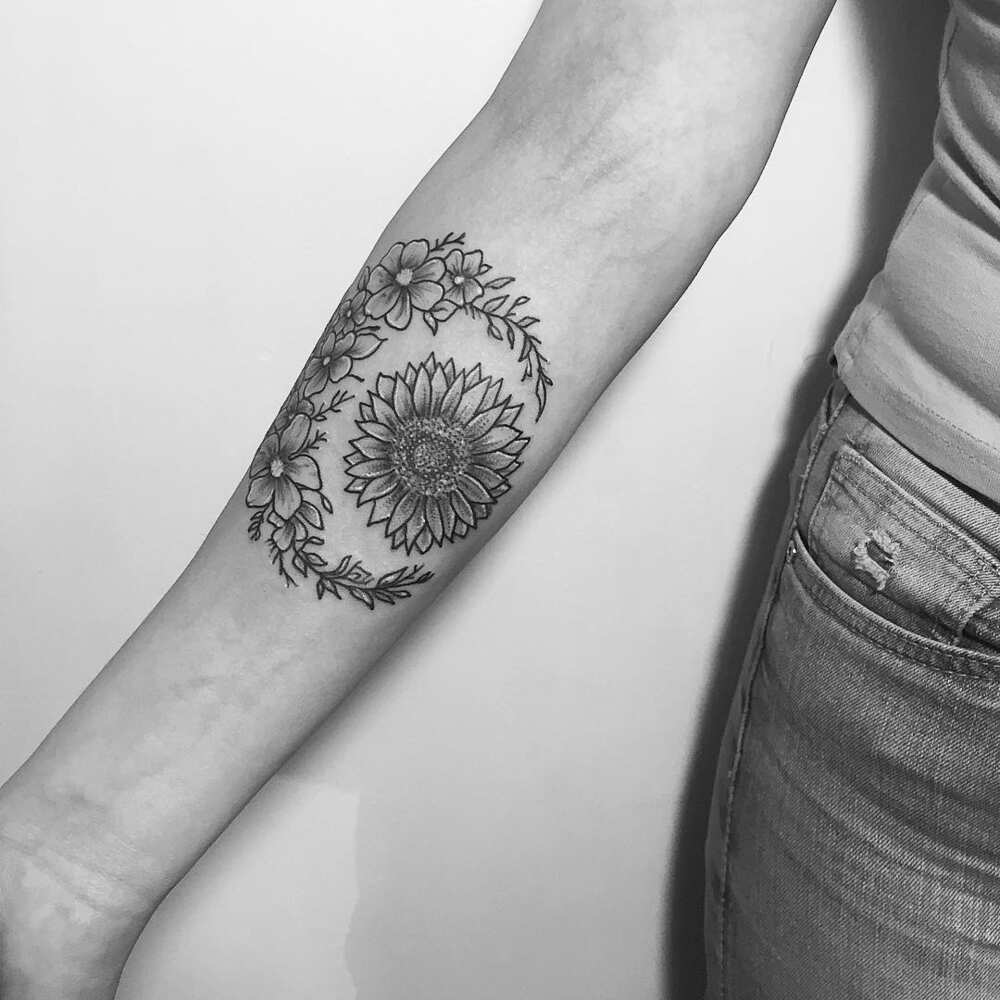 You can also choose this design where the sunflower is surrounded by smaller buds of a different type.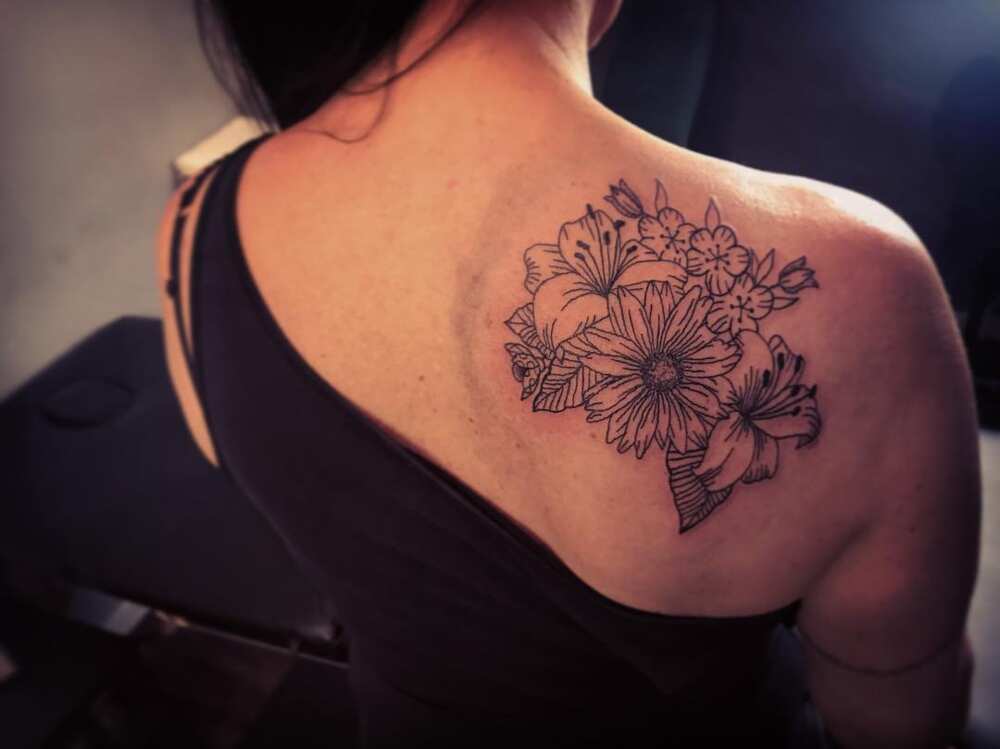 This is another design where the tattoo's appeal is increased by mixing the flower varieties in a single image.
Sunflower happiness
There is a general notion that tattoo wearers who choose this flower over any other design are generally jovial and optimistic people. They seek ways to live their lives to the fullest and are easily adaptable to any situation.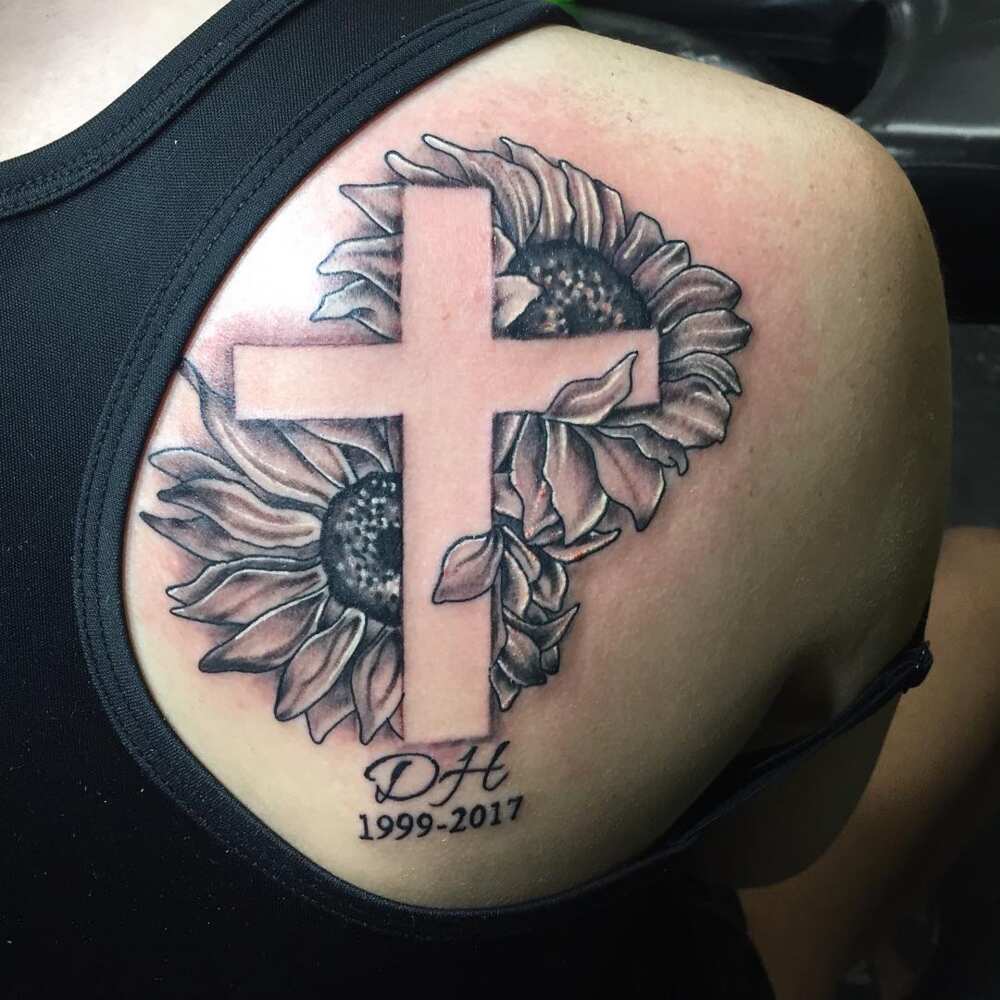 In this design, the sunflower is added to a different piece of art (cross) to create a remembrance tattoo for a loved one.
READ ALSO: Bible verse tattoos for guys and females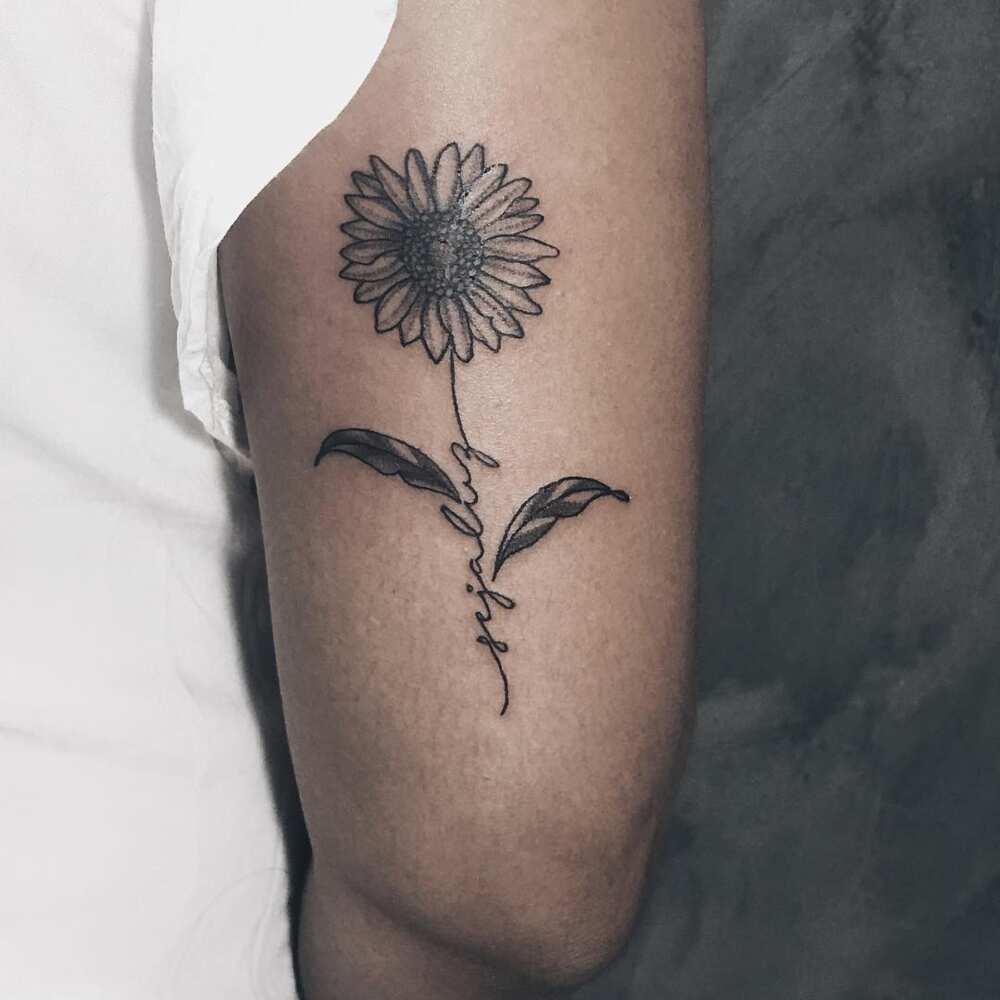 See how a simple, clean design can end up looking great on you even on black and white.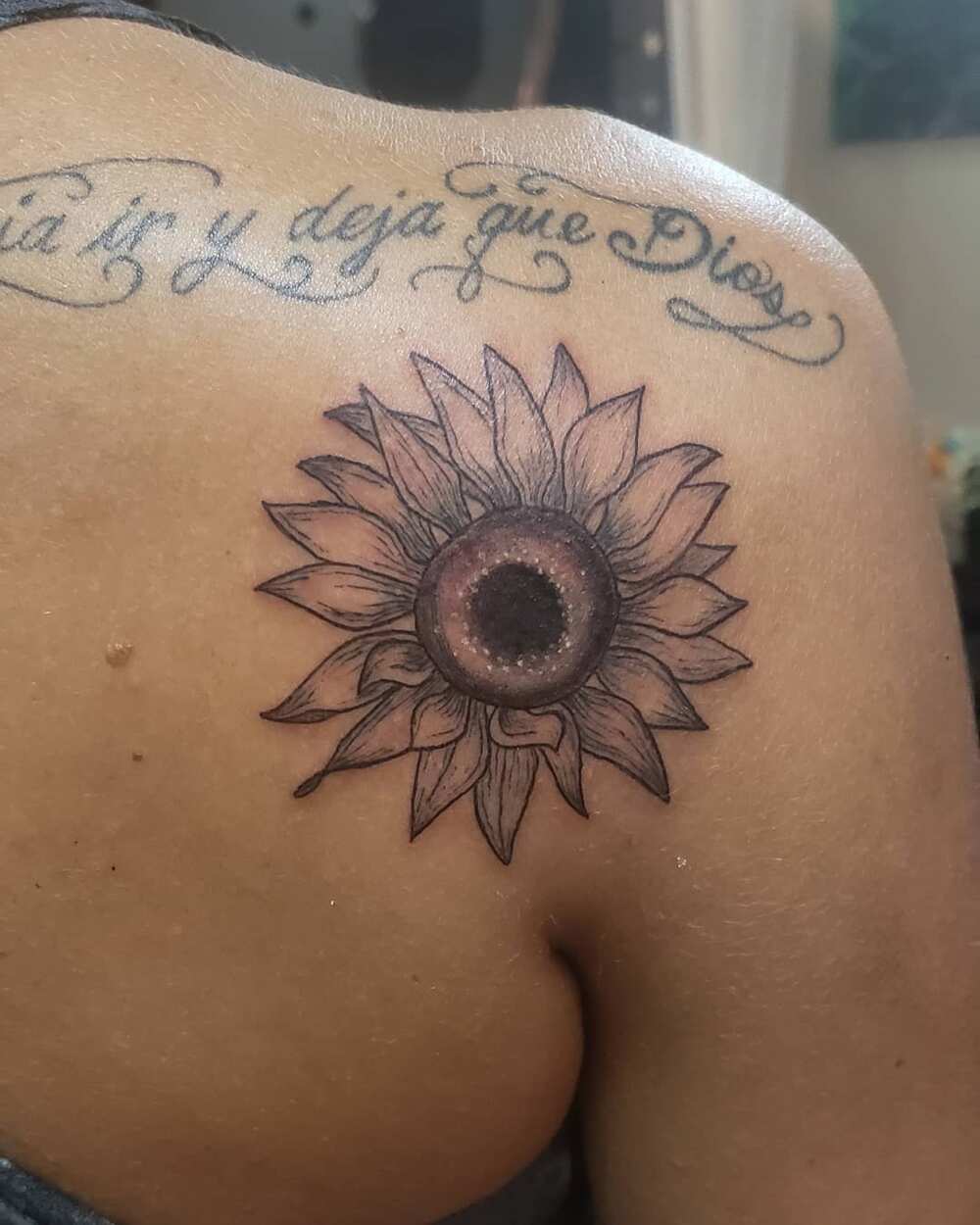 The wording above the image speaks more about the intentions of a wearer.
Sunflower infinity
These flowers have been used as symbols of everlasting memories of people or moments that have passed. The infinite bond of friendship, and love is manifested by the brightness of the petals and works even better when the design has two sunflowers.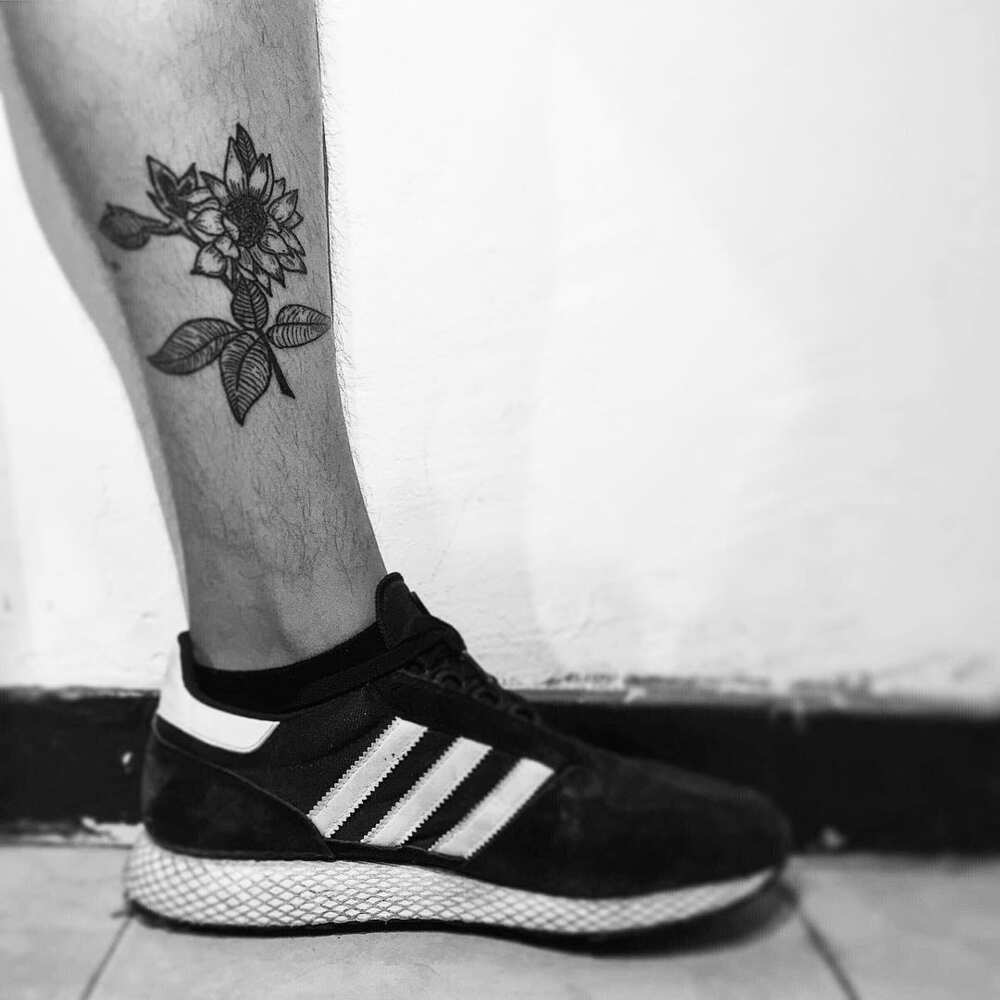 A small-sized flower can easily be used even when the client wants a flower with leaves and stalks included.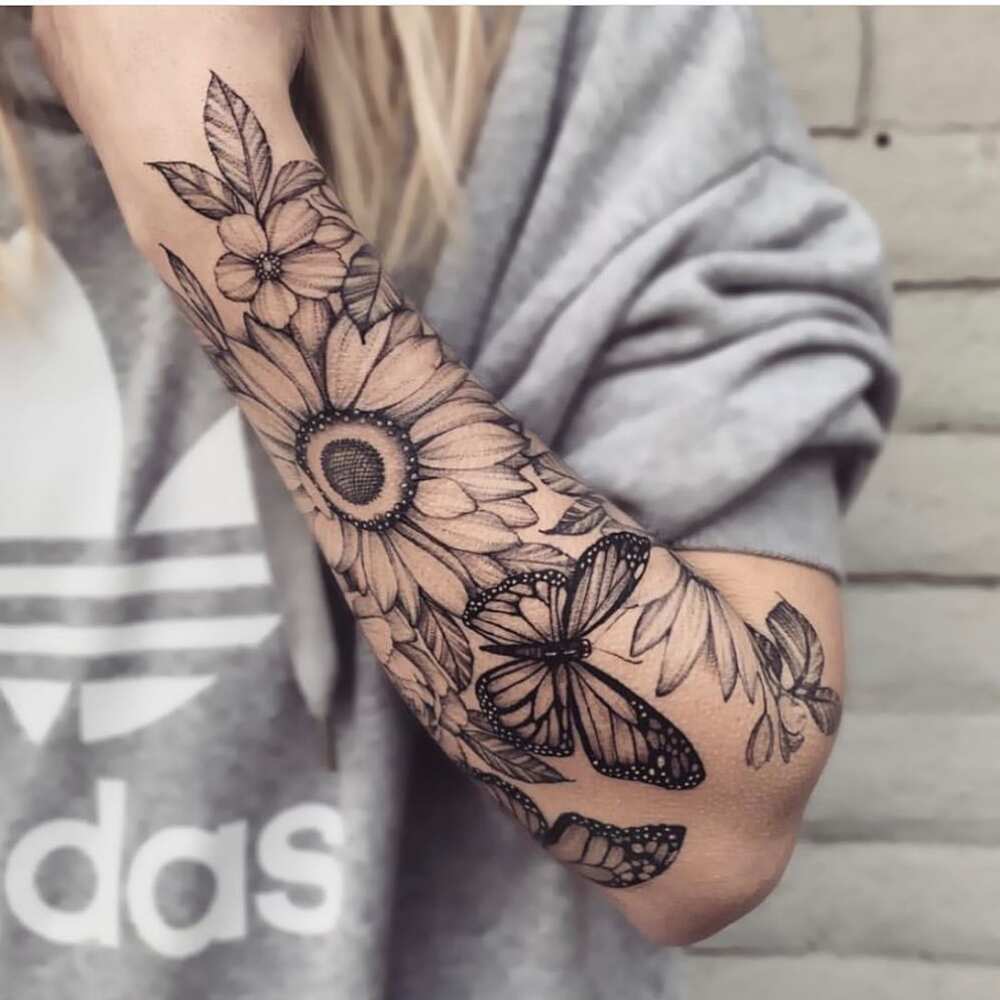 Butterflies and flower tattoos are never that far apart.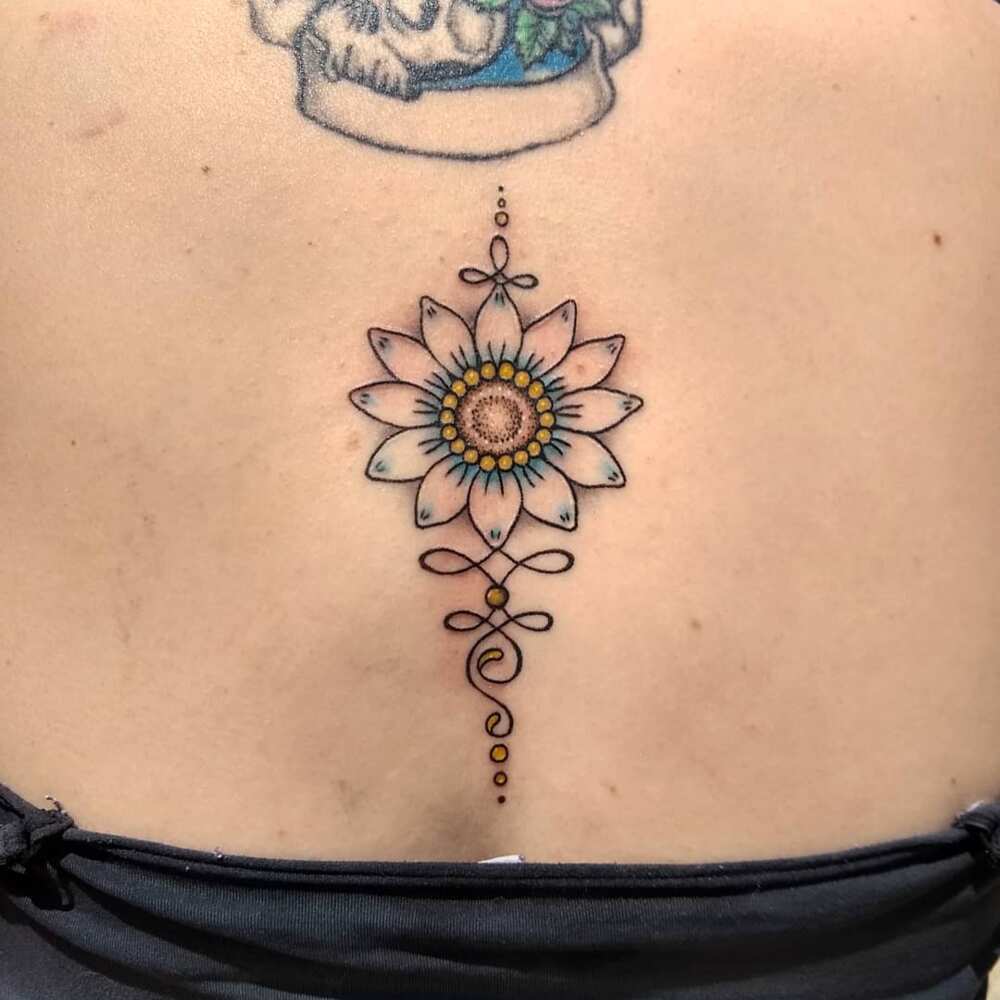 The flowing lines above and below this flower create an emphasis point downwards and upwards.
Carpe diem
This loosely translated to 'seize the moment'. It reminds the wearers of this tattoo to live their life to the fullest and make decisions as if they were living their last day.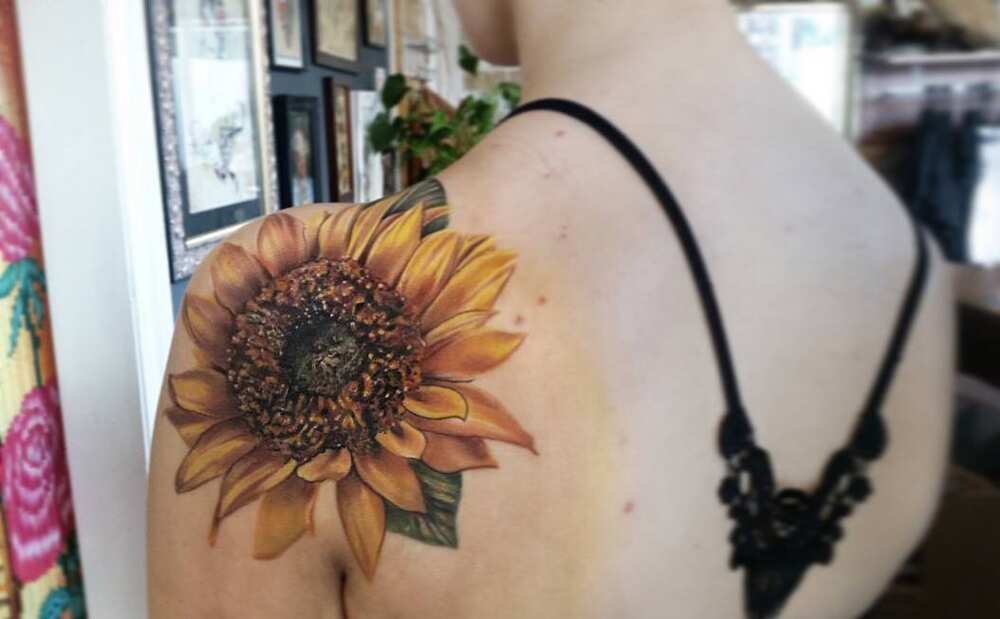 This bold large-sized bud is perfect for those looking for a conspicuous design.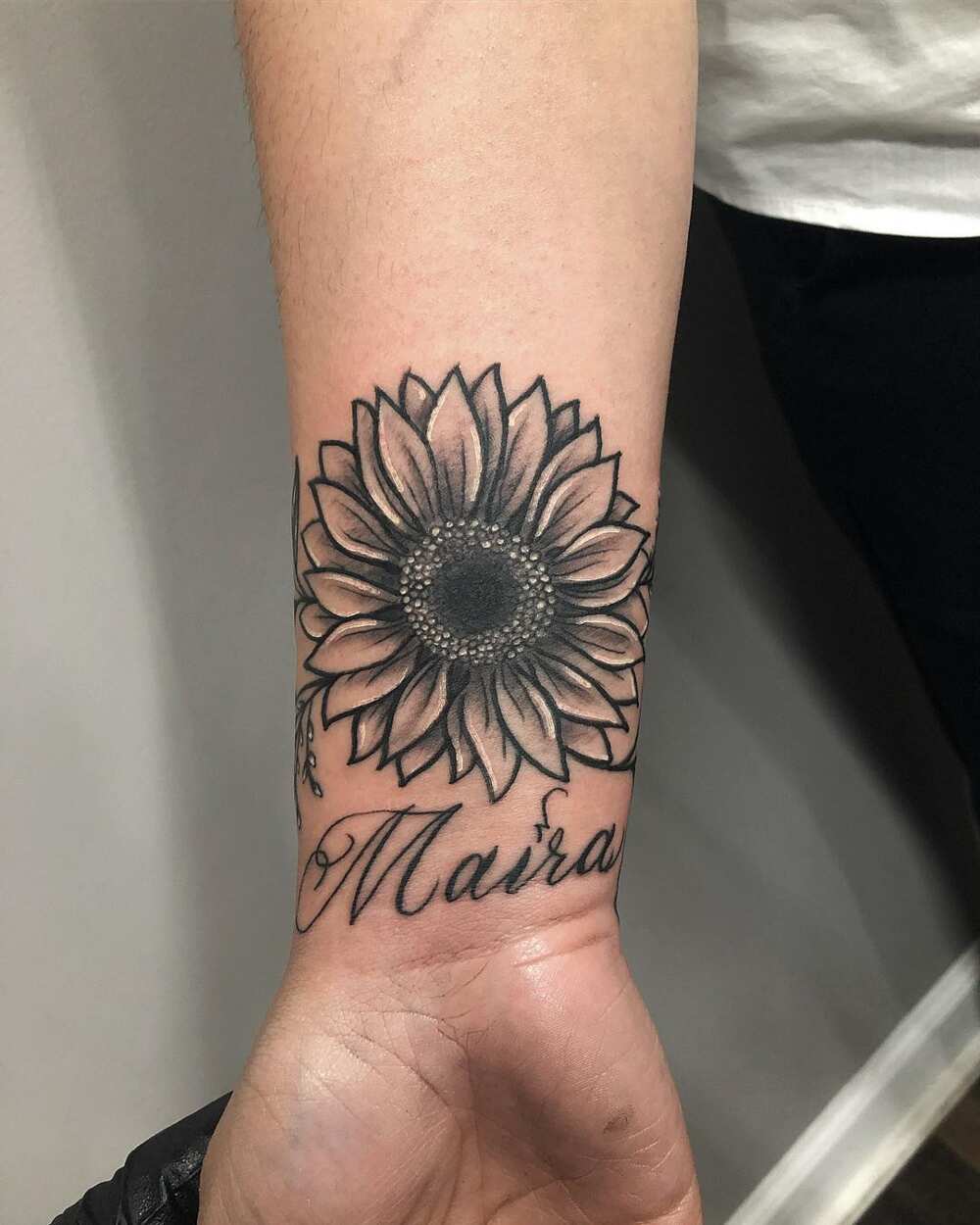 A name goes a long way to add to the allure of a well-done black and white tattoo.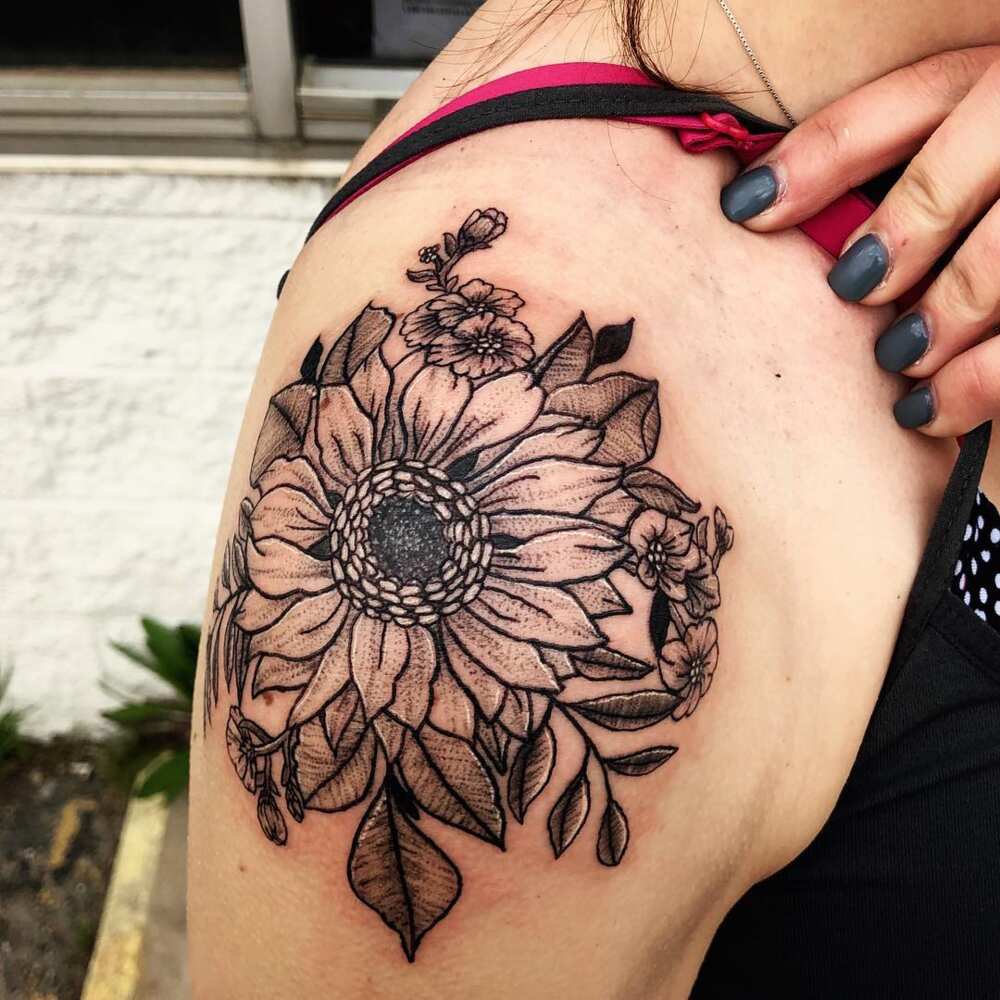 This is another multiple flower design that includes buds of a different type along the edges.
Waiting for a lover to return
This belief that the sunflower symbolizes the patient wait for a lover's return stems from the Greek mythology about the sun god, Helios. The flower has since then been associated with feelings of everlasting love and the belief that a loved one will come back. The sunflower meaning of each specific tattoo is highly particular to the wearer's details.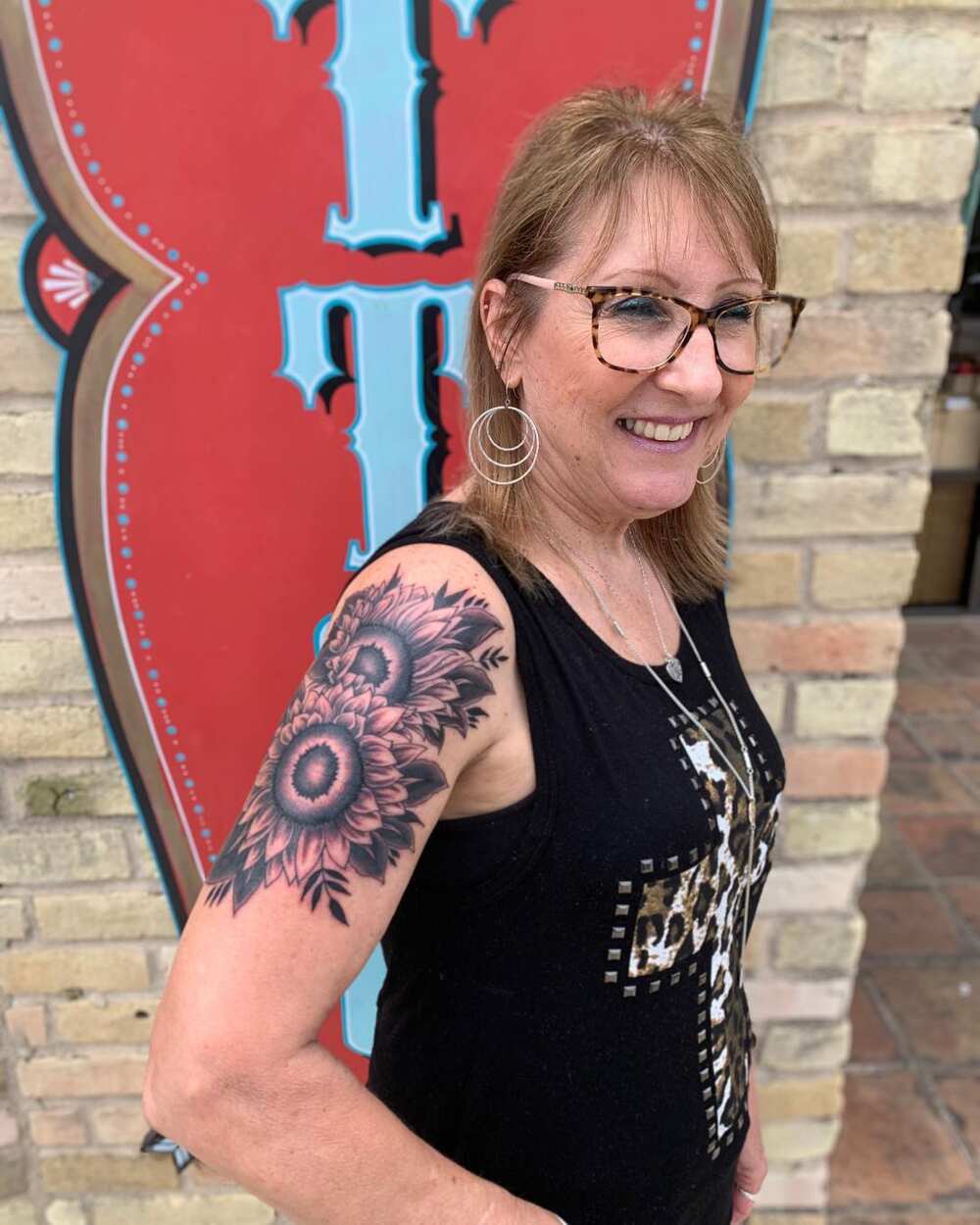 Two interlocking flowers can also be used creatively to achieve this overlapping effect.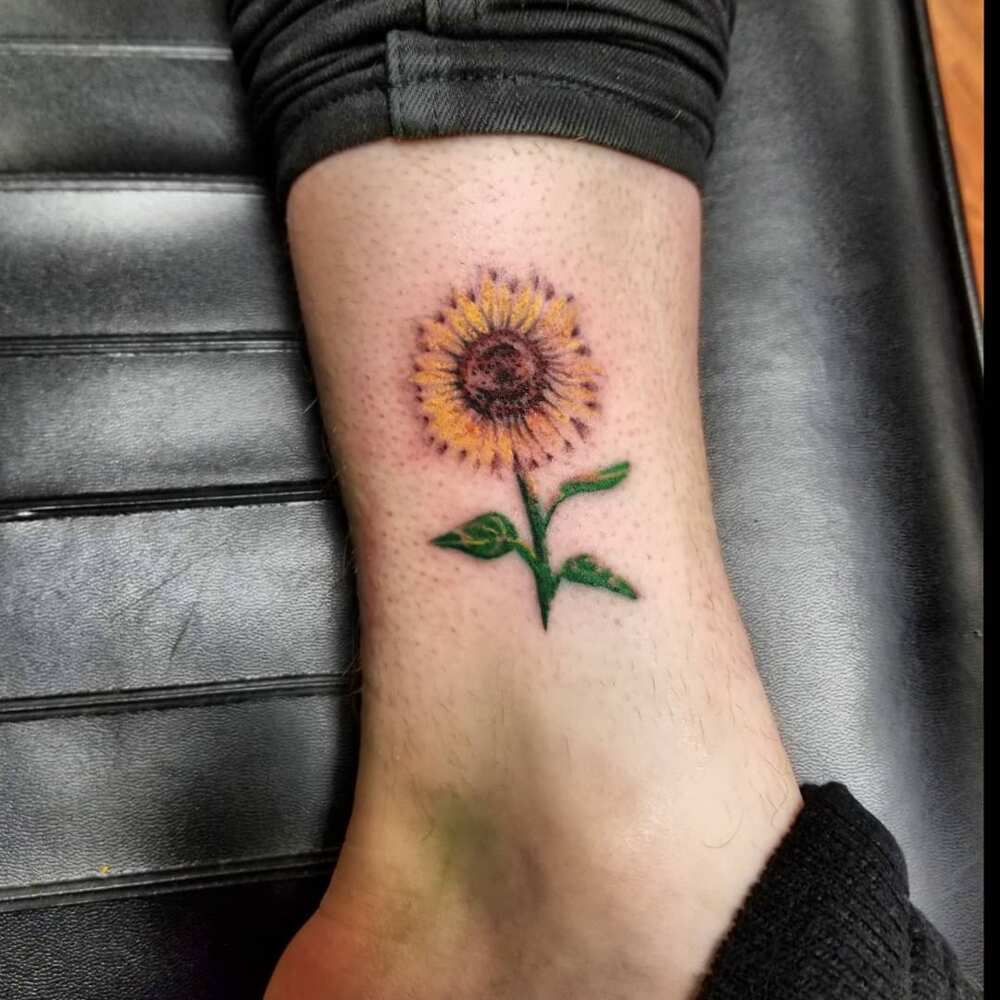 Small and simple never fails as a tattoo choice.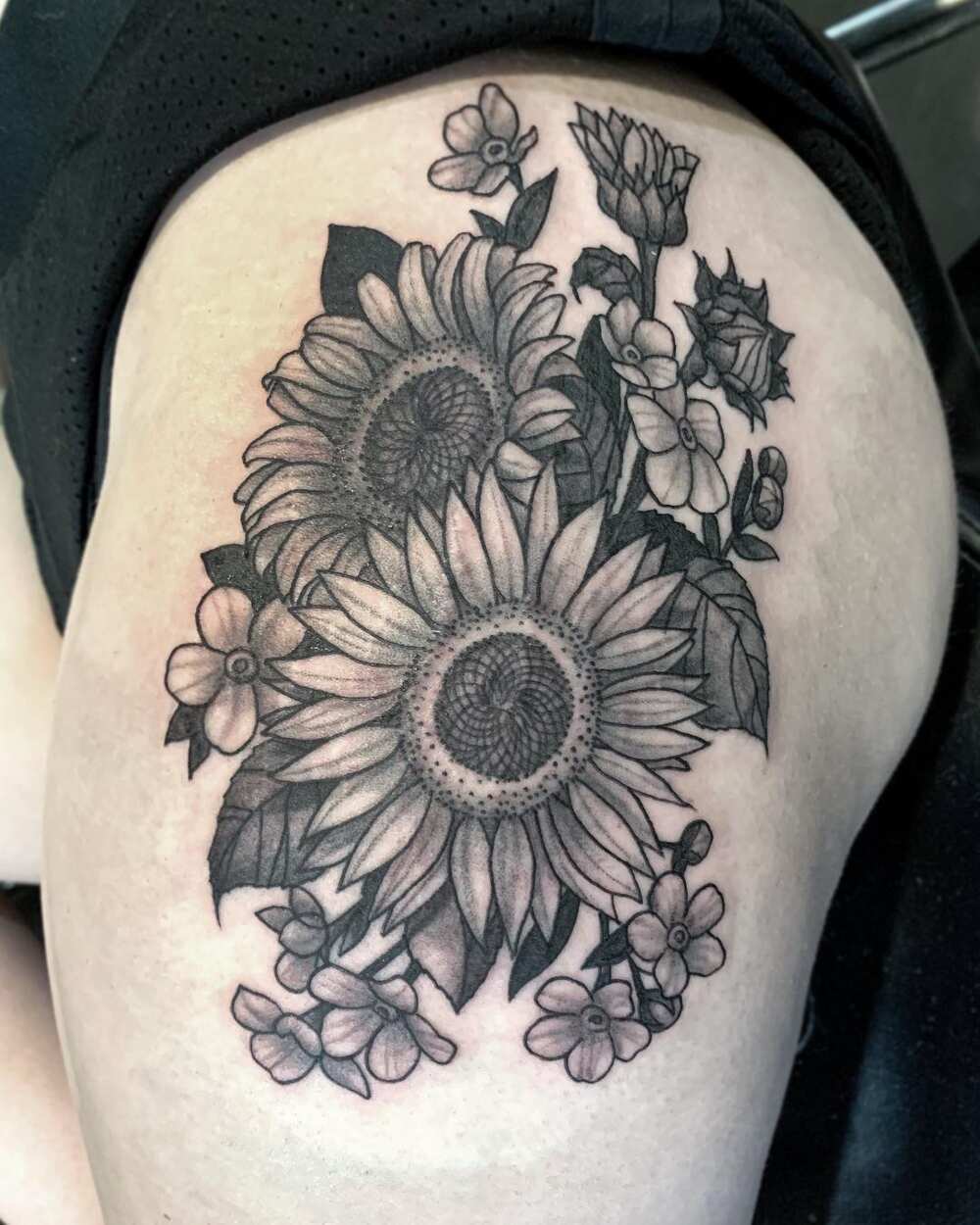 This design is a combination of sunflowers in the middle surrounded by two other bud types along the edges of the design.
The personalities of sunflower tattoos wearers
Every sunflower tattoo meaning varies depending on certain factors affecting the wearer. However, there is a general of personality traits associated with wearers of this popular tattoo. These include:
Optimism and the general belief in the bright side of life
The fullness of life and an ability to live in the moment
An attraction to the beauty of life and pretty things
A lover of fun, sunshine, happiness, and warmth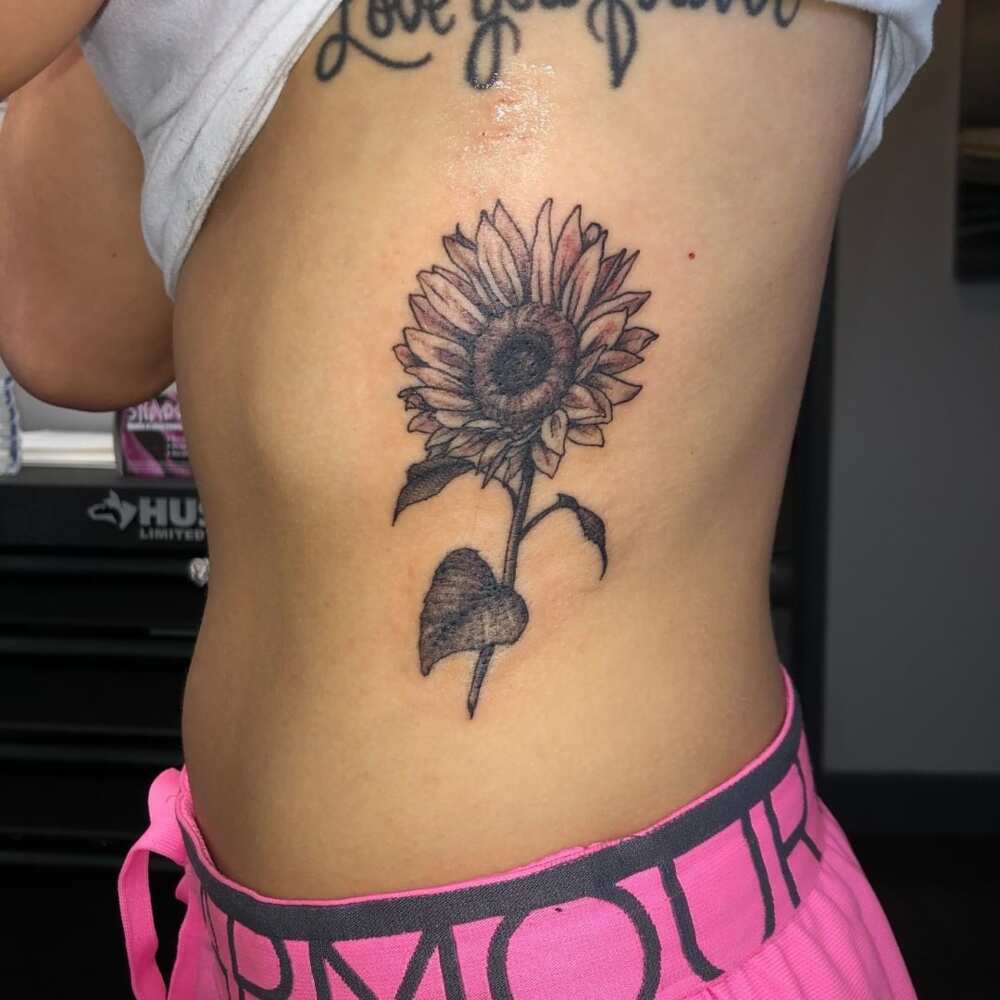 For those that want their ink on lesser-seen parts, this is a perfect design.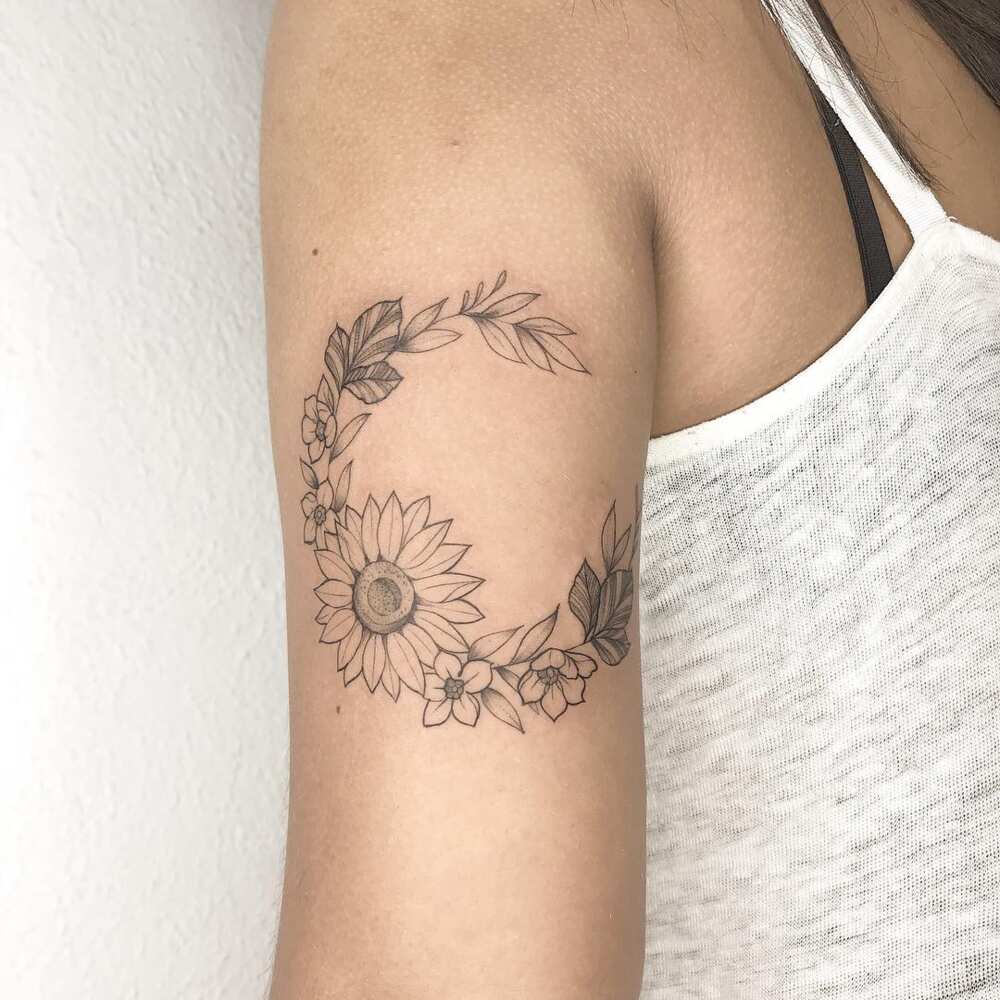 A true definition of black and white design perfection.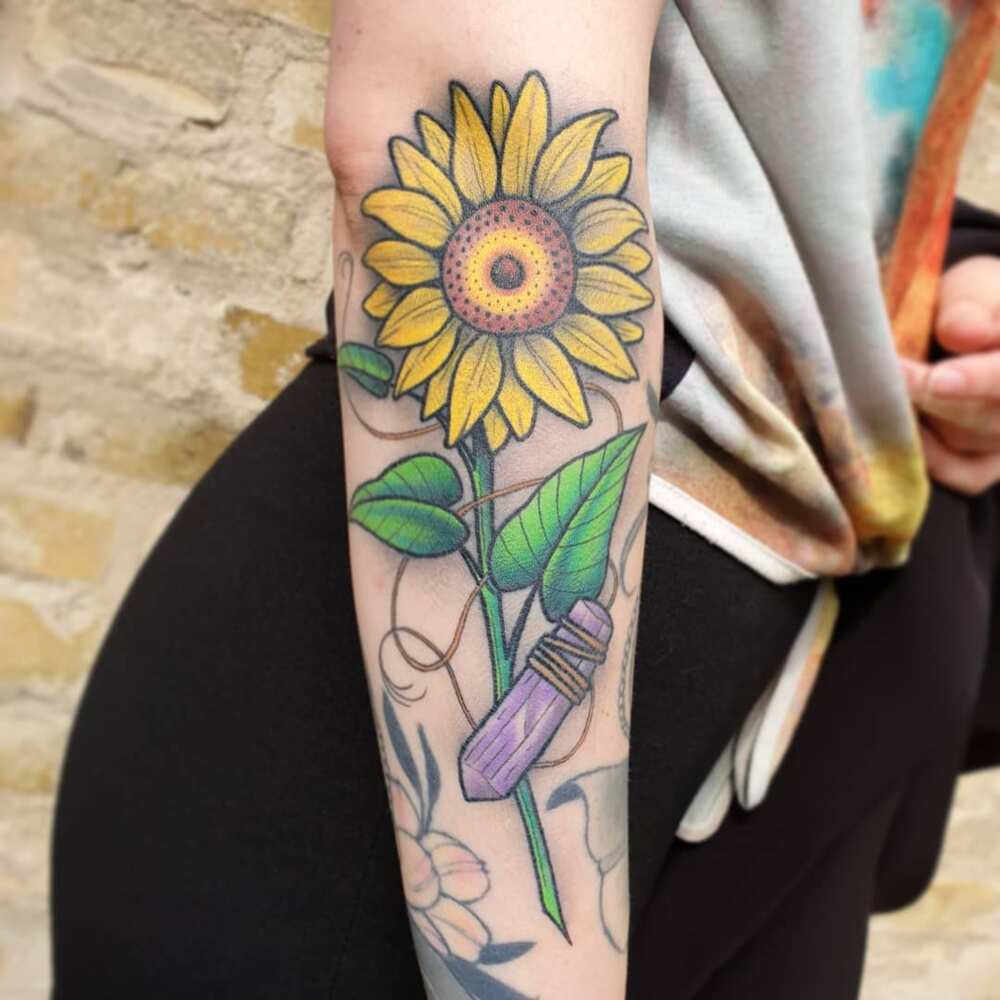 A creative design that depicts certain emotions with the choice of items in the art.
Popular sunflower tattoo designs
There are numerous flower tattoo designs to choose from when getting a sunflower tattoo. We take check out the most common ones in modern society.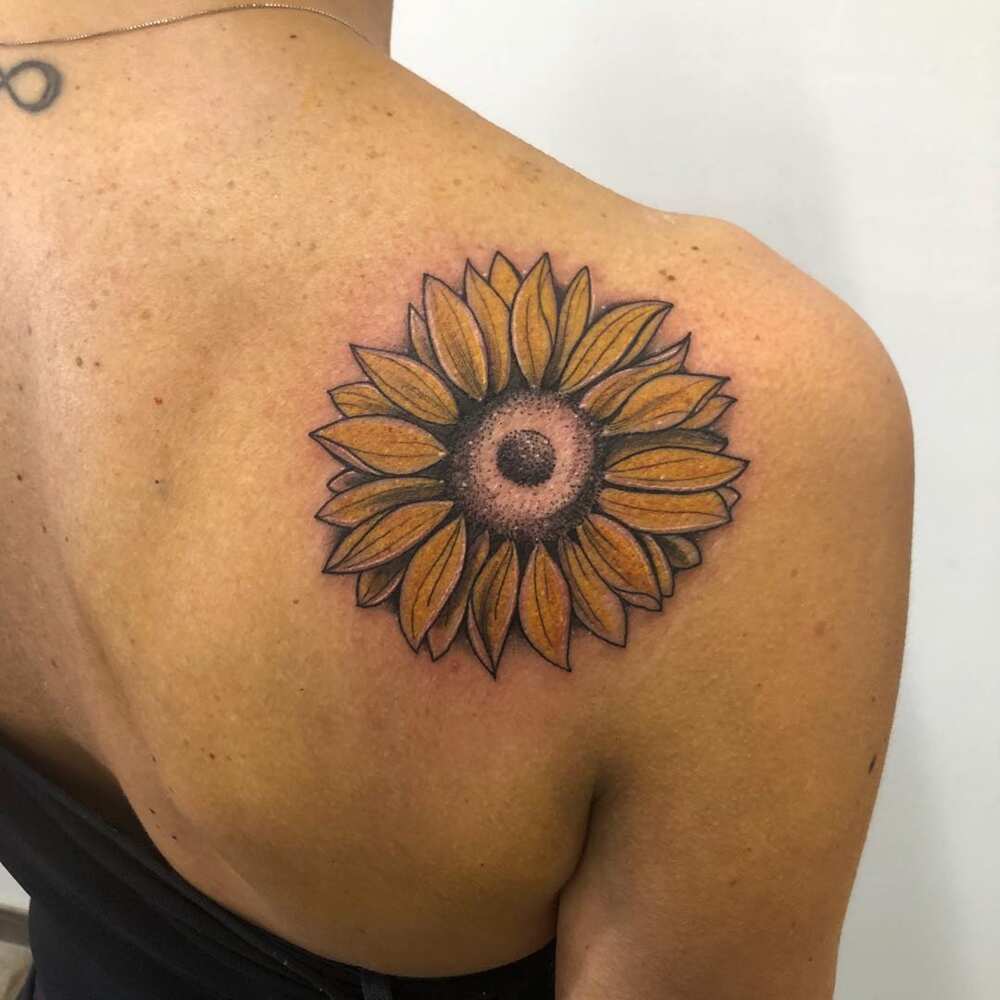 A simple yet easily-noticeable upper back design with no stalk or leaves.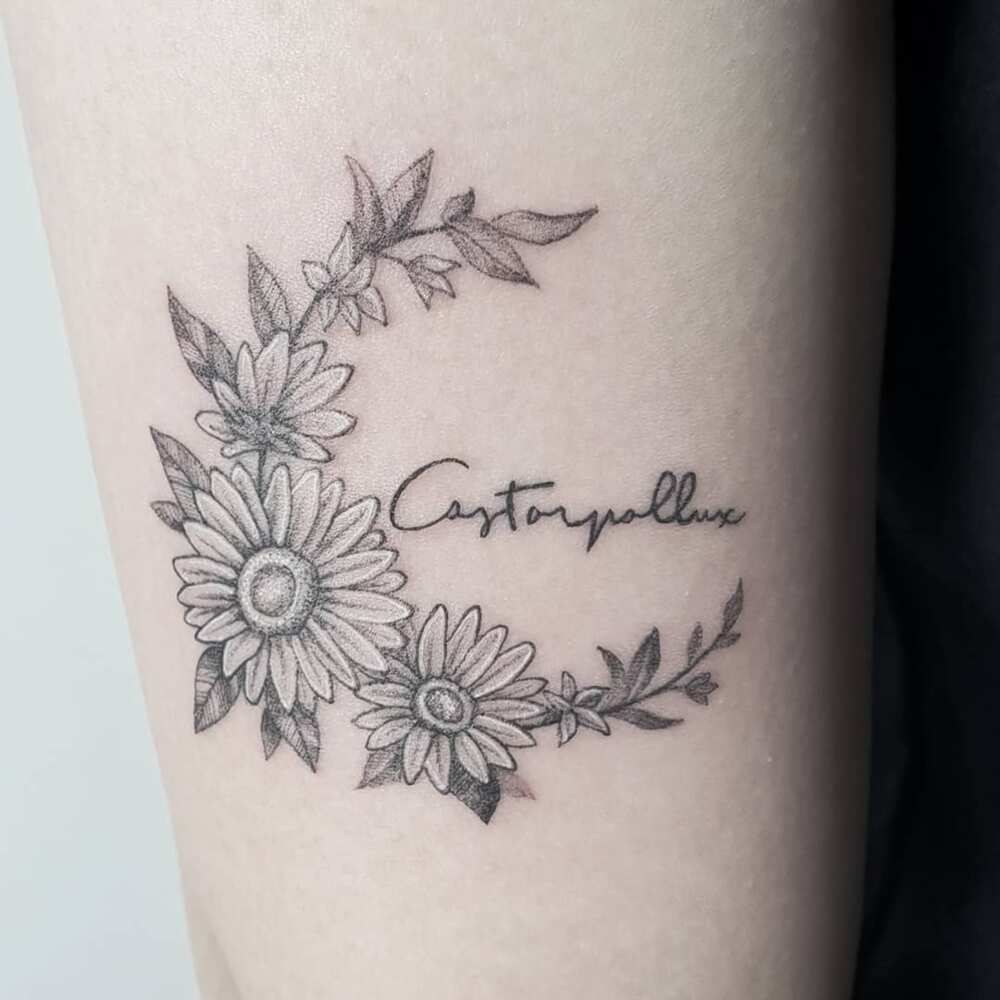 You can have your tattooist give you this design that includes a lovely signature.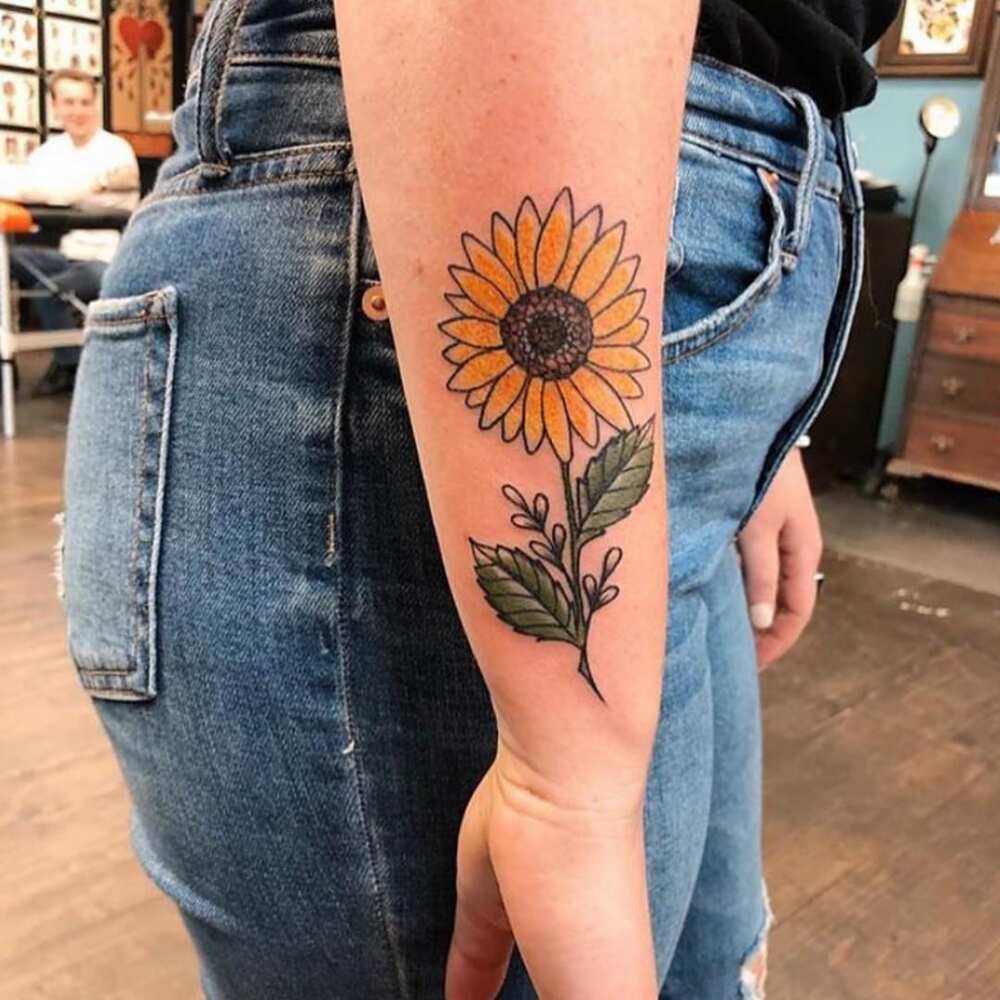 A simple two dimension option with a few leaves and significant stalk length included.
Rose and sunflower
It is hard to resist the allure of a combination of these two flowers. The rose adds the aesthetic appeal of the tattoo and can be joined to the sunflower using a cord, string or musical note. However, it takes a skilled tattooist to pull this off perfectly.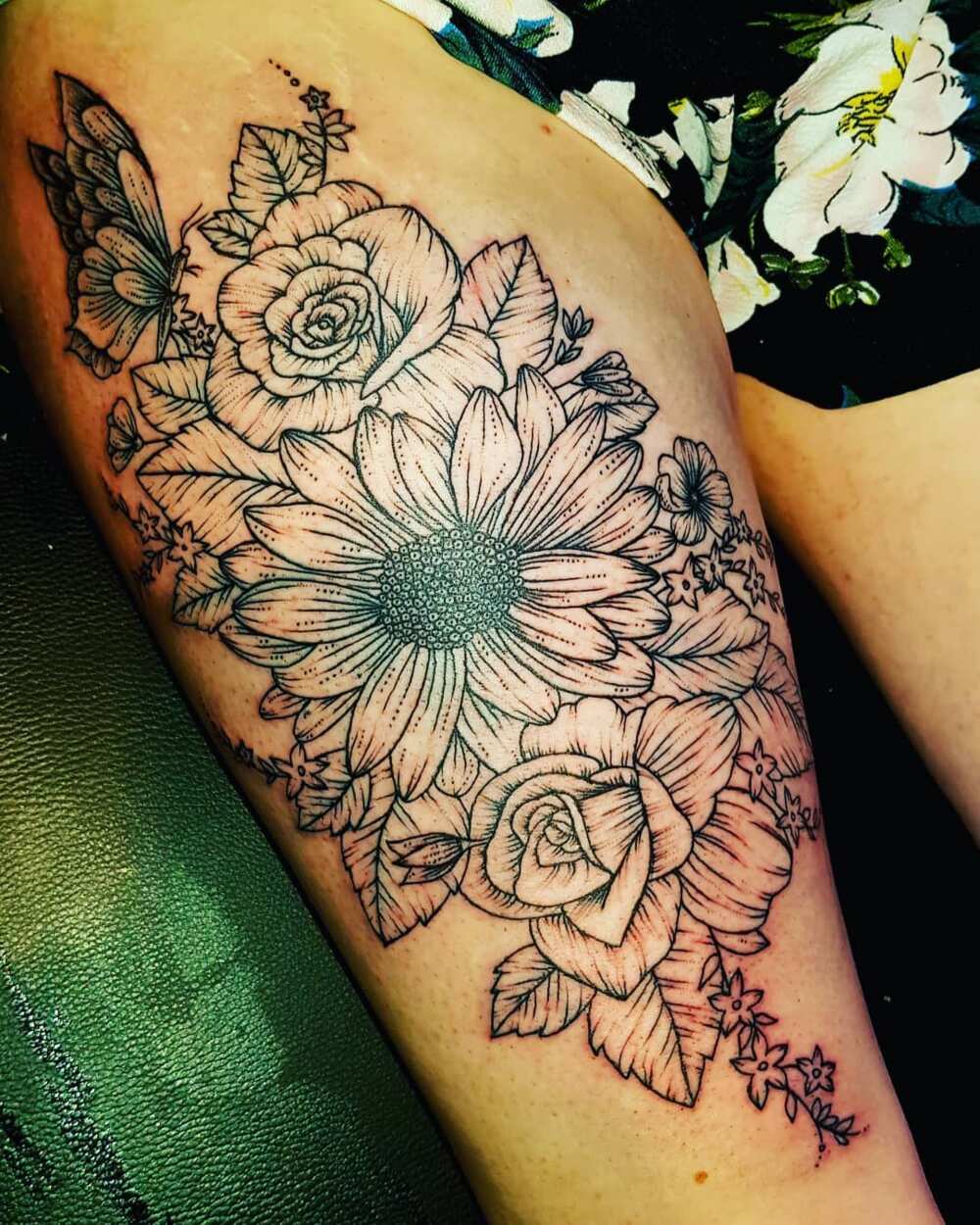 The classic rose and sunflower combination is always a great choice.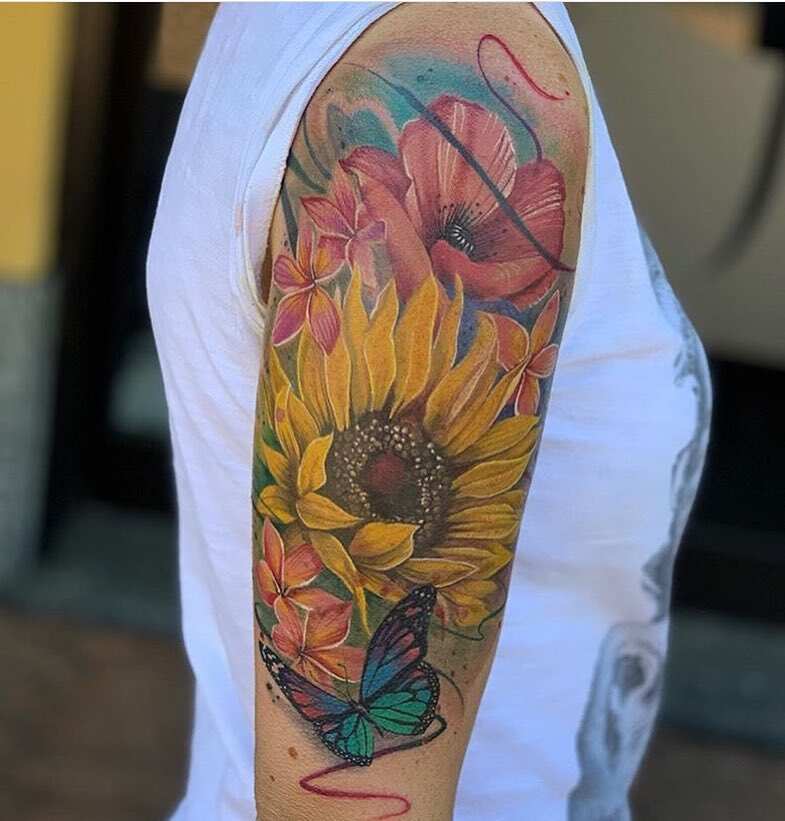 A butterfly, three different bud types and a burst of colour. You could never go wrong with that.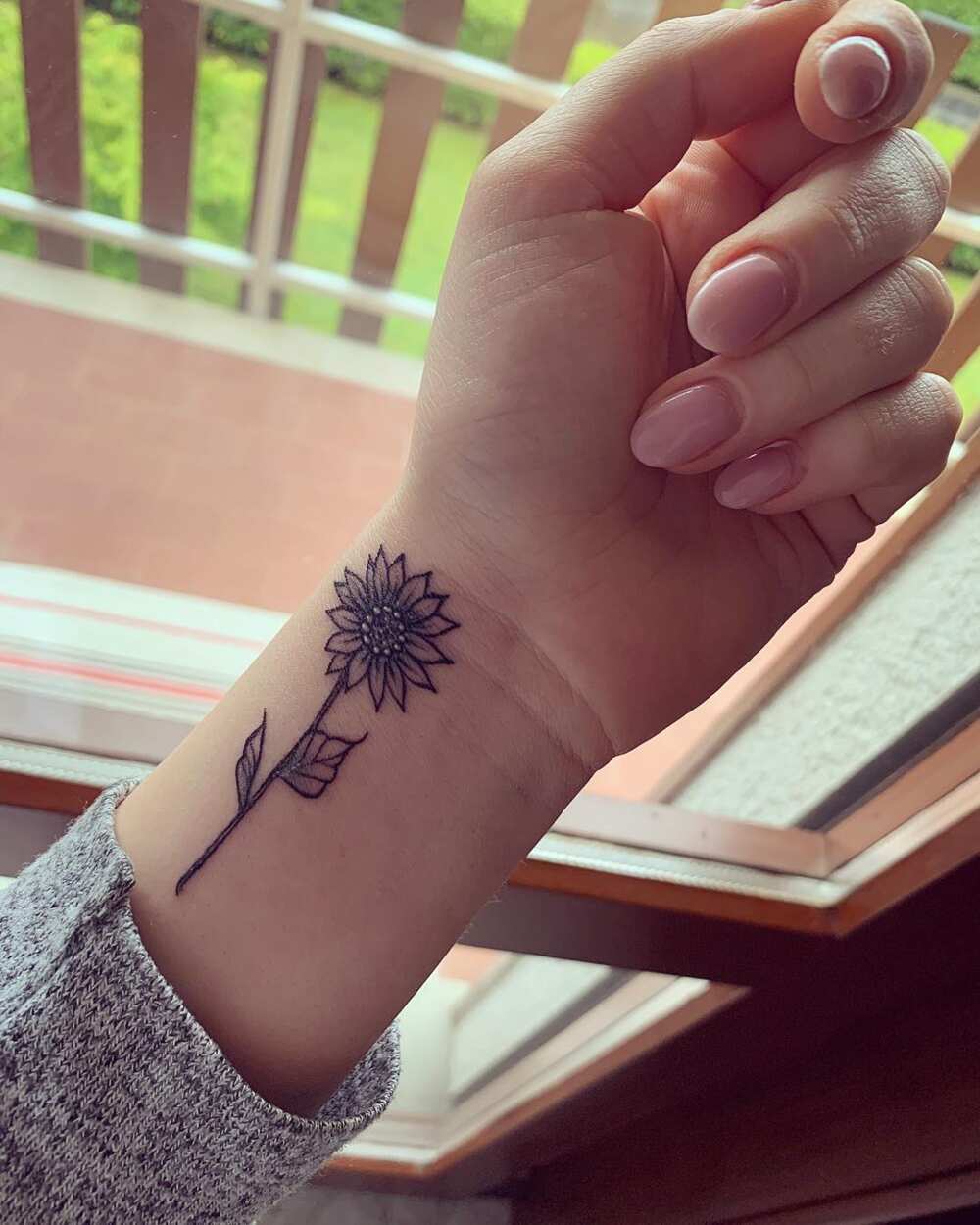 The classiest way to wear a flower tattoo is perhaps the simplest too, a small-sized, yet elegant design.
READ ALSO: 50 mother daughter tattoos ideas to inspire you
Multiple sunflowers
While a single sunflower is a suitable design, adding two or more flowers creates a significant effect. Feel free to vary the sizes of each bud to have more depth in a type of bouquet sunflowers tattoo.
This three-dimension design will take a very skilled tattooist to pull off.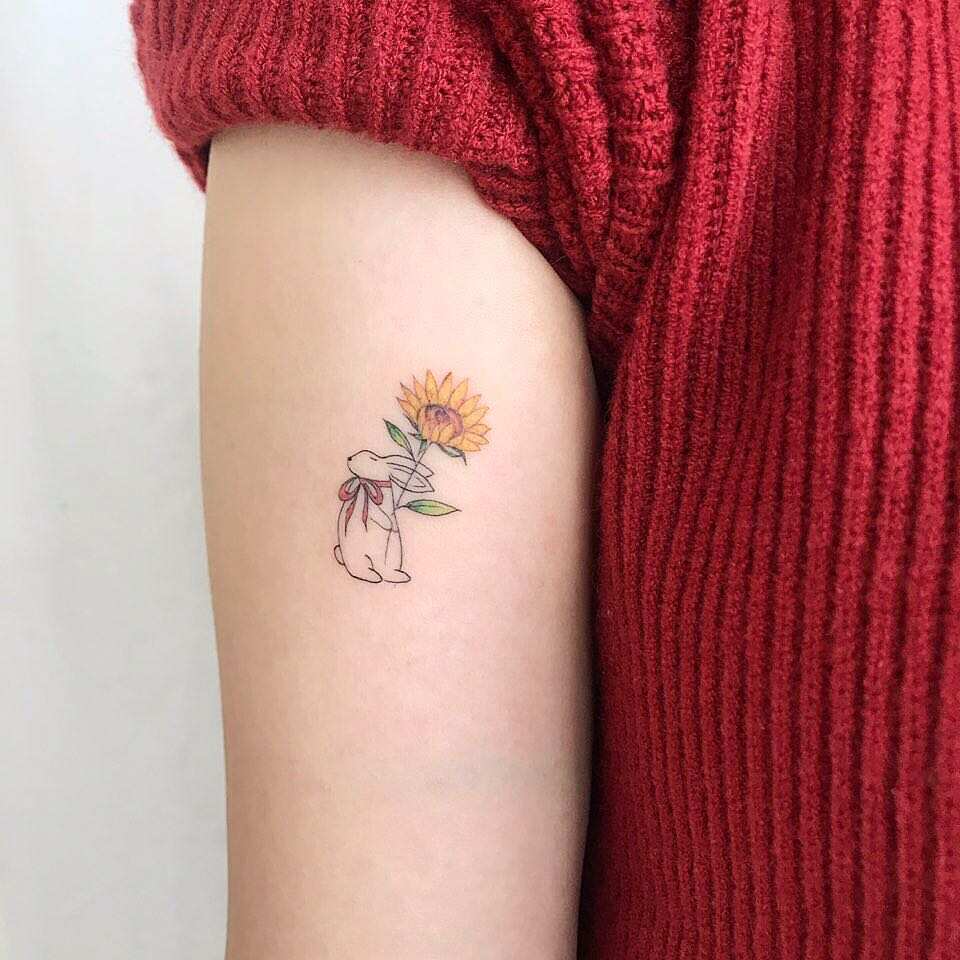 This bunny holding a sunflower looks great in a very minimalistic design.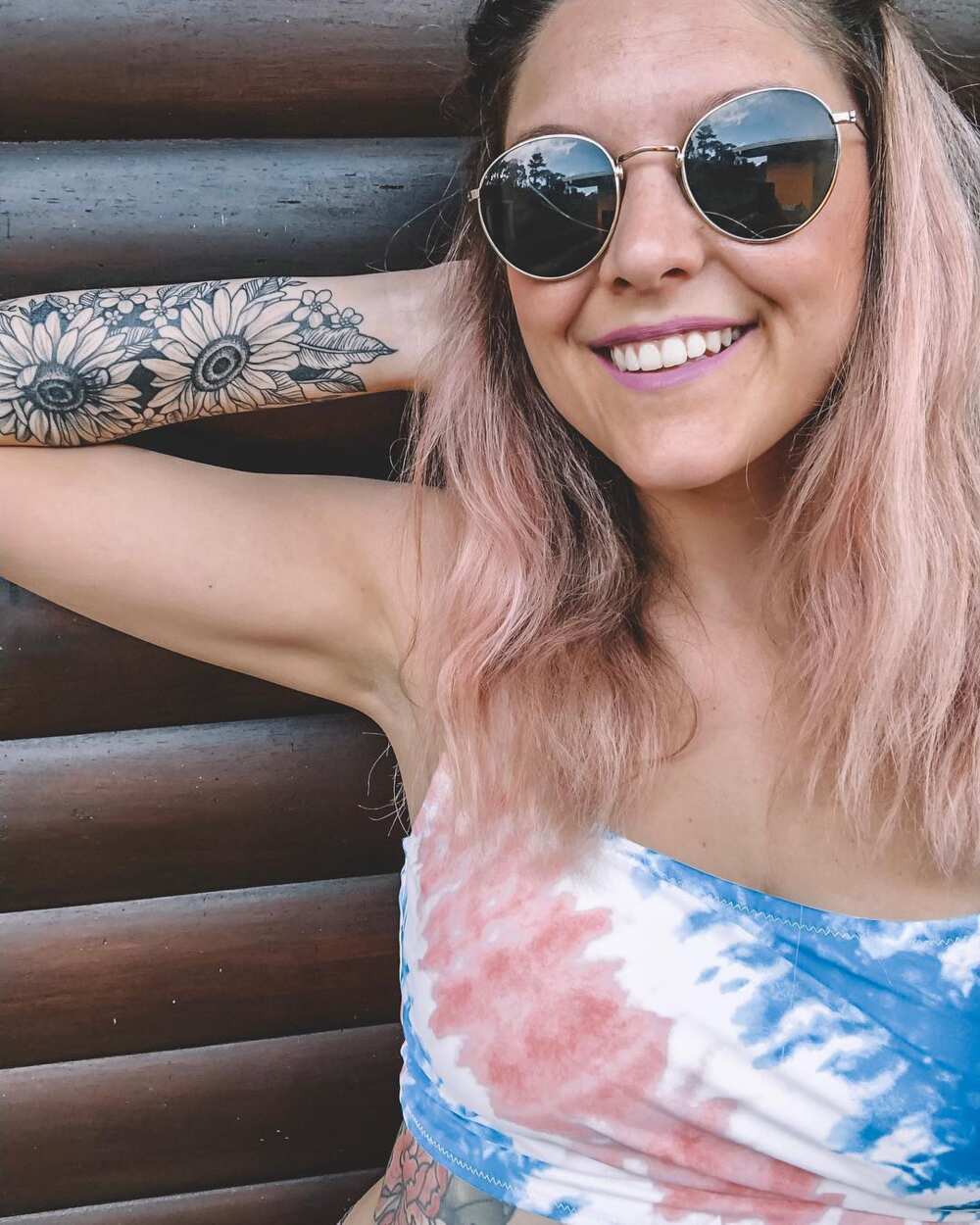 Multiple light-coloured buds placed on a dark background.
Singular flower
A single small sunflower tattoo design is perhaps the most popular choice among the wearers of the sunflower design. This is partly due to its simplicity and ease of pulling off. The size and color can be varied to suit different client needs.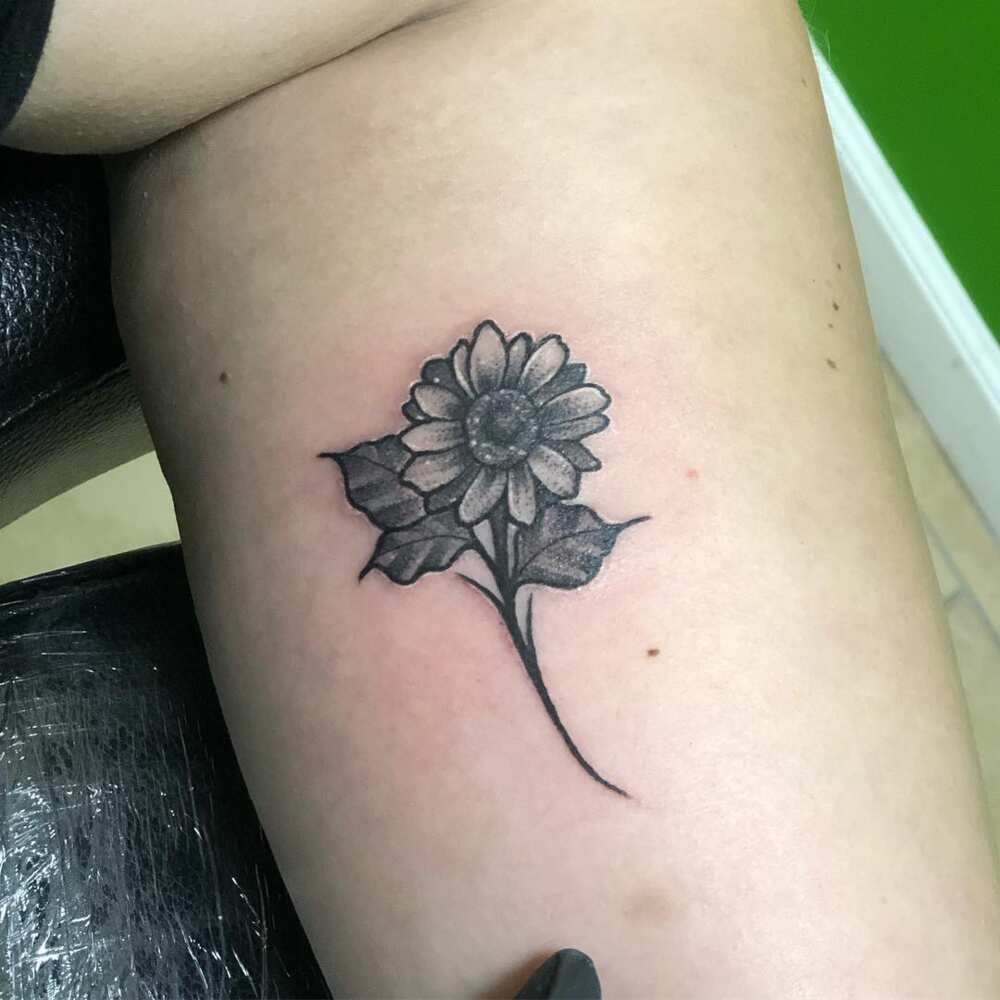 This simple ink option is a favorite among people who prefer their tattoos along the leg.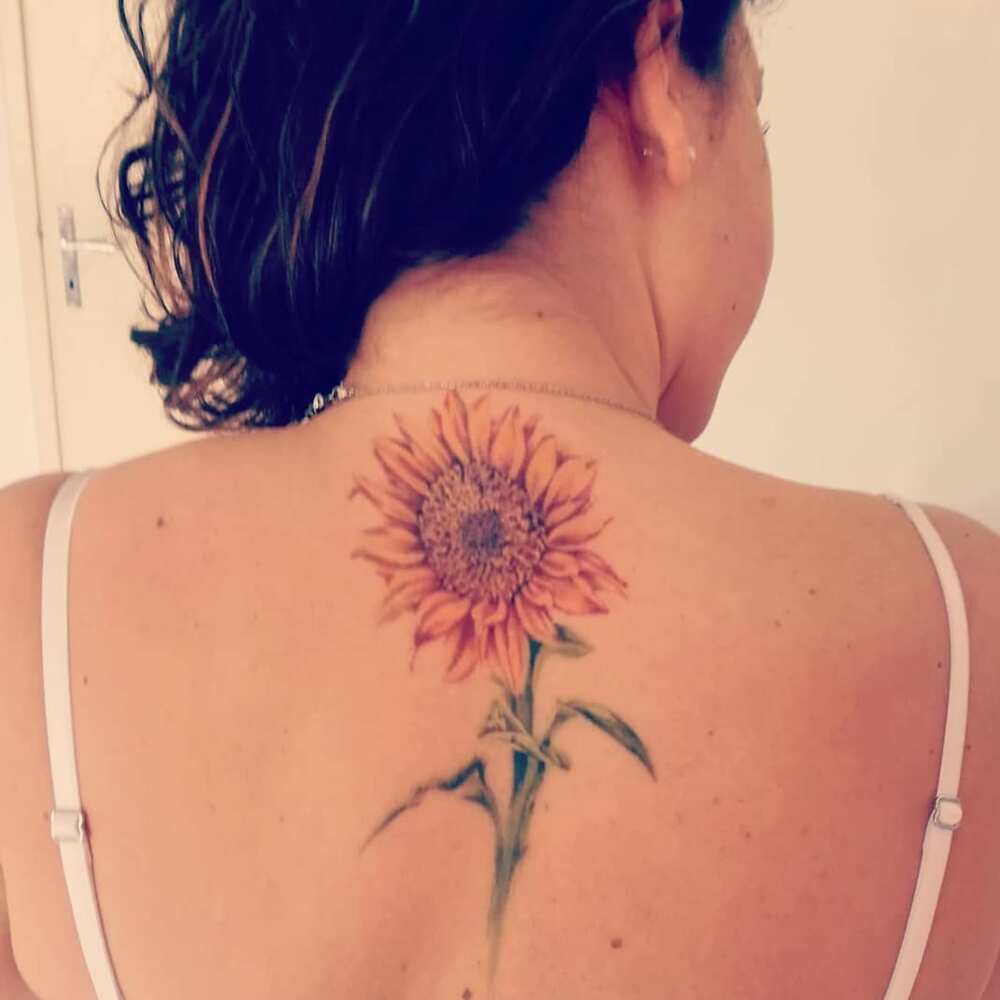 This one looks almost too real. The placement is also in line with the natural curves of the body.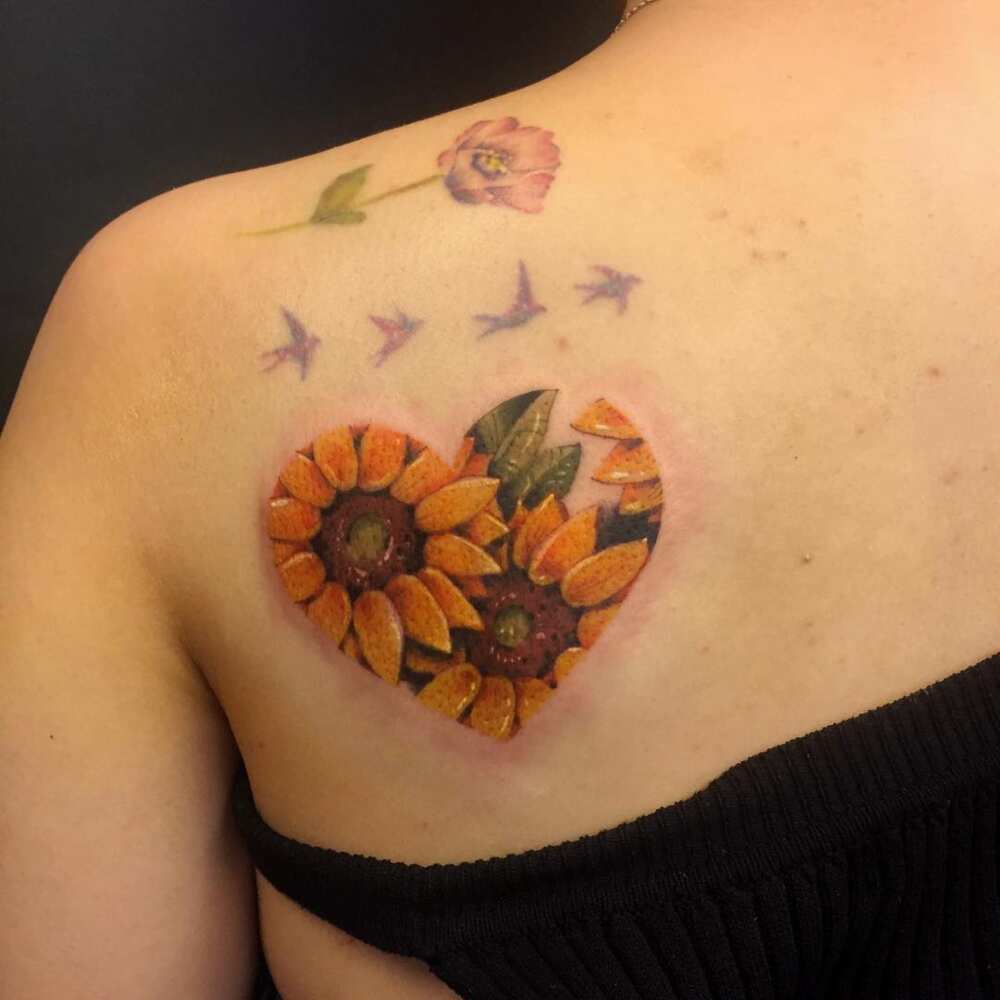 This is an amazing design for those that want a touch of romance to go with their ink.
Modified sunflower
You can have your tattooist adjust the edges or the middle part of the flower to incorporate a letter or another design item while leaving the sunflower outline intact. This depends to a great extent on the creativity of your designer. You have probably come across some fantastic flower tattoos with musical notes in the middle, lovely.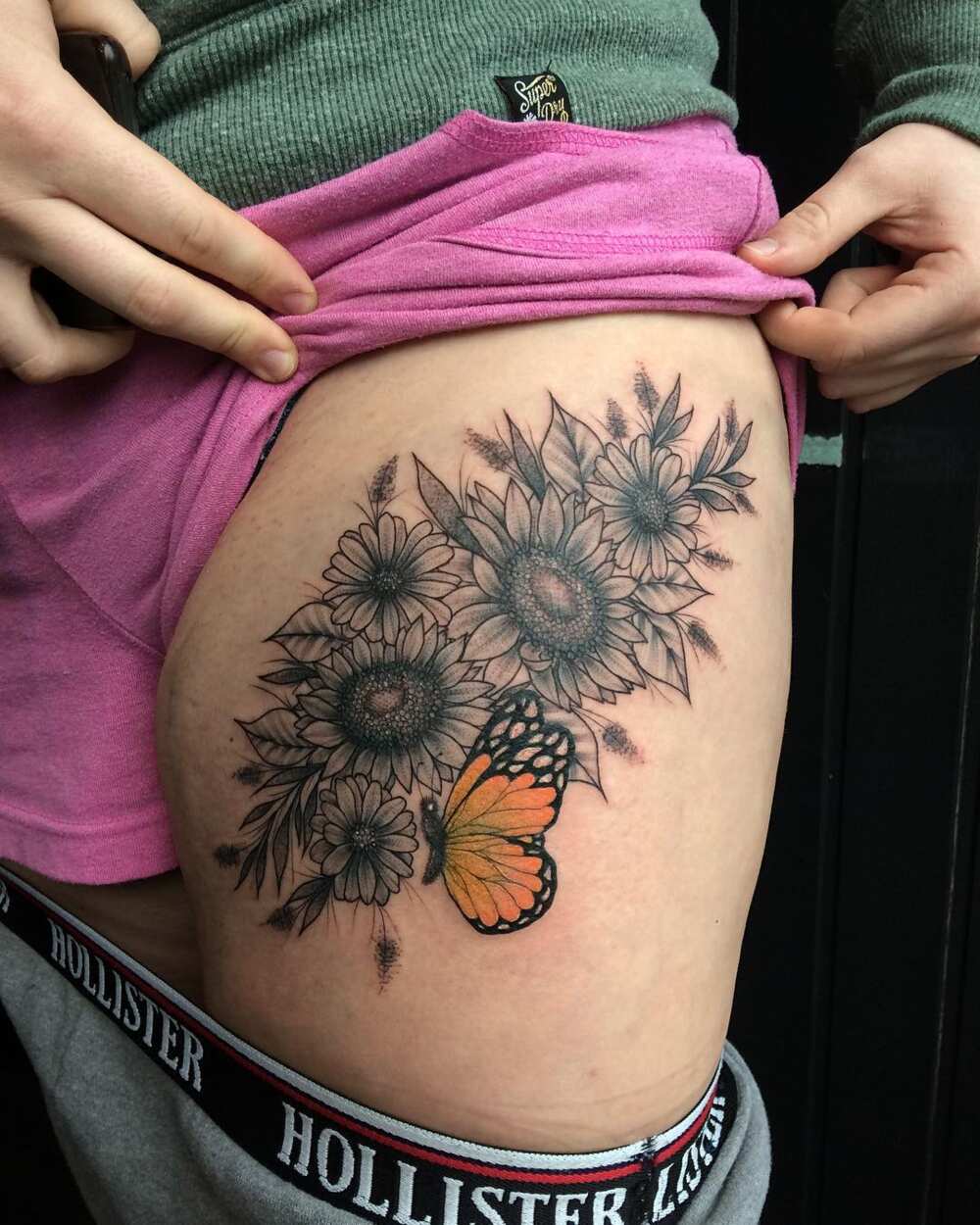 A coloured butterfly on a monochrome flower for those who feel adventurous.
This is probably the height of elegant simplicity when it comes to tattoo designs.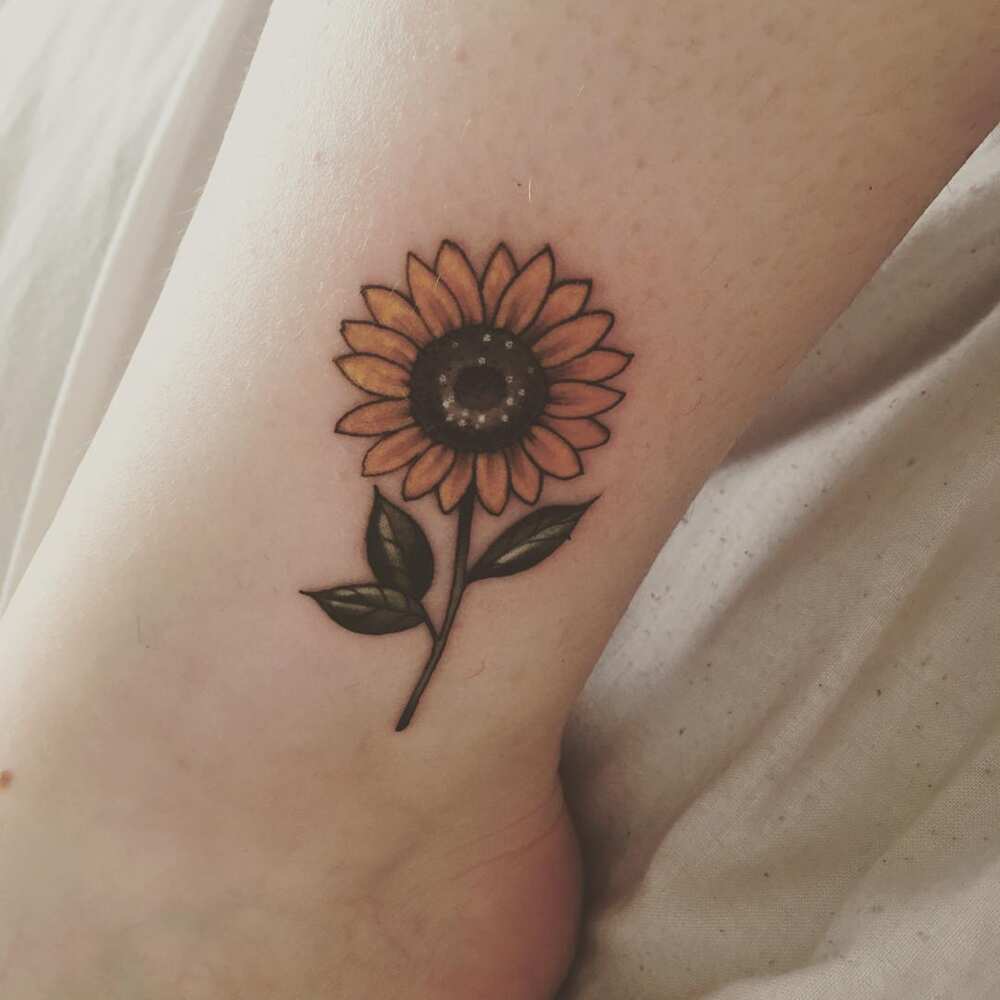 This is an easy look to achieve without looking overly complicated.
The best sunflower tattoo small designs
A little flower is the best option for those seeking a classy design which remains inconspicuous but still manages to capture attention. Here are some fantastic small flower designs.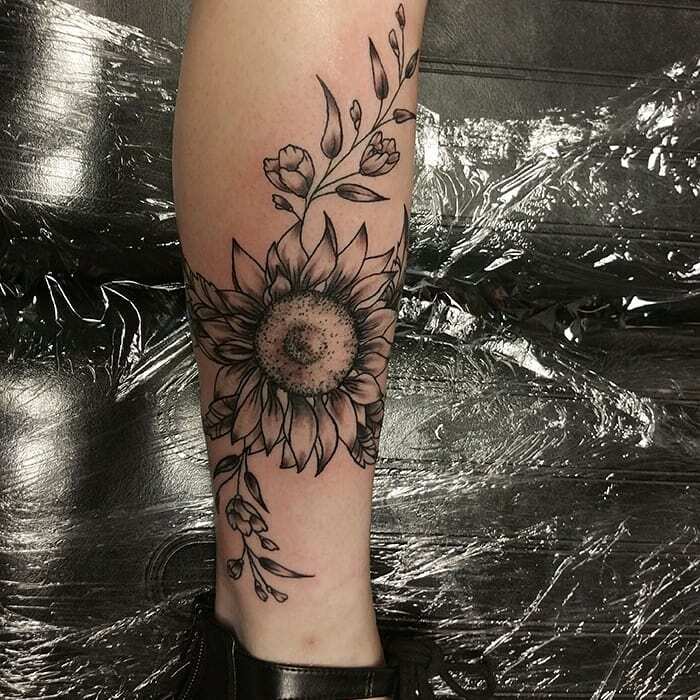 These dark shades of colour work great especially when drawn against light background.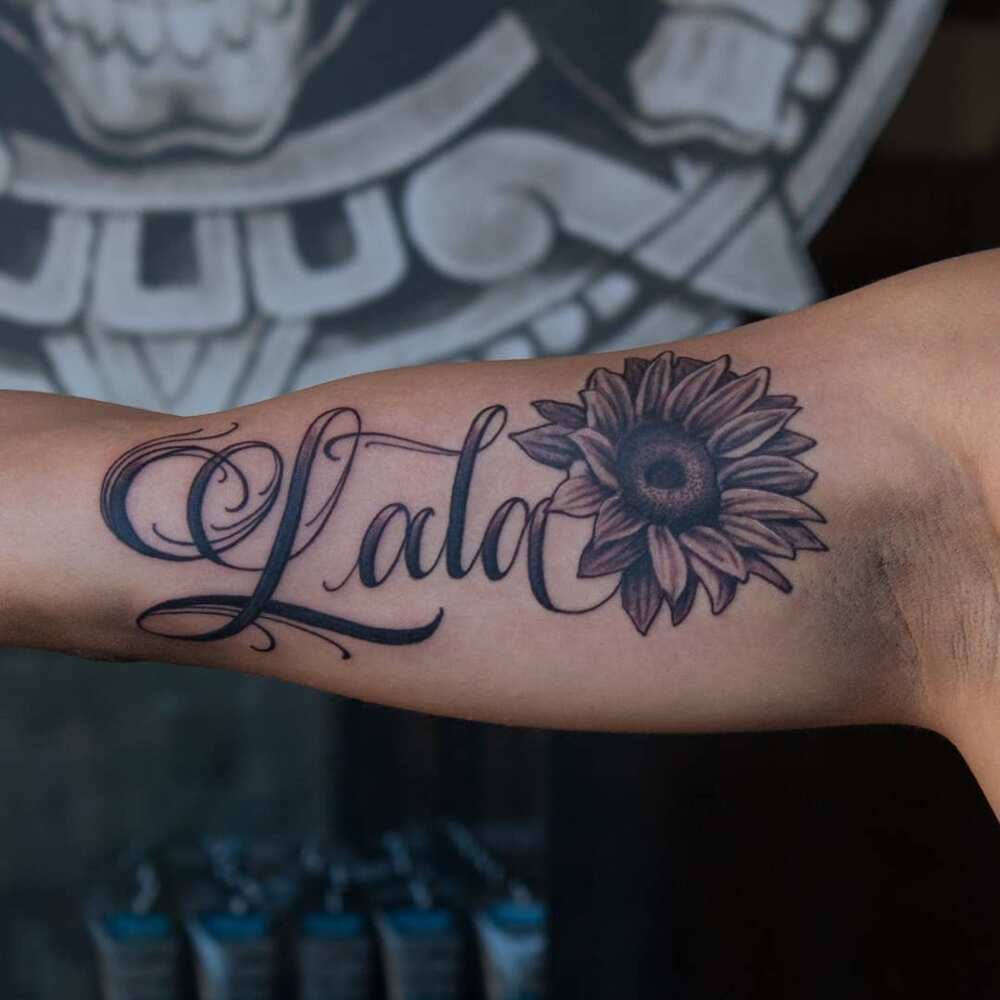 A touch of artistic text adds to the aesthetic appeal of a monochrome design.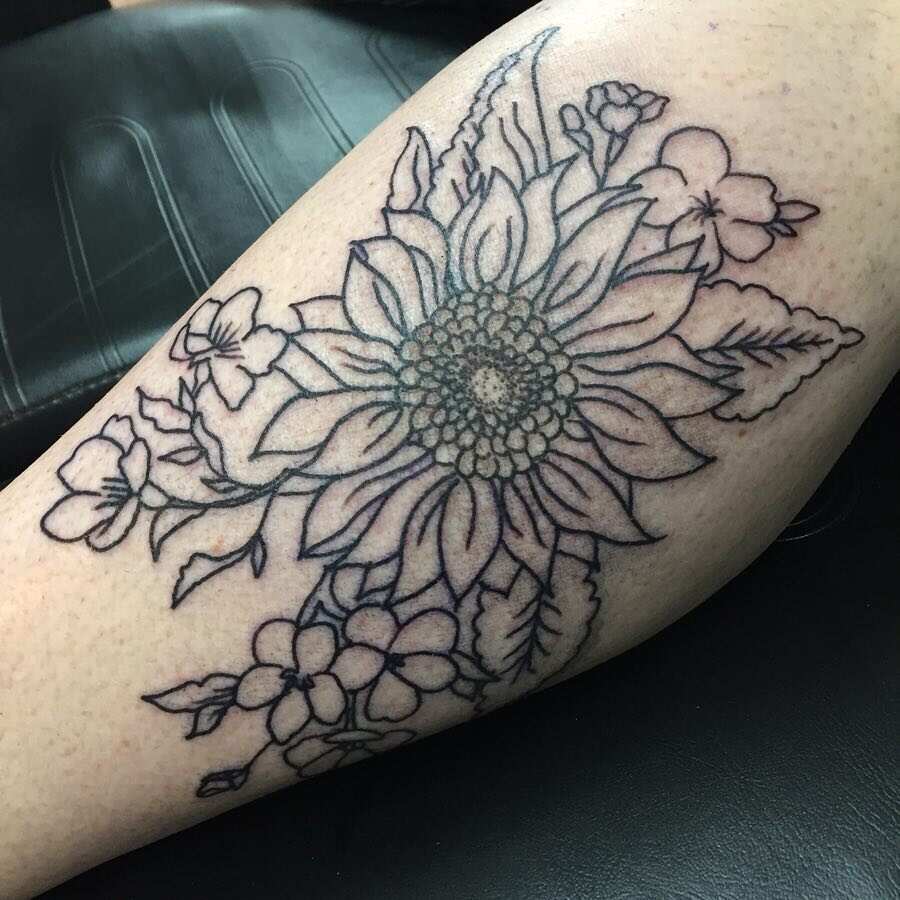 This is another modern way to wear the multiple buds design.
How to wear your small sunflower tattoo
The versatility of the sunflower means it can be worn on different body parts without seeming off as some other design would.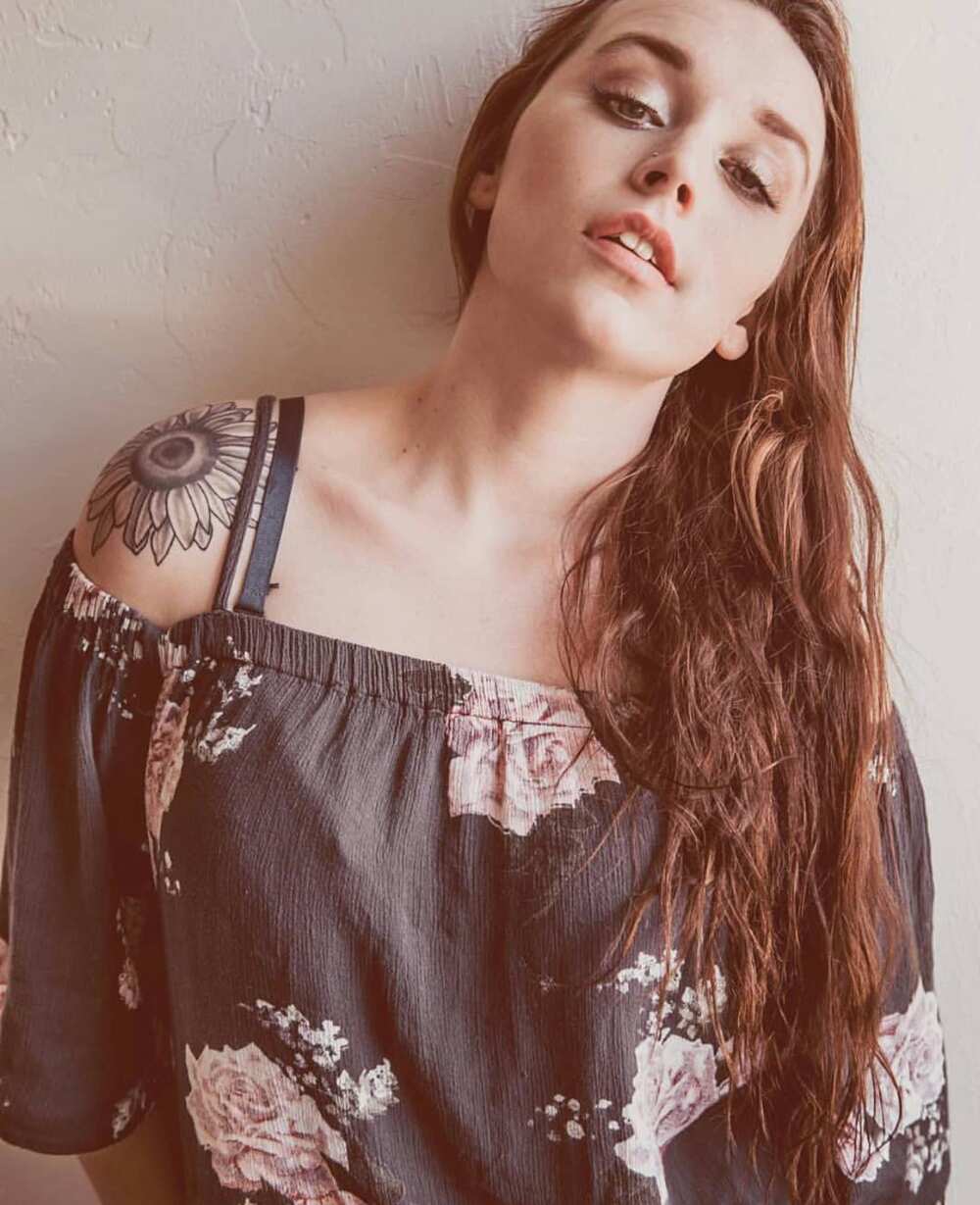 This flower idea certainly has an artistic feel.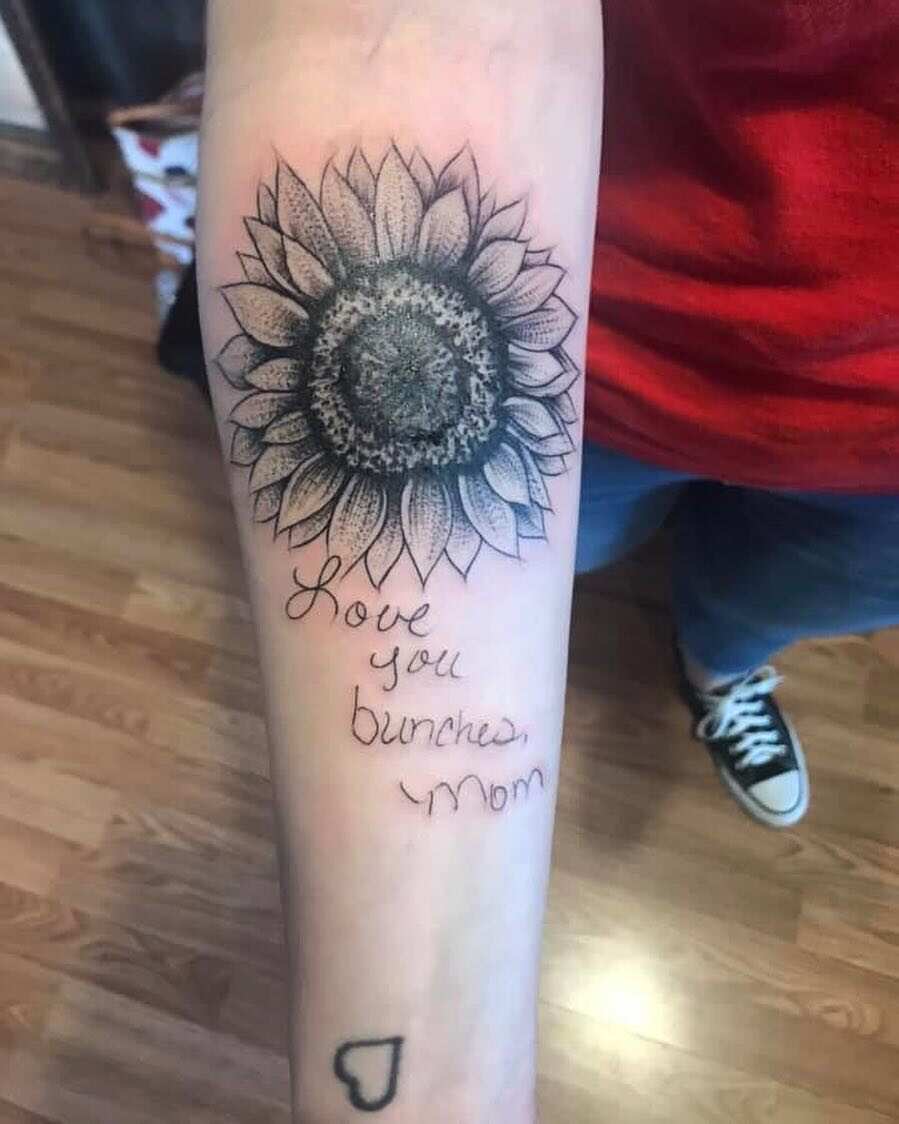 When mom means the world to you, here is the perfect way to let her know.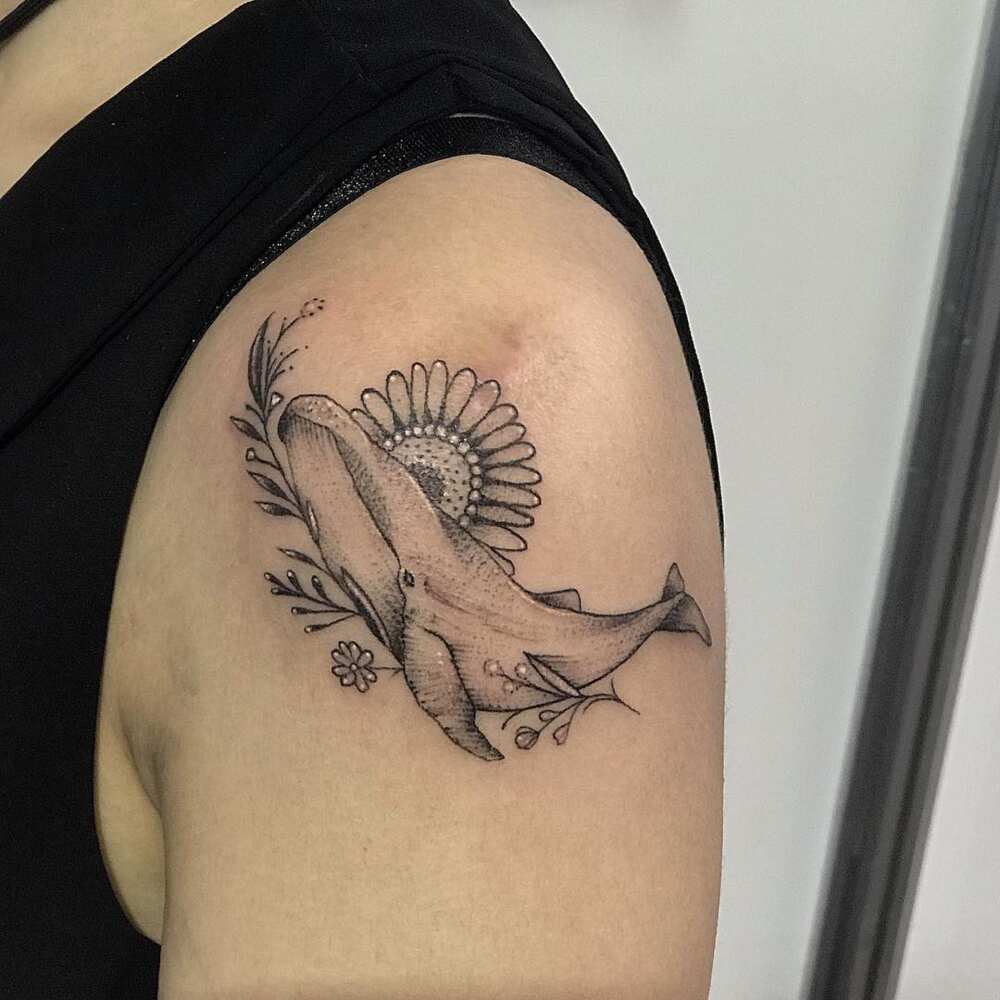 A sunflower can be combined with pretty much any plant (or animal) for such lovely outcomes.
The top sunflower black and white designs
Monochrome designs always have this simple yet elegant look about them. Having a black and white flower tattoo speaks volumes about the wearer in terms of their love for simplicity and functionality.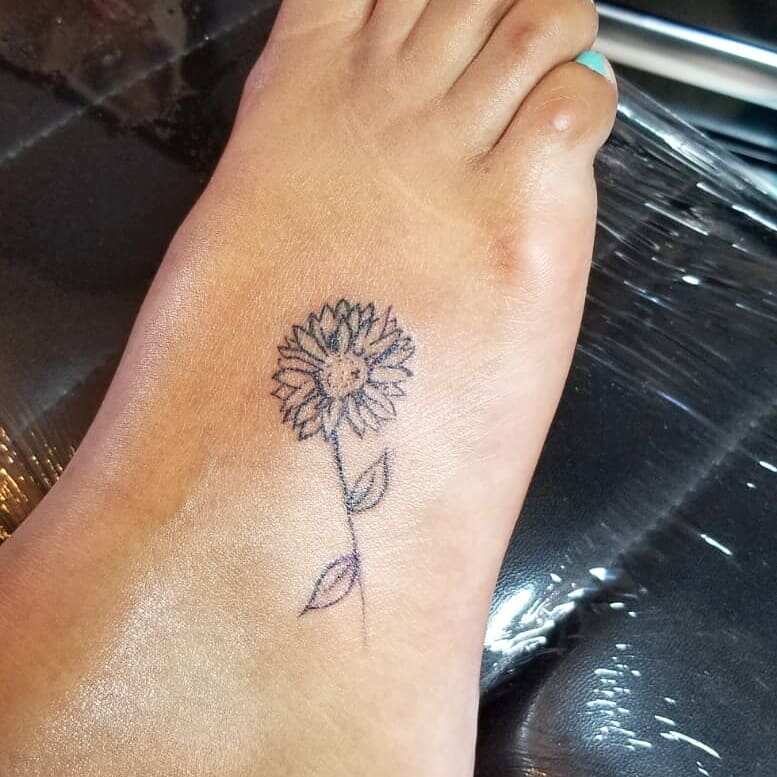 You simply cannot go wrong with a small monochrome idea.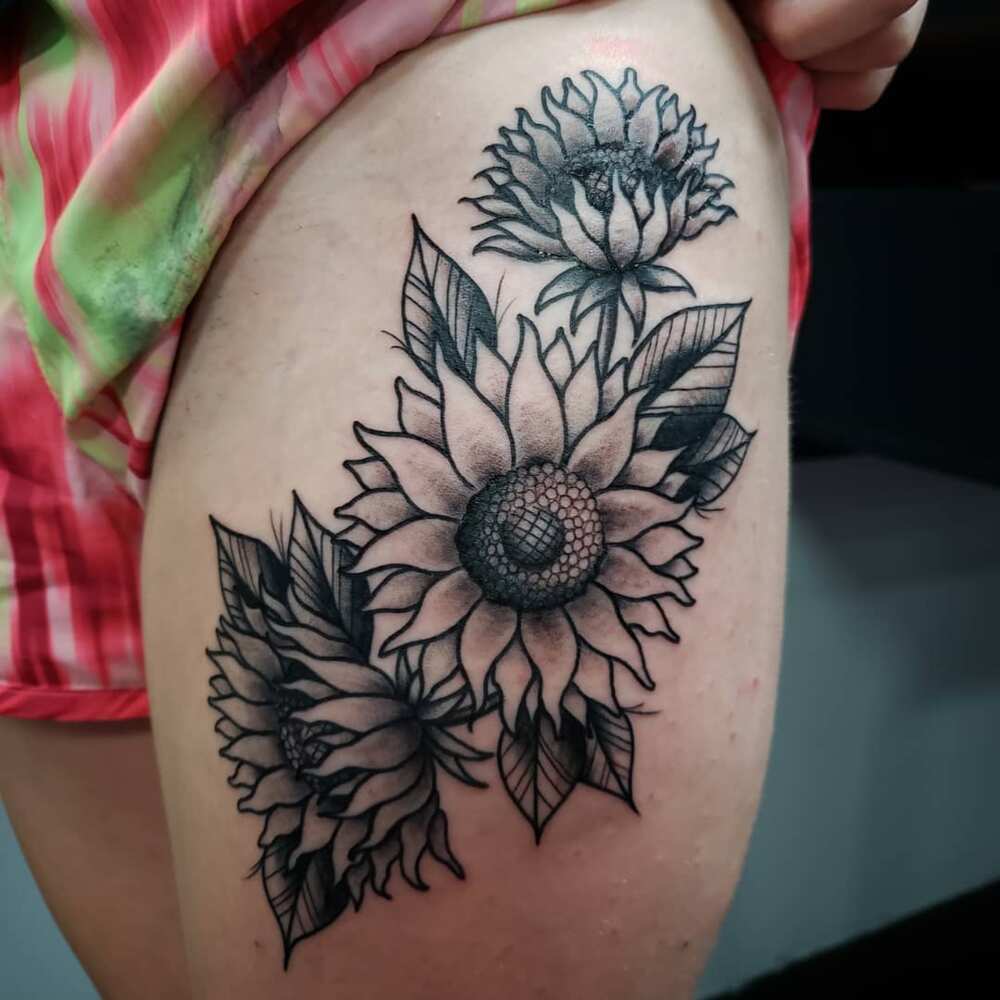 The directional creativity in this design gives the art a 3D look as well as adding some depth.
Choosing the best watercolor sunflowers design
Here are some interesting watercolor flower designs you can consider.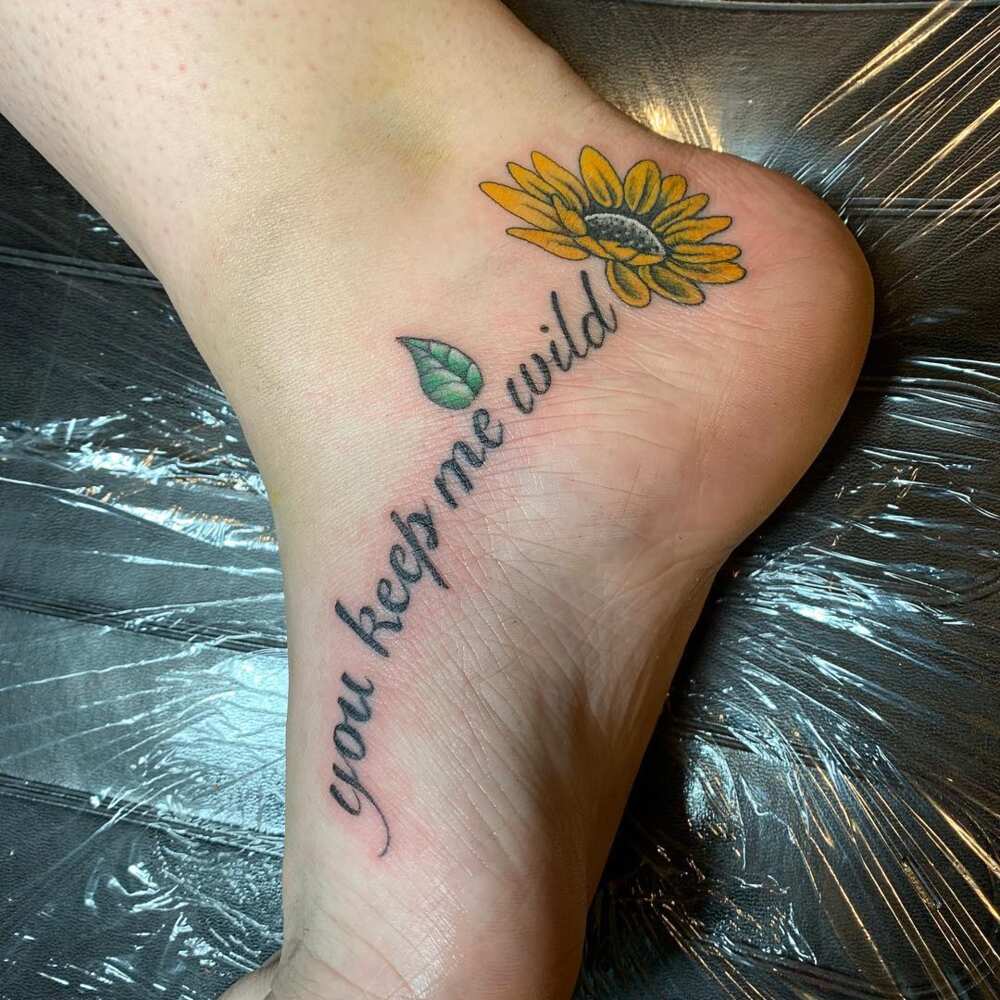 When you need some ink to remind you about something, well, here is an idea.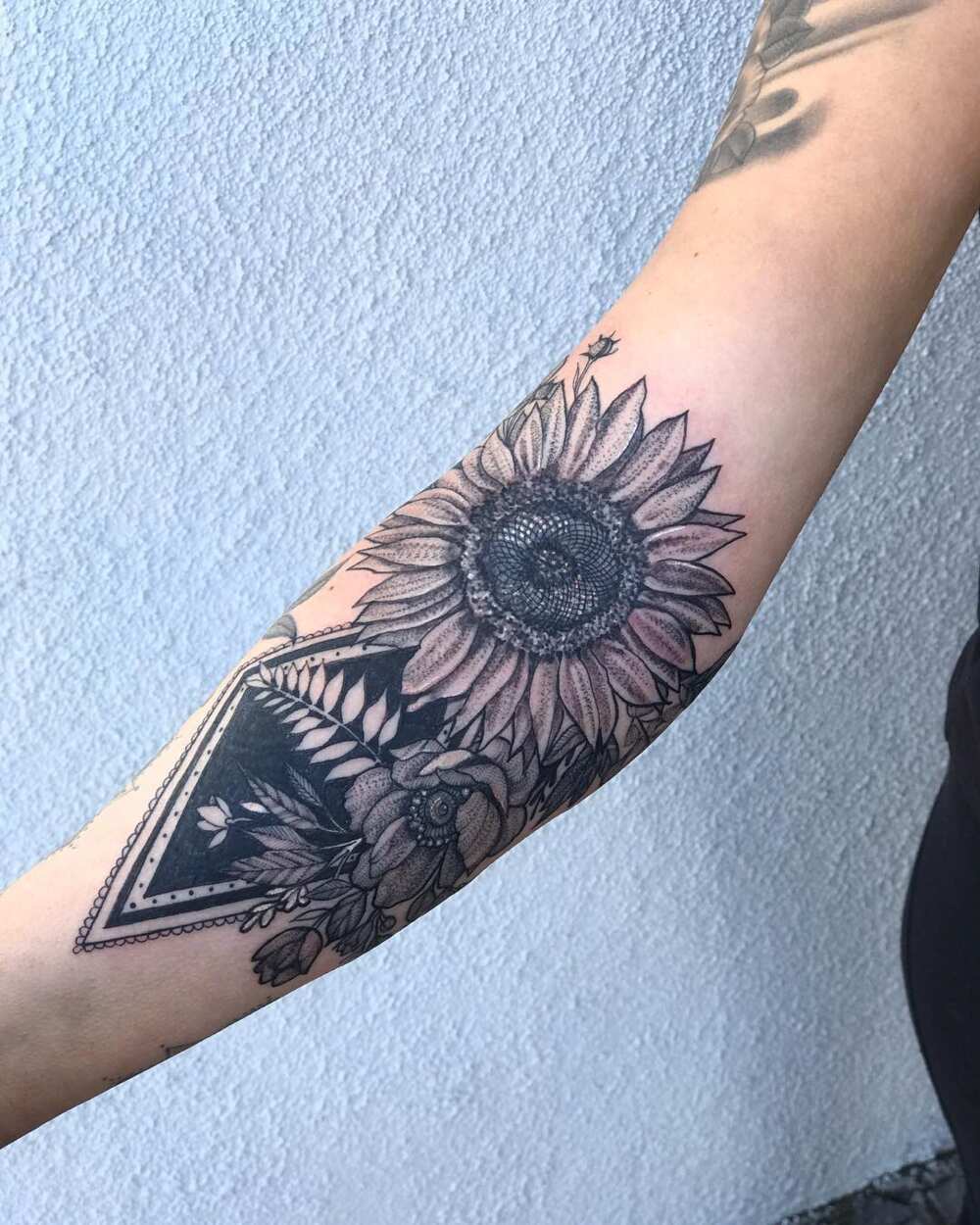 This combination of contrasting backgrounds and foregrounds creates a dramatic tattoo that will certainly get heads turning.
The sunflower tattoo is probably the most customisable tattoo design out there. The numerous options in terms of colour, combination, size, and shape make it one of the best options for first-time tattoo wearers. Which design did you find to be most enthralling?
READ ALSO: Elephant tattoo: meaning and top 50 ideas
Source: Legit.ng