Ray Lewis net worth, biography, age, height, wife, children, family
If you are a fan of American football, you must have heard the name Ray Lewis. He is one of the most successful footballers and one of the most handsome men. He leads a luxurious life and attracts the attention of the press, so many of his fans want to know Ray Lewis net worth. If you want to know it too, go on reading!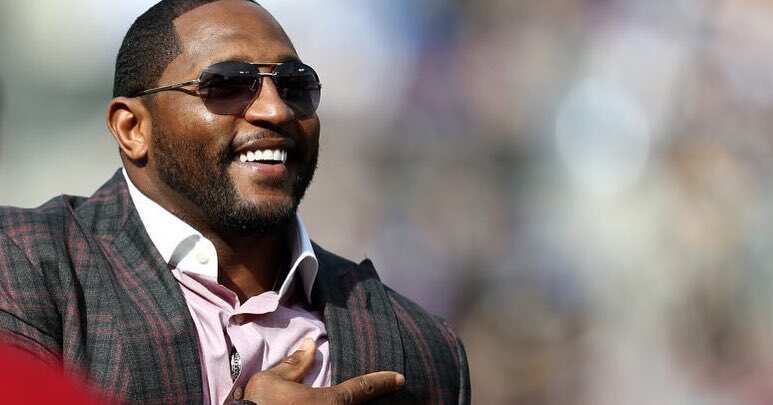 He is an experienced personality and player. During past years he faced both ups and downs, victories and serious problems, love and hate. However, it all made him the person he is today. So if you want to know him better, keep on reading.
What is Ray Lewis net worth and how has he earned it?
The footballer does not play his game anymore; however, he leads a luxurious life. Apparently, he managed to earn a lot during his career prosperity years. So how much is Ray Lewis worth? It is estimated at stunning $45 million, and moreover, his annual salary is believed to be $7 million! He spent the entire seventeen-year career only with his team – the Baltimore Ravens.
He worked a lot to earn it. Just imagine, in eight career playoff games, his achievements were: one hundred two tackles, eleven passes deflected, two interceptions for fifty-four yards, three forced fumbles, one fumble recovered, and one touchdown.
From Ray Lewis biography it is known that he has always been fond of football. The sportsman became a football player when he was a young student of Kathleen High School. Later he was recruited to play at the University of Miami. In 1996, the Baltimore Ravens noticed him and it was their successful choice. Lewis led the team to a Super Bowl victory in 2000, and, moreover, he was named Defensive Player of the Year.
There is one interesting fact: in one of his interviews the man told the story of his becoming a footballer, and, as it appeared, the game was not his primary goal at that time. He recollected:
"As a young child, my momma had me at 15 years old. My father walked out on my mom and left me in the incubator with no name. I'm 36 years old. I spent my first Father's Day with my father at 33 years old. Then my mom was in some rough relationships, and so we would see these bruises, and when we would see these black eyes on her face I would say, 'Mom, why do you keep going through this?' And a lot of people always look at me, and they always say, 'Man, how did you become this great football player?' It wasn't football that drove me. It was making sure a man would never put his hands on my mom again, is what drove me."
This noble-minded goal led him to great achievements, and he managed not only to protect his mother but also to provide for her. Just in several years after the first Super Bowl victory, Lewis led the Ravens to another (the second one) Super Bowl victory. He was a valuable team member, and it is not surprising that four-year contract extension with the Ravens in 1998 made him the highest paid middle linebacker in the National Football League because it brought him $26 million. It is was also counted that his highest yearly salary was more than $10 million in 2002 due to a bonus of $10 million. In 2012 (that was the last year of his career), Lewis earned about $5 million.
By the way, by the time of his retirement that took place in 2012, the sportsman held three records with the Ravens. He was acknowledged the person who played in the biggest number of seasons (17), the player who conducted the most career games (228) and the man with the most career opponent fumbles recovered (20). In the whole, he gathered 2,643 career tackles, including a single-season team-best 225 stops in the year of 2003. He was merely adored by colleagues and fans and even was included into the Pro Football Hall of Fame in 2018. However, he was happy to retire. He said in one of the press reports:
"I've been going a long time. And now I can finally rest. I want to go fishing with a cigar now and just sit back. I don't want to work out every day now."
He is still young and strong. How old is Ray Lewis? He was born on the 15th of May, 1975, in Florida and therefore Ray Lewis age is 43 (but he will turn 44 soon). At his age, he is in good form and looks impressive. How tall is Ray Lewis? One may say that Ray Lewis height is 6 feet that is 1.85m. At the same time, the celebrity weights a bit less than 150 pounds that is about 113 kg.
Today the ex-footballer is also known due to his acting and TV career that brings him income too. One could have seen him as an actor in What You See Is What You Get (2002) and Low Blow (Movie). He was also a cast member in The Last Alaskans (TV Show), The Last Alaskans: Remote Access (TV Show), Coaching Bad (TV Show), How I'm Living (TV Show), America's Game: The Super Bowl Champions (TV Show), In Depth With Graham Bensinger (TV Show) and as a guest on CBS This Morning (TV Show), Celebrity Sweat (TV Show), Beyond the Glory (TV Show) and many other shows.
READ ALSO: Christian Okoye: wife, son, net worth, highlights and football life
The celebrity has almost 700 thousand followers on his Instagram account, about 370 thousand people read him on Twitter, and he is liked by almost 2 million fans on Facebook.
Ray Lewis personal life
There are many questions about Ray Lewis wife because nobody has ever heard her name. Is Ray Lewis married? No, official family status of the NFL star is unmarried. However, many of his fans could have heard the name of Tatyana McCall along with the footballer's name. They had a durable ten-year romance after they had first met at the University of Miami.
Although he has no spouse for today, Ray Lewis family is big and therefore, it must be money consuming to provide for such a family. Perhaps you ask yourself a question: "How many children does Ray Lewis have?" The answer will impress you! He has six kids. Ray Lewis children are Ray Lewis III, Rayshad Lewis, Rashaan Lewis, Ralin Lewis, Kaitlin Lewis, Diaymon Desiree Lewis.
In 2012, the world saw a battle over Ray Lewis kid from Sharnika Kelly. The matter is that the mother of the child claimed she wanted to get more than $3,500-a-month sum of money from the father. In his turn, the footballer, asked the court to provide guardianship for his son because he was afraid that the woman could use his money to care about her other children from other men.
Unfortunately, it was not the only time when the sportsman appeared in court.
Being one of the strongest players, this tall and big man managed to overdo with his power and appeared on the verge of being severely punished in 2000. The matter is that he and his friends went for the Super Bowl party at an Atlanta club where they got into a fight. It may seem a normal situation because conflicts occur in clubs from time to time, but it was not an ordinary fight, it was a fight where legendary Baltimore Ravens linebacker took part. As a result, two men – Jacinth Baker and Richard Lollar were stabbed to death. The sportsman was arrested. However, the knife found at the crime scene did not match any fingerprint. In the process of the trial, the footballer was sentenced to one year of probation, and he was obliged to pay a fine of $250,000. His friends were acquitted too. Although the story had a kind of happy ending for the player, the man, in any case, should have used his potential more accurately and peacefully. However, in one of his interviews in 2010 he expressed a good idea about the life experience:
"You ask me if I'd trade anything, and I couldn't. I couldn't because I wouldn't be the man that I am today. The end result is who I am now. And that means if I had to go through all that again to come to the point of who I am right now, why change it?"
When in 2018 the footballer was going to sell his house preferences concerning his luxurious life mode became clear. The mansion price was estimated at $1.89 million. The house was decorated in light-brown and white colours and measured 6,592 square feet. There were two floors, a chimney, a bowl collection room, a cosy family room with comfortable brown leather sofas, a bar, a billiard table, a cinema room, a sauna, a fountain outside and many other luxurious items.
Ray Lewis net worth is more than enough for him to lead a quiet, luxurious life after retirement in the surrounding of six children. The sportsman still stays discussed by fans and is still interesting to the media.
READ ALSO: World richest football player ranking
Source: Legit.ng