George Foreman net worth, age, height, spouse, children
When you look at the current pictures of this man, it is difficult to imagine that this man with a friendly face looked somewhat different 30-40 years ago. However, it was not a horrible grimace that helped to gain George Foreman net worth, but powerful and precise punches.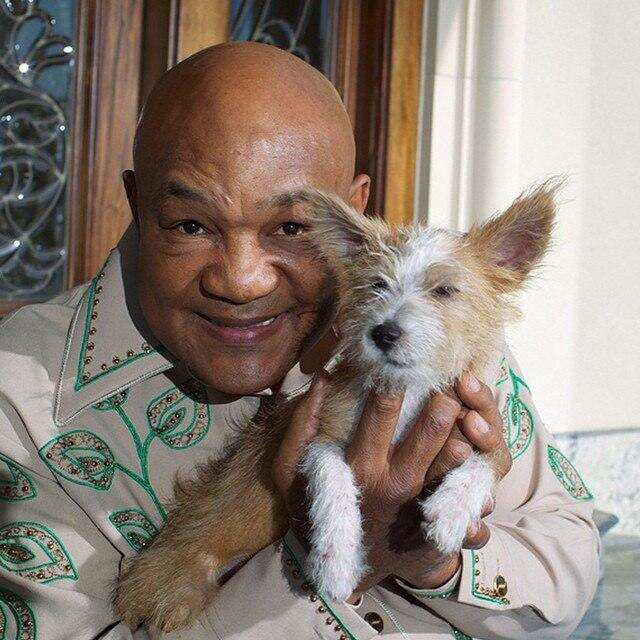 There are not so many sportsmen among professional boxers who would have such a long list of victories. The sports career of this boxer has been lasting for almost three decades.
What is George Foreman's net worth? How old is George Foreman? These are the questions which bother many fans of boxing. We will answer them below and will tell you about the top facts about the boxing legend.
George Foreman net worth and bio
George Edward Foreman was born on January 10, 1949, in Marshall, Texas. So this year the retired boxer turned 70 years old. His biological father, Leroy Moorhead, died after his birth. George had six brothers and sisters, so the family lived in poverty. At the age of 15, the boy was expelled from school. He often offended other children, participating in wars between street gangs.
Fortunately for him, the young man joined the Job Corps, in which people were taught different types of work and sports. As a part of this program, the future star went to California, where he met Doc Broadus, who was an adviser to the working corps, as well as a boxing trainer. Thus, in addition to the work of a carpenter, the teenager learned to box.
READ ALSO: Kobe Bryant net worth, endorsements, sponsors, salary and career earnings
Starting training, he quickly achieved incredible success on the amateur ring. In 1967, the boxer won the National Amateur Athletic Tournament in the heavyweight and left the working class. George Foreman height is 192 centimetres or 6 feet 3.5 inches.
With only 25 amateur fights, in 1968, he became an Olympic champion at the Olympic Games in Mexico City. Then he knocked out Jonas Čepulis, a heavyweight from the Soviet Union. After that, he ended his career as an amateur boxer and began his career as a professional fighter.
Knockouts, which brought him stunning success in the amateur ring, helped the boxer to prove his advantages in professional boxing. Knockouts followed one after the other. Famous fighters, who until that moment were considered unconquerable, were among the defeated by Big George. In 1969, he ended the fight with Chuck Wepner with a knockout, a year later — with George Chuvalo, and in 1973 he defeated Jose Roman and Joe Frazier.
His fight with Muhammad Ali went down in history as "The Rumble in the Jungle." It took place in 1974. The advantages of George Foreman were the onslaught and youth. Before the battle, he well studied the tactics of Muhammad Ali. In the first round, he tried to press him against the ropes and not let him move, holding down powerful punches to the hull. Ali held out against Foreman, and in the eighth round, he managed to knock him out. It was his first shutout as a professional boxer.
The boxer left the ring in 1977 after being defeated by Jimmy Young, but this was not the end of his sports career. Ten years later, Foreman returned on the ring. 1987 can be called a turning point in the boxer's biography — then he made a difficult decision to return to the professional ring. Victories in the ring followed one after the other. In 1994, the boxer managed to regain the title of champion, after he had defeated Michael Moorer. After the fight with Moorer, he became the oldest heavyweight champion.
Considering his successes and achievements, George Foreman net worth is $300 million.
This athlete was named one of the 25 greatest boxers in the last 80 years by Ring magazine. He was also ranked 15th by the roundbyroundboxing.com version.
George Foreman wife
The boxer was married 5 times to Adrienne Calhoun (1971-74), Cynthia Lewis (1977-79), Sharon Goodson (1981-1982), Andrea Skeete (1982-85). Now George Foreman spouse is Mary Joan Martelly (since 1985).
George Foreman children
George Foreman kids are 5 sons: George Jr., George III ("Monk"), George IV ("Big Wheel"), George V ("Red"), and George VI ("Little Joey") and 5 daughters: Natalia, Leola, Michi, Freeda, Georgetta, and 2 adopted ones: Isabella Brandie Lilja and Courtney Isaac.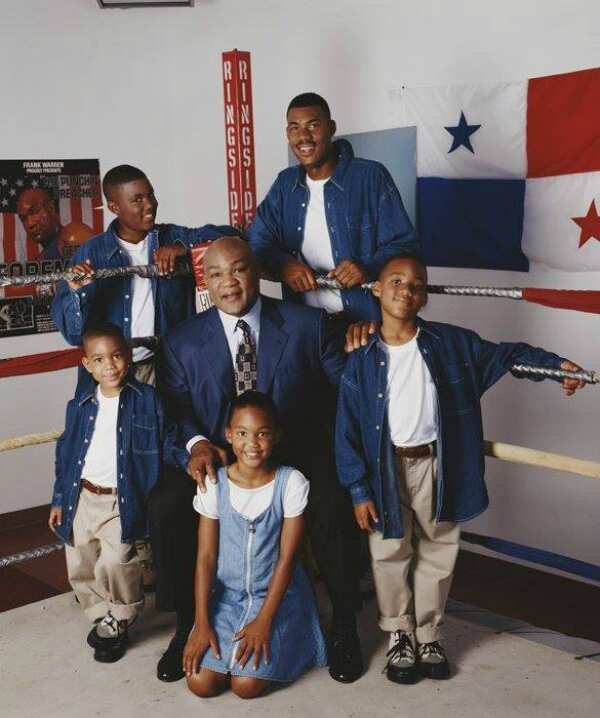 George Foreman net worth is impressive. The boxer has built a successful career and earned a lot of money. Now the man tries to spend all his free time with his family. You can also see him in the church or presenting some home stuff on the advertising panel.
READ ALSO: Zahra Elise bio: age, height, race and hot pictures
Source: Legit.ng