Travis Scott net worth, age, height, full real name
Travis Scott net worth, personal life, and relationships are among the highest searches on the internet today. Being a professional rapper, a songwriter, and a producer, he has been in the limelight quite a lot lately. His baby mama, Kylie Jenner, and their lavish lifestyle have always left people talking about him all day long. He has a successful career considering he has been in the music industry for a short period. Read on to discover Travis Scott full name, age, and height alongside other facts.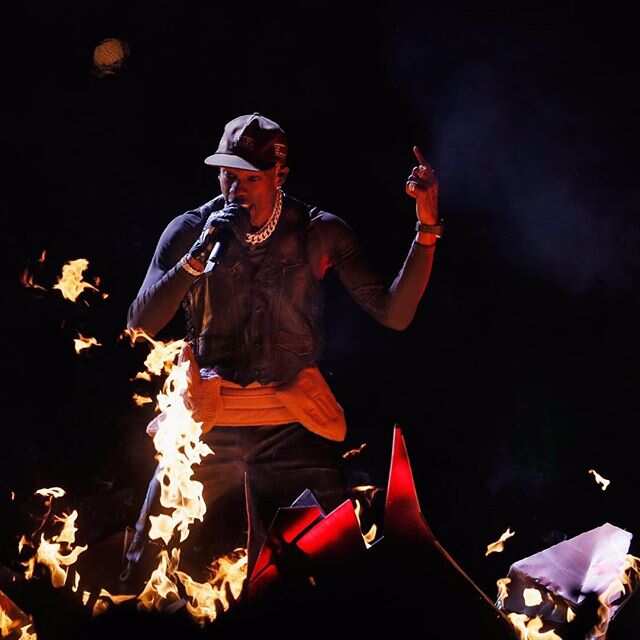 This famous rapper was born in Houston, Texas. Many know him by his stage name, Travis Scott. However, Travis Scott real name is Jacques Berman Webster II. Fans all over the world have greatly received his music. His following on social media will confirm to you that many people easily relate to his music a lot. Some of his albums include Astroworld (2018), Birds in the Trap Sing McKnight (2016) and Rodeo (2015).
READ ALSO: Kylie Jenner boyfriends before Travis Scott
How old is Travis Scott now?
People have been speculating lies regarding Travis Scott age for long. I suppose they do so because of his successful career. Well, I am here to put an end to these rumours. The rapper was born on the 30th of April 1992. Interestingly, this month is his birthday month, and he will be turning 27 years old. It is unbelievable how much success and wealth he has gathered at such a young age.
Who is Travis Scott?
As I have mentioned earlier, the man lived with his grandmother in Missouri city. However, he again moved to stay with his parents back in Texas. Also, I suppose you probably have an idea that he dropped out of college after 2 years, to pursue his dream in music as a full-time job.
Travis Scott height
You will agree with me that the rapper has an amazing athletic body. How tall is Travis Scott though? Well, he is 5 ft 10 inches— approximately 178 cm. His weight is about 67 kg while his chest measurements are 40 inches. He stands out as a rapper with distinct features that include his many tattoos, short dyed dreadlocks, and gold plated teeth. This physique has given him the opportunity to promote brands like Puma, Sprite, Reebok and Beats Audio Wireless.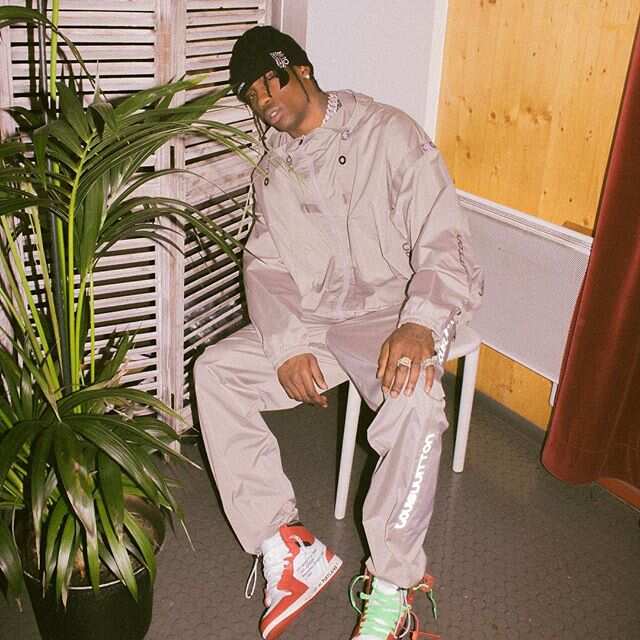 Travis Scott net worth and career
Travis officially entered into the music industry in 2008 though he had an interest in music from childhood. His very first EP was released in 2009, just a year after he started working professionally. At that time, the young man was working with his friend Chris Holloway. He also worked with OG Chess for a short time before he moved to Los Angeles in 2011. While in Los Angeles, he was signed by Kanye West and Epic Records in 2012.
In early 2012, he was signed by Grand Hustle Imprint, which released his first mixtape 'Owl Pharaoh.' In the mixtape, Travis collaborated with artists such as 2Chains, ASAP Ferg, Wale, and Meek Mill. Fans liked the album, and it was nominated as the best hip-hop mixtape on BET awards.
Rodeo's studio album was released in September 2015 by both T.I's Grand Hustle and Epic Records. The first song was a collaboration that included Big Sean and The 1975. It performed, significantly, well on the Billboard 200 since it was #3. Some of the album's singles you can sing along include: '3500', Antidote and Nightcrawler.
Scott's 2nd album was released almost a year later; the singles featured in the album include 'Pick up the phone' and 'wonderful.' In 2017, his mighty collaborations with Quavo and Liz Uzi Vert put him on the map. He also released an album called Huncho Jack.
READ ALSO: Grammy Awards 2019: List of winners that won their categories
It is incredible how the rapper has been working tirelessly to release an album every year. Last year in August, he did it again — he released a sensational album called 'Astroworld.' The album has gone viral topping in many charts across different countries. RIAA has rated the album platinum, and it is number #1 on the Hot 100 Billboard. The story behind this album is quite an interesting one. Actually, it is about the Astroworld demolition in Houston. The album seeks to create a movement to restore it so that children can play and enjoy their childhood. Astroworld features a series of singles and collaboration like 'Sicko mode,' which has over 165 million views on YouTube.
Wait, how much is Travis Scott worth? Well, in 2018, Travis Scott net worth was estimated to be $22 million.
Does Travis Scott have kids?
Yes, Scott has one beautiful baby girl called Stormi Webster. The Alstroworld hitmaker started dating a reality TV star and entrepreneur Kylie Jenner officially in April 2017. Although there has been a lot of rumours about Travis cheating on Kylie, he has always come out disputing those allegations. Kylie Jenner gave birth to Stormi on the 1st of February, 2018. She is about a year and two months now.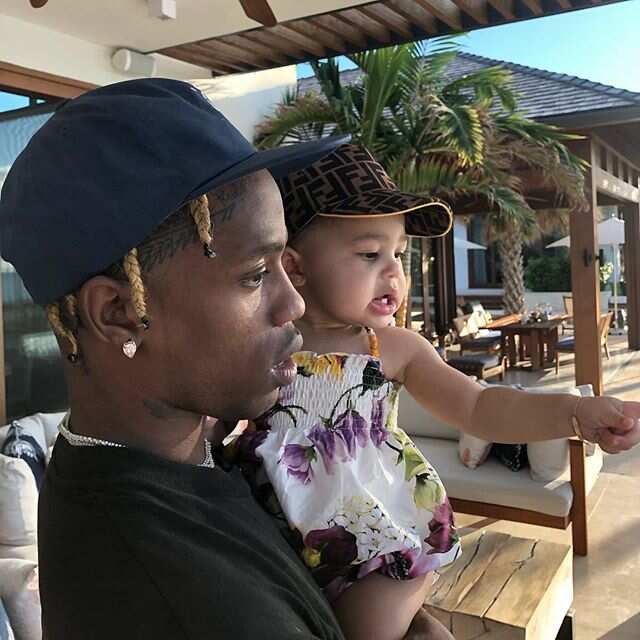 The personal life of Travis Scott
Also, Rihanna is Scott's ex. They began dating in 2016, but they broke up the same year. It is then that he began to date Kylie, on April 2017. The couple seems very close in public and even in their social media posts. Things appear to have moved so first for them.
Interestingly, the couple has matching tattoos. They tattooed themselves two months into their relationship. To say the least, Kylie and Travis lead a lavish lifestyle full of expensive stuff like cars and properties.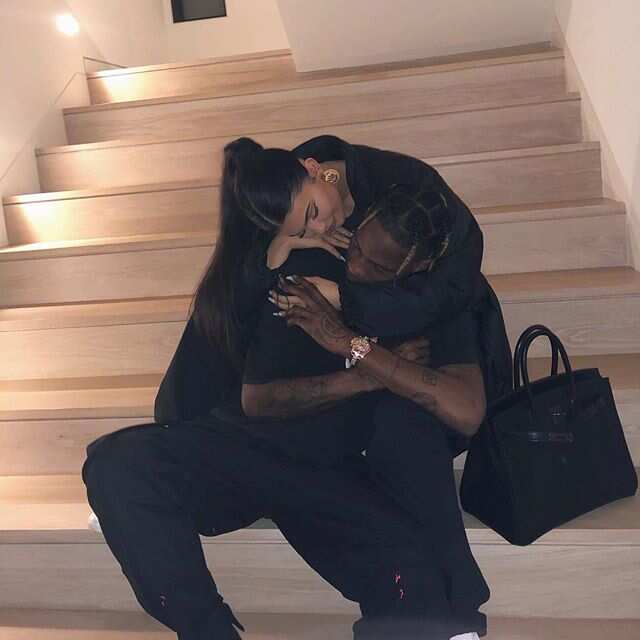 You will agree with me that Travis Scott vastly continues to create his legacy in the music industry. Not so many artists, at his age, have managed to acquire Travis Scott net worth. He has greatly transformed the rap game motivating others to step up. His platinum records and singles are doing exceptionally well. His fan base has grown over the years because many people relate to his music.
READ ALSO: Kylie Jenner talks about her life as a mother
Source: Legit.ng