50 sweet goodmorning love messages 2019
We all wake up in the morning thinking about our loved ones, our friends, or just those who mean a lot to us. We all want to wish them a good morning, but if you are too sleepy to say or invent something, use one of our good morning love messages ideas.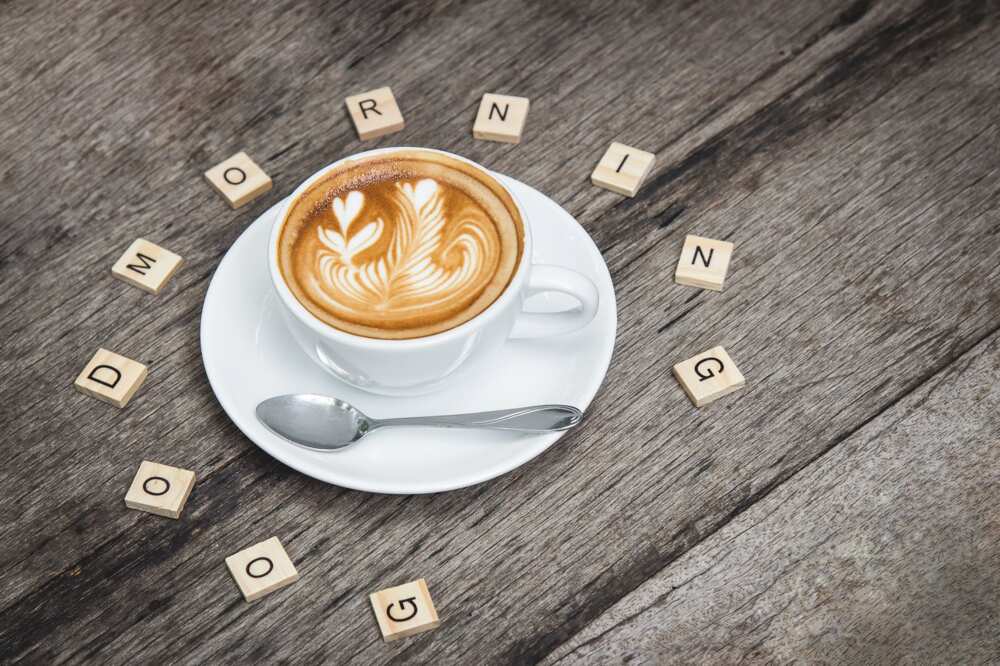 If a kind message in the morning will make at least one person smile, your day will be lucky. Do not hesitate to choose one or two phrases of our fifty kind messages to make this life better.
Good morning love messages for girlfriend
When you google "good morning message to my girlfriend," you will see very many variations. We have prepared for you a list of the best sincere morning message to make her fall in love with you again.
I used to hate waking up, but now I can't wait to wake with you by my side. Hello, gorgeous, remember, I appreciate you.
Nothing compares to a feeling that you get when you see your girlfriend`s name appear on phone notifications. It's like turning on a switch; everything becomes light and happy again.
I am delighted that I've been given eyes to see Sun, and heart to love a fantastic person! Hello, my beloved!
Liking you is a gift. Loving you is a treasure. Cherishing you is my pleasure. Promise me to be only mine, my darling. Bonjour, my love!
Nothing is more pleasant for me than hearing your voice when I wake up. I hope my words will make you smile.
You're so cute when you wake up; even a little wrinkle on the forehead does not spoil you. I'm kidding, darling, you are perfect!
My little girl, your smile is my main inspiration; love is the only motivation I need. Wake up!
Warm sun, the delicious smell of coffee, sweet pancakes and charming smile of such a lovely girl – this is all I need for my fabulous morning! Let's make every sun of our lives perfect!
If you feel that you did not say enough, we offer more long good morning messages for her.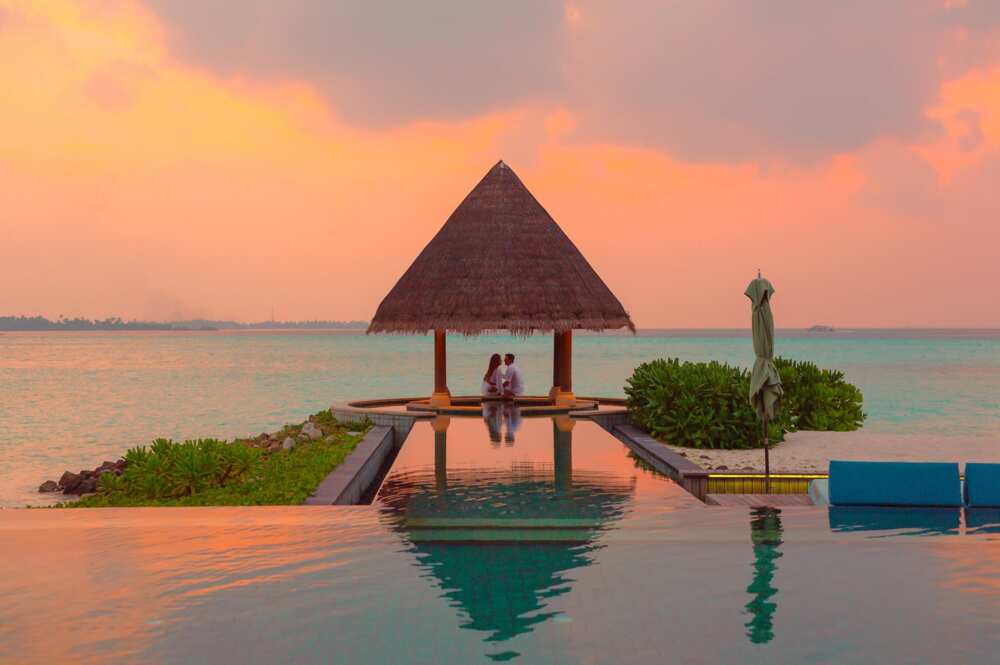 May your day be as bright as the sunrise. May you have many reasons to be happy and grateful when you wake up; may God grant your heart desires. Do have a beautiful time ahead.
Warm greetings to my joy, my princess, my woman, my everything, my treasure, and my cheerleader. May this new sun be better than yesterday; may it bring you an abundance of blessings. Do have a splendid day ahead. I need you beyond words.
You're my blessedness, so I wish your life be filled with unlimited happiness. You're my everyday joy, so I want your heart to be filled with purity. You're my everyday blessings, so I wish you an abundance of blessings today, tomorrow and forever. You know that I love you, right? Well, I do, princess.
Hello to the most beautiful girl in our universe – You. May your day be as sweet as you are, may your afternoon be as beautiful as you are; may each new sun bring you a step closer to your dream. I wish a blissful day to you. Get up, my cuppy cake.
Good morning love messages for boyfriend
Here are excellent "good morning my love" quotes or words to send to your bae today.
READ ALSO: Funny love sms to send to your soul mate
My life is sweeter with such a good person nearby. Please keep my life sweet always, my sweetheart. Have a great day ahead!
With you, every new sun will always be amazing just the way you are. You're indeed the best thing that has ever happened to me; I'm glad to call you to mine forever. I adore you dearly; I wish you have a beautiful day ahead of you. Hi, bae.
Meet a new day, my sweetheart! I will try to fill it with my sincere love, burning passion, hours of laughter and endless happiness!
As you set out this beautiful morning, may your heart never stop dancing to the beat of our love song. May good Lord bless you going out and coming in today. I think of you.
Mary Jane has Spiderman. Lois Lane has Superman. Pepper Pots has Tony Stark. Don't worry! You will always have me, my dear.
Your warm smile is the only inspiration I need in this life. Your tender voice is the only motivation I need. Your love is only praise I need. The alarm clock should not exist while it is the only device which wakes me up while I am sleeping dreaming of you.
May forenoon of such a nice person will be full of laughter, great tidings, boundless happiness. May your heart be filled with gratitude; may you always have a reason to celebrate. Be grateful! I love you to the moon and back. Do have a lovely daytime.
My best feeling is goosebumps when you kiss me; I want to feel them for my whole life. Good morning, sweetheart.
Guess who the happiest girl in this world is? Me! Because I see you in my dreams every night. Moreover, later, when I wake up, I meet with you, in reality!
People say that mornings can't be good. I do not agree, every morning when I meet with you is fantastic.
All the beautiful things in our universe don't compare to your smile. Have a beautiful day, bae.
Good morning messages for friends
Remember that friends also need care. So, send some sweet words to your mate this morning too.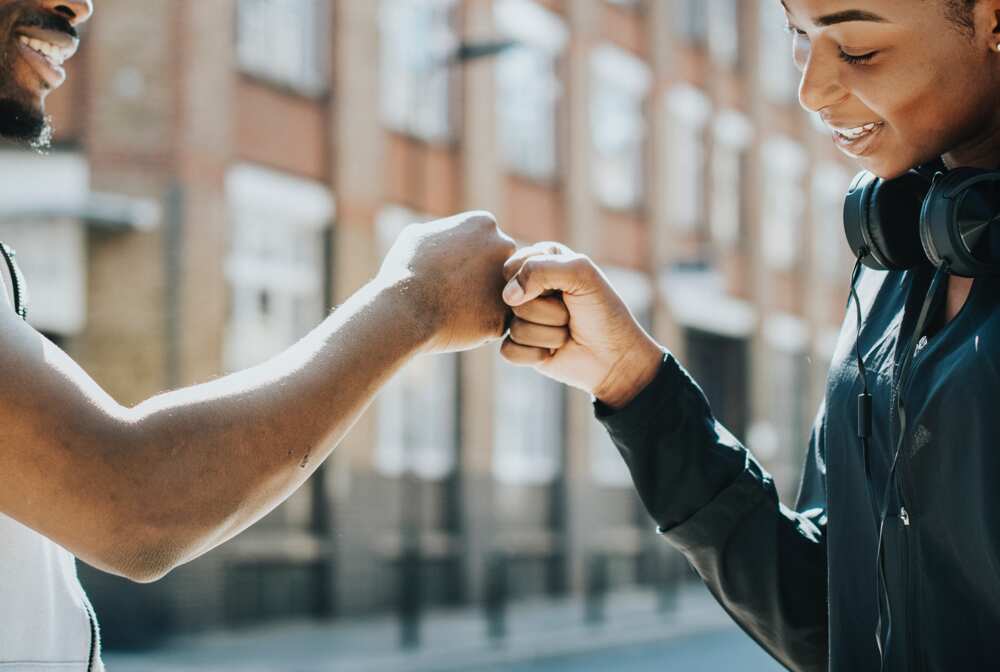 Hello to a friend who never stresses about anything, because you are always asleep!
Once you replace negative thoughts with positive ones, you'll start having positive results. So wake up with good ideas on the mind! Get up.
Let's face it. A terrible part of waking up is actually waking up.
Hey! Wake up! It's high time you took a big sip from a coffee cup!
Daily forecast for all my friends. Let nothing stop you from being fabulous. Move to achieve all you ever want. Wake up.
Greetings to someone who sets, when the sun rises, and rises, when the sun sets! Pretty sure you've got that backward, friend! Have a nice nap!
So it is a secret of perfecting a waking up process, be grateful. I will start it off. Thank you for being a great friend. Have a blessed morn.
You should know that you can always count on our friendship. Unlike sunbeams that come and go, our bond is unbreakable. Together we stand, in darkness and light, we shall sail through.
Hello dear friend. Today as I was getting dressed I thought- a good friend is like a good bra: supportive, meant just for me, a perfect fit. Thanks for being my ultimate support system.
Waking up early every day has become a routine. I want to be the first person to text you Hello. That's how much important you are to me.
The main task of determining how a new day turns out entirely rests on you. You get to choose what works for you or what does not. Paint on today's piece of canvas how you want your day to go. Power belongs to you.
Warm greetings, buddy! Trumpet sang - Sun is shining! Get out of bed. We are waiting for great adventures! Without you, I can't make world kinder, because you are my true and reliable friend! I wish you a day full of good deeds!
Good morning is a contradiction of terms. Anyway, wake up, my friend!
Legit.ng also cares about those friends and loved ones who need a good portion of coffee and positivity to wake up.
READ ALSO: Top 10 Love Messages For Her - Most Touching Ones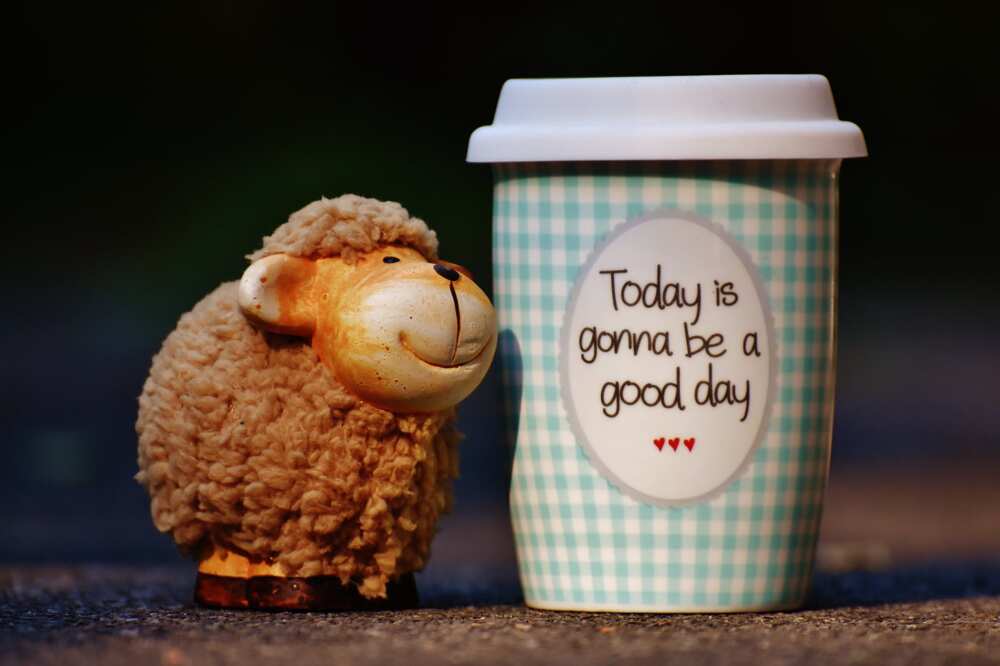 Funny, good morning messages for everybody
I think that there is a better way to start each day. Certainly, it is not waking up with the sun.
My bed and I have a special relationship; we're perfect for each other. But my alarm clock hates seeing us together.
Wake up! Let's look forward to seeing night stars again tonight. I hope you have satisfied mosquitoes at night; they'll be waiting tonight too.
Every day when you get up look through Forbes list of wealthy people of our world. If you are not in it, go to work!
Ugh, is it morning? Not again! It's almost as if Moon comes out to let us wink instead of getting a full night's sleep.
You don't look too good when you wake up; I guess that's why you prefer to sleep through it. Wishing you a morning you'll wake up looking awesome!
People of our world are divided into two kinds: 1) early birds people; 2) people who want to shoot early birds people. Good morning! Choose who you are!
Unfortunately, a cat who wants to have its breakfast has no snooze button. Hello! It is time to feed your cat!
Hey! My night has been enjoyable. As you were sleeping so peacefully, I was on a battlefield fighting mosquitoes in my room. Glad I won to see daylight.
In bed, its 6 AM you close eyes for 5 minutes, and it's 7:45. At sleepless night it's 1:30, close eyes for 5 minutes, it's 1:31. Agree? I hope you slept well!
Good morning! Though…well…let`s see how the rest of the day goes!
Bonjour to a friend, who outdoes everyone… in sleeping! You excel at that!
They say an early bird catches a worm; luckily you are not a bird for you'd die of starvation. You'd be a worm instead so you could have a reason to sleep. Wake up!
You can write whatever you want, or just a simple "Hello," but remember, this world will become a bit better if we say warm words to each other every day, especially through sweet goodmorning messages.
READ ALSO: What words to use when toasting a lady?
Source: Legit.ng