Trendy ankara jackets for real fashionistas
Do you want to spice up your look? Trendy ankara jackets will transform your style and give you that magical touch you desire. Every lady needs one or two or even more ankara jackets in her closet and we have put together these astonishing trendy ones just to inspire you and help to choose the next choice of ankara style. Enjoy and get inspired!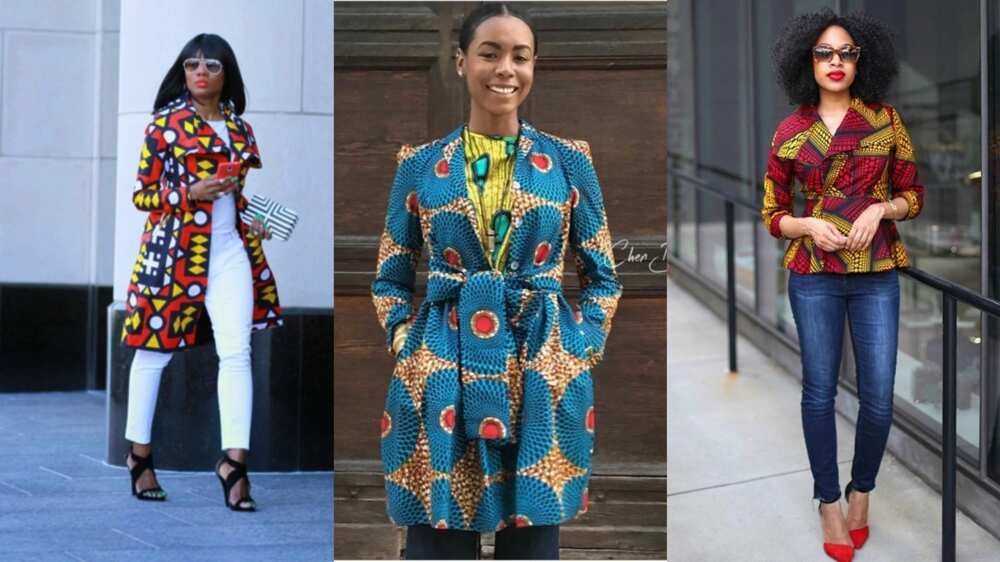 Trendy ankara jacket styles
The most common type of fabric in modern Africa is ankara, this is a common name for African cotton fabrics with a bright wax print. From these fabrics clothes are sewn, they are used for making accessories and in interior design.
A jacket is an integral part not only of man`s wardrobe but also of a wardrobe of a modern woman. This basic element is able to diversify your images and make them very fashionable. Especially with the help of ankara jackets. Colorful patterns, bright colors, bold lines and romantic strokes - it's all about ankara jackets. They will help to make the image bright, vivid, colorful and shining even with old gray trousers or a completely unimpressive blouse. It is not just a jacket, it`s a must-have for any modern woman.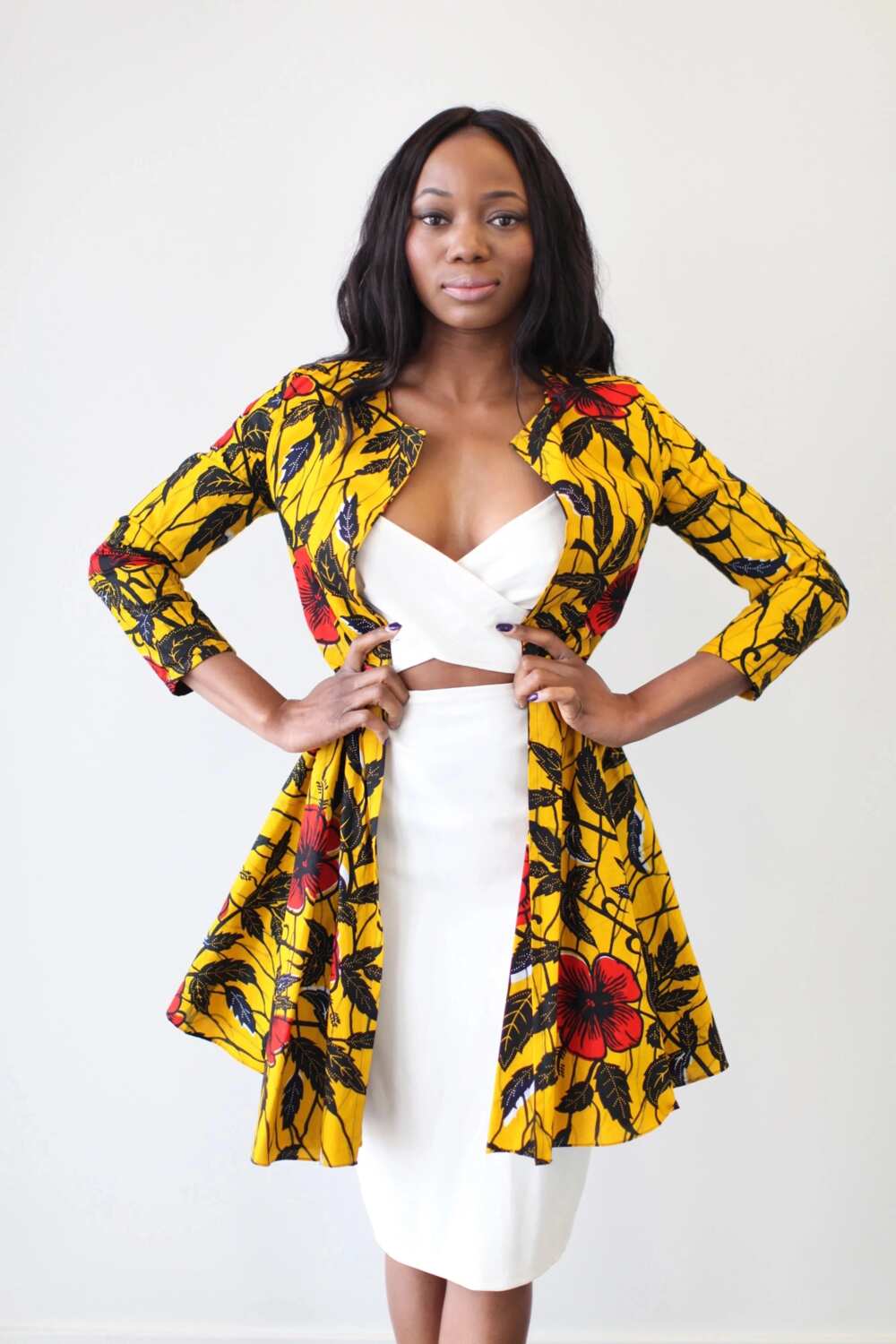 After all, jackets don`t leave the catwalks for more than a decade! Therefore, today we will talk about trendy ankara jackets styles and what they can be combined with.
An excellent look has jackets combined with jeans. The image is much more alive than the classic trouser version.
For wide and loose jeans, such as boyfriends or flared jeans, it is worthwhile to try on a well-fitting short-cut classic style. It will be enough to add a snow-white blouse, shirt or neutral blouse for your taste and you will get an unconditionally stylish and versatile outfit. Notice how the women's jackets are selected with jeans in these photos. Ankara fashion is something incredible!
READ ALSO: Latest Ankara styles in 2018
One of the most expressive and fashionable colors is red. How can you wear such ankara jacket? Whether you want it or not, but the red color still will be the main accent of your image, so any things and accessories to it should be selected only as add-ones.
Red defeats all rivals, so it's better to abandon the bright shades in such a package immediately. White and pearl-gray colors will create an impeccably expressive image. Red with black is a long-established fashion tradition.
An unexpected combination is a jacket of the latest ankara styles and shorts. Thinking about the summer wardrobe, the shorts are remembered. Very fresh and unusual ankara jackets with prints, preferably of dark color.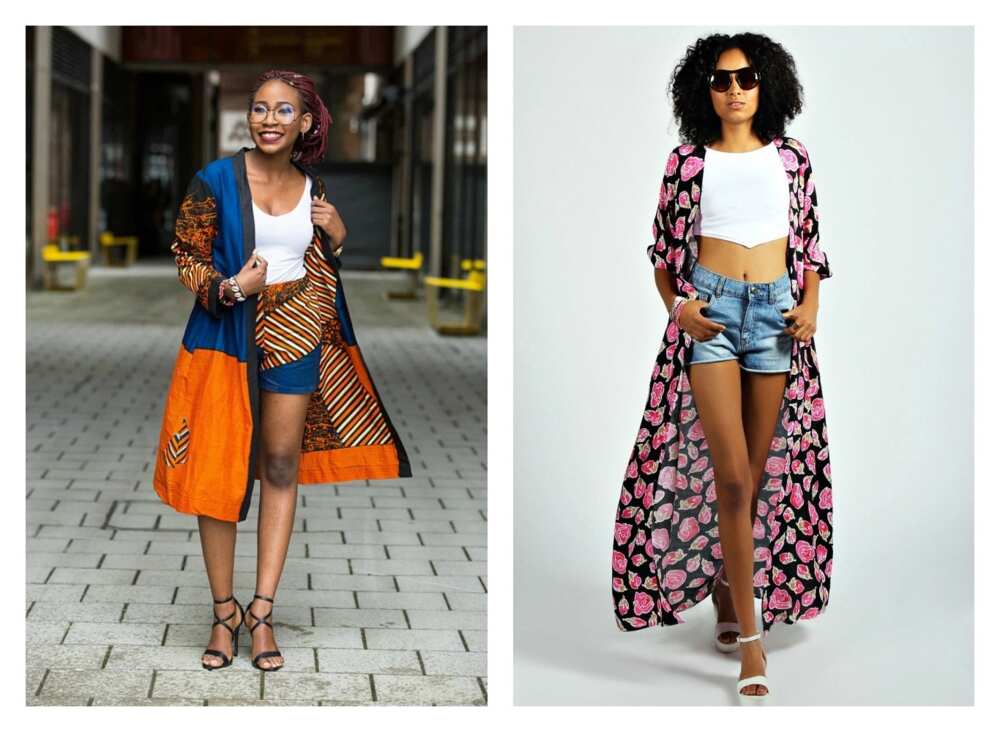 READ ALSO: Latest Ankara skirt and blouse styles in 2018
Ankara jackets look perfect in combination with dresses, regardless of their style and length. The sheath dress looks good with a fitted jacket.
Even the most strict dress will look romantic and carefree in combination with ankara jacket. Every woman in such a dress seems both touching, shy, and passionate. Everything depends on the jacket and its colour.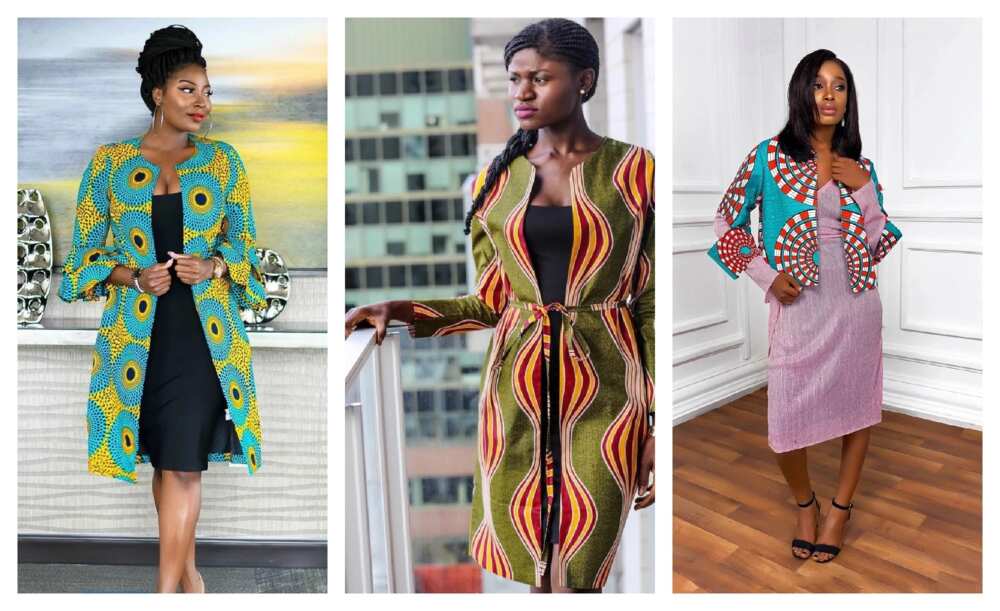 As for the skirt, then the choice is also almost unlimited. Every skirt length is good for it and makes the image very trendy and stylish. Just remember, if the bottom is bulky, a jacket should be tight. You don`t need to create extra volume.
Ankara jackets can be combined with trousers and leggings, with skirts and dresses.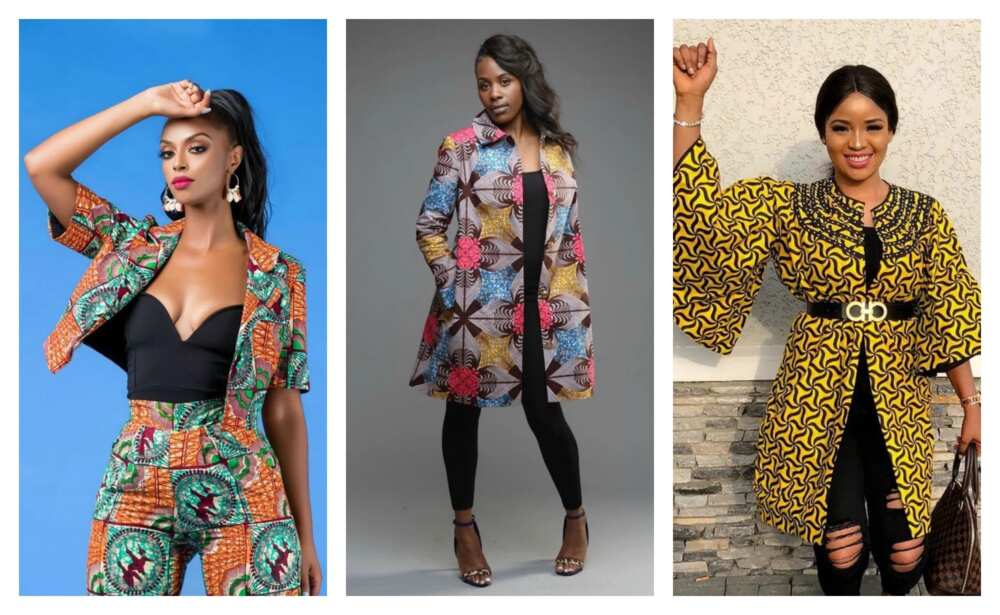 READ ALSO: Ankara styles for couples 2018
Very fashionable for today are adjacent suits, that is using the same fabric for the jacket and the trousers or skirt. This style is also called kimono-style. In this case, length of the jacket varies from midi to maxi,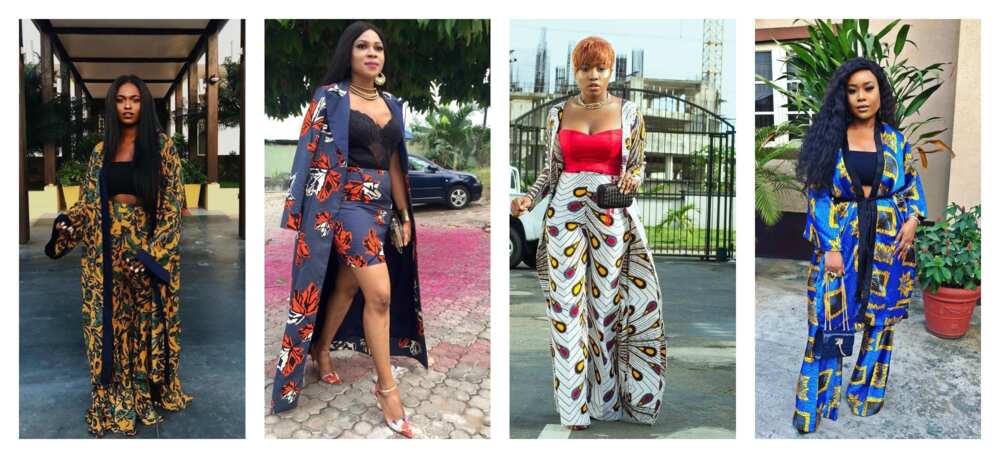 READ ALSO: Ankara styles for men
Trendy ankara long jacket
Long ankara jacket can be called tailcoats and even tuxedos in the men's style, which has elongated backs.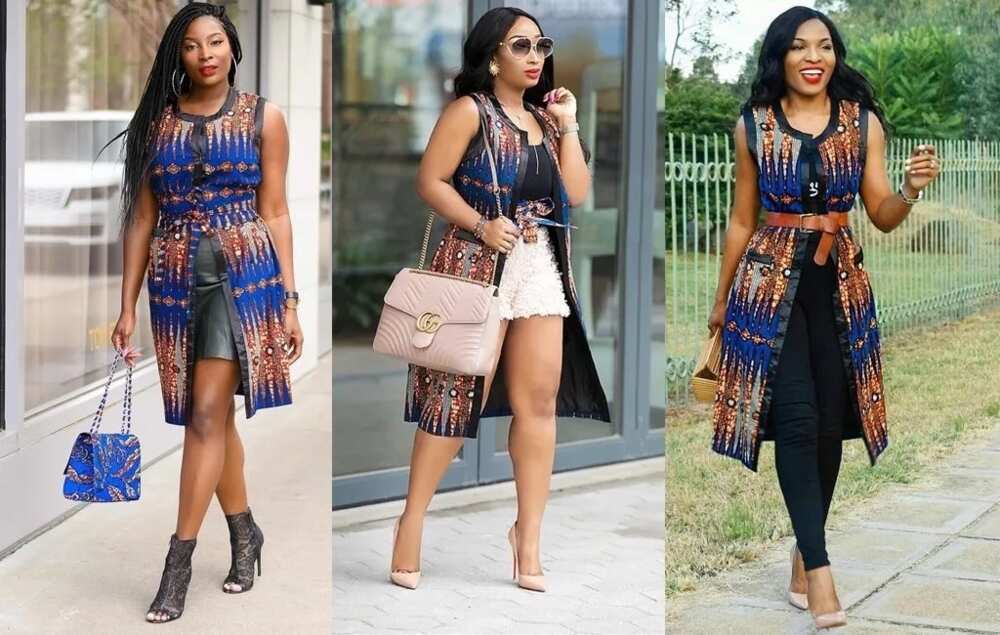 Designers try to create something really incredible. Therefore, fashion trends can`t exist without risky experiments with design. The long ankara jackets of 2018 are made in different exciting styles, which are made in different versions and from different materials. The most popular is a thick suit fabric, which holds the shape well and is perfect in bright colours.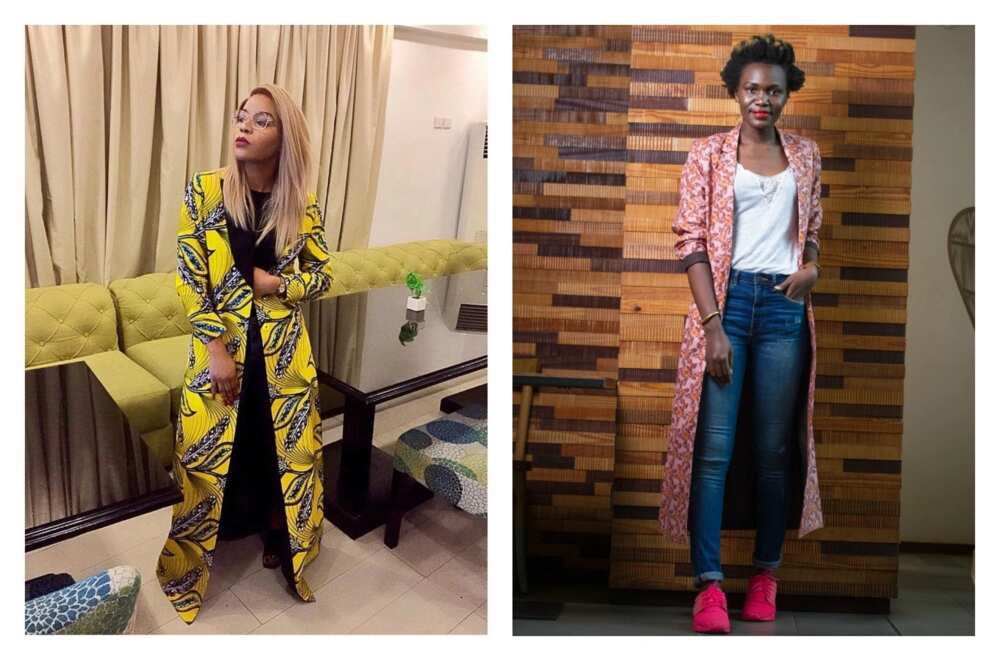 READ ALSO: How to make Ankara bags?
Long ankara jackets are perfectly combined with not all trousers or skirts. That is, if you plan to wear a jacket with jeans, then you should choose skinnies, not boyfriends. If the trendy ankara long jacket reaches the middle of the thigh, then you can pick up jeans or trousers, flared from the knee.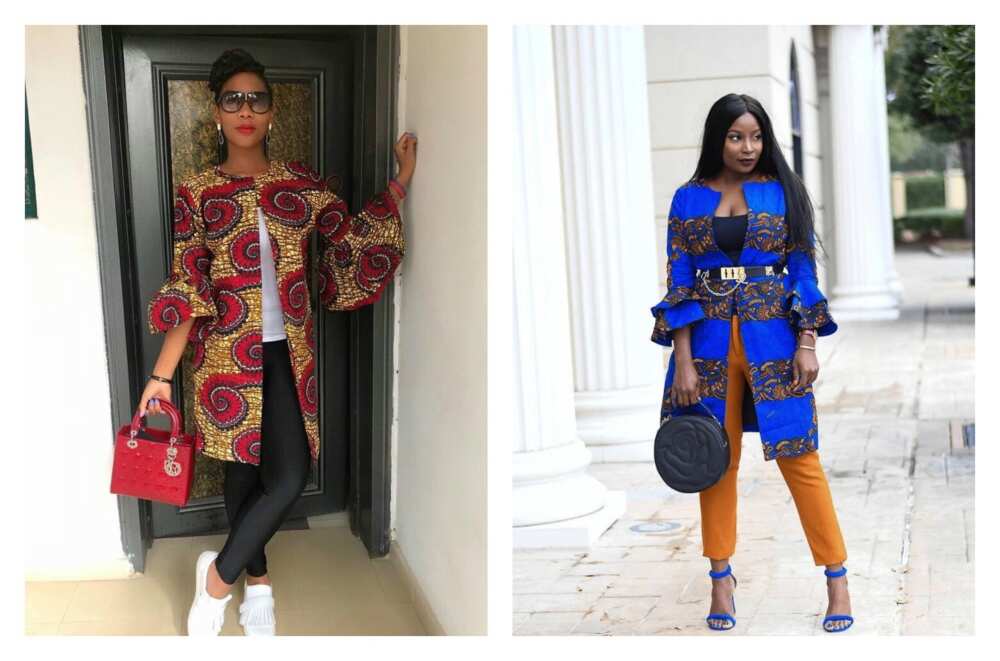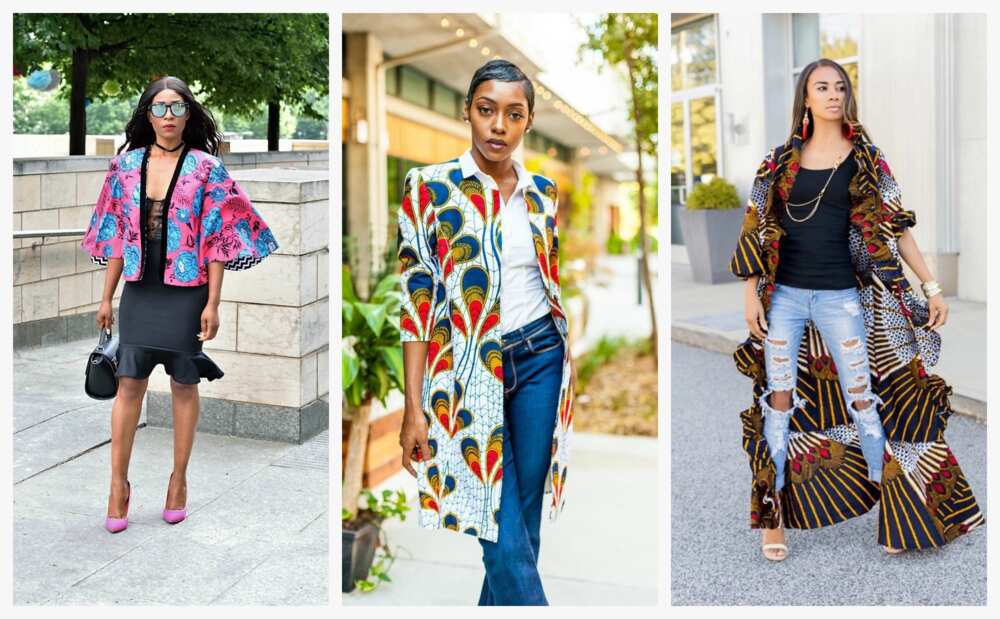 The last rule, but no less important is, the brighter the pattern is, the easier it is to accessorize, do not overdo with accessories.
READ ALSO: Ankara styles for teenagers
Source: Legit.ng