UI distance learning courses
Do you want to become a student of the oldest university in Nigeria but cannot actually be physically present all the time? Well, you are in luck, as there is an option for you! Learn here about the University of Ibadan (UI) distance learning courses and their admission requirements, and you can finally make your dream come true!

University of Ibadan distance learning courses
As of now, UI Distance Learning Centre has three faculties that offer accredited academic programmes:
Faculty of Social Sciences offers courses in Economics, Political Science and Psychology;
Faculty of Education offers a course in Social Work;
Faculty of Arts offers courses in English Language and in Philosophy & Public Affairs.
In the future, Unibadan also plans to add five revalidated and four new programmes. This means that soon, distance learning students will be able to enjoy such University of Ibadan courses, as Adult Education, Computer Science, Educational Management, Guidance & Counselling, History & Diplomatic Studies, Library Information & Archival Studies, Nursing, Sociology, and Statistics.

READ ALSO: Unibadan school fees for freshers
Unfortunately, the official website of the Distance Learning Centre (dlc.ui.edu.ng) does not offer any information about the current fees for the available courses. If you want to find out yourself, you can call +234-815-969-4091(2) or send an e-mail to info@dlc.ui.edu.ng with your enquiry.
Distance learning students study the same programme as the regular students, and they receive the same certificates at the end of their education. Thus, you do not have to worry that your degree might be less valuable than a degree of someone who studied full-time.
If you are interested in admission requirements for the distance learning courses at the University of Ibadan, chances are, you would also want to find out about their admission requirements. Well, you can find detailed requirements for all the available courses in this link (both regular admissions and direct entry).
About Distance Learning Centre, University of Ibadan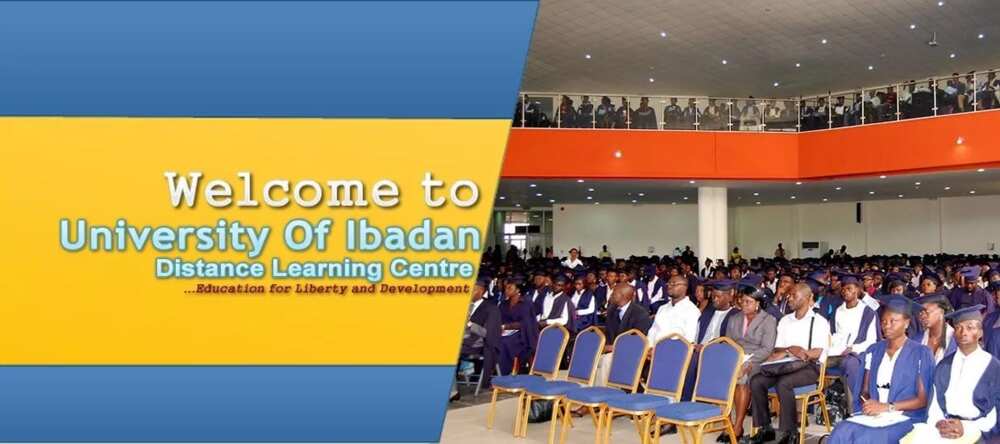 While the idea of creating a centre for distance learning at the University of Ibadan had been floating around since 1972, the first programme that offered 'external studies' was introduced only in 1988. Back then, there were only three courses: Adult Education, Guidance & Counselling, and Teacher Education.
The modern Distance Learning Centre was created out of the old Centre for External Studies in 2002. Since then, it has educated thousands of students. You can find the head office at the Morohundiya complex in Idi-Ose, along Moniya Rd. However, there are also centres in Bodija,Awolowo Rd., Old Bodija, Ibadan and Lagos, Opebi Rd., Ikeja, Lagos.
That is all we can tell you about the available distance learning courses at the University of Ibadan. If you have any questions, we recommend you contact the Distance Learning Centre directly via the channels we have mentioned above. Good luck!
READ ALSO: Top 5 best state universities in Nigeria
Source: Legit.ng