The best 30+ alluring Ibibio traditional attires for fashionable men and women
Without a doubt, African traditional attires are among the world's most famous clothing designs in the 21st century. Nigeria has been very instrumental in promoting African fashion on a global scale. If you are planning an African-themed wedding or want to venture into the African fashion business, this article shares images of the latest Ibibio traditional attires to help you know the most popular trends.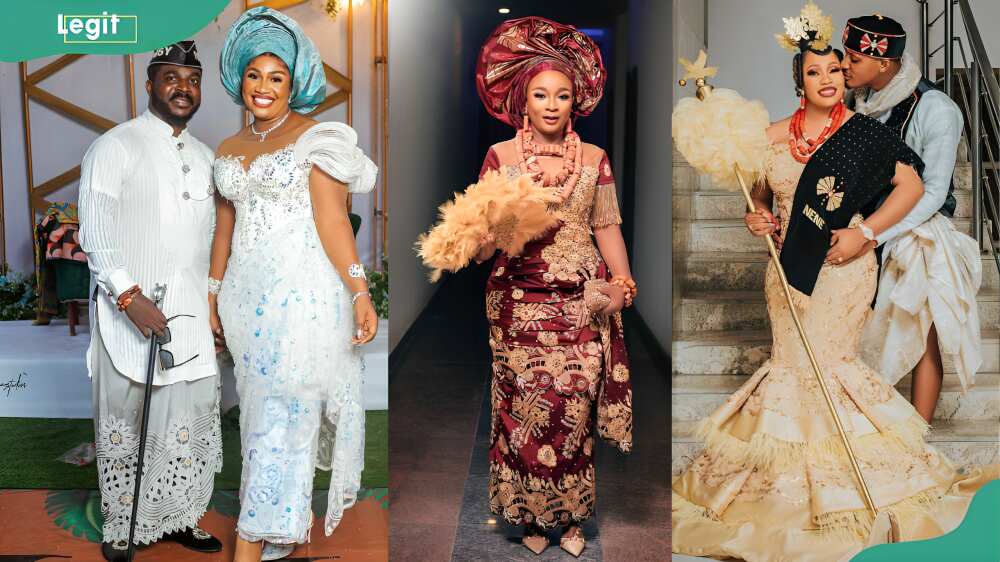 Ibibio is an ethnic group living in southeastern Nigeria and one of the oldest tribes in the country. The community passes on its culture, traditions, and religious beliefs from generation to generation. As a result, the Ibibios still practice customs they introduced by their ancestors centuries ago. When it comes to fashion, they prefer their traditional attire, especially during special occasions like weddings.
Ibibio traditional attires for men and women
The Ibibio clothing culture is similar to that of the Efik, Igbo, and Oron tribes. So, when attending an Ibibio wedding or event, you can blend fashion ideas from these tribes to create an outstanding look. Below are beautiful pictures of Ibibio traditional attire for men, women, and couples:
Ibibio traditional attire for female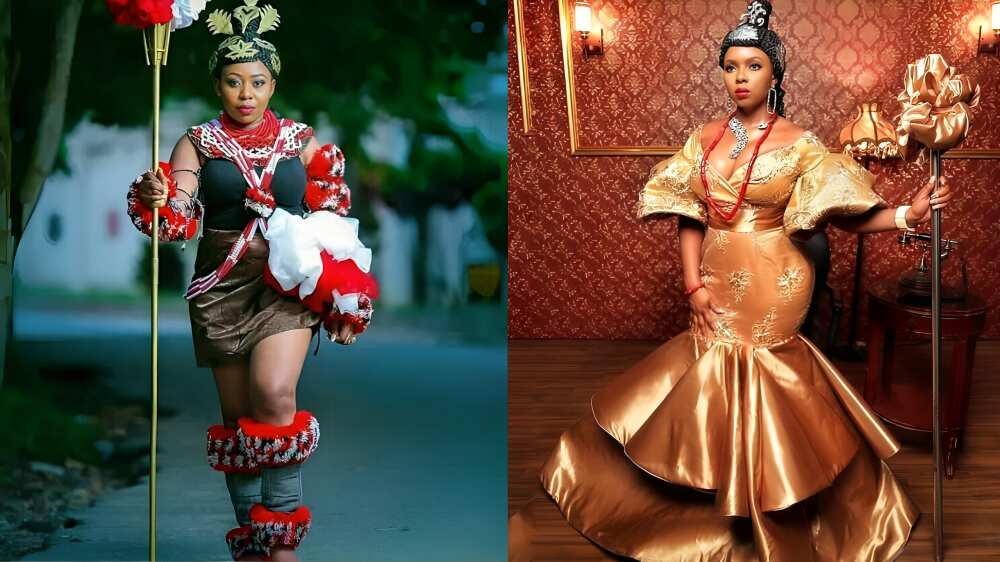 To say an Ibibio female traditional attire is beautiful is an understatement. It is very gorgeous, exclusive, graceful, and magnificent. The complete clothing package comprises a sleeveless blouse, a customary wrapper, and accessories (beaded necklaces, wrist and ankle bands, head beads, a native cane, etc.).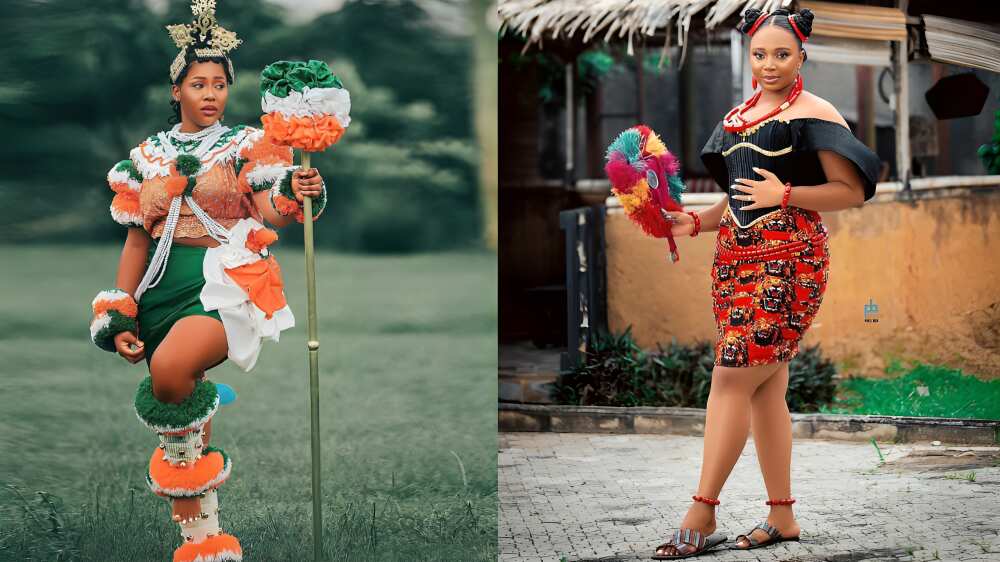 The blouse often comes in a few different variants. You can choose the color and style of your blouse depending on your taste. Usually, these blouses show some skin. So, you can have a crop-top, off-shoulder, sleeveless, or any other blouse design. Wear the blouse with a mini-skirt and accessories.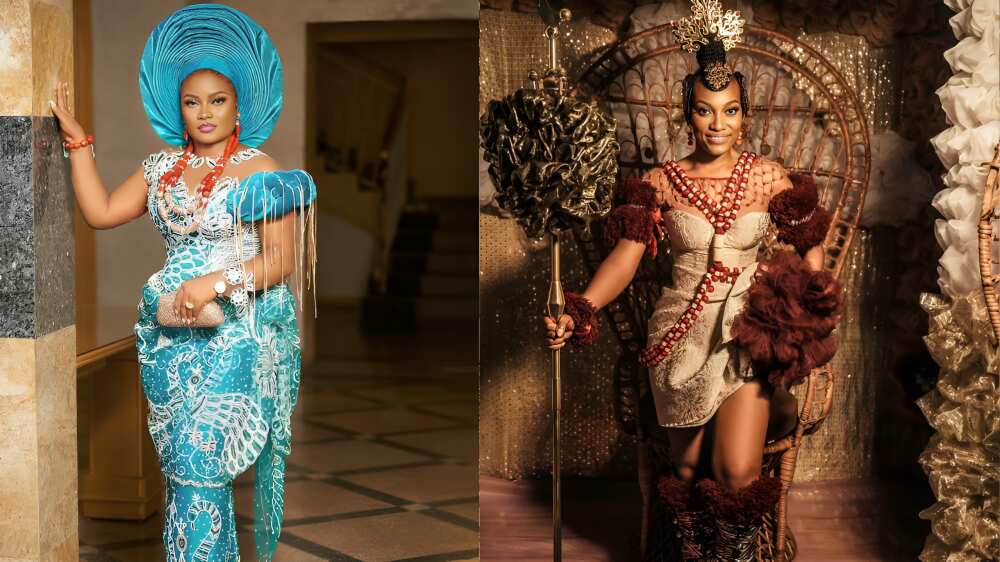 Ibibio women wear accessories and head scarves to look pretty. The Ibibio female traditional headwear is called Gela. Instead of headwear, an Ibibio woman can braid a native hairstyle and accessorize it. She can also wear a wrapper around her waist and adorn her neck, hands, and legs with jewelry.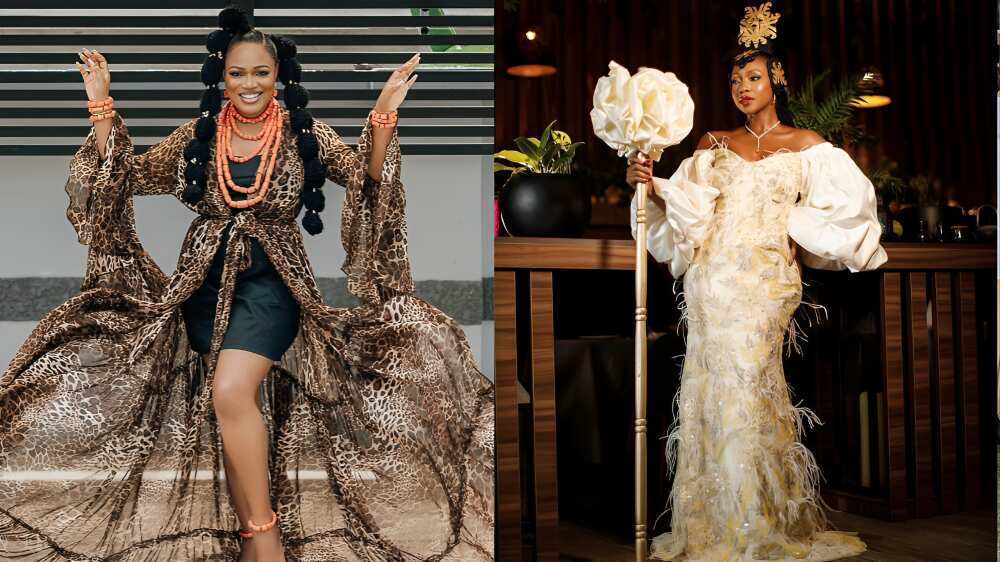 Ibibio weddings usually have theme colors. The bride and the groom wear matching colors. On the other hand, the bride's maid and the groom's men wear different colors but must stick to the wedding's theme colors.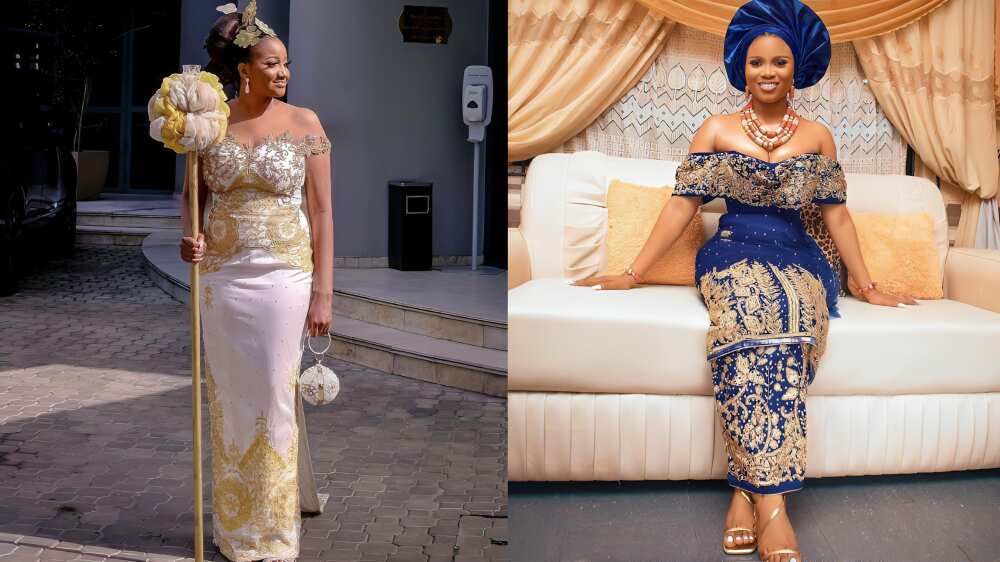 Nigerian women's traditional wrappers are popular in the African fashion industry. There are multiple styles of trying the wrapper, and its color must match the blouse or skirt. Ibibio women tie wrappers over dresses and skirts or use the wrappers to substitute skirts.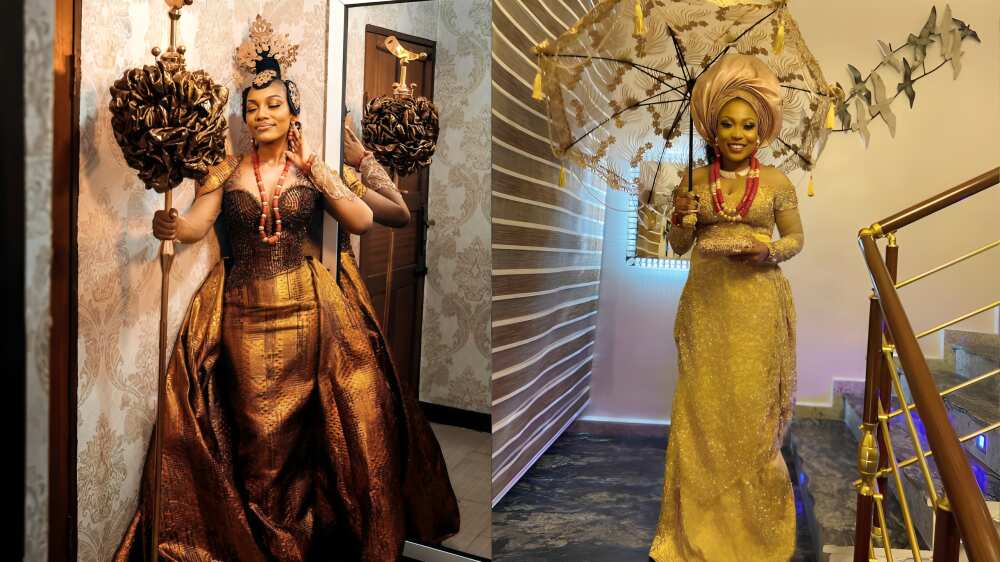 You can blend Western and African fashion styles to create unique attires. For instance, an Ibibio traditional women's attire can have a trail, like a White wedding dress. Also, the bride can carry an umbrella that matches the color of her wedding dress.
Ibibio traditional marriage attires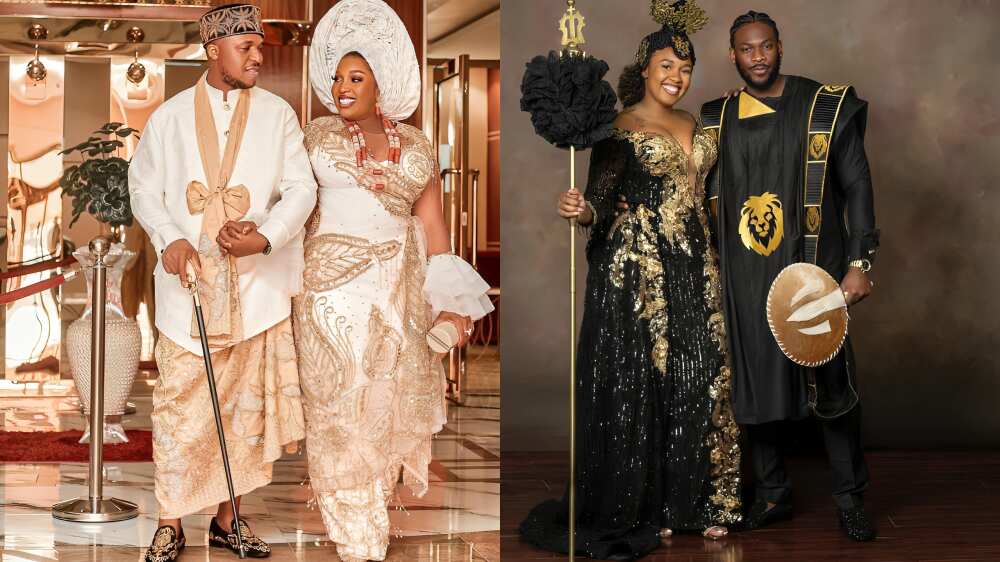 The traditional Ibibio attire for men is beautiful and unique. They are also simple to wear, wash, and maintain. Usually, Ibibio male customary clothing comprises three main attires: the native male wrapper (Usobo), the chieftain shirt, and men's accessories.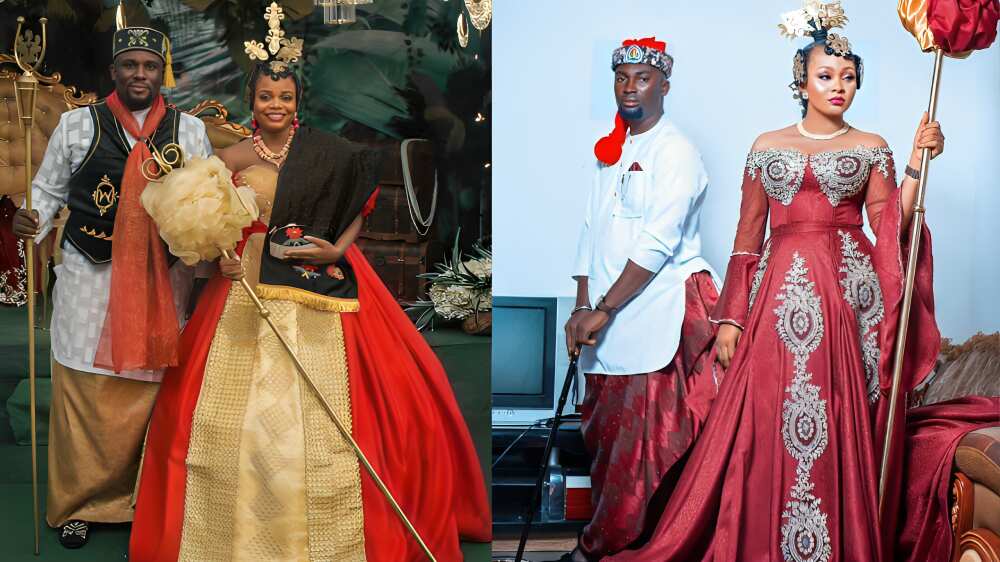 Usobo is a traditional wrapper men and grooms wear to Ibibio wedding ceremonies. It is usually an ankle-length and loose-fitting shirt. You can have it in various long, short, and midi-sleeved designs.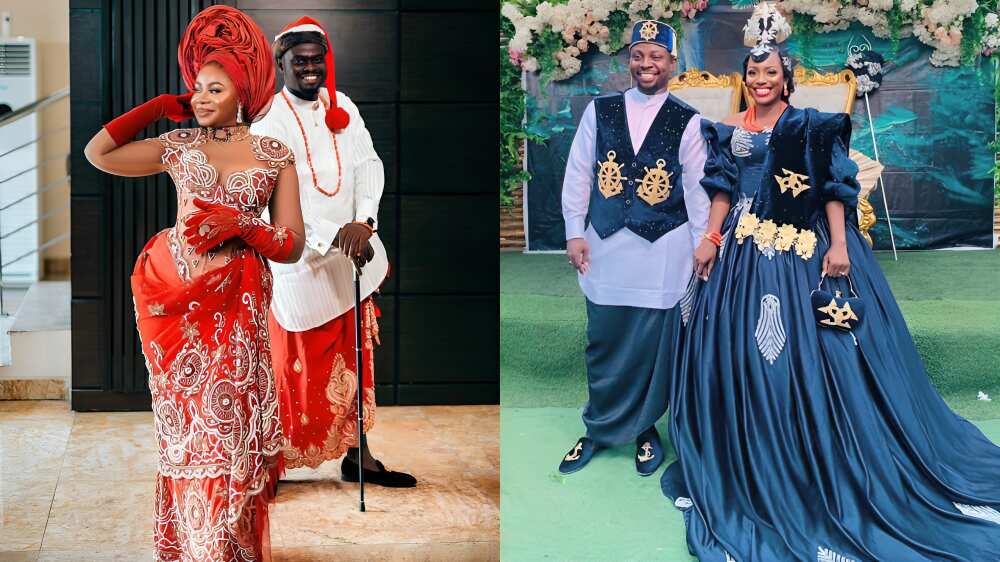 The Ibibio men's wrapper looks like a maxi female skirt. When tying it, the side of your waist should have the largest chunk of fabric and gathers/flounces. Also, the hemline should be asymmetrical and allow people to see your shoes. Therefore, the hemline should slightly touch one shoe and not touch the other shoe.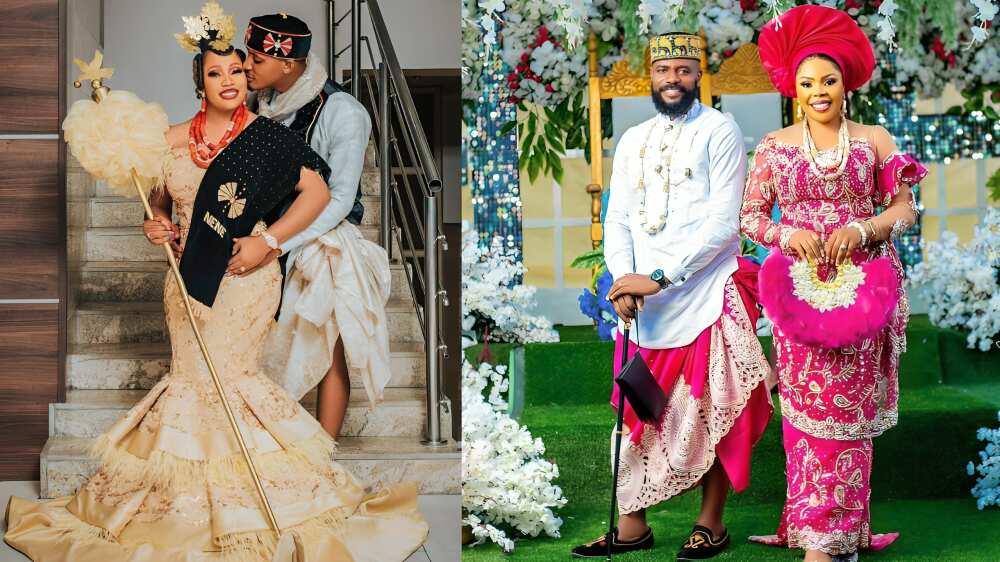 As for the chieftaincy shirt, it is an integral part of the Ibibio men's dressing styles. Usually, it is made out of plain fabric and often has a pocket on the left side of the chest. You can also add a half-coat to the shirt.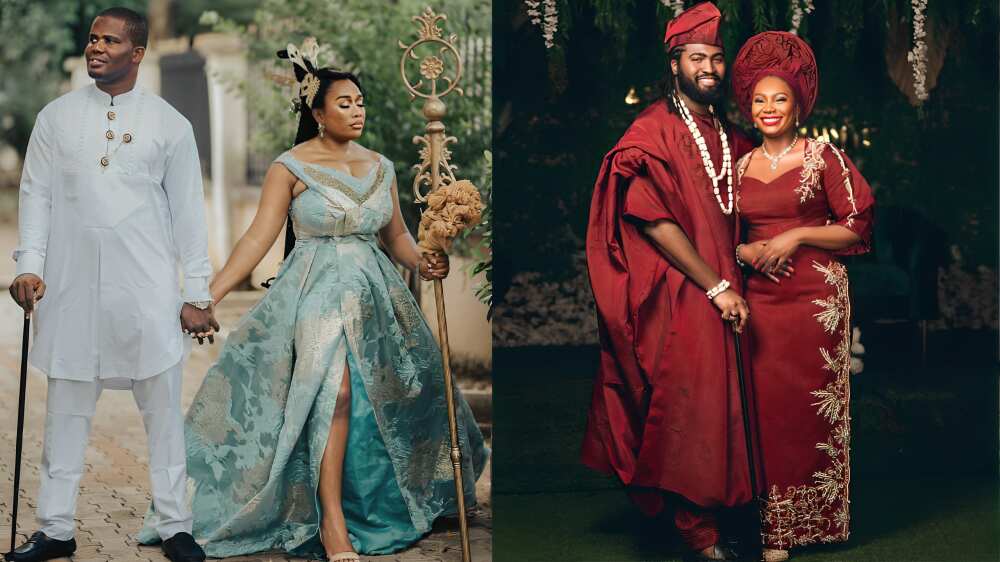 The Ibibio shirt usually has slits on both sides and a pocket on the left side of the man's chest. Most Ibibio men prefer their shirts to have short sleeves or sleeves that reach the elbows to show their wristbands and watches.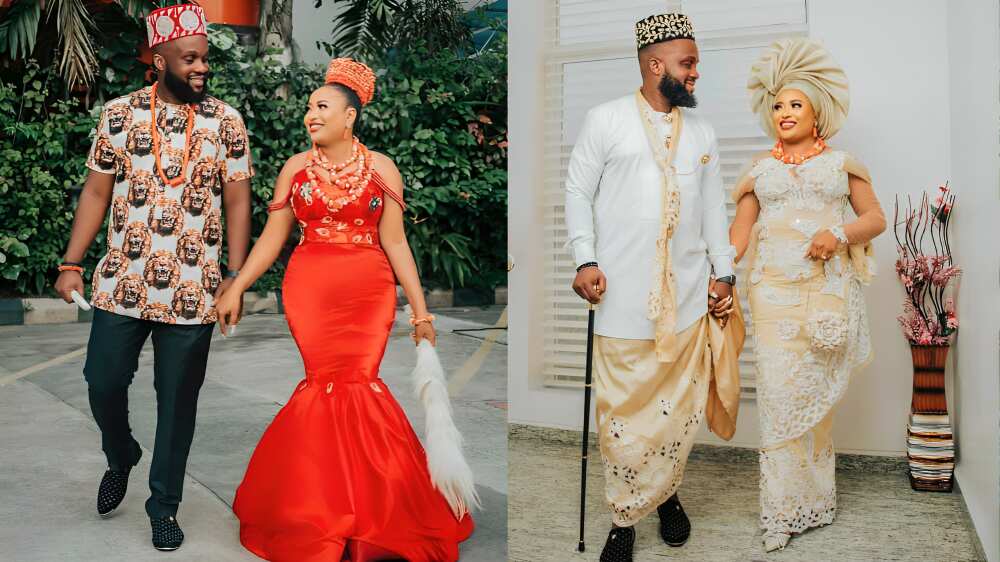 Speaking of accessories for the Ibibio male traditional attire, the groom can wear native caps, hats, canes, beads, and other modern adornments. Also, most grooms carry matching traditional walking sticks to their weddings.
Ibibio traditional attire for male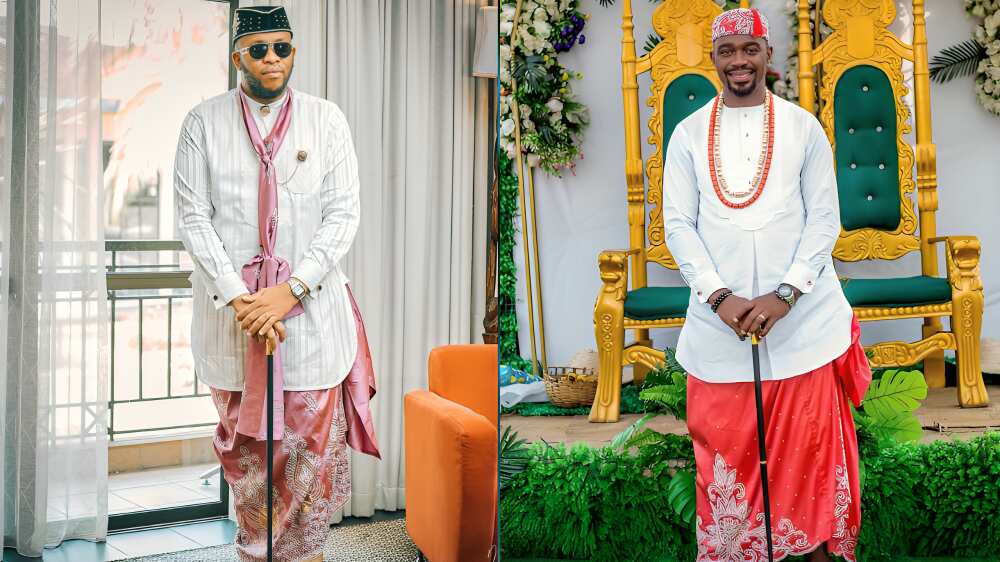 In most African communities, hats and walking sticks/canes symbolize prestige and leadership. They are used by titled men whom traditional rulers have given chieftaincy honors. Also, ordinary men use hats and walking sticks as accessories during a traditional wedding.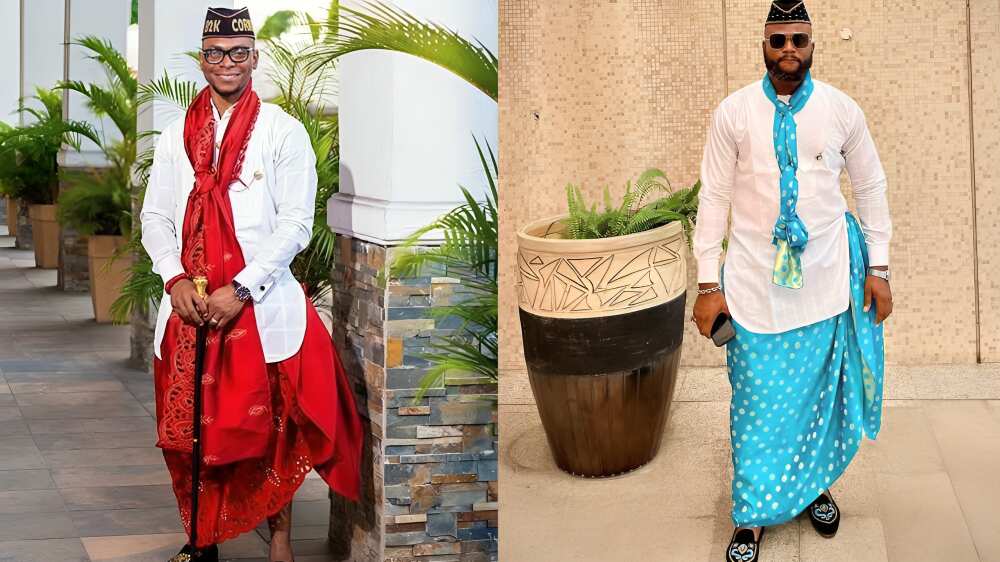 A groom wears a hat and carries a walking stick to symbolize he is the leader, protector, and provider of the family he will build with his wife. These walking sticks are usually black, white, brown, or gold and can be paired with clothes of any color. They do not have to be of a similar color as the man's traditional clothing.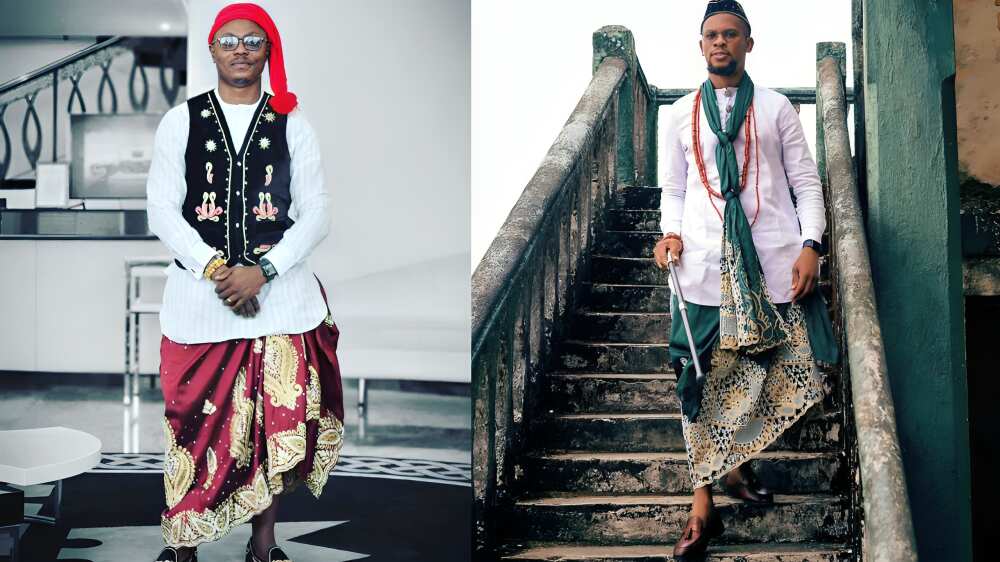 The Fila (caps) Nigerian men wear with traditional attires are usually hand-woven from the Aso Oke fabric, cotton, velvet, or damask. These Filas come in various colors, and the color a man chooses must match the primary colors of his clothes.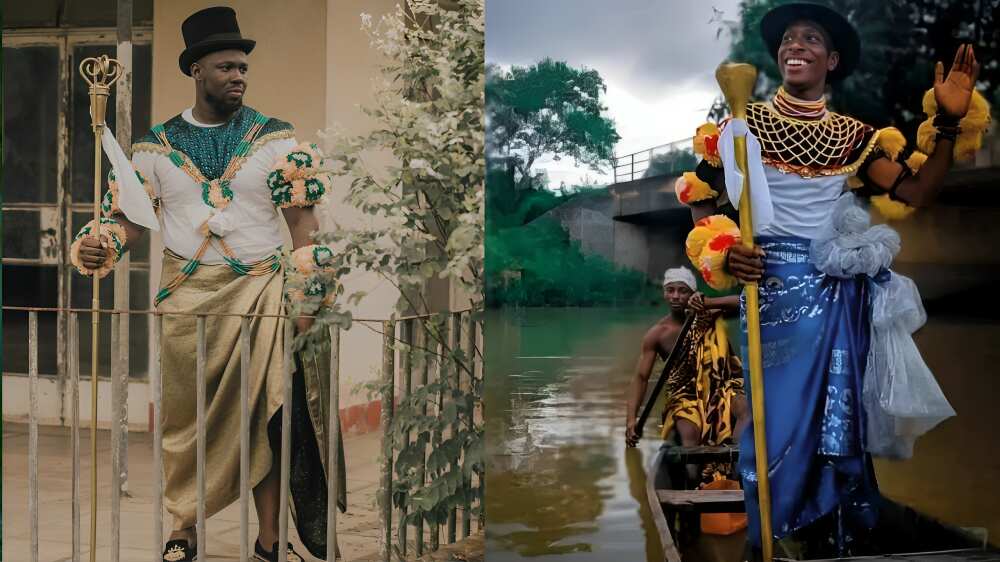 The Fila cap you wear with your traditional Ibibio attire should fit snugly around the head. You push the hat to one side of your head to rest above the ear. Also, you can substitute the Fila with other traditional caps like the Abeti Aja, Gobi, Kufi, or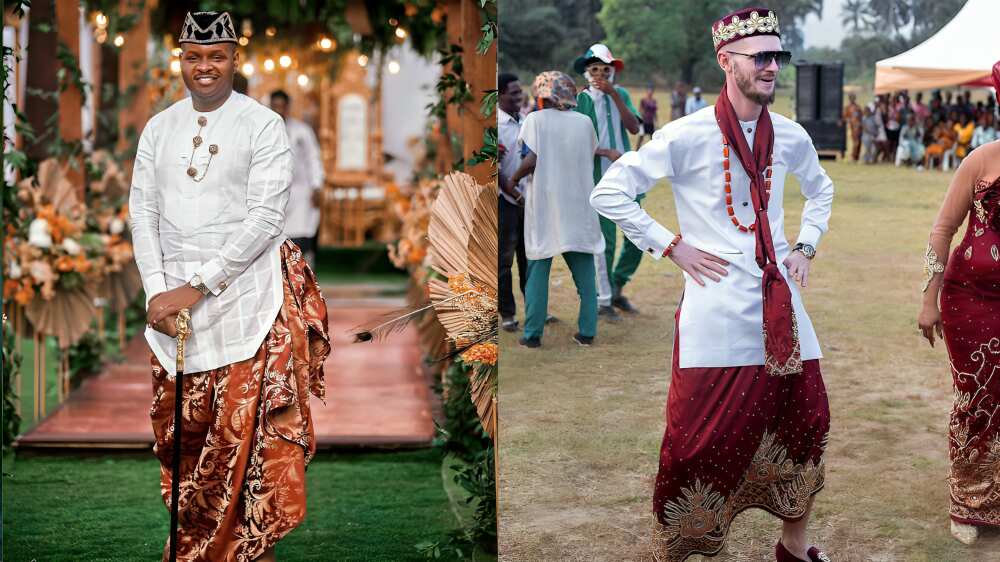 If you want to avoid wearing traditional Nigerian men's hats, you can wear Western hats like the fedora, bowler, Panama, boater, or homburg hat. Since Islam is Nigeria's second most popular religion, Muslim men in this country pair their traditional attire with their religious hats (karakul, fez, keffiyeh, topi, taqiyya, pakol, etc.).
What do Ibibio men wear?
An Ibibio groom, his male relatives, and the groom's men wear chieftaincy shirts, Usobo (waist wrappers), and Fila (hats) during traditional weddings and other events. They complete the look with loafers or official shoes and carry walking sticks/canes to symbolize authority. The male guests can wear traditional Ibibio attires or modern clothing.
What do Ibibio women wear?
An Ibibio bride, her female relatives, and the bride's maids wear Gele (headwear), waist wrappers, blouses, native/modern accessories, and modern shoes on their wedding days and during other traditional events. They can also braid native hairstyles instead of putting on Gele. Female guests are allowed to wear modern or traditional Ibibio attire for women.
How is Ibibio's marriage done?
Once the man and woman agree to marry, the man visits her father's home accompanied by his relatives to seek her hand in marriage. The man and the woman's kinsmen plan the traditional wedding date after agreeing on the dowry.
The Nigerian fashion industry is gradually taking over the international fashion arena. Modern Nigerians blend native designs from every community within the country to create unique attires. As a result, you will find a touch of Efik, Igbo, and Oron dressing styles in Ibibio traditional attires. On top of this, Western culture also influences the modern-native wedding attire Nigerians wear.
Legit.ng also shares over 50 images of stylish Ankara shirt dresses and tunics that will elevate your wardrobe. Shirt dresses have a male shirt design, while tunics resemble female blouses.
You can pair your Ankara shirt dresses/tunics with sneakers, heels, boots, and other shoe designs. The images in the article will teach sophisticated ways of styling these attires.
Source: Legit.ng