Trendy Ankara styles for girls
Trendy Ankara styles for girls allow children to have a charming look at any occasion. Read our recommendations and see bright images. Install your future lady a good taste in her childhood.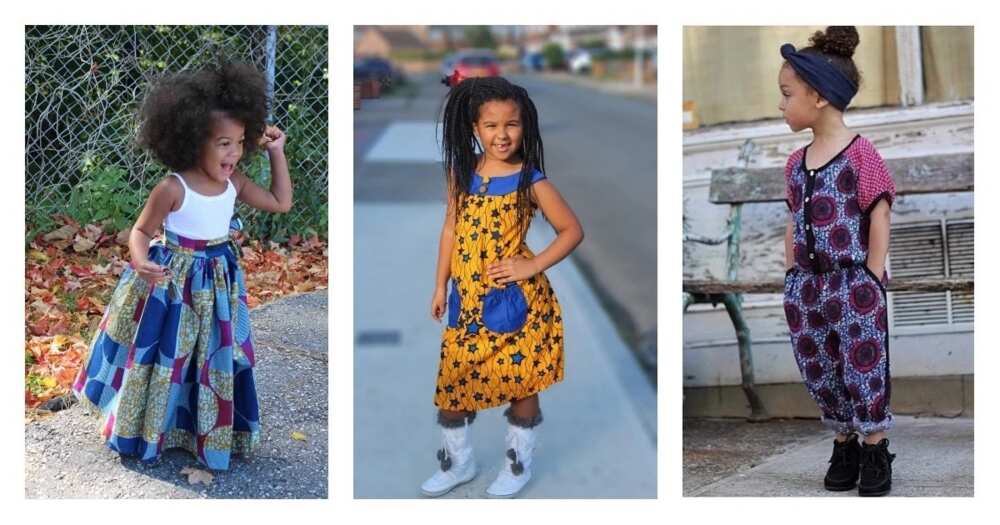 Latest Ankara styles for little fashionistas have long stood on the same stage with the items of the wardrobe for matured girls and women. The designers create collections for girls with no less zeal than for demanding grown-up ladies. So, children wears are always interesting not only to the growing kids but also to their mothers. We shall tell you about the children's Ankara styles and trends for girls 2018 in our article using bright photos and images.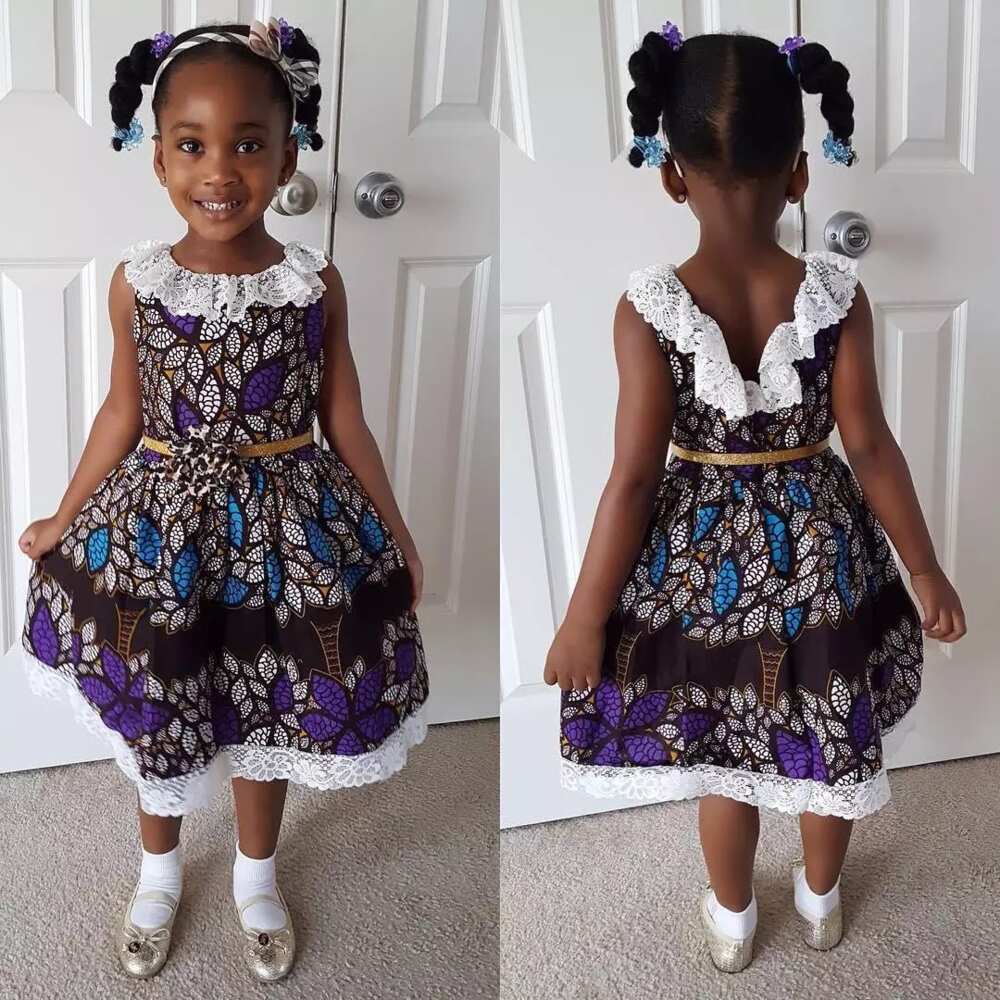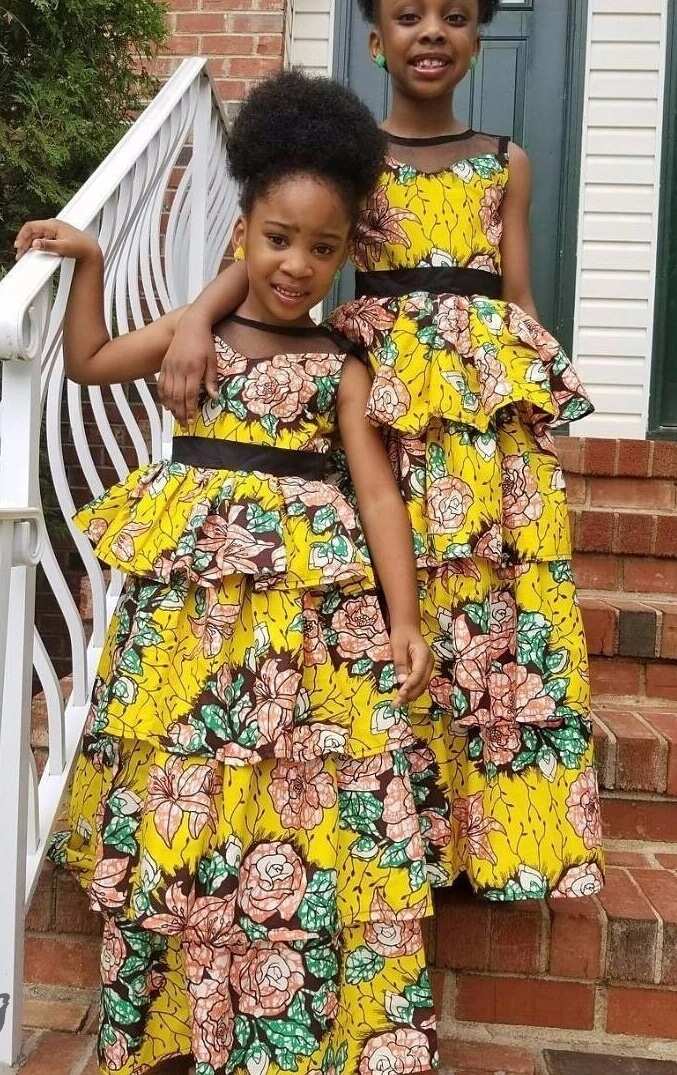 Trendy Ankara dresses for girls 2018
A trendy dress always stands out from the others with its style and actual design findings. The details and decor can have a significant impact on its final look. Trendy Ankara dress should be noticeable. A stylish trapezoidal cut can be decorated with frills, luxurious bows, and appliqués in the form of butterflies or flowers, as well as a wide belt-tape. By adding a headband, long gloves or beads, you can create a cute image with adult features for festive events.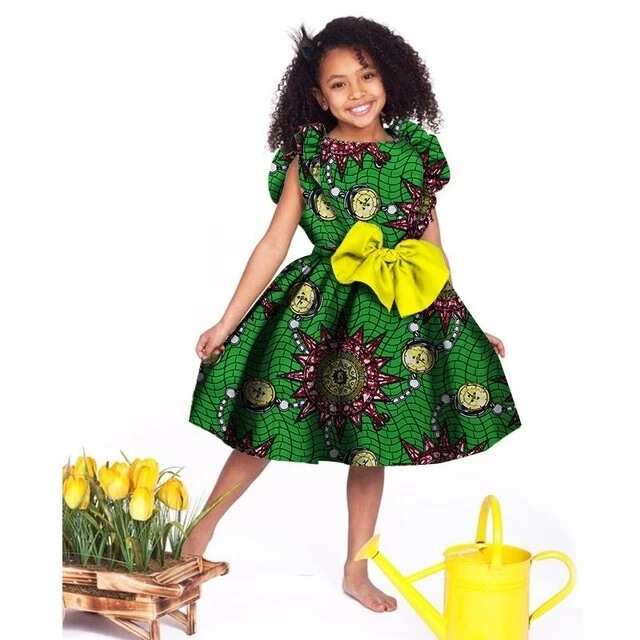 Styles with simple tailoring lines adorned with a large element of decor like a flower on the shoulder or a tied ribbon of contrasting colors form an image of "simple elegance." The same effect is possible when decorating outfits with ruffles or frills, or when using an insert from a lace fabric.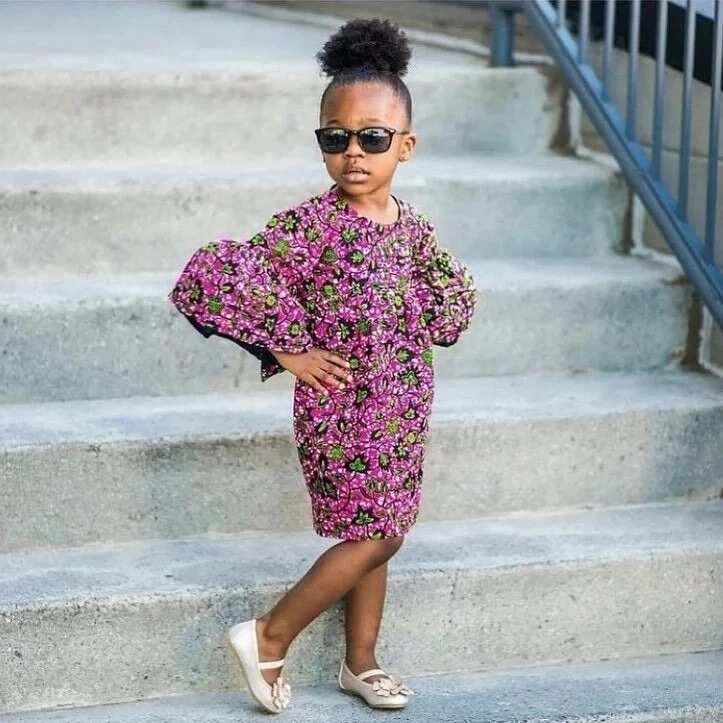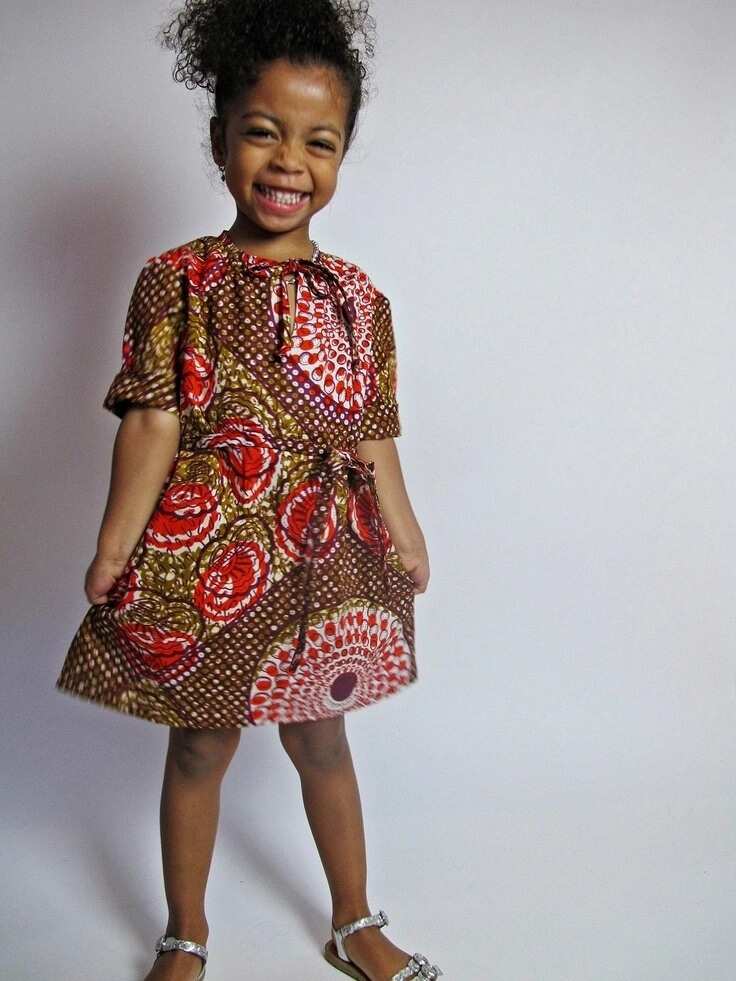 The "hourglass" figure for young fashionistas is not yet an 'idea fix.' True to say, the fitted styles look so graceful on little girls that the designers could not ignore such tailoring.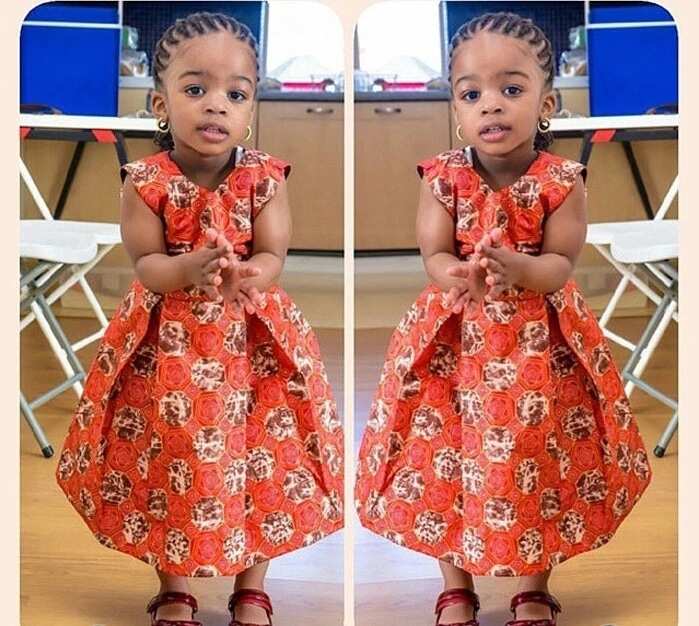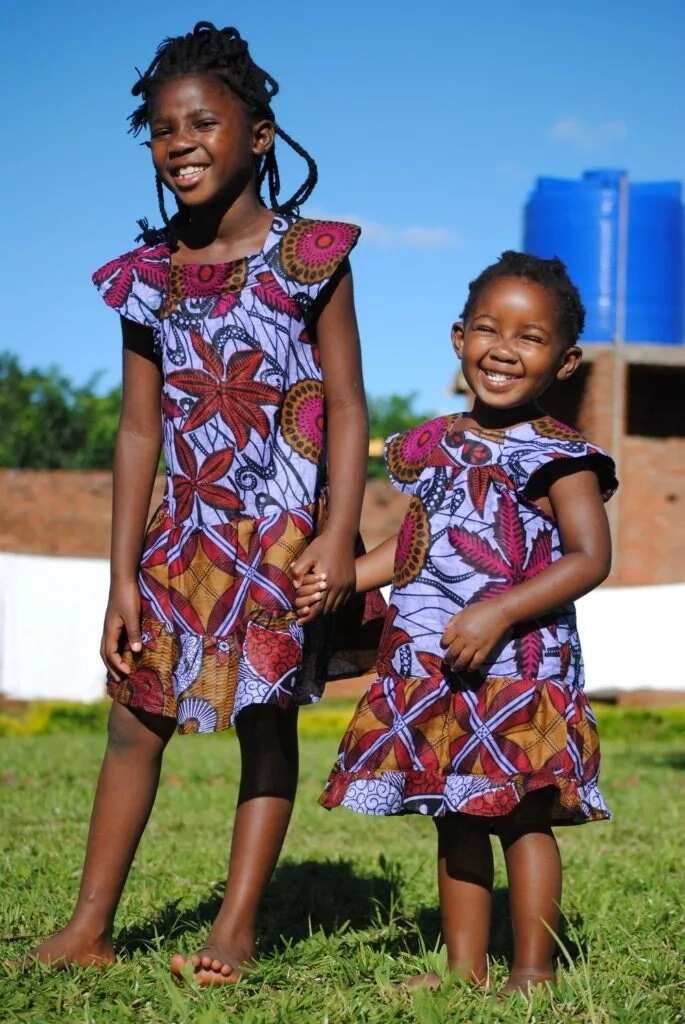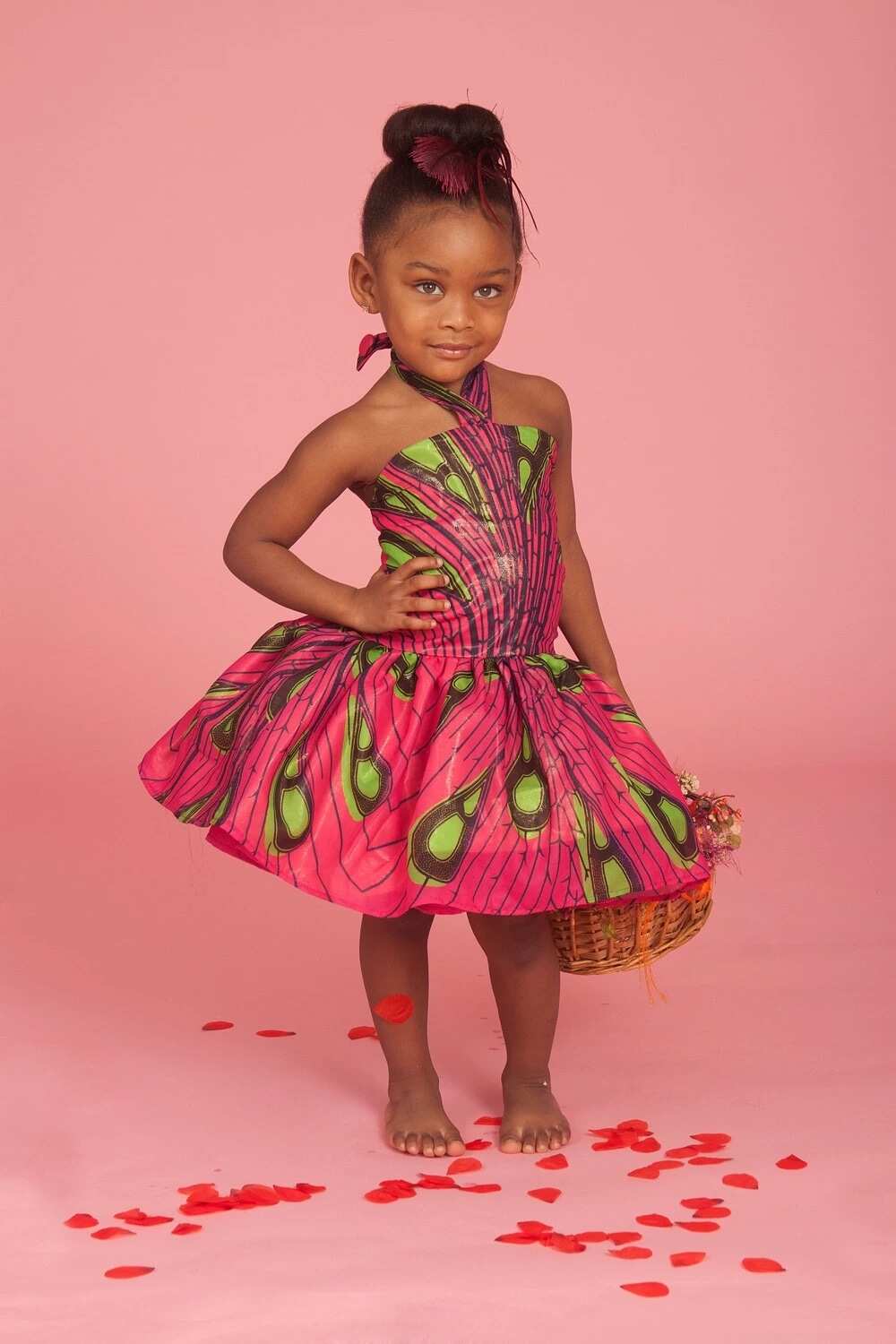 Ankara casual dresses for girls 2018 can be stylish too. Very young girls and even kids also want to look trendy in everyday life. Even playing games a girl can be elegant if her dress is picked up with taste.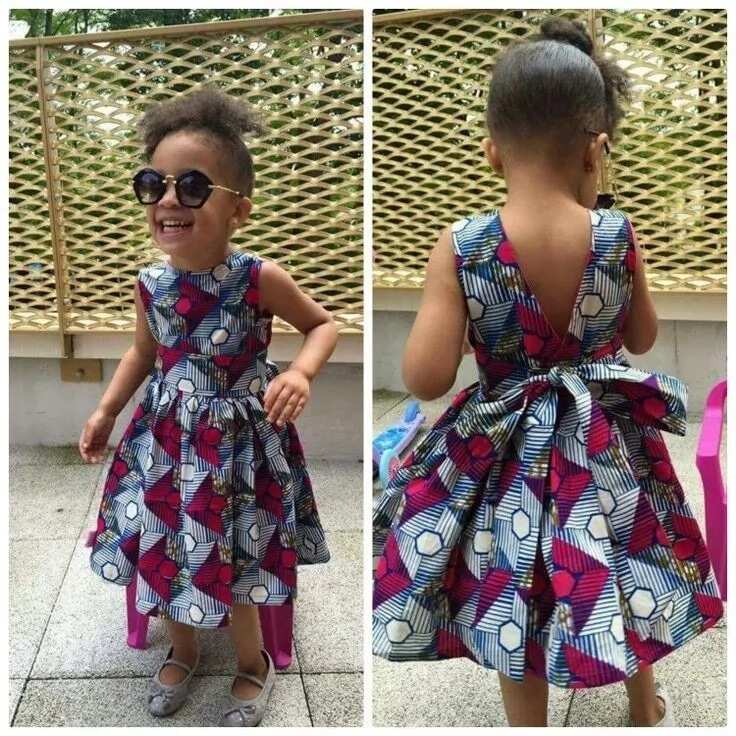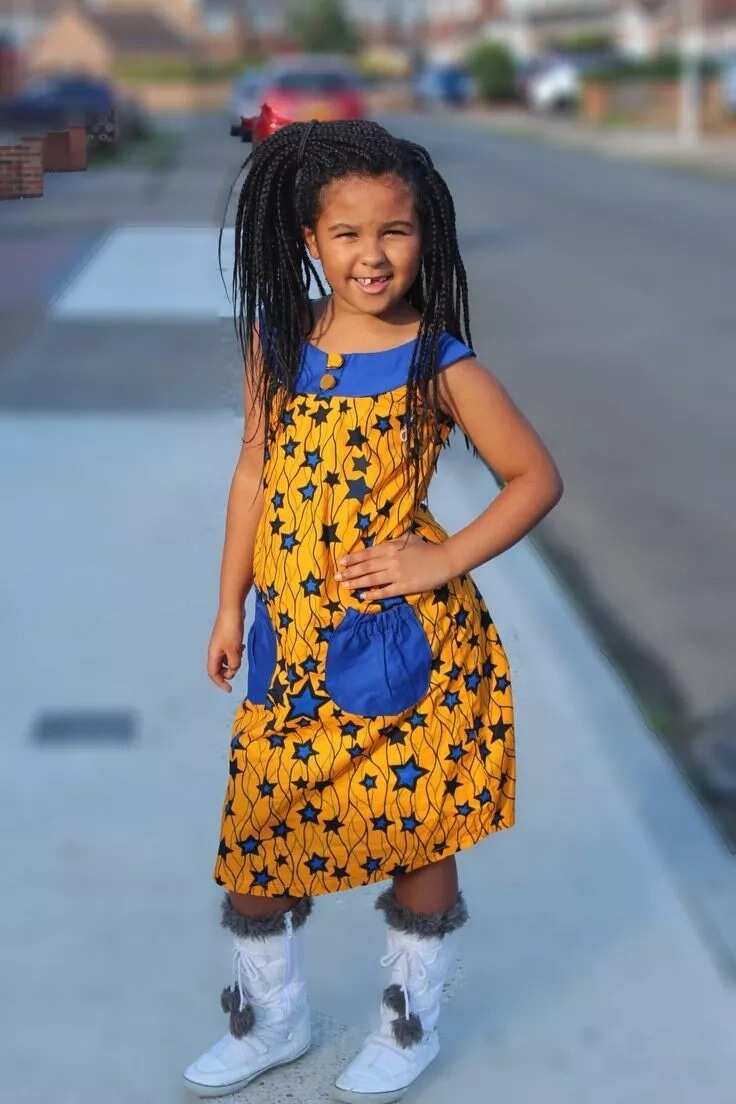 The gown style with a straight cut from Ankara fabrics can be emphasized by a belt at the waist. And the coloring can be not only monochrome but also have a pattern with flowers, wide horizontal stripes or other geometrical ornaments.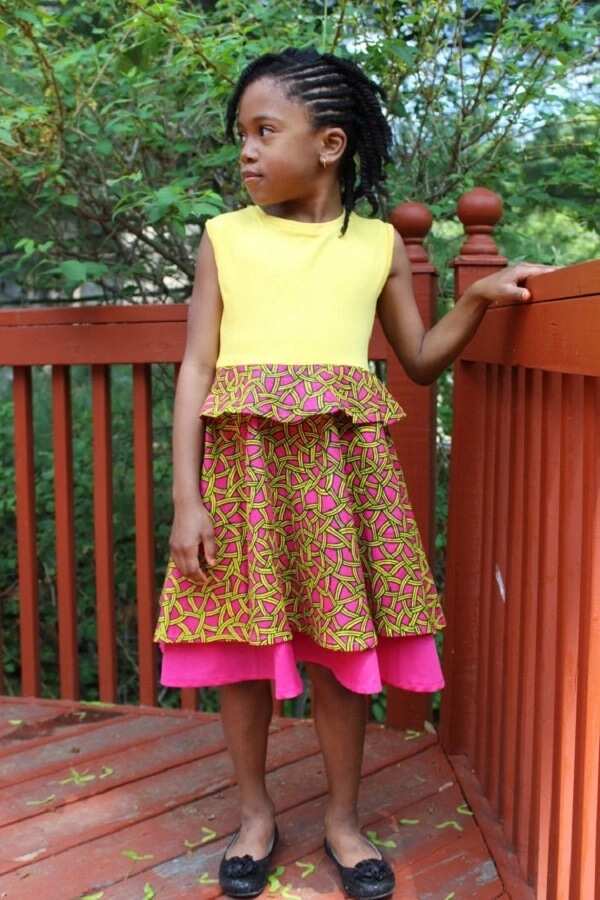 Combination of flower motifs and pastel monochrome is the most relevant for the sundresses. A one-colored bodice and a "printed" skirt are also in trend.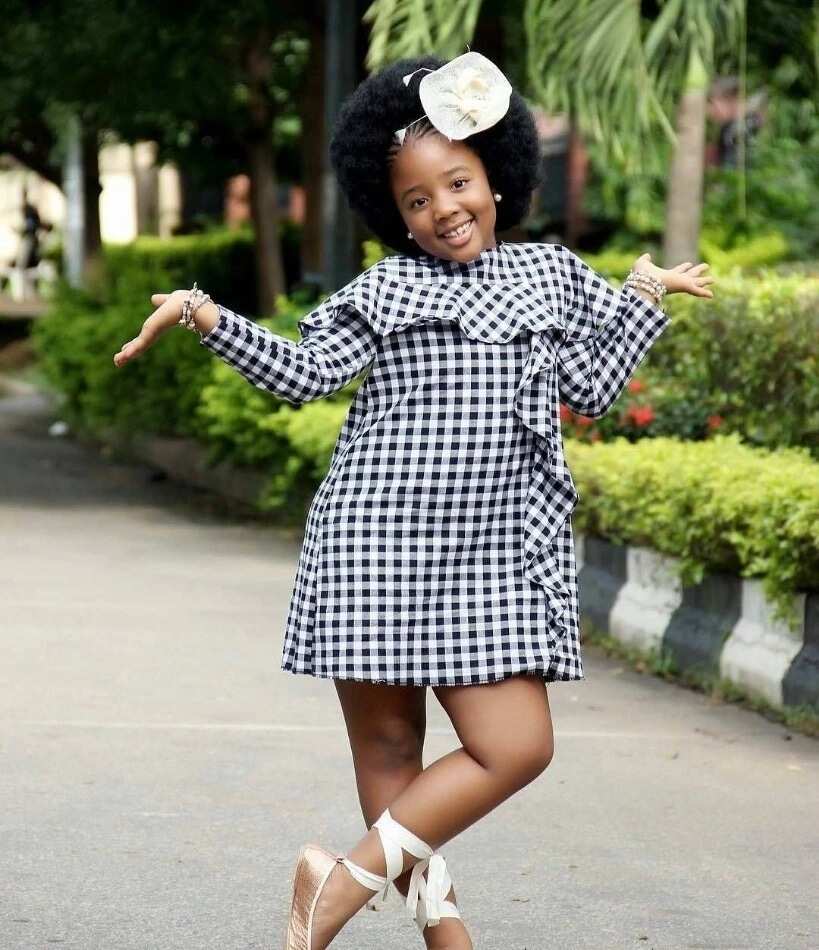 Ankara gowns with a high fit at the waist and straight skirt, as well as loose designs are in demand too. As a decor, this season the vertical flounces are used. Such frill can be the singular. Otherwise, a lot of flounces can cover the entire surface of a sundress.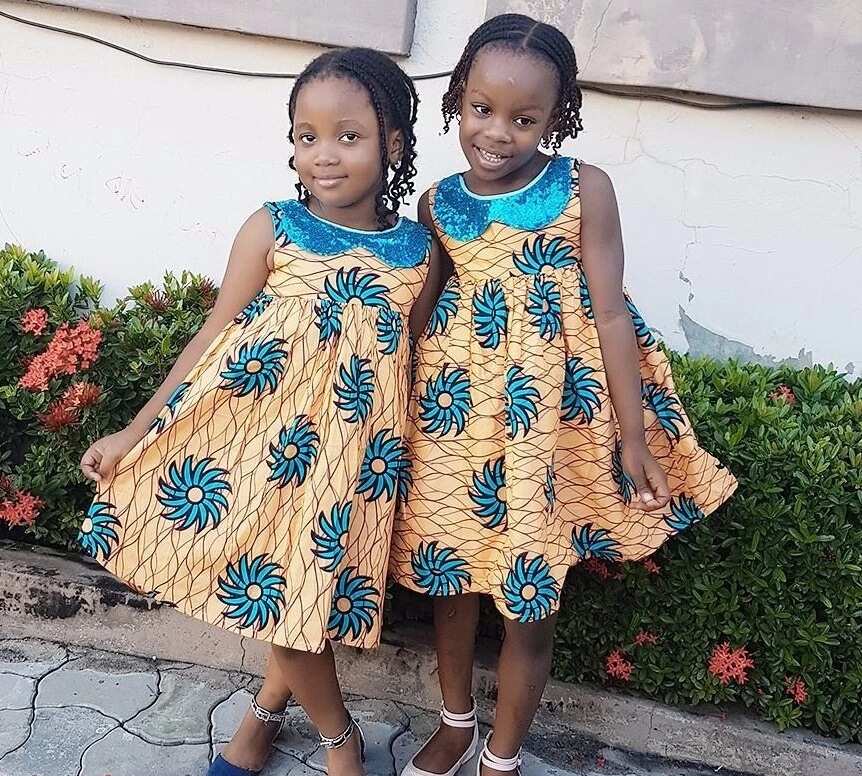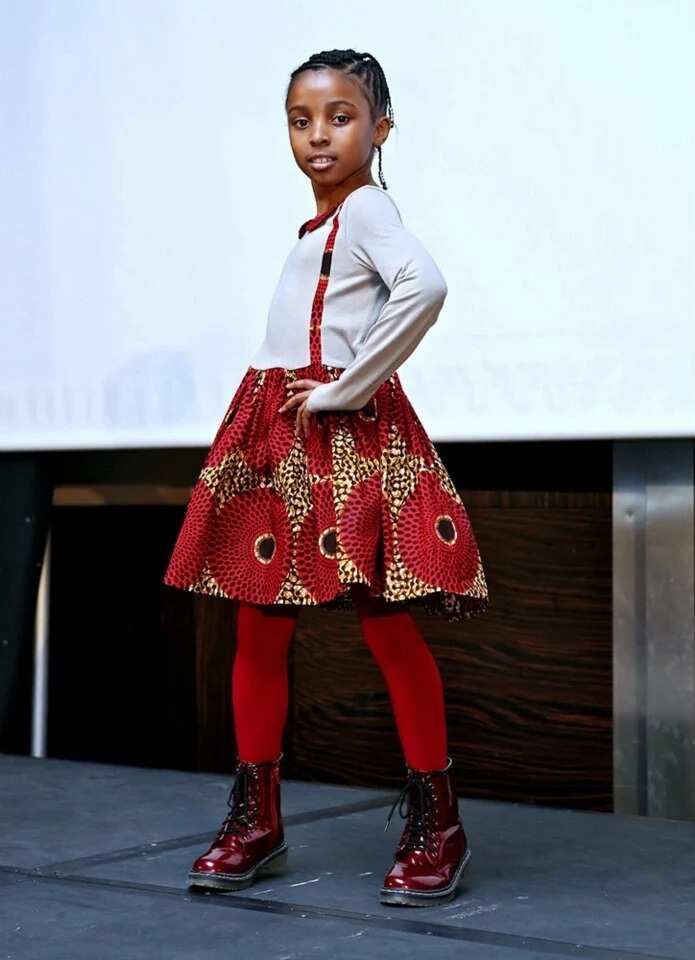 Ankara gowns and sundresses are 'must-have' for little girl's fashion. The A-shaped gowns with sleeves-lanterns or sleeveless have become favorites for the embodiment of various designers'. The models often have an overstated waist. The bodice of some designs is plain and bright patterns are used only on a flared midi skirt.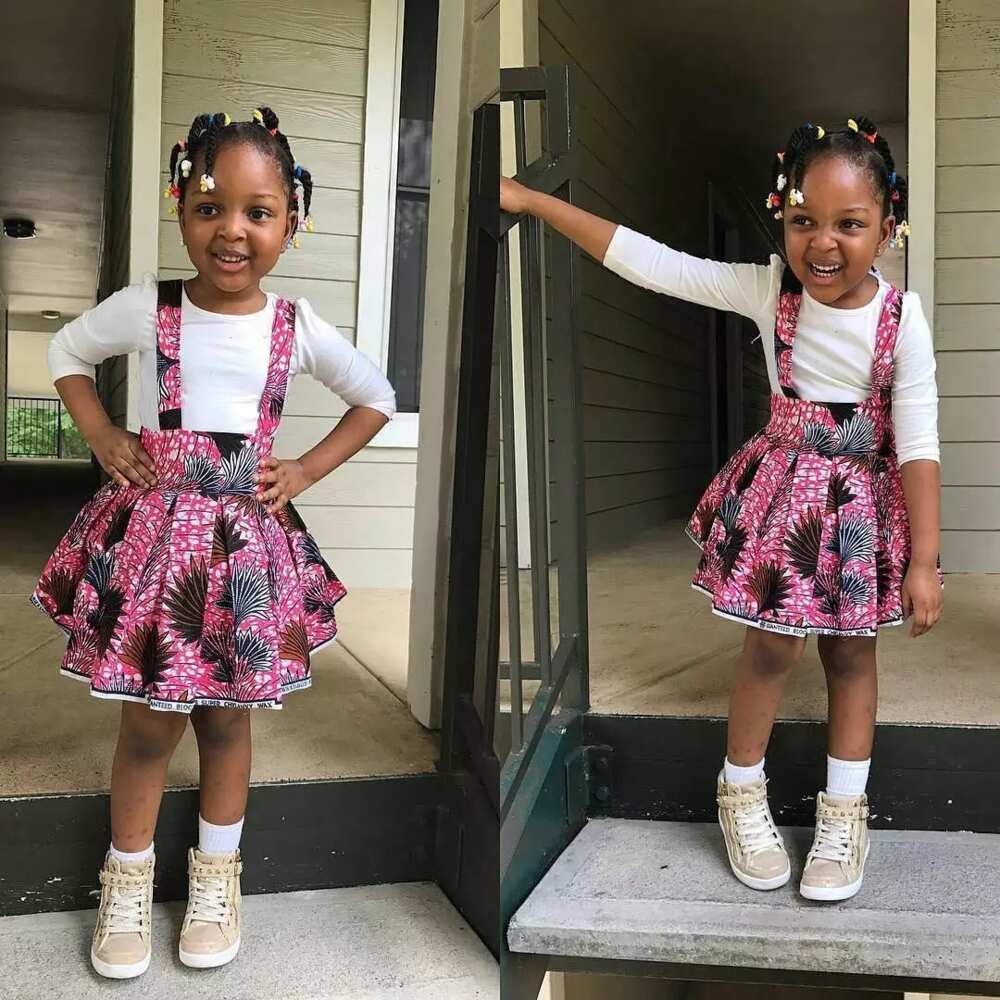 Ankara trendy skirts for girls 2018
The mini length is still occupied the main place in the latest collections for children. Distinctive features of the latest Ankara skirt styles are color solutions, tailoring, and mixed material's texture.
READ ALSO: Latest ankara styles for baby girl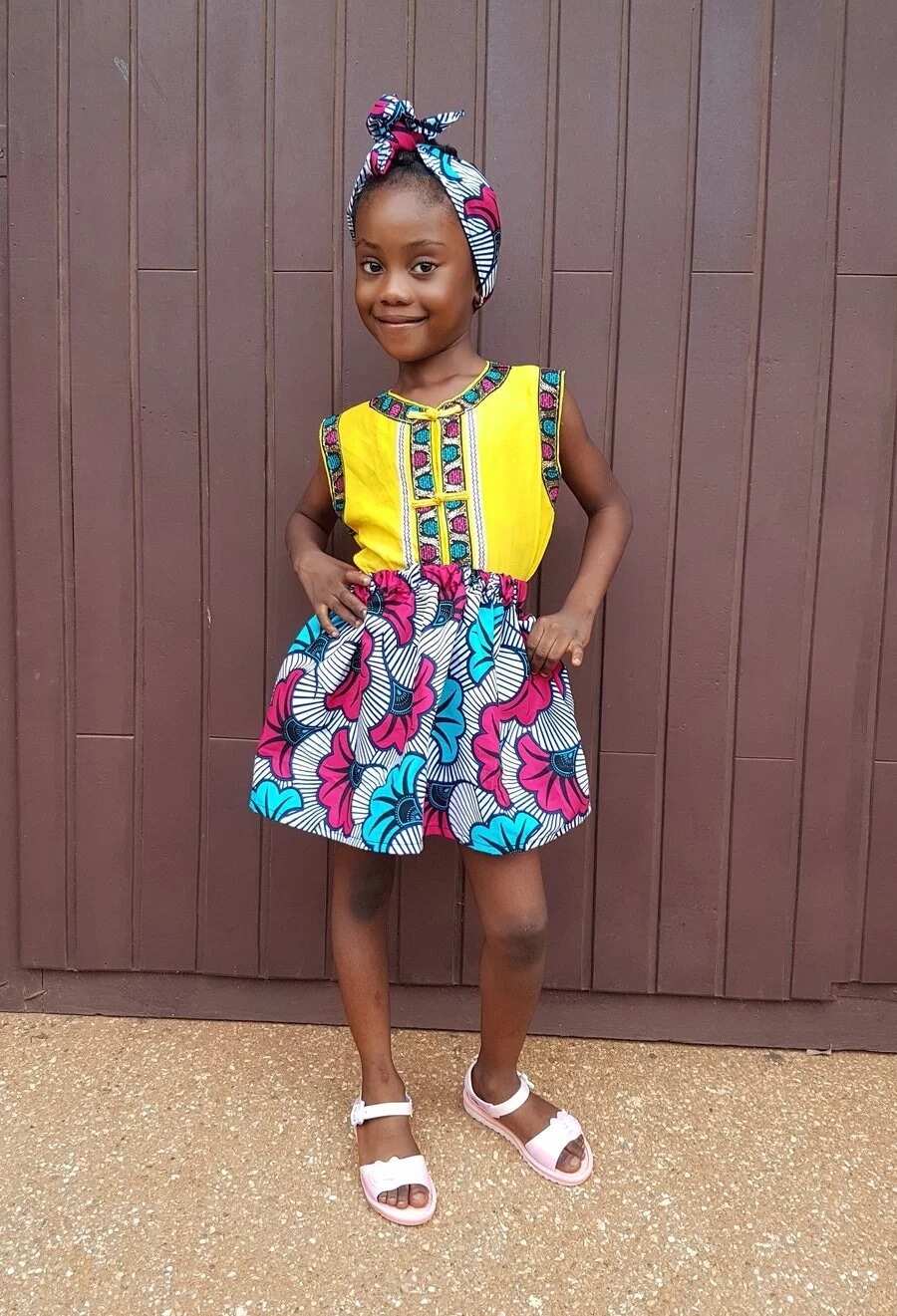 Every little fashionista should have some bright Ankara skirts of various tailoring and in combination with other fabrics. A variety of models allows creating an image for any occasion.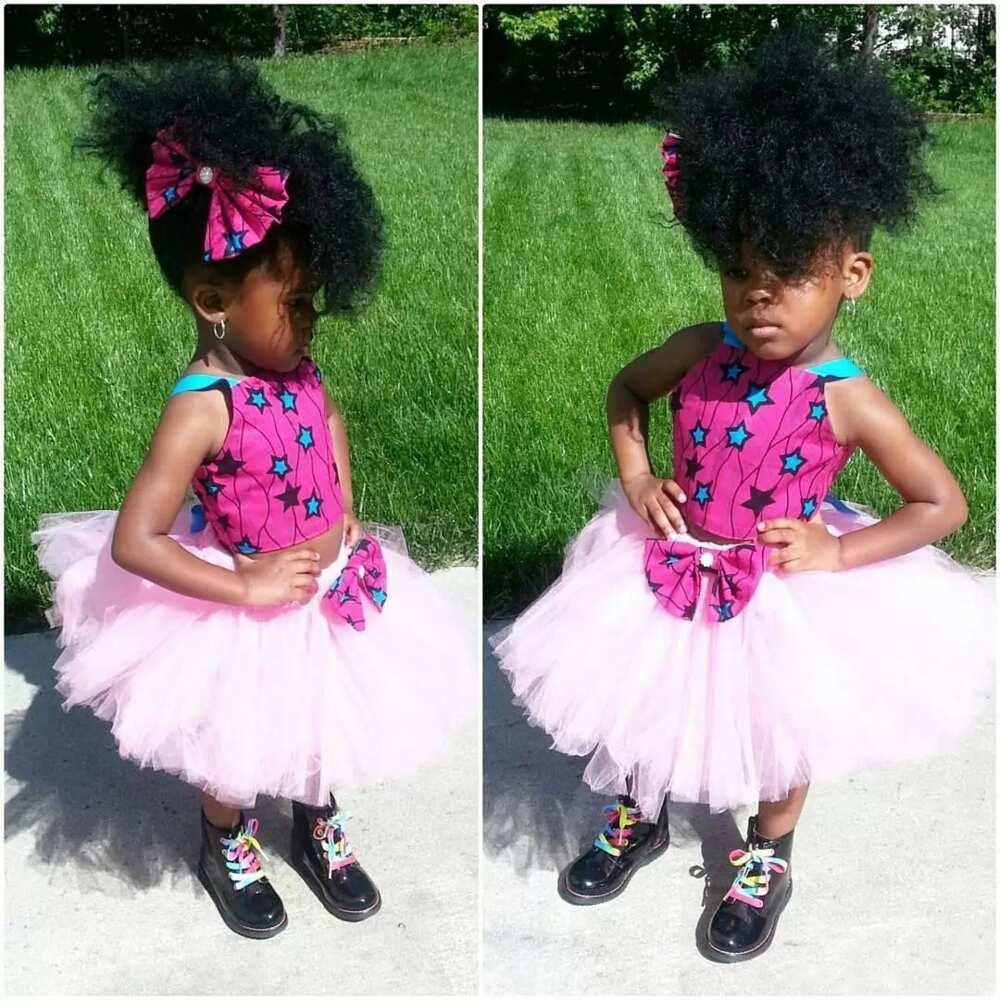 Ankara textile mixed with several layers of translucent fabric helps any girl to be a real princess at the festive event.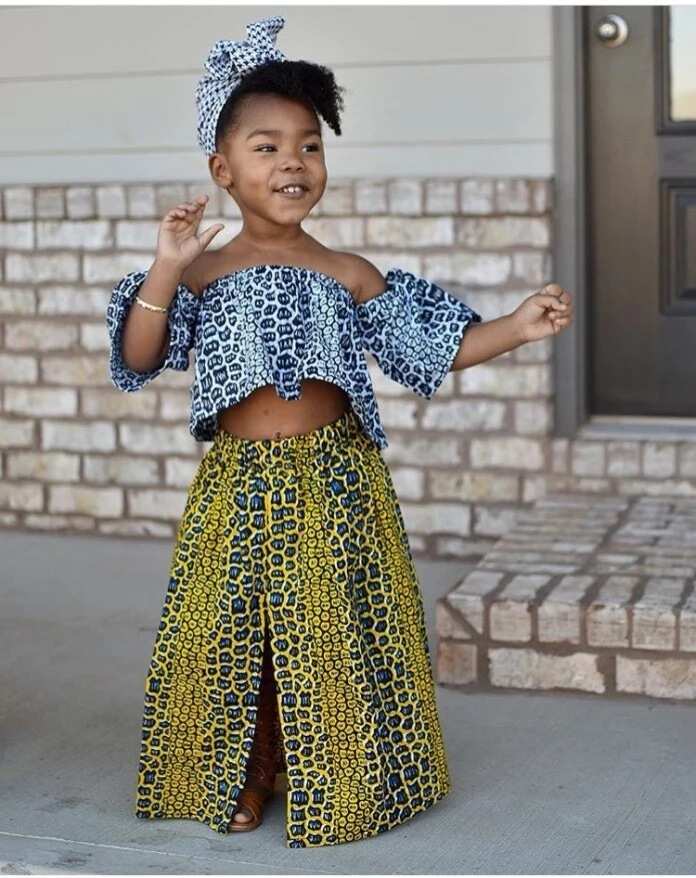 Trapezoid or flared Ankara skirt is useful for everyday fashion. It can be decorated with frills and pockets. A-shaped models with bright prints are also relevant.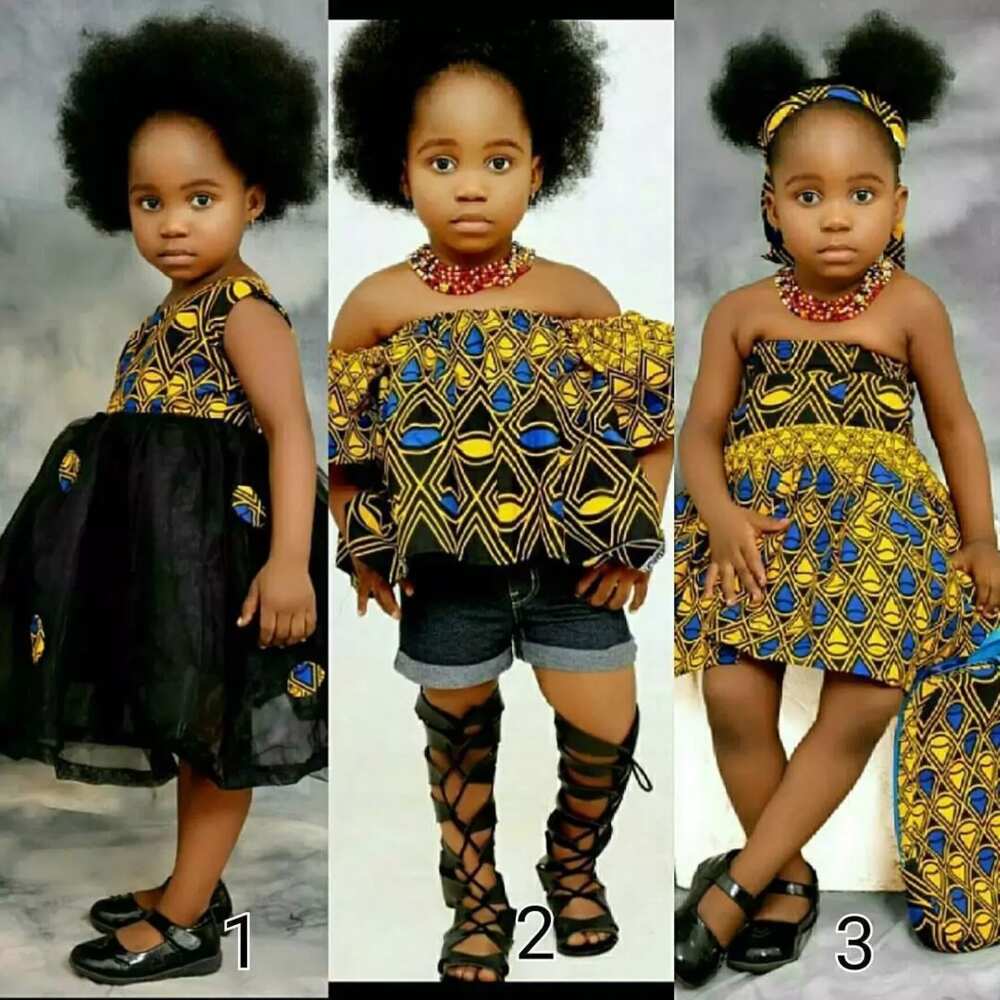 Ankara mix outfits and sets for girls 2018
Children like to spend most of the time outdoors. It's a great chance to show everyone their wardrobe.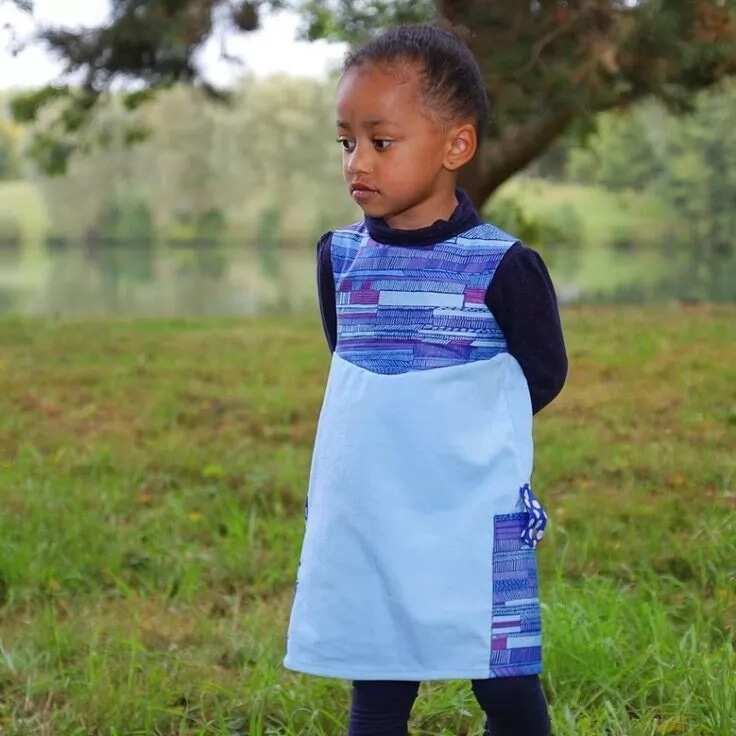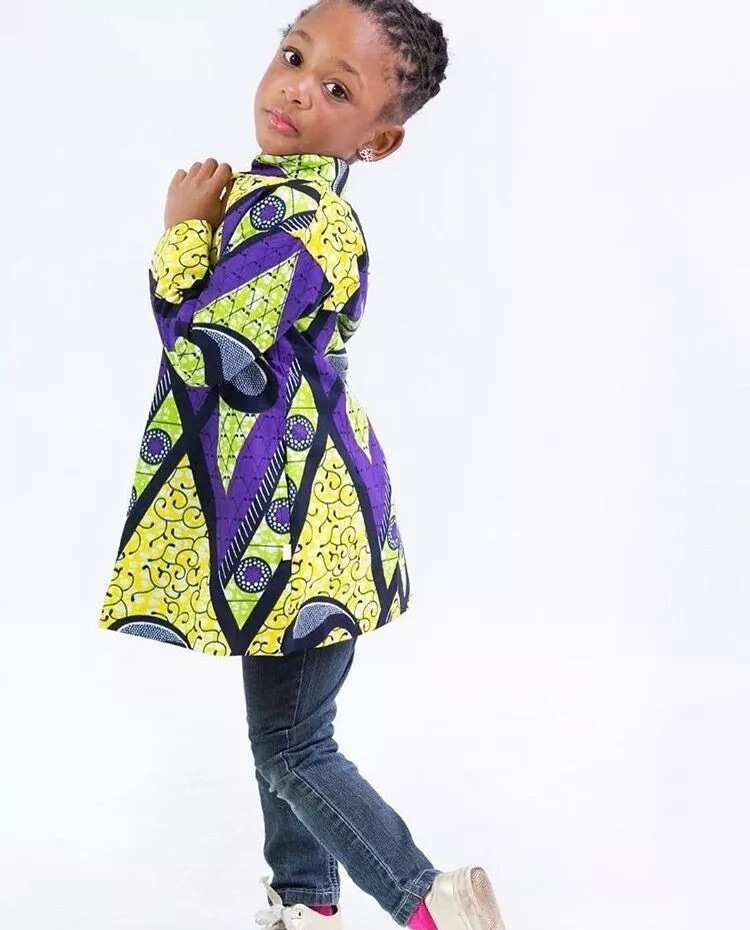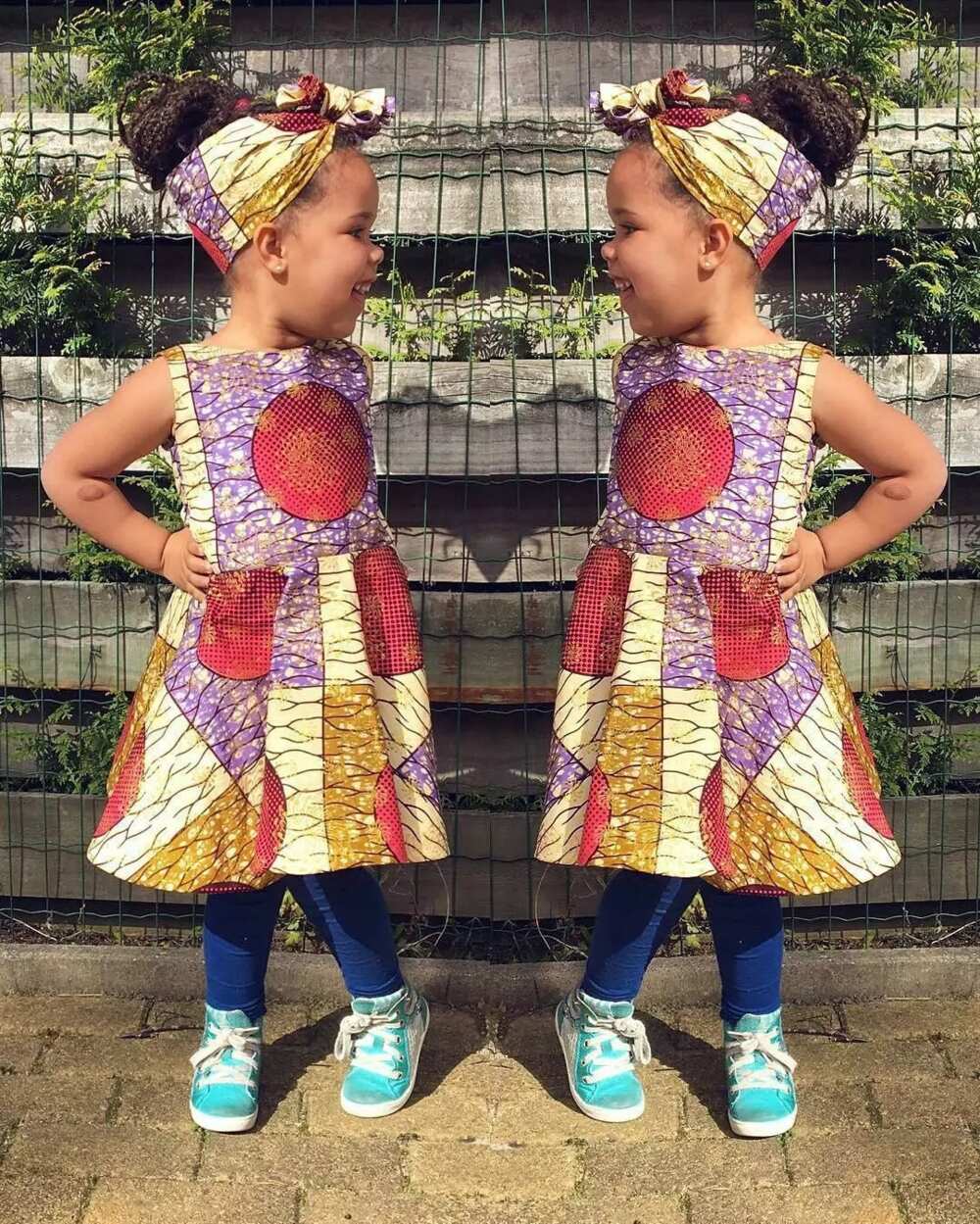 Designers advise Ankara dresses and sets made with several items. The trousers can be complemented by gowns with a free cut or elongated shirts. Mixed sets can consist of a jumpsuit with an oversized t-shirt or shorts with a loose tunic.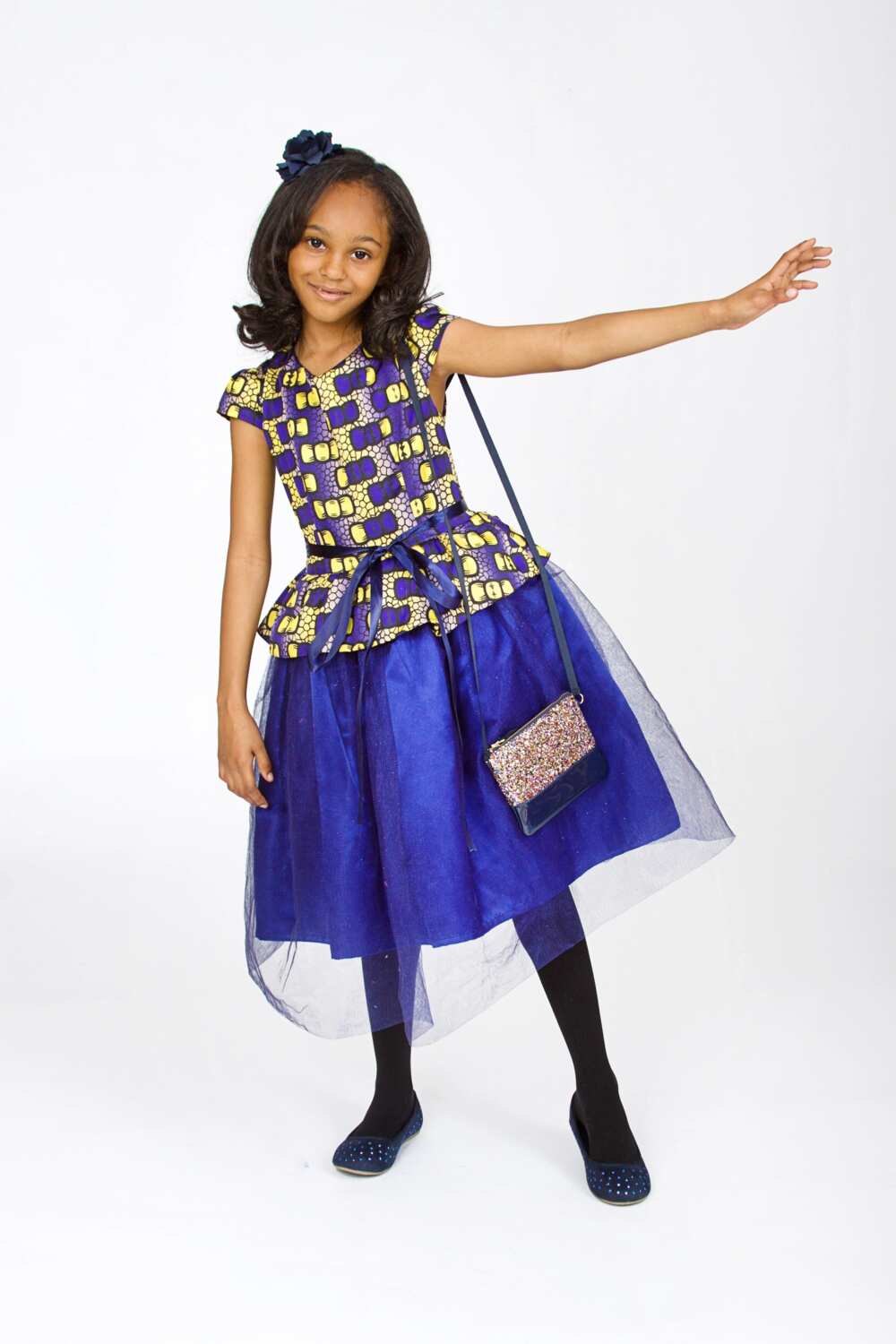 Little ladies love flared skirts, so Ankara mix outfits suit them very much. Beautifully flared long or midi dresses with chiffon underskirts and ruffles. Such attire can be worn at any festive event. And in general, trendy in season 2018 frills, ruffles and pelerines adorn any girl's gown. They are fond of stunning outfits.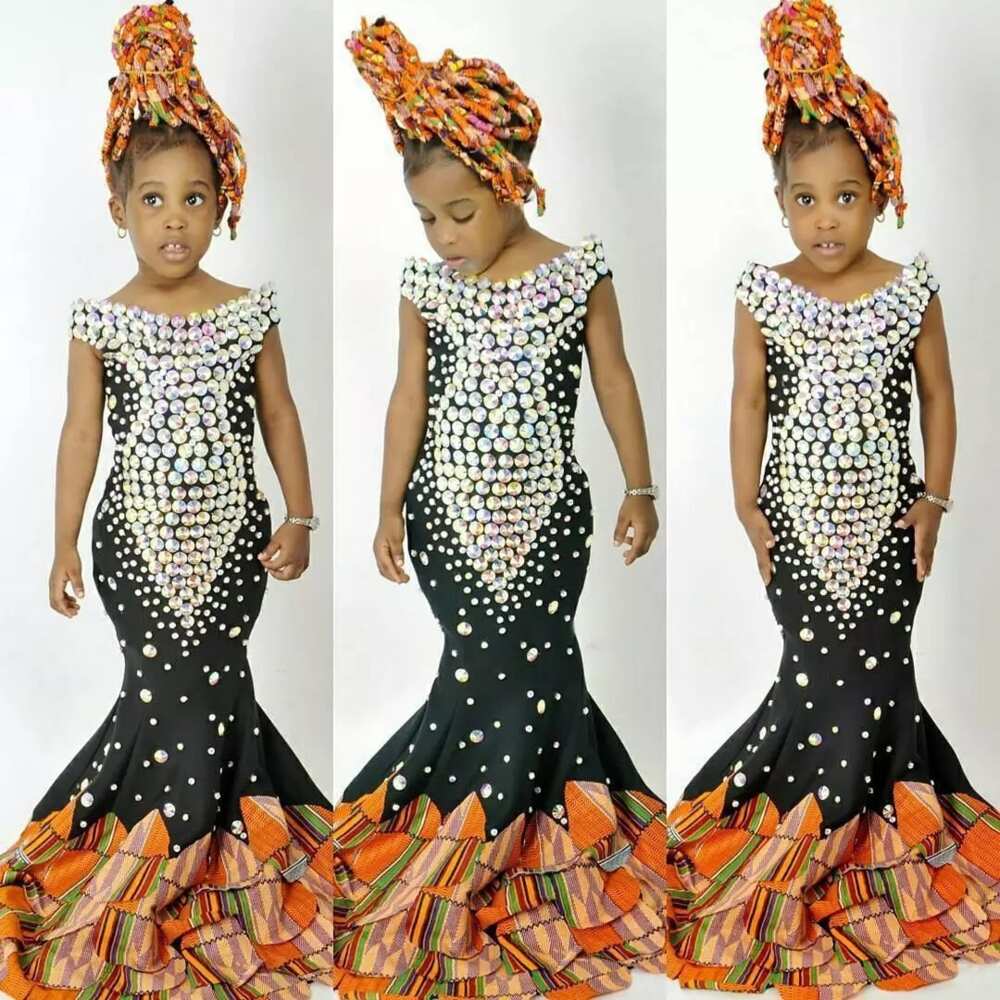 Fine images, like adult ladies have, are obtained in Aso Ebi styles. Long Ankara gown in the mermaid design with gele looks perfect.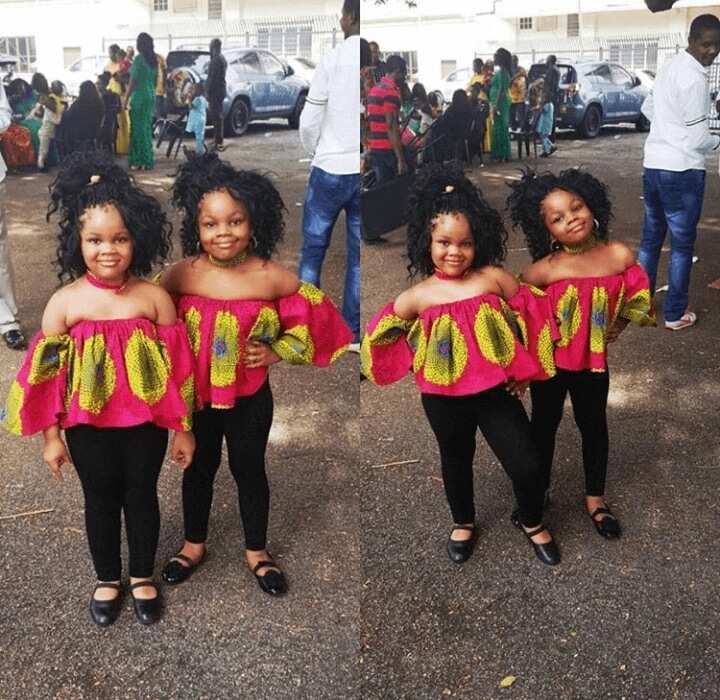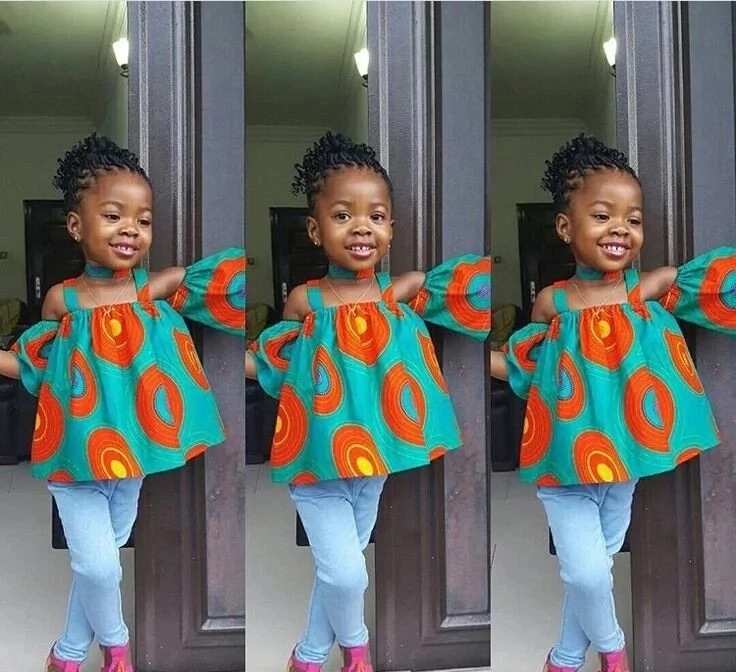 In addition to dresses and skirts, Ankara tops, blouses and tunics are made for girls too. Trendy open shoulders designs have got to the children's fashion. Beautiful blouse models with bare shoulders, decorated with ruffles taste to any little fashionista.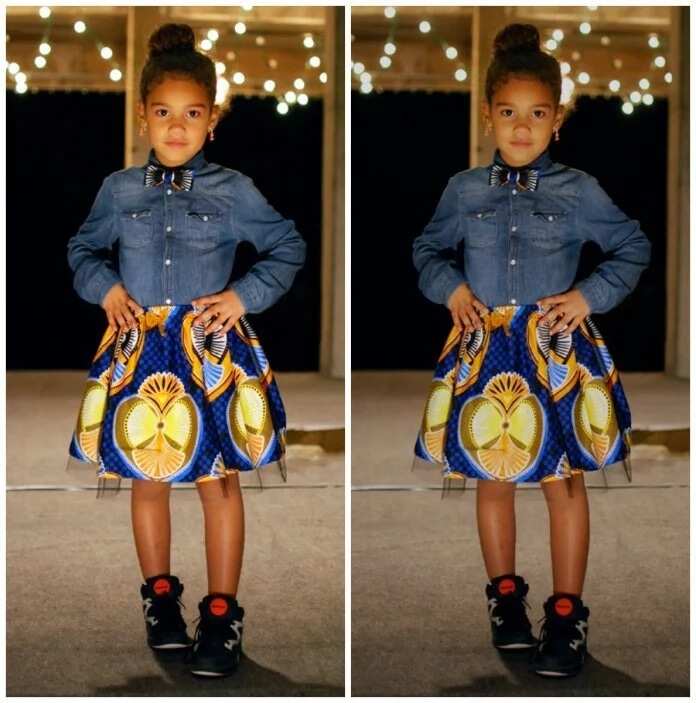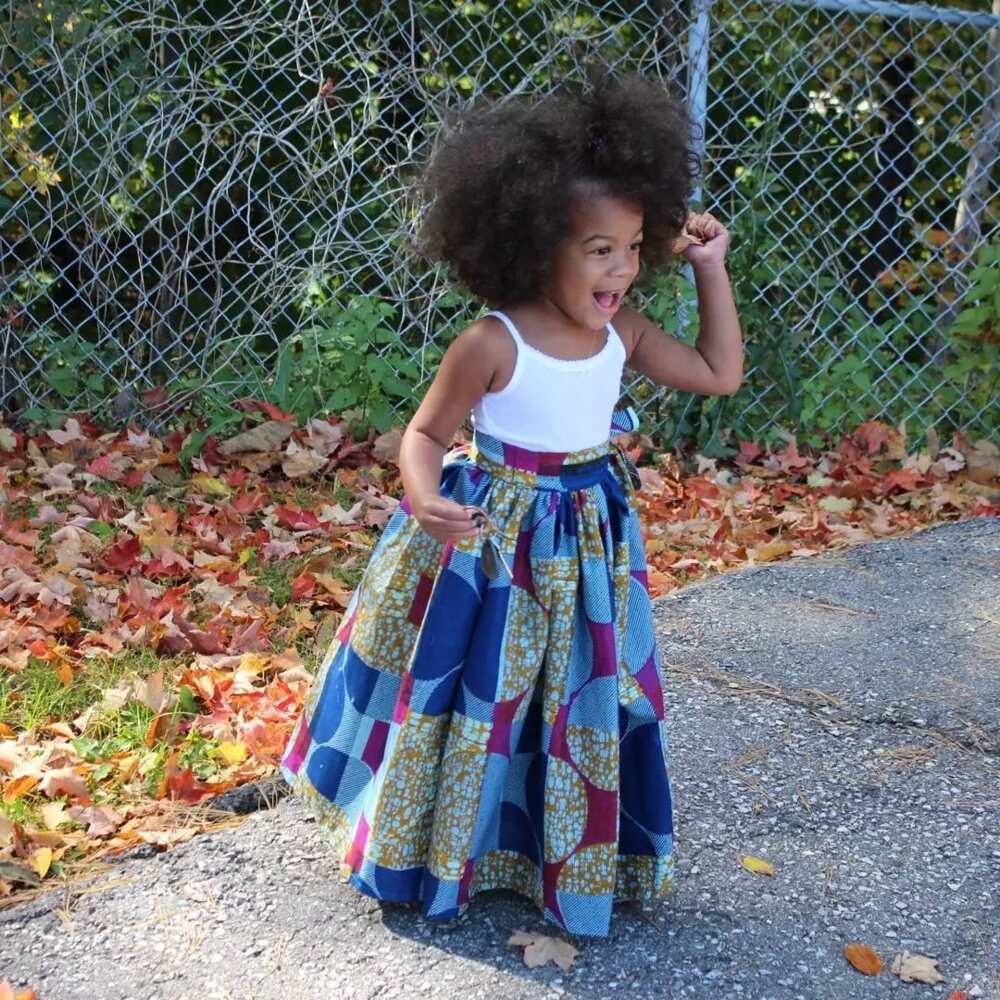 Ankara tunics with asymmetrical hem and frills can be complemented with plain pants or shorts. The classic combination of Ankara styles and denim also enthrall girls. For the image in a casual style, you can take denim shorts or trousers and bright Ankara top. And vice versa use a denim shirt with a flared short skirt. Another classic version, borrowed from the adult fashion is a single-colored fitted top and a flared Ankara maxi skirt.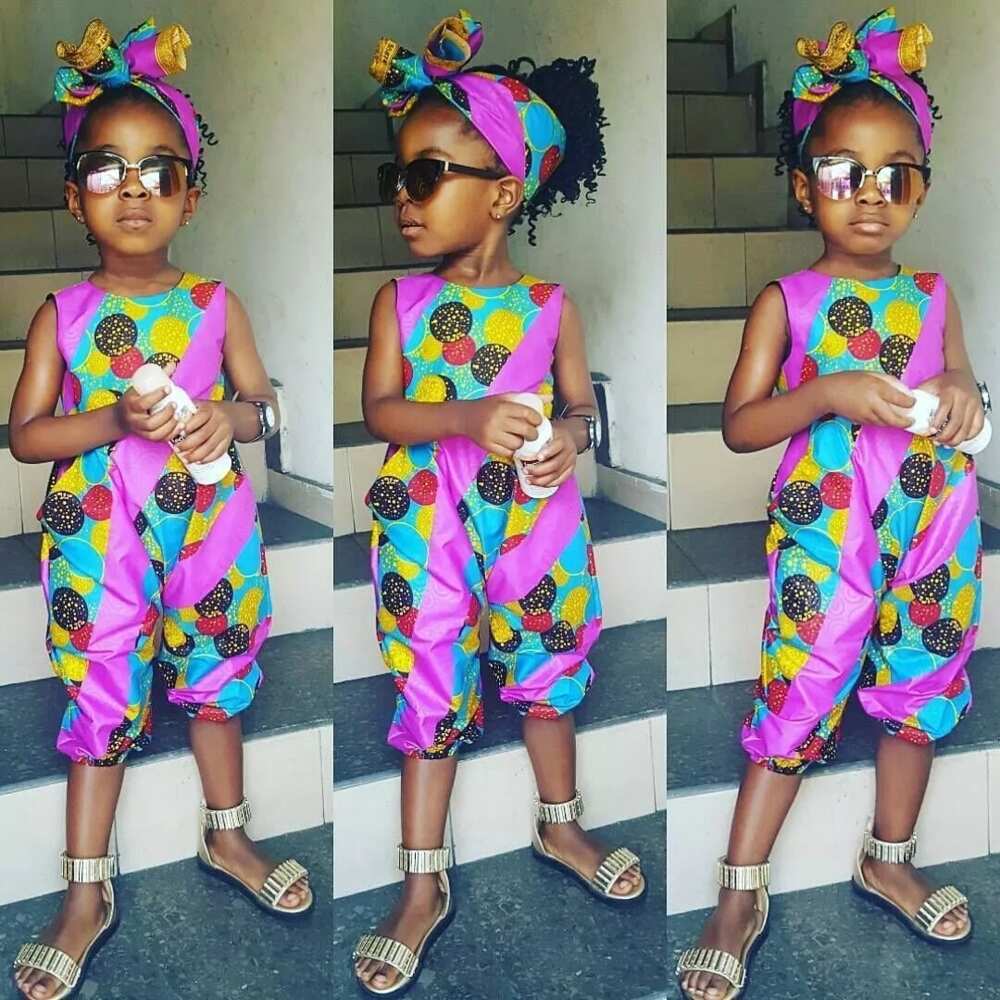 The main colors and patterns of Ankara styles for girls 2018
This season is full of color's variety. Each of the tones is beautiful in its own way. Designers don't confront nature and take bright, light and neutral tones as the basis of their collections. Juicy red is the favorite of 2018. Despite the fact that the tones from the pastel and basic palettes are actively used, the palm of primacy is given to the classic red. In Ankara styles for children 2018, it's often used in combination with terracotta and black, as well as in floral patterns.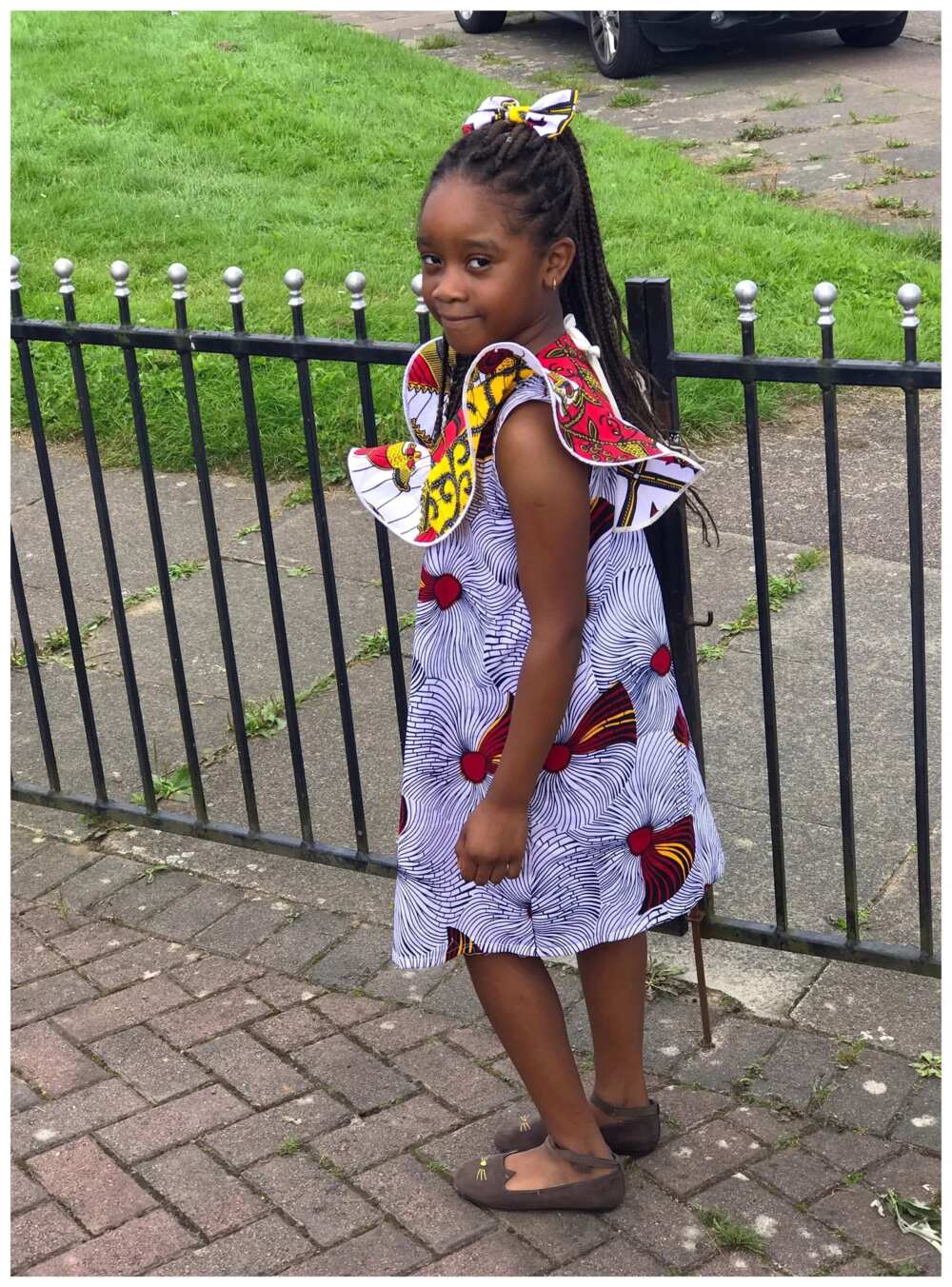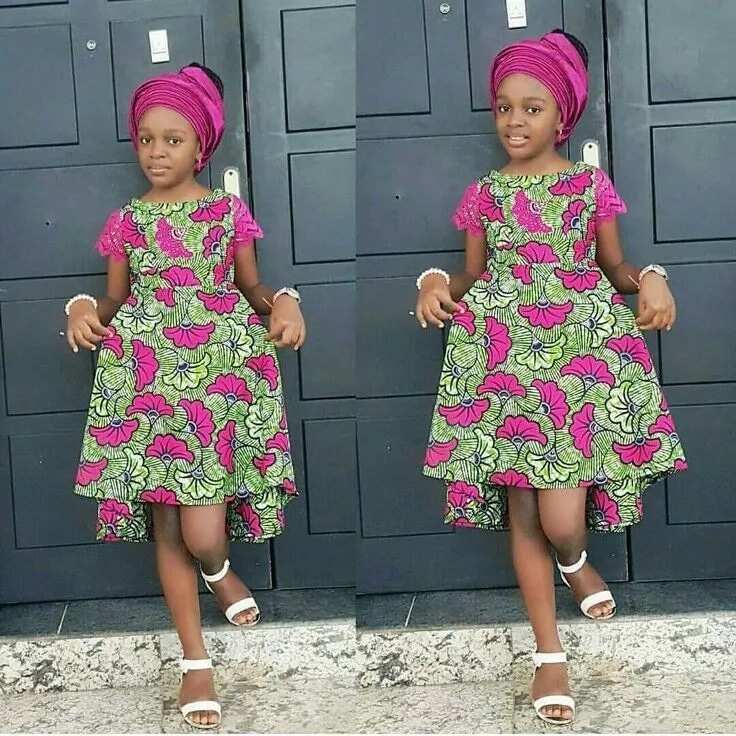 Patterns and ornaments make clothes much more interesting and brighter. For creating beautiful Ankara styles and gentle images, fashion designers use the most touching prints. It's better to use Ankara patterns with small ornaments in children outfits.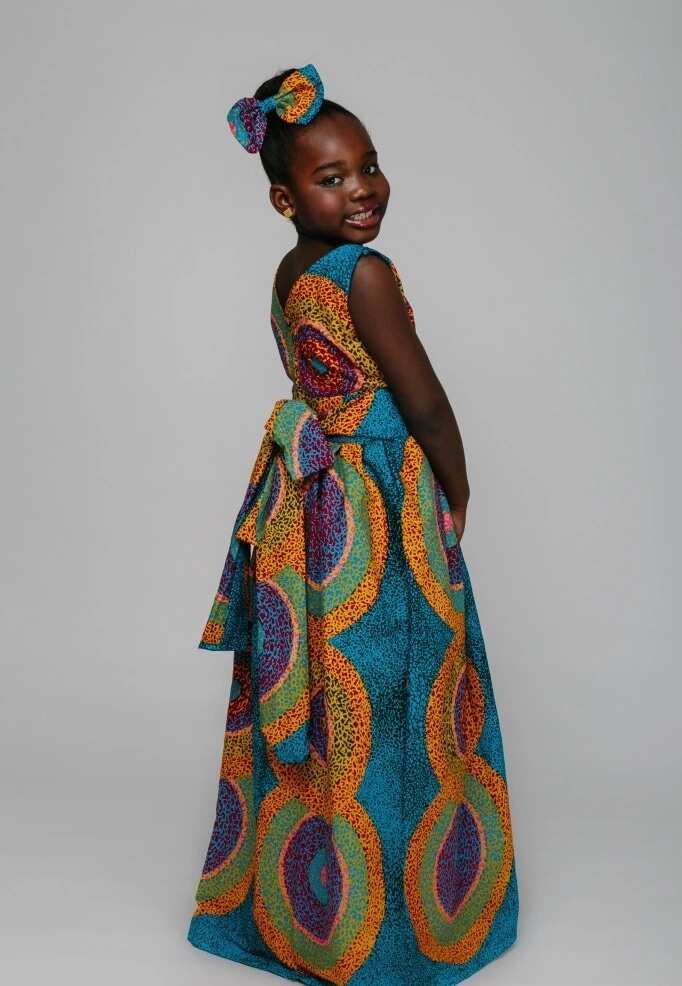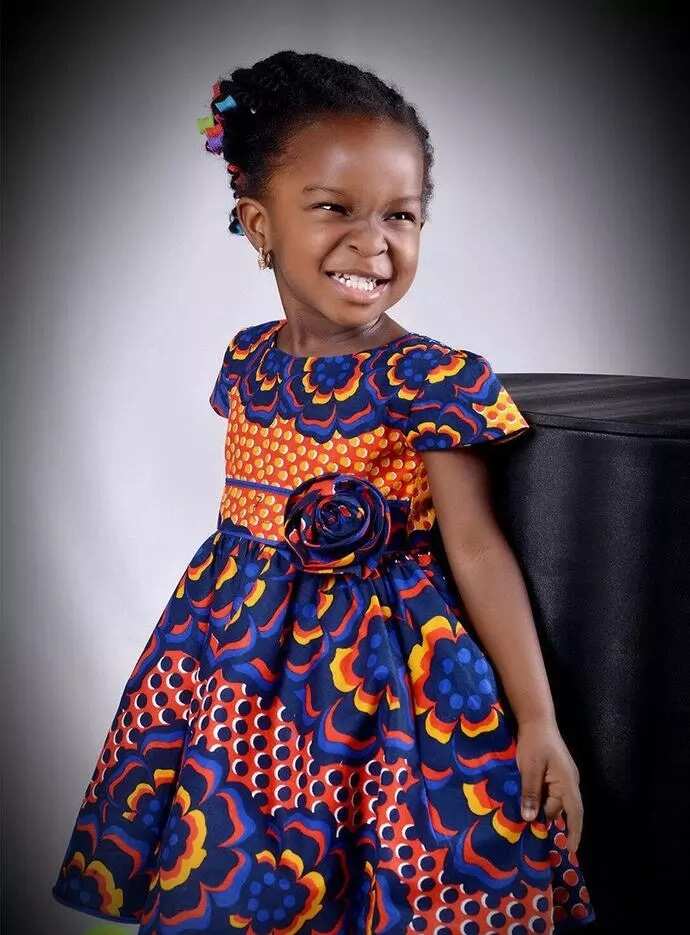 This year trendy floral ornaments turn our girls into exotic flowers. Children can wear outfits in any color scheme. Just avoid too dark and gloomy shades. All the other bright, light and saturated colors in combination with contrasting Ankara patterns is what you need for young fashionistas.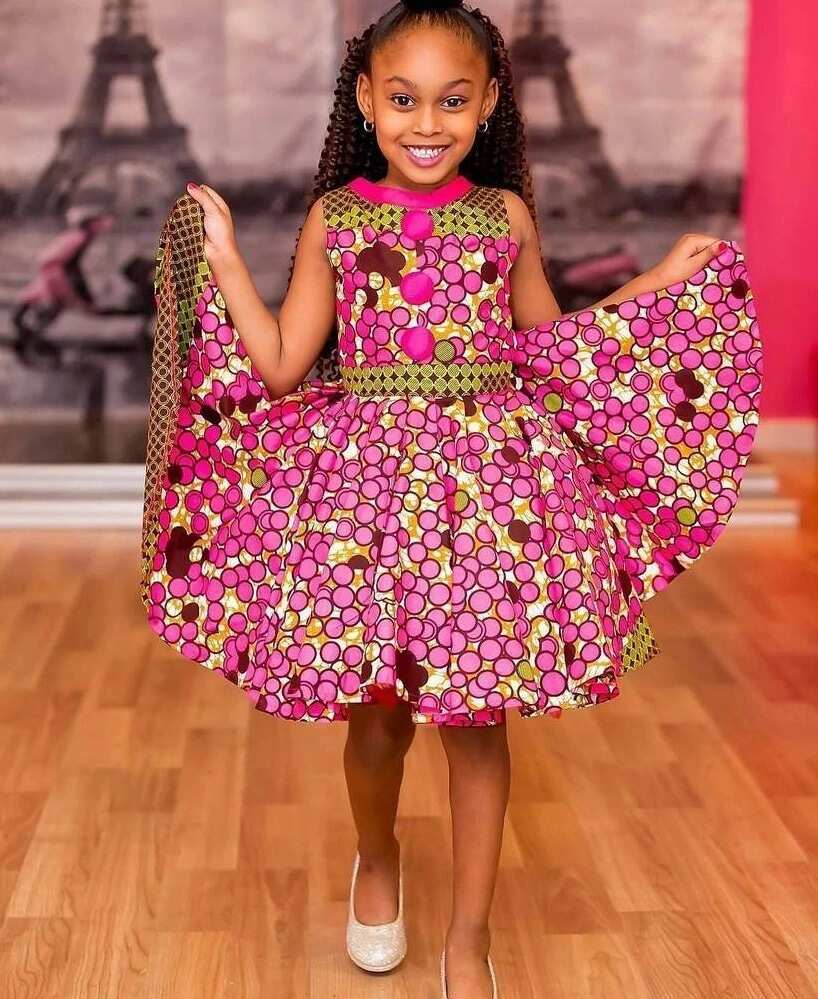 If you choose the fabric with a floral pattern for a dress, it can be either large or small. But such prints as polka dots, stripes or any other geometric ornaments should be better small in size.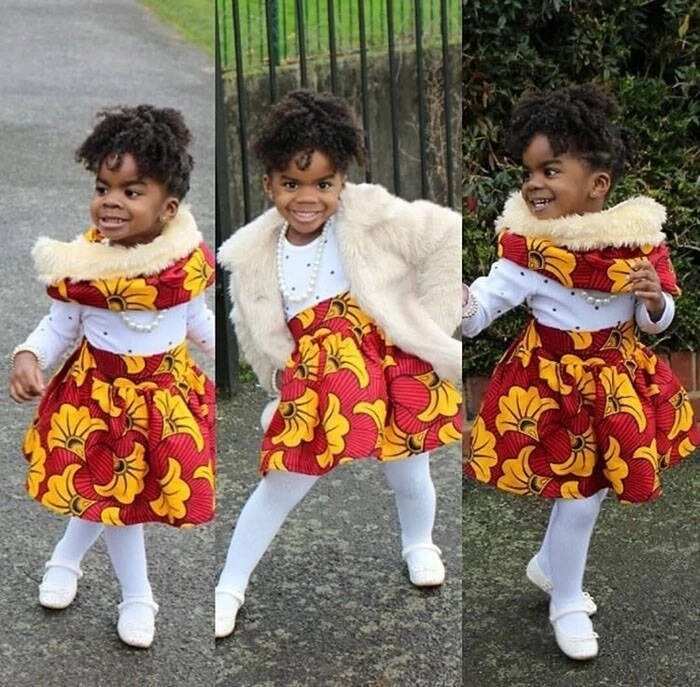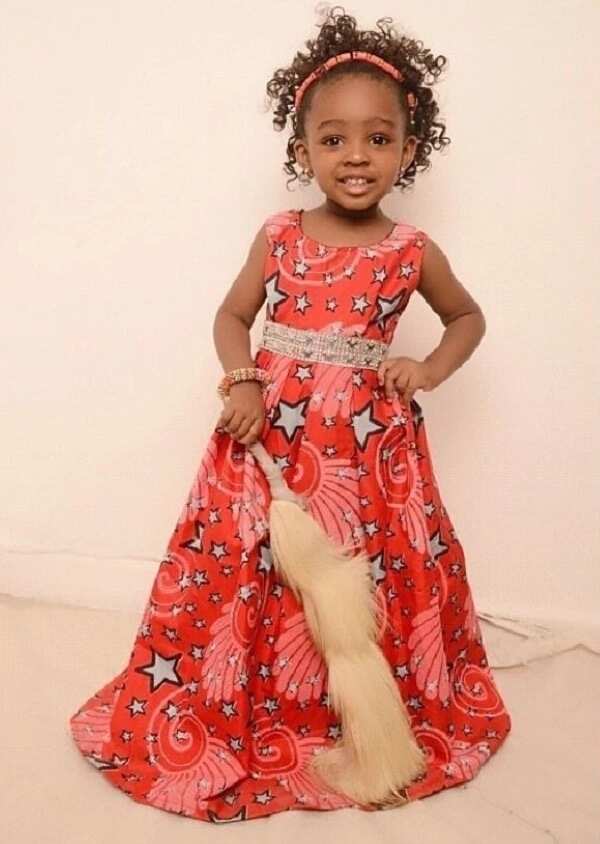 As decoration, Ankara attires for girls are usually adorned with paillettes, beads, and sequins. Trendy in the season 2018 bows is 'must have' in general.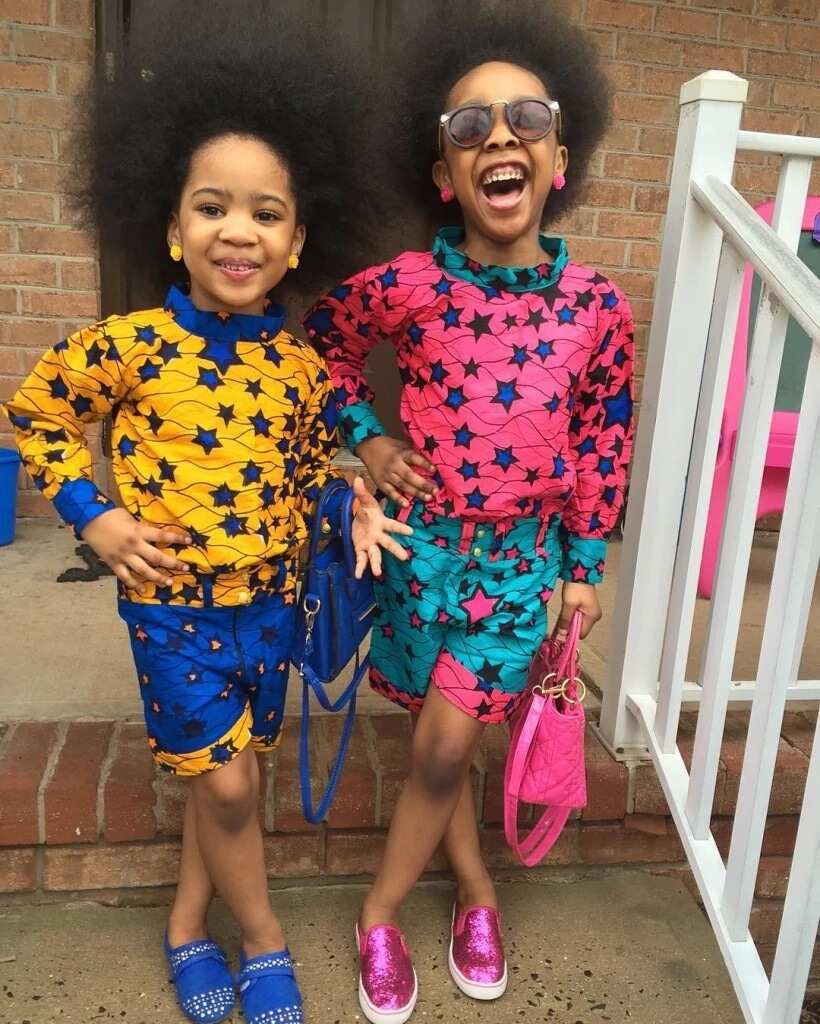 Well, it seems, we haven't missed anything. Hopefully, our notes and bright photos will help you create modern Ankara styles for your little fashionista.
READ ALSO: Lace styles for children - Best designs
Source: Legit.ng