Latest Mercy Aigbe ankara styles
For famous people, good appearance is only a part of their profession. They are constantly in the spotlight, delighting fans with interesting hairstyles and outfits. Now it is fashionable to wear traditional clothes. Thanks to which these musicians and actors now have the chance to support national fashion. Mercy Aigbe Ankara styles deserve particular attention.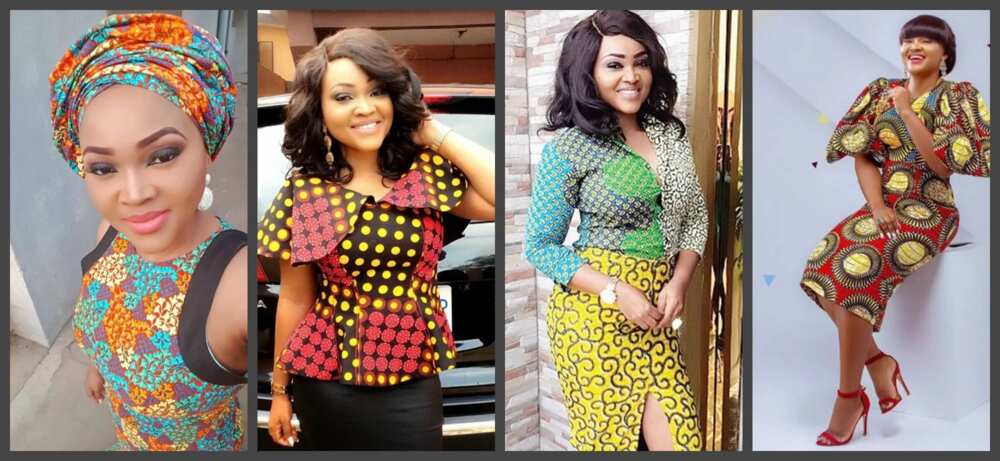 Mercy Aigbe is an incredibly talented actress and business lady who can teach style lessons to anyone who is interested. She often stars in Yoruba films and likes hot Ankara styles. From the amount that she has, it may even seem that the beauty has an exceptionally large wardrobe where she keeps only her Ankara outfits.
Mercy Aigbe styles
Her wardrobe is very diverse. This stylish woman combines gentle, feminine details and bold, original elements.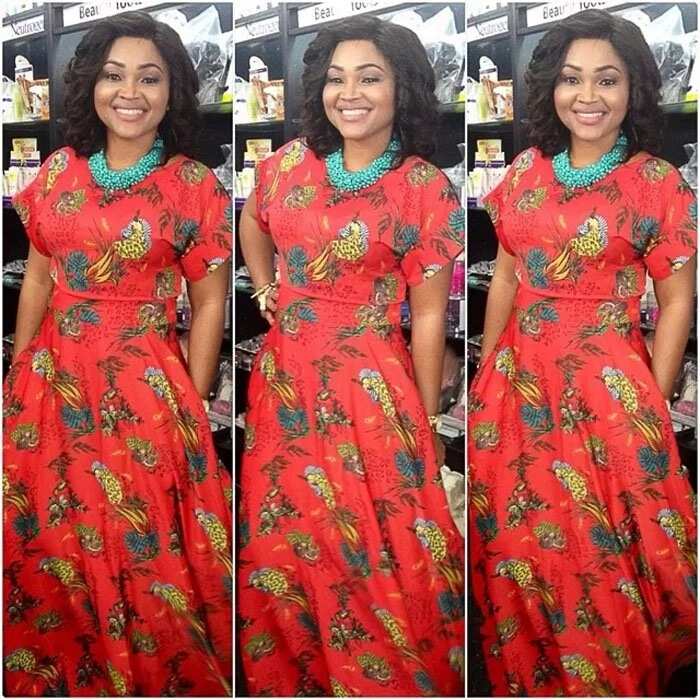 The classic bright colors of the latest Nigerian fashion styles allow the actress to attract attention wherever she is. This woman chooses fabrics with interesting patters and complements them with elegant accessories.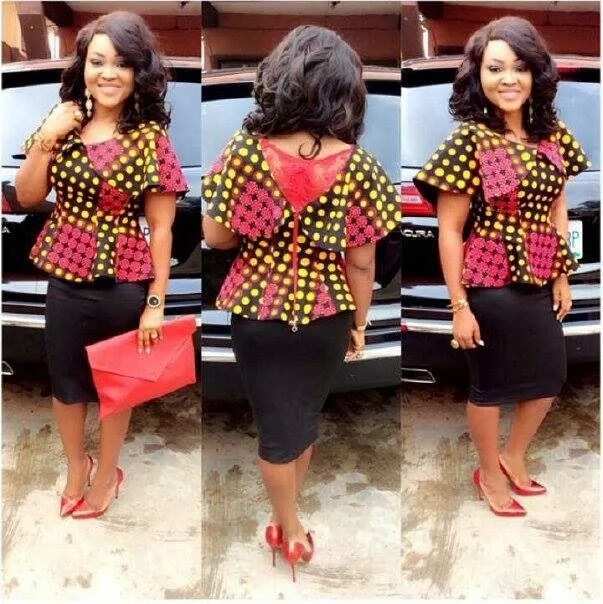 She likes both long elegant dresses and styles that stop above her knees. The actress has beautiful, slender legs, so it would be strange if she did not show them off. See how well her shoes are matched with the print on this dress. On the back, there is a small lace element and the whole blouse has a unique design.
READ ALSO: Mercy Aigbe fashion style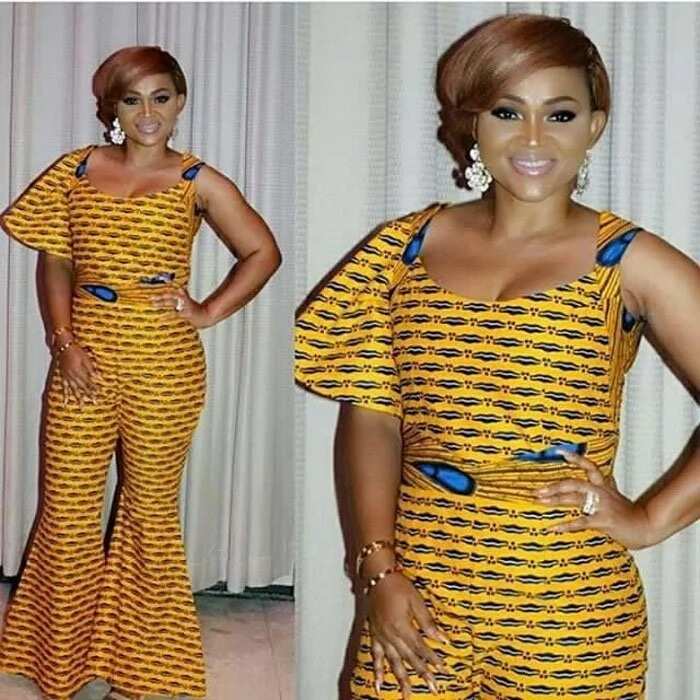 Mercy does not cease to look feminine even when wearing trouser suits and jumpsuits. The flared trousers accentuate her figure. The asymmetric shoulder design is quite stylish. On the one hand is a magnificent sleeve, and on the other - a modest strap. Luxurious earrings and a bold modern hairstyle make this Mercy Aigbe latest Ankara style incredibly impressive.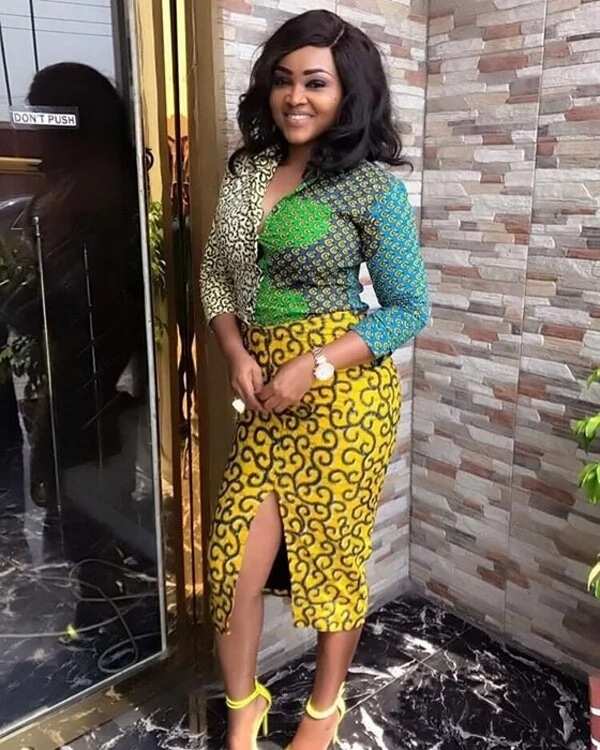 She also succeeds in combining skirts and blouses. This is quite difficult when both elements have bright colours. The smallest mistake and one can look ridiculous as they are overloaded with unnecessary elements.
But this obviously does not apply to Mercy because she has an amazing sense of style. This Nollywood fashionista knows how to combine clothes. She creates elegant and refined but at the same time light and cheerful combinations.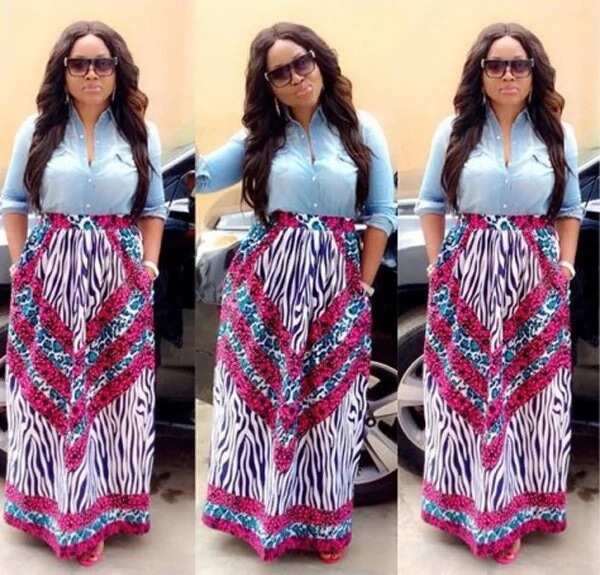 Another interesting one is this combination of a shirt and a long bright skirt with beautiful patterns. The blue elements of print blends perfectly with the color of the shirt. Sunglasses complement the beautiful look. In this outfit, any woman can feel comfortable and still remain gorgeous.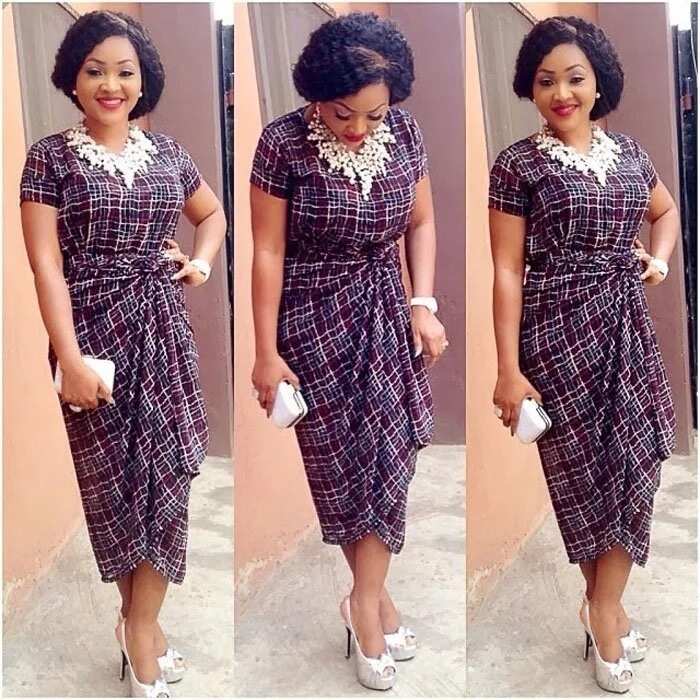 When the actress wants to be fun and casual, she chooses neutral colors and bright jewelry. Who would have thought that the right design can turn a checkered fabric into a real work of art?Her refined hairstyle and small earrings look very feminine. High-heeled shoes, purse, ring, watch, and necklace create a magnificient combination. They are in perfect harmony with the white stripes on the dress.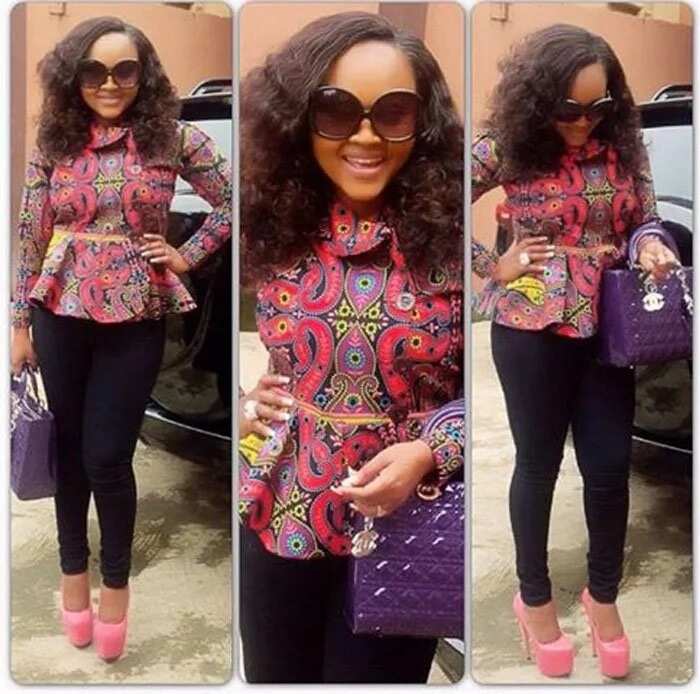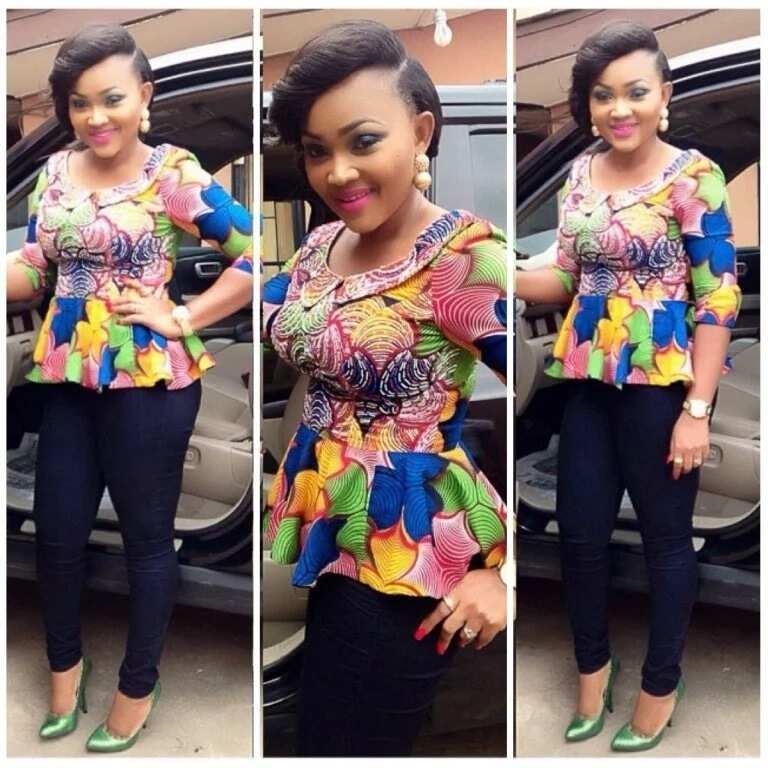 There are a lot of beautiful blouses with a traditional pattern in Mercy's wardrobe. In this composition, the top part attracts all the attention, as below are strict black trousers that emphasize the beauty of her legs. The bag and shoes are successfully combined with the patterns. Mercy is known for wearing high heels that will amaze any woman.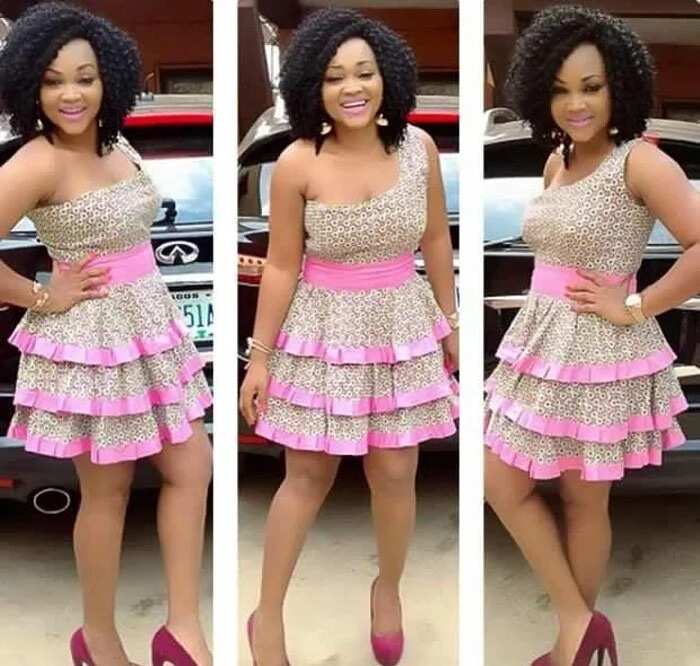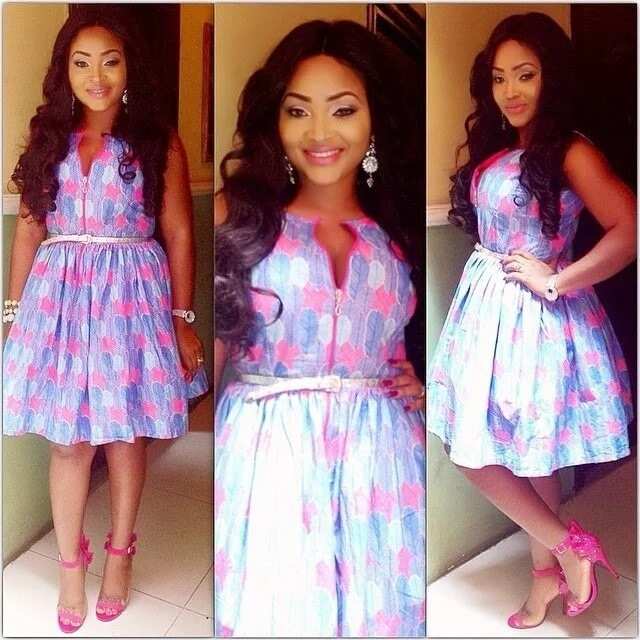 In short dresses, Mercy looks like a real princess. It will be difficult for you to believe that this adorable woman is 38 years old? She looks like a young girl full of positivity and cheerfulness. The lush skirt, pink ribbons, and a thin silver belt gives her a gentle and innocent look. Her shoes and lipstick supplement these sweet combination.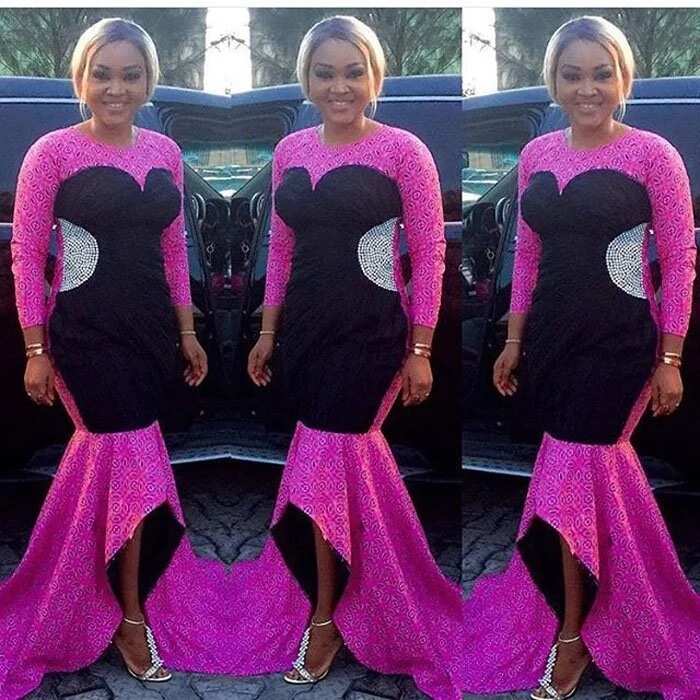 Mercy is good at combining elegance with brightness. Here, we see a dress of classic cut. What distinguishes it from many others? The bright color. The side embellishment favorably emphasises the waist. They are in harmony with her elegant sandals. It is very difficult for such a beauty to go unnoticed.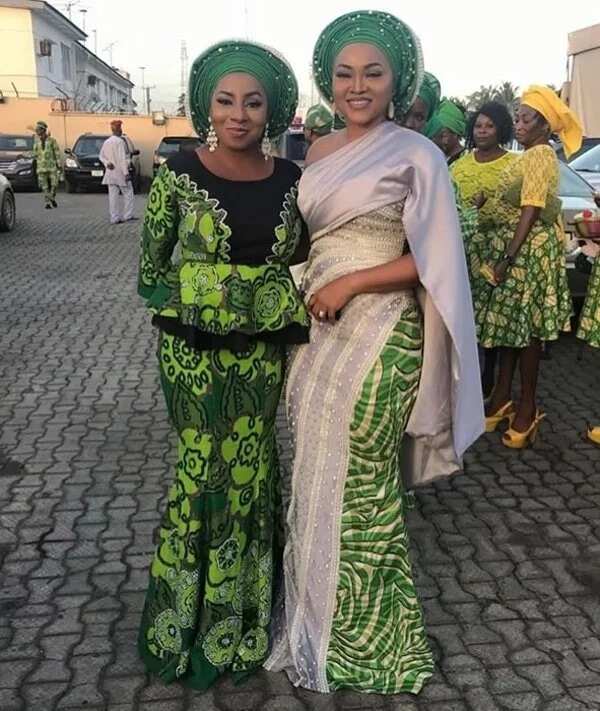 The actress is often seen in traditional attires. She is so beautiful in this gele. The fabric of the dress envelopes her figure like waves. This combination is very refined and feminine. The expensive fabrics, neat jewelry gives her a feminine allure.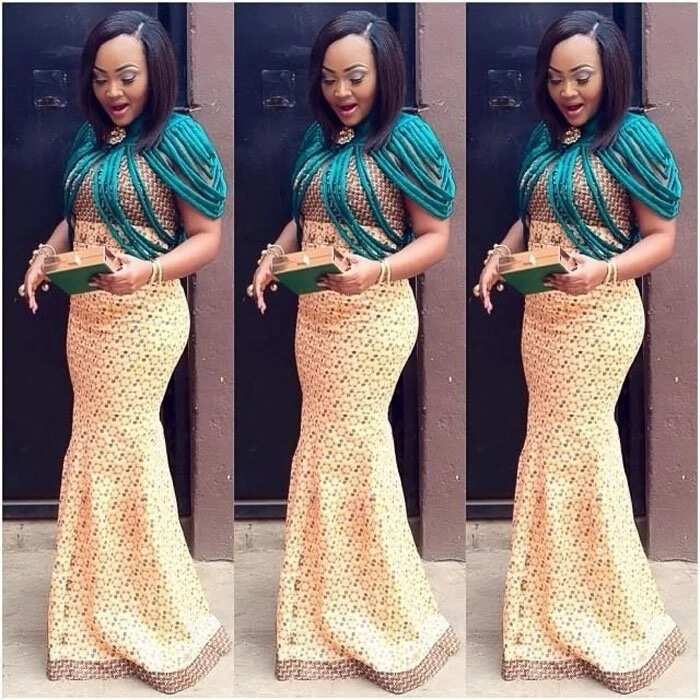 Look at this interesting attire. The mermaid's dress emphasizes the beauty of the feminine figure. But what is most interesting is the unusual turquoise jacket with a shiny brooch. Her hands are decorated with expensive accessories.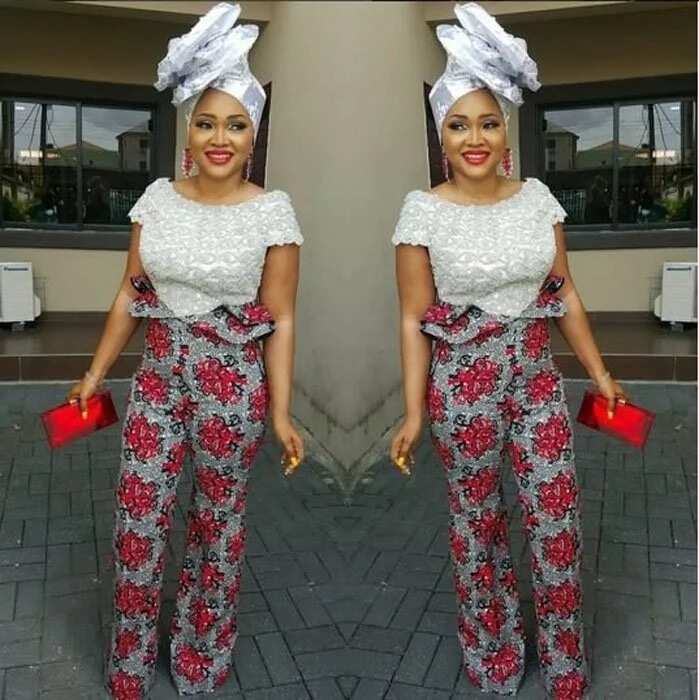 An interesting headpiece can also become a central element of any look. This costume is a good example. We see an incredible design on Mercy's head. It attracts attention and visually pulls out the silhouette. All accessories are chosen very carefully. Handbag and earrings go well with the print on the trousers. Yellow nails complete this cheerful combination.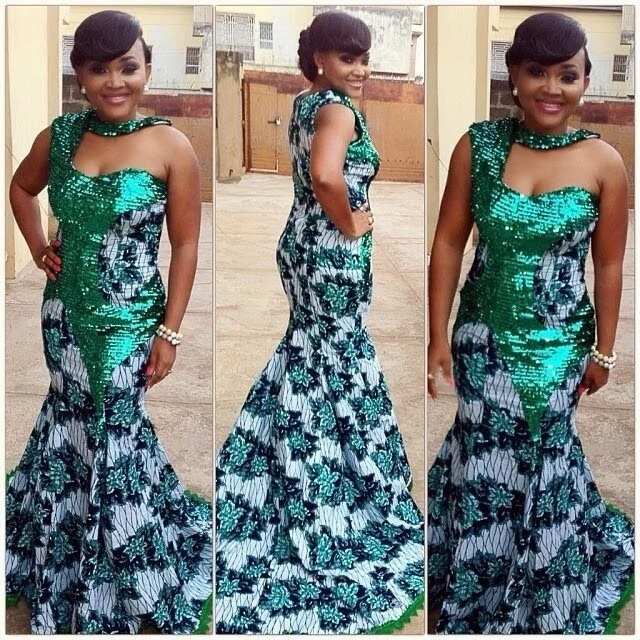 Mercy Aigbe is an amazing example of how to wear traditional attires and look modern and stylish. She can be called a fashion icon of Nollywood. Hope you have been inspired by these Mercy Aigbe's Ankara looks that we have gathered for your attention.
READ ALSO: Celebrities in Nigerian native attire styles
Source: Legit.ng