50+ stylish Ankara shirt dress styles that will elevate your wardrobe
Ankara shirt dresses are ideal for freshening up your closet. You can buy new outfits if you can afford them, but if you're on a tight budget, the simplest method to update your wardrobe is to revamp your existing shirts and shirt dresses with Ankara textiles. This post features photos of the most popular Ankara shirt dress styles on the internet.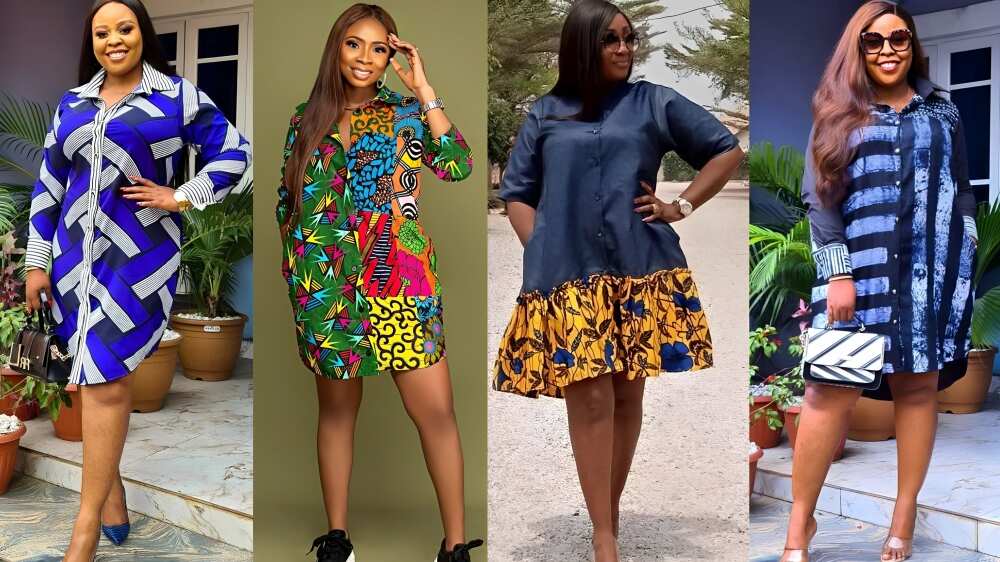 The African fashion business has made international headlines ever since local designers embraced universal styles and trends. Today, African fashion designers blend traditional designs from different cultures on the continent with Western styles to make unique and captivating clothes. As a result, the demand for Ankara attires has massively increased worldwide.
Trendy Ankara shirt dress styles for ladies
With the new developments in African fashion, more females (especially millennials and Gen Z) are embracing the latest universal styles like shirt dresses while remaining mindful of their culture. As a result, businesses attest that the latest Ankara shirt styles have become famous locally and internationally. If you want to add these garments to your wardrobe, check out pictures of Ankara shirt dresses below to find what suits your style:
Long Ankara shirt dresses for wedding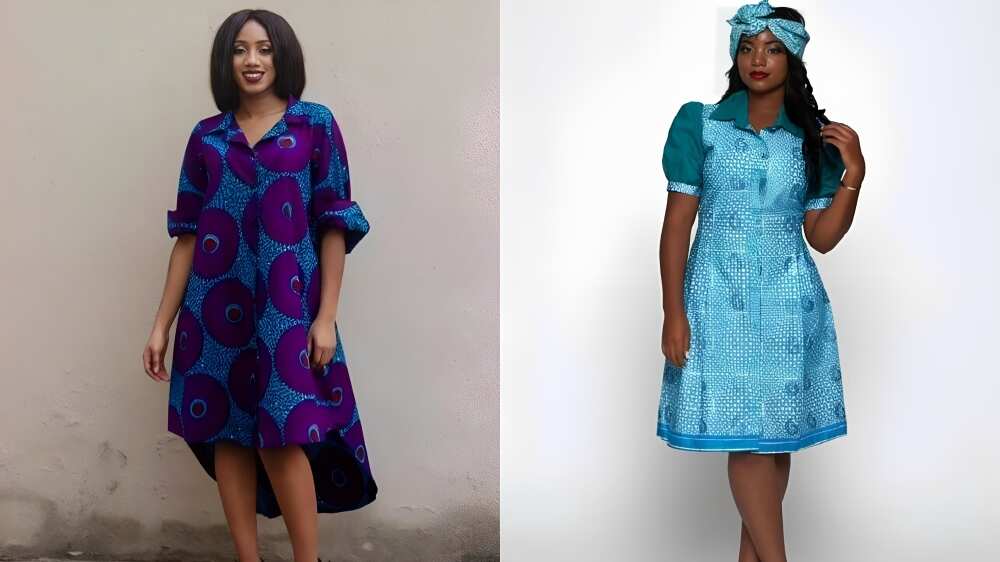 You can design an Ankara shirt dress with different lengths. The knee-length dresses look really good on short women and girls. If you're tall, you will look great in a shirt dress that falls right at the mid-calf point.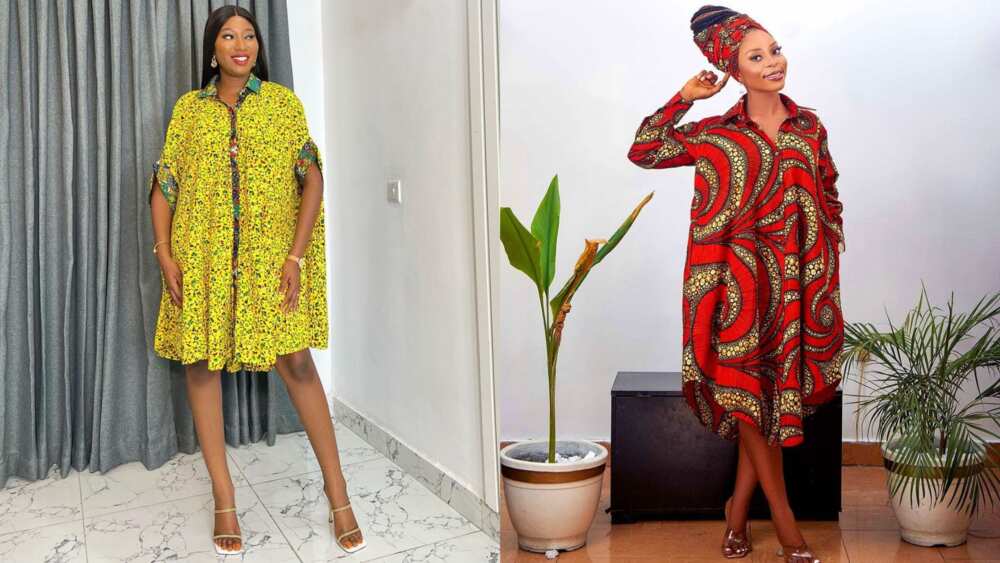 You can also use different types of pleats to design your dress. These Ankara shirt dresses have minimal accordion pleats. The pleats are evenly spaced in and out. Moreover, they extend all the way down the give the dresses asymmetrical hemlines.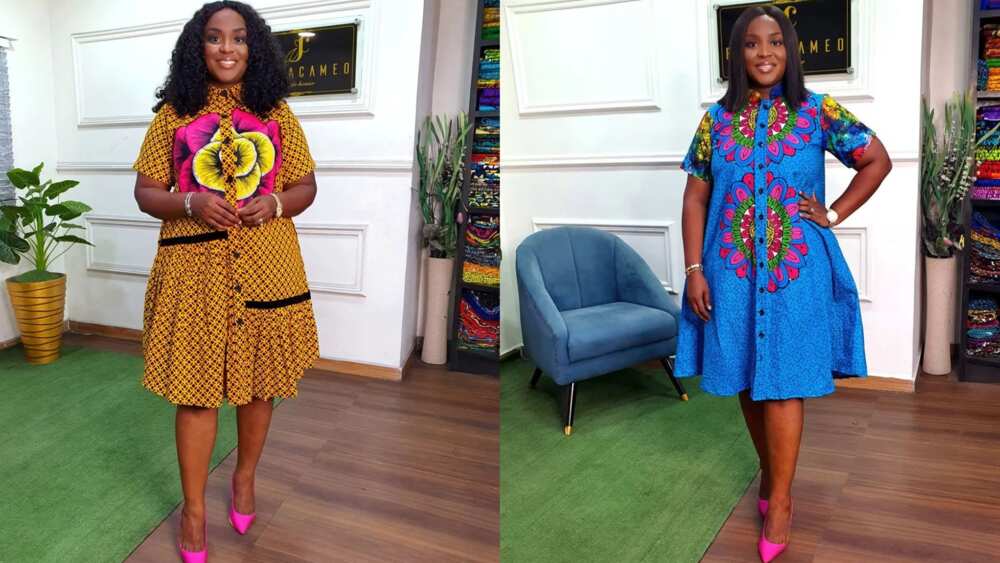 Button-down Ankara shirt dresses are super versatile and never go out of fashion. You can wear them to a wedding, brunch with friends, a night out with your partner, and any other casual event. If you want, dress them up with a blazer on a cold day.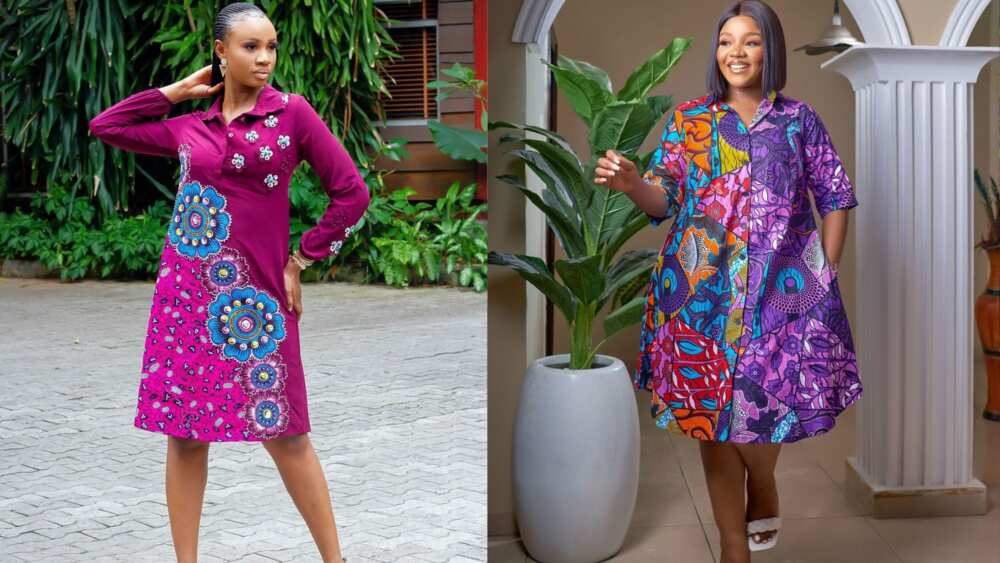 Throwing a denim jacket over a button-down dress is the perfect way to transition your summer outfit into winter attire. You can never go wrong with this because the two attires are a beautiful and chic combination. Also, pair them with sandals, open heels over the summer, and sneakers, closed flats, and boots when winter sets in.
Denim Ankara shirt dresses for ladies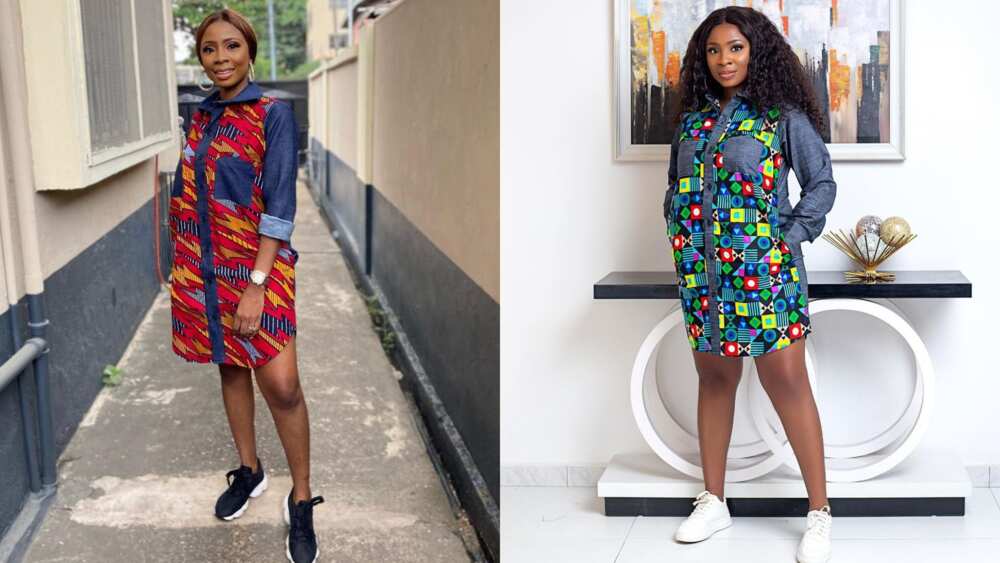 When you combine a denim shirt dress with a bright-colored Ankara fabric, you take the dress to an all-new level of style. Most people who love these dresses pair them with sneakers and sandals and wear them to informal occasions.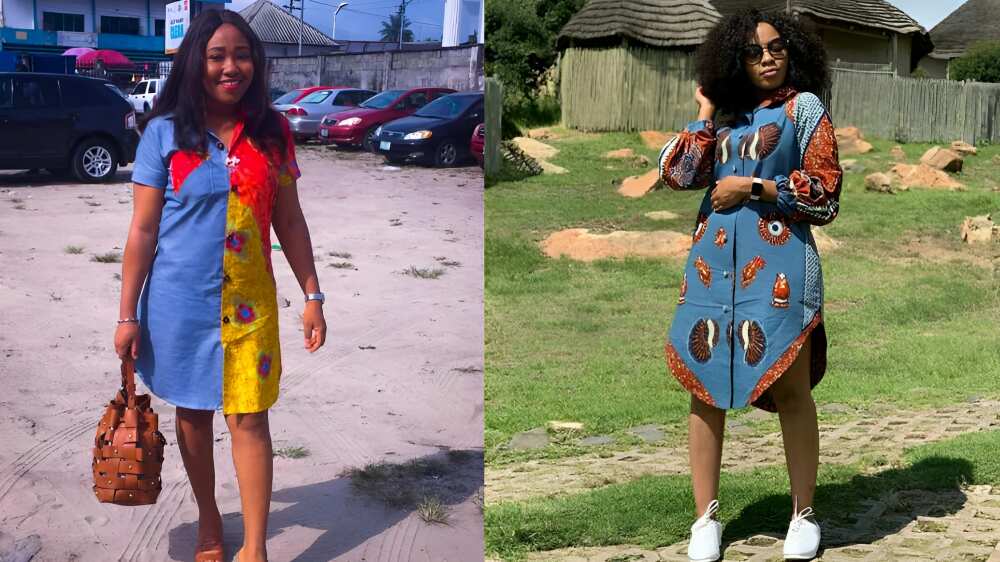 Denim Ankara shirt dresses with asymmetrical hemlines are perfect for sunny days. Also, the asymmetrical hems can make you look younger and chic because they create interesting vertical lines which have a slimming and elongating effect on the person wearing the dress.
Shirt dresses with Ankara patches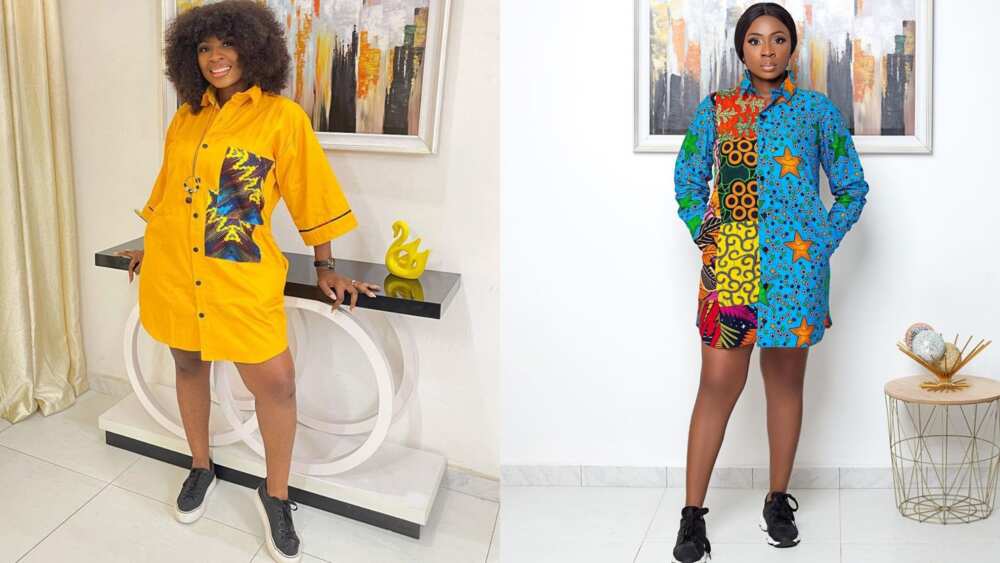 An Ankara shirt dress's sleeves can be above the elbow, three-quarters long (between the elbow and the wrist), or wrist-length. You can consider wearing wrist-length or three-quarter-length sleeves on sunny days because they can shield your skin from the sun.
Ankara shirt dress with sleeves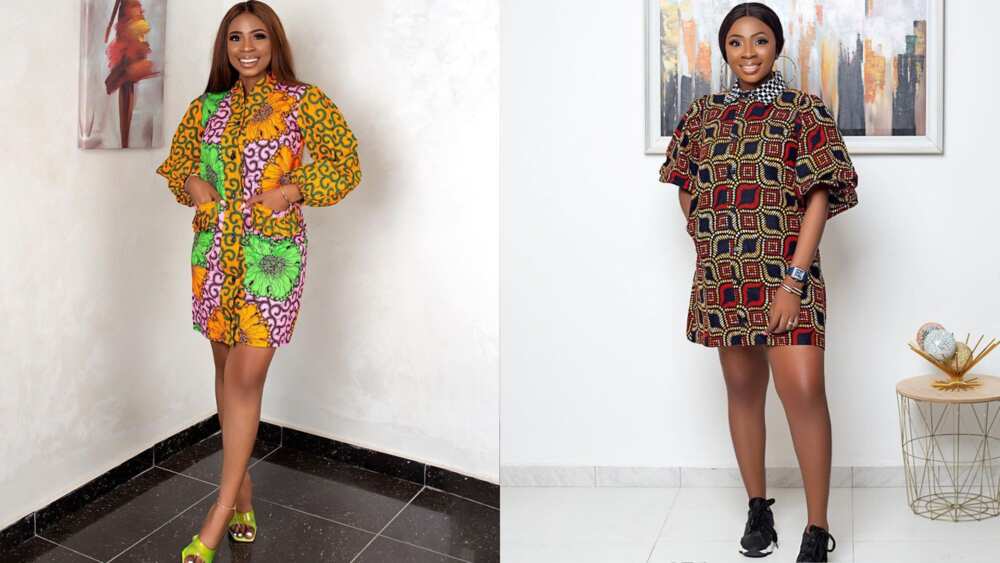 Puffed sleeves are also called balloon, bishop, lantern, and leg of mutton sleeves. Your Ankara shirt dress will look stylish if you add the balloon design to the sleeves. The sleeves can be short or touch your wrists, whichever style you prefer. You also get to choose how much puffy they should be.
High-low Ankara shirt dress for wedding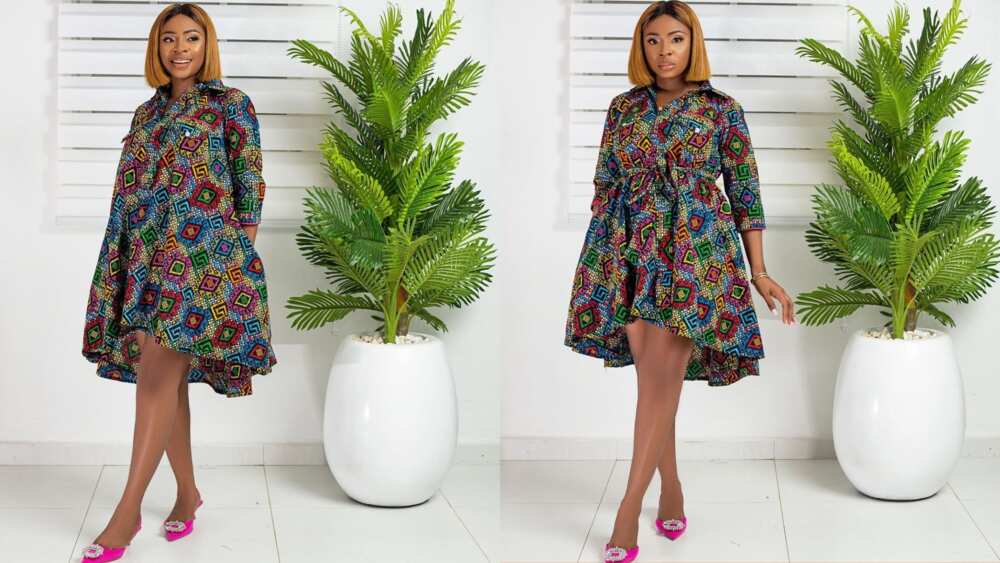 The hem of an Ankara high-low shirt dress is shorter at the front and longer are the back. This asymmetric hemline can be flattering for various body types because it creates an illusion of longer legs and balances the silhouette's overall look.
Ankara shirt dresses with collars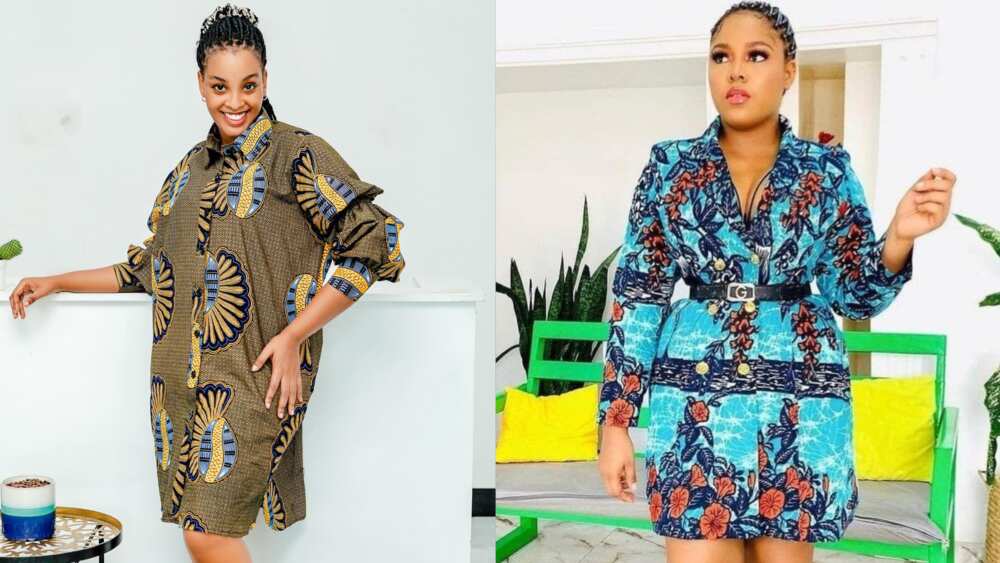 Collars are an essential part of a garment because they frame your face. Since people tend to focus on your face more when you make eye contact, consider adding a collar on your Ankara shirt dress.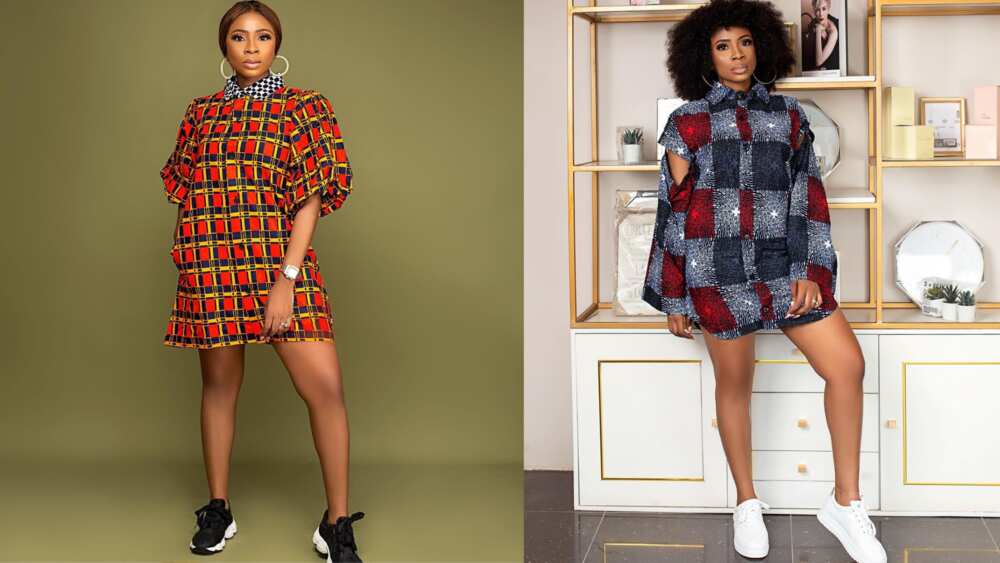 Narrow collar points look good on faces with full cheeks and rounded jawlines because they make the faces look longer and narrower by directing the eye downward. Meanwhile, wider collar spreads are the best styles for longer and narrow faces because they make the face appear broader and shorter.
Button-down Ankara shirt dresses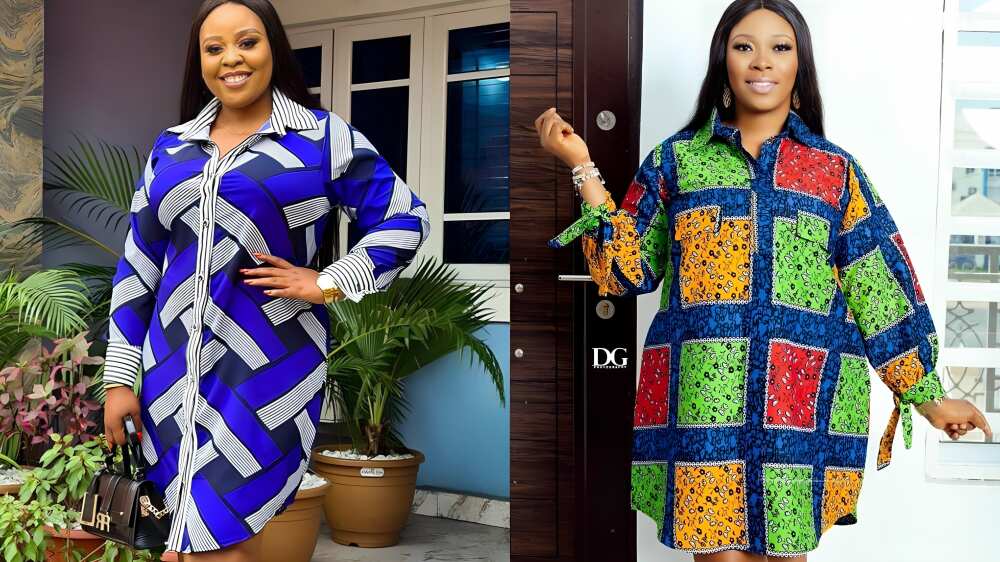 A button-up dress has buttons running up the front. Meanwhile, the button-down dress is the same but has additional buttons on the collar. So, it would help to know the difference between the two before picking an Ankara dress with buttons. Moreover, note that although the collar buttons prevent your collar from flapping, you can leave them unbuttoned and still look stylish.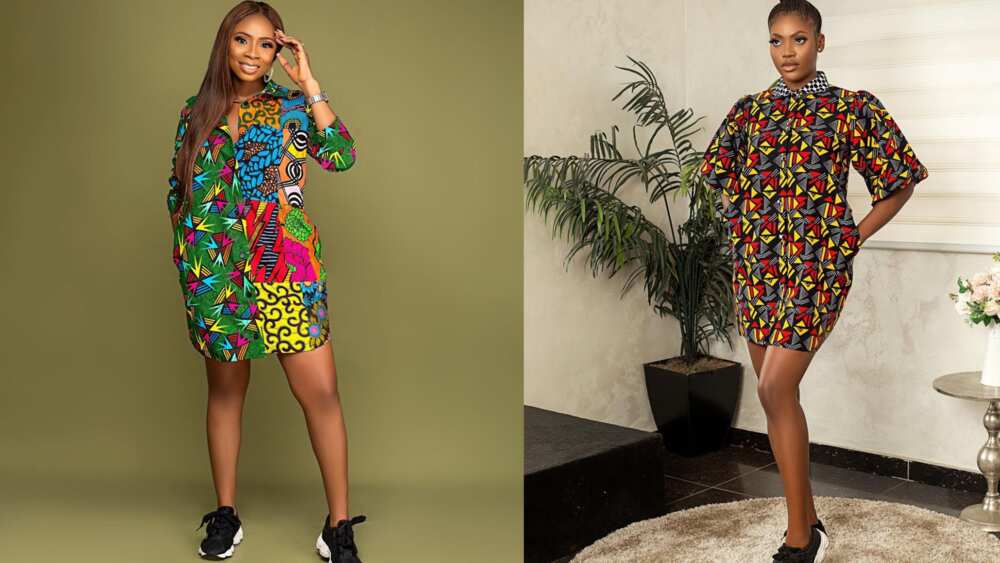 It is a personal choice for a female to decide how to dress and present herself. With that said, you can leave collar buttons unbuttoned and also unbutton the Ankara shirt dress to create a V-neckline. It is one of the simplest ways to achieve an artfully casual and carefree dressing style.
Ankara shirt dresses with stripes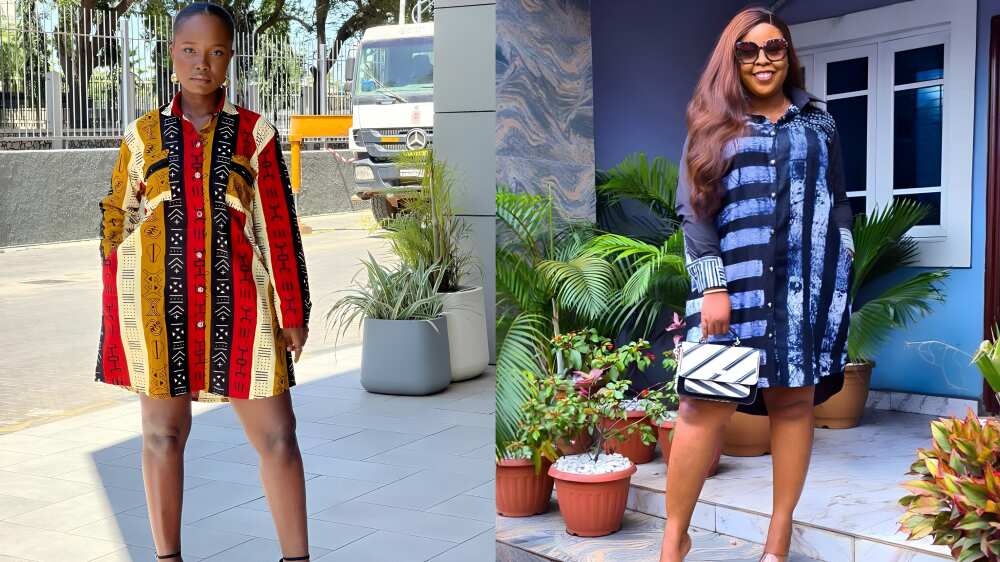 You can use the flat, shank, stud, and toggle buttons to decorate your Ankara shirt dresses. Plastic, horn, metal, mother of pearl, and wood are the most popular button materials fashion designers use. So, you can pick button designs that suit your taste from these options.
Ankara shirt dresses without collars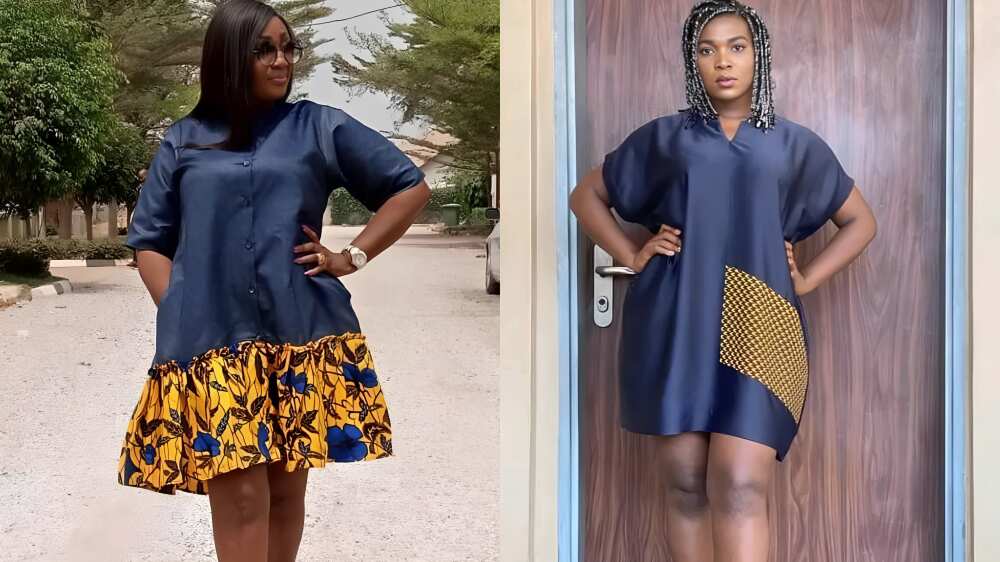 Ankara is a versatile fabric with a wide variety of colors and prints. Since the material is very easy to work with as a decorative element, you can mix and match it with shirt dresses of different fabrics, including velvet, chenille, cotton, silk, cotton, and cashmere.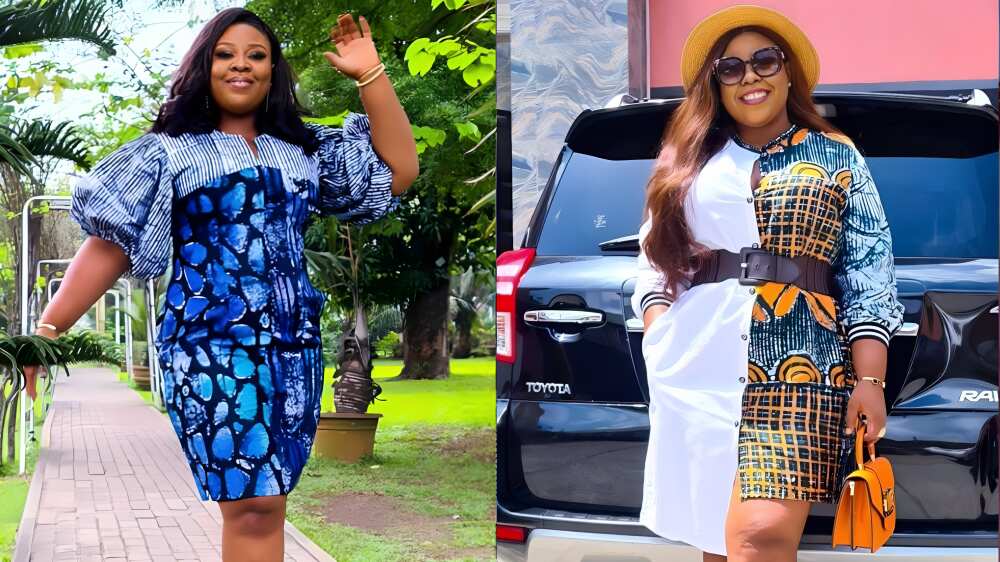 Ankara shirt dresses feel comfortable, and you can wear a belt to flatter your shape. If you want to mix and match Ankara with other fabric textures, ensure the weights are similar enough to sit together well.
Latest Ankara shirt dress for ladies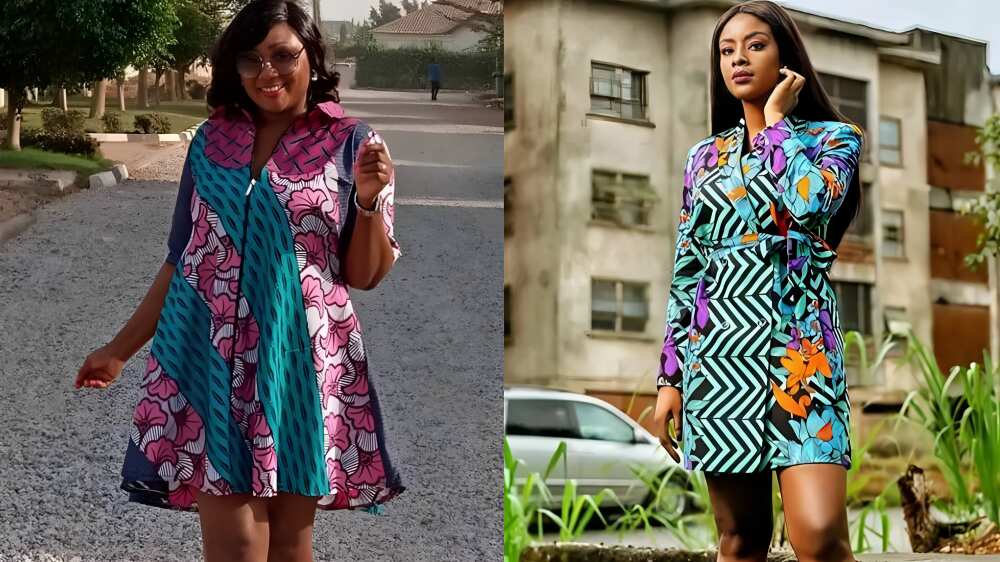 Buttons are easy to undo and rarely break, and you can quickly sew in new ones if they break. Despite these advantages, you are only obligated to use them in your Ankara shirt dresses if you want to. If you don't, you can make new styles like wrap-around straps for your shirt dress rather than using zippers and buttons.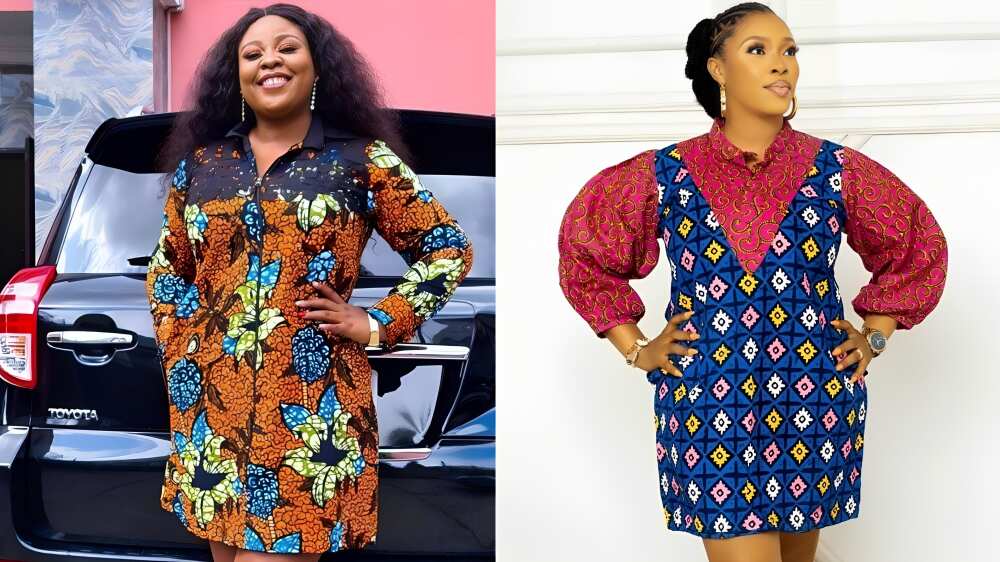 Mixing and matching Ankara with other fabrics is easier if the materials have the same texture and the colors bend. Blending the colors is a walk in the park because Ankara patterns usually have the base color, and additional colors are only for decoration. Therefore, you have more options for blending colors with the Ankara.
Simple Ankara shirt dresses with sleeves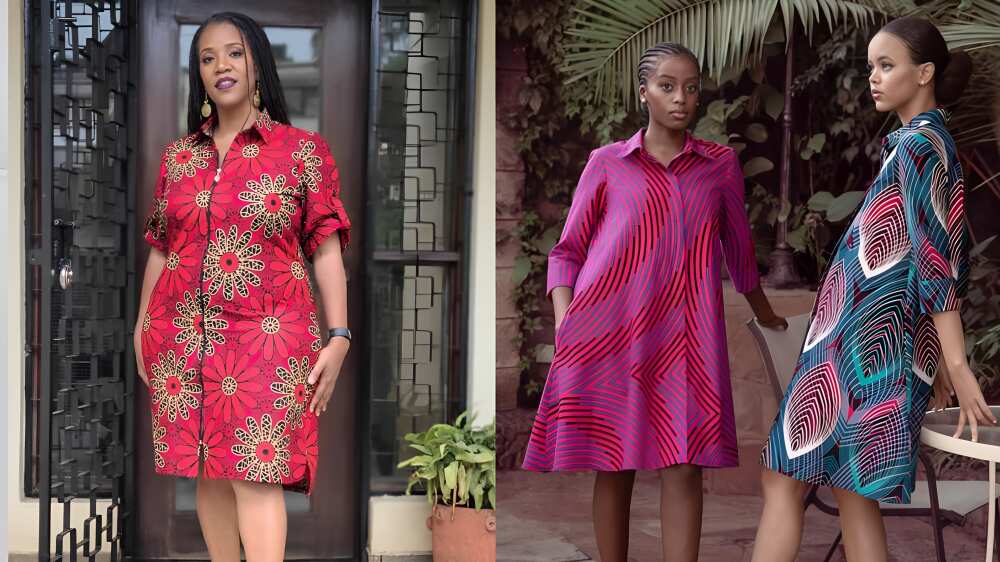 You can also sew beautiful invisible user-friendly zippers on your Ankara shirt dresses. Unlike buttons, zippers are more convenient to fasten your clothing and make life easier for people with disabilities because you can open or close the zip with one hand.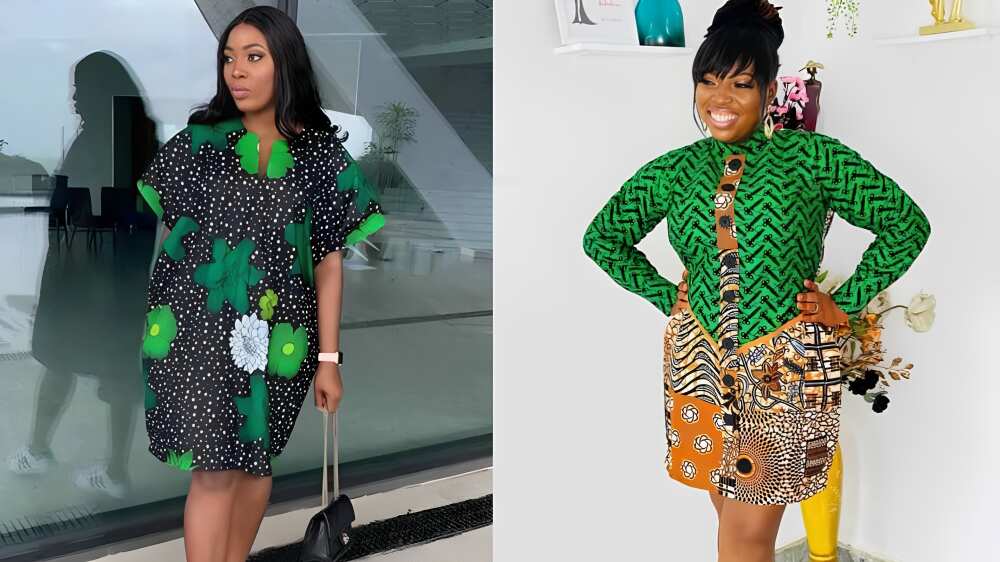 Some Ankara shirt dress styles do not need zippers and buttons. Most designers use the simple trick of creating a small V-cut on the neckline so that a person's head can pass through without tearing the neckline. This way, they avoid using zips and buttons on the dress.
Ankara tunic dresses for women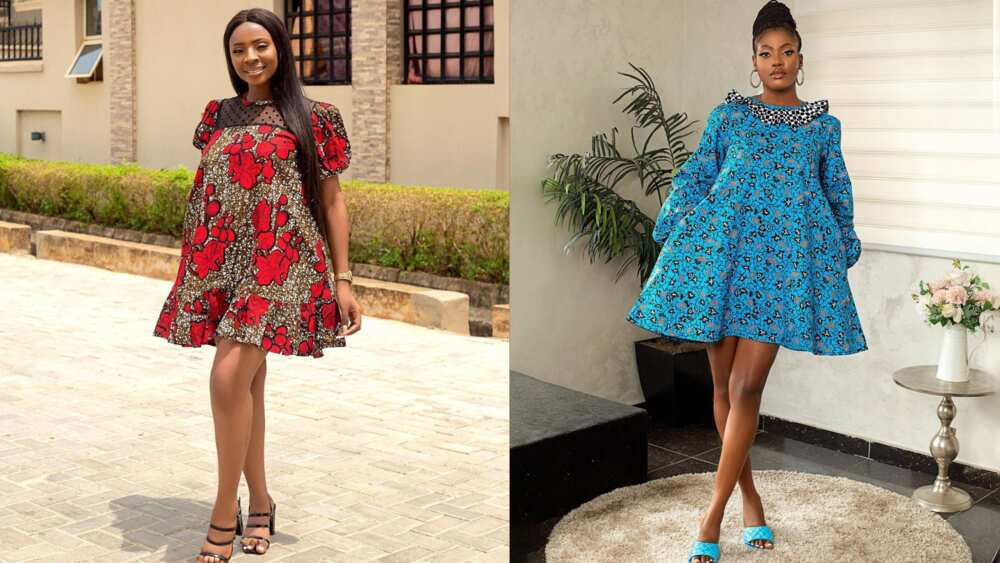 A tunic dress is a loose-fitting shirt that looks like a long shirt or a short dress. The African fashion industry has thousands of Ankara tunic dresses for modern women and girls. Most African women wear tight leggings underneath their Ankara tunic dresses for a fashionable and comfortable look.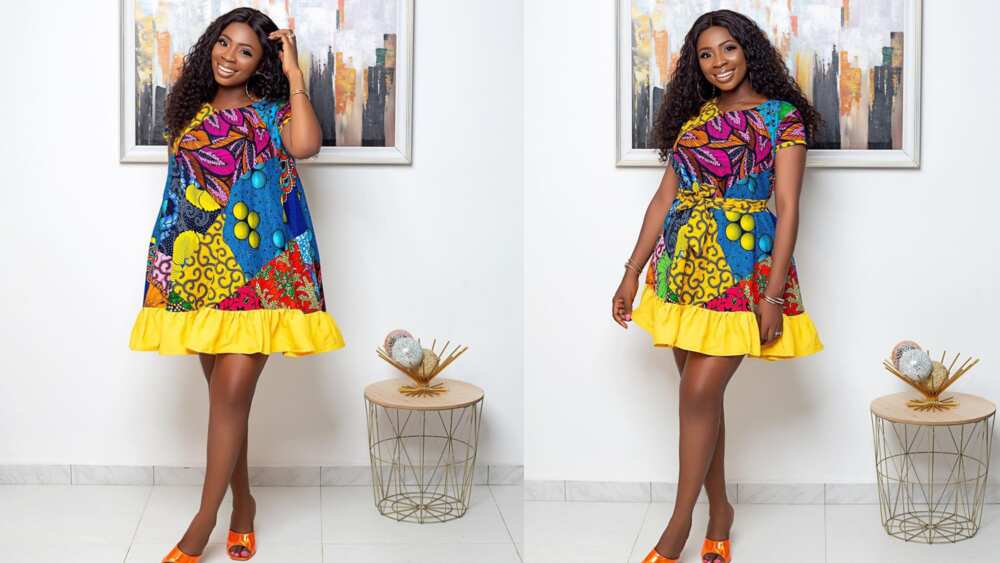 Most designers who make Ankara tunic dresses draw inspiration from stylish Western blouses and shirts for women. They only create more extended versions that reach anywhere between the hips and the knees.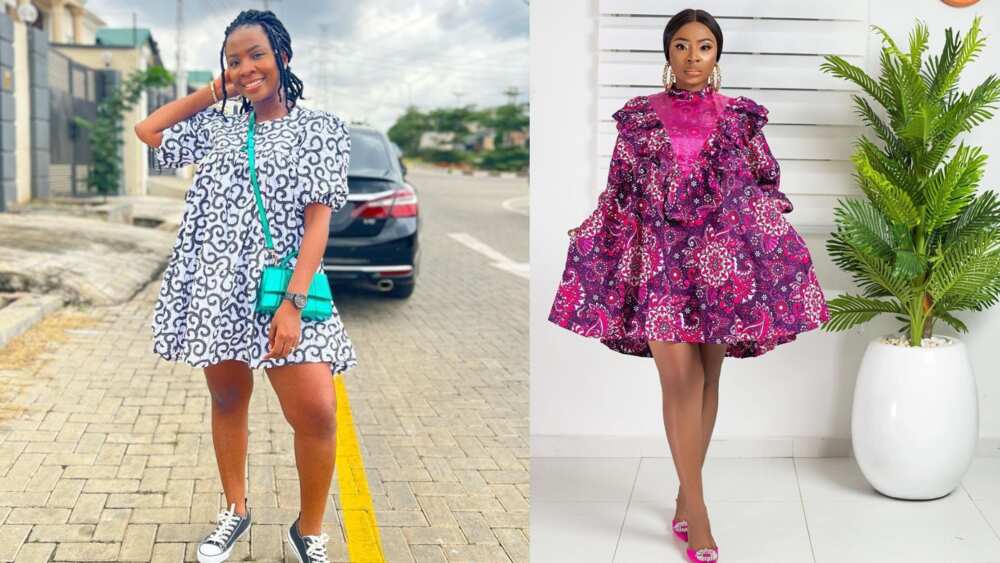 Pockets are also super practical on Ankara tunic dresses. You can put your hands in them for no reason or when feeling cold. Others love pockets because they can stash essential things inside instead of walking around with a handbag.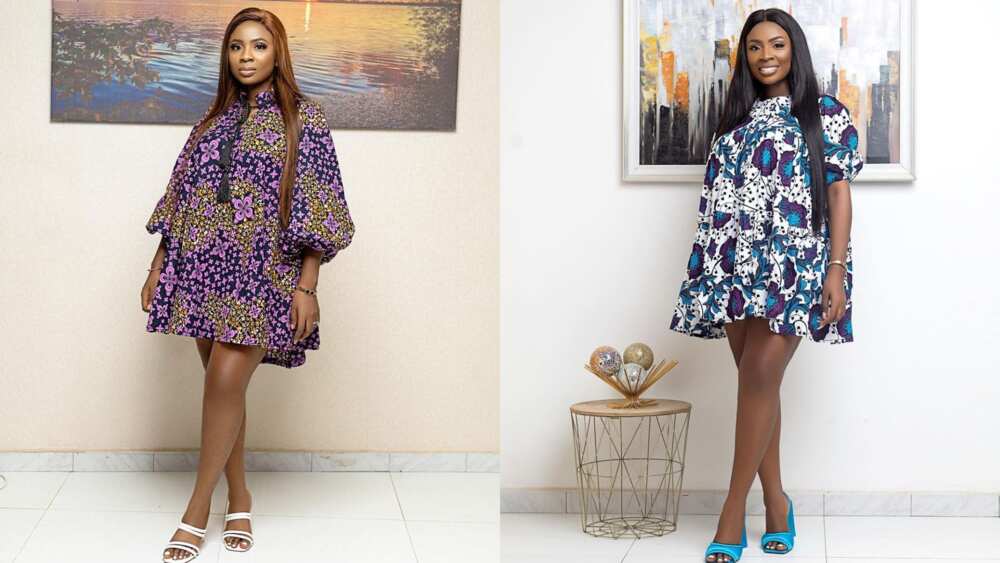 The tab collar looks good on Ankara tunic dresses. Although it is a common type of shirt collar among the Roman-rite Catholic clergy, there is no harm in using it to style your dress. Besides, you can add a few buttons downward to make the tab collar look stylish.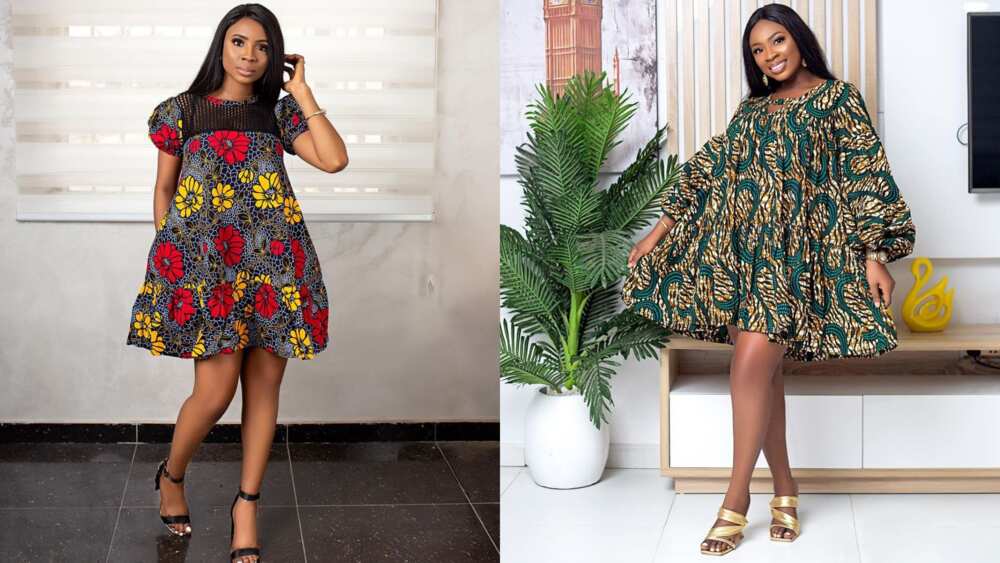 You can sew a simple or ruffled dress with tiers and balloon-styled long sleeves. The second option takes more time and material but appears classier than the first. Also, note that a new Ankara ruffled dress may seem stiff and unflattering for some time until the fabric relaxes. It softens organically over time the more you wear and wash it.
Beautiful Ankara tunic dresses for girls and women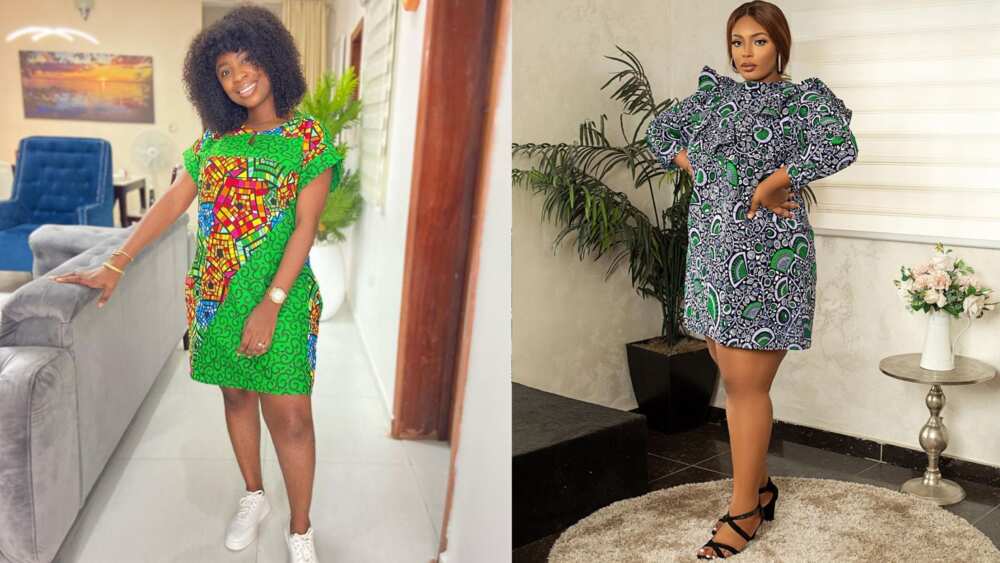 Since ruffled bust tops are in fashion, consider adding front frills/ruffles around the bust area of your Ankara tunic. If you're small-busted, a ruffle over the chest region is an excellent style because it makes the bust look fuller.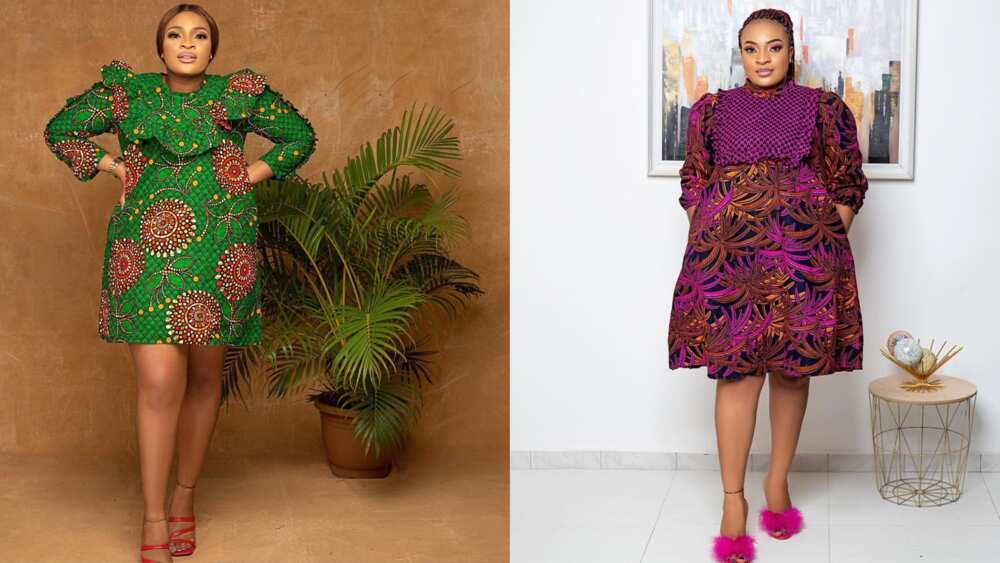 You can also consider a square collar with minimal frills. This will provide contrast to bust curves and draw people's attention to your collarbones. Also, the square collar is more suited for a pear-shaped body shape because it creates an illusion of broader shoulders and a fuller bust to balance the wide hips of a pear-shaped body type.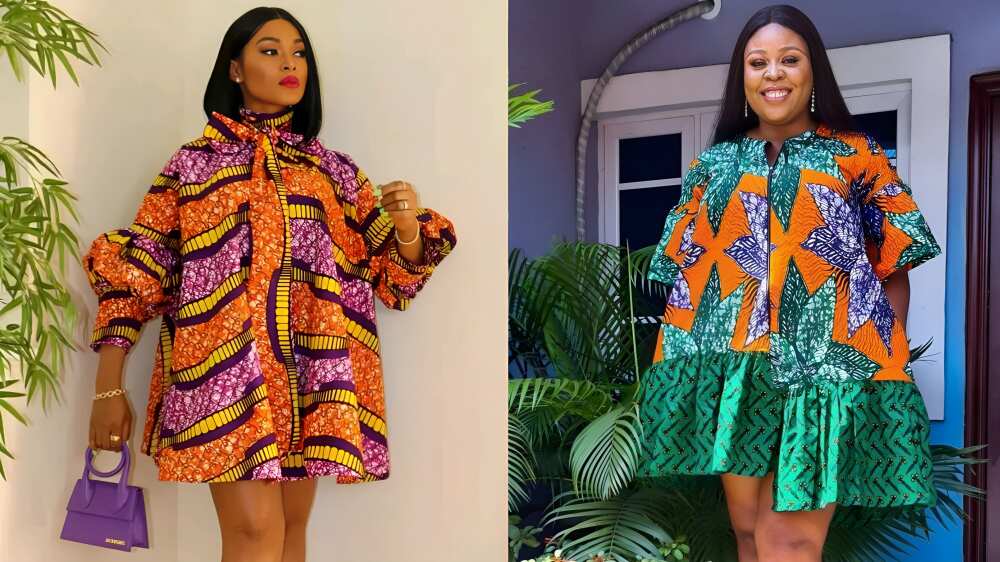 Puffed sleeves look so good on A-line Ankara tunic dresses. So, if you have a slim neck, try puff and balloon sleeves in all versions. Also, choose tunic dresses with subtle puff sleeves or darts if you have an inverted triangle body shape.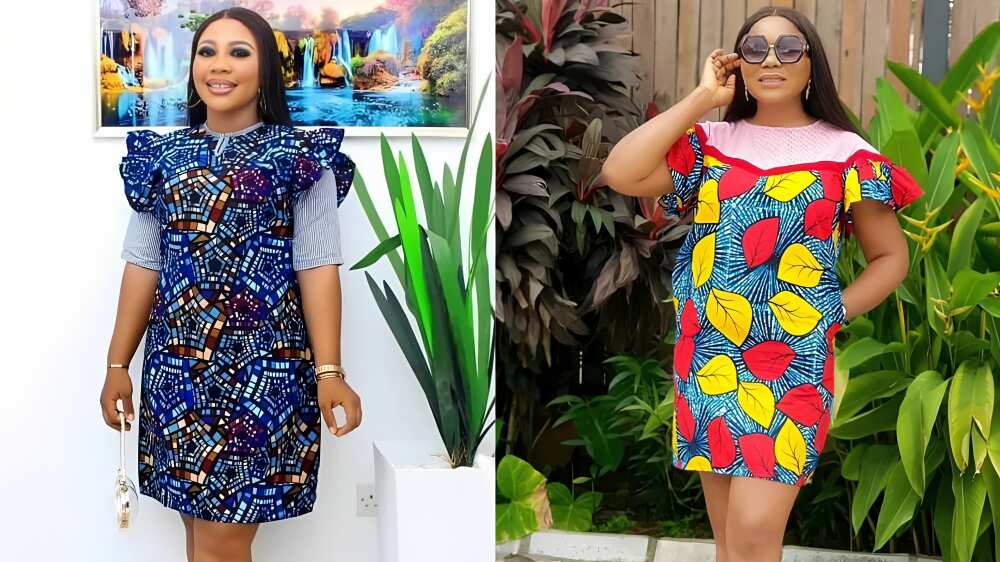 Narrow shoulders look great with exaggerated gathers on one or both shoulders. The ruffle creates an extra up top, which balances the narrow shoulders with the broadened hips. If you're more rounded, avoid frills around your shoulders because they will add volume to your shape.
What is an Ankara shirt dress?
It is a dress made from Ankara fabric— a colorful and vibrant West African textile. The dress resembles a shirt or blouse and can be of any length, according to your preference. Also, it can have a collar, buttons, zip, and sleeves, or you can omit any of these to create unique designs.
Are Ankara shirt dresses only for women?
There are Ankara shirt dress styles for all genders and age groups, but in most African cultures, Ankara shirt dresses are common among women.
How can I style an Ankara shirt dress?
You can style your Ankara shirt dress in various ways, depending on your style. Some wear the dress with belts, sandals, heels, boots, leggings, blazers, trench coats, etc., depending on their fashion preferences, the day's weather, and whether they are going to a casual or official event.
How do I care for an Ankara shirt dress?
Hand wash the Ankara shirt dress with cold water and color-safe detergents to preserve its vibrant colors. You can also use a gentle cycle in the machine and hang or lay it flat to dry without extreme wrinkling.
Can I wear an Ankara shirt dress for all occasions?
Ankara shirt dresses suit a wide range of occasions, depending on how you style them. Therefore, always consider the event's cultural set-up and dress code so that you can accessorize and style your shirt dress appropriately.
Where can I purchase an Ankara shirt dress?
You can buy Ankara shirt dresses from local African fashion stores or online platforms selling African clothing.
Can I tailor an Ankara shirt dress to fit my measurements?
If you have excellent sewing skills, you can customize an Ankara shirt dress to fit your measurements. Also, some sellers may provide or recommend local tailors who can alter the dress to fit your size.
Hope you found Ankara shirt dress styles that match your taste. Since shirt dresses resemble the classic official shirts, some organizations and professions can allow you to wear them to work. Style your shirt dresses with appropriate jewelry, handbags, and shoes, depending on the occasion.
Legit.ng also shares pictures of the latest Ankara gowns, tops, skirts, jumpsuits, and more attires. The 21st century is truly a beautiful time for African fashion lovers.
There are hundreds of Ankara styles to choose from, as designers release new styles daily. Also, you save money because some Ankara styles suit both casual and official occasions.
Source: Legit.ng