Coup D'état: US Gives Crucial Order Amid Military Takeover in Niger Republic
The United States government has vowed to restore democracy in the Republic of Niger despite a military takeover
This was confirmed by the US Secretary of State spokesperson, Matthew Miller, following an attack on the French Embassy
The US government also announced a partial evacuation of its citizens from the Republic of Niger but insisted its embassy remain open
Emerging reports have confirmed that the United States has ordered the partial evacuation of its citizens in the coup-inflicted Republic of Niger.
As reported by BBC, the spokesperson to the US Secretary of State, Matthew Miller, revealed that the US embassy in Niger would remain open despite the order for a partial closure.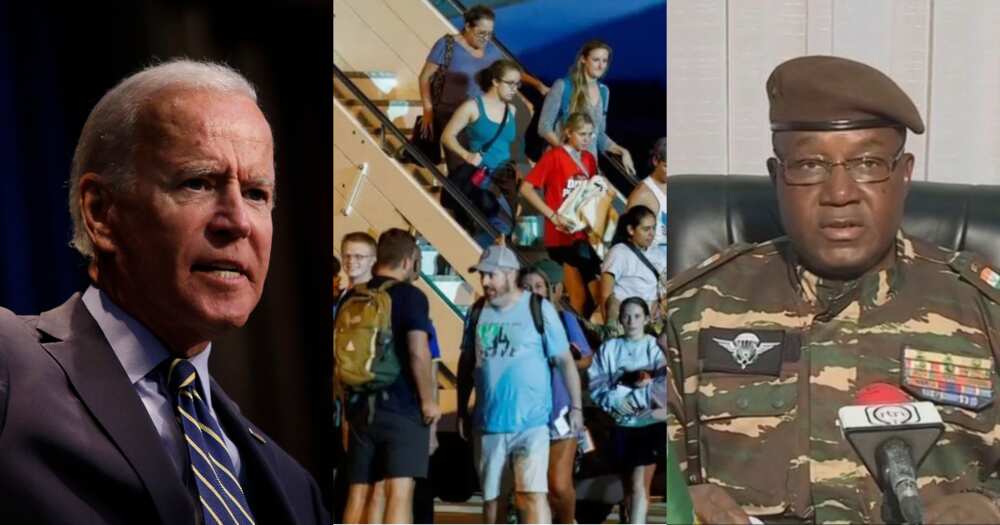 Miller said:
"We remain committed to the people of Niger and our relationship with the people of Niger, and we remain diplomatically engaged at the highest levels."
Meanwhile, Antony Blinken, the US secretary of state, was reported to have spoken with the detained President Mohamed Bazoum of Niger on Wednesday, August 2.
In their conversation, Blinken expressed the commitment of the US to restore democracy to Niger.
Niger coup: Protesters attack French embassy
In another development, hundreds of foreign nationals have begun to evacuate Niger following an attack on the French embassy by some angry protesters on Sunday, July 30.
This was on the heels of the warning of no foreign interference issued by the coup mastermind, Gen Abdourahamane Tchiani.
It was gathered that protesters would gather in their numbers in support of the coup on Thursday, August 3, as it would also mark their independence.
Meanwhile, France has appealed to the military junta to guarantee the safety of its citizens pending the completion of their evacuation.
Coup D'état: Ex-Nigerian President Leads ECOWAS Delegates to Niger for Negotiation
In another development, efforts are ongoing to restore democracy in the Niger Republic following an unprecedented coup d'etat led by Gen Abdourahamane Tchiani.
Gen Abdourahamane Tchiani's coup also led to the capture of President Mohamed Bazoum, who is currently in detention.
Meanwhile, ECOWAS has sent Former Nigeria's military head of state Alhaji Abdulsalami Abubakar and the Sultan of Sokoto to broker peace in Niger.
Source: Legit.ng