Bola Tinubu In Paris: 5 Things to Expect from Nigerian President's First Official Foreign Trip
President Bola Tinubu will, among other things, push for foreign direct investments in his scheduled meetings at the ongoing New Global Financing Pact Summit in Paris, France
Tinubu arrived in Paris on the evening of Tuesday, June 20, to participate in the summit, holding at Palais Brongniart from Thursday, June 22 to Friday, June 23, 2023
It is the Nigerian leader's first official foreign trip as president of Africa's most populous nation
Paris, France - President Bola Tinubu on Thursday, June 22, arrived at the Palais Brongniart in Paris, the venue of the New Global Financing Pact summit.
Upon his arrival in the company of his Aide-de-Camp, Nurudeen Yusuf, the Nigerian leader, 71, was received by the French Minister of Foreign Affairs and Europe, Catherine Colonna, Channels Television reported.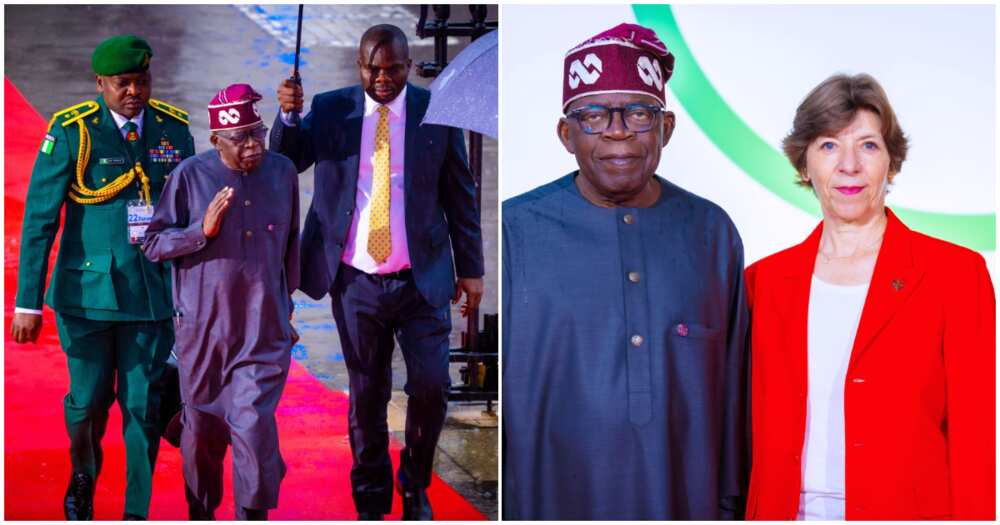 What are the things to expect from President Bola Tinubu's first official foreign visit?
The Nigerian leader is participating in the two-day New Global Financial Pact Summit hosted by France president, Emmanuel Macron, The Nation also reported.
PAY ATTENTION: Follow us on Instagram - get the most important news directly in your favourite app!
Per a press release earlier this week by his media office, Legit.ng lists what Nigerians can expect from Tinubu's visit to the European nation.
Achieving SDGs in Nigeria
The Summit's ambition is to bring together several agendas (climate, development, debt) and to propose innovative solutions to address these issues. It will highlight the critical role of investments in education to achieve SGD4, catalysing progress in other areas such as climate, health and employment, ultimately reducing inequalities and bringing us closer to achieving the Sustainable Development Goals (SDGs).
President Tinubu will network in order to facilitate Foreign Direct Investment (FDI) to Nigeria. The president wants to network with international finance corporations, institutions, and countries that are capable of facilitating direct foreign investment into Nigeria.
Sell Nigeria to the world
3. The president is in France to sell Nigeria to the world: consolidate some of the issues, and provide more encouraging rhetoric for those people to come in and invest in Nigeria.
4. Nigeria sees the summit as an opportunity to build on the education finance discussions held at the IMF/WB Spring Meetings earlier this year, including the Multilateral Financing of Education Initiative, and to leverage the momentum.
5. The event is envisaged as a roundtable discussion aiming to spotlight education within the broader dialogue on improving the multilateral financing system.
Photos emerge as President Bola Tinubu holds high-level meeting ahead of Paris summit
Earlier, Legit.ng reported that all is now set for the New Global Financial Pact Summit slated for Thursday, June 22, and Friday, 23, in Paris, France.
To this end, a high-level meeting led by President Bola Tinubu on what Nigeria stands to benefit from the two-day global summit was held on Wednesday, June 21.
Source: Legit.ng